Gone are the days when restaurants offered a token vegetarian meal, now we have entire establishments championing veggies with plant-based menus. From Fitzroy and Collingwood to Richmond and St Kilda, Melbourne's vegetarian and vegan chefs are making their mark on the culinary map, with amazing plant-based restaurants popping up every year.
Here are the best vegetarian restaurants in Melbourne for 2023:
Tahina
NORTHCOTE & FITZROY
Originating in Northcote and having opened up a second location in Fitzroy, this Israeli restaurant is serving up a nearly entirely vegetarian menu, with a few vegan options for good measure. The Falafel is acclaimed here, and enough to mark this restaurant as one of the best vegetarian places in Melbourne. You can choose from the green variety, which is made with parsley, coriander, and mint, or the red kind, where the filling is mixed with chilli and red peppers. The roasted cauliflower with hummus, lemon and Tahini is a popular option, as well as the Sabich plate, which has roasted eggplant, hummus, potatoes and salad, drizzled with Zhoug and Tahini. The cherry on top is that Tahina is super affordable, with single dishes starting at $13 and not exceeding $21.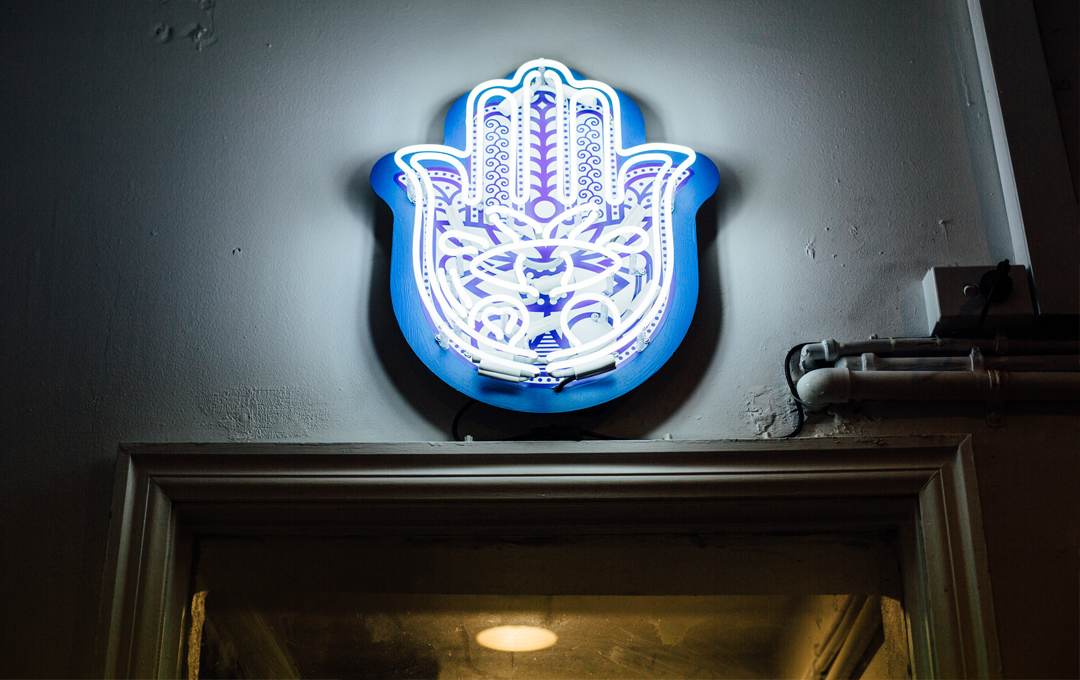 Teta Mona
BRUNSWICK EAST
If you're in the mood for some Lebanese soul food with a healthy amount of vegetarian options, then you're in luck. Teta Mona, named after the owners' grandmother, serves up some real nourishing food, just like Teta (grandmother) used to make. Starters include Shanklish Salata, a salad with sun-dried yogurt cheese, and Tabboulé, a parsley salad with burghul cracked wheat. If you're looking for something more hearty, the Kousa, which is baked zucchini filled with wild rice and spices is ripe for sharing, as is the Makhlouta, a wholegrain Lebanese stew with lentils, chickpeas and potatoes.
Neko Neko
COLLINGWOOD
This addition to the list won't be a surprise to anyone - if you know, you know. Although technically a pescatarian restaurant, you won't find a better-stocked menu filled to the brink with veggie options. Amongst the classic Japanese curries, Karaage, Tempura and Gyoza, you'll discover Neko Neko's signature dish - vegan ramen. There are several different broths available, such as Tan Tan, Ankake, and Miso Shio Koji, paired with eggless noodles of authenticity you can taste because the owners and chefs are all Japanese. It may be plant-based but the lack of meat doesn't detract from the flavour at all, making it one of the best vegetarian restaurants in Melbourne.
The Studio Beans
ST KILDA & WEST MELBOURNE
We know, there are heaps of The Studio Beans locations dotted around, but St Kilda & West Melbourne have the most outstanding plant-based menus of the lot. Their ethos is based in fair-trade and sustainability, and this translates to their food too. In West Melbourne you can find options such as their 'Chicken' Waffles, which feature crisp-fried buttermilk brined 'chicken' on burnt butter waffles, with salted maple syrup and pickled baby radish. In St Kilda, you can find a huge array of wraps and toasties, including a Provolone, pear and walnut wrap with crispy tofu and quinoa, as well as a Satay wrap with chargrilled, soy protein 'meat' cooked with spiced coconut, pepita seed salsa, pickled cucumber with a peanut Satay sauce.
The Carringbush Hotel
ABBOTSFORD
You may be a little surprised by the exterior, but just because it's a classic-style pub doesn't mean it can't be plant-based. Open all week, The Carringbush Hotel's extensive menu is completely vegetarian and vegan, with plenty of nut-free and gluten-free options no less. They don't hold back with their options either, with starters such as their dumplings with Char Siu 'pork', mushrooms and sweet and sour sauce, and charred broccolini with garlic and beetroot crème. For mains, the selection includes Chipotle tempeh Fajita with tortillas and sour cream, a fried 'chicken' burger and housemade Gnocchi with 'lamb' ragout, whipped feta and watercress. They also have a huge list of vegan and vegetarian-friendly wines and beers to boot.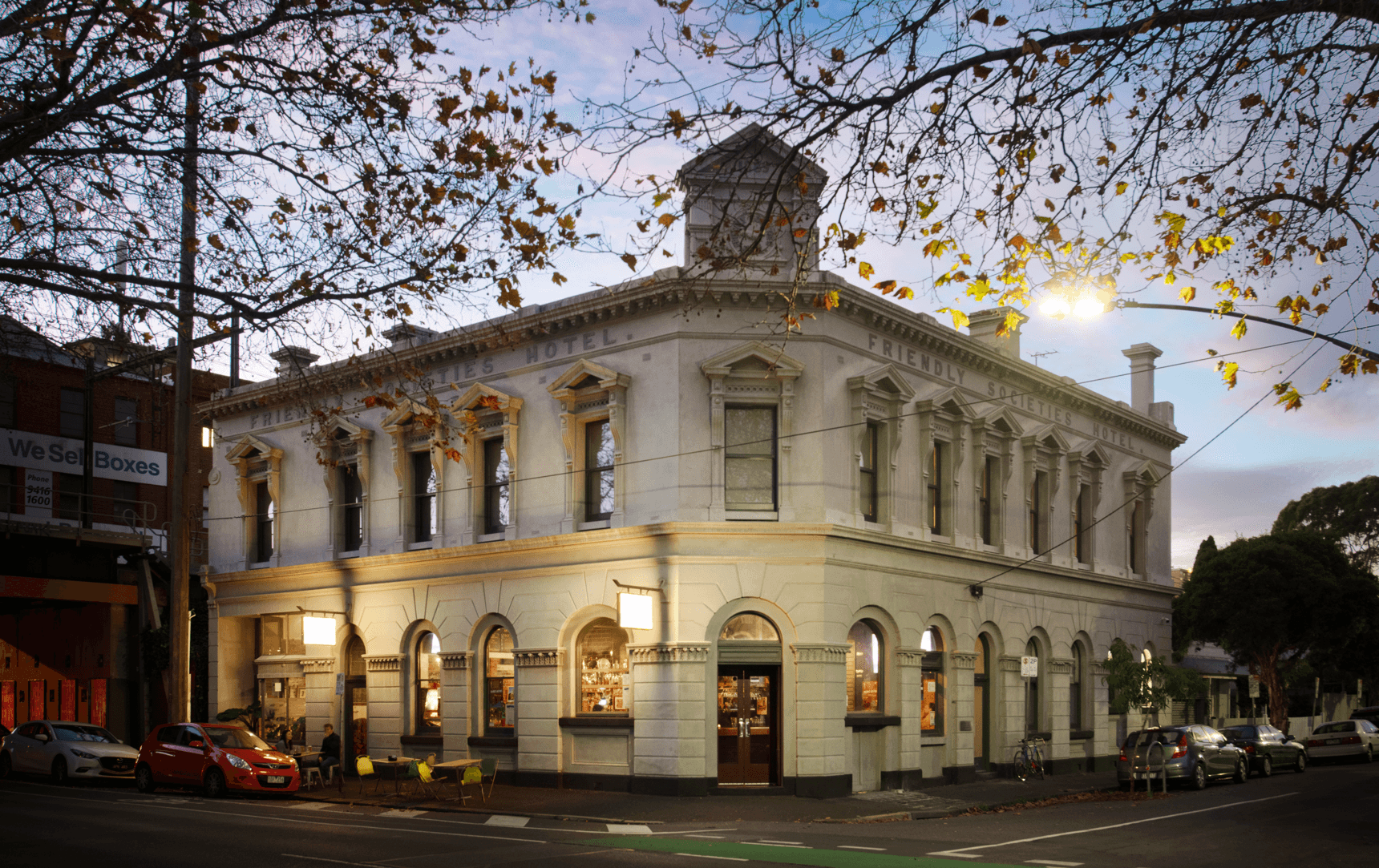 Rice Paper Scissors
FITZROY & CBD
Featuring both an omni and plant-based menu, Rice Paper Scissors knows how to do veggies right. With two locations in Fitzroy and the CBD, there are plenty of items to fall in love with on their menu. The food is intended for sharing, and the smoked broccoli salad and the Burmese chickpea curry are standouts. Make sure to try their considerable cocktail selection, with the Double Dragon and the Thaigarita being particularly tasty. The decor is soft and dark, making it perfect for a date night, and it's certainly a contender for being one of the best vegetarian restaurants in Melbourne.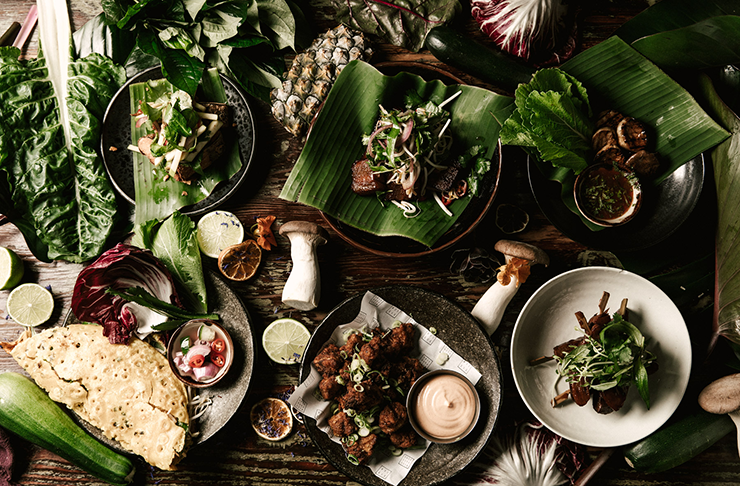 Very Good Falafel
BRUNSWICK
If a restaurant is confident enough to put it in the name, it's promising that it will indeed be very good. You'll probably never find it empty either, as Very Good Falafel has become a local favourite with some of the best veg food on offer, although they do have a few meat options. At only $13, their Falafel plate will satiate even the biggest appetite, and make sure you try out some of their fresh salads, all of which are vegan with some gluten-free options for good measure. With homestyle cooking and bright open space, if you're looking for the best vegetarian restaurant in Melbourne, it's hard to go past this joint.
Huong Viet Vegan
FOOTSCRAY
If you're inundated with meat options and missing authentic Vietnamese food, definitely give Huong Viet Vegan a try. This family-run restaurant in Footscray has an incredibly lengthy menu, with everything from Bún Bò Huế, a traditional spicy lemongrass noodle soup with a variety of mock meats in it, to Bò Lúc Lắc, a saucy Vietnamese shaking beef. The flavours are fresh and varied, and the portion sizes are pretty decent too, so along with fresh food, you get bang for your buck.
Funghi e Tartufo
CBD
For some of the best vegetarian food in Melbourne, be sure to check out this plant-based Italian restaurant, Funghi e tartufo. Nestled in the bustling Hardware Lane in the CBD, it's a combination of European-styled outdoor dining and a cosy interior for colder nights. Traditional Sicilian cuisine has been reimagined to an earth-friendly take, with the 100% vegan menu including spaghetti carbonara, risotto with champignon mushroom and a breadcrumb grilled swordfish dish. The dessert menu won't disappoint either, with pannacotta and a mixed berry coulis rising to hero status.
Shakahari
CARLTON
A Sanskrit and Hindi word referencing vegetarian diets found in the Indian subcontinent, 'Shakahari' is a longstanding restaurant in Carlton, where it's been cooking up an exclusively vegetarian menu for over 50 years. Taking inspiration from Indian, Chinese, Japanese and Malaysian roots, Shakahari serves up nutritious feed, with Laksa Hebat, a creamy coconut and lemongrass noodle soup topped with tofu and seitan, Quinoa Croquettes, Ikigai Dumplings and much more. There are even a few nods to the Italian heritage of Carlton, with Spaghetti Stagione rounding out the main menu.
Gong De Lin
CBD
Hidden away above Swanston Street is this absolute gem, serving up great Chinese food for affordable prices. Gong De Lin appeals to vegans, vegetarians and meat-eaters alike, with their varied menu. The absolute standout is their Peking duck, which is right up there with the best vegetarian food in Melbourne. Also on offer is their Mapo tofu, sweet and sour pork and Sichuan-styled stir-fried green beans, all 100% vegetarian. With such a central location, it's easily accessible for all.
Just Falafs
FITZROY NORTH
One of the most favoured eateries on St Georges Road in Fitzroy, Just Falafs is the quintessential inclusion of the best vegetarian restaurants in Melbourne list. As well as being a hotbed for takeaway to the nearby Edinburgh Gardens, it's also a great spot for parking up and catching freshly-fried falafel. On the cards here is a mix of falafel pita and plates options, each loaded with house-pickled cabbage salad and generous servings of tahini and hummus. A straight go-to is the harissa pita which combines their spicy house-made sauce with the classic pita, falafel and cucumber salad—adding in the fried halloumi also never goes astray.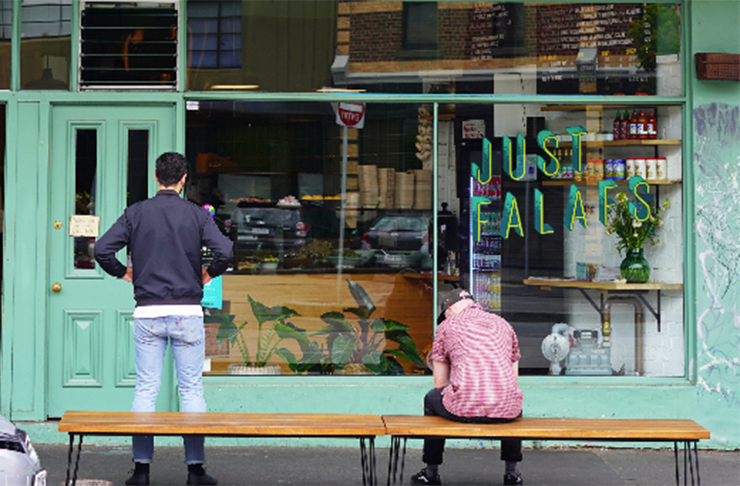 Shop 225
PASCOE VALE SOUTH
Touted as one of the most dietary-friendly options, Shop 225 in Pascoe Vale South offers not only vegetarian dining but also gluten-free (Coeliac-accredited) and vegan. With pasta made in-house and a selection of wood-fired pizzas, the options are extensive, from slices of Ortolona pizza laden with the smoky flavours of grilled eggplant and zucchini to the Quattro Formaggi gnocchi which offsets the strength of the bitey gorgonzola with Ricotta Salata, Pecorino and Parmigiano. It's an intimate little spot, but it's a frontrunner as one of the best vegetarian spots in Melbourne.
Green Acre Pizza
BRUNSWICK
You can always judge the quality of a pizza place by their Margherita pizza, and Green Acre Pizza's is nothing to turn your nose up at. With fresh pizzas coming out of the oven every few minutes, the joint smells as good as the food tastes. 'The Grass Is Greener' has dairy-free mozzarella, roast zucchini, spinach, chilli, smashed peas, vegan feta and Italian glaze, and there are board games to play as you sit and wait, so smash out a few rounds of Scrabble in between slices.
Patsy's
CBD
In a gorgeous art-deco building right near Queen Victoria Market, Patsy's offers some of the best vegetarian food in Melbourne. The team here lean on Mediterranean flavours, and there are plenty of choices for even the pickiest of eaters. They've also used their wine selection to inform their menu, creating dishes inspired by the taste and the region of the wine. From Socca, a Nicoise chickpea crepe with Jerusalem artichoke, to an Empanada Gallega (potato, olive, egg, hazelnuts & Manchego cheese in a Filo pastry), be sure to try the accompanying wine for the best experience.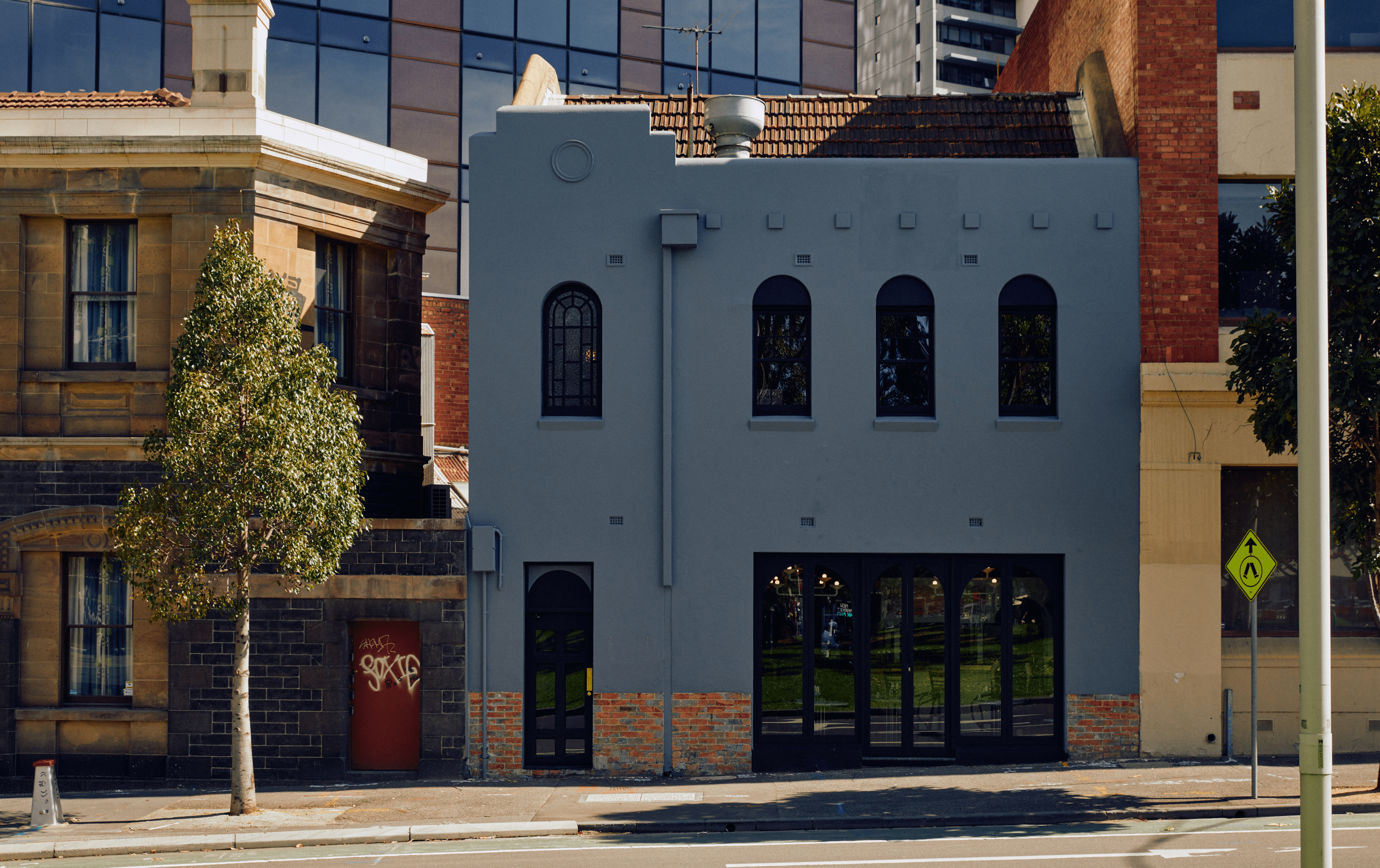 La Tortelliria
KENSINGTON
If you're hankering after some quality Mexican food, La Tortelliria is where you want to be. With corn tortillas made on site and even distributed to other restaurants and grocery stores, you know they have to be great. Completely gluten-free, and with plenty of vegetarian options, La Tortelliria will be able to feed just about everyone. From Quesadilla Con Frijoles to Papas con Chorizo, try a bit of everything if you can.
Pinchy's
CBD
Don't let the 'seafood-centric aesthetic' fool you, Pinchy's is one of the best vegetarian and vegan restaurants in Melbourne. Matching their ocean-based tasting menu is their 'Made Friendly' menu which is a flavour-packed clever reimagination of some of their hit dishes.
On the cards, you've got options like the carrot tartare with pumpkin and cashew cream and pickled cucumber, leek croquettes with vegan parmesan and herb oil. Of course, the plant-based answer the famed Pinchy's lobster roll the lion's mane mushroom with charred mushroom, pinchy's seasoning and lemon in a golden semi-toasted roll
Maha / Maha Bar / Maha East
CBD, COLLINGWOOD, WINDSOR
Shane Delia has the foresight to have considered the rising demand for non-meat-based dining which in 2023 is basically reaching critical mass, and that's why you'll also find three of the best plant-based menus at his restaurants, Maha, Maha Bar and Maha East. Fusing the European and Middle-Eastern flavours that he's famous for, Shane's vegan menus feature spice-filled and incredibly in-depth flavoured dishes, celebrating the region's diverse cuisine with plates like whipped hummus, asparagus, smoked paprika and toasted sesame, or smoked and fried Lebanese eggplant with shallot and date vinegar dressing with warm olives.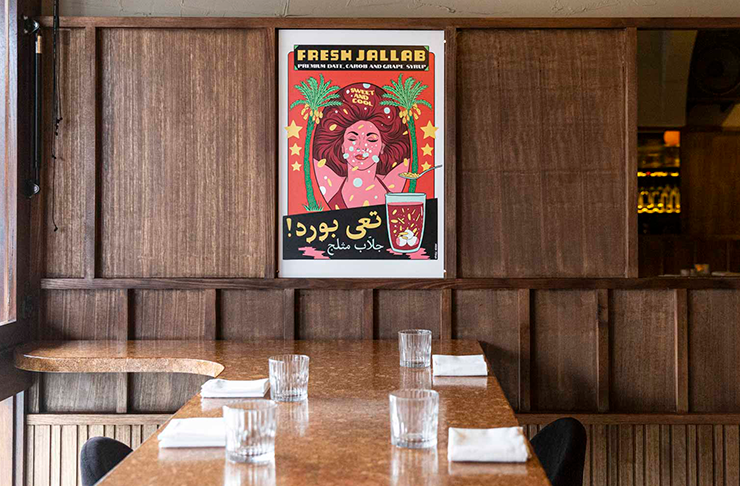 Vegie Bar
FITZROY
Vegie Bar, a Brunswick Street favourite since 1988 right through to 2023. We've all heard of this institution putting veggies front and centre, from the menu to the neon Vegie Bar sign out the front. The menu is inspired by Asian flavours, with curries, noodle dishes and dahls, but they've also got some fabulous veggie-packed pizzas. Get there early or you'll find yourself in the queue.
Transformer
FITZROY
The fine-dining counterpart to the Brunswick Street institution Vege Bar, Transformer looks to satisfy all diners, from strict vegans to omnivores alike. The kitchen is led by chef Bryce Edwards (Panama Dining Room) whose ethos has been to celebrate quality produce championing individual vegetables and utilising bold flavours to create daring and fully-rounded dishes. Be it the roasted cauliflower with a Ras-El-Hanout spice and rose harissa, or the lemon thyme hashbrowns which are served up with creme fraiche and fiery horseradish. Topped off with a plentiful cocktail and wine list—they've been around for several years now, though in 2023 it's still considered one of the best vegetarian restaurants by many a Melburnian.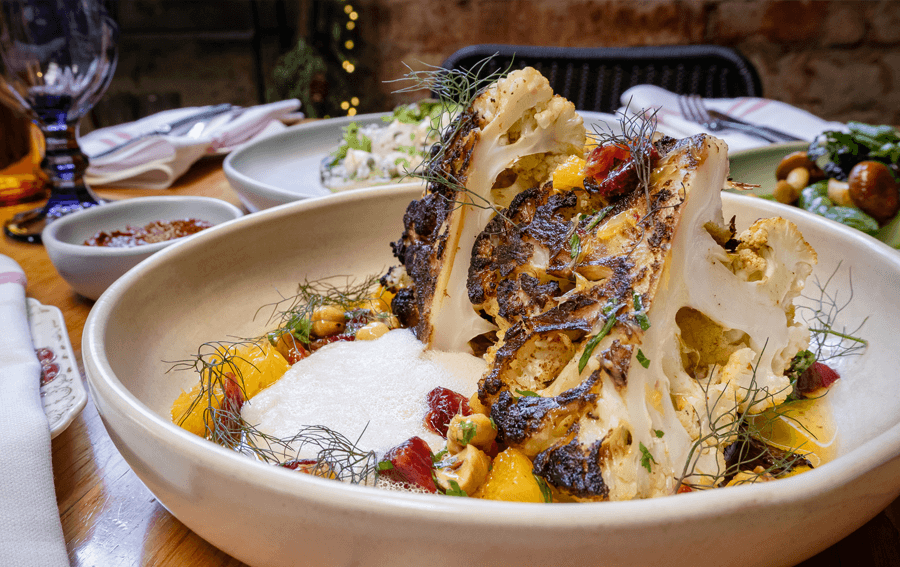 Smith & Daughters | Smith & Deli
COLLINGWOOD
Now setting the standard for plant-based dining, Shannon Martinez's vegan mecca in Collingwood combines the dining experience of restaurant Smith & Daughters with her more accessible daily diner, grocer and providore, Smith & Deli. Since relocating earlier in 2022, and now standing as one of the largest vegan hubs in the southern hemisphere, Smith & Deli on Cambridge Street has all-day dining with everything from scrambled tofu and mock bacon to hearty soups, slow-roasted plant-based beef to pies, curries and more. Is it one of Melbourne's best vegetarian restaurants, delis, and grocers? We certainly think so.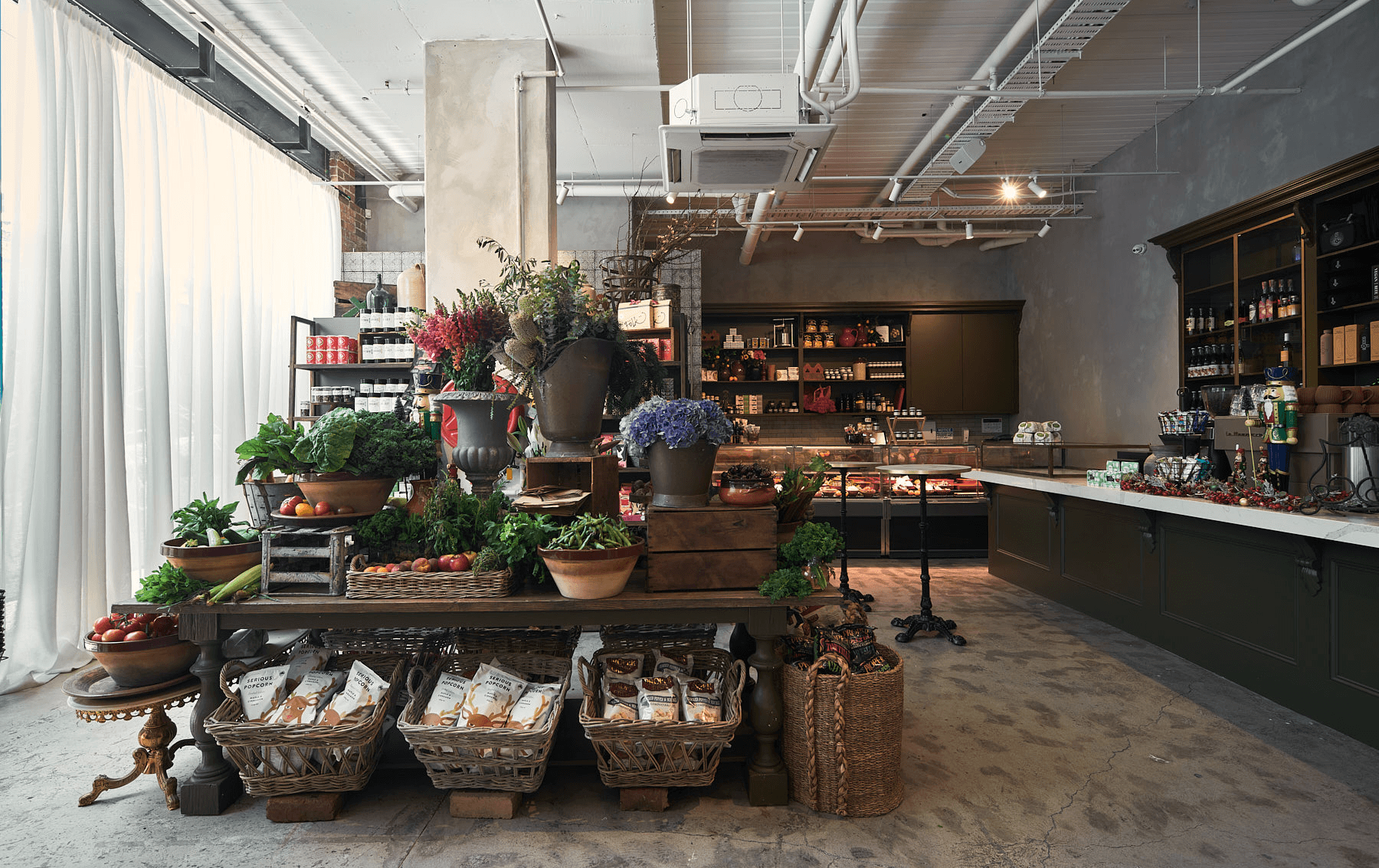 Red Sparrow Pizza
COLLINGWOOD & PRAHRAN
Imagine tucking into a vegan pizza without giving up the stringy, gooey cheese. Well, now you can. Red Sparrow Pizza is the go-to spot for vegan pizzas in Melbourne, hell, they're the go-to spot for any pizza in Melbourne. They've got the most incredible meat substitutes, you won't even notice the difference. They've also got GF, nut and soy-free options for all the dietary-challenged out there. Grab your pizza to go or dine in at the industrial-chic Collingwood restaurant.
Masti
FITZROY
Vegan curry night anyone? Fitzroy's newest Indian restaurant is the place to be on Tuesday nights. For just $39 a head, you'll be treated to a range of curries with complimentary house-made naan and a glass of vegan wine. Masti is part restaurant, part cocktail bar, with a heavily plant-based slant. There are a few options for the most stubborn of carnivores, but we'd recommend settling in and sharing as many veggie dishes as you can.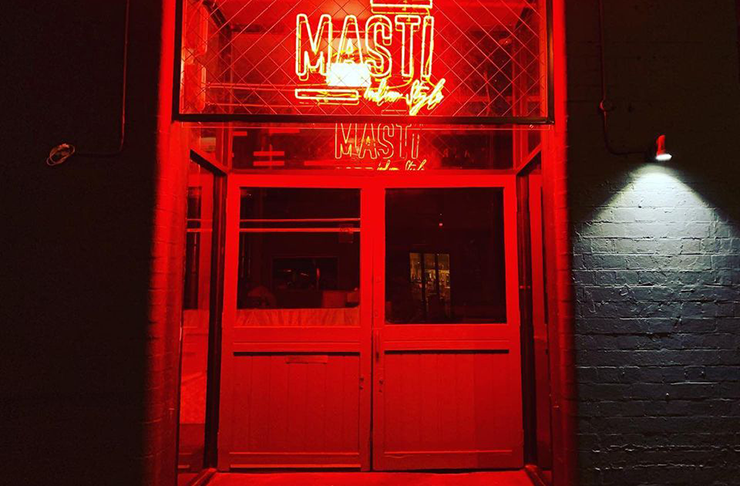 Sister of Soul
RICHMOND & ST KILDA
Whether you're north or south of the river, Sister of Soul is there to bring you all their vegan, vegetarian, raw and gluten-free meals. They're all about sustainability and leading the way to a greener diet, while building a community along the way. They divert food waste from landfill to the St Kilda community garden, so you don't need to feel guilty if you don't lick the plate clean—though we suspect you'll be tempted to.
Green Man's Arms
CARLTON
A little birdie tells me this is the place to go for the best crispy potatoes in Melbourne. It might seem a little odd to have a plant-based pub feed, but believe us when we say that Green Man's Arms food is seriously good grub. With a Lebanese-inspired, seasonal menu, the food is packed full of flavour.
Lona Misa
SOUTH YARRA
Sitting at the bottom of the Ovolo Hotel in South Yarra is the Latin-based restaurant, Lona Misa, helmed by two of Melbourne's culinary elite, Shannon Martinez of Smith & Daughters and Ian Curley of Kirk's Wine Bar. The entire menu here is plant-based and plays on the bold flavours and diverse vegetable integration of the region's cuisine; take the Patatas Bravas with a smoked tomato and fermented chilli sauce and the roasted broccoli cooked in seaweed butter with a smoky almond romesco sauce.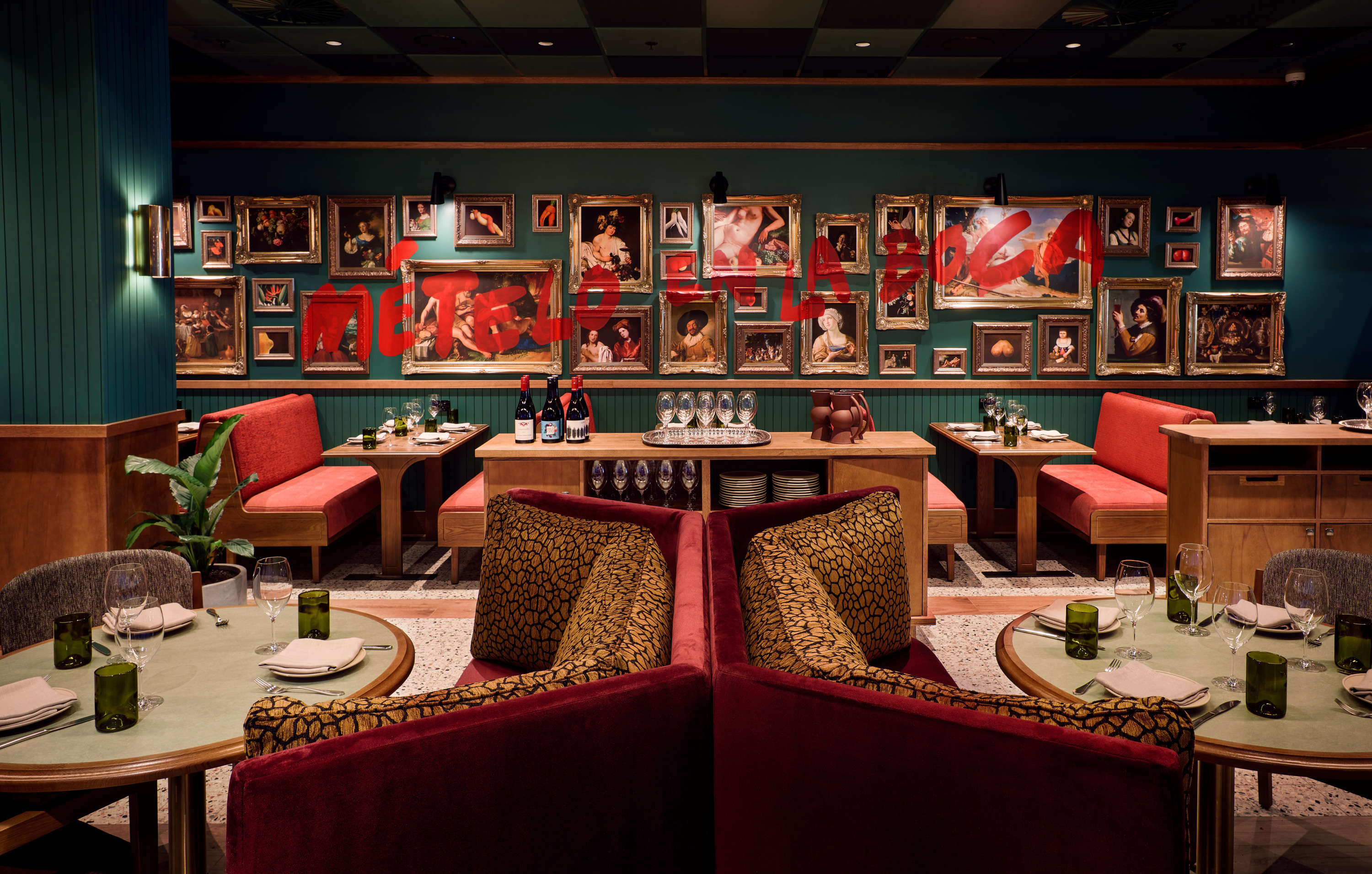 Trippy Taco
FITZROY
For a relaxed, casual Mexican night, you can't go past Trippy Taco. The name says it all, these tacos are so good they'll leave you feeling high on life. The Gertrude Street venue is a regular hotspot, with delivery drivers popping in and out at all hours and burrito lovers lining up out the door. Any of the veggie tacos go down nicely with a Mojito, so meet your mates at one of the best vegetarian cheap eats in Melbourne.
Check out the best gluten-free restaurants over here.
Image credit: Patsy's (supplied)