Needless to say, the food in Melbourne is some world class grub, in fact we've built a bit of a rep for having one of the richest and most diverse culinary scenes on the planet. The question on our lips though is—does the carpet match the plates?
We went in search of some of Melbourne's most aesthetically delicious cafes to see if the venues themselves stack up against the edible beauty that is their dishes. And let's just say, we weren't disappointed.
Here are Melbourne's most Instagrammed cafes.
Two Fat Monks
Fairfield
One of the best ways to describe Fairfield's Two Fat Monks is simply as 'very Melbourne'.
The polished cement floors are complemented by low-hanging rope features, soft wooden trimmings, classic subway tiles and a bloody delicious pastries cabinet. The space itself is enormous and the open plan layout has a killer vibe on a busy Saturday morning.
The most 'Grammed feature of this venue is, in fact, the mural painted on the wall outside. Do yourself a favour and check it out.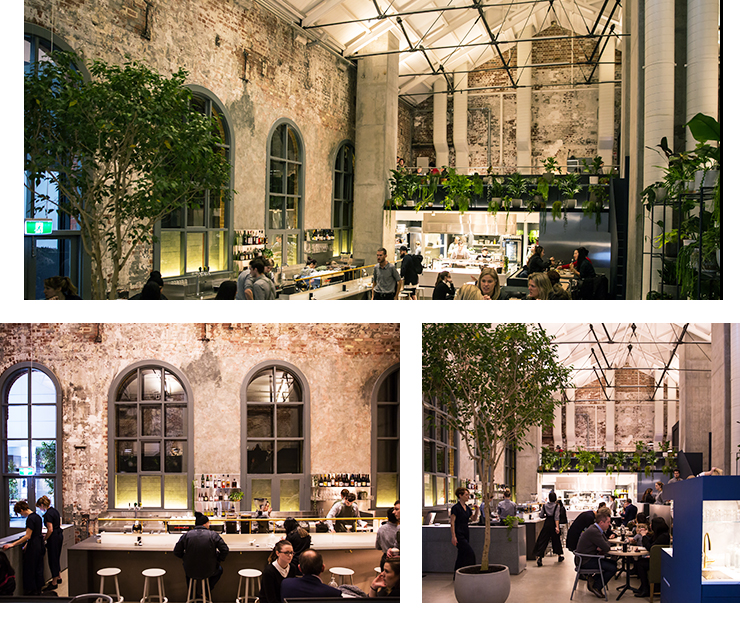 Image credit: Higher Ground | Jenna Fahey-White
Higher Ground
CBD
How about a side of 15-metre high ceilings with your quinoa bircher muesli?
Higher Ground isn't one of the old dawgs on the Melbourne cafe scene, but it is one of the most handsome.
Walking into the venue, you're met with the vibes of a modern combination of Gringotts Bank and an old greenhouse. In a good way. Somehow the stripped backed walls, arched windows and strategically placed greenery make that $40 iced chocolate go down just that little bit easier.
The Kettle Black
South Melbourne
Owned by the same [wealthy] peeps as Higher Ground, The Kettle Black also has a rep for it's stellar decor.
Just a plain white Victorian terrace on the outside, this modern cafe is a shrine to a Forever New-styled lounge room on the inside. With plain white walls, metallic trimmings and fringes of green shrubbery, the Instagram basically takes itself.
Sensory Lab
Collins Street
Nothing screams high class like a train carriage which is why Collins Street's Sensory Lab takes the gong for the most creative venue.
Once you slip through the carriage door, you're greeted with a simplistic interior, featuring wood-topped single benches aplenty and a mint-infused theme that bleeds along the floor and up the counter. Everything about this venue is well thought out, even the sugar matches your coffee here.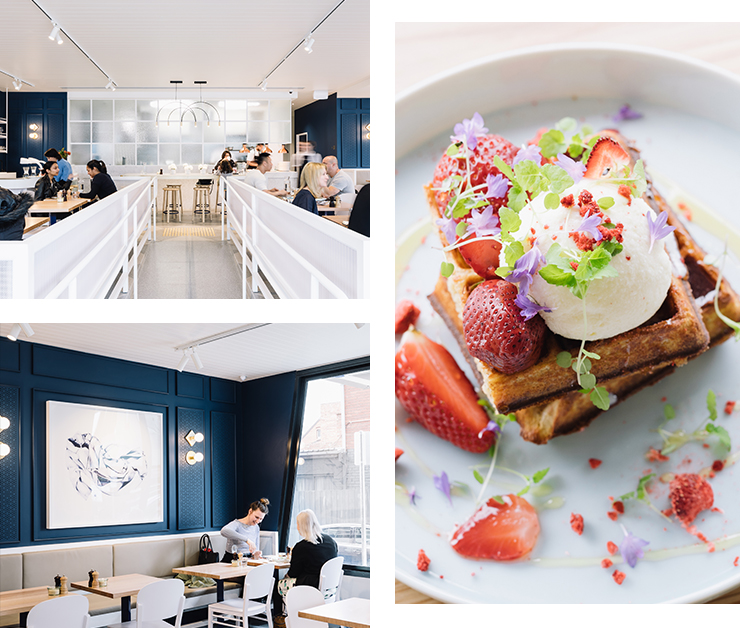 Image credit: Middletown | Griffin Simm
Middletown
Prahran
Middletown café is elevating the brunch experience in Melbourne with it's refined and elegant interior.
This fresh café has a striking navy color palette with terrazzo tiles, brass trims and hints of marble. Middletown pays homage to Kate Middleton, whose humble nature and unpretentious beauty embodies the design and personality of the café- Yas Queen!
Workshop Brothers
Glen Waverley
If you're feeling circle-deprived lately, then head straight to Workshop Brothers in Glen Waverley to get your year-round fix.
The smoothed edges and peach pastel tones of the cafe's interior are the perfect backdrop for a 'Gram of their Sweet HK Waffle.
Abacus Bar + Kitchen
South Yarra
If ritzy's what you want, then Abacus Bar + Kitchen is what you need.
Their high ceilings, dark marble table tops, carefully contoured wooden benches, cement walls and scattered pastel throw cushions breathe life into a Sunday morning brunch. If you can raise your plate against one of those fab sub-tropical plants, then you've got yourself the perfect 'gram.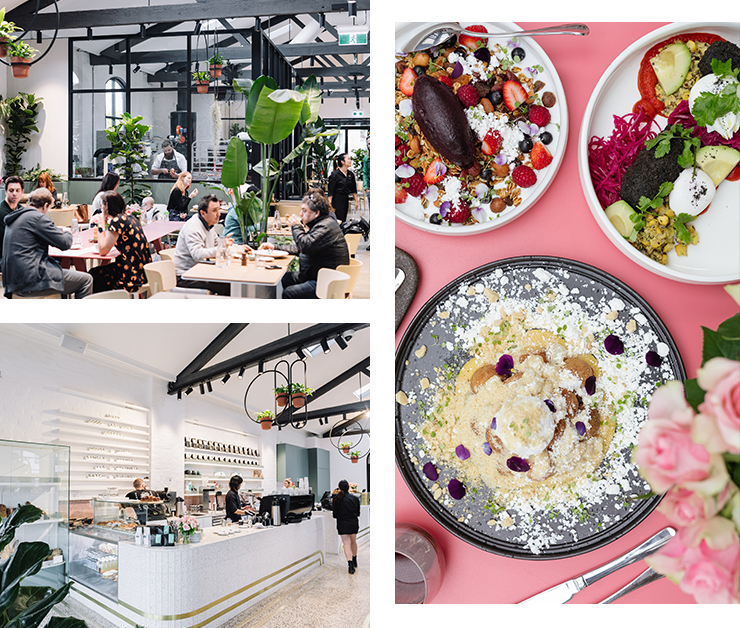 Image credit: AU79 | Griffin Simm
AU79
Abbotsford
Abbotsford's AU79 has a similar greenhouse vibe to Higher Ground, but instead of stripped back cement walls and dark woods, think pink tables, marble benchtops, polished cement floors, soft wooden furnishings, watercolour wall art and beige leather booths.
You can order a water here and still have an amazing time at AU79.
Industry Beans
Fitzroy
As every Melburnian knows - Black is the new black, and Fitzroy's Industry Beans has this fashion rule down pat.
The cafe's sprawling benchtops are plastered in black subways tiles, while the whole venue's framed with black timber slats. It's not good enough the courtyard is covered in exposed brick, but lush greenery hangs from the walls, giving you the perfect backdrop for your new Facebook DP.
Crux & Co
South Melbourne
Lobster bisque benedict and fairy floss French toast? It's gotta be South Melbourne's Crux & Co. You'll spot the queue out the door on weekends, but we promise it's worth the wait.
The space is everything you want from an Insta background: slick branding, lots of greenery, blonde timber and brassy copper highlights. Save a spot on your feed for the house-made pastries, courtesy of Louis MK Lee. Pretty as a picture.
Long Story Short
Brunswick
Four words: fairy floss dessert burger. Port Melbourne staple Long Story Short pretty much built their Insta rep on this dish alone. It arrives at the table like a giant ball of pink fluff, bigger than your head.
Pour over the pitcher of coconut milk and watch the whole thing melt to reveal a Sicilian brioche stuffed with honeycomb gelato, fruit salad with white choc matcha sauce, fairy floss popping candy and 'magic dust'. What the actual...
White Mojo Plus+
Glen Waverley
Glennie's newest kid on the block. This is the third installment of the White Mojo empire, and it's basically made for Insta porn.
Here's how to do it: grab a seat in their al fresco deck garden (good natural light), then order up a plate of the Bad Mojo Waffles: fluffy Belgian-style waffles, topped with peanut butter semifreddo, passion fruit curd, vanilla ricotta, freeze-dried fruit, black sesame gel and sprinkled with peanut butter powder. And let the likes flow in...
Good Times Milk Bar
Bentleigh East
Good Times is a brand new, pastel pink, California-style neighbourhood cafe and brunch bar. The site used to be a run-down convenience store, and the team have spent a few months gutting and refurb-ing from the ground up.
The food and drink reflect the space—this isn't about scoring points or looking cool. It's about good times and good coffee. Tuck into a GTMB Beef Burger with beer-battered fries (or crispy potato gems). Smash a plate of ricotta hotcakes, drizzled with berry compote and a meringue crumb. There's an all-day brekky menu (nice) and a few heftier lunch plates from 11am (the Moroccan eggplant with harissa is our personal pick).
Vacation
CBD
Vacation's interior is a mix of pastel pinks, royal blues, and funky furniture Kael calls "an ode to the 80s".
With a customer base built up of mostly office workers, Vacation's menu is simple: mostly snackable sandwiches, with meat sourced from Meatsmith. There's avo on toast, turkey with Swiss cheese, and toasties. It's food the team can create as quick as possible for people on the go.
When you're done looking at these cafes, how about eating some of the great food Melbourne has on offer? Here are 60 dishes you should've eaten by now if you live in Melbourne.
Header image: AU79 | Griffin Simm