After last year's shenanigans, we sure do need an occasion dedicated to celebrating freedom and togetherness. And what better place to hold space for that than Auckland Pride Festival 2021?!
Spanning most of February with one event in March, this year's festival's theme is 'Karanga Atu, Karanga Mai' which encourages celebration, activism, inclusivity and representation. To help you dot your calendar with events that celebrate our LGBTQI+ community here in Auckland and Aotearoa, we've rounded up a few stellar events to help you make the most of this celebration.
From drag queen spins on classic bar events through to markets, balls and cabarets, there's an abundance of ways to celebrate Auckland Pride this year so let's get stuck in, shall we?
All February
Auckland Art Gallery's Multiple Events
Oh there's a lot to love about Auckland' Art Gallery's Pride Festival line up this year. Let's start with the He Korero ataahua: A conversation with Reuben Paterson at 2pm on Sunday February 14 this year. You'll hear from this iconic kiwi artist (you know, he who makes mesmerizing kaleidoscope-esque paintings with glitter) as he talks through his works for the current Toi Tū Toi Ora: exhibition. AAG isn't stopping there, you can also catch a performance from GALS Auckland Rainbow Choir in the gallery atrium on the following weekend at 2pm. For a truly captivating peek into the creative process, Atamira Dance Company is sharing a week-long residence display of contemporary Maori dance: where you can see the company rehearsing, practising movement and finally performing from Monday 15 through to Friday 19 February. The sprogs are catered for too during Pride at the gallery: drop in to their whanau sessions to craft everything from rainbow suncatchers to korowai!
February 24-27
Over My Dead Body: Uninvited
Inclusion is a key theme of this year's Pride parade, and Over My Dead Body series' UNINVITED is an acknowledgement to New Zealand who lost their battle with HIV/AIDs. Taking place in a flat party that takes a turn for the worst, three strangers discover connections to the past, stronger than they ever imagined. It's a reminder for those who were about in the 80's — as well as a lesson for us Millennials and Gen Z-ers who weren't. It'll take you from funny through to provocative and heartbreaking moments, and tell important stories that echo this year's festival theme of celebration and representation.
February 24-28
Rainbow Cinema at Market Square, Viaduct Harbour
If we needed another reason to head to the bustling Viaduct Harbour, let this be it. Auckland's most buzzing precinct is playing host to an epic, free open air cinema from Wednesday 24 to Sunday 28 February – AKA the Rainbow Cinema. They've partnered with Rialto Channel to curate a sleek selection of films traversing LGBTTQI+ related stories from 8pm each day, which include everything from celebrations to rainbow fashion icons through to international explorations of such matters. If you want to do your bit to support youth and be extra comfy for the screenings, grab a ticket online before heading along — you'll not only score yourself a beanbag spot with your name on it, but also be making a donation to help OUTLine NZ provide free peer trans support to fellow Kiwis.
February 26
Supreme Ball 2.0
Mark your calendars for 9.30pm on Friday February 26. Circle it, underline it, highlight it and put stickers all around it — because this precious date holds the one and only Supreme Ball 2.0. Presented by Coven-Carangi, securing your spot at the Supreme Ball is your literal ticket to a ballroom extravaganza where individuality is celebrated to epic proportions. Don your absolute favourite and dream look and get amongst the part-catwalk, part-ballroom-dancefloor action as a 'walker' — or leave the sashaying and vogue-ing part to the others and grab yourself a spectator ticket. Held at Auckland Art Gallery, there'll surely be no shortage of mesmerising moments and inspiration.
February 27
Auckland Pride march and Party
Us Aucklanders sure do love a party, our city and a free shindig. So roll these into one, and you'll get the Auckland Pride March and party happening at Aotea Square on Saturday February 27 at 4pm for the march and 6pm for the party. Homegrown talents HalfQueen and Randa will be headlining the performances of the night — which will be sprawled across two stages in the square. This, plus a plethora of food trucks and the Hello Sailor bar will be the most fabulous and happening way to wrap up the final weekend of an epic Auckland Pride Festival.
March 4
Drag Bingo at The Alex
Everything's better when drag is involved. Everything. So if you thought the above was pretty nifty, then you're going to love the next drag spin Auckland Pride Festival 2021 has in store for you: Drag Bingo. Not just the kind of stuffy bingo you'll find at a pokey pub, this one will bring drag queen Kita Mean and Vanessa LaRoux in for the most marvellous Bingo moment — for free! There'll be bar tabs and prizes up for grabs, performances by your hosts, and the odd game here and there throughout your night.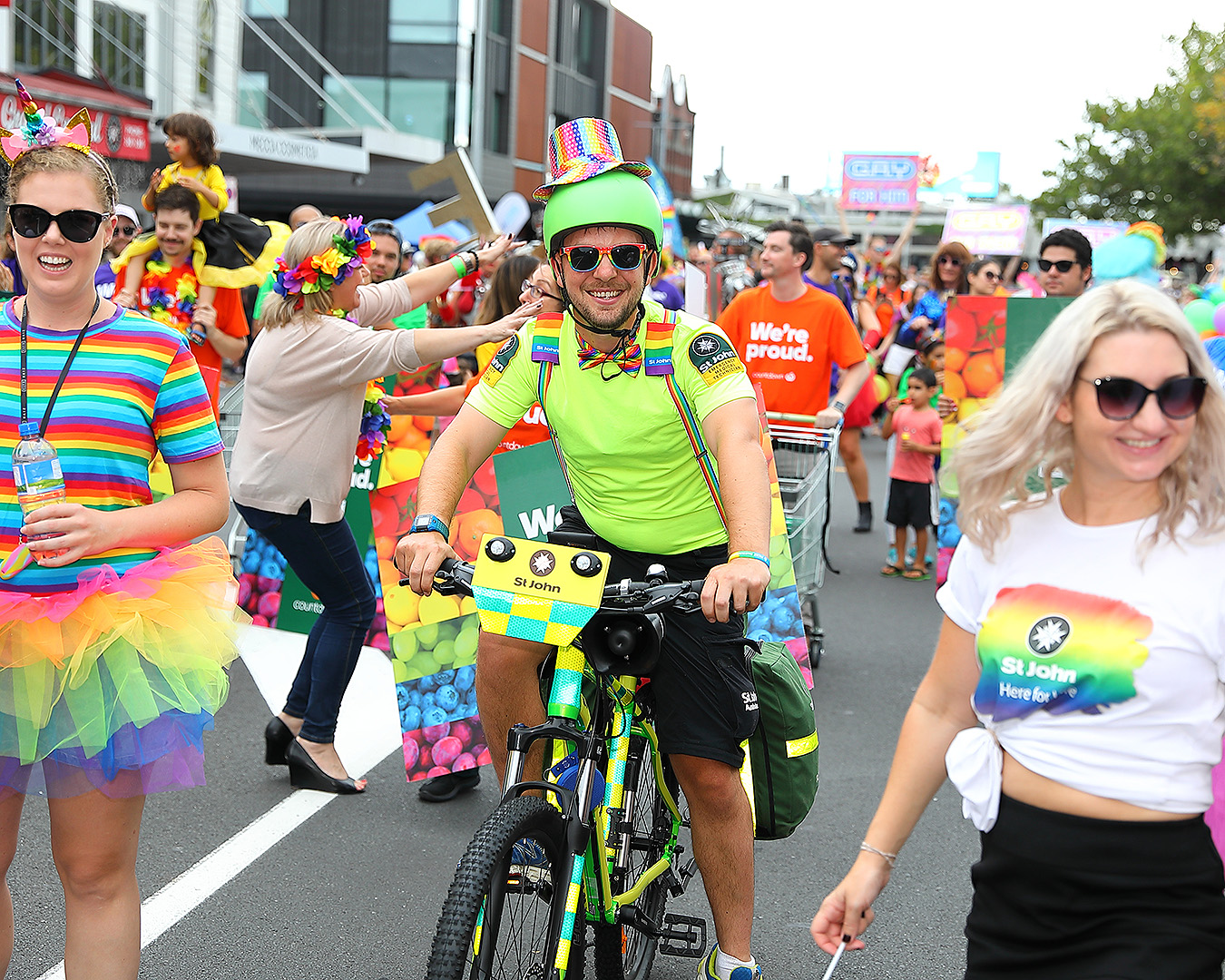 March 27
Ponsonby Street Festival & Rainbow Parade
It's all-ago up in Ponsonby this Pride Festival. Wrapped up in The Ponsonby Street Festival on Saturday March 27, Pride will be celebrated with everything from foodie deals through to the legendary parade on during this jam-packed day of celebrating. Almost 1,500 people will be parading down Ponsonby Road for the Auckland Rainbow Parade from 6pm, before Brazilian Dancers and Drag Queen performers sashay in the Street Festival performances from 7pm. All this buzz and frivolity will surely have you work up an appetite — so rest assured that there'll be food, market stalls and local restaurant specials all festival to keep you fuelled.
Need a spot to freshen up in between the events? Why not squeeze in bit of R&R at one (or more) of Auckland's Best Rooftop Bars.
Image credit: Ponsonby Street Festival, Auckland Art Gallery