Bargain bevvys, a bar snack or two and some quality yarns make for the ultimate after work wind down. It's a ritual, a celebration, the day is done, and you've earned yourself a treat before 9am rolls back around for another day of hard work. That's right, we are talking about everyone's favourite hour of the day—happy hour.
The origin of "Happy Hour" comes from the acknowledgement that as soon as people leave work and get themselves a drink for a reasonable price, they feel nothing but pure happiness. Yes, we may have made this up, but we know you can relate.
And to help you make the most of this special time, here is where to find the best happy hours in Auckland.
The Empire
Auckland CBD
Established in 1875, The Empire is an iconic part of Auckland's bar scene, proving its truly stood the test of time. The team are passionate about their customers and offer a VIP club you can sign up to and enjoy 10 percent off drinks all day, every day. And, make the most of their happy hour from 5.30pm to 6.30pm everyday you'll enjoy 20 percent off bevvies.
La Zeppa
Victoria Park
One of the best spots for hosting events, you can almost always count on La Zeppa to come through with live music, Sunday sessions and themed parties. With epic lineups of DJs all weekend and some sweet drink deal,s we are big fans. Extend your happy hour at the Sunset sessions on Fridays, where you'll enjoy $9 SOHO Frose from 4pm to 7pm.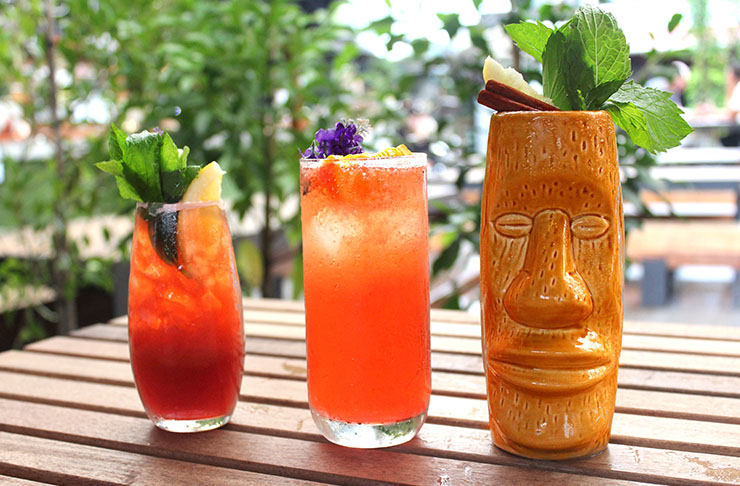 Bedford Soda & Liquor
Ponsonby Central & Takapuna
Bedford Soda & Liquor is known for some of the tastiest (and most good-looking) cocktails in town and their customisable meatball menu makes for great after work nourishment. Happy hour kicks off at 5pm through till 7pm on Fridays where you can get a bucket of Buds for $7 each. There are also wine specials on offer, and definitely get amongst the $5 shoestring fries.
Longroom
Ponsonby
A hotspot on a Saturday night in Ponsonby, Longroom goes just as good on weekdays for a few drinks after work and one of their signature platters to match. The daily happy hour, Summer Sundowners, provides a range of drink specials kicking off at 4pm till sunset.
Jack Tar
Wynyard Quarter
This lively and spacious waterfront bar boasts stunning views of the harbour, complete with a courtyard to relax in over a drink. Their extensive selection of beer, wine and cocktails will have you spoilt for choice. If you're feeling fancy grab a bottle of champagne and half a dozen oysters all day Friday for $85, or on offer all weekend are five Coronas for $39.
Coco's Cantina
K' Road
Their Italian food is some of the best, but the selection of local craft beers and the extensive wine list also makes Coco's Cantina a happy hour hotspot. From 4pm to 7pm you can snag $7 beer and wine as well as our favourite for the summer—a jug of sangria for just $28.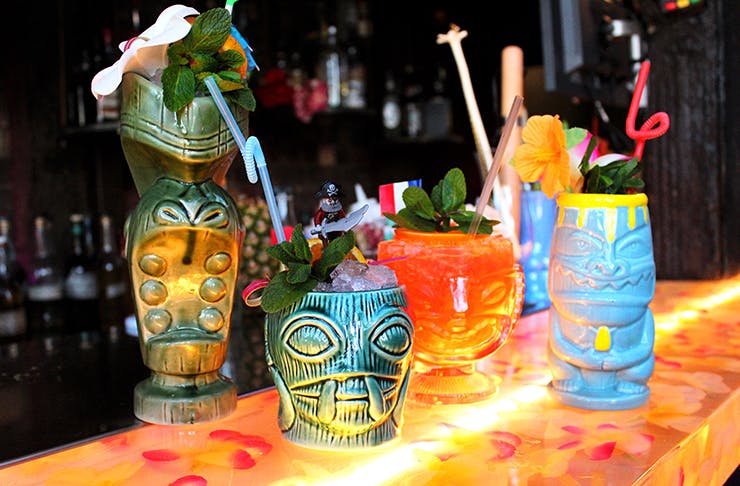 Talulah
Britomart
Hidden away up a staircase, this tiki bar is decked out with lush greenery and fairy lights, giving off ultimate vacay vibes. Talulah will have you feeling like you've escaped the city for sure. Tiki time kicks off at 4pm through till 7pm where you can find the daily cocktail for $10, and on Saturdays enjoy their two-for-one mimosas.
Mr Toms
Ponsonby
Amongst the hustle of Ponsonby Road, Mr Toms is full of fresh greenery and homely decor, giving it the perfect relaxed feel for after-work catch ups. The vibrant spot often has live music from an array of talented local artists which only adds to the chill vibes. Between 4pm and 6pm get amongst $30 jugs of tap beer and cider or, if you are feeling fancy, try one of the special cocktails featuring Mount Gay rum or The Botanist gin for just $12.
Holey Moley
Viaduct
This bar-meets-mini-golf has taken the Viaduct by storm and for good reason. Holey Moley is the spot to go when you're up for some friendly competition over a drink or two. If you pop in Tuesday, Wednesday or Thursday between 5pm till 7pm you can get a beer, a house pizza, and nine holes of mini golf for just $20. Midweek treat or what?
Headquarters
Viaduct
Complete with bean bags and sun loungers, this pop-up bar has made its mark on the waterfront as the dream spot to catch the afternoon sun over a bevy or two. And the happy hour—or should we say happy hours—are some of the best in Auckland. From open at 11am till when the sun goes down you'll find all sorts of sweet deals on wines ($5 for a glass and $25 for a bottle), $10 margaritas, $15 bubbles and plenty more on beers and spirits.
O'Hagans
Viaduct
The friendly Irish pub that everyone loves, you can always count on O'Hagans for perfect harbour views, sweet live music, top-notch eats and some very tempting drink specials. Every day from 3pm until 6pm you'll find happy hour jugs and we have to mention the gourmet pie and pint deal for $22.50.
Grand Central
Ponsonby
As welcoming as it is lively, Grand Central is a long-standing bar in Ponsonby that is known for the regular live music and late nights on the dance floor. They also have a happy hour that all our beer drinkers will be very happy indeed about. Make the most of two-for-one tap beers, Monday to Friday from 4pm till 7pm and on weekends 6pm till 7pm.
Bluestone Room
CBD
It's Auckland's oldest commercial building and has definitely got the character you'd expect. Think brick walls, wood floors and low lighting—The Bluestone Room is a great spot if you're feeling like cheap beer and classic pub food done really well. What they call 'Attitude adjustment hour', from 4pm everyday can get you some cheap deals on all sorts of drinks. All day everyday you'll find $4 Heinekens, and on Fridays there are two-for-one lunches.
Looking for more great bars? Best Bars in Auckland
Image Credit: Jaiden Bhaga