Ten years ago no one knew what the word gluten even meant. These days every man and his dog has a gluten intolerance and nooooo it's not just a trend. It's a real thing.
Don't fret though friends. We know it can be a giant pain to find somewhere to dine that has your tummies best interests at heart (or stomach?) But Auckland does happen to have a growing number of establishments that have super dooper gluten-free menus. We've looked high and low and we've scouted the best places to eat if you're gluten-free, because there's no need to miss out if you're gluten intolerant. For our coeliac friends, while these places do offer gluten free food it's always best to call ahead to ensure they can safely accommodate coeliac needs.
So, get ready to indulge in some seriously delicious and tummy friendly food with the best places to eat when you're gluten free.
East
CBD
With a team of chefs specialising in cuisine from Japan, Hong Kong, China, Thailand, India and Sri Lanka, East is a true fusion of modern Asian flavours and culinary traditions, and much of the plant-focused menu (which just so happens to be 75% vegan) is gluten-free. Dishes include edamame with black shiso salt; steamed mushroom cheung fun with homemade XO sauce; som tam, gado gado and larb salads; pad see ew noodles; Southern Thai yellow curry and kaffir lime and lemongrass crème caramel. YUM.
Goodness Bistro
Britomart
Go here for bread, buns and sweet treats that'll make you go 'OMG!'. Bite into their open buns— an absolute steal at $7—and you'll be treated to a burst of freshness, and layers upon layers of goodness. Other Goodness Bistro offerings include herby 'cwackers' which go down a treat with a lick of hummus, generous servings of chia pudding, spongy organic loaves of bread and a rainbow sandwich that'll 'take over your entire being'. The team also sell no-knead pre-mixes so you can recreate their signature delights at home.
Kingi
Britomart
Sleek seafood restaurant, Kingi, caters to all diets. Smoked kahawai and pickled egg, hemp heart granola with raspberry and peach, wood roasted oyster mushroom antipasti… The menu is a celebration of independent fishermen and women around Aotearoa, their fish is line-caught using sustainable fishing methods, and their meats and produce are locally sourced and organic whenever possible. Sustainable, responsible and diet savvy, whether you're feeling breakfast, lunch or dinner, this place is ace (we had to).
Tok Tok
Takapuna
Every mouthful at Tok Tok is a moment of pure joy. With a tonne of gluten-free options to choose from, you won't know where to start. Fortunately the wait staff are super helpful with recommendations to make sure you don't miss out on the most popular fusion gems. Fill your table with pops of colour then feast.
GoGo Daddy Thai Canteen
Ponsonby
The staff at GoGo Daddy take dietary requirements really seriously so you can rest easy knowing they've got you. Order a bunch of plates of 'big delicious'—they'll arrive at your table, whip fast —and tuck into some of the best Thai food you've ever tasted. P.s. the crispy salmon salad is next level.
Charlie Mia
Kingsland, Assorted markets & festivals
Drop everything! Soft, spongey, gluten-free doughnuts are now a reality and they come in a whole bunch of delicious flavours like vanilla coconut and raspberry coulis, caramel and salted maple and lemon meringue at Kingsland's new darling Charlie Mia. Choose from filled, holey or dainty doughnut holes plus a glorious selection of cakes, tarts, toast, scones, brioche and other baked goodies. Better still, everything on the menu is refined sugar-free and vegan too, so you can feel good about indulging.
Pici
K' ROAD
Did you know that the delectable Italian pasta bar that's recently opened in St Kevin's arcade offers gluten-free pasta? Whether you're in the mood for a prawn bisque, a vegetarian dish or even just salt and pepper simply swap out any of Pici's pasta dishes for a cheeky gluten free number and you're good to go!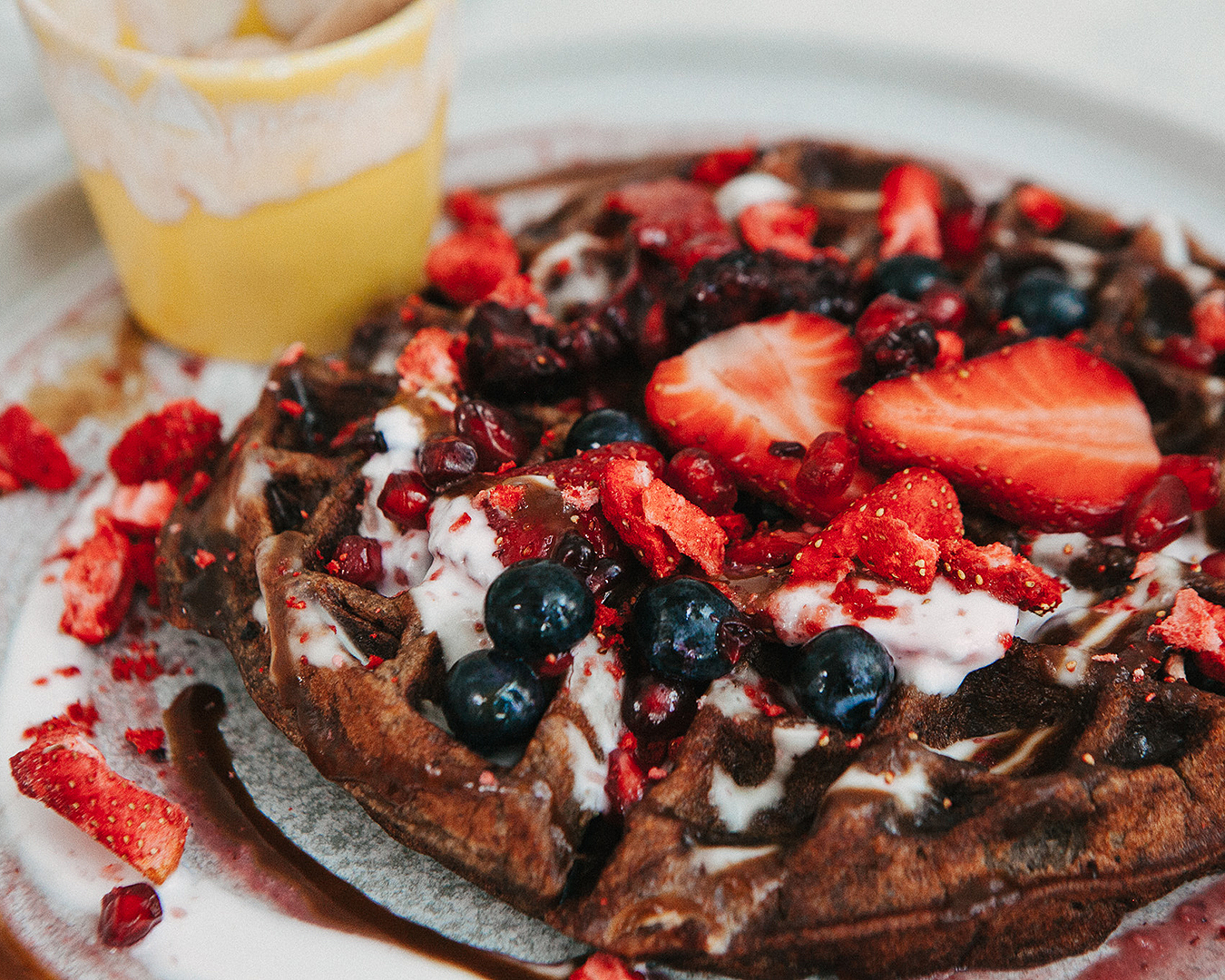 Hēmi Eatery
Victoria Park
Sitting on the edge of Victoria Park, this place serves healthy and seasonal deliciousness. Their cacao banana waffles, granola, buckwheat polenta, breakfast mince, market mushrooms and vege patch dishes can all be gluten free, as can their range of tasty salads. Fun fact: Hēmi has partnered with local F45 gyms to provide meals for the iconic F45 Challenges so you know their health game is strong.
Honey Bones
Grey Lynn
So dang cool, Honey Bones is the slickest. Plus, almost their entire menu can accommodate gluten-free needs. Buckwheat bowls, a quick butty, Cilbir eggs, pea pancakes and zesty zucchini fritters could all be in your future. Or maybe you'd like to load up large on The Full Bones. We've got our eyes on the Turkish scramble. They don't take bookings so you'll probably need to wait for a table, but it'll be so, so worth it.
Geeks On Sainsbury
Morningside
While we love Geeks On Sainsbury for its coffee and bagels, we can't go past their epic gluten-free feasts. Their eggs bene (choose between Pokeno bacon, Aoraki smoked salmon or pan-fried tofu) comes with a gluten-friendly layered agria potato or a moreish pork salad. Think sunflower seed-crusted pork, house made chutney, shredded apple and roquette salad on roasted veggies. The rest of their menu is pretty damn dope too.
Café Hanoi
Britomart
The menu at Café Hanoi is a celebration of Vietnamese food and culture, serving iconic Hanoian street food dishes as well as pairing traditional North Vietnamese cooking techniques with the best local produce. Think rice paper rolls, grilled kaffir lime and chili octopus and aromatic curries. Excitingly, most of their menu is gluten-free. There are only a couple of dishes that can't be de-glutenised so be sure to check with your waiter.
Best Ugly Bagels
NEWMARKET, CITY WORKS DEPOT, COMMERCIAL BAY, AUCKLAND AIRPORT
Montreal-inspired, these hand-made, wood-fired bagels are top notch. Happily, the gluten-free variant is only $1 extra and is just as crispy on the outside and chewy on the inside as the standard ones. There's at least 17 toppings on offer, ranging from simple spreads like P.B.J, Best Ugly classics like Tuna Melt and the pastrami-mustard Yodi, the uniquely Kiwi Swiss Melt (which is basically a mousetrap) and even a bagel-shaped ode to the Jelly Tip.
Catroux
Westmere
Westmere icon, Catroux, ticks all the boxes with a range of healthy meals to go, generous salads, indulgent cabinet treats and a menu stacked with dreamy brunch dishes. They have gluten-free options across their whole range including their take home Cottage Pie, a Fitness Bowl that'll leave you 100% satisfied and dairy-free Goodness Muesli Pot complete with coyo, packed rhubarb and raspberry blitz. We could eat all these things over and over but what we're absolutely living for is their gluten-free Muffin Of The Day. With flavours changing daily this is a total showstopper; get in quick before they're sold out!
The Butcher's Son
Herne Bay
Plant-based and inspired by dishes from around the world The Butcher's Son is almost entirely gluten-free (they even have a coeliac-friendly fryer). Their monster burgers—in 'Beyond Cheese', 'Sunfed Chicken' or Falafel—with a hefty serving of kumara or spud fries are perfect when the hungry beast within needs to be fed, or there's a bunch of shareable plates, salads and bowls (and chocolate waffles!) to get amongst. Also on offer is a 100% vegan wine list, including cocktails and botanical pairings to take your meal to the next level. As for ambience, there are plants a-plenty including some sassy, vege-inspired artwork that always make us chuckle.
Crave Café
Morningside
We've found the ultimate Eggs Benedict and it's gluten-free. The aptly-named Benediction is practically a religious experience. Served on crispy potato hash, there are three flavour ways to choose from, plus flexibility to make a plant-based option. Whether you're feeling the house-cured NZ king salmon with beetroot hollandaise, braised beef cheek with chimichurri or free-range bacon with chorizo crumb and chipotle crema, Crave will ensure your morning is off to a stunning start.
Dear Jervois
Herne Bay
You may find it difficult to nab a table at Dear Jervois on the weekend, being a popular spot among Ponsonby locals. One of the first in the field to enter the health fad scene, Dear Jervois is still going strong. Boasting a menu full of gluten-free and dairy-free options, it'll make eating out a breeze. Our mouth is watering at the gluten-free waffles topped with bacon and caramelised banana. Who said eating gluten-free had to be healthy? Go on, indulge a little.
Al Volo Pizza
Eden Terrace
Al Volo has some of THE BEST pizza in Auckland, and praise the food gods, because they offer gluten-free bases for all of them. Their pizza menu is extensive and is perfectly Neapolitan, with simple and fresh ingredients. All the pizza sizes are 33 cm and perfect for one person or why not try a selection of pizzas and have a pizza party?
Giapo
CBD
If you're in the mood for a decadent, delightful dessert, look no further. For all those who thought they'd never be able to eat ice cream cones ever again, this is for you. Giapo's cones are halal, vegan, kosher, egg-free and, yes, gluten free too. Better still, this goes for ALL their cones, even their Colossal Squid! They now offer a handy click-and-collect service through their Giapo App so you can skip the queue and get straight down to indulging.
Kiss Kiss
Mount Eden
This neon fusion eatery packs a whole lot of gluten-free dishes. Taro chips with plum sauce, free-range chicken nibbles with Sriracha, stir-fried Asian greens, pad thai, larb and the Kiss Kiss signature buddha bowl… there's plenty to keep you going. And if you have room for dessert, you absolutely can't go wrong with their mango sticky rice.
Wise Boys
Grey Lynn, Commercial Bay
Created by brothers, Tim and Luke, Wise Boys prides itself on being "a one stop shop for a face full of indulgent plant-based burger goodness" and luckily, the gluten free among us need not miss out. Five of their signature burgers have gluten-free options—their Classic Cheese, Moroccan, Spicy Mex, Smoke and Fire and Hungry Jack—and their rotating specials can often be made gluten free too.
Masu
CBD
We really feel for those gluten free peeps who can't enjoy a Japanese meal, with limited places offering gluten free options. Unknown to many, Masu offers an entirely gluten-free menu, so you can save yourself the hassle of working through the entire menu to figure out what you can and cannot eat. Talk about effortless dining.
Mister's Real Food
CBD
Serving up all day breakfast and a tasty selection of world lunch bowls (not to mention smoothies, coffee, juice and sweets) every day of the working week, Mister's is a gluten-free bod's dream. In the mood for brioche french toast? Done. Feel like a Bali bowl with mini mung bean pancake, grilled free range chicken breast or pulled jackfruit? Easy! Want to swap out your grains for cauliflower rice? Consider it covered! All items are free from gluten and dairy, and feature local, seasonal, free range meat and organic produce. And, true to their Conscious Consumer accreditation, all meals come in packaging made from plants, not oil, which takes just four weeks to break down at the commercial composting plant—Mister's is good for you and the environment!
Daisys of Jervois
Herne Bay
The hunt for the perfect gluten-free cheese scone led us to Daisys. Served hot and buttery, and baked fresh daily, every bite is AH-MAZING. They also do date scones for when you're after a little sweet somethin' somethin'. And if scones aren't quite your jam, never fear, the gluten-free spread here is ever expanding. Think berry muffins, choc coconut clusters and keto savoury items like lasagne and pies. Drooling yet? We are.
Culprit
CBD
We fell hard for Culprit when they introduced their new-wave Trolley Derby and we've been madly in love ever since. With an ever-changing seasonal menu gluten-free diners need only notify the team and they'll whip up something inclusive and no less magical.
Prego
Ponsonby
If you're lookin' to dine somewhere a little more upmarket but still conscious of your tummy's needs, then Prego restaurant is the place to go. Ponsonby Road stalwart Prego offers an authentic Italian menu with many tasty gluten-free options. Some of the dishes include crispy skin duck breast with puy lentil ragu, mushroom, wilted spinach and orange; ora King salmon, ponzu vinaigrette, pickled fennel and anise Crème Fraiche and a pea risotto with pancetta, mint, pecorino romano and mascarpone; plus pizzas and pasta. Delizioso!
Little Bird Organics And The Unbakery
Ponsonby
Ever get miffed that being gluten free you can never eat from a bakery? Not to worry, because Little Bird has evolved the art of baking with their "Unbakery." Everything they sell in their bakery section is raw, gluten free, dairy free, refined cane sugar-free and vegan. We're talking cheese cakes, slices, macarons—you name it. And you'd be surprised at how delicious these recipes are. Not to mention, they're on the healthier side of things. Little Bird is also a café with a full menu offering the same healthy alternatives to some of your favourite dishes. It's the perfect brunch date location for a super delicious meal and somethin' sweet after—they even do take away, so you can indulge at home (guilt-free) later.
Woodside Cafe
Birkenhead
Hold the phone because this little Birkenhead gem is 100% gluten free. Yep, you read that right. Not only does Woodside cafe offer a completely gluten-free menu, but they also have dairy-free and vegan options, too. Their produce is grown in their family gardens, as is their honey, partly sourced from their family hives. And what they don't grow themselves they source from New Zealand suppliers. Set up in a quaint little villa, with lots of white tones and greenery, it's a beautiful spot. You'll feel ever so relaxed in this space while you enjoy a meal that is good for your soul—and your tummy.
7 Siri
Sandringham
Tonnes of traditional Sri Lankan dishes are gluten-free thanks to rice, rice flour and urid/lentil flour being major culinary staples. 7 Siri's 'bathmalu' dish—six curries on rice wrapped in a banana leaf—is always a good time, or you can feast up on filled rice flour 'dosa' pancakes or dainty cup-shaped appa. You're probably going to want everything, which they're totally prepared for with buffets on offer Friday through Sunday nights and a vegan-only one on Thursdays.

Not full yet? Eat your way around Auckland's best vegan restaurants.
Image credit: East by Wono Kim, Tok Tok, Hemi by Wono Kim, Cafe Hanoi, The Butcher's Son, Giapo, Mister's Real Food, Little Bird Organics and The Unbakery.