Chinese food in Perth is as diverse as it is delicious. We've come a long way from thinking honey soy baked chicken from the local foodcourt was all Chinese cuisine has to offer—we are lucky to be able to enjoy authentic, multi-regional Chinese food pretty much any time of day. And it's not just limited to Northbridge either. Some of the best Chinese eats are found in unassuming places, all over our delightful city.
Whether it's dumplings you're craving or you need a place for Sunday dim sum, we've no shortage of options in either department. Explore Chinese cuisine by ticking your way down this list—from Cantonese BBQ meat, to spicy Szechuan hot pot, to hand-stretched belt noodles and Chinese hamburgers all the way to fine Chinese degustations. Here are the best Chinese restaurants in Perth.
Dumplings
Authentic Bites Dumpling House
Northbridge
The dumplings here are so good, we'd be there every day if the line weren't so long. But a long line can only mean one thing: delicious food. That is certainly true for Authentic Bites Dumpling House, who serve your favourite delicious morsels in every form, from Shanghai soup dumplings (xiao long bao) to dumpling soup, and dumplings come boiled, pan fried and steamed. We aren't even gonna try and select a specific item to recommend… it's all good.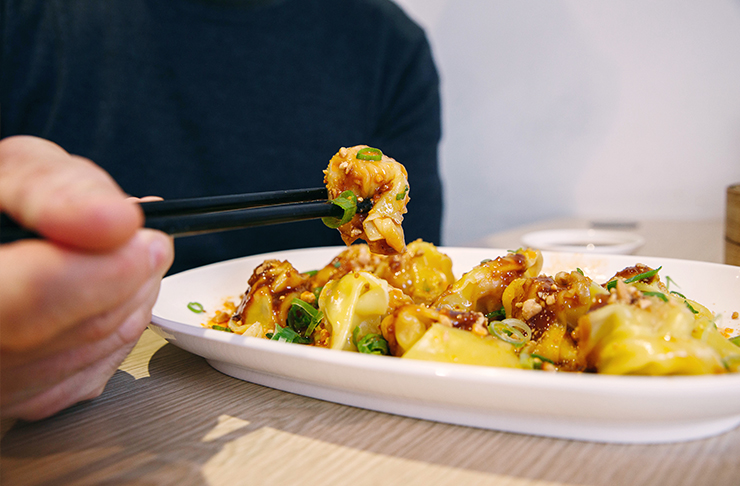 Mom Dumpling House
East Victoria Park, Willetton
Bringing dim sum lovers the best of North-Eastern Chinese cuisine is Mom Dumpling House, a humble little place on the ever-diversifying Albany Highway strip. The place is packed out with big round tables for large groups to enjoy their delicious, hand-crafted pockets of flavour in an authentic environment.
My House Dumpling
Wembley
Contained in the Wembley Food Court which, if you don't already know, is a delicious hot spot for international flavours, My House Dumpling is dishing out some Taiwanese style dumplings that could be Perth's best. Try the hot and sour dumplings!
People's Inn Dumpling House
Perth
For highly authentic Northern style dumplings (jiaozi), head to People's Inn Dumpling House. They also have a seriously good share-style offering, including something called 'Flammable Spicy Noodles' that we dare you to try. The pork and prawn dumpling noodle soup is a favourite.
Dim Sum
8 On The Point
East Perth
If you're after your dim sum fix in a slightly more contemporary setting, it doesn't get much better than 8 On The Point. Swap pavement views for the Swan River while lining up for your favourite Sunday feast—their dim sum menu will please traditionalists as well as those who like to go slightly against the grain. The rest of their menu features the finest WA produce, and puts a modern spin on Chinese classics—think soft-shell crab, prawn and pork wonton soup, crab claypot, steamed fish with soy and spring onion, heck, you can even get sashimi crayfish. There are also sections of the menu dedicated to Peking Duck and Hong Kong BBQ (as there should be) and to each meat. And there's vegetarian. And there's hot pot, rice and noodles. Have we covered it? They definitely have.
Dragon Palace
Northbridge, Joondalup, Cockburn
Loved for it's grandeur and unmissable for the line that's usually trailing the street out front, Dragon Palace is one of Perth's best dim sum experiences. Choose from steamed, pan-fried and deep-fried dim sum, or go for one of the house specials (or both…). The prawn and chive dumplings, steamed egg yolk buns and steamed beef balls are non-negotiables.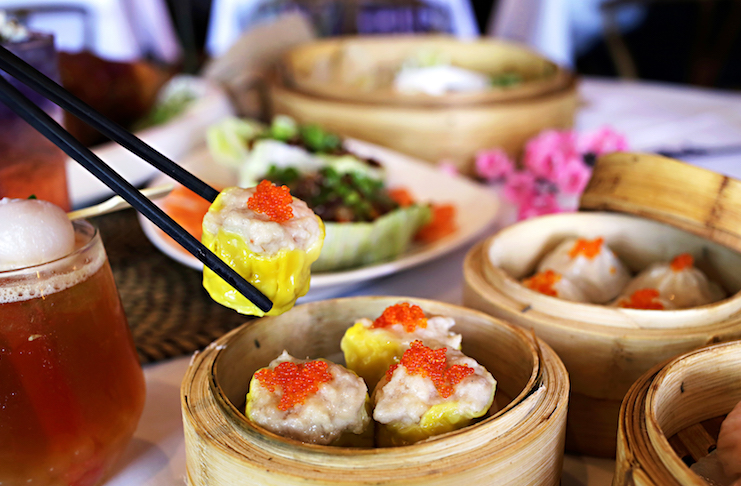 Canton Lane
Cloverdale
It's often heard around the traps that this is Perth's best dim sum, but beware: expect to line up. For quite some time. On top of their extremely good dim sum menu, they're also serving up one of Perth's most divisive desserts: durian mochi balls. We promise that despite the durian's smelly reputation, these babies are actually downright delicious and the perfect way to finish off your feast. It's all well worth the wait, but if you can't hack the lines, a very reliable source tells us that sister restaurant Canton Bay offers half the wait time and is 'nearly as good'.
Northbridge Chinese Restaurant
Northbridge
Another reliable spot for dim sum, Northbridge Chinese Restaurant gives the true open-room, round-table yum cha experience. No frills, just great food—get the prawn dumplings. They also offer a Cantonese style menu, if you're lookin' for something a bit more on the hearty side of things to compliment your dim sum bits and bobs.
Casual Dining
City Garden
Northbridge
Entering City Garden, you might be expecting cheap and 'pretty good', but what you'll get is cheap and 'pretty bloody delicious'. If you've ever been to China and had no idea what to order anywhere, you learn that ordering the eggplant dish is pretty reliable. You'll come back craving it. City Garden's eggplant dish does a seriously delicious job of satisfying said craving.
Mr Bun
Perth
Mr Bun is famous for their delicious and very convenient rouijamo—it's basically a Chinese hamburger, and if you've never tried one you need to get yourself over there immediately! Their hand-stretched, kudaimian are also an absolute winner—these are thick, flat, wide noodles that hail from northern China, and here they're served with perfectly tender chunks of braised beef. Seriously delicious.
Lin's Cuisine
East Victoria Park
Open slightly later than other Vic Park locals, Lin's Cuisine offers a much more authentic alternative to your usual late-night Chinese. Bringing dishes from all over China to the good people of Perth, one of the most popular dishes at Lin's is the Sichuan yabby hot pot!
Good Fortune Roast Duck House
Northbridge, East Victoria Park
The menu here is extensive, so allow us to help: just get the roast duck (with rice, obviously). It's the best roast duck in Perth, hands down. Crispy skinned and succulent, it comes with a choice of two sauces, both of which you'll be asking for more of. Add to that the roast pork, the salt and pepper squid and a plate heaped with greens and oyster sauce, and you're set.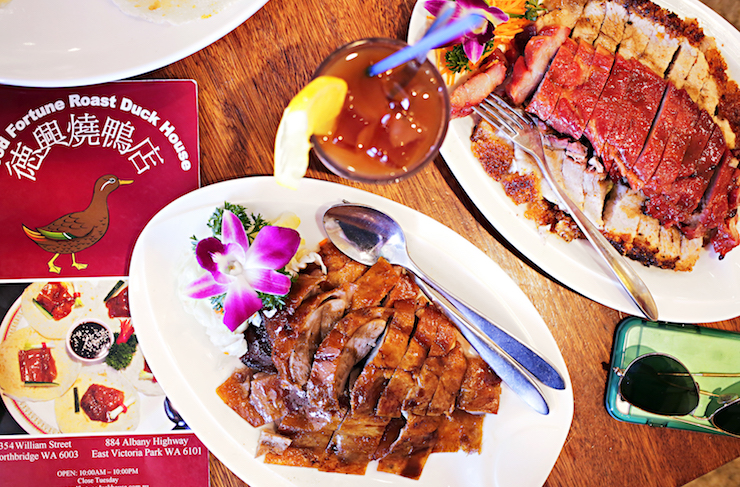 Kung Fu Kitchen
Northbridge, Cannington, Morley
If you're into hot pot, Kung Fu Kitchen is Perth's best answer. Depending on your familiarity with hot pot, it might take varying levels of bravery to really get stuck into the offerings, but they are surely known as the best for a reason. Think hot and numbing Sichuan flavours, eye-wateringly spicy broths, and braised selections (choose the offal for an authentic experience).
Hong Kong BBQ House
Northbridge
To get your fix of Cantonese-style roast meat, head to Hong Kong BBQ House, where the fare is far from what shopping-centre food courts butcher. Their siu yook is in-credible. Crunchy and salty on the outside, juicy on the inside: melt in your mouth perfection. Their name is often thrown around as being the best in the game, but go and decide for yourself.
Modern
Miss Chow's
Claremont, Whitfords, South Perth
Miss Chow's is a handmade dumpling house - the pork & chives, pork Shanghainese and crystal prawn hargow are all must-orders - but you'll also find other delicious Chinese classics with a modern twist. Their Hokkien noodles, which originate in China's Fujian province, are deliciously reminiscent of hawker food, and the Kung Po chicken quickly becomes ' the usual'.
Rice Baby
Subiaco
Just like mumma restaurant Miss Chow's, Rice Baby is also dedicated to crafting delicious steamed and pan-fried dumplings, but their menu is rounded out with other Chinese favourites too. They do some very serviceable wonton soups, plus fortune fried rice with roast duck and pineapple and honey glazed roast pork mini bao.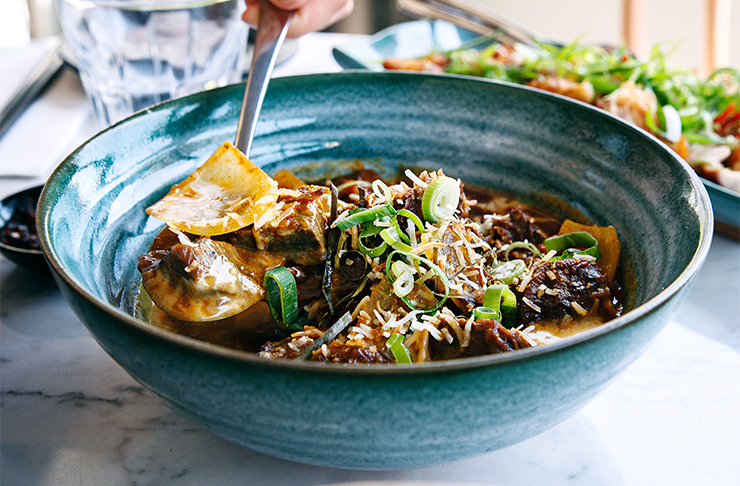 Apply Daily Bar and Eating House
Perth
Named after Hong Kong's popular newspaper, Apple Daily is bringing a little bit of Asia to the table with a certain emphasis on Chinese fare. Choose from delicious street eats like Pork and Shitake San Choy Bau, Roast Duck Pork Buns and Saltwater Duck Flower Buns (we're drooling), and then load the table up with share plates like Sticky Pork Belly and Deep Fried Whole Fish—you'll be licking your plates clean.
Low Key Chow House
Leederville
While it's certainly more of an 'Asian fusion' type experience, Low Key Chow House still has some strong Chinese offerings: the steamed fish with Sichuan peppercorn broth will numb your mouth like it's supposed to. Or, go for the hand stretched noodles with pork mince (although, note, they also have Sichuan peppercorns!), or the delicious char siu pork with gailan. Also, don't forget the deep fried ice cream for desert!
Lucky Chan
Northbridge
Born in China, raised in Japan and modernised in New York, ramen is the quintessential noodle soup and boy do we know that Lucky Chan's is doing a dang delicious one. In fact, they do a whole menu full and we can't choose: do you go the Crab Pot or Chan's Chow Down? Either way, we'll obviously be doubling our noodles. For more Chinese fare, grab some daily made dumplings (we vote the Chicken Slurpy), a Pulled Piggy bao or and some sticky plum short ribs. Open until after midnight even on weeknights, this is late night Chinese redefined.
Dainty Dowager
Mount Lawley
While not solely dedicated to Chinese cuisine, Dainty Dowager's menu is surely heavily influenced by it, with a seriously modern twist. This place specialises in Hong Kong style roasted meat, so ordering from the roasted menu is the obvious thing to do—choose from roasted duck, crispy pork or char siu style BBQ pork (delicious), or a combination of all three. Other offerings include Sichuan fried chicken wings and roast duck bao, or ask for the dumpling of the day!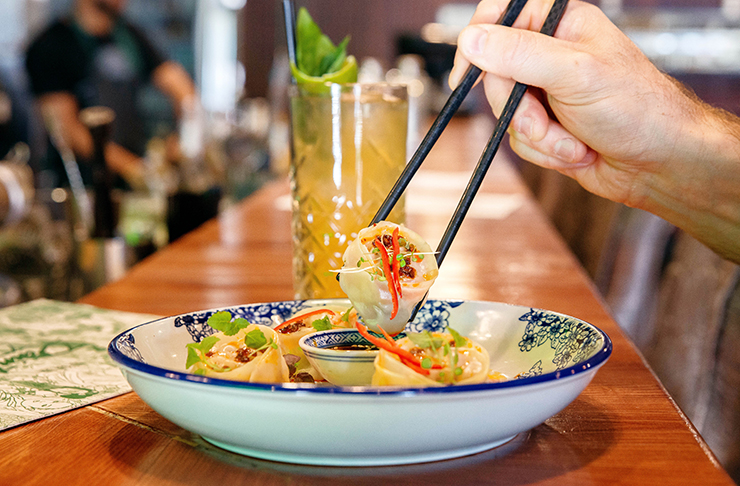 Fine Dining
Silks
Burswood
For a slightly more upmarket experience, there's obviously SIlks. But don't worry, the food makes this place worth its salt (or more, its hefty bill)—they serve up gleaming Cantonese style food, from deliciously roasted meat to fresh seafood to Perth's most upscale dim sum. This place is opulent, the lavish grandeur and Chinese majesty of the fit-out set the scene for a seriously fine dining experience.
Andly Private Kitchen
West Leederville
Andly Private Kitchen is not your average Perth Chinese restaurant. This is an intimate, highly authentic, banquet-style degustation experience that you must—seriously—book in advance for. There are only seven tables, and Andly's reputation is notoriously good, so they pack out often. The degustation you'll receive is completely tailored to each guest (dislikes disclosed upon booking, please), each dish plated up like a work of art. This one's for the bucket list.
Want more? Here are our favourite places to get dumplings and drinks in Perth.
Dragon Palace | Image credit: Elle Borgward at Dragon Palace and Good Fortune Roast Duck House, Nancy Hanna at Authentic Bites Dumpling House, Dainty Dowager and Rice Baby