Sitting pretty at Hibernian Place, this Middle Eastern inspired restaurant mirrors the same beauty as the origin of its cuisine. Think Moroccan tiles, gorgeous greenery, natural light and some pretty impressive lights—from the moment you arrive, you'll find it's all pretty jaw dropping. Once you've swung by the bar for a trademark Turkish Delight Martini, make your way to your table and get prepared to drop that jaw once again when you see all the epic eats on the new menu.
Head Chef Jett Alexander has really upped the ante with these new share dishes and you'll be hard pressed to find one that doesn't blow you away. But let's face it, you can't eat everything (trust us, we tried) but we'd hate for you to miss something sensational so we've done the hard yards and tasted through the lot to bring you the plates you absolutely have to try.
Here's everything you need to order off Hadiqa's new menu.
For Starters
Geraldton Wax Cured Hiromasa Kingfish
Arguably my favourite dish of the night, this delicate kingfish is lightly cured, infusing it with the subtle citrus-like flavours of Geraldton Wax (a native WA ingredient), thinly sliced and topped with crunchy buckwheat dukkah and a superb local single press olive oil. Each bite really pops in your mouth—good luck sharing, is all I can say.
SAGANAKI, CITRUS WATERMELON, YUZU
If you're a fan of a nice slab of cooked halloumi (and I mean, who isn't?), you cannot miss this. Served up with a yuzu syrup and completed with little bites of zesty pickled watermelon, this cheesy starter hits all the right notes—salty, sweet, sour, yum.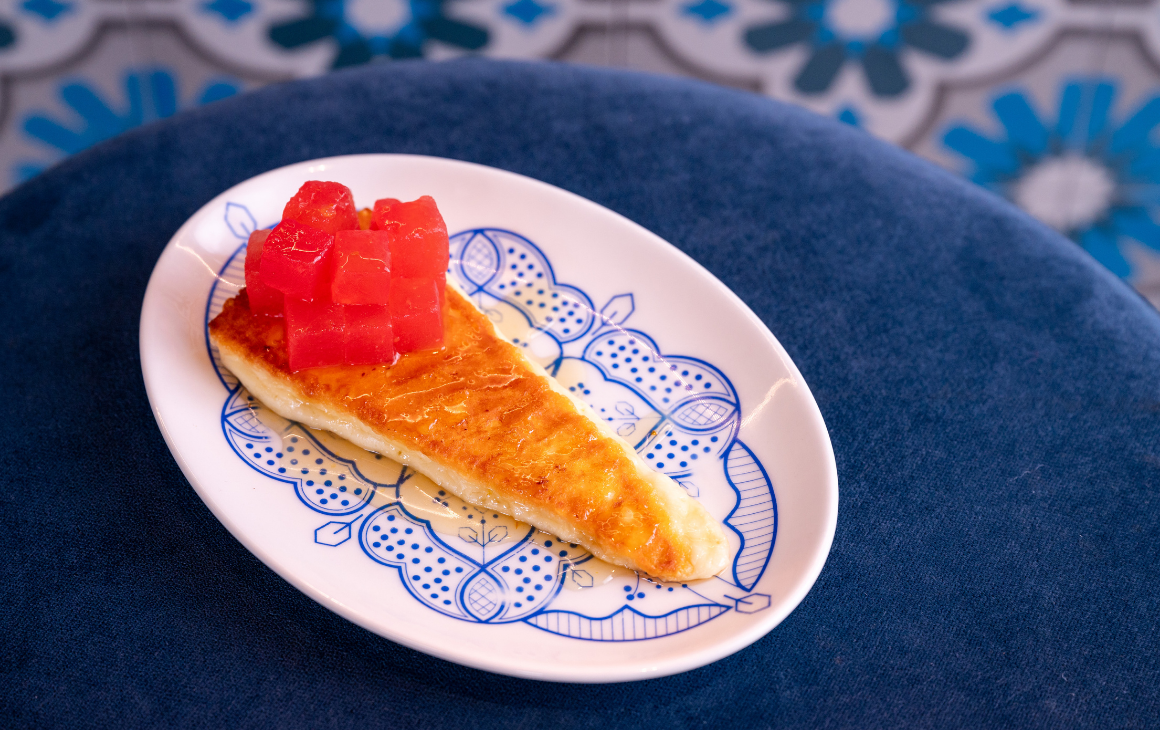 For Mains
Market Fish, Spiced Romesco, Piquillo Peppers, Sumac Congo Chips
Talk about packing a punch—the salmon in this dish doesn't know what hit it, but that's okay because we do and we sincerely appreciate the extra heat. Don't ask questions, just order this spicy fish dish topped with crunchy little chips and thank us later. Oh and while it's not super hot, if you do struggle with spice (guilty), maybe order a fresh Turkish Delight Martini before you tuck in.
Roasted Eggplant, Miso, Feta, Violets
If you've ever had a good homemade baba ganoush, then you'll have an idea of the soft and smoky eggplant flavour going on in this dish. The miso and feta gives it that extra umami flavour which really pushes it to the next level.
BRAISED LAMB SHOULDER, FIGS, SESAME, WILD PUFFS
I mean, you can't really go wrong with a beautiful slow cooked piece of lamb, right? And this rich braised lamb tagine will not disappoint. Expect a melt-in-your-mouth meat moment, accompanied by a flavour packed sauce, crunchy wild puffs and sweet figs to keep it interesting.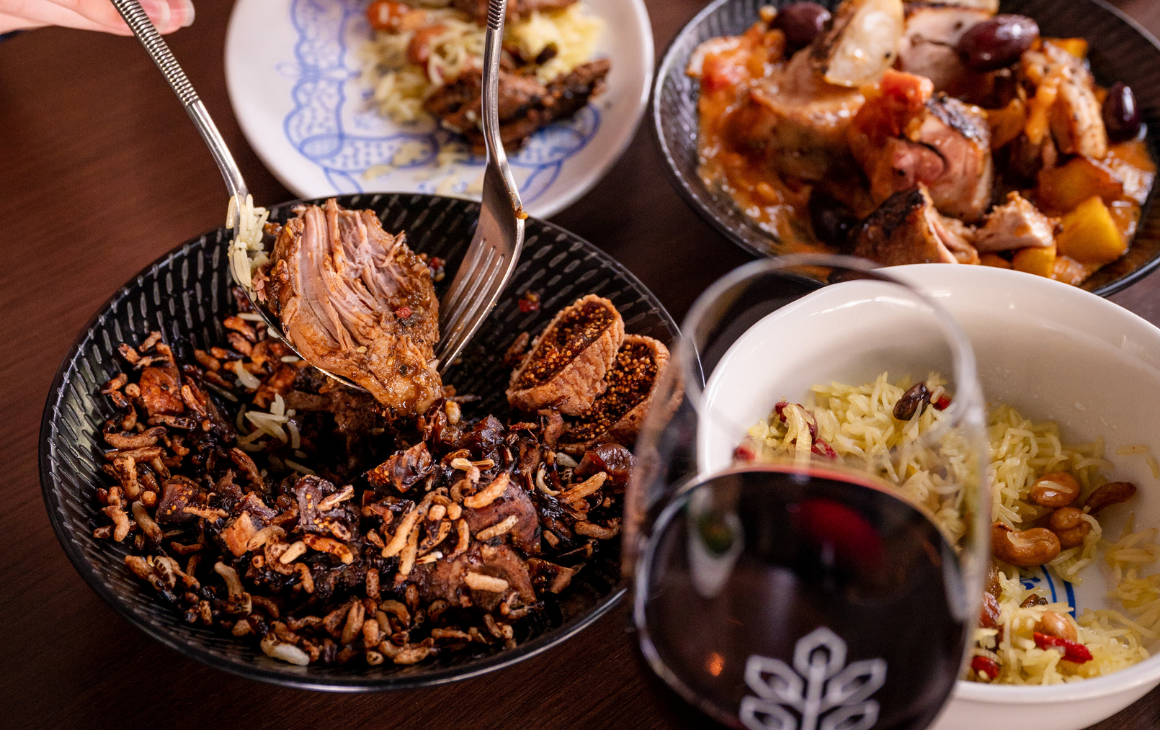 Salads And Sides
Brussel Sprouts, Vegemite, Tofu, Buckwheat Granola
Yep, Vegemite, tofu and brussel sprouts—who knew it could taste this good? Not us, but boy were we pleasantly surprised. These brussel sprouts are not the boring steamed type that mum used to make; they're crispy, buttery, salty and... well, you get the idea, they're just plain good. Plus, there's even a little crunchy note for texture in the form of the buckwheat granola.
Jewelled rice, saffron, nuts, seeds, fruit
You might be thinking, how good can a bowl of rice be? But listen here, this is the kind of soft and fluffy rice you can only dream of. (Like honestly, why doesn't my rice cooker produce this?) No Hadiqa feast would be complete without a good serve of jewelled rice to soak up any extra sauce from your other dishes.
FRESH FIGS, MACERATED TOMATOES, HOUSE RICOTTA
There's loads of dazzling rich dishes on the new menu, but this one is super light and really showcases the freshness of the ingredients in all their glory. Seems simple, but after stuffing your face with some of the heavier plates, you'll be reaching for this one.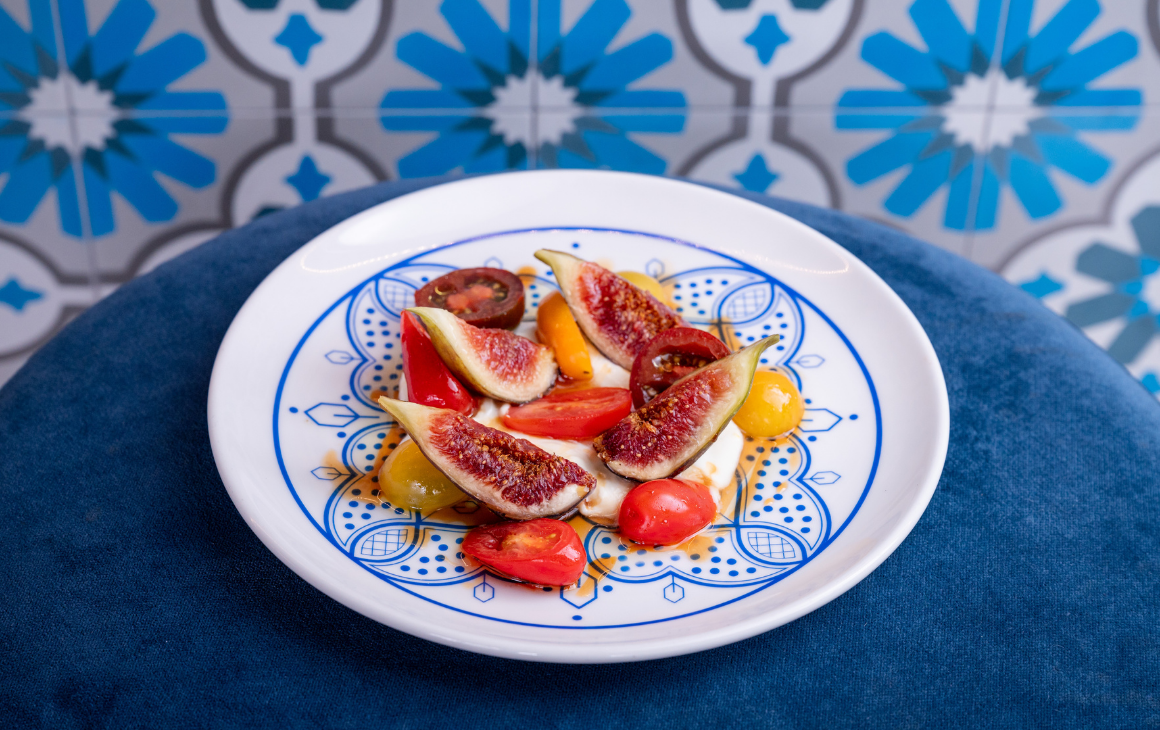 For Dessert
Pistachio Ladyfinger
Honestly, I'm not the biggest dessert person—normally I'd just roll right into cheese and an extra glass of wine (no judgement, please)—but this little Middle Eastern delight was crazy good. It was so light and crispy, and loaded with sweet pistachio goodness.
Once you're completely stuffed, head to the rooftop for another drink or three among the greenery.
Looking for more food inspo, check out the latest Perth food news.
Image credit: Supplied (Miles Noel Photography)