Wondering where on earth the year's gone? Yep, us too. Surprisingly, it's been an absolute whirlwind. Between all the lockdowns, restrictions, border closures and staff shortages, it's kinda hard to believe that 2021 has seen SO many awesome new Perth restaurants, cafes and bars open their doors.
It can be hard to keep up with all the new openings happening around Perth, though, and really, you don't have to. That's our job.
Let us fill you in...Here are the latest and best new restaurants, cafes and bars in Perth that you really need to visit.
The Latest Perth Openings
Ol' Buoy
Cottesloe
That iconic tea house at Perth's most iconic beach is finally getting some shiny new eateries worthy of its status, with a vibrant Latin-inspired pop-up and cool new cafe concept coming to the old Indiana building just in time for summer. The first to open is the new cafe concept, Ol' Buoy, and considering the teams from Daisies Cottesloe, Someday in Floreat (two of our fave Perth cafes) and The Other Side are behind it, we're beyond excited to see it finally roll up its door for business. Expect the same nostalgic beachside kiosk vibes you remember, but with a '21 revamp fitting of the guys behind it, with artisan coffee from Five Senses, cold-pressed juice from Pressed Earth and loads of banging beach-friendly bites—just think juicy brekky burgers, crispy hashbrowns and acai bowls for the early risers and calamari subs, fish burgers, hot, salty chips and locally-made gourmet ice creams to keep you fuelled all day. They'll also have some pretty cool Ol' Buoy beach gear if you forget to pack your hat or towel. Plus, stay tuned as the guys are keen to run some special curated evening menus and music over summer.
Brown Street Grill
East Perth
Bright Tank Brewing Co in East Perth just got that little bit brighter, with the brand new Brown Street Grill officially firing up within the working industrial style brewpub from this Wednesday. Led by Chef Stuart Laws, the new kitchen will be serving up the ultimate flame-grilled feast while championing the stellar local produce we love so much from Skull Island prawns to Stirling Ranges beef and everything in between. Speaking of the kitchen, we're pretty pumped to hear it'll be the first in WA to boast a custom built charcoal grill from JAGRD to ensure you get that signature smokey hit across dishes like Abrolhos octopus with black lentil puree, black barley salsa and romesco and boneless half chicken with miso corn and cucumber salad. With Bright Tanks crafty brews to wash it all down, we reckon you can't really go wrong here.
Good Company
Karrinyup
Another newbie that might make you stay awhile longer at the newly revamped and expanded Karrinyup Shopping Centre, Good Company opened this Thursday 28 October and is the centre's first on-site pub since the Karrinyup Tavern that closed some thirty years ago. With Three Pound Group (Stables Bar, The Camfield, The Elford and more) behind the new opening, we're not too surprised to see the fit-out is absolutely gorgeous—think light, breezy, with a hint of coastal inspo. As for the food, Executive Chef Ben Keal has smashed it again with yummy pub classics, crowd-pleasing nibbles, fresh salads and some of the best pizza around. Meanwhile, at the bar, there are plenty of wines and some tantalising cocktails that are sure to put you in more of a buying mood. As for us, we'll be ordering a round of drinks and heading straight for one of the big booths to gush about all our Sephora purchases. For more details and reservations, click here.
Will St
Leederville
It feels like forever since we've been able to hop on a cheap flight and live out our ultimate foodie dreams in Bali. And god do we miss it! Thankfully, though, Will Meyrick, the chef-owner behind super popular Balinese establishments Sarong and Mama San (to name just a couple), is here to fill those cravings—opening his very own place in Leederville earlier last month and bookings are already filling up fast. Read more about what you can expect here.
Pirate Life Perth And TOMA
Perth CBD
Perth's west end is getting livelier by the minute, and things aren't slowing down with the addition of an awesome multi-level brewery that caters for up to 1000 people. We're talking of course about the new Pirate Life Perth. The giant new brewpub officially opened its doors and we can already tell it's going to be the ultimate spot to sink a few cold ones this summer.
Brought to you by local hospitality legends Sneakers & Jeans (responsible for The Flour Factory, Varnish On King, Caballitos, Hadiqa and Goody Two's) and the Pirate Life founders, the highly-anticipated brewery is located in the old Sony building on Murray Street, just over the road from Perth Arena and Yagan Square. Inside you've got three levels to explore, including an in-house brewery, a casual fine dining restaurant and two private dining rooms, and there's even more to come, with a basement bar and yard bar opening soon.
TOMA is the epic new restaurant inside this working brewery and sits neatly in the perfect sweet spot between casual, quality and intimate dining. Headed up by notable head chef Charlie Vargas, TOMA has a unique moody vibe—think velvet cushions, magnum champagne decanters and exposed brick—with an array of woodfired eats to tempt you on the menu. Their signature dish is the aptly named TOMAhawk, a beastly piece of meat cooked on their custom woodfired grill, but there are plenty of other options for the seafood and veggie lovers too. We also can't go past the insanely good cocktail selection which has been thoughtfully created to pair with the indulgent eats on offer. Bookings for TOMA are open, so head here to secure your table.
The Best Perth Openings Of The Year
Peggy's
Fremantle
Any of your Melbourne mates will tell you that sandwiches are a big thing right now, and Peggy's is leading the charge here in Perth. The lo-fi corner shop in Fremantle is slinging a small but mighty menu of drool-worthy sandwiches that are selling out daily, from a popular chicken schnitty on a soft subway roll completed with a heavenly smash of dill mayo to a banging eggplant parma on fresh-baked focaccia oozing with sauce. If you pop down in the morning, make sure you grab one of their sausage and egg muffins—it'll blow your stale old Maccas memory out of the water.
Servo
Leederville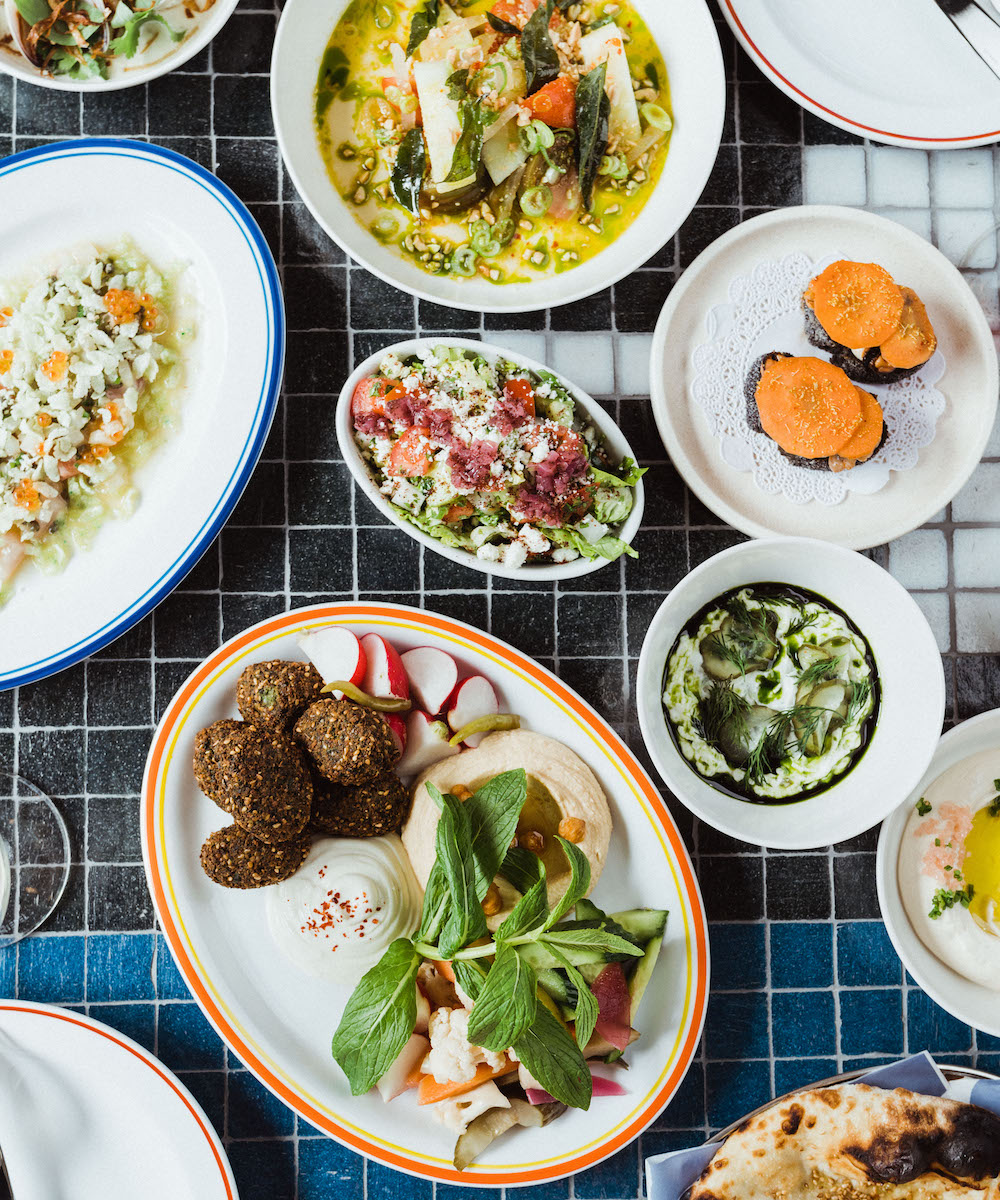 Nestled in the newly created Electric Lane, Servo is the beautiful all-day restaurant and courtyard bar that has just opened as part of the Leederville redevelopment by FJM (the same people behind the State Buildings) and it's quite possibly our new favourite. Bold, bright and flavour-packed share plates are the name of the game, with the menu not following any particular theme beyond each dish being drop-dead delicious. And believe us, you will definitely be wiping each and every plate clean here. Our current obsession is the eggplant with garlic yoghurt with some warm flatbread for dipping, coupled with a spicy marg (or three).
Nieuw Ruin
Fremantle
Brought to us by the same talented team behind Foxtrot Unicorn, Nieuw Ruin is fast becoming Freo's fave wine bar thanks to its mammoth list of 250+ bottles on offer and ground-breaking food menu from Head Chef Blaze Young and her all-female kitchen team. Set within an old heritage cottage with beautiful high ceilings and oodles of character, you'll feel right at home...so much so it can be a little hard to pull yourself away.
Jetty Bar And Eats
East Fremantle
Aptly named Jetty Bar And Eats, this unassuming "shack on the water" from Miles Hull (Little Creatures, Alex Hotel, Quarter Acre) is easy to miss but step inside and you'll be rewarded with stunning waterfront vibes, cool decor, approachable wines and some very attractive cocktails. In the kitchen, Chef Marcello Segalin is whipping up the most delicious range of Mediterranean-inspired share plates. Trust us, this is the place to be come aperitivo hour.
People's Cafeteria
Northbridge
The North Street Store guys have been crazy busy this year, so we were pretty shocked to hear they managed to get yet another opening under their belt. People's Cafeteria is located smack bang amongst the action in Northbridge in an old Chinese restaurant along William Street. They've kept things pretty unfussy both in terms of the decor and dining options—bringing a refreshing dose of healthy cooking to the area alongside their popular baked goods. You can swing by for takeaway bites and pantry goods or sit inside and make the most of the casual space, affordable home-cooked meals and free BYO.
St Brigid Bar
Doubleview
Hamish Flemming and Siobhan Blumann—the legends behind Mechanics Institute, Flipside, Mrs Brown Bar, Propeller and Guildhall—are the brains behind this new neighbourhood bar and together with their talented team, they've truly smashed it out of the park. Grab a "long mac topped up", their refined take on the classic espresso martini, or one of the signature bubble cocktails and throw on a serve of crispy roast potatoes—you'll see why the locals are lining up for it.
The Corner Dairy
Doubleview
Doubleview sure has done well this year, with The Corner Dairy adding another notch in the belt for this bustling little neighbourhood. Located directly across from St Brigid, the suburban bar and eatery serves up a stellar list of Aussie natural wines and craft beers in a casual "come as you are" setting. In the kitchen, Chef James Cole Bowen (formerly at La Rebelle) impresses with brilliant share plates like kingfish ceviche with smoked tigers milk and Geraldton wax and a local stracciatella with witlof and kumquat marmalade.
Willi's
Perth
Just when you thought the Royal couldn't get much better, they go ahead and transform a slice of their much-loved heritage pub into a gorgeous new corner bar. With beautiful marble tabletops, jewel-hued decor, timber floors and just the right amount of gold, the vibes are Paris bistrot meets New York wine bar, and it's all tres chic. But as with all things inside The Royal, it's more than just a pretty face. Expect a top-notch wine list, stellar cocktails and a food menu that will go down a treat whether you're in for a boozy lunch or late-night nibble.
Casa
Mount Hawthorn
Infused with Si Paradiso DNA, no surprise to see this new Italian-style bar, restaurant and bottle shop is already proving popular with the eager foodies in Mount Hawthorn. You can quite easily fill up on punchy nibbles like octopus al pastor toast with pineapple chutney and lardo or an epic scallop potato with yuzu cream and caviar, or choose to settle in for a decent bowl of handmade pasta. Either way, we suggest you wash it down with a few glasses from the European-inspired wine list.
Image credit: Supplied, Emma Bryant, Shot By Thom, Danica Zuks