Ten Acre Block, a vegan restaurant that is as healthy and inventive as it is tasty, popped up in Perth last year with plans to stick around for just five weeks. Luckily for us, though, it's been so gob-smackingly popular that it's now a permanent fixture in the Perth dining scene.
To be honest, we're not all that surprised it's been extended considering it's come to us from Alejandro Saravia, the Consulting Executive Chef at one of Perth's best restaurants, Uma at the Pan Pacific.
Saravia along with Head Chef Gianni Moretto and the team are big on celebrating each and every component of their seasonal ingredients, from the colours and textures to the skins and scents, and uncovering the best cooking style to make each element sing. They're not afraid to experiment in the kitchen, and the latest menu is a shining example of this—playing with different fermentation processes to pack tonnes of flavour and depth into the upmarket vegan menu.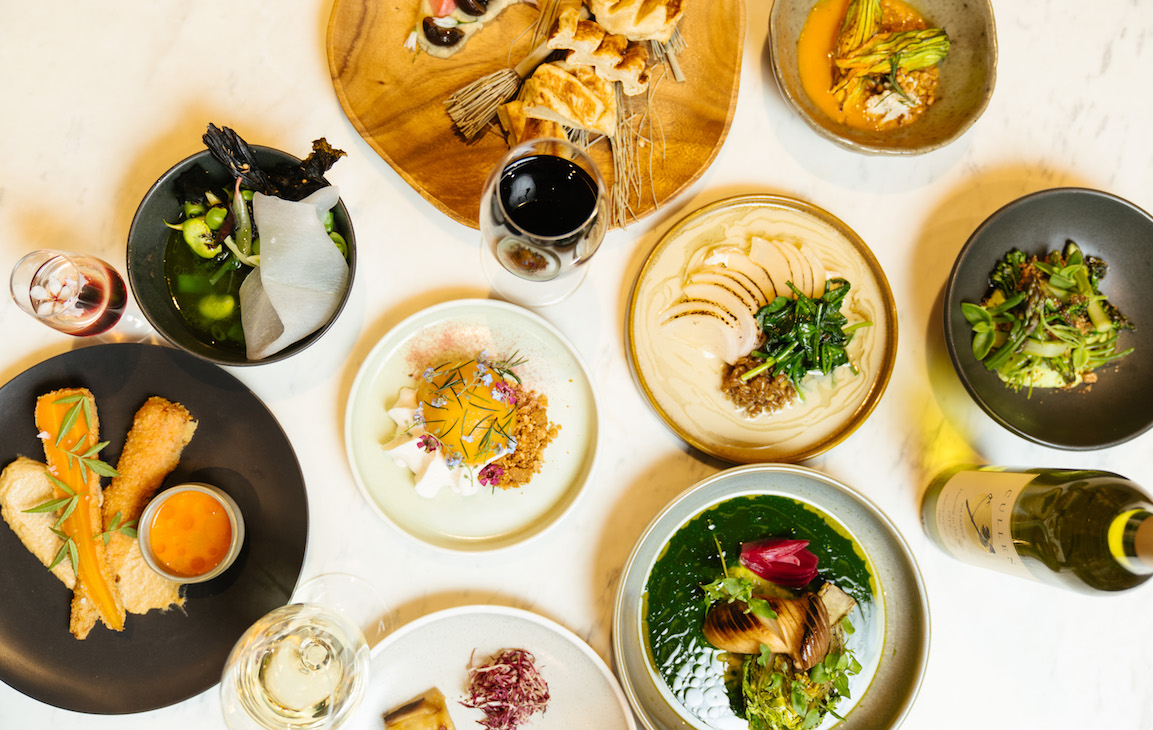 We popped in to give the glorious new menu a try in the only way that seemed right, opting for the full tasting menu—a progressive four-course dining experience curated from their a la carte menu with matched vegan wines.
A round of cocktails seemed like the best way to kickstart the evening. They serve a bunch of boozy concoctions, all 100% vegan of course, but we went with a cucumber martini made with fresh juiced cucumbers and the pink lady, which uses aquafaba instead of egg whites to give it some fizz, and both went down a treat.
As we sipped the last of our drinks down, the first item hit the table—a fluffy grilled potato bread served with a smokey charred eggplant dip and preserved vegetables. Soft, warm and with a yummy little dip, you really can't go wrong with this one.
The second course consisted of three dishes, two of which turned out to be my favourites of the night—the stuffed courgette flowers with almond ricotta and campari sauce, which kind of tastes like a spinach and ricotta cannelloni; and the shio koji carrots with sunflower seeds and fresh mountain marigold, a play on a schnitzel with a spicy pour-over sauce that packs a real punch, so you might want to use it sparingly.
From there we somehow made it through hearty dishes like the king oyster mushroom (which felt as substantial as a decent steak) and turnip with douhua tofu before moving onto seasonal beans tossed in a fresh almond whey dressing and florets with cured asparagus ribbons on a cereal soil. Every time the waiter dropped another beautiful dish onto our table, the explanation of what we were about to eat blew my mind. You could tell each one was thoughtfully prepared down to the last detail.
Before heading home, it was time for dessert. And honestly, what better note to finish on than an upscale take on peaches and cream. This one featured a juicy peach, coconut cream and speculoos crumble, topped with a delightful sprinkle of edible flowers and rosemary. God was I full, but you better believe I wiped that bowl clean. Although, if I had known a jaw-dropping bowl of tiny parting treats was still to come I might have pulled back...yeah, probably not to be honest.
Ten Acre Block really does deliver a gourmet experience to rival some of the best in Perth, with or without meat, so go right ahead and make a booking stat.
Looking for more vegan eats? Check out the best vegan pizza here.
Image credit: Supplied