In the last 10 years, Sydney's exceptional craft beer scene has grown exponentially. From the South, through to the Inner West and up North, you can find fresh beer being brewed on the daily in almost every corner of our great city.
But where would those breweries be if it weren't for the hospitality venues who buy and pour their crafty concoctions straight into our schooners? Sydney's now famed craft beer scene wouldn't exist without the support of pubs and bars peddling your favourite IPAs, lagers, and sours.
There's nothing quite like walking into a bar to be greeted by an endlessly colourful array of beer decals representing a slate of Sydney, Australia-wide, and international breweries. In our eyes, being spoiled for choice when selecting your next schooner is a wonderful thing.
Forget the stereotype that craft beer is snobby and inaccessible because there's something for everyone. Prefer Toohey's New? Try a throwback craft lager. Prefer white wine? Try a saison. Prefer cider? Try a fruited sour. More of a sweet tooth? Try a chocolate stout.
To help you find the beer nerd deep within yourself, we've put together a list of Sydney's best craft beer bars and pubs.
The Australian Heritage Hotel
The Rocks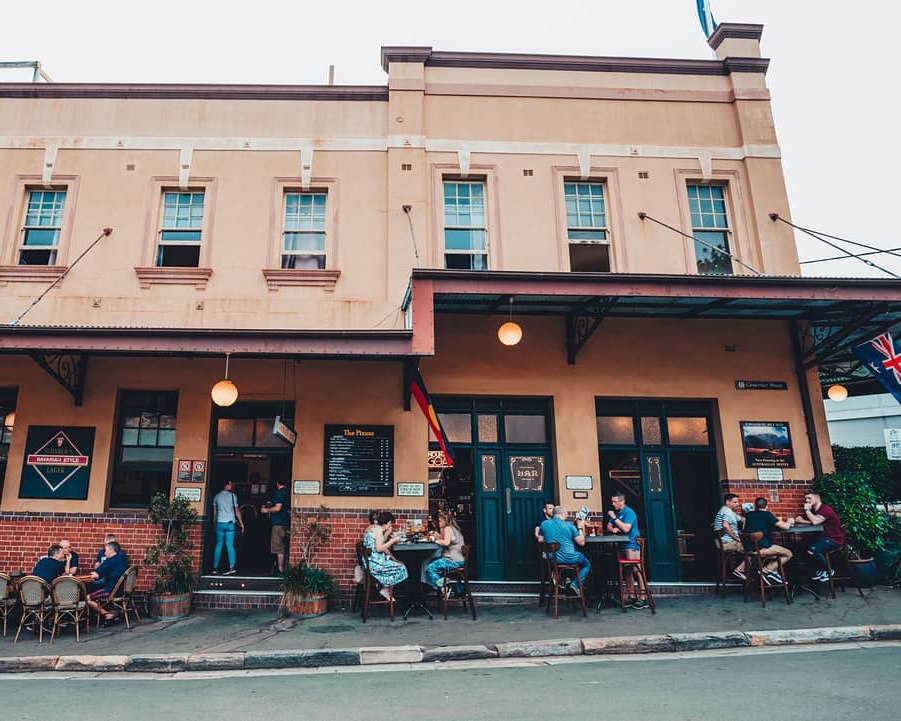 Nestled at the very top of Sydney's oldest neighbourhood and just below the Harbour Bridge, hides The Aussie. It might be the pub with one of Sydney's oldest licenses, filled with all the heritage trimmings and charm, but it's also home to one of the best and most up to date craft beer collections around. Alongside a rotating slate of crafts on tap are two large fridges of tinnies and bottles amounting over 130 brews—all of them Australian, of course.
If you feel like engraving your name into the pub's rich history, you can start a "beer passport" and knock out every beer in the fridge to end up on the wall, along with the time it took you to complete the haul (we recommend tag-teaming it with some friends). The Cumberland Street pub is also famous for its support and showcase of Australian breweries during its yearly "Beer Fest", now running for 16 years. As well as pouring its very own Scharer's Bavarian Lager, created in 1980 by craft beer pioneer and former owner of the pub, Geoff Scharer. Pop in for the beers and stay for the "Coat of Arms" pizza topped with kangaroo and emu.
Royal Albert Hotel
Surry Hills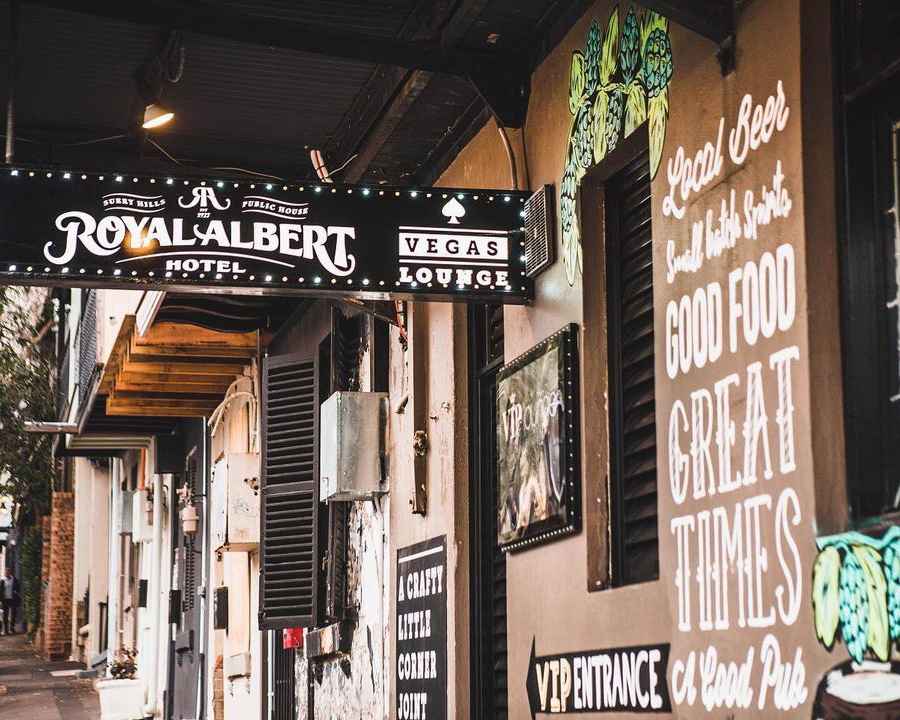 A true Sydney institution of craft beer, the Royal Albert is a must-stop on any Surry Hills pub crawl and for anyone who appreciates a carefully selected range of taps. Fiercely supportive of independent craft breweries, don't expect to find anything owned by a large corporation at this Reservoir Street small bar. The "Ralbert" offers an ever-changing slate of beers and ciders, a couple of old school hand pump taps which pour delicious English-style beers, and a canning machine on hand so you can take home anything you like to enjoy on the couch.
For all the detail-orientated beer nerds out there, their TV screens play both sport and a running list of the beers on tap with everything you need to know about the brews. Keep a lookout for their constant tap takeover usually taking place early in the week.
Bankstown Sports Basement Brewhouse
Bankstown
If you thought you could only go as far as the Inner West for a good craft beer, well, think again. The proper West is home to a range of fantastic craft bottle shops, bars, and breweries. One of them, Bankstown Sports, is a bloody massive precinct with several bars, a couple of bistros, an outdoor pizza joint, a Chinese restaurant, and even its own in-house Baskin-Robbins. But if you're there and hoping for a couple of good craft beers (and if you can actually find it), head to the Basement Brewhouse.
This insanely stylish underground brew bar is a beer and sports dream—with private booths and TVs which you control. Across 30 taps, you'll find a mix of rotating craft favourites, as well as the in-house microbrewery's very own beers delivered fresh from the tanks. We're talking about a full range of Basement Brewhouse products, with 10 currently available, which you can take away with you as well. If you really want to see the nitty-gritty of how your beer came to be, you can make a booking to chat with a brewer and see a brew being made while enjoying a beer paddle for just $30.
The Union
Newtown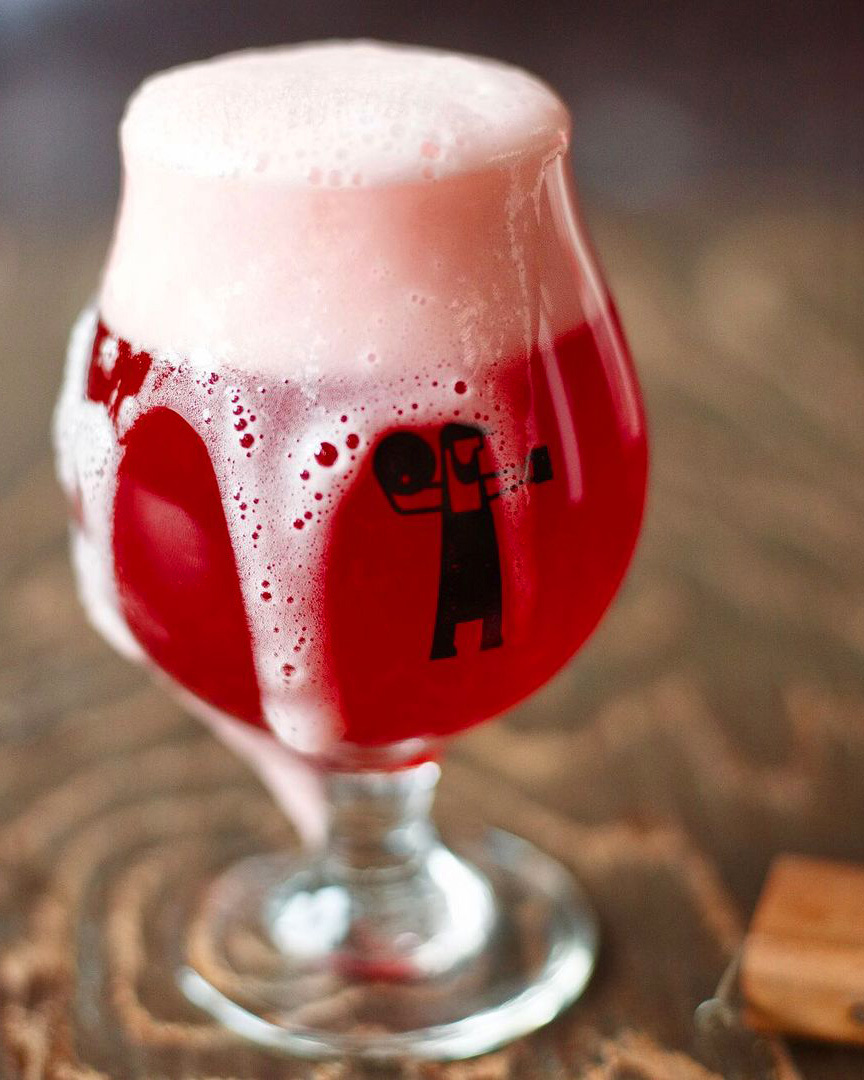 If you keep heading south on King Street, past the big intersection and all the way to the end, you'll come across one of the Inner West's best craft beer serving pubs. The Union, with its 22 taps, knowledgeable staff, legit food menu, and arcade games for entertainment, is a great spot to spend a weekend arvo and make your way through a bunch of wacky brews. You can pick one schooner at a time from their giant board, or if you're just too dang indecisive, ask for a tasting paddle. On your way out, we recommend you check out their sneaky incredible bottle shop for a couple of funky takeaways or one of their specially curated mixed craft cases or "party packs".
The Welcome Hotel
Balmain
Some venues are simply enjoyable to visit each and every time—The Welcome Hotel is that kind of place. It's the ultimate locals hang out, rainy day pub, and craft beer destination all rolled into one cosy, smile-inducing watering hole. Alongside two fixed taps of Coopers Pale and Carlton Draught, are 15 dedicated and rotating taps reserved for craft from all around the country. With one of the best pub dining menus in Sydney, a comforting interior of carpet and exposed wood in the main bar, and a bunch of friendly faces serving, this is where you should end up on a Sunday afternoon with a big pint of stout in hand. Since you're there on a Sunday, you might as well try their mouth-watering roast to match that beer.
The Forest Lodge Hotel
Forest Lodge
Who says you can't mix an affordable pub and a tonne of good craft beer? A stone's throw from Sydney University, The Flodge is not your typical uni student pub. Pop in with your student card and you can score some excellent discounts on items like their wood-fired pizzas. But if the uni days are behind you, make your way over for the superb selection of craft brews proudly representing every state across the country. We guarantee every time you walk in you'll find two or three new beers you've never tried before, and when they blow you away, ask for that big IPA or that deliciously weird sour ale to be taken away with the pub's very own canning machine. But if the 500mL can isn't enough for you, maybe a 2L takeaway growler will do the trick.
Flat Rock Brew Cafe
Naremburn
If craft beer has a spiritual home North of the Bridge, it's definitely the Flat Rock Brew Cafe. Born from the mind of a formerly obsessed homebrewer, this multi-levelled English pub-style hidden gem delivers the goods when it comes to rare and delicious small-batch brews. Downstairs sits a 200L German Braumeister brewing system and three fermenters allowing the venue to brew its very own concoctions to sell over the bar. Their six taps and two handpumps are regularly serving a mix of in-house made beers and craft from around the country. If you want to realise how little you know about beer, then take a look at their bottled selection with beers coming from seemingly every region of the world and directly into your glass. From American IPAs to Danish stouts, and from Belgian quadruples to English Bitters, this is an authentic world tour of bottled beers. Keep an eye out for their educational and delicious events, delving deep into the world of beers and brewing.
The Noble Hops
Redfern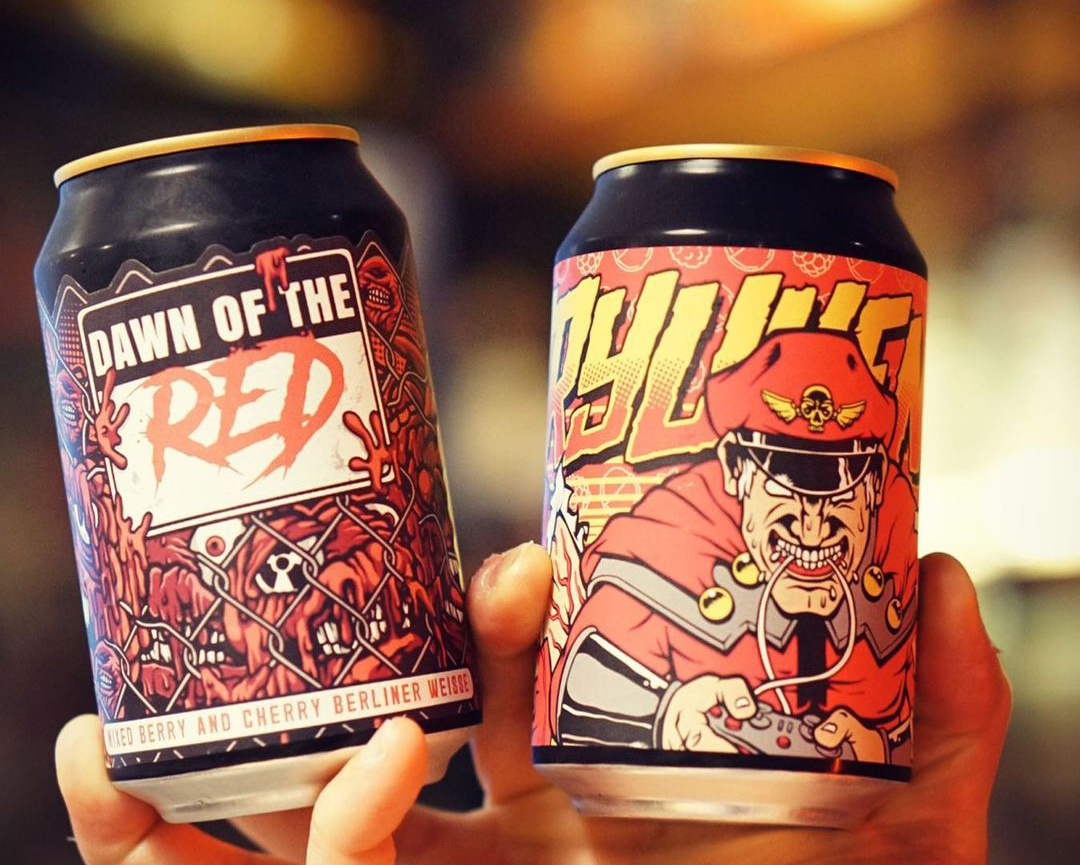 We visit some craft beer specialised bars because we trust them to find and select the very best, rarest, and most interesting drops from every corner of the country and the world. One such bar is Redfern's The Noble Hops. These guys put all their effort into finding you the best versions of every style of beer imaginable. Let this small bar show you that beer and wine belong in the same conversation as a specially crafted drink that can be poured from a corked bottle into a tulip glass. Don't be ashamed to gently swill your beer around, smell it profoundly and hold it up to the light, because there's no judgement here, only enjoyment. And popcorn, there's also some outrageously delicious free popcorn.
Rag & Famish Hotel
North Sydney
If you work in or around the North Sydney CBD, then you already know the Rag & Famish is one of the best lunch break spots in Sydney. If you're looking to have a Friday office lunch there, you best book yourself in ahead of time or miss out. And that's because alongside the outstandingly good restaurant, and bistro menus is a knock-out selection of craft beers offered on tap. Hidden amongst the skyscrapers, this historic pub, with its cosy interior and eye-catching bar, has a beer list to match anyone south of the bridge. Ginger beers, pale ales, wheat beers, porters–lunch is sorted.
Bitter Phew
Darlinghurst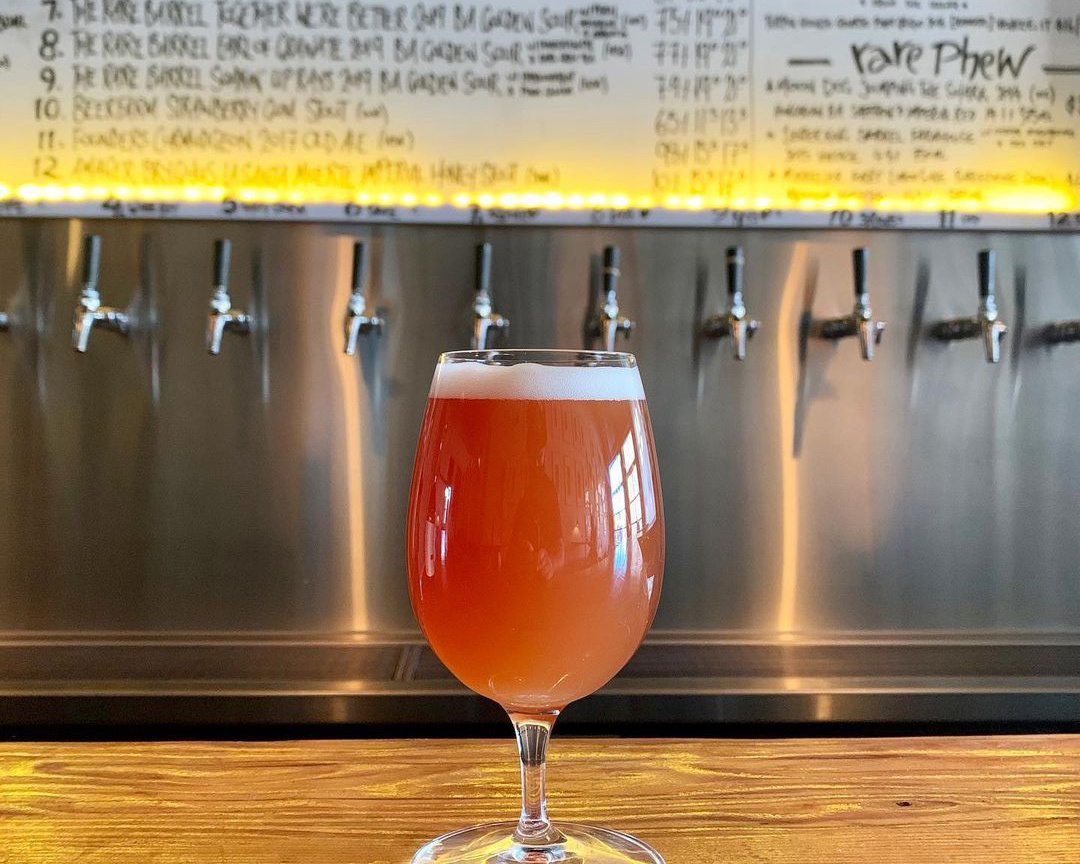 Looking for somewhere that is unashamed in its love of deep craft beer, relentless in its passion for the weirdest, dankest, and funkiest ends of the craft spectrum and that'll serve every drop with genuine care and appreciation? Darlinghurst's Bitter Phew is the place for you. Head up the stairs and find a wild collection of mind-bending triple IPAs, Russian imperial stouts, and imported barrel-aged saisons. This is the place in Sydney for some of the hardest to find imported beers and flavours. But don't be ashamed to order the smallest glass size, because some of these beers don't muck around. Put your trust in the bartenders and prepare to go on a hoppy journey like you've never experienced before. And because the bar has no kitchen, you can also order an insanely delicious feed from neighbouring BL burgers to be sent up to your table.
The Keg & Brew
Surry Hills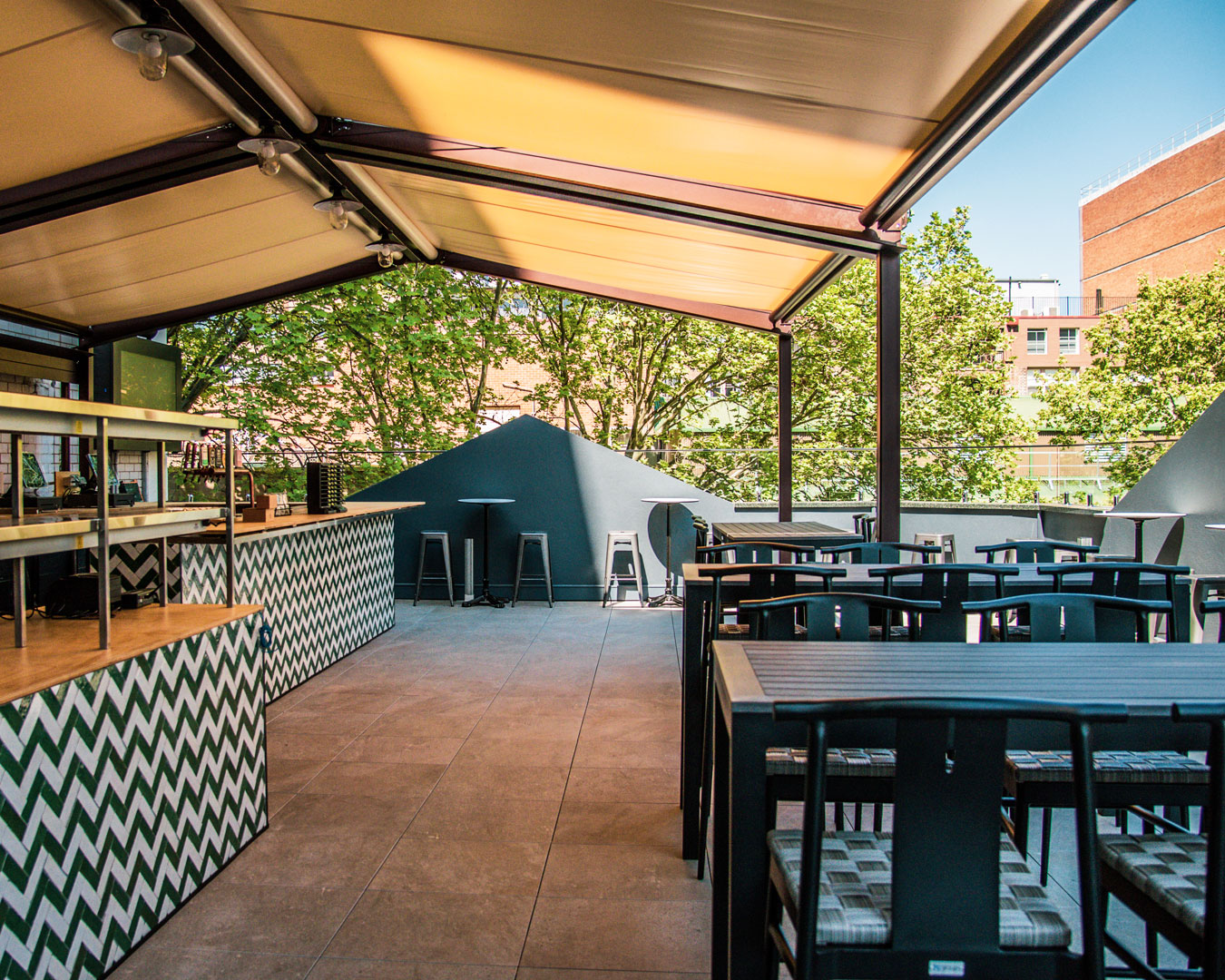 In case you missed it, The Keg & Brew had a massive $10m renovation last year to bring back its multi-story potential and, best of all, give us one of the best rooftop bars in Sydney. While that's exciting for a great many reasons, the American-inspired, wooden, taxidermy covered, and dimly lit ground floor is where we recommend you sit for a good session of craft beer. The almost 360-degree bar is truly one of the best looking in the city and poured from it is a vast selection of Australian craft beer. There's also a massive range of whiskey and bourbon, all of which sits up high and in full view alongside low hanging pints and glasses. If you need a warm-up before you hit the pale ales, they do a $5 house beer happy hour between 5 – 7 pm.
New Brighton Hotel
Manly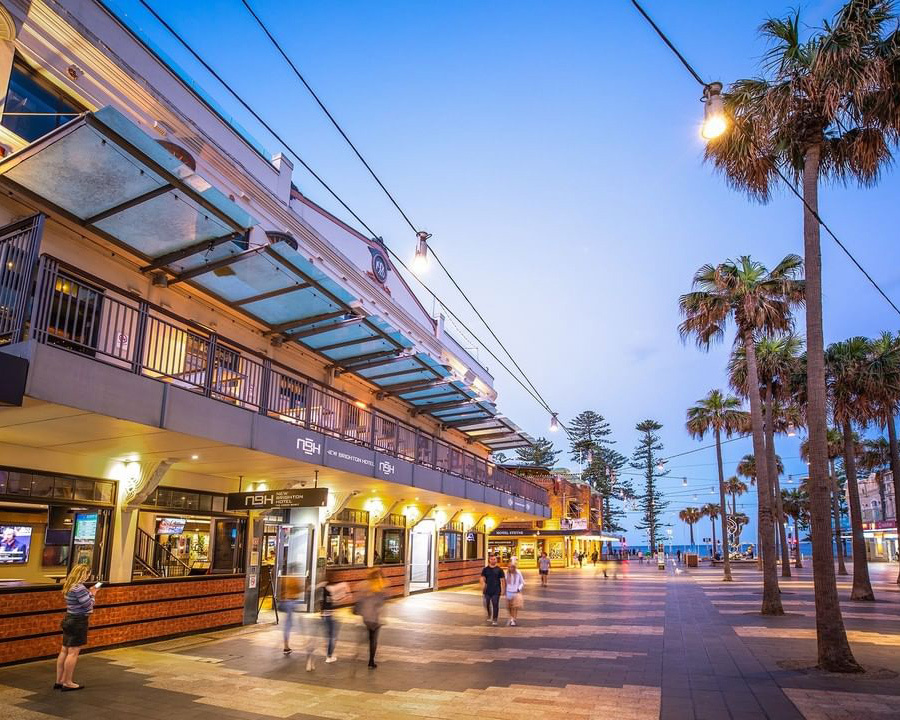 Let's be honest, while this is a pretty darn great list of fantastic bars and pubs to visit for a craft brew, none can compete with the prime beachside location of New Brighton. This gigantic multi-storey pub is located on The Corso is just a few metres away from Manly Beach. So, after you've had a swim and dusted the sand off your feet, head up to the 33 Degrees bar on level two, and you'll find a super refreshing slate of craft beers on offer. Because the Northern Beaches is fiercely loyal to locals, you'll often find nearby breweries like Modus, 4 Pines, or Nomad on tap, alongside heaps of other Aussie brews.
Can't get enough of craft beer? No worries:
Image credit: The Australian Heritage Hotel, The Australian Heritage Hotel, Royal Albert Hotel, The Union, The Noble Hops, Bitter Phew, The Keg & Brew, New Brighton Hotel