There is a grand total of three things we like salty: our caramel, our memes and our lakes.
True story.
While we're all familiar with (and adept at) the first two, lakes always seem to elude us. Who has time to pop over to Bolivia or Utah for a smattering of salt? Not us (especially if our salted caramel addiction continues).
Thankfully a little birdie told us that South Australia, our very own South Australia, has salt lakes galore. And bonus alert: they're pink.
If you're scratching your head at just how such a thing goes down, let us charm you with a spot of science:
High salinity levels plus salt-loving algae and halobacteria equals bright pink lakes hogging your 'gram. The less water in the lake, the more concentrated the salt, the brighter the colour (and more likes you'll get). Simple eh?
Now pack your bags friend, we're going on a road trip.
Lake MacDonnell
Eyre Peninsula
Tuck away that straw Augustus Gloop, Lake MacDonnell may look every bit a strawberry milkshake but trust us when we say it's anything but sweet. In fact, Lake MacDonnell is one of the more stunning (and therefore salty) of South Australia's pink lakes with a super high salt concentration producing intense hues of pink and purple. It also rests conveniently close to Cactus Beach, known for tiptop surfing conditions should you like to shred. You'll need to put aside 1.5 hours for the flight from Adelaide and another 45 minutes for the drive but it's worth it. Oh boy, is it worth it.
Lake Eyre
Outback South Australia
If you've ever seen pictures of South Australia's pink salt lakes—shoved under your nose by a wide-eyed and eager mate—then you're probably familiar with Lake Eyre. It's one of the most famous and for good reason. In fact, Lake Eyre is as close to a super hero lake as it gets, masquerading as a giant saltpan before transforming with pinks and oranges after a summer rain. Like poetry, right?
Lake Bumbunga
Clare Valley
Aside from having a giggle-inducing name, Lake Bumbunga is also super pretty. In fact, it's so pretty (and just under two hours' drive from Adelaide) that it's often used as a backdrop for high-end fashion shoots. And if it's good enough for them, it's good enough for our humble 'gram.
We highly recommend making a full weekend out of the trip by checking out the regions' wineries (more than 40 cellar doors) especially if you're partial to a bit of rosé. Make sure to check ahead as salinity levels, and therefore lake colour, change through the year.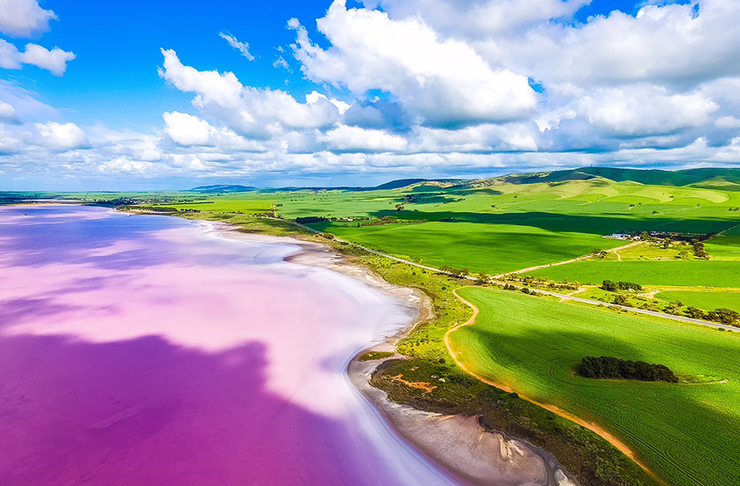 Lake Albert
Fleurieu Peninsula
Lake Albert is one salty mofo. Just how salty you ask? Oh, millions of micro-organisms worth, NBD. Thankfully, it's these same itty-bitty micro-orgs that produce beta-carotene and turn the lake into a bubble gum marvel, otherwise we'd be giving it a hard pass (too much salt and we tend to bloat). We highly recommend taking in the whole Southern Ocean Drive while there including Coonawarra wine region, Naracoorte Caves, Limestone Coast and Victor Harbor (whale watching galore). It's only one hour 40 minutes' drive from Adelaide after all.
Lake Hart
Outback South Australia
It may be a five-hour trek from Adelaide but Lake Hart, a pretty-in-pink salt flat/lake, makes the drive—and all amateur musical renditions—worth it. Where else can you walk across a lake this close to home? Definitely not the backyard paddle, no matter how hard you try.
A choice stop on the Explorer's Way road trip, Lake Hart is one of those places that seem to have always existed and hopefully, always will. It's secluded, expansive and packed with salt that punches twice as hard as the regular variety AKA just perf for our margaritas.
Travel bug biting hard? Head here.
Hero image credit: @south_coast_aerial_images
In-text image credit: @domgrimm