Welcome to the November Urban Culture Curve—your go-to guide for what's on its way in, and on its way out, in urban culture.
This month, we're calling out eco-anxiety as the emotional mindset that's shaping a global mood as we move on into 2020. It's dire straits out there, and never before have we needed such a solid hit of optimism. And this may be where cannabis comes in—an industry that's predicted to hit $63 billion sooner than you think, and fashion, beauty and wellness are owning it right now.
Elsewhere, wearable tech has finally found its calling and a need it can serve, and it's time to leave millennials alone because burnout has been labelled an actual medical diagnosis.
Are you ready? Here's what's on the rise, and on the slide this month.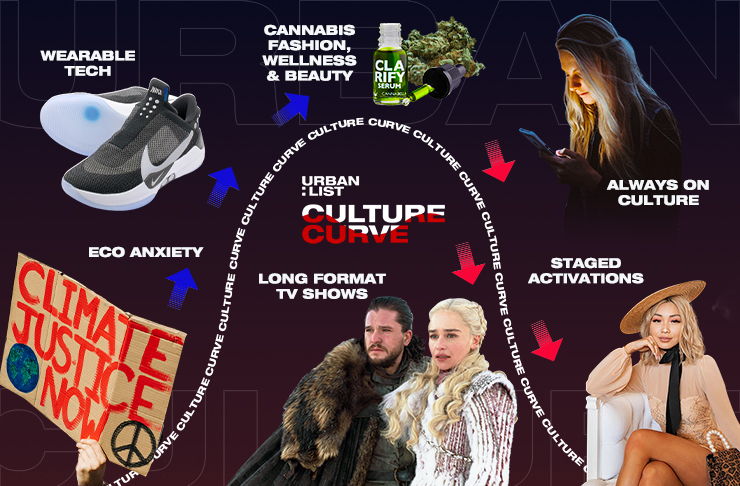 On The Rise
ECO ANXIETY
If there has been one subject to shape a global emotional mindset in 2019, it's got to be climate change. The conversation has been creeping outside of politics and into the streets for some time—but this was the year the UN reported one million species are at the risk of extinction unless the world started safeguarding biodiversity. The IPCC dropped a landmark report that stated extreme sea-level events would hit once a year by 2050. David Attenborough reckons the collapse of civilisation and the extinction of the natural world is on the horizon. And millions around the globe rallied behind a schoolgirl called Greta Thunberg in countless protests demanding action on climate change.
Even while the noise of growing zero-waste initiatives, beauty brands combatting single-use products and a rise in the awareness of the environmental impact of fast fashion grows louder—a quiet wave of fear has washed across the planet. And in its wake is "eco anxiety", a complex based on the planet's present dire straits. Charged by the incessant reminders splashed across social media about the severity of climate change, and the facts and figures that support some impending environmental doom, eco-anxiety is this generation's Vietnam War—calling so much of the status quo into question. But this time, the internet, smartphones and social media have replaced TV screens and the emotional impact is way more widespread.
And so we're looking to brands with an authentic, positive or soothing perspective, whose actions are rooted in real change and realistic optimism. It's important to prioritise eco-awareness and understand that a sustainable future relies heavily on a collective effort—that is, get in and be part of the action. Gender-neutral streetwear label CHNGE creates tees with positive slogans and graphics (like "Teach Peace" and "Love Your Mother") and then donates 50 percent of its profits to eco charities. And on a larger scale, adidas' ongoing partnership with Parley is deeply optimistic, making sneakers from upcycled marine waste.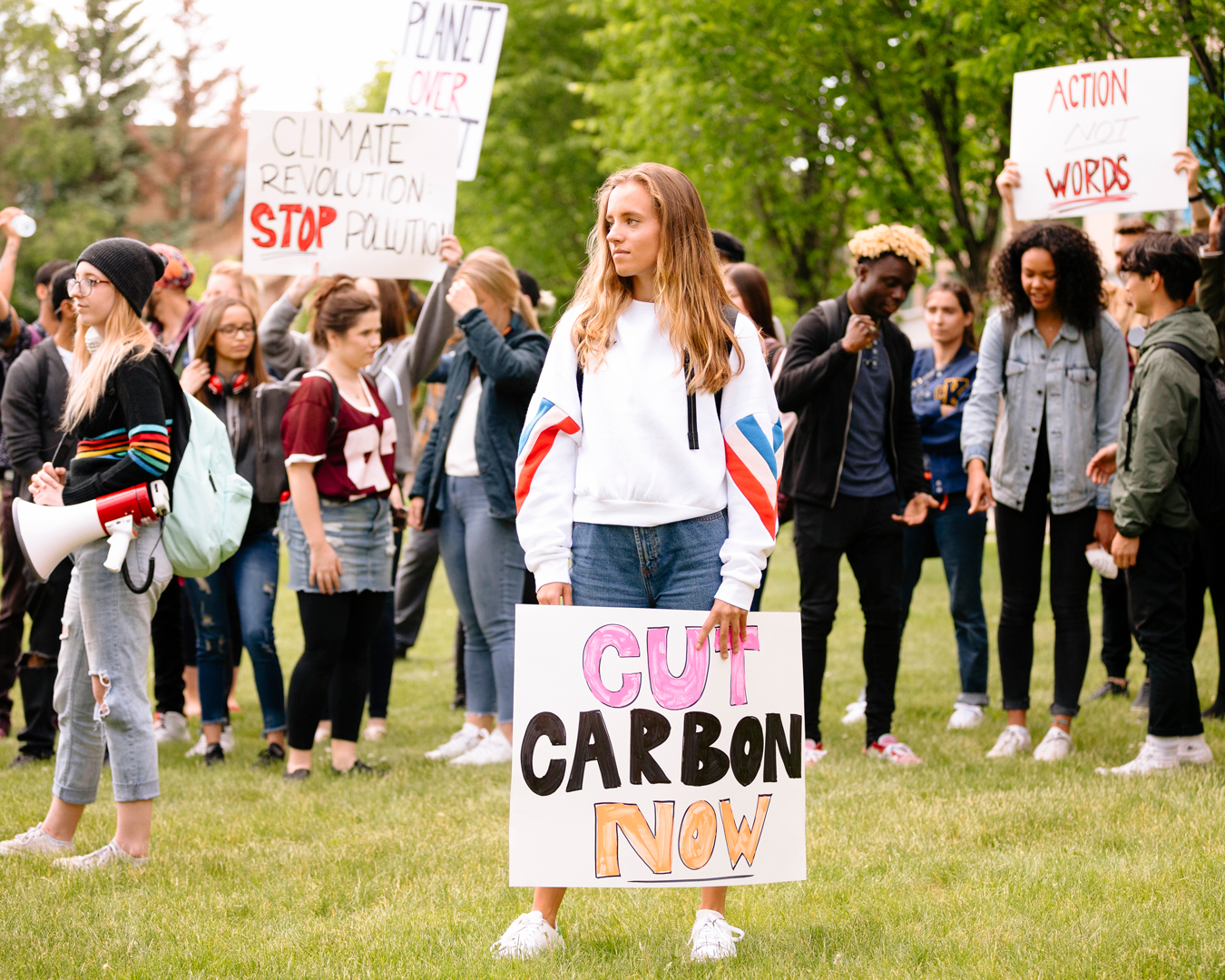 CANNABIS LIFESTYLE
It's an industry that's predicted to be worth $63 billion in five years, and it's shaking off its Pineapple Express, stoner stigma and entering into the mainstream at lightning speed to match. If eco-anxiety is 2019's biggest emotional vibe, cannabis is this year's biggest buy-in, eclipsing business ideas like Bitcoin because as legal barriers are lowered, its appeal covers off so many categories. And none have been more willing to embrace the uncharted ocean of the potential benefits within Mary Jane than the realm of lifestyle and the wellness, fashion and beauty worlds.
In the States, where cannabis has now been legalised for recreational use in 10 states, and even more for medicinal purposes, big players in the fashion and beauty space are diving head on in. In California, Barney's has a cannabis concept shop called The High End, where you can pick up Malin+Goetz cannabis perfume oil and candles, 14k gold rolling papers, charm bracelets with marijuana motifs, Lab to Beauty CBD drops that'll up the ante on your regular bath bomb, microdose lip glosses from Saint Jane and hemp-infused patches care of The Good Patch that claim to cure insomnia, period pain, anxiety and hangovers. Cannabis' place in the wellness world is firm-fixed: as well as it's well-known pain relief qualities, its healing powers extend to mood disorders, inflammation, premenstrual pain and libido.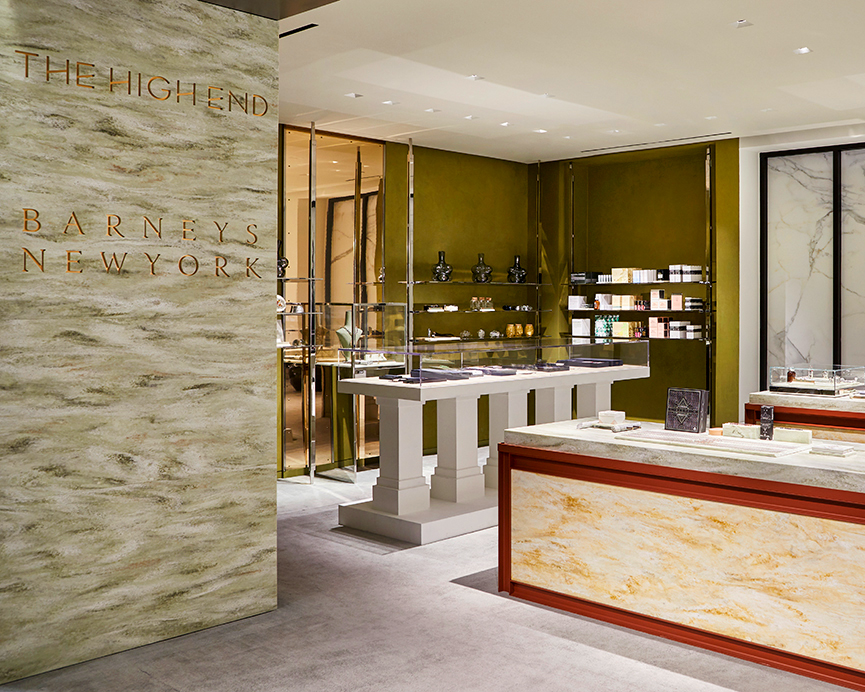 And the smoke is still clearing, so to speak, in Australia with Canberra being the first Aussie jurisdiction to legalise the possession, use and cultivation of small amounts of weed, but Attorney-General Christian Porter counter-claiming that the new laws are, in fact, invalid. Even so, decriminalisation is on the horizon, and new Australian-based products are surfacing, heroing hemp while they wait for the green light (pun intended) to feature CBD. We love Byron Bay-based Cannabella and Victoria's Natural Distilling Co's sustainably sourced hemp vodka and hemp gin.
HANDS FREE: WEARABLE TECH 2.0
We've come a long, long way since Google Glass burst into the world in 2013. While these futuristic shades did boast all the science fiction-level fashion tech the world had been hanging out for since the Back to the Future trilogy—nobody actually wanted to wear them. They looked, well, goofy. They were not cool. These days, the smart specs are sold as high-tech AI visors made specifically for the manufacturing, logistics and healthcare industries, but their initial drop settled something for the future of wearables. That is, tech shouldn't play in the fashion space solo, not at least without consulting fashion first.
Fast forward five or so years, and wearable tech is a bit more stylish and covetable (hello, Nike Adapt). It seems Google has learned its lesson too—its new wave wearable tech is fashion first, with tech as a seamless and hidden bonus, tucked into the well-designed, iconic sleeves, shirts and backpacks of labels like Saint Laurent and Levi's as a start. The latest is a denim trucker from Levi's: the same iconic design, with Google's Jacquard blue tooth tech embedded into the sleeve. This jacket can basically be your PA—it will sing out if you leave your phone at the café, it'll read out your appointments for the day, answer and end phone calls, play your favourite song and remind you where that epic restaurant is, all without forgoing the design essence of a Levi's denim jacket.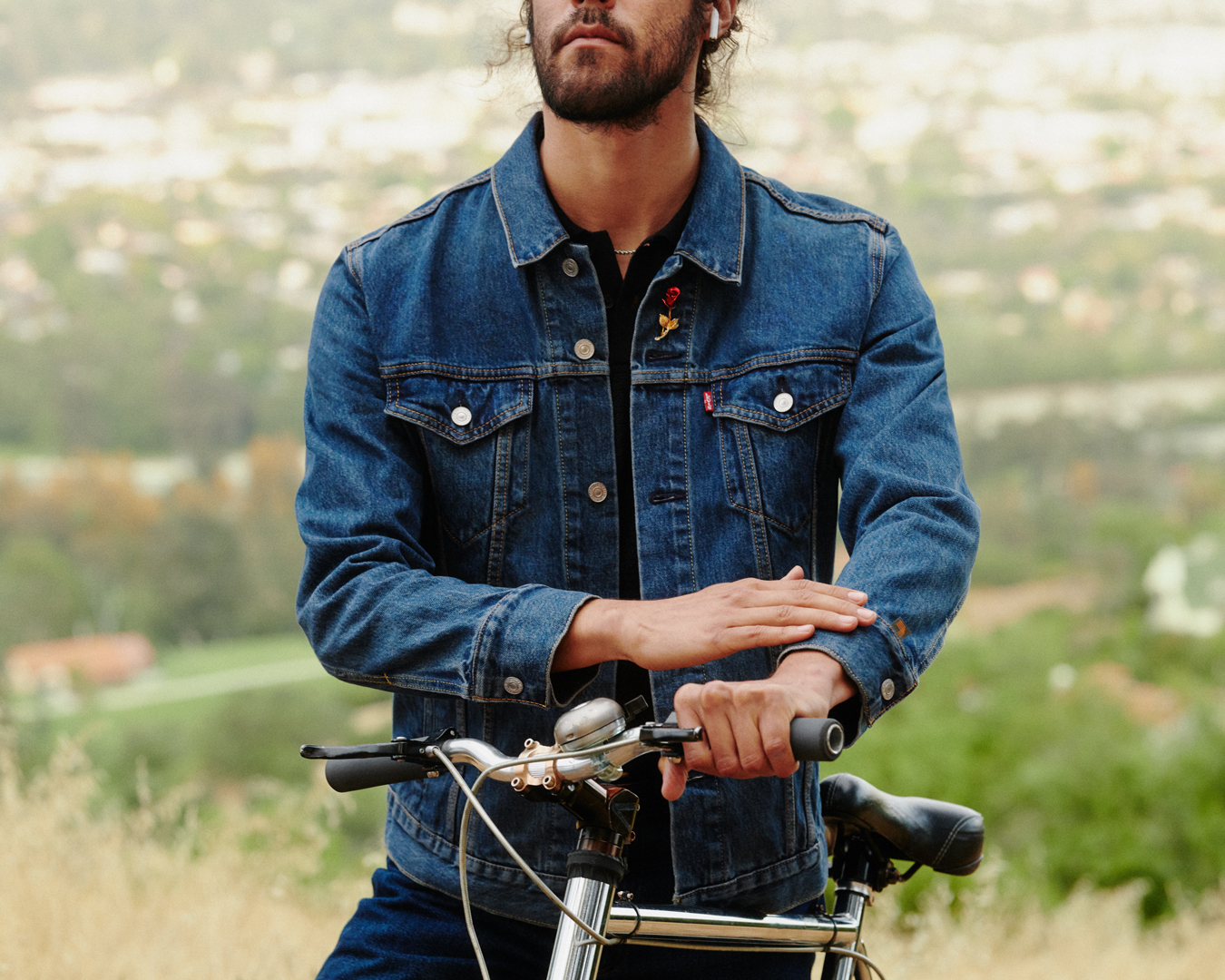 So why will this generation of wearable tech work when Google Glass failed? Other than fashion needing to be fashionable, Google Jacquard has answered a consumer need.
Rather than creating wearable tech for the sake of it, Levi's has tapped into a different emotional thread that maybe wearable tech can sooth. We don't want to be disconnected, but we also don't want to be endlessly distracted, tethered to our phone and our apps, email, messages and notifications. We all need a PA. This is "hands free" for the next generation. The takeaway? If you want to create fashion, don't skimp on style expertise. Secondly, new products should aim to meet a need, an emotional state rather than existing for the simple sake of tech prowess.
On The Slide
LONG FORMAT TV SHOWS
No doubt HBO's Game Of Thrones was one of the most seminal TV shows of the last decade, hogging the screens of millions around the world, for hours at a time. If you were an invested stan since the first episode dropped back in 2011, you'll appreciate just how the series' creators, David Benioff and D. B. Weiss, were true pioneers in changing the way TV shows were made, with the show's chapters ballooning out to what was coined as "movie-length" episodes—because more, in this case, was definitely better.
Like HBO, streaming giants like Netflix were among the first to dive into the gap in the market for complex content that people were ready to get invested in, long-term. Shows like House of Cards, made up of 50-minute episodes across several seasons, were a huge hit. But off the back of unusually deep and layered plots, multiple characters, backstories and hefty histories, as well as multiple new shows entering the genre, came "Netflix Bloat" and Netflix-induced psychosis called choice paralysis. Who has the time and the emotional space for multiple narratives? And what if you dip into a show for 20 minutes only to discover it's terrible?
Both the bloat and the paralysis followed the era of peak TV, each a symptom of what Taxi Driver screenwriter and veteran writer-director Paul Schrader calls "narrative exhaustion", and a now-saturated genre that FX boss John Landgraf doesn't believe can continue to "surprise and delight the audience."
The answer? Bite-sized content with low-level commitment and maximum impact. Netflix has recently invested in creating shorter shows (that span as little as five minutes), like the animated Love, Death + Robots and the anthology series Easy, as well as nostalgic throwbacks like Avatar: The Last Airbender. It proves two things: Netflix is brilliant at following its customers' shifting partialities. Secondly, it reflects a broader desire for a shift in storytelling, one with a much simpler buy-in and one that appeals to a worn-out attention span.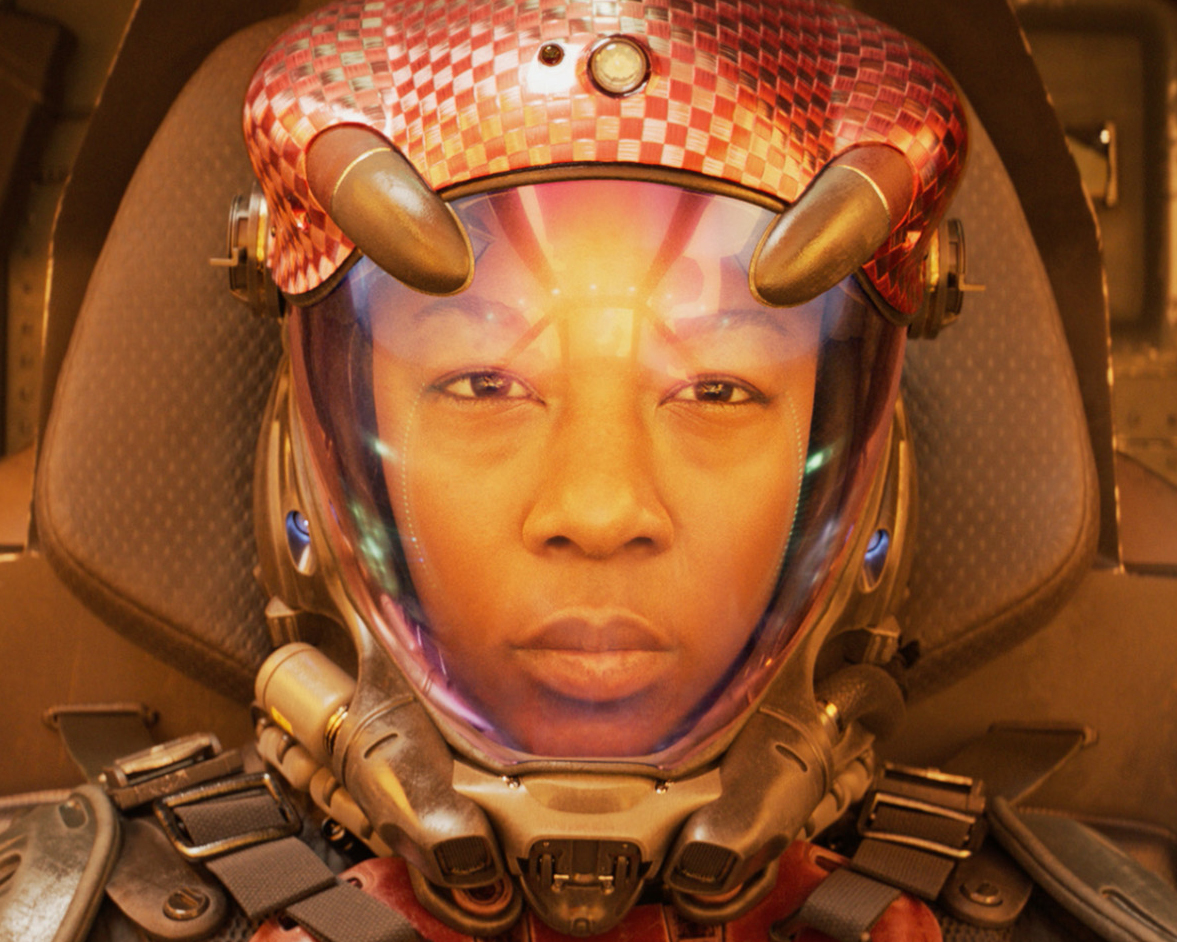 ALWAYS ON CULTURE
This year, millennials were labelled the "burnout generation" in a viral Buzzfeed News piece penned by reporter Anne Helen Peterson. Rather than being another swing at a cohort that's copped an absolute sledgehammer of criticism (none more prolific than our penchant for fancy avo toast), this article called out a syndrome of "errand paralysis", a symptom of a generation so overwhelmed they can't muster the energy to visit the post office, pay bills on time or register to vote. Millennials, Peterson argued, aren't lazy, entitled and bad at "adulting", instead career burnout is this generation's "background music" and our "base temperature", reinforced by an idea that we should be always on and working all the time, which ultimately affects our ability to just, well, chill out and in turn, be effective at life's more menial tasks.
Since Peterson seemed to crack the code, the World Health Organisation declared burnout to be an official medical diagnosis, and brands have jumped in to rescue a generation of frazzled, overworked souls, preaching weekend escapes, lunchtime workouts, daily meditation and asking our colleagues not to contact us after 5pm.
Pattern Brands in NYC was created by a set of millennials keen to shift the epidemic of the "always on" thinking. It's a family of smaller brands designed to help millennials enjoy their daily life—and Equal Parts is the first, which acts as a cooking guide and an answer to Uber Eats overload, reframing the act of actually making dinner as a time for relaxation.
Elsewhere, cult-like sweat sessions that offer a sense of real escapism (Barry's Bootcamp, Soul Cycle and the like) can teleport burnt out millennials to a night club, or a serene rainforest as they move through sun salutes. And work apps are responding to the need for downtime too. If you try to log a meeting with a workmate after 5pm, Google Calendar will deliver a warning notification that you're creeping in on your co-worker's much needed out of office time. Slack allows workers to snooze notifications and screens messages while you're away and time management apps like Clockify weave anti-burnout ideas across their platform, encouraging you to actively clock out.
STAGED BRAND ACTIVATIONS
What does it mean to be authentic in 2019? And do pop-ups still have cut through? Brands that want to be talked about need to pull some major stunts these days, but it's not about expensive tech, cocktail soirees or influencer strategies. The saturation and lack of surprise here has left consumers bored, wearied by the status quo and the ho-hum inauthenticity.
It seems the best way forward is in a bit of simple spontaneity, and in meeting your audience where they are, in the rawest and authentic way possible. One of the most iconic forms of this in 2019 was at Coachella. Donald Glover (or Childish Gambino) surprise-Airdropped pictures of his collab with Adidas to festivalgoers. Recipients who accepted the drop, scored a free pair of the sneakers and the creative hustle went viral online. It's like experiential marketing 2.0, that rests on an element of surprise, as well as simply being in the thick of it, right where culture is living and breathing.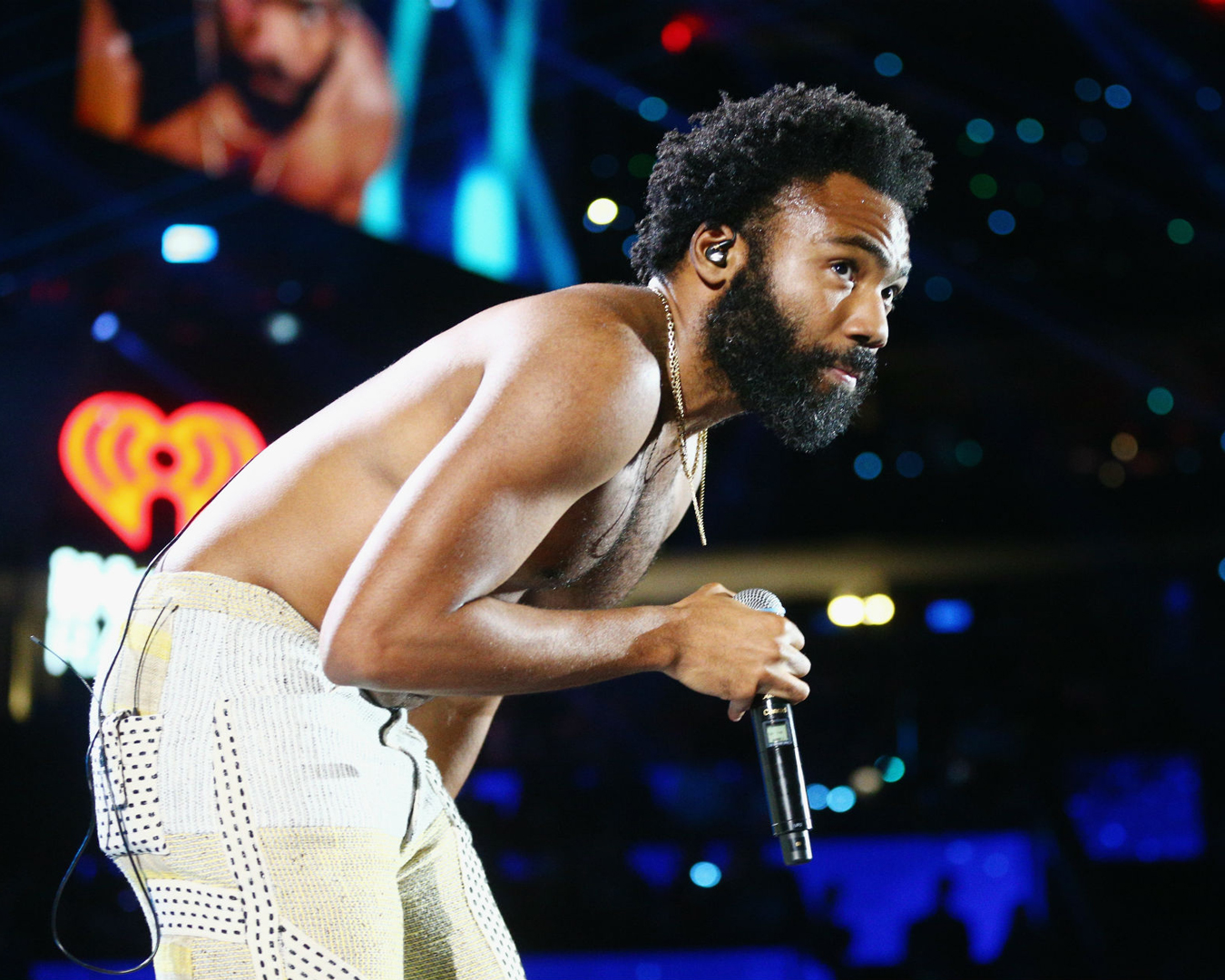 In the same way, Willow Smith's impromptu busking session in the London Tube got people hyped up for Prada's new sports line, Linea Rossa FW 2019. And perhaps one of the most famous brands in the world nailing it in this new experiential marketing space, is the Heineken distributed Desperados—a tequila-flavoured pale lager beer. The brand has thrown everything from an immersive underwater party and a phone-free party to an "epic house party" across two Spanish apartments with LED screens and a mammoth sound system. Desperados' objective reflects its own twist as a tequila-flavoured beer and channels the unexpected with unique party experiences like its "Party Better, Party Different" campaign that increased social buzz and pushed digital engagement (effectively brining a 26 percent increase on year-on-year sales).
The message? You need to pop-up where culture is.
Stay up to date and in the know of all things urban culture right here.
Image credit: Getty and supplied
Design credit: Kate Mason