Here at The Urban List we are all about the finer things in life. And, we're not afraid to say that we love a good drink. Cocktails are the perfect accompaniment to most occasions. Work drinks, business meetings, birthdays, anniversaries, brunch—all are more enjoyable with a bevvie in hand. We've even been known to sip a Momosa or two over brekkie if the mood strikes us.
So, we thought we'd compile a list for you, our dear readers, so that you too can enjoy the best cocktails Auckland has to offer. We searched high and low and scouted out Auckland's best cocktail bars. It was a hard task but, someone had to do it.
And just in time for summer.
Cheers, darlings!
Talulah
Britomart
This Hawaiian-themed bar is all kinds of cool. Having only opened its doors a few months ago, Talulah is taking Auckland by storm! You'll find it above The Chamberlain in the old TSG. Here you'll find cocktails like the Blackbeards ghost—with light rum, Demerara rum, apricot brandy, falernum, lemon and orange bitters or the Pandanacola—a Talulah twist on the classic Piña colada served up in tiki heads and coconuts. Or, if you're in a sharing mood, you and your crew can wrap your mouths around cocktails like the Neo-Tokyo punch, which is made with sake, yuzu, lemon, coconut and vanilla sherbet. These bad boys are designed to be shared between two to six people. So, dig out that old Hawaiian shirt you got for Christmas in the '90s and get your butt down to Talulah for a tiki-tastic time!
Housebar- Hotel De Brett
Auckland CBD
This infamous bar has been a staple in Auckland for many, many years. Sitting on the first floor of the Hotel De Brett, it has recently been restored to its former glory. This art deco bar is the perfect place to sit and relax while soaking up the history it has to offer. The Patron Cloud is a top contender on their cocktail list with silver patron, pomegranate syrup, egg white foam, grenadine and a maraschino cherry. Or, for something a little bit darker, give the old fashioned a whirl with rye whiskey, orange bitter drops and maple syrup.
The Gin Room
Auckland CBD
One of Aucklan'ds cocktail bars is hidden away on the first floor of the historic Queens Ferry building is the sultry little speakeasy that is The Gin Room. You'll feel like you've taken a step back in time to the glamorous 1920's era with the dark wooden furnishings, red velvet curtains and dimly-lit tables furnishing this bar. And, to accompany the luxe interior is an elaborate gin and cocktail menu, with seasonal cocktails like the 'I'm all out of love' with tequila, lime, agave, apple, mint and asparagus air and the 'Peanut butter jelly time' with Makers Mark, Pedro Ximenez sherry, peanut butter, strawberry, citurs and bitters.
Win-Win
Ponsonby
Ponsonby cocktail bar Win-Win brings the bright lights of Vegas right to the heart of Auckland. It has an evolving cocktail list and bartenders who know their shizz and they're ready to whip up whatever your taste buds desire. They've even got cocktails on tap! We're loving the Nitro-Espresso martini on tap for a bit of a pick me up. It's got charged espresso and Harpoon cold-brew coffee, mixed with vodka and Quick Brown Fox coffee liqueur. Or, wrap your mouth around the zesty Lemon Mirage! With its Bacardi carta blanca shaken with limoncello, fresh lemon juice and home-made orange syrup you know it's good. Try any of these A-MAZE-ING cocktails with home-made jelly bites and you've got yourself a winner winner chicken dinner!
Mea Culpa
Ponsonby
This narrow, intimate and rustic style bar has been a fav among Ponsonby locals for years. At Mea Culpa, not only do the cocktails taste absolutely amazing but their presentation is second to none. The cocktail menu is constantly evolving and if there's nothing on there that tickles your fancy (doubtful) just ask the bar staff to whip you up a little something. We can guarantee that it'll be pretty damn spectacular. All of the drinks are made from scratch, down to the hand-pressed fruits mixed into the cocktails and the garnishing that are only bought from local suppliers. Chill vibes, great tunes and even better drinks, this little gem ticks all of our boxes.
Jack
Ponsonby
One of Ponsonby's best kept secrets, Jack is a teeny tiny little bar located through a broom cupboard, up some stairs and in the attic on top of Harry and George. There stands a solo bartender with a cocktail list that changes on the daily. Alluring, intriguing and hidden away from the hustle and bustle of the regular Ponsonby Road bars, this secret spot is a must visit on our list (if you can find it)
Love Bucket
K' Rd
Gin cocktails are what makes the Love Bucket a strong contender on our list. Their signature Winter Garden LBG&T gin tap cocktail is a must try. With yuzu, pink grapefruit and pink and black peppercorn, it's delightfully refreshing and way, way too drinkable. Gin not your thing? Opt for the Storm De Banane with its spiced banana rum, lime and ginger beer. Each sip will keep you coming back for more. And more. And more.
Pineapple on Parnell
Parnell
A timeless '80s charm sets the tone for this Parnell bar. Hidden away behind a wooden door, adorned with a simple brass pineapple knocker you'll find Pineapple on Parnell. Plush leather sofas, velvet cushions and dark wooden furnishings are what you can expect when you visit this swanky establishment. And of course, the cocktail list is just to die for darling.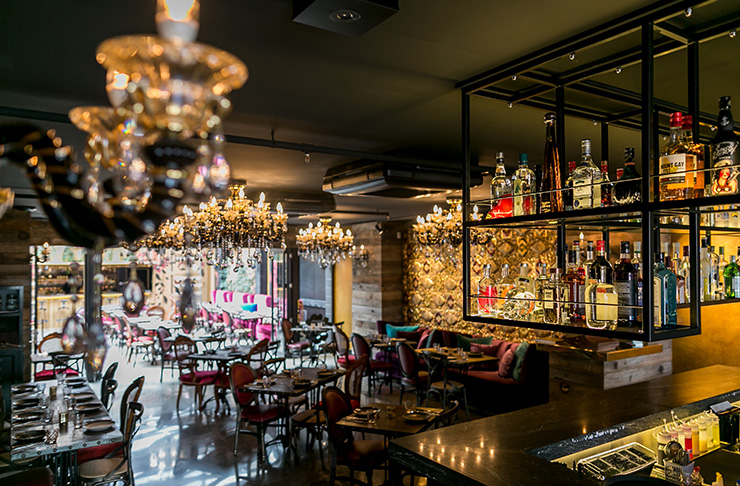 Vodka Room
Ponsonby
Vodka Room is where you want to be for all things...vodka. With more than 100 different kinds of vodka behind the bar, a kitchen that's open til 3am AND…… super luxurious karaoke rooms, this cocktail bar is pretty damn special! Vodka Room puts the G in glamorous and is authentically Russian through and through. Downstairs you've got the restaurant which backs onto a sun-drenched courtyard. And upstairs is where the party starts with two karaoke rooms, "The Bear Room" and "The Kalashnikov Room," complete with "push for vodka" buttons. Voddy cocktails delivered straight to your room? Yes, please! Whether you're dining in, sippin' on some cocktails or keen to belt out some tunes with the squad, Vodka Room will be sure to show you the best time! Nostrovia!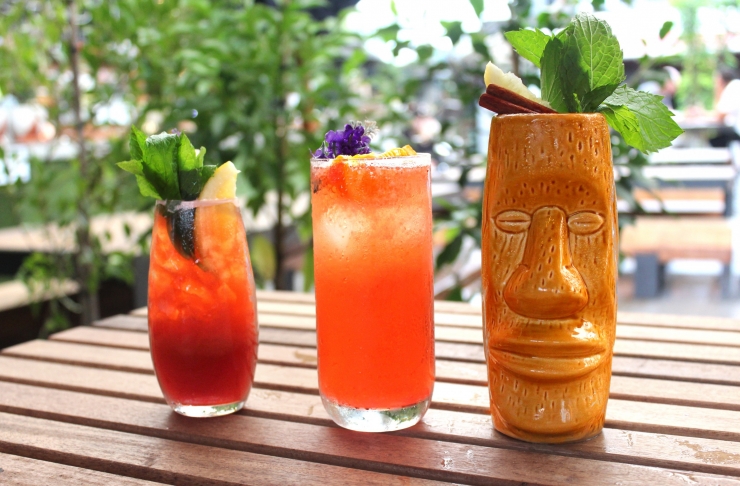 Bedford Soda And Liquor
Ponsonby & Takapuna
When it comes to cocktails, these guys reeeeeeeally know their shit. Inspired by the American beverage scene, Bedford Soda and Liquor has an extensive cocktail menu that covers all bases. Light spritzes, seasonal drinks and "bold & boozy" are some of the options you'll find here. They've even got sharing cocktails and liquor-laden shakes! Our top picks are the salted caramel shake with salted caramel, Malteasers, Johnnie Walker black whiskey and finished off with crushed Malteasers! Or for a sharing bevvy give the Midsummer Dream a crack with chamomile-infused bourbon with peach liqueur, lemon, honey, orange bitters and a slash of summer.
The Glass Goose
Federal Street
This inner city cocktail bar is super romantic. Sitting at the base of the Sky Tower, lit with festoon lights and a glass roof made for star gazing, it's a perfect Instagrammable venue. Their cocktail list is something to get excited about, with Glass Goose signature drinks like the Basil Grande with Grey Goose vodka, Chambord, grand mariner, cranberry, fresh strawberries and basil. And they absolutely nail the classics too. You won't be disappointed with their espresso martini! This Auckland cocktail bar is a fantastic spot to wow your date….. You can thank us later.
Caretaker
Britomart
If it's a top quality beverage you're after, then go on an adventure and find Caretaker. You'll find it hidden away down a dimly lit staircase in the ever-so-popular Britomart. This bar is described as a "New York-style cocktail lounge, inspired by the golden era of bartending." Pull up a stool at this trendy haunt and let the mixologists take care of you. Just tell them what tickles your fancy and let them do the rest. Custom-made cocktails are their specialty. And, with plenty of dark corners to hide away in and even table service, this is the perfect place to relax and take a load off.
Image Credit: Jaiden Bhaga, Max Lemash