It's a seasonal truth that Christmas parties are the bane of HR. Between coordinating Secret Santa and corralling everyone into an orderly mob, it's an actual miracle that any of us actually make it to the designated location.
Take some of the pressure off and outsource the particulars of your seasonal knees-up to one of Brisbane's best party venues. This year, we've done the hard yards for you and found 15 Christmas party venues in Brisbane that don't suck.
Whether you're after casual drinks or a balls out celebration for 200, we've got you covered. Just make sure you get booking ASAP because the Christmas party game is lawless and these places will book out fast. Godspeed.
Howard Smith Wharves
Brisbane City
Howard Smith Wharves is not just a staple for your Friday night—their incredible selection of function spaces is enviable too. There's all the food and drink venues of course, but our pick would be one of the boutique set-ups where you'll have the whole place to yourself, whether it's the riverside Bougainvillea House, the industrial-looking Rivershed or the cottage-like Green House. Depending on your choice, they can cater for anywhere from 30 to 310 people, and you can check them all out here.
Iris Rooftop
Fortitude Valley
Soak up city skyline views while you exchange those Secret Santa presents. With 360 views of Brisbane, you can celebrate the silly season in the clouds while munching down Mediterranean inspired morsels of utter deliciousness at Iris Rooftop. There's plenty of space for parties of any size with a private dining room, cabanas, terrazas or even the whole rooftop up for grabs.
Kiff & Culture Tours
Various
If staying at one venue all night sounds dull, and you've got less than 60 people to plan for, Kiff & Culture's new Artisan Food & Drink Tours are one hell of a good time. They'll pick up your whole team in a bus (size depending on your group) and drive you around for the afternoon, stopping off to eat and drink at some of Brisbane's coolest venues. We're talking Southside Restaurant for a five-course banquet lunch, City Winery for a wine tasting and then either Granddad Jack's Distillery for a gin tasting, or Stone & Wood Brewery for a beer tasting. Not for you? Maybe one of their other tour options will be.
The Prince Consort
Fortitude Valley
With a choose your own adventure type energy, The Prince Consort has nine spaces for you to pick from, so you can create your ideal festive celebration depending on your preferred tone for the party. Whether it's the outdoor Garden Gar perfect for cocktails, La La Land ideal for a boogie, or the Greaser Gar built for those relaxed pub vibes, The Prince Consort has you sorted. While the menus vary across venue spaces you can be sure that each offers all your favourite feeds to see you through the silly season with everything from burgers and fries to oysters and burrata.
Stanley
Brisbane City
Reminiscent of Hong Kong's moody waterfront, Howard Smith Wharves' two-storey Cantonese restaurant is the place to embrace the riverfront views while you tuck into an epic banquet. Whether your workplace size aligns more with an intimate private dining room for 12 or a long table feast along the boardwalk for a few more, Stanley has options for both private celebrations and corporate events and can cater to up to 250 guests. Also, you can surely please all the fussy eaters, because who doesn't love Chinese food?
Boom Boom Izakaya
Brisbane CBD
Down below Donna Chang, the Boom Boom Izakaya is so named because it's built on the site of a bank vault. They offer a few different rooms and packages for various events and for an office shindig we recommend The Vaults. Playing off the history of the building, this luxe space can provide cocktail style service for up to 30 guests. For larger groups, you can book the Trumpet room for 40 or the Bankers Lounge which can serve up to 60 guests. Christ do we love options.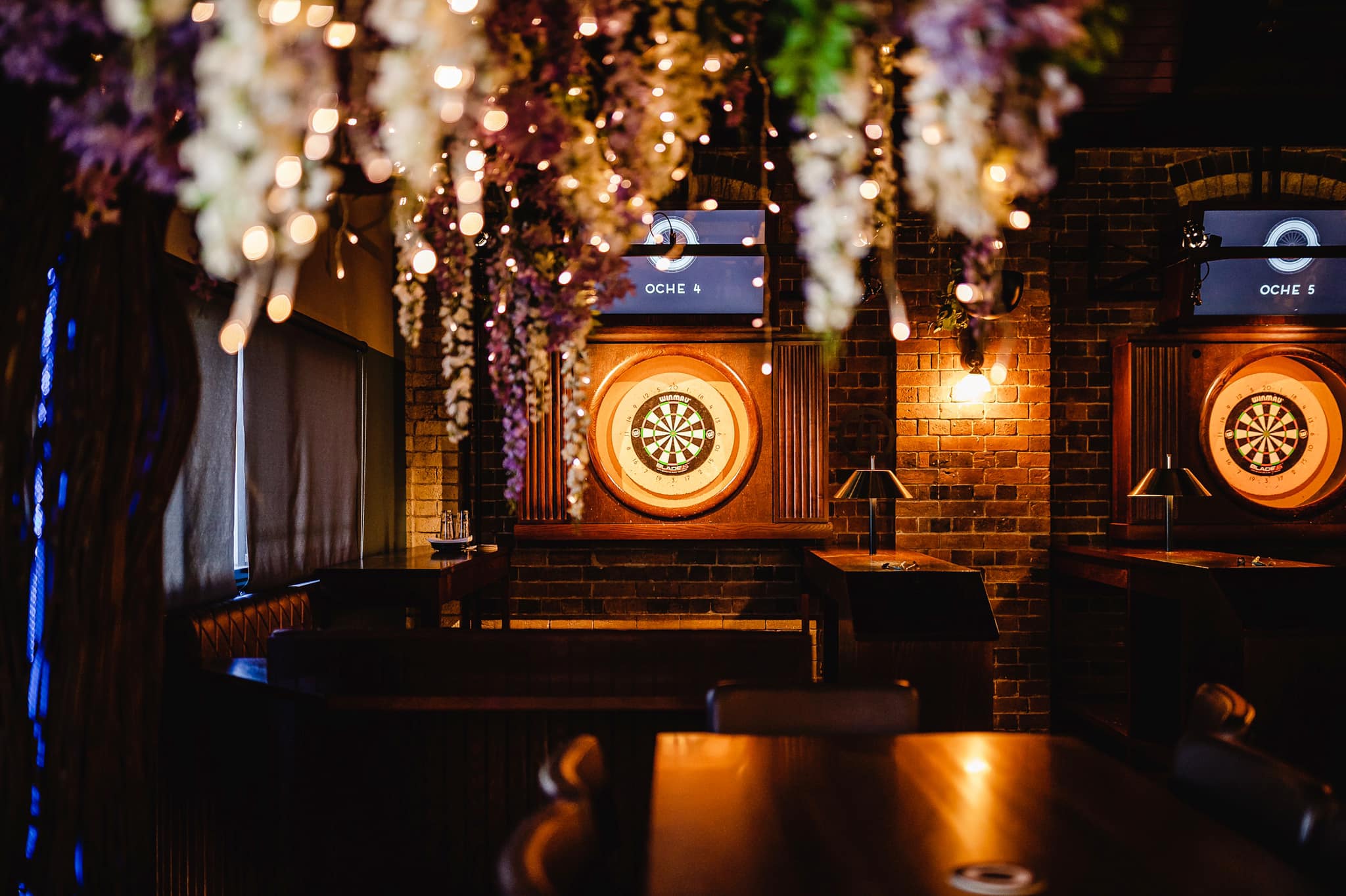 Oche
Fortitude Valley
As well as having their electronic dart booths downstairs, where you can book out one or multiple spaces to play a few games with your crew, Oche has just transformed their upstairs loft into a vibing, industrial-style function room complete with it's own bar. With space for a hundred standing, you can spend the evening battling it out over the two shuffle boards. It's also open to the public when there are no events booked, if you want to scope it out beforehand.
Newstead Brewing Co.
Newstead and Paddington
Anyone who's ever partied at a brewery will tell you is it The Place for a festive booze up. As one of Brisbane's earliest adopters, Newstead Brewing's craft operation has been wetting whistles in the 4006 since before the flood. Now with a second location in Paddington, there's twice the opportunity to take advantage of their cracking bevs. Click here to check out the different spaces and packages they have available and book yourself in pronto.
Yot Club
On The River
Why party on the land when you could party on the water? Tell everyone to bring their sealegs, because Yot Club has options for every party size, whether you want to nab tickets to one of their weekend events, book out their upper VIP deck for larger private parties or go the whole hog with a private charter—their three different boats can host parties of 58, 70 and 400. Honestly, the options are endless, and obviously include plenty of booze—check them all out here.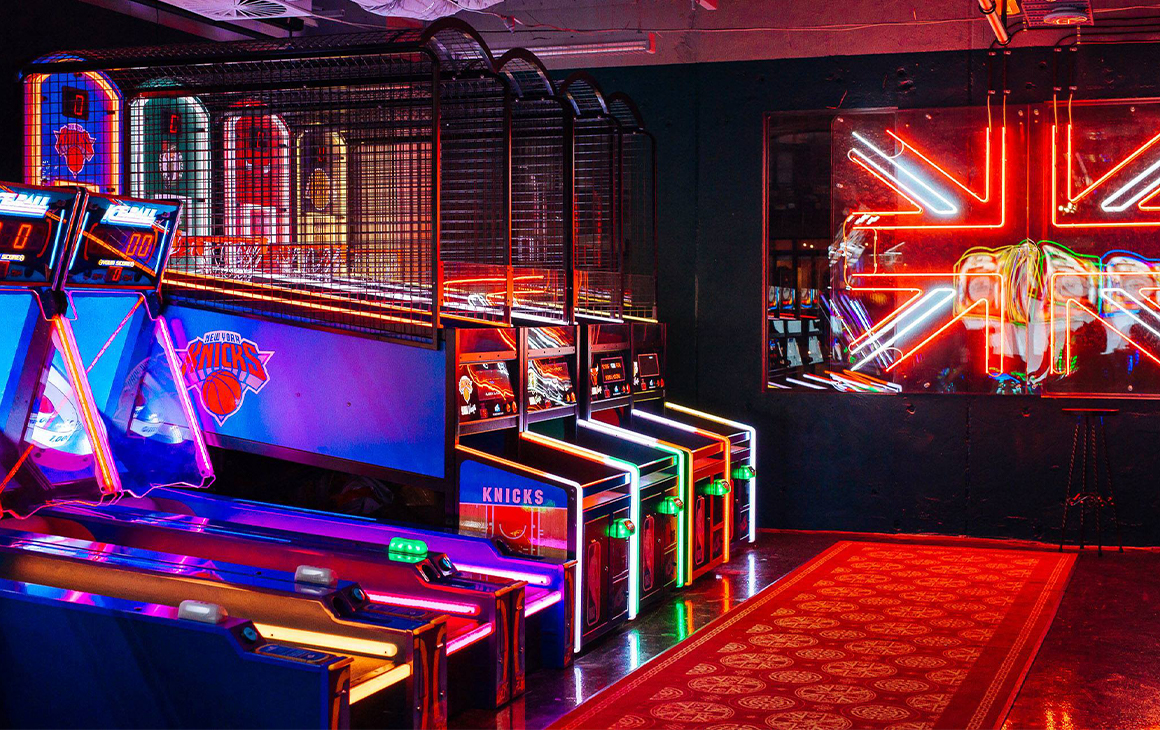 B Lucky & Sons
Fortitude Valley
If you're after something a little different, tackle drinks and entertainment in one fell swoop and have your Christmas party at B Lucky & Sons. Located along Brunswick Street Mall in the TCB Building, B Lucky is an arcade bar that's flush with games and libations of all varieties. Their event packages cater to all group sizes, featuring food and beverages and the freedom to run wild in their arcade. Giddy up.
Summa House
Fortitude Valley
Fortitude Valley's Summa House is the perfect place for an outdoor holiday party with its groovy backyard-inspired vibe. Indulge in a sun-kissed afternoon with platters of goodies and canapes and banquets on offer too. With multiple levels provided by their shipping container design, Summa House has the space and the menu to cater to your crew big or small, and those ready to party into the wee hours can stay and hit the d-floor once the sun is well and truly down.
Nosferatu
Bowen Hills
How about hosting your 2022 Christmas party in a gin distillery? Nosferatu has landed in Bowen Hills and their lush warehouse and its retro caravan bar is the perfect setting for a chilled function. There might not be any gin in the stills, but there'll definitely be gin behind the bar, and you can book a food truck or two to provide the eats.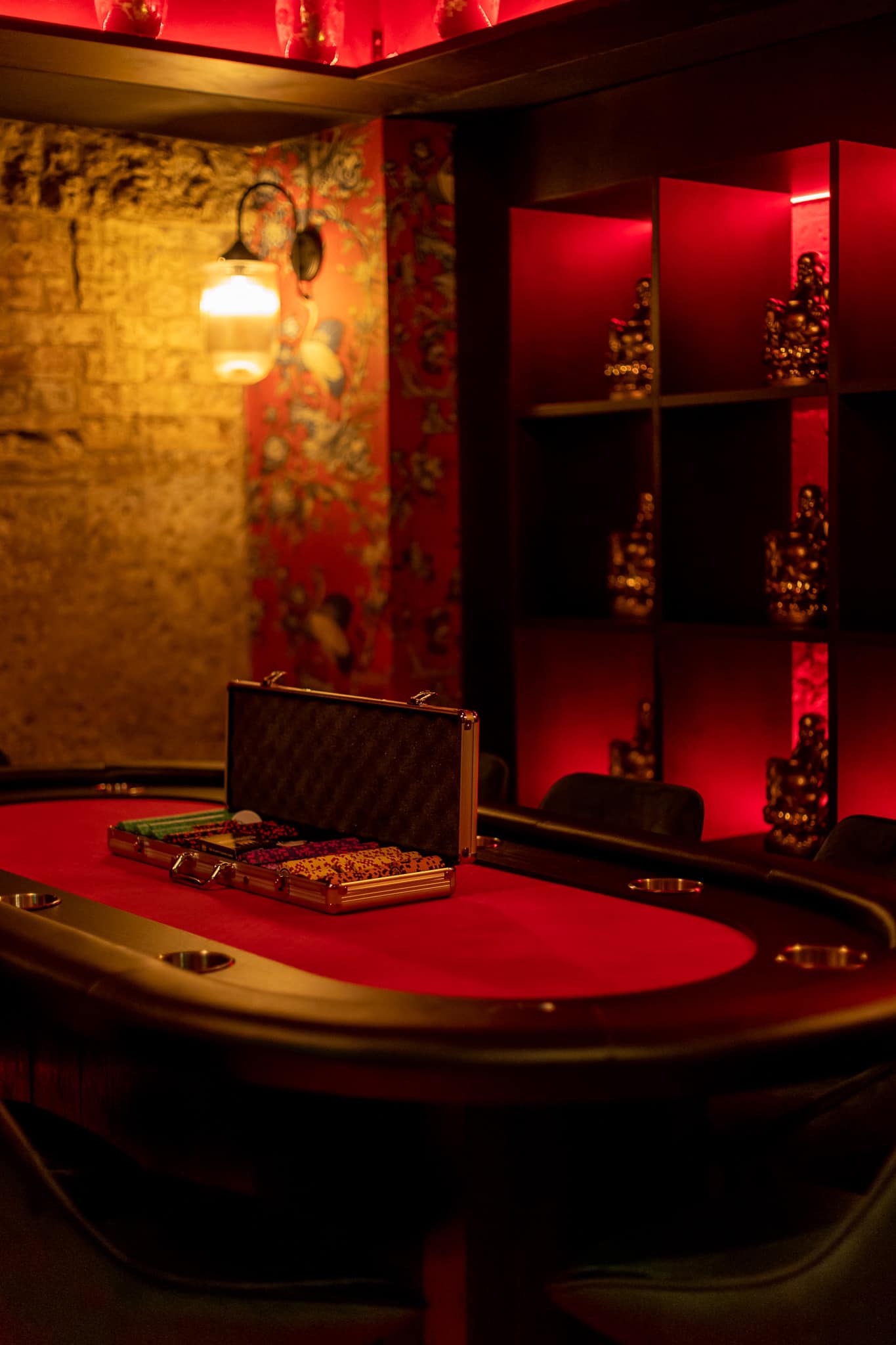 Cindy Chow's
Fortitude Valley
How much cred would a secret underground entrance add to your Brisbane Christmas party? Cindy Chow's is hidden behind what looks like a cold room door—and there's even more secret rooms inside. You can book out the entire venue for up to 90 guests, or host a smaller group of between 10 to 40 in the secret poker room or hidden whiskey den. Eats come in the form of pan-Asian tapas, with cheese burger spring rolls and pork belly bao on the list of options.
ZA ZA TA And Bar Kazba
Fortitude Valley
The Middle Eastern-inspired ZA ZA TA and next door Bar Kazba definitely take out the award for the most eclectic party spaces in town, with options from just 18 guests right up to 300. From sit down dinners in the private dining rooms at ZA ZA TA to cocktail parties in the luxurious Library and Harem or even a whole venue situation, they've got the room for you. Plus, they're dishing up some of the best party eats in town, and will happily cater for the carnivores as well as the vegetarians.
Lina Rooftop
South Brisbane
If last year is anything to go by, December is going to be hot—so cool things down with a little poolside action at the sky high Lina Rooftop. You might need to get a few rounds in before anyone is willing to mess up their hair and make up by hopping into the pool, but it's bound to happen. Dining options include sit down banquets, alternate drop, canapes and our favourite, live stations for everything from oysters and poke bowls to paella and charcuterie.
Just planning an epic long lunch for your Christmas do? Check out our favourite spots to do just that here.
Image credit: Howard Smith Wharves, Oche, The Prince Consort, B Lucky and Sons, Covent Garden