It's not often we truly take time for ourselves; between the daily commute, hunting down that new coffee spot, catching up with friends or simply trying to catch up on your social feed (utterly exhausting), life can be quite, um, draining?
With new buzz words like 'mindfulness' making the global rounds we thought to go one better, and find a luxury hidden day spa in the heart of Hawthorne to melt away our troubles. A gee, did it work a treat.
Enter; Petrichor Day Spa. Literally hidden inside a gorgeous old Queenslander, this under-the-radar Brisbane day spa is all of your pampering fantasies, realised. The stunning décor and chilled vibes makes Petrichor the ideal spot to treat yourself.
First up, we totally dig how owner Jacqueline opted to maintain as much of the Queensland property's heritage features as possible (think stained glass windows, light, airy spaces and gorgeous high ceilings) while adding in luxurious extras like stone floors and beautiful furniture making treatment rooms and the arrival lounge sumptuous and oh-so inviting—not a stark white surface in sight.
The treatments on offer at Petrichor are designed to rejuvenate and relax body and mind, all while using only organic products (which we totally dig!). From traditional massages, hot stone therapy, customised facials, hydrotherapy (including the infamous Vichy Shower treatment) and even luxe manicures and pedicures, Petrichor's services easily makes it one of the best day spas in Brisbane.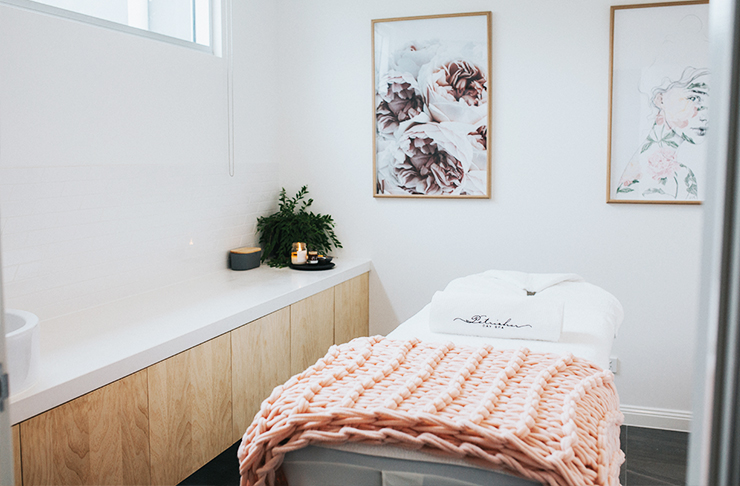 For our visit we opted for the Vichy Shower (because of course we did!) and their signature facial, both of which are fantastic for quenching the skin (and made my skin look youthful AF—greatly needed during the colder months!).
Hold up. What is this Vichy Shower? Essentially this treatment is a gloriously relaxing shower—except you're lying face down. Water is pulsated across your skin through a set of shower heads, and has many health benefits such as improved blood circulation, skin vitality and hydration, and is one of the most relaxing things you will ever try. Hands down!
On a side note, floating around in a super fluffy gown sipping herbal tea after my Vichy Shower was my idea of heaven.
If a day, or even an hour you you-time, is what your craving, but the business of the CBD is enough to make you rethink the whole 'day spa' thing, Petrichor is an oasis of calm, giving off effortless zen vibes perfect for a little r and r.
Need a little food after your zen time? Here are 50 Brisbane cafes you should have eaten at.
Image credit: Hayley Williamson