Plant-based and filling, ethical and fresh, veggie eats excite the tastebuds and look after our planet. Brisbane's vegan and vegetarian scene has recently picked up the pace, with an array of restaurants, cafes and bars dedicated to veganism or, committed to having vegetarian options on their menu that aren't just a sad salad.
Here's where to find the best vegan and vegetarian-friendly restaurants in Brisbane.
El Planta
South Brisbane
Lovers of Mexican food, El Planta is the spot for you, with a delicious lineup of plant-based eats that changes weekly, and not a black bean in sight. Vegan or not, you'll find plenty to tempt you on the menu here like tacos filled with red chilli jackfruit, flame-cooked oyster mushroom or fried 'chicken,' which come with housemade tortillas, salsas and sauces. It's not all about the tacos though—you'll also find a selection of snacks to kick things off, including guacamole or plant-based queso with crisp housemade corn chips and grilled corn rolled in chipotle mayo and 'parmesan', as well as unreal margaritas to wash everything down.
ZA ZA TA
Fortitude Valley
ZA ZA TA went vegetarian in 2021, and has since become a staple for plant-based diners across Brisbane. Their menu is still a melting pot of Middle Eastern and Mediterranean flavours, but now you'll find the likes of carrot muhammara with walnut dukkah and mandarin oil, lentil and mushroom manti dumplings with black garlic and blood plum, and sesame falafel with apple and fresh horseradish. There's a separate menu with 100% vegan versions of some of the top dishes, too.
You Came Again
West End
There isn't much better than tapas. You get to nibble away at lots of different little dishes, usually with a drink in hand and a bunch of mates. Live the tapas experience fuelled by a whole lot of plant power at You Came Again, Brisbane's first vegan tapas bar. Trust us, you'll be screaming for more of their mushroom and walnut pate, pesto-stuffed mushrooms and the meetballs with romesco sauce and garlic chips. Do yourself a favour and be sure to sample the cocktail menu as well.
Grassfed
South Brisbane
Fish Lane has established itself as a bit of a Brisbane foodie hot spot and it's here that you will find Grassfed, a vegan burger joint dedicated to sustainable and local ingredients with a list of classics and regularly changing specials. These guys are the kings of turning something obviously non-vegan into a wondrously tasty alternative. Throw in some onion rings and top it off with a co-yo ice cream sundae and you'll need someone to roll you home.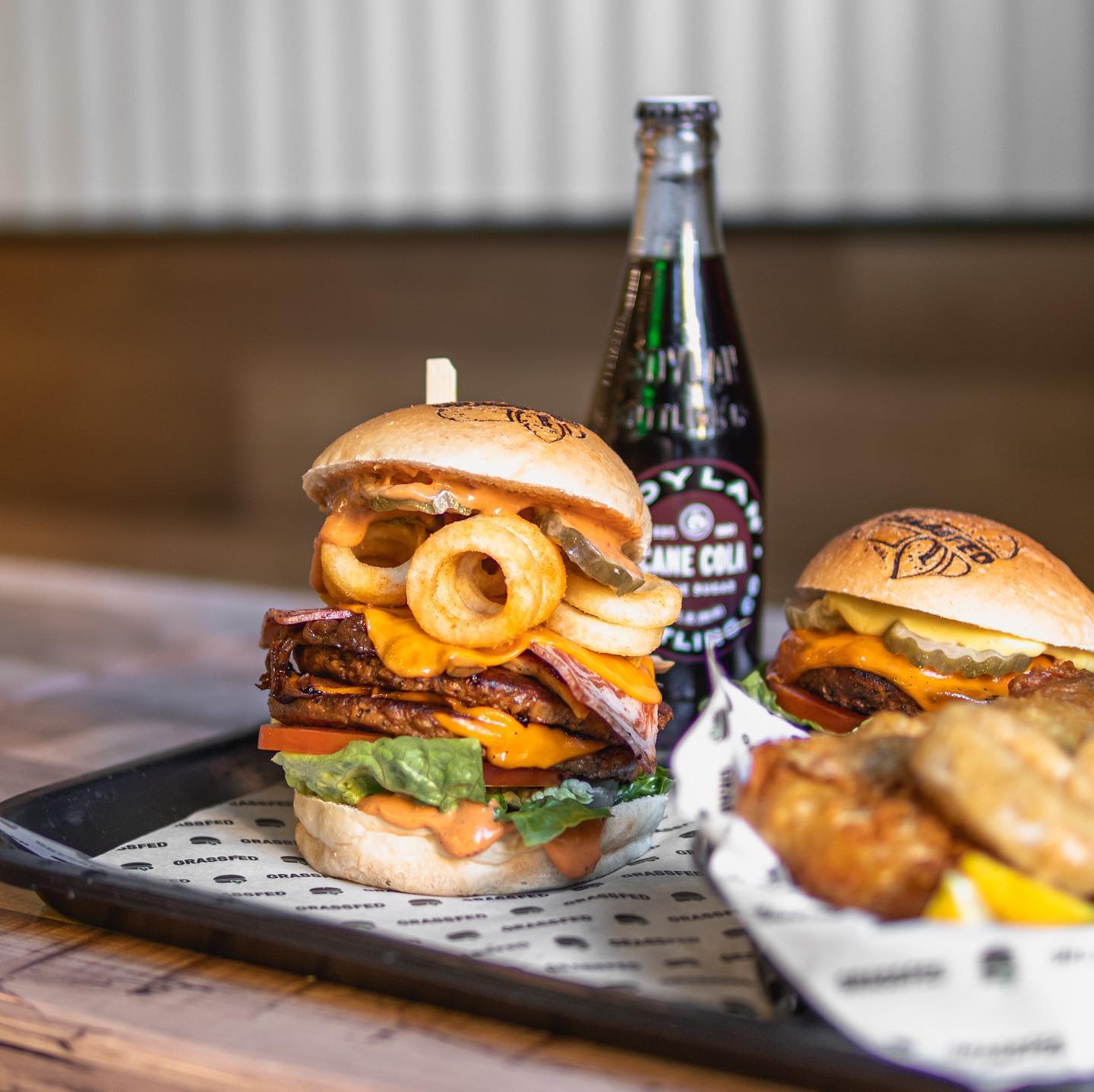 Detour
Woolloongabba
This place has some seriously creative and fancy food. It is also known around the traps as one of Brisbane's best vegan restaurants. Detour is not an exclusively vegan restaurant, but half of their menu is for the plant eaters out there with eight diverse and delicious meals to choose from. Got a fancy date or a special occasion to celebrate? Detour is the perfect place.
Nonna's Nightmare
West End
Nonna's Nightmare is all about vegan Italian eats, with everything from the 'Notzarella' and feta to the spicy sausage a plant-based alternative. Hand-stretched pizza bases are topped with the likes of vegan ricotta and cashew cream cheese, while pastas come in meat-free creamy sauces and ragus, while dessert looks like Frangelico tiramisu. Sorry, Nonna, but this stuff's good.
Naim
Paddington
While it's not 100% plant-based, Naim's menus can be easily altered for the vegetarian and vegan folks, with plant-based options available across the brunch, dinner and catering menus. Highlights include dishes like tiramisu waffles with creamy date and espresso caramel, harissa "meaballs" with focaccia, and the 100% vegan mezze platter.
Netherworld
Fortitude Valley
Not just a haven for all old school arcade lovers, Netherworld is also a staple of Brisbane's vegan scene, with their Hellmouth Diner dishing up a full menu of vegan eats. You can expect the likes of vegan hotdogs, burgers, nachos and loaded fries, along with snacks like 'chicken' nuggets and cauliflower drumettes. And for all those non-vegan friends, every dish can be made carnivorous—but here the vegan option is the norm, not the other way around.
Greenhouse Canteen
South Brisbane
Open and inviting, Greenhouse's rustic yet modern interiors will draw you in. Their food is equally as enticing—basically, vegan AND gluten-free food porn that looks almost too pretty to eat. And pretty much whatever you can think of is on the menu in vegan form here, from a mushroom cheeseburger to alfredo gnocchi and rich moussaka. Even your non-vegan friends will want to eat here.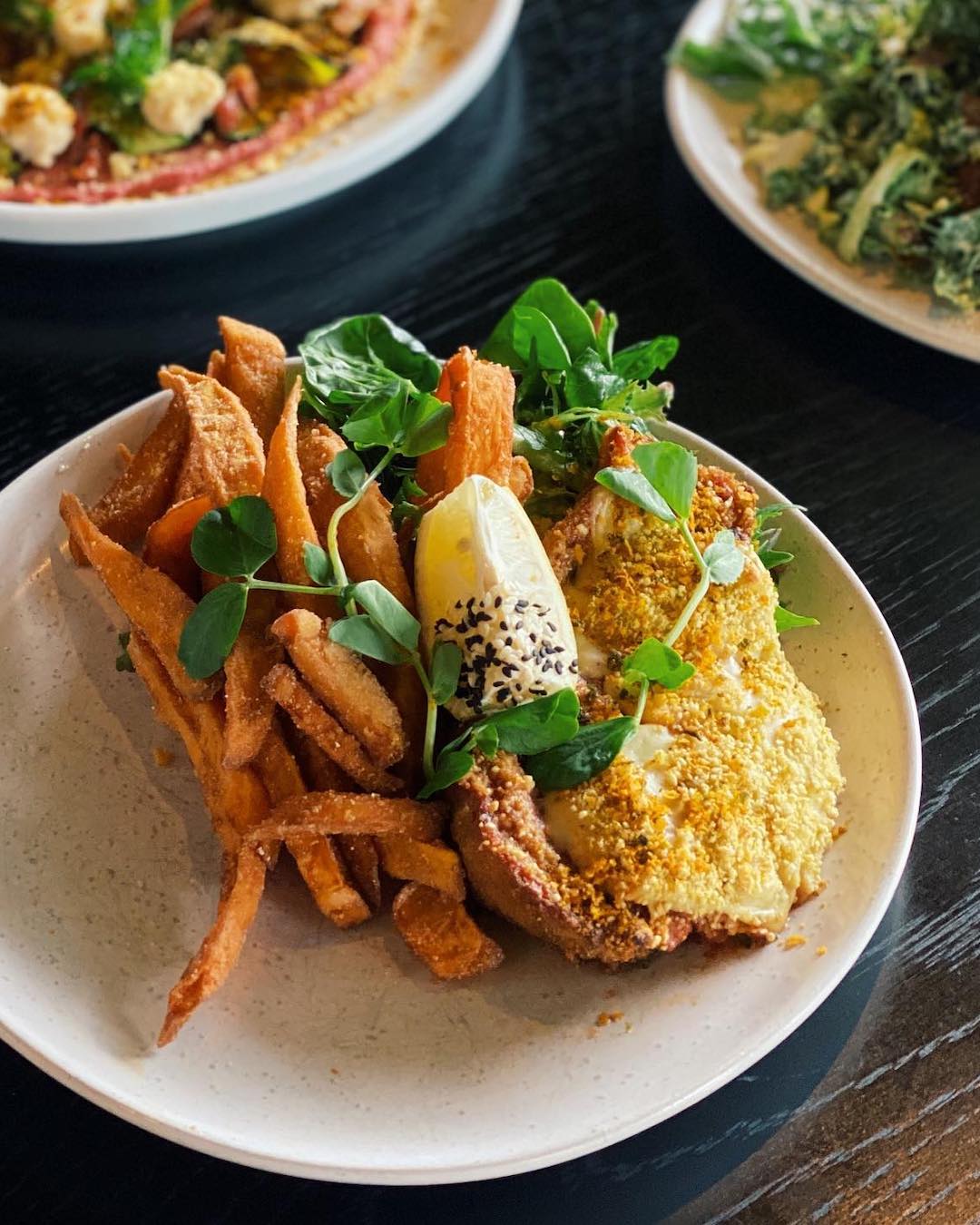 Grown
West End
One of the early adopters of the 100% vegan dining scene, Grown offers brunch and dinner from its cute little location just set back from the river. For brunch, expect the likes of sambal scrambled tofu or brioche French toast with house-made ice cream, while dinner looks like tapas-style plates of polenta chips, empanadas and peach and dark choc cannoli for dessert. All of the drinks, from the coffee to the wine and beer, are vegan as well.
Fitz And Potts
Nundah
The kitschy retro interiors of Nundah's Fitz and Potts might have you fooled that you'll be up for a serving of shrimp cocktail or devilled eggs. No sir-ree! They are a self-proclaimed "vegan as f#*k" bar, where everything is vplant-based—the snacks, small plates, cocktails and even treats for your pooch. Dive straight in with a mushroom and cheeze pizza, pumpkin arancini or loaded jaffle and prepare for some seriously tasty meat-free eats.
Tipplers Tap
South Bank
Beer isn't the only thing Tipplers Tap does well. Their all-American street food is damn good and they cater for their vegan pals with vegan-ified versions of all the classics—burgers, hotdogs, chilli and even a Polish sausage. Hot tip: Go on a Tuesday for $2 tacos and order that extra guac.
Happy Boy
Fortitude Valley
If you're looking for somewhere to dine that will please everyone—vegans, vegos, carnivores and even the gluten-intolerant—Happy Boy ticks all of the boxes and then some. The Chinese-leaning menu is split into vegetable, meat and seafood dishes for ease of ordering. If you're planning to share, eats like the salt and pepper tofu, saucy eggplant (sans pork belly), mushrooms and tofu in soy sauce and mushroom and truffle fried rice will have everyone drooling.
Want more plant-based eats? Check out our readers' picks of the best falafel in Brisbane here.
Image credit: Za Za Ta, @andyfromhk, Greenhouse Canteen