Looking to surprise dad this Father's Day with something that's not socks and ties for the third year in a row? Well, as the saying goes, the way to a man's heart is through his stomach—a good meal should satisfy any dad. Plus, paying for his meal for a change will be sure to give you bonus points.
Now, if you just want to take dad out for a good steak, hit up one of Brissie's top pubs or perhaps take him out for a spot of darts, virtual race car driving or mini-golf, we've got you covered there too, but if you're looking for a Father's Day event that will knock last year's socks right off, check out the best in Brisbane below.
Grab The Camp Chairs For Picnic Vibes
Picnic Vibes is back, and in September it just happens to fall on Father's Day, giving you the perfect chance to hang out in New Farm Park and nibble on cheese while you listen to live tunes from local artists. Vintage Picnics will take care of everything—your cute picnic set up, three courses of charcuterie and an ice bucket for any BYO drinks, so book yourself a ticket, grab some beers for dad and hit the grass (BYO camp chair for dad's aching back later).
Where: New Farm Park
When: 3pm–5pm, Sunday 6 September
Find out more
here
.
Have A Cook Up With Scenic Rim Farm Box
Whether you want to cook up a storm or you just want to send dad a delicious gift from afar, the Scenic Rim Farm Box has you covered. In this special Father's Day edition of the tasty box, you'll find everything you need to create a meal of brisket and slaw, plus a four-pack of 4Hearts Brewing's carrot beer, double smoked bacon and eggs to cook up a breaky, and even cheese and a caramel slice for nibbles. You'll need to get your orders in quick for delivery next week though, so peep the boxes here.
Where: Online for delivery
When: Delivering 3, 4 and 5 September
Find out more
here
.
Feast On Unlimited Dim Sum At Tai Tai
If your dad is the gluttonous type, he'll love the unlimited dim sum on offer at Tai Tai. For 90 minutes, you can both tuck into all the duck dumplings, spring rolls, spring onion pancakes, char siu bao, fried wontons and everything else on the dim sum menu that you can handle. You'll even get a free drink on arrival (for both of you, not just dad—winning) for the bargain price of $35pp. You could treat the whole family for that price (you book, dad pays, that's how this works, right?).
Where: Tai Tai, South Bank
When: 11am–1pm, Sunday 6 September
Find out more
here
.
Sip Through A Father's Day Beer Tasting
Semi-Pro Brewing are putting on a dad's day beer tasting that might just tempt him away from his usual sip. Included in the $85 ticket price is a brewery tour, an eight beer tasting paddle and some sick merch—everything dad needs for a great day out.
Where: Semi-Pro Brewing, Kangaroo Point
When: 10am–12pm, Sunday 6 September
Find out more
here
.
All-You-Can-Eat Meat At Navala Churrascaria
For once, dad doesn't have to cook the barbecue—Navala Churrascaria will do it for him. Head in on Father's Day and you can feast on an all-you-can-eat Brazilian barbecue for $55pp, with a free house beer for all the dads. If you've never been to Brazilian barbecue, all you need to know is that there's more meat than you thought possible—and it ends with sweet grilled pineapple. There's two lunch sittings and a dinner sitting available, but you better book in quick.
Where: Navala Churrascaria, Brisbane City
When: 11.30am and 1.30pm for lunch, from 5pm for dinner
Find out more
here
.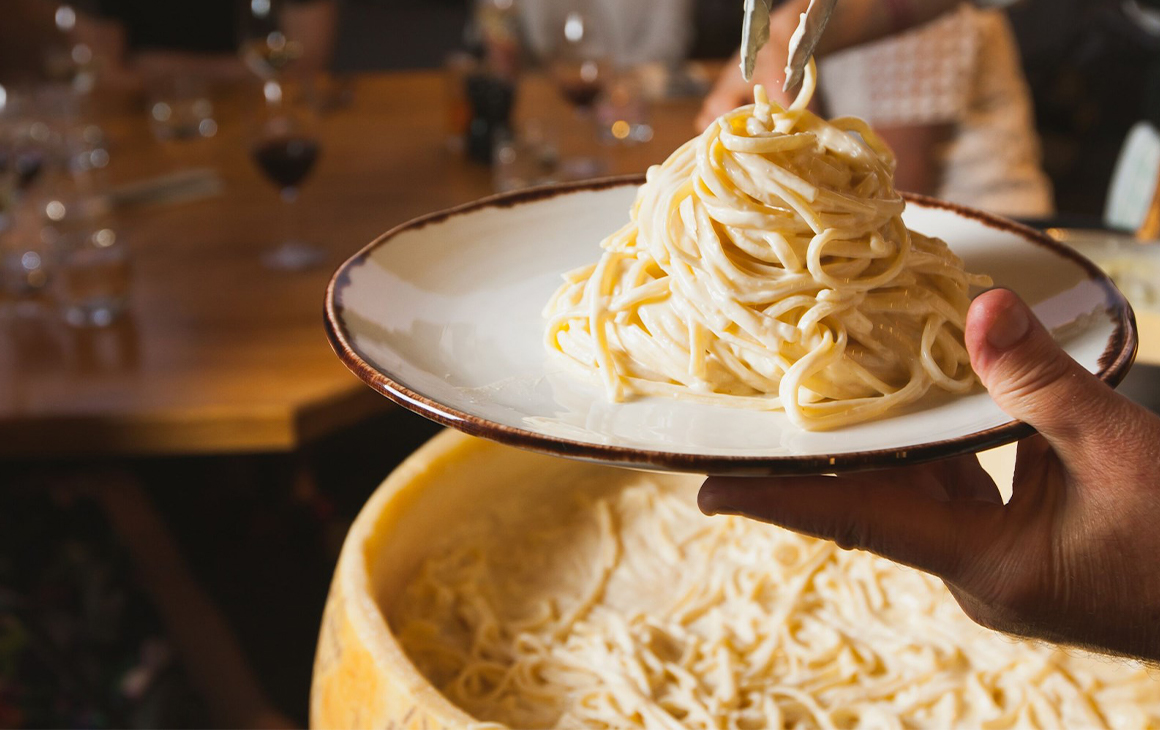 Twirl Up Cheese Wheel Pasta At Il Verde
Get a Father's Day gift your dad will go head over wheels for—we're talking Il Verde's famous four-cheese wheel pasta with a twist. Let dad be indulged in a menu of delicious entrées for lunch or dinner, before being dished up a plate of linguine mixed up right there at the table in a giant wheel of cheese. He'll even get dessert, what more could he want? Oh right, for you to call him more often, and not just when you need a kitchen cupboard fixed.
Where: Il Verde, Bowen Hills When: From 5pm, Sunday 6 September Find our more
here
.
Down A Banquet At Chu The Phat
Tell dad to start practicing his chopstick skills, because this banquet at Chu The Phat is one for all the cheapskates out there. $35pp will score you a two-course banquet that includes grilled pork belly sandwiches, steamed duck buns, fried chicken ribs, crispy pork hock ssam, chilli chicken, steamed greens and rice—plus a beer for dad (you can steal the last duck bun while he drinks it).
Where: Chu The Phat, South Brisbane
When: 12pm–3pm, Sunday 6 September
Find out more
here
.
Wine And Dine With A Sunday Lunch At OTTO
OTTO is opening on a Sunday just for Father's Day, so don't miss your chance to take in a long Sunday lunch over those stellar river views. They'll be putting on a three-course lunch with your choice of dishes from their signature Italian menu, and trust us, you'll be spoilt for choice.
Where: OTTO, Brisbane City
When: Reservations available between 12pm–2pm, Sunday 6 September
Find out more
here
.
Head To The Country For A Day On The Farm
Is your dad most at home in a flannel shirt and a pair of work boots? Then take him out to Tommerup's Dairy Farm for a day in the country air. You can just chill out in the picnic paddock with a freshly baked wood-fire pizza and a BYO beer to enjoy the live tunes, or you can get involved in the Farmer's Challenge that includes loading hay onto a truck, putting up an animal pen, loading pumpkin for the pigs and more. We'll just cheer dad on from the sidelines, thanks. Tickets are essential for this one, and you can grab them here.
Where: Tommerup's Dairy Farm, Kerry
When: 10.30am–2.30pm, Sunday 6 September
Find our more
here
.
Catch A Flick At The Blue Room Cinebar
Tell dad to get off his recliner, the Blue Room Cinebar is putting on two showings just for Father's Day, where you can watch a movie on the big screen from the comfort of their sofa-like seats, drink in hand. You can grab tickets to either the classic Saving Private Ryan, or new Australian comedy drama Rams.
Where: Blue Room Cinebar, Rosalie
When: 11am, Sunday 6 September
Find out more
here
.
Put Your Fancy Pants On For Dinner At NOTA
Got a dad that considers himself a bit of a foodie? You might want to lock in a table at NOTA then—they're putting on a shared lunch feast for $75pp. You'll tuck into confit pork terrine, Black Onyx steak with mash and warm house crumble, amongst a few other stellar dishes, and get a drink for dad on arrival. Contact NOTA to book.
Where: NOTA, Paddington
When: 12.30pm, Sunday 6 September
Find out more
here
.
Toss Axes At Lumberpunks
Family tension? A session at Lumberpunks will either cure it or bring it all out—either way, you're bound to have a good time tossing axes at their targets. Better yet, you don't have to pay full price, with two-for-one sessions available all day, meaning it's $45 for two people. Just book on their website and the freebie will automatically be applied—and don't bring up that time you dinged the family car.
Where: Lumberpunks, West End
When: All day, Sunday 6 September
Find out more
here
.
Enjoy A Father's Day Banquet at Libertine
We hope your dad has a good appetite, because he'll need it for a five-course shared banquet at French-Vietnamese spot Libertine. For $60 per head, you can fill up on roast BBQ duck and spiced cherry crepes, spicy chicken dumplings, Libertine's famous twice-cooked free range pork belly, Black Onyx steak frites and crispy battered eggplant. We're drooling already. Book a table for lunch or dinner online here.
Where: Libertine, The Barracks
When: Lunch or dinner, Sunday 6 September
Find out more
here
.
Get Learned On An Americans In WWII Tour
Got a dad who's a history buff? He'll be chuffed with the walking tour Museum of Brisbane is putting on, which heads to multiple locations across the city where American soldiers were stationed in Brisbane during World War II. Who knew right? Check the tour out and register your interest here.
Where: Brisbane City Hall, Brisbane City
When: 10am–12pm, Sunday 6 September
Find out more
here
.
Take In The Views At The Terrace
Take dad sky high for a Father's Day long lunch at the Terrace, which features a selection of four Stone & Wood craft beers, shucked oysters, cheeseburger spring rolls, spanner crab linguine, sticky pork ribs, fries and a salad. Oh, and you'll finish on a sweet note with mango panna cotta. It'll all set you back $85pp, and you can make a booking here.
Where: Terrace, Emporium Hotel, South Bank
When: Lunch sittings available, Sunday 6 September
Find out more
here
.
Looking for gift ideas? You'll find a heap of them here.
Image credit: Nathan Prostamo