Us Kiwis have become quite the café connoisseurs. Our love affair with oat milk lattes and Instagrammable acai bowls is unmatched—so you best believe you'll find us at our local come Sunday morning. They say that dogs are like their owners—who's to say your pooch isn't also partial to a low-fat puppaccino and a catchup with the crew?
Unfortunately, not all people love our little angels quite as much as we do, but fear not, friends (human and furry), we have searched high and low to find cafes that are fit for a King (Charles Spaniel). So without further ado, browse our list of the best dog-friendly cafés in Auckland that your pupper will be lapping up in no time. We Shih Tzu not.
Winona Forever
Parnell
Everyone loves Winona Forever. These guys serve up food that somehow tastes even better than it looks. In fact, it's almost too pretty to eat… almost. Their cabinet food is outrageous and the vegan bowl is *chefs kiss*. A bonus—with Auckland Domain just up the road, you can walk off your food coma and give your dog their daily dose of doggie interaction at the same time—winning.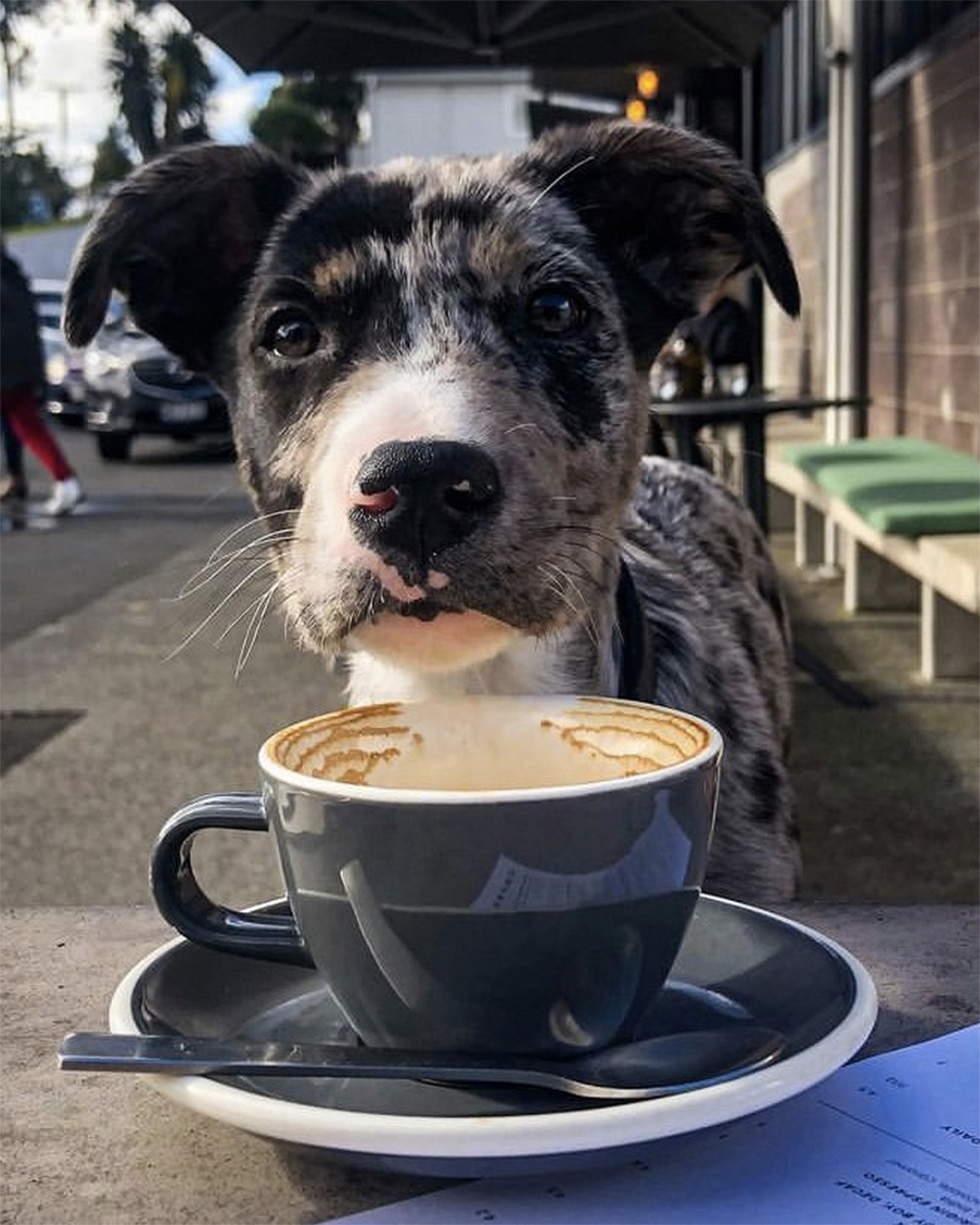 Ozone Coffee Roasters
Grey Lynn
Neighbourhood café Ozone Coffee Roasters is an absolute must-visit for pup paw-rents and dog lovers alike. Not only is the food second to none (we're looking at you Eggs Bene on bubble 'n' squeak cakes) with fresh ingredients and intriguing pairings, but they'll also welcome your pup inside the cafe to sit quietly under your table while you eat (a godsend in winter). The next-level batch-roasted coffee is roasted right on-site at the back of the building where you're welcome to geek out and watch the magic happen right before your eyes. This place is definitely one of the most dog-friendly cafes in Auckland.
Hēmi Eatery
Victoria Park
Just do yourselves a favour and try the Breakfast Mince at Victoria Park's excellent Hēmi Eatery. Not to be dramatic, but it's life-changing. The creamy tiled interiors are equally as divine and enough to make any minimalist cry (tears of joy). Pull up your pup outside for some sunshine and then head for a walk around Victoria Park after brunch.
Ripe Deli
GREY LYNN
Get up bright and early for your caffeine fix while chomping on one of Ripe Deli's savoury brioche's (they're gone by 10am—you've been warned) while your pooch laps from the water bowls on offer. It's all served up in takeaway form, so if you prefer to be on the move, head five minutes down the road to Grey Lynn Park.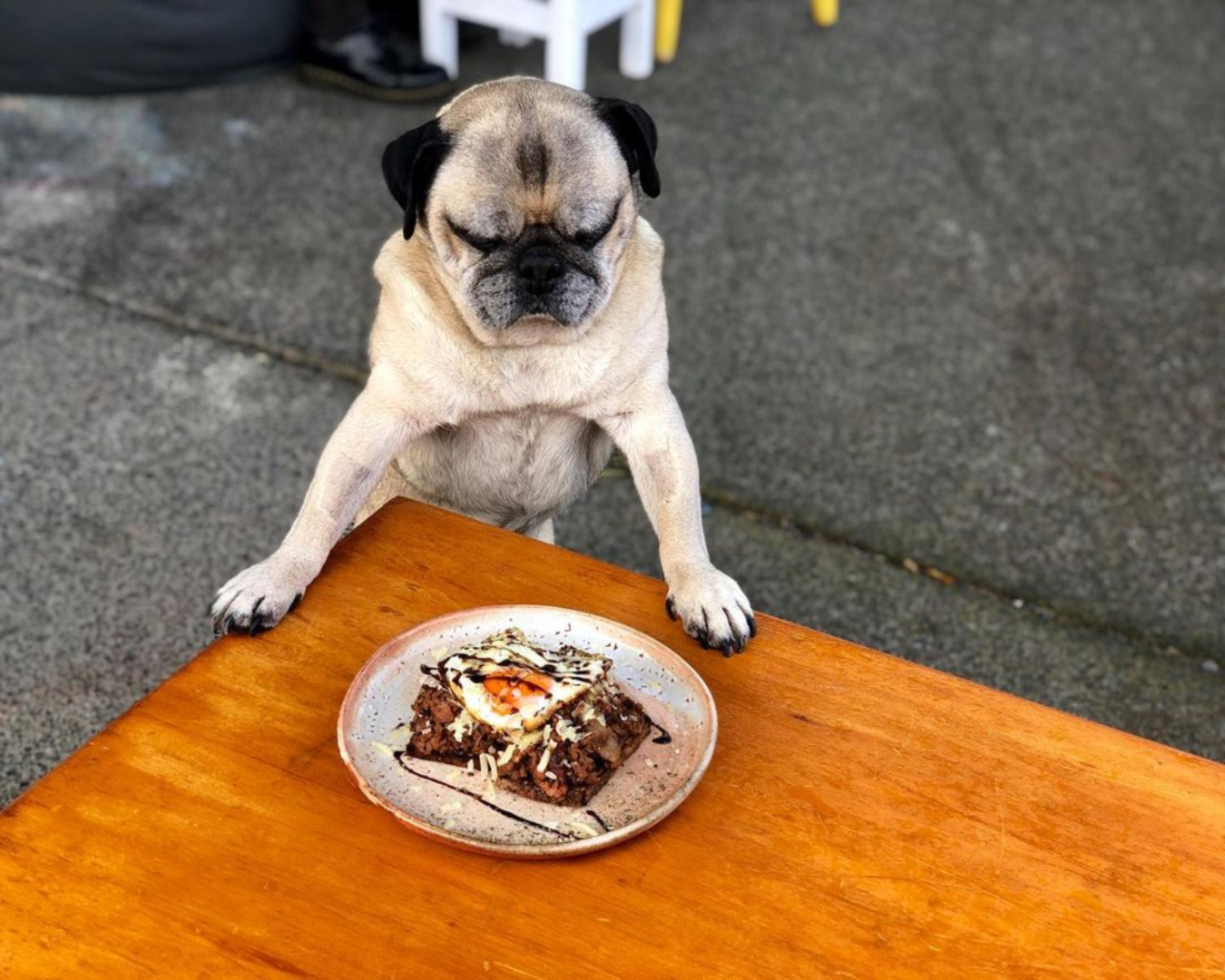 Crumb
Grey Lynn
For any dog-crazy, toast-loving, coffee-enthused peeps—Crumb is the one for you. Grab a cup of joe (and a 'puppercino' for your pooch) and sit out on the bean bags for some relaxing good vibes. These guys will probably love your dog as much as you do. Grey Lynn Park is just a 12-minute walk away, which your pupper will almost certainly be stoked about.
The Garden Shed
MT. EDEN
Going from café by day to friendly bar at night, The Garden Shed also has outdoor seating—perfect for the dog-loving crowd. If you're feeling extra nice, chuck a few pieces of the handmade meat patty from your Shed Burger to your canine friend as you're going to need some help to finish this one.
Geeks On Sainsbury
Morningside
Geeks on Sainsbury have lived up to their name because they really are experts at basically all things food and coffee. If you haven't tried their waffles, you need to. Their coffee? Outstanding. Oh, and did we mention they're huge dog fans? There is a 99% chance there will be other dogs (sign us up). If your little angel is well behaved, there may or may not be a treat at the ready. Once you've finished some insanely good tucker, take your fur baby for a stroll to Fowld's Park for some greenery and a good run around.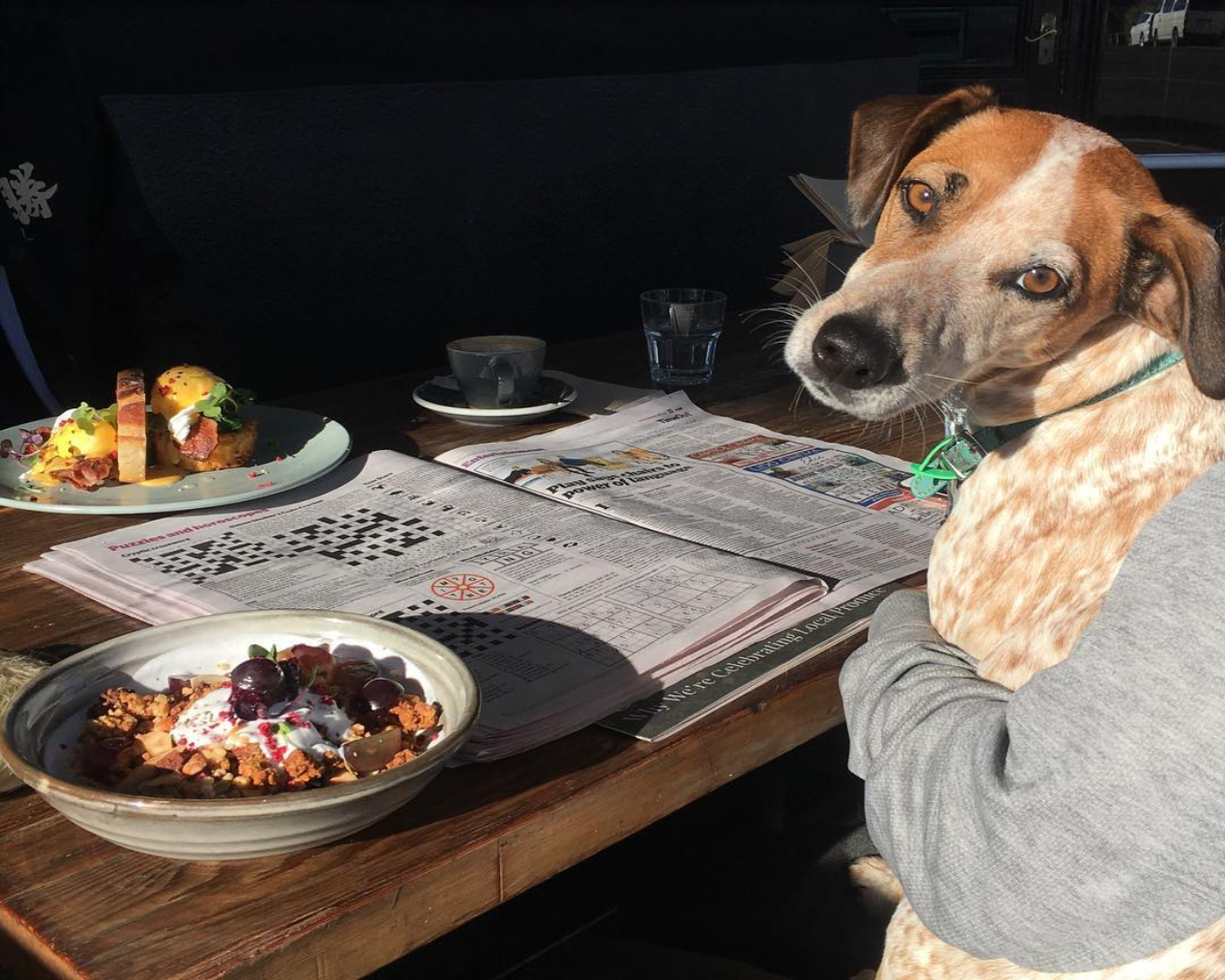 Dear Jervois
Herne Bay
If you're looking for an extensive range of scrumptious eats, you can't go wrong with Dear Jervois . Even picky eaters can breathe a sigh of relief because they're sure to have something you'll want to tuck into. Their smoothies are ridiculous (and not to mention fab for the 'Gram). They've even got 'Dog Parking', so you can pull up a pew outside and relax knowing your pooch won't make a run for it. While you're in the hood, take your fur baby to Herne Bay for a short but sweet jaunt.
Crave
Morningside
One of our personal go-tos. Crave is a social enterprise doing a whole bunch of good in the hood, and they're serving up some epically good food while they're at it. The Full Crave is a must, chocka full of savoury goodness (potato hash anyone?). Or if you're feeling adventurous, why not give the charcoal latte a shot? Head over to Western Springs afterwards, so your pup can gaze at the geese and enjoy some lovely scenery.
Takapuna Beach Café
TAKAPUNA
Right on the beach, the Takapuna Beach Café know how to look after their dog-loving guests. With three different dog troughs (small, medium and tall) attached to the walls and plenty of outdoor seating it's a dog haven. Afterwards, head to the beach where there are dozens of dogs for your pooch to make friends with. Who knows, you might find a friend or two, too.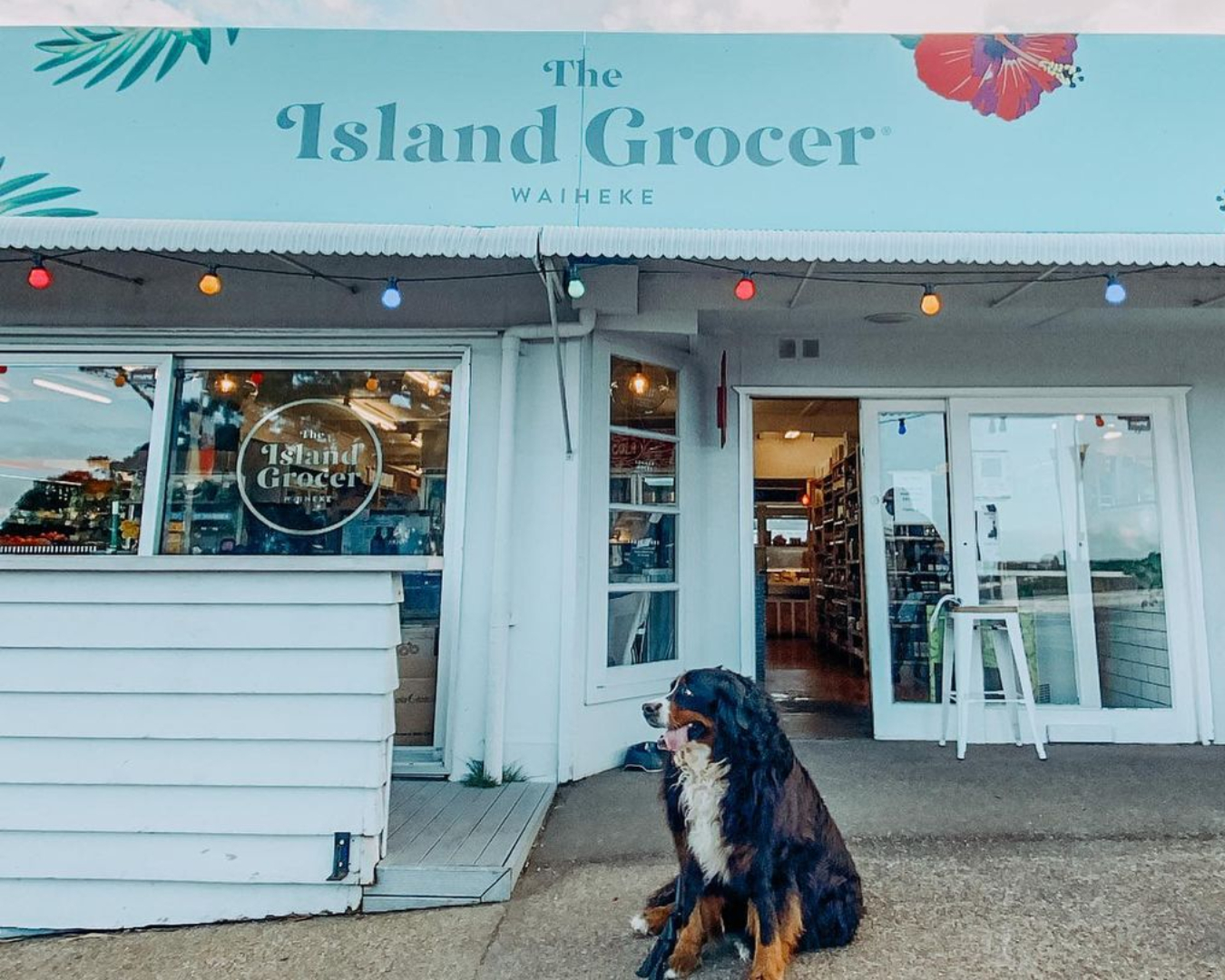 The Island Grocer
Oneroa, Waiheke
To experience The Island Grocer you'll have to take a day trip to Waiheke, but is that even a problem? Your pup won't be the only one drooling, because the in-store cafe (Merchants) serves up the best coffee and sandos around (don't get us started on that pastrami, tamarind chutney, bread & butter pickles and Emmental pide). Special diet or just a tad fussy? Don't worry, they're always more than happy to whip you up your very own personalised sarnie (it's no surprise that they're a local hotspot). Oneroa Beach is right across the road, aka paradise for any pooch.
Best Ugly Bagels
City Works Depot
The humble bagel—small but mighty and one of life's simple pleasures really. Best Ugly Bagels know how to serve 'em good and they get their title for a reason. If you're into the classics, the P.B.J (peanut butter & raspberry jam) can do no wrong. Keen to push the boat out? King Salmon is your friend (king salmon, cream cheese, red onion, capers, dill and lemon juice). This epic eatery is also close to Victoria Park, so ask for it to-go and your dog will love you forever.
Café On Kohi
Kohimarama
Soak in the calm blue ocean while sipping on coffee at Café On Kohi. Your furry little friend will be in dog heaven when you take them for a walk along Tamaki Drive afterwards.
Cornwall Park Café
Cornwall Park
On any given day, Cornwall Park has hundreds of dogs roaming the rolling green hills, dragging their owners along for the fun. When you're ready for a rest, head to Cornwall Park Café for a bite to eat. The food is tops and the coffee roasted to perfection.
Leigh Sawmill Café
Leigh
Take that pooch for a day trip north, stopping by Whangateau or Omaha for a swim, then dry them off and head to Leigh Sawmill Café. There's excellent service and we can't go past the pizza. They also know their beer, so let them choose the ale to match your food.
Look at them sitting there patiently while you enjoy brunch. How about taking them on one of Auckland's Best Walks as a reward?
Image credit: Tamara Bellis, Ozone pup @wolfwagwilco, Crumb Grey Lynn, Dear Jervois pup @dogsofdearjervois, The Island Grocer pup @milsfitt