People often say the best way to start your day is to get up early. Exercise. Meditate. Think of three things you're grateful for. Make a green smoothie. Do something productive like make your bed because it "sets you up" to "tackle the day."
That's all good advice and what-not, but you know what else is a great way to start your morning? Pancakes.
So here are some of the best pancakes in Perth.
Measure Bar
Perth CBD
You know you can trust a dessert bar with nailing a pancake dish, and that's exactly why Measure Bar is here at the top. Their pancakes are super thick, extra fluffy, and tremendously indulgent. The lemon meringue pancakes are to die for; think buttermilk pancakes with lemon curd, Italian meringue, macadamia crumble and vanilla bean gelato. Or go full-blown Aussie with their lamington pancakes topped with raspberry sorbet.
The Little Banksia
Kensington
The Little Banksia in Kensington believes pancakes are life, and we couldn't agree more. They're opting for fresh, light flavours so we've got more chance of demolishing the whole dish. Buttermilk pancakes, topped with fresh strawberries, caramelised white chocolate mousse, strawberry consommé, meringue shards and pistachio. This bright pink mess will light up your morning.
The Little Raw Deli
Carlisle
Vegan pancakes means you're permitted to enjoy it guilt-free, right? Right! The Little Raw Deli in Carlisle is doing pancake Saturdays where you can order Snickers or Ferrero Pancakes (or both). These buckwheat pancakes are also gluten free so they're friendly for all your intolerant mates.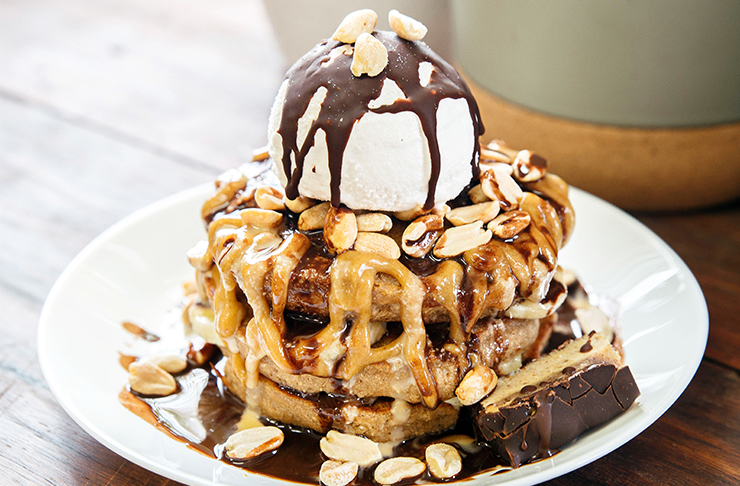 Brother Of Mine Coffee
Baldivis
If there's one thing worth driving to, it's Brother Of Mine Coffee in Baldivis. The brunch menu here is full of hearty and generous serves but we've got to say the Pink Pancakes are a winner. They're topped with dragon fruit, fresh berries, salted caramel, strawberry and cream ice-cream and almonds. Plus, this dish will make an awesome addition to your Instagram feed.
Bib And Tucker
Fremantle
Mornings can sometimes disappoint, but the pancakes at Bib and Tucker definitely won't. Their buttermilk banana pancakes are topped with salted caramel, pecan, and Tasmanian double cream. They'll melt in your mouth and have you coming back for more.
Yefsi At Attika
Northbridge
Greek food lovers, you can now officially have your favourite dessert for breakfast at Yefsi at Attika. They've got Baklava Pancakes. These bad boys are topped with fried fig, apple, baklava syrup, and vanilla ice-cream. Run, don't walk.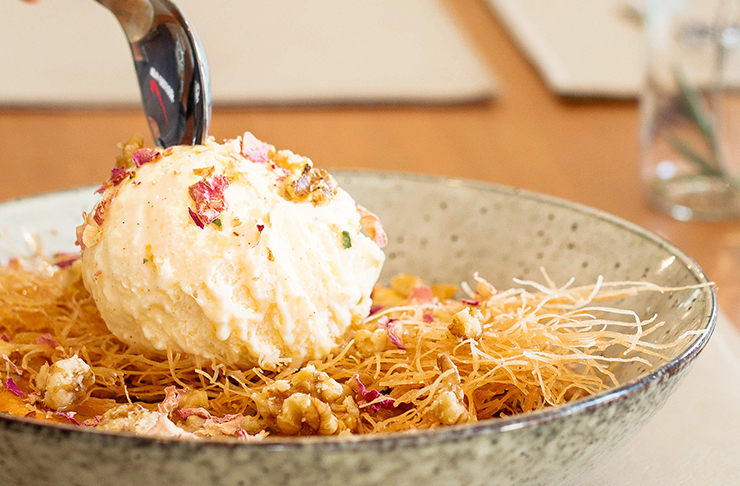 Mary Street Bakery
Highgate, Leederville, Perth & City Beach
Mary Street Bakery's different locations have different pancakes, and we ain't complaining. Head to their newest City Beach cafe for ricotta hotcakes with poached pear, honeycomb, orange mascarpone, pistachio and maple. Or if you're more of a savoury fan, pop on over to their Highgate and Leederville stores for fried chicken buttermilk pancakes with peanuts, maple, chilli and a perfectly fried egg.
Someday Coffee Co
Floreat
We know the main reason to go to Someday is for the perfect cup of coffee, but you know what the best side to your morning coffee is? Their fresh and fruity pancakes. This vanilla pancake stack comes with strawberry puree, white chocolate soil, basil infused mascarpone crème, pistachio crumble, fresh berries and meringue. They've done us a favour and made the perfect portion size so we don't feel too bad about ourselves afterwards.
Tiago Kitchen
Joondalup
Tiago Kitchen in Joondalup has put a spin on a classic Aussie favourite, and they've nailed it. Check out the pavlova pancakes layered with mascarpone and passionfruit syrup and topped with fresh strawberries, meringue and maple syrup. We recommend to up your brekky game even more with a side of crispy bacon.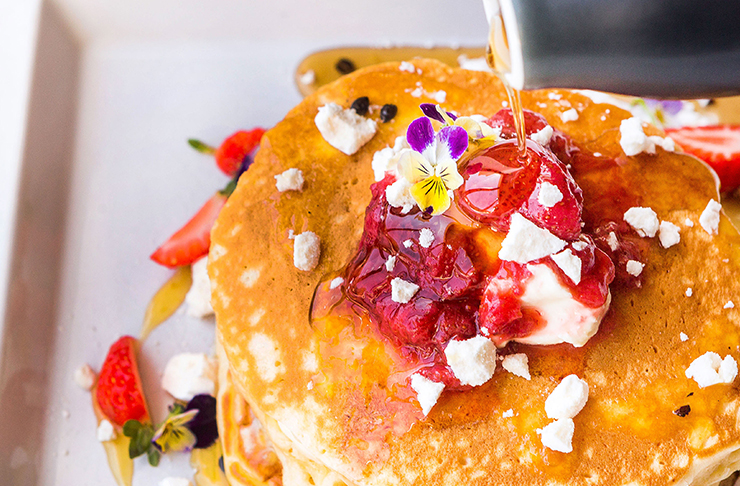 The Globe
Perth
We've got another reason for you to attend The Globe's Prosecco Brunch. You get a choice of three breakfast options, and obviously we recommend their fluffy vegan pancakes with maple glaze, chocolate, and fresh berry compote. Fact: pancakes are always better with free flowing prosecco and spritz.
Padbury's
Guildford
Padbury's in Guildford is famous for their Meringue Munro Pancakes and we can see why. They're topped with homemade lemon candy, honeycomb, meringue, coconut and fig granola and drizzled with oozy lemon curd. These pancakes are extra fat and fluffy, just the way you like them.
Tiisch
Perth CBD
Tiisch's green Miko Matcha Pancakes are a sight (and taste) to behold. It wouldn't be a pancake list without these bad boys. This killer dish is topped with strawberries, rhubarb, vanilla bean ice cream, white chocolate crumbs and maple syrup. Hint: it goes really well with bacon.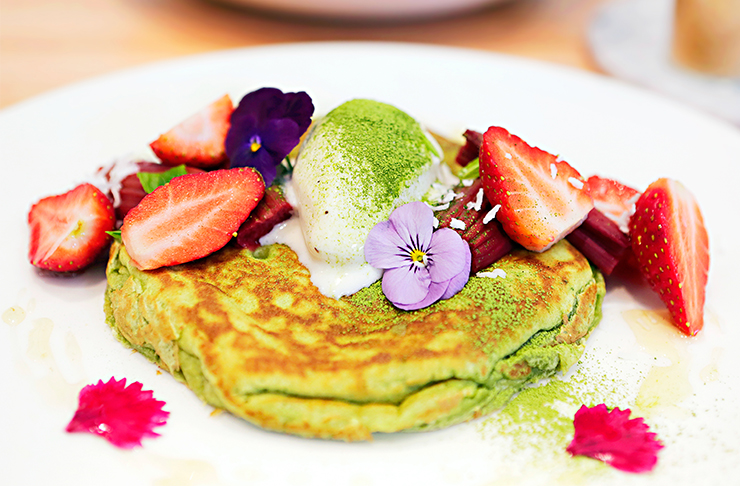 Atlas Food And Coffee
West Perth
Set yourself up for a good day with a marvellous breakfast. Atlas Food and Coffee is delivering the goods with all of their breakfast meals, but a highlight is their Buttermilk Hotcakes. Not only does this dish look like a secret fairy garden, but it's served with strawberry, matcha ice cream, matcha soil, pink ball, almond and shaved white ice cream. So obviously it's delicious.
Dark Horse Espresso
Victoria Park
These guys live up to their name and are the ultimate dark horse in the pancake game. The epic Boston Cream Pancakes; three massive pancakes sandwiched with thick vanilla custard and topped with chocolate glaze, mixed berry compote, crushed peanuts and a biscuit crumble. We'll bow down to whoever can finish this whole dish.
Fika On Brix
Beckenham
Fika on Brix not only keeps you on our toes but understands your true love for pancakes. Every month they've got a new flavour so there's always an excuse to get back to Beckenham. In the past they've had lamington pancakes, black forest pancakes with dark chocolate, pandan coconut pancakes with fresh mango, and most recently apple crumble pancakes. They've always got a killer flavour to enjoy, so get excited for their next announcement.
Keen to try something new? Here's where to find the best cheese tea in Perth (it's actually delicious).
Image credit: Elle Borgward, Nancy Hanna and Emma Bryant