The mercury is rising and that only means one thing—it's sunrise season.
Yep, Sydney is lighting up earlier and earlier, which means it's time to make the most of your morning and all the glorious, sun-filled hours before work. It's been a massive year, so sign off 2020 with some epic sunrise activities, like soothing your soul with a beautiful early morning walk, grabbing an oar and paddling your way around Sydney harbour, or taking a jog through Sydney's most majestic park.
Here are the best sunrise activities to do in Sydney.
Get A Handle On Sydney's Most Beautiful Bike Tracks
Sydney is the kind of city with a whole lot to see, from rolling inner-city parks and tracks to golden beaches and national parks—there's always a plethora of ways to punch some pedal and roll around these parts. If you're keen to wheel around at sunrise, this list is for you, but if you want a short-cut (don't we all) the Bay Run has to be our top pick. This 7km loop is a cruisey one and there's a number of fitness stations, waterfront views, parks, and coffee pit stops along the way.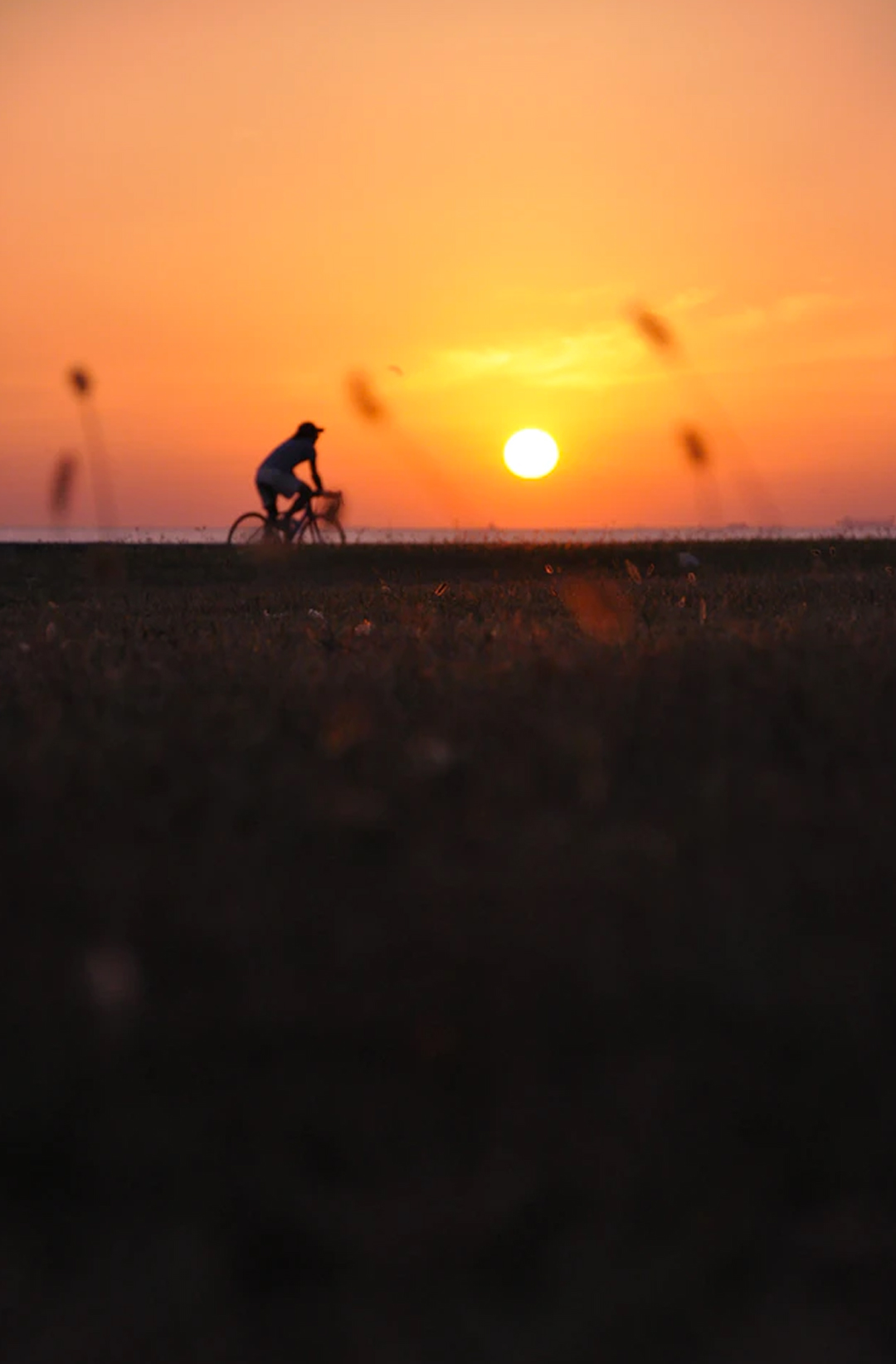 Ditch The Gym And Go For An Early Morning Kayak
Sydney is blessed with wide-open harbours and secluded waterways aplenty, which means there's no shortage of sweet spots to grab an oar and go for a paddle. If you've been wondering where to kayak—don't worry—we've got you right here. Top of any avid sunrise kayakers list should be Pittwater Kayak Tours, the team here takes you out on a two or three-hour session at sunrise where you'll lap up all the First Nations and settler history before cooling down with a swim and view of Palm Beach, Barrenjoey Headland, and the rest of Pittwater's sparkly surrounds.
Keep The Outdoor Fitness Game Strong And Go Stand Up Paddle Boarding
To stand up paddleboard in Sydney is a rite of passage, and, as it so happens, it's also one of the best sunrise activities to do in Sydney. You can SUP all over this city in some hell-beautiful places including Point Piper, Woronora River, Balmoral, Narrabeen, Malabar, and Watsons Bay.
For some memorable sunrise times, Manly Kayak Centre is your best bet. The team here run sunrise SUP sessions every Tuesday and Thursday for a whole hour. You'll get to paddle around the harbour—and probably spot some dolphins, seals, and turtles too—and if it's warm enough, a pre-work dip is a no-brainer.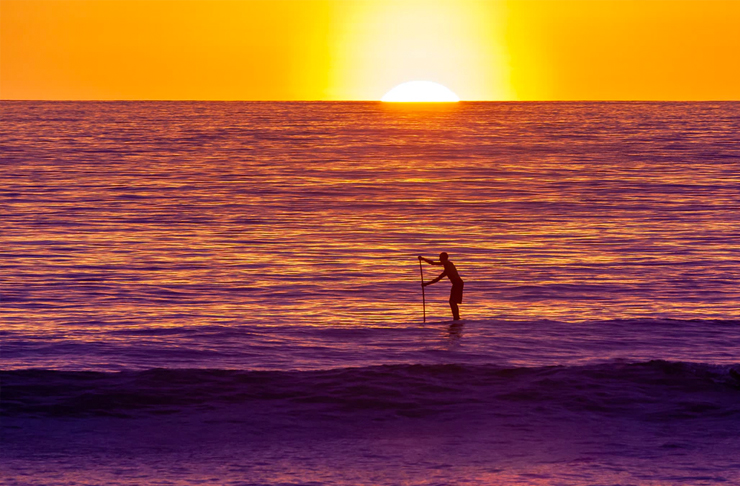 Hit Your Stride With Some Stunning Running Tracks
Running isn't for everyone, period. But chuck us an alarm clock, the beautiful Sydney skyline, and the odd mindblowing, hazy sunrise and we're on board. There are some ultra sick running tracks in Sydney (check out this list) but to save you some time, the only place you really need to hit before sunrise is Sydney Park.
This gem is one of Sydney's best kept urban secrets—it's won a few international design awards, and, accolades aside, is teeming with birdlife, wetlands, and beautiful native gardens. Sunrise is one of the best times to really soak up the park's beauty too, and its rolling hills and winding pathways are ideal for all for your running leisure.
Cast A Line At Sydney's Best Fishing Spots
For a super zen sunrise outing, try your hand at a little morning fish. It's the type of early morning activity that leads to time off socials, fresh air, and that sweet ocean (or river) breeze. Sydney is any fisherman's absolute playground, packed with secret coastal spots and uncrowded waterways.
Make your way down to Clovelly Beach and set up past the headland car park towards the cliff facing towards Gordon's Bay (but just note that spearfishing is banned here, as is fishing for Blue Groper). This is one of the best places to go rock fishing, and if you're lucky you'll catch some Bream, Parrot Fish, Red Rock Cod, or Trevally.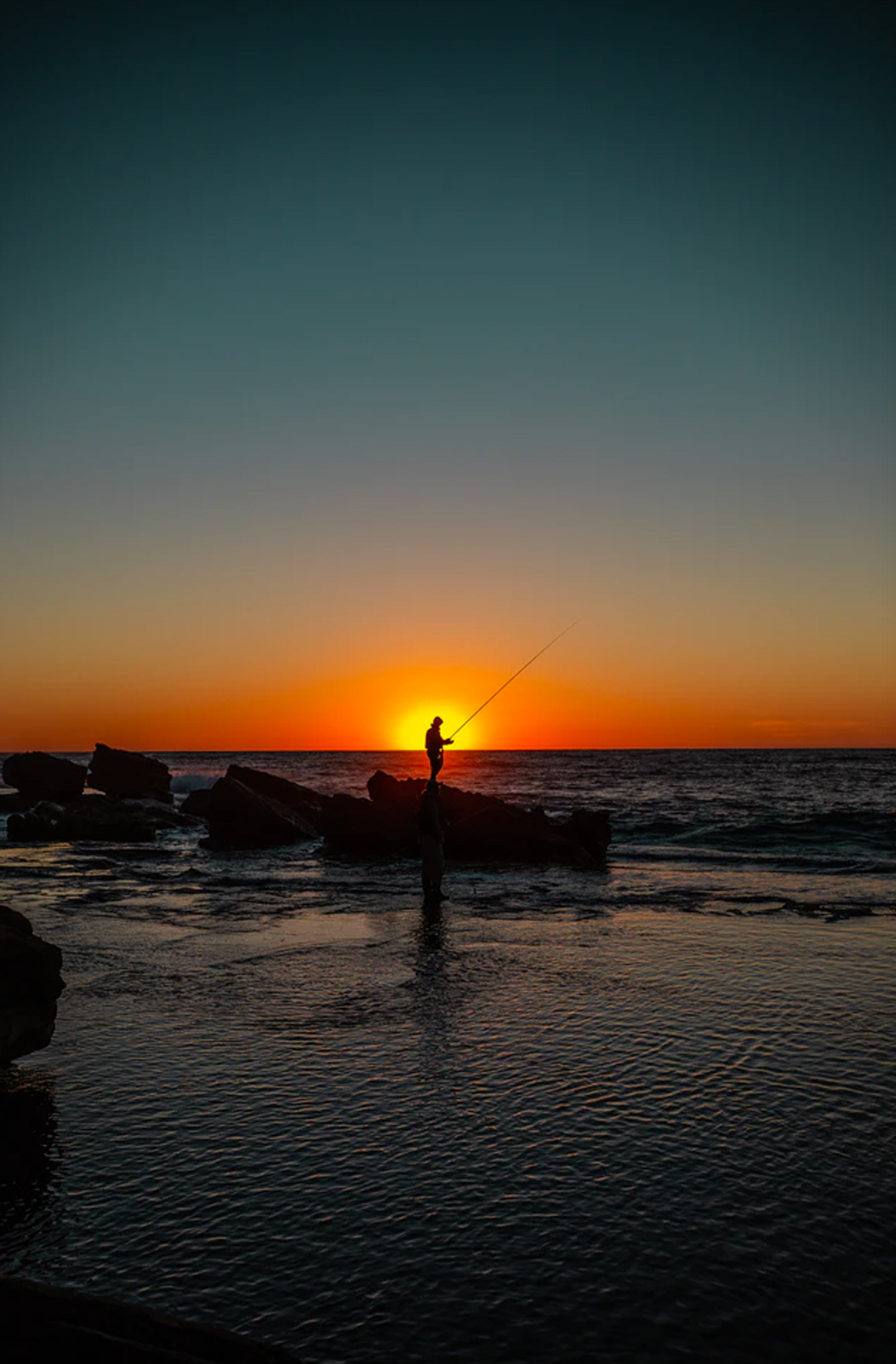 Pick A Podcast And Ease Into The Day With An Epic Sunrise Walk
There's nothing like a super stunning sunrise walk to kickstart your day the right way. If you're keen to power-up your day with an easy stroll to get your mind into a positive headspace, then this collection of walks is made for you. And the best part is, these walks are the perfect size to squeeze in before you set off on that nine to five hustle. Grab your headphones and tune into some juicy podcasts—some of our faves are here.
Bondi's Federation cliff walk is perfect for stellar views and it's a local favourite thanks to its empty, uncrowded pathways. You'll want to make your way well past Ben Buckler and up through the Bondi Diggers Golf Course for uninterrupted views of Bondi Beach. This 5km walk will swing you past parklands, reserves, cliffs, and epic sea views all morning.
Take The Plunge And Get Salty In Sydney's Ocean Pools
Sydney is no stranger to a saltwater playground, in fact, we've casually racked up over 30 ocean pools, some heritage-listed and untouched since the 1960s. Throughout this list, you'll find a batch of natural rock pools, old-school baths, and beautifully built landmarks, which will no doubt liven up your brave morning dips or sunset walks.
However, Wylies Baths, if we had to choose, beats the lot. Founded by long-distance and underwater champion Henry Alexander back in 1907, this seaside pool was one of the first mixed-gender baths in Australia. These days this heritage-listed beauty houses a killer kiosk, pilates, massages, and a cliff-hanging deck with one of the most insane coastal views around—which is great for when it's too cold for a swim.
If you're on the other side of the bridge, Fairy Bower Rock Pool should be your go-to. This triangular 20-metre ocean pool is one of the oldest in Sydney and casually rests alongside the Cabbage Tree Bay walking track. It features a famous sculpture known as The Sea Nymphs created by Helen Leete and, though it's a bit too awkward in shape to conquer actual laps, the pool is one of the most refreshing pit stops for a quick swim any time of the year.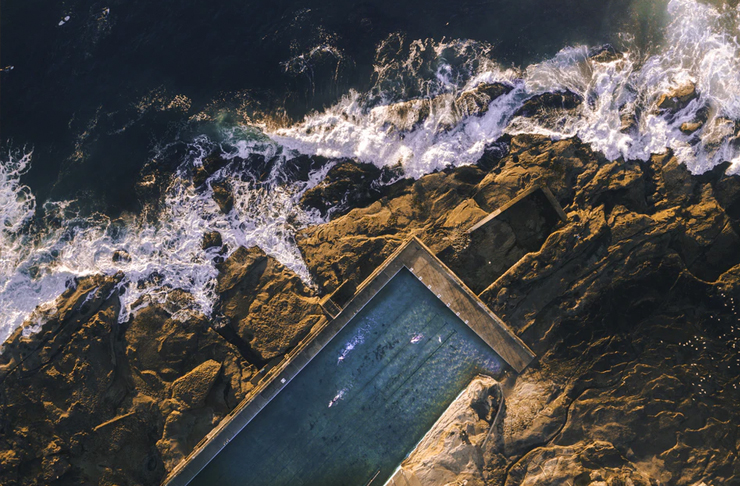 Watch The Sunrise At Any Of These Beautiful Spots
If you're not a morning person, you'll want to start being one because we've trawled the highs and lows of our buzzing hometown to find all the greatest vantage points to watch the day start. This list of places will give you the best spots in Sydney to watch the new day start.
Wendy's Secret Garden is the picture-perfect nook tucked into Lavender Bay to watch the first rays of the day and it's pretty much a human-sized fairy garden with massive ferns, figs, lilies and some beautiful glimpses of Sydney harbour.
Hornby Lighthouse is another ace spot to watch the sunrise—the view here just as the day starts is a perfect little reminder of why we love our glorious city of Sydney so much. You'll catch uninterrupted views of North Head and other parts of Sydney so bring some breakfast, you could be here a while.
Slap On Your Walking Shoes And Hit The Coast
When all else fails, nothing is more wholesome than working Sydney's best coastal walks at sunrise. This list of beauties should keep you busy throughout the whole of summer with plenty of morning rays, good vibes and sea spray included. Our top picks?, The Bundeena to Otford, and Balmain to Circular Quay tracks are big standouts.
More of a late-riser? Check out the best places to watch the sunset in Sydney.
Image credit: Mads Schmidt Rasmussen, June O, Benjamin Grant, Jonathan Zerger, Lachlan Demsey