Sydney Park feels like one of the city's best-kept secrets. It's not, of course—it's the park of choice for Inner West pup parents, joggers and weekend picnickers alike, but even so, it does feel like a slither of native paradise, a sort of secret refuge clipped to the end of busy South King Street and guarded by a trio of disused brick chimneys.
Well, the secret's definitely out now—Sydney Park has just been recognised in the world's most extensive architecture awards program—the 2020 Architizer A+ Awards in New York City—winning out the top Jury Award in the "Architecture + Water" category.
If you've been to the park, you'll probably remember the rolling hills, lush green grass, wide-open fields, landscaped gardens filled with native plants, playgrounds and meandering pathways. Across the 40 hectare space, there's surprisingly so much to discover. Equally surprising is the fact that it used to be an industrial wasteland.
But maybe the most spectacular feature of Sydney Park is its stunning wetlands—a tiered system of pools that flow through the centre of the park that not only look oasis-like, but they're also actually a part of a water sustainability project that works to capture and clean 850 million litres of stormwater each year, making it available for re-use. The project is an integral component of the City of Sydney's Sustainable Sydney 2030, which aims to replace 30 percent of 2030 potable water demand.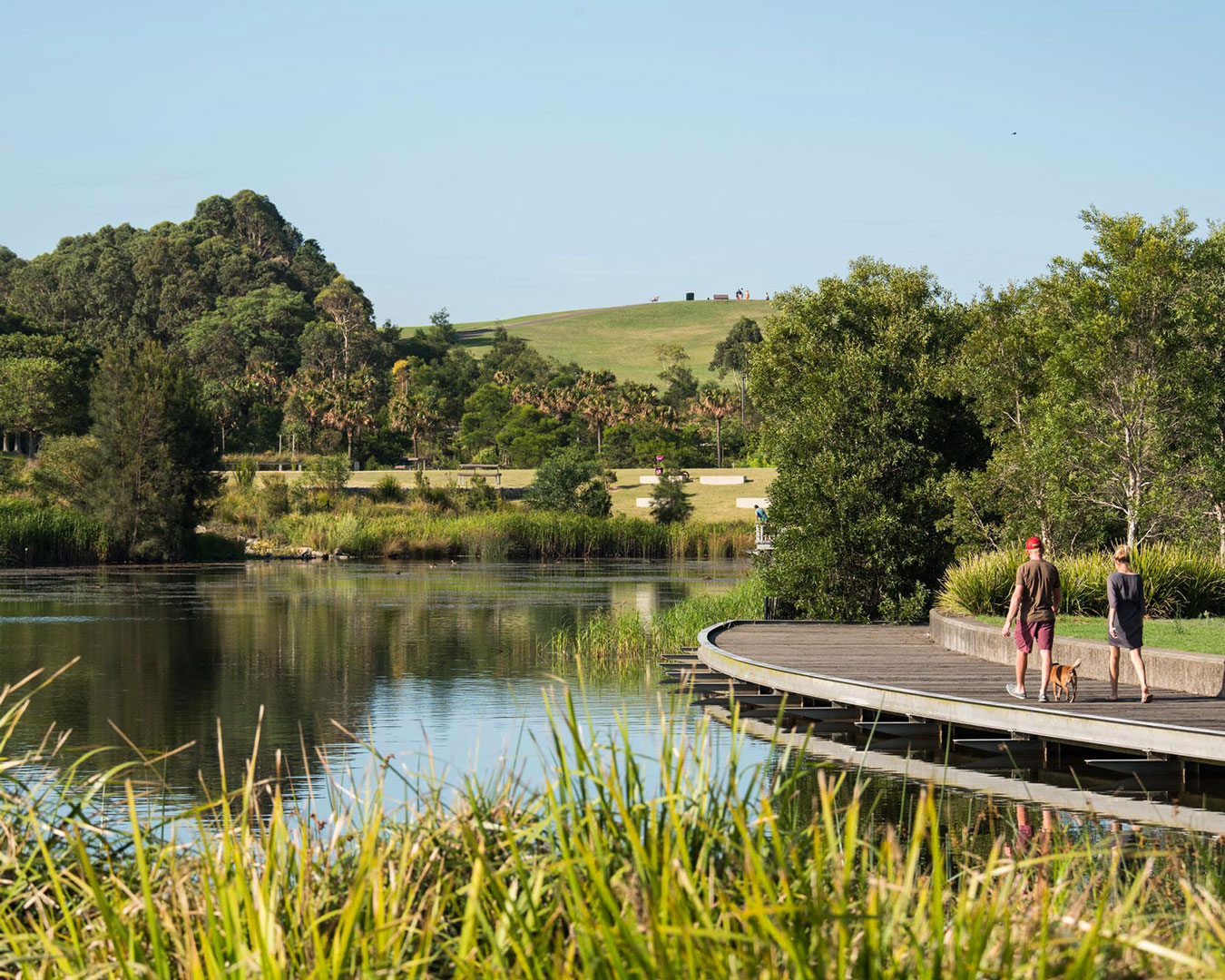 And, it's this environmentally awesome park water project, aptly titled the Sydney Park Water Re-use Project, that has earned the park its architectural praise over in NYC this month.
If you're wondering who's behind the beauty and the genius of the park, we have Sydney-based landscape architects and urbanists Turf Design Studio to thank, who worked with the City and Environmental Partnership to complete the park's transformation. These design legends are also the creators of the award-winning Central Park Public Domain and Spice Alley in Chippendale, so yeah—they're known for shaping some of Sydney's best outdoor spaces.
"Current times are a stark reminder that it's never been more imperative for us to explore ways to creatively adapt existing and new spaces, wherever they may be, for the enhancement of life, and the public realm," Turf Design Studio Founder Mike Horne said in a statement. "Likewise, the celebration of water and our vital connection to it."
Noticed the birdlife in Sydney Park? From trees filled with kookaburra families to warbling magpies, ducks and long-legged water birds—it's a bird-watching paradise. When designing the Sydney Park wetlands, Turf Design also carefully considered native animal habitat, and now the park is home to the highest population of native bird species in the area—including 22 wetland species.
So, make a plan to take a stroll with your pooch, have a picnic with mates, or to spend an arvo in the sunshine—Sydney Park is waiting.
For more of our favourite green spaces in the city, head over here.
Image credit: Ethan Rohloff courtesy of Turf Design Studio