Truffle menus are synonymous with Sydney winter these days. The rich and earthy seasonal delicacy is packed full of flavour and every year finds itself showcased and whipped up into new, drool-worthy dishes at stacks of restaurants and cafes.
For brekkie, lunch, dinner or dessert, this is the time of year where everything tastes a little better and more boujee if it's "truffle-infused" or topped with a few delicate slices of the highly coveted treat. And let's be clear, truffles are considered culinary gold for good reason: they're difficult to grow and find, they have a frustratingly short shelf-life, and, of course, there's that wildly unique, totally delicious taste, too.
Whether you're hoping to explore the aromatic fungus flavours for the first time or you're a full-on trufflehead looking to tick off every menu possible—this list has you covered.
Here are the best truffle menus and one-off dinners you can check out in Sydney this winter.
Truffle Menus
The Dolphin
Surry Hills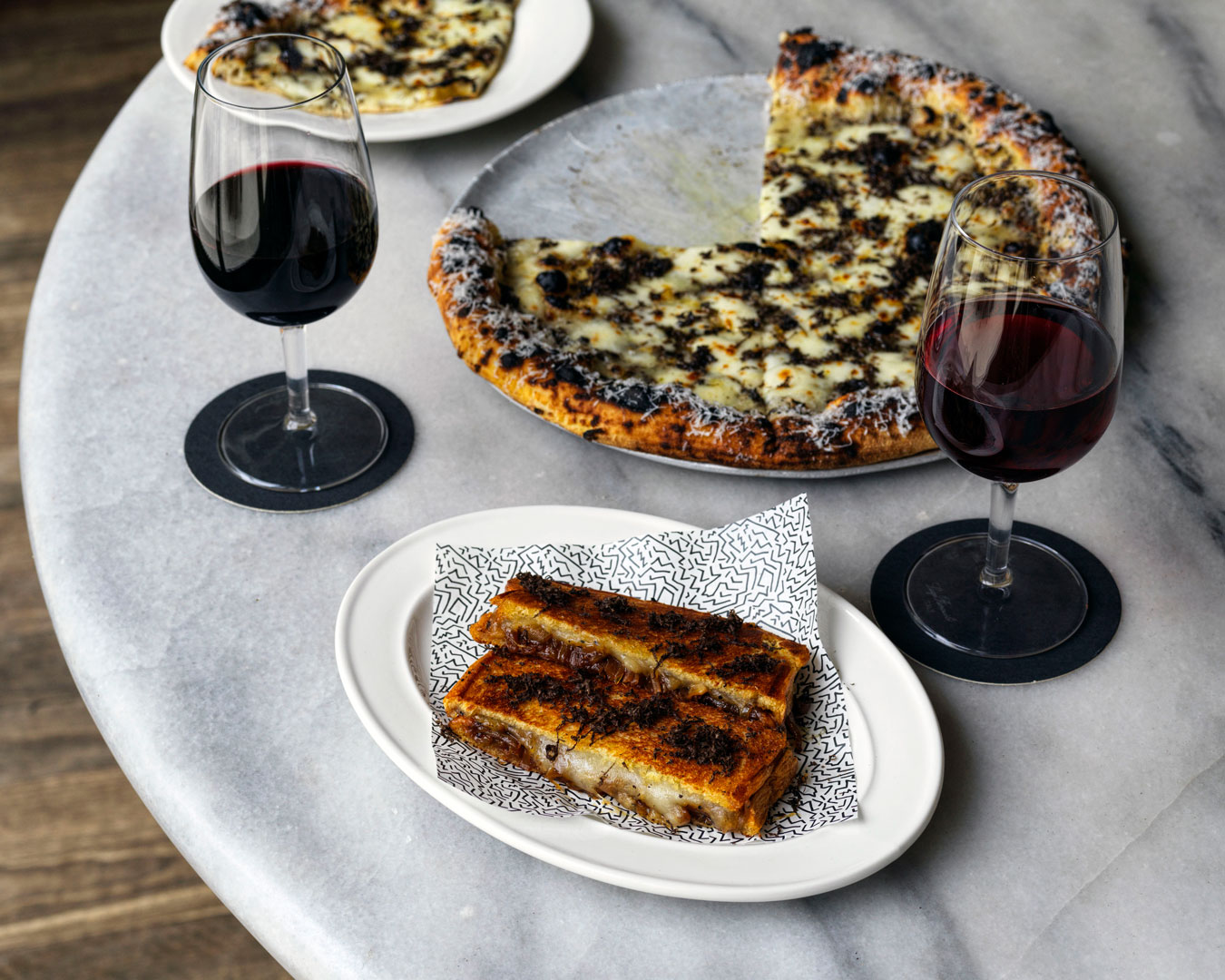 Truffled three-cheese pizza, onion and black truffle Italian sangas, and carbonara and truffle pasta are all on the menu at Crown Street's buzzy boozer, The Dolphin. Yep, truffles are definitely not limited to stuffy fine dining dinners these days. The Dolphin's truffle menu is concise, with just the three aforementioned dishes. If you're heading in for a lunch break, the tramezzino (toasted Italian sandwich) should be the only thing you order on a cold, wet winter's day (with a glass of orange wine, though, of course). The white bread toastie comes stuffed with asiago cheese, onion and vincotto, and topped with black truffle shavings. In saying this, the three-cheese pizza with truffle is incredibly indulgent, too, and, yes, we ate four slices to ourselves.
Sweet Belem
Petersham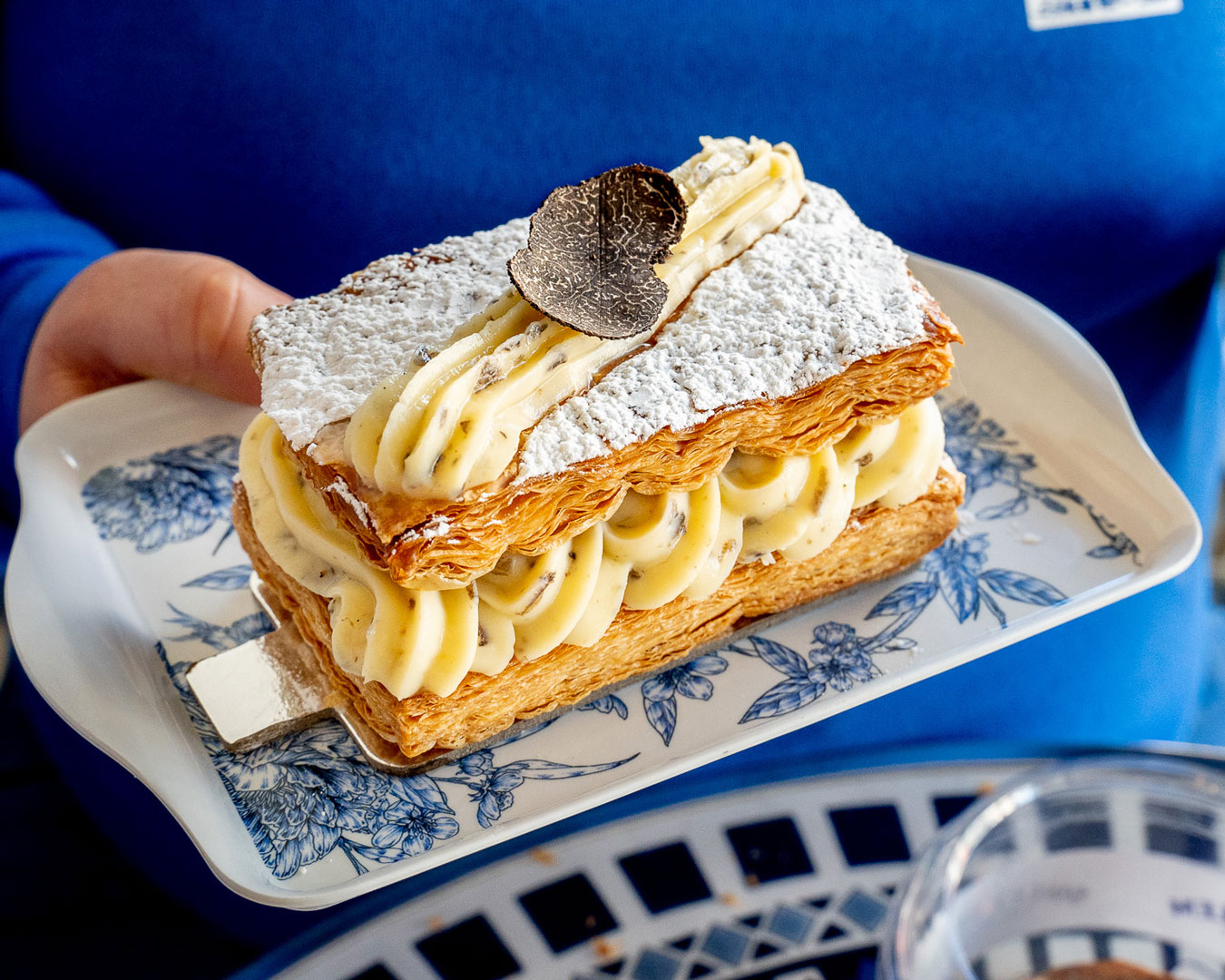 The latest eatery to hop on the truffle train is Sweet Belem, one of Sydney's much-loved Portuguese tart hot spots. Basically, chef-owner Jose Silva has collaborated with chef Jacqueline Ektoros to create three tasty truffle-laced treats. Their famous Portuguese tarts will be made with truffled free-range egg custard and topped with actual slices of black truffle. Their vanilla slice is also getting a black truffle custard filling, and their brioche doughnut will be filled with truffled crème pâtissière and dusted with truffle shavings. The menu launches on Saturday 25 June and will be available on weekends throughout winter.
Three Williams
Redfern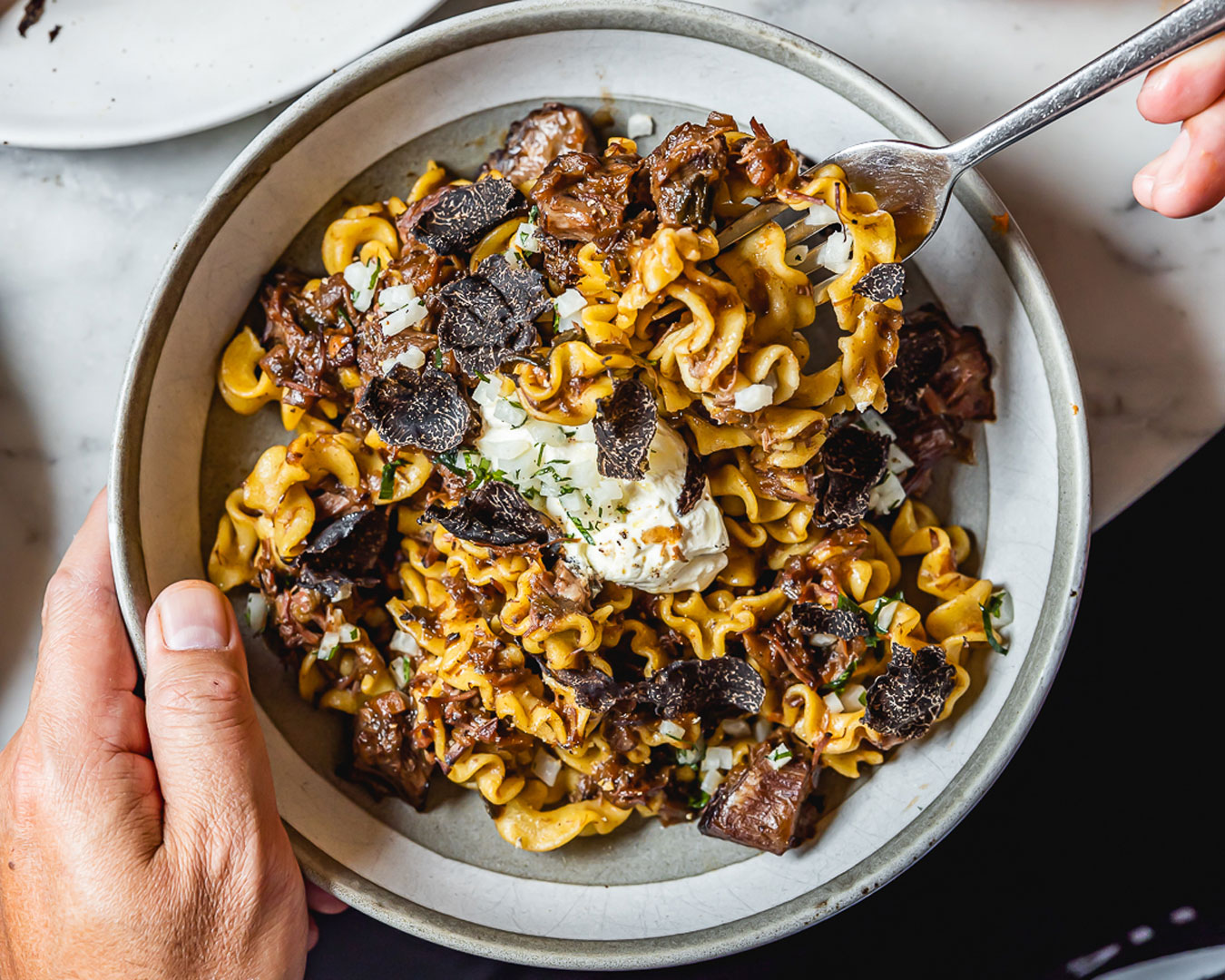 Much-loved Redfern cafe Three Williams is at it again with its seasonal, limited-edition truffle menu. There are five dishes on offer this year, including the irresistible mafaldine pasta with red wine beef cheek ragu, pickled tarragon kohlrabi, cultured sour cream, and black truffle shavings pictured above. If you're looking for a winter warmer, that's the one. Otherwise, opt for the truffle and mushroom croque monsieur; the clay pot rice with barbecued duck, Chinese sausage, gai lan, and sticky shiitake; baked truffle pear poached in mulled wine with cinnamon puff pastry, vanilla truffle custard, ice cream, and walnut cookie crumble; or the crowd-favourite crispy truffle and parmesan chips.
MODE Kitchen & Bar
CBD
It doesn't get much more luxe than a truffle dinner at the Four Seasons. If you're looking to get out from under the doona and get a lil bit fancy this winter, make tracks to the five-star hotel's on-site restaurant MODE Kitchen & Bar. The modern Australian restaurant has whipped up a truffle menu, dubbed A Taste of Truffle, which is available till mid-August. You'll be dining on dishes such as fried polenta with porcini mushrooms, lardo and black truffle, chicken ballotine with celeriac and black truffle, 500g wagyu ribeye with fresh black truffle and veal jus, and a black truffle tiramisu. Book here.
Sokyo
Pyrmont
Chase Kojima's fine diner, Sokyo, is dishing up three extravagant truffle creations this winter, adding a Japanese twist on classic truffle dishes. First up, you can get truffle-infused tuna belly and sea urchin sushi for $28 per piece. Or, for something heartier, there's the full-blood wagyu with roasted kabocha, pumpkin furikake, and shaved truffle. But, if we're honest, we're drooling over the truffle Montblanc served with choc brownie, chestnut, and truffle ice cream. Who doesn't love a truffled dessert? Book here.
SOUL Deli
Surry Hills
SOUL Deli is Sydney's answer to scoring easy Korean goods, produce, and feeds every day of the week. The cafe-meets-deli-meets-homewares store has become a Surry Hills staple—and now it's loading up its Korean dishes with truffle. Think eggs benedict topped with truffle shavings, truffle chicken porridge, and a Korean caviar omelette decked out with truffle. If you're more into sweet treats, then you'll want to order the truffle choux with a cookie crust and filled with truffle cream. Drinks-wise, there are two truffle-infused teas and the Truffle Dirty Nutty—a twist on the super-popular South Korean drink that is a shot of espresso with peanut butter whipped with cream.
Over at sister venue SOUL Dining on Devonshire Street, you'll find even more extravagant fungi-fuelled dishes like truffle and sea urchin Garak-guksu (noodle soup) and a truffle wagyu tartare. Naturally, there are also truffle-spiked cocktails on offer, too. Or, you can opt for SOUL Dining's Truffle Tasting menu for $169 per person. Book here.
Nomad
Surry Hills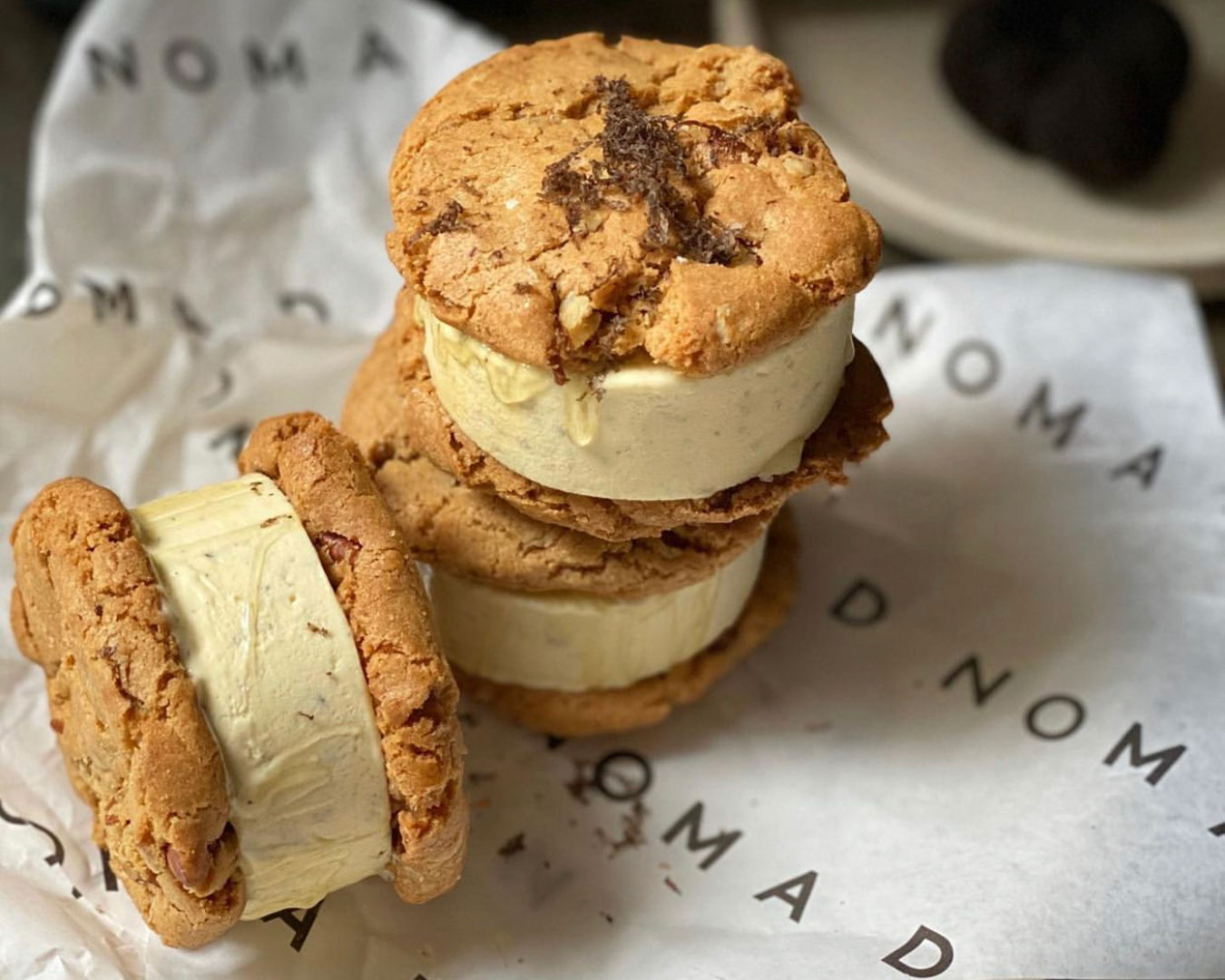 Is there a better way to celebrate the weekend than with a decadent Sunday brunch with friends? And what's more decadent than truffles, seriously. Surely, you know where we're going with this. To celebrate truffle season in yet another creative and wonderful way, Surry Hills' Nomad is hosting a Truffle Brunch every Sunday over truffle season. The menu features three-cheese and truffle manoush, ham hock and truffle hash browns, smoked date-glazed bacon, baked eggs, and pecan cookie and olive oil ice cream sandwich—all of which come loaded with 2g of Manjimup, WA black truffle (some of the best in the biz). Of course, champagne, bellinis and espresso martinis are on the cards, too. The Truffle Brunch kicks off on Sunday 12 June and is happening every Sunday during truffle season. Book here.
BLACK Bar & Grill
Pyrmont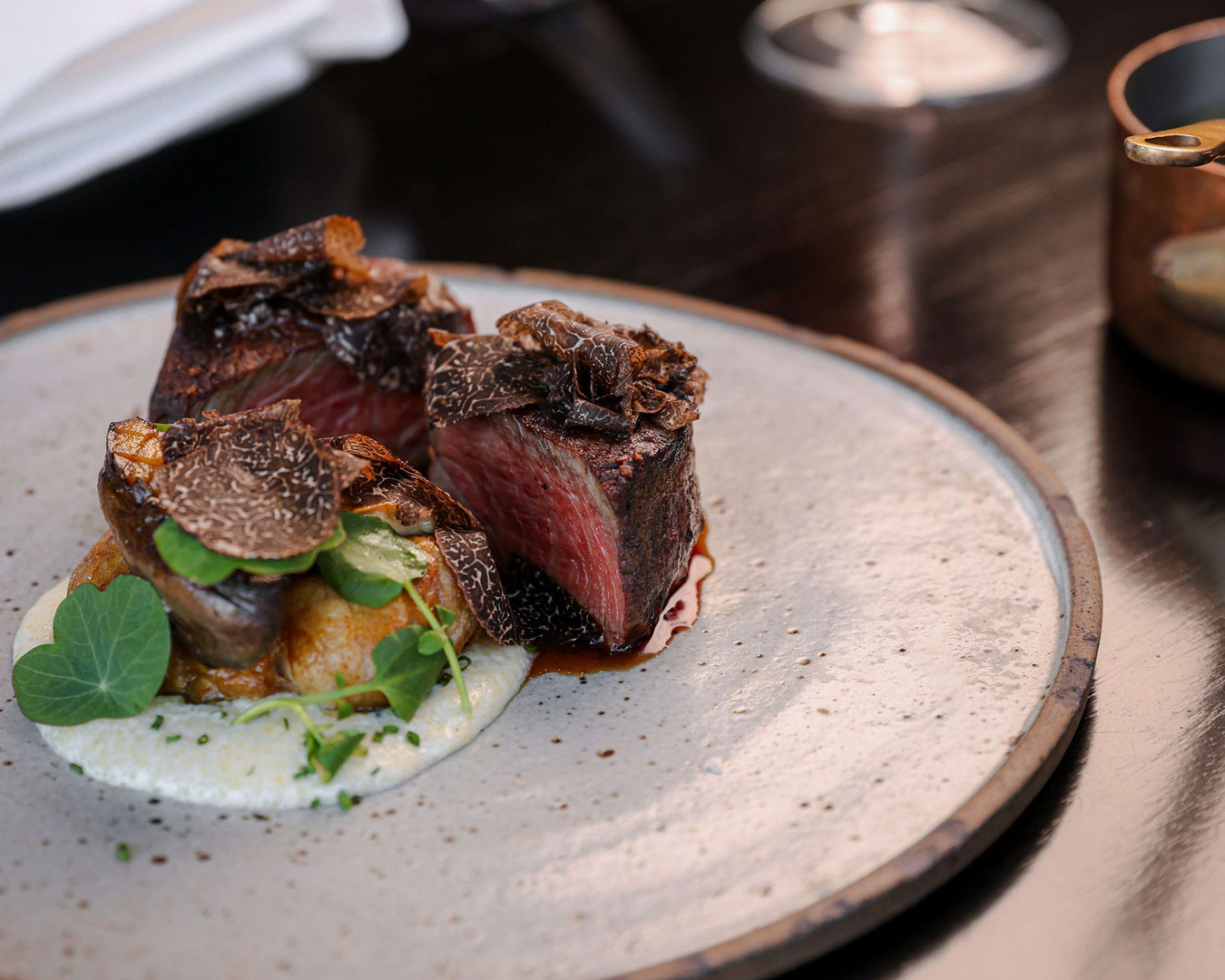 Everyone knows truffle and top-quality steak are a match made in gourmand heaven. So, naturally, The Star's swish steak restaurant BLACK has whipped up a decadent truffle-fuelled menu to see you through winter. For an entree, there's the Jerusalem artichokes served in a chestnut cream with maple bacon topped with shaved truffle. The star is, of course, the Rangers Valley fillet steak paired with veal sweetbread, king brown mushrooms, creamy white polenta, and truffles. And it'd be rude not to polish off the meal with the dessert, which is pannacotta with caramelised white chocolate, and pear and truffle ice cream. Book here.
Devon Cafe
North Sydney and Barangaroo
Alright, we've now arrived at the megalodon of Sydney seasonal truffle menus. At Devon Cafe, we mean a full-sized menu you could hold in your hands, requiring a page turn and asking the waiter to give you an extra minute. Start the morning right with a truffle gianduja latte with chocolate and hazelnut and truffle-loaded hotcakes. Then, without actually listing off the entire menu, you need to try the truffle wagyu bowl, truffle wagyu katsu sando, or truffle curly fries for snacks. Oh, and the truffle mi goreng, truffle croque madame, or the super-indulgent truffle Peking duck ravioli (weekends only). Book here.
The Mayflower
Darlinghurst and St Leonards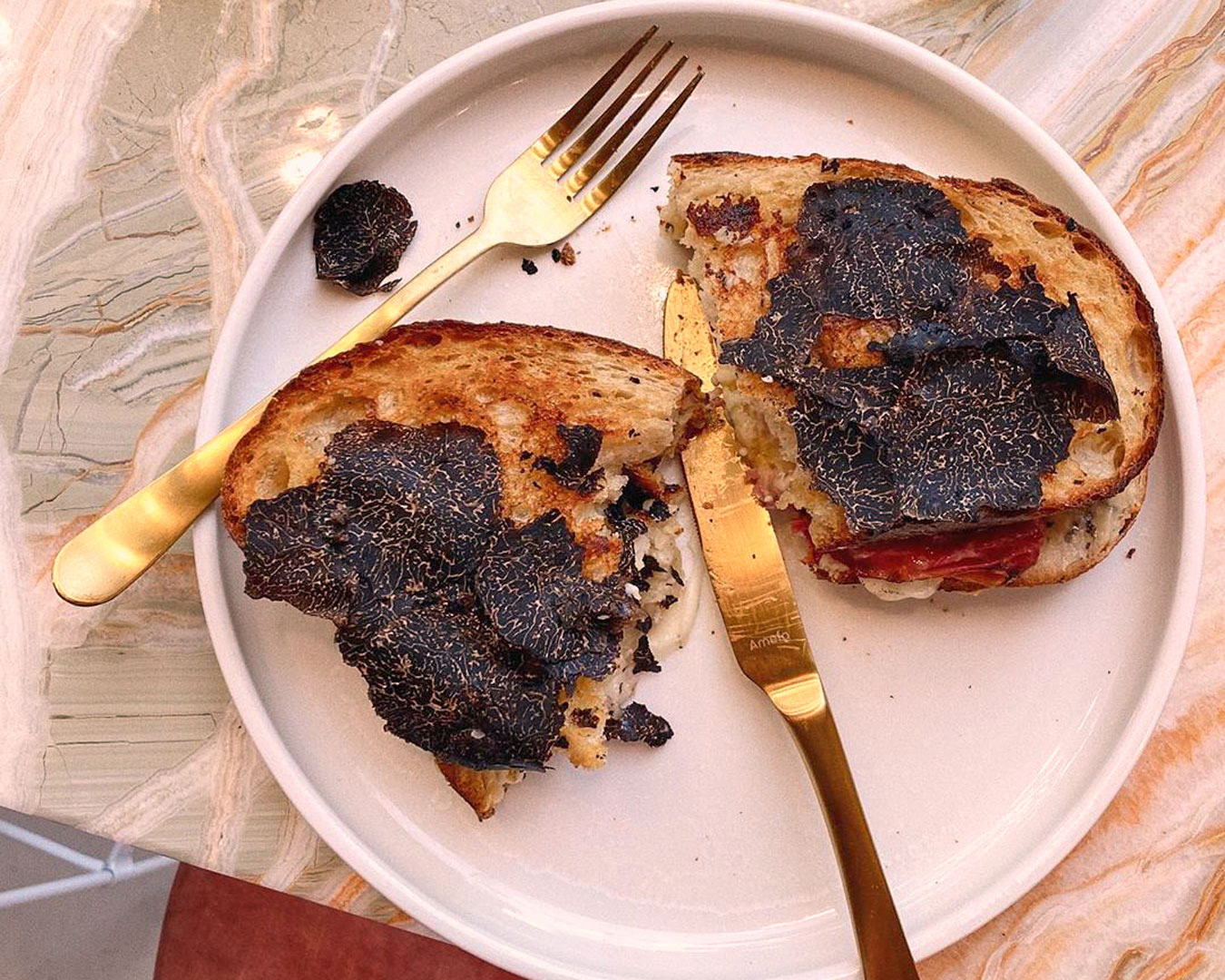 If there's a café that knows how to showcase the finer things in life, it's The Mayflower. The incredibly OTT cafe has two locations—one in Darlinghurst and one on the Lower North Shore—and you'll find truffles in every corner of the menu designed by chef Jihwan Choi (formerly of Momofuku Seiobo). Why? Because you can shave black truffle onto any dish at your table. You'll also find truffle in the croque monsieur, as well as generously grated onto the truffle hot chocolate or in the mac n' cheese's béchamel sauce. If you want to keep the luxurious times rolling, check out the menu's dedicated caviar section, too. Head into The Mayflower to fill those truffle desires. Book via the website.
a'Mare
Barangaroo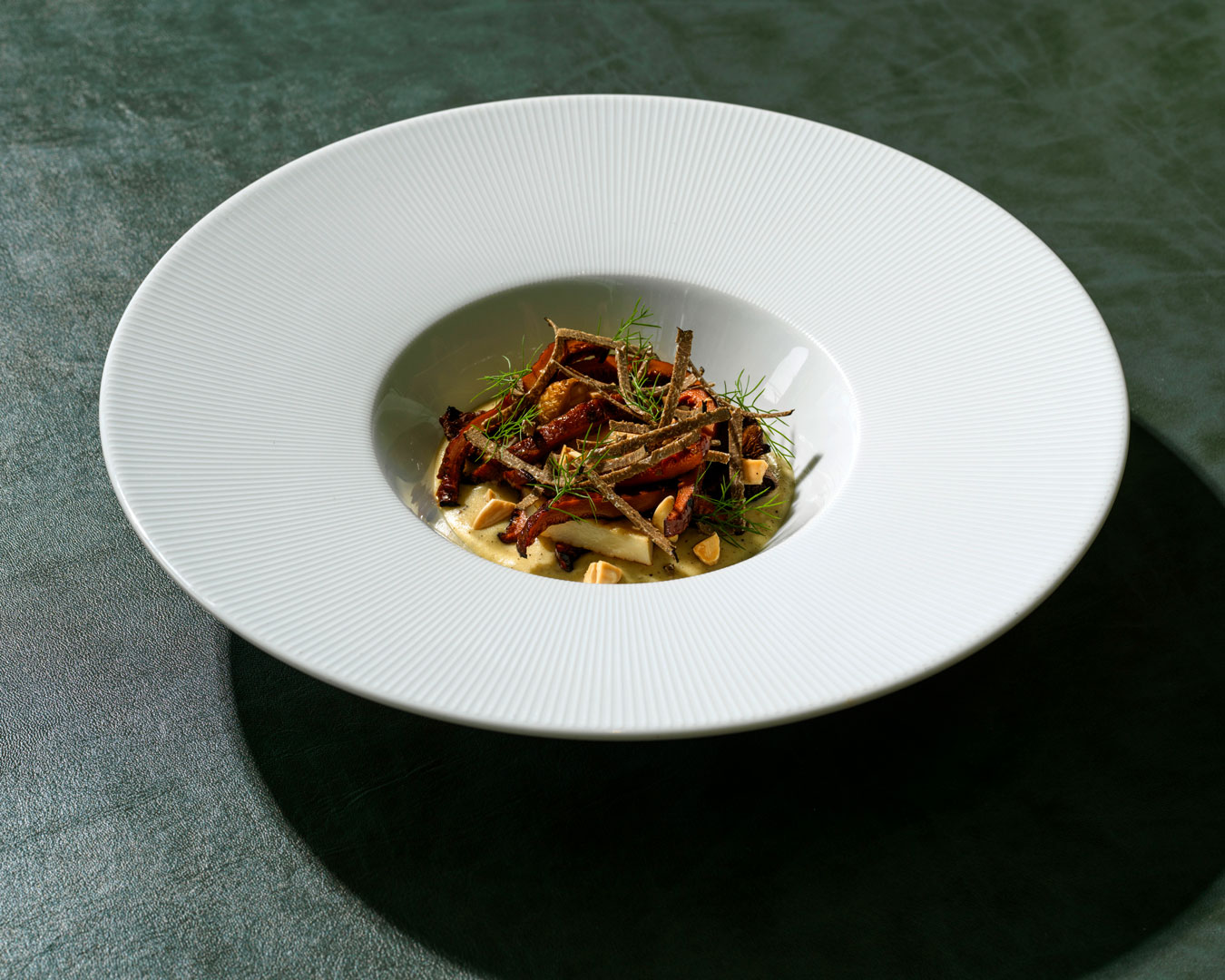 At a'Mare—Alessandro Pavoni's refined, classically themed Italian eatery at Crown—you can treat yourself to A-class Australian truffles on several dishes, including tagliolini with truffle pecorino and freshly shaved black truffle; spatchcock with mushroom and truffle jus, topped with and topped with black truffle shavings; and the Cavolofiore e Tartufo—a cauliflower creation with mushrooms and generous shavings of truffle. And for dessert? A fior di latte ice cream served with olive oil and topped with grated black truffle. Book here.
Botswana Butchery
CBD
This sprawling 300-seat restaurant in Martin Place has quickly become a Sydney dining destination. As the name suggests, it specialises in steak and other meats—so it's whipped up a seasonal truffle degustation, naturally. Kicking off with a launch dinner on 21 June, the truffle-packed degustation menu ($180pp or $250pp with paired wines) features black Tasmanian truffles across five courses. Think truffle-infused yellowfin tuna with crisp Brussel sprouts, wood-grilled scallops with truffled labneh, dry-aged steak with shaved truffle and pinot jus, and caramelised quince tarte tatin with truffle ice cream. If you'd prefer to indulge on a less extravagant budget, Botswana's huge rooftop will be serving fontina and truffle jaffles, wagyu truffle sliders, and truffled hazelnut doughnuts, plus truffle-spiked cocktails. Book here.
Goodfields Eatery
Lindfield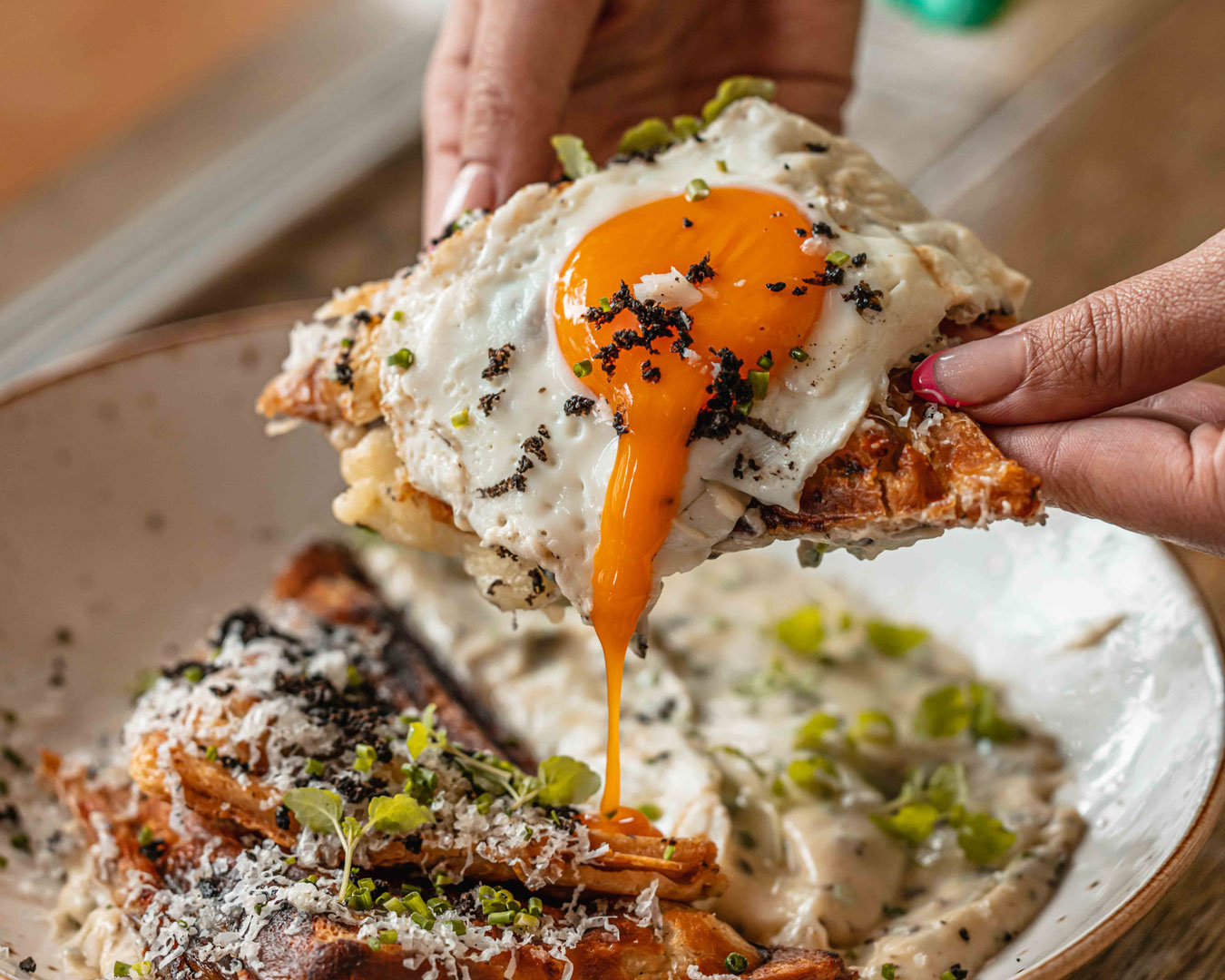 If you live in Sydney's Upper North Shore, you likely know where to flock as the temperatures drop and truffle season arrives. Now is precisely the time that Goodfields Eatery drops its long-awaited truffle menu in all its glory. From sweet to savoury and from social media-worthy to no-talking-let's-eat, truffles are flying out at this Lindfield cafe. Feeling a big breakfast? Try the hotcakes with fried chicken, truffle whipped butter, fresh truffles, and truffle-infused maple syrup. After a snack to share? Then opt for the loaded potato gems that come with lobster tail, beef rib bits, truffle cheese sauce, truffle pecorino, and fresh truffle shavings. Needing a hearty lunch? You're after the beef ragu featuring beef cheek braised in truffle and white wine, with pappardelle, tarragon, silverbeet, truffle pecorino and shaved truffles. Finally, need an afternoon treat? Drop everything and order the truffle doughnut with a truffled cheesy mushroom filling, hazelnuts, truffle pecorino and, of course, fresh truffle shavings. Walk-in only.
Truffle Dinners
Rocker
Bondi | Thursday 28 July and 11 August
Neighbourhood Bondi go-to Rocker is making the most of truffle season with three five-course feasts this winter. Showcasing the best of the Australian truffle, the dining series pairs decadent share-style dishes with good wine and bubbles in its laidback diner. You'll tuck into the likes of raw scallop on potato crisp topped with shaved truffle; cheesy potato pasta with artichoke dashi, cured egg yolk, and truffle; and roasted beef ribs with celeriac puree and truffle jus. To finish? A Basque cheesecake with persimmon and truffle honey. Heaven. The meal will set you back $120 per head or $90 for vegetarians. You can also add the wine pairing for an extra $65. Book here.
Yellow
Potts Point | Wednesday 20 July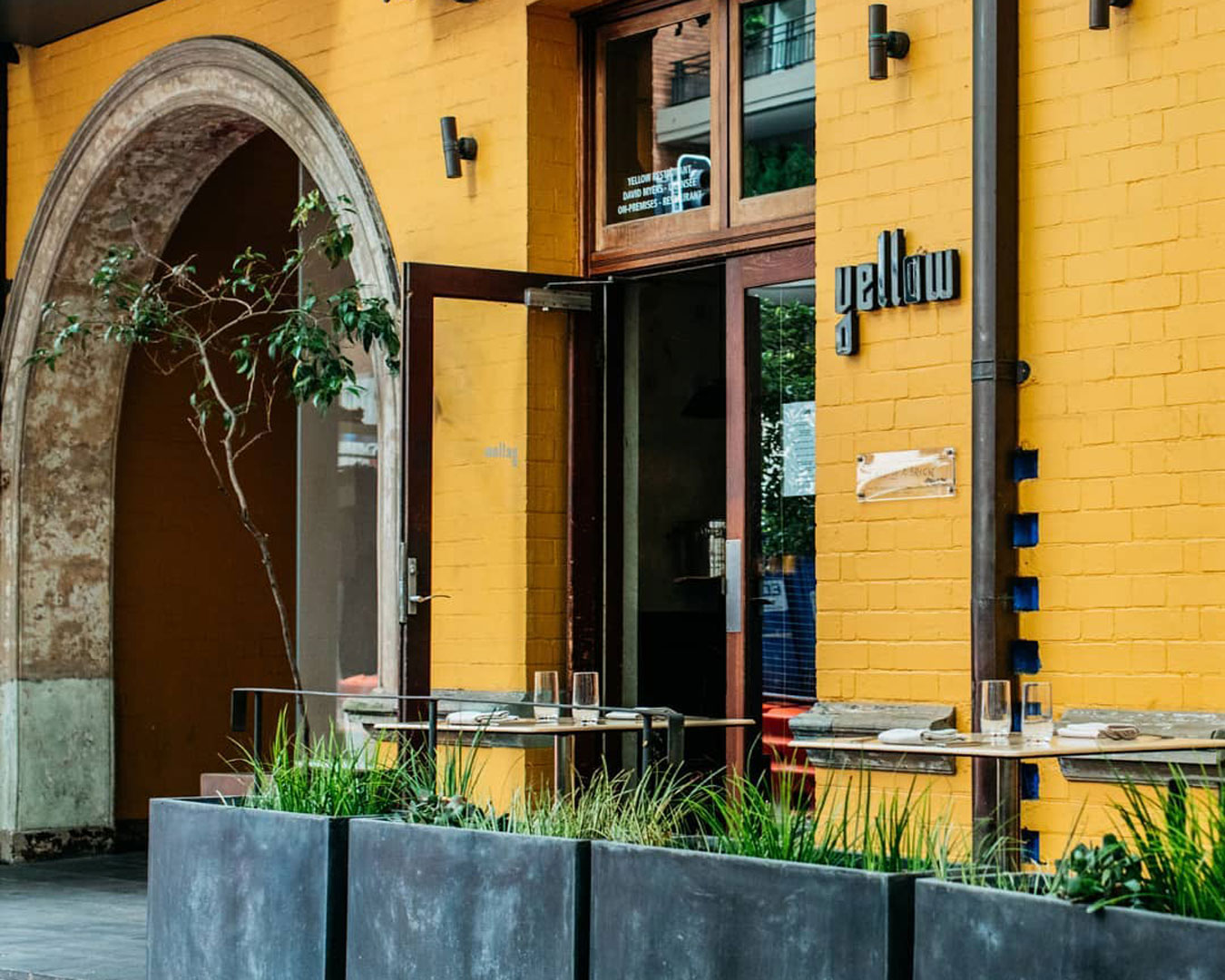 Think truffles only go with red meat and pasta dishes? Think again, my friend. Popular plant-based fine diner Yellow is showcasing the seasonal fungi alongside elegant veg dishes like barbecued leek with truffle glaze, truffled kohlrabi remoulade and buckwheat pancake, and roasted oyster mushroom with borlotti beans and truffled broth. The one-time dinner is taking place on Wednesday 20 July and costs $150 per person. Book here.
Cirrus
Barangaroo | Wednesday 27 July
Those who are keen to kick back with a truffle-laden feed by the water can do so at Cirrus on Wednesday 27 July. The upscale seafood restaurant in Barangaroo is putting on a show-stopping dinner for truffle lovers for $180 a head. You'll be tucking into snacks such as fried potato puffs with whipped truffle goats curd and scallop and truffle dumplings, before heartier dishes of truffled miso Murray cod and chicken with black barley, truffle and chervil. And for dessert? Miso and truffle caramel sticky date pudding with truffled vanilla ice cream and pair. Book here.
Monopole
CBD | Wednesday 3 August
Fine wine and truffles just make sense, which is why inner-city wine bar Monopole is celebrating the season with a one-time-only dinner. On Wednesday 3 August, settle in for a meal of French onion and truffle vol-au-vent, roasted swordfish with champagne butter and truffle, and Jacks Creek striploin with Madeira sauce, chives and truffle. The dinner costs $140 per person—and you'll want to budget for a baller bottle of wine, too. Book here.
Aria
CBD | Tuesday 9 August, 6.30pm
It doesn't get much fancier than a five-course truffle-laden feast at Aria. Aria Restaurant's award-winning menu and breathtaking Circular Quay location have long been an attraction for discerning diners. And now it's celebrating truffle season with a one-off dinner. Despite the view over Circular Quay, the Opera House forecourt, and the Sydney Harbour Bridge too, it will be the food and wine at this renowned fine diner that will really hold your attention. The Truffle Dinner will take place on August 9, is hosted by Matt Moran himself, and, yes, it will set you back a fair bit of coin ($485 to be exact). Expect a specially curated five-course dinner curated by Aria Executive Chef Tom Gorringe—think Fraser Island spanner crab with truffle custard and quail and mushroom pie with truffle Madeira jus—paired with top-notch wines. The truffles are from Fish River Farm in Central West NSW and are as fresh as they get. Book here.
For more great winter feasting, check out Sydney's best pasta.
Image credit: Kera Wong Photography, Sweet Belem, Three Williams, Nomad, Samantha Rose, The Mayflower, Crown Sydney, Kera Wong, Photography, Chiswick, Yellow