We love a good date spot, and luckily, so does Sydney. Whether for a first date or the 50th date, an anniversary or a birthday, or a friend date—we've got you covered right here. There's nothing like removing yourself from real life to properly appreciate your better half or taking the time to get to know someone new.
We've rounded up a date to match every price range, every occasion, every level of entertainment and intimacy, all brimming with Sydney's best food and drinks from the city's premier chefs and bartenders.
Whatever you're after, we've got the perfect date spot for you.
Apollonia
CBD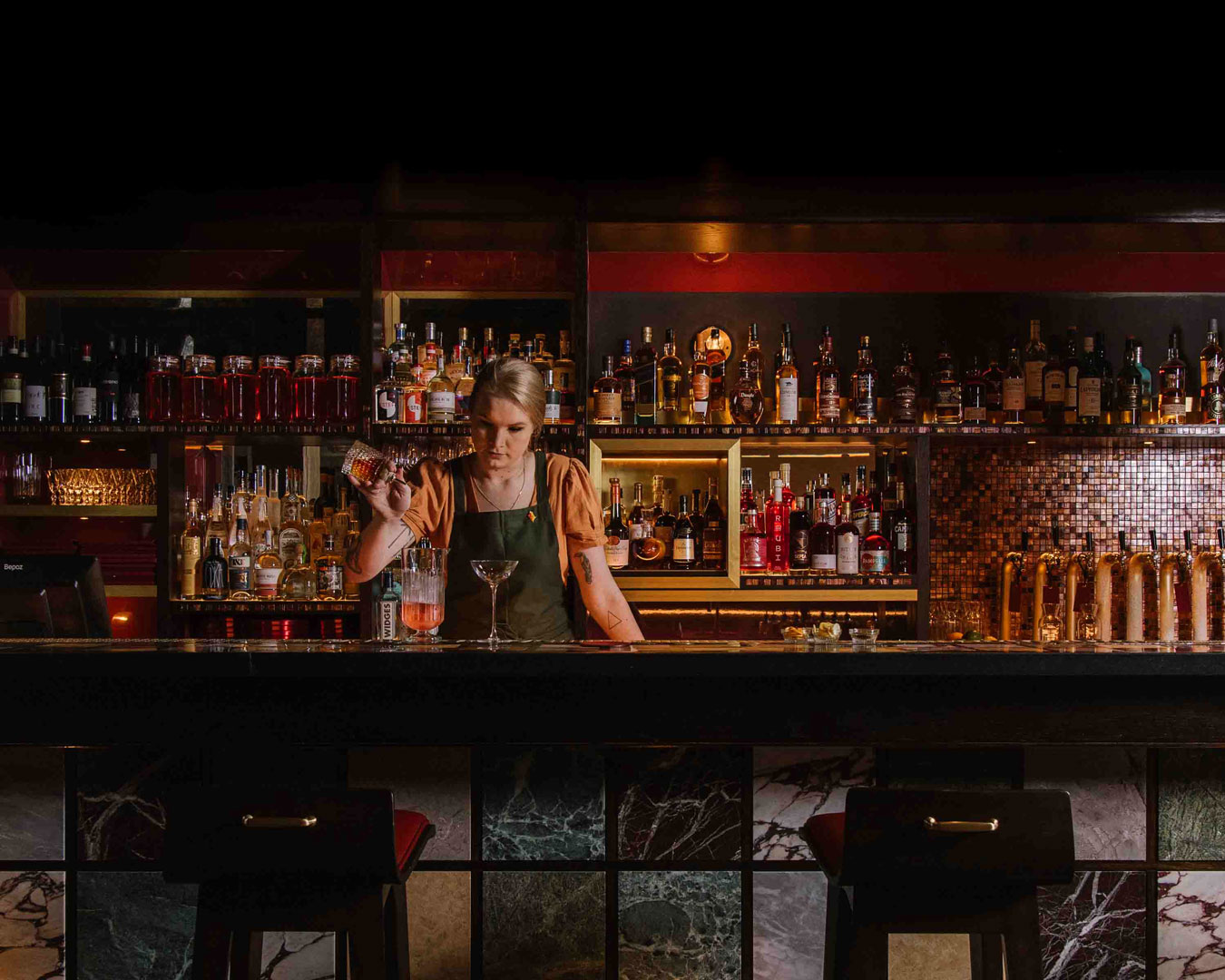 In the basement of Hinchcliff House—the brand-new four-storey Italian-inspired mega restaurant in Circular Quay—is Apollonia. Built on a tale of love at first sight inspired by the novel The Godfather, this moody underground bar is not only new (and therefore impressive), it's brimming with the sort of misty-eyed romance we all seek on a first date. The story goes, Michael Corleone (the iconic novel's protagonist) was struck by "The Thunderbolt" (or, colpo di fulmine) the moment he laid eyes on Apollonia—and every night at midnight, the bar hosts a special thunderbolt ritual, toasting to love and life, by way of a strong Negroni.
Like a great romance novel, the cocktail menu is divided into chapters of Apollonia's story and signature concoctions have been given names like, "A Letter Never Sent" ( a mix of wheat vodka, Italian honey liqueur, pineapple, clove, almond, and fresh lemon) and "Wedding Procession" (dry gin, macadamia, amaro, bitters, and lemon). There's also a tiramisu milk punch in the mix with dark rum, cacao, coffee liqueur, and biscuit in the mix, and a pineapple Negroni with pineapple rum instead of dry gin.
"Sydney city is a beautiful, romantic place. It's so inspiring, but also filled with mystery," said Hinchcliffe House creative director Scott Brown. "Apollonia is the perfect reflection of our city and our people. We're just a little bit mysterious, just a little dark but full of love."
Choose this date if: you love your cocktails mixed with a lil' Italian-style drama.
La Farmacia
Darlinghurst
One guaranteed way to impress a date: take them to a secret bar. Stanley Street's La Farmacia might be Sydney's worst kept secret but located behind Mrs Palmer sandwiches during the day, it's technically still a "hidden bar". This Mexican joint specialises in margaritas and tacos, which means we don't need to sell you on it whatsoever. La Farmacia (Spanish for "the pharmacy") is one of the best spots in Sydney to grab a margarita, with a dedicated tequila and mezcal cocktail menu to impress any enthusiast.
Keep it classic with a perfectly shaken Tommy's or test your spice limits with the Reaper Marg, featuring Carolina reaper chilli-infused tequila. As for tacos, let's just say their $2.50 taco Tuesday is so popular it usually books out a couple of weeks in advance. You can always try your luck with the outdoor seating they keep available for walk-ins–but a word to the wise, get there early.
Choose this date if: you love the simple things in life like margaritas and tacos. And—you can't go wrong with tacos on a first date.
Golden Age Cinema
Surry Hills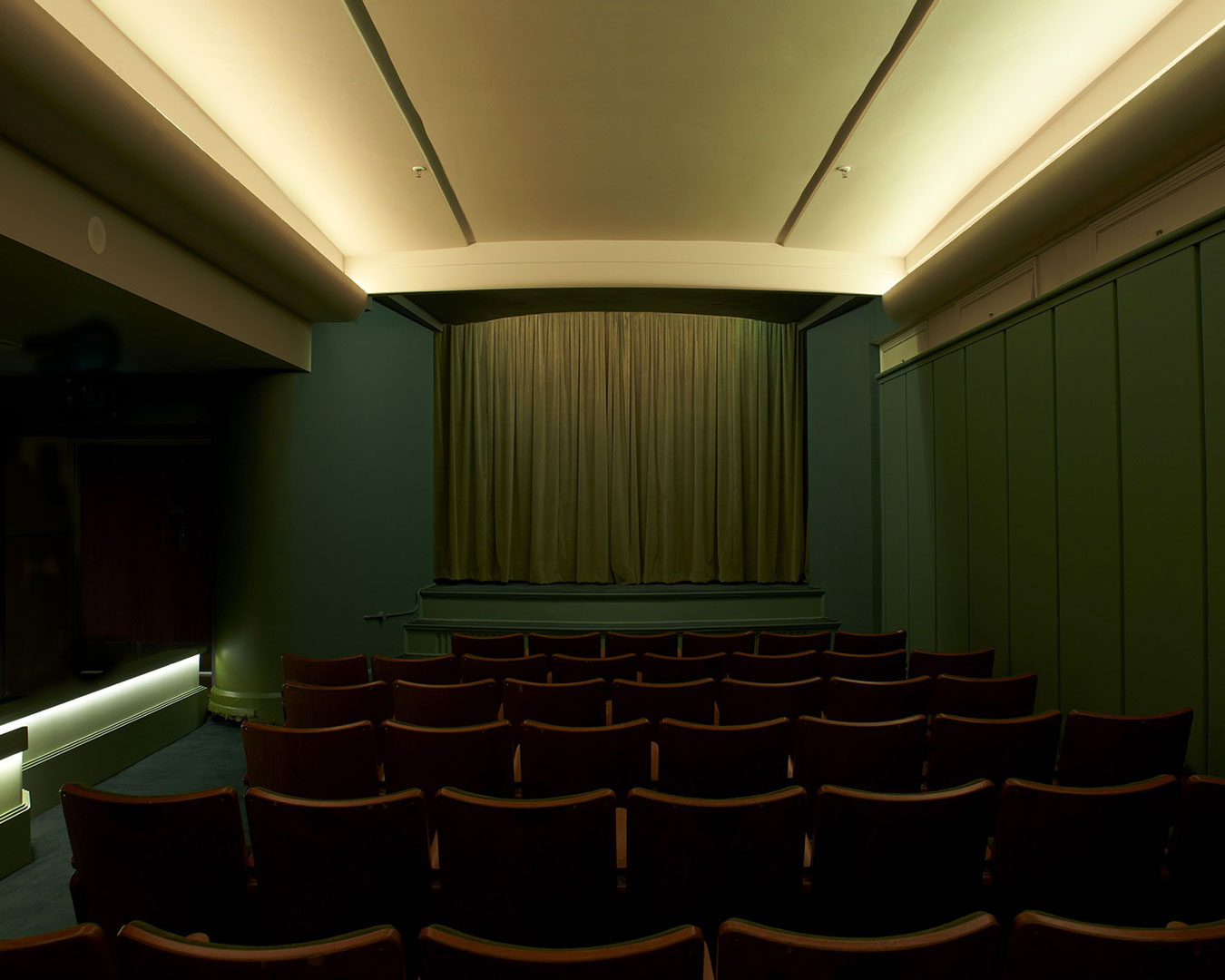 Tucked away under the heritage-listed Paramount House building in Surry Hills, Golden Age Cinema is one of Sydney's most unique and beautiful places to catch a movie. The charming subterranean spot was initially built in 1940, serving as the home of Paramount Pictures in Sydney. Brimming with Art Deco charm, the underground theatrette showcases exclusively curated film sessions, from new releases to rare classics. In the mood for a bite to eat and a cocktail before the movie? Make sure you get in early and soak up the David Lynch-inspired Golden Age Bar and grab a gourmet toastie, a cheese board to share, or a Gelato Messina choc-top. Head to the website to see what films are currently showing.
Choose this date if: you're looking for romance in the form of an old Hollywood cinema experience.
Beckett's
Glebe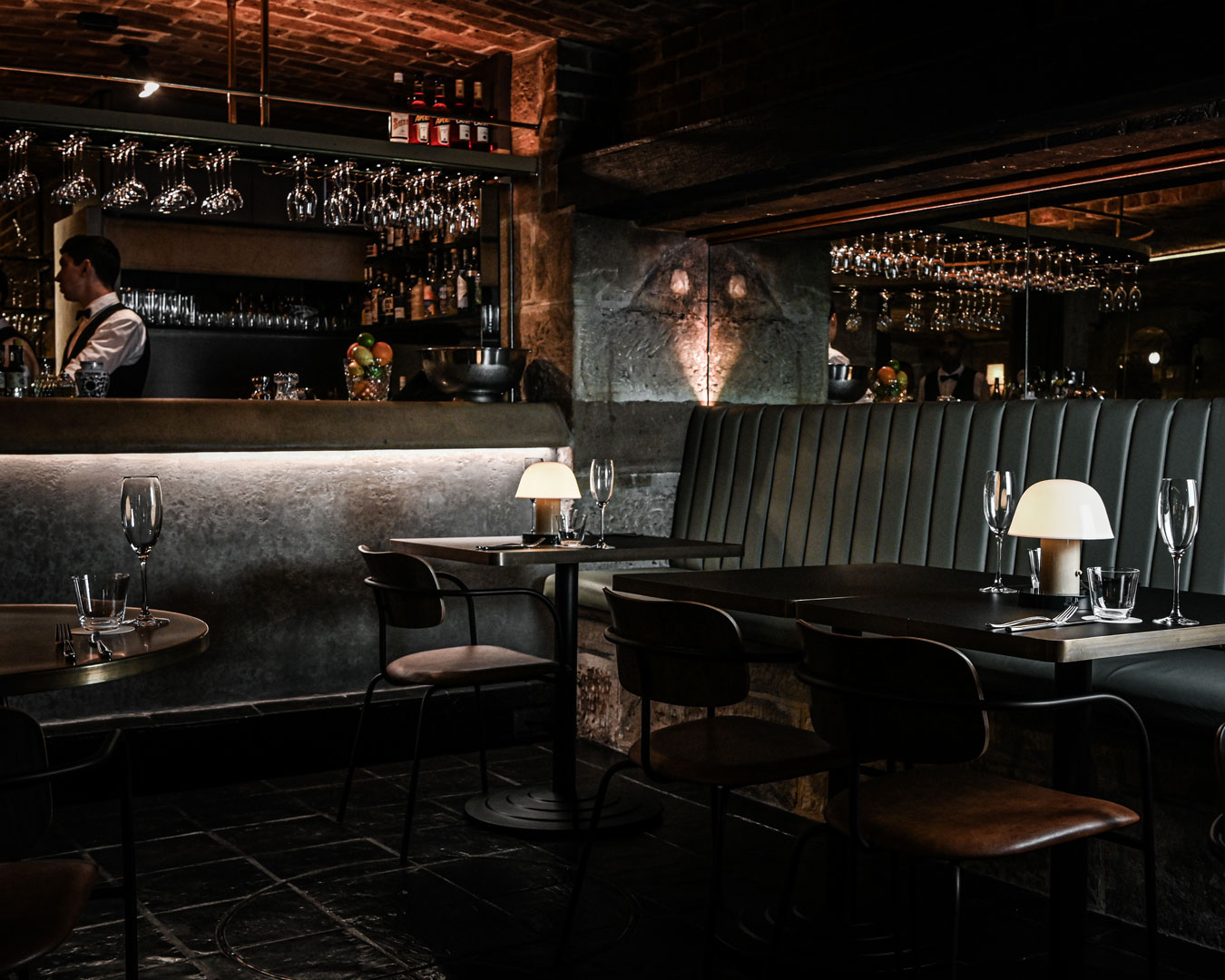 From acclaimed chef Jeff Schroeter (Bistro Moncur, Bayswater Brasserie) and playwright-director Wendy Beckett, the recently opened Beckett's is Glebe's newest spot for an unforgettable romantic culinary experience. Channelling moody New York City piano bars and old, glamourous French brasseries, the semi-subterranean sandstone restaurant is a sight to behold.
Expect Schroeter's famous Queensland-caught vanilla lobster, poached in fennel butter and served with vanilla celeriac, ice plant, and sea urchin sauce, or the Never Never Gin and beetroot-cured Mt Cook salmon served with Yarra Valley Salmon Pearls, crushed cucumber, and shaved fennel. Then, of course, there are dreamy cocktails and spirits to sip on while the smooth sounds of a tinkling baby grand piano serenade you. Try the "Beckett's" martini with Widges gin, Mancino Secco, and olives or the unique Aperitif blend of the "Copper Negroni" with gin, Amontillado sherry, Gentian liqueur, and chocolate bitters.
Choose this date if: you feel like getting a little dressed up—and sipping martinis.
Holey Moley
Various Locations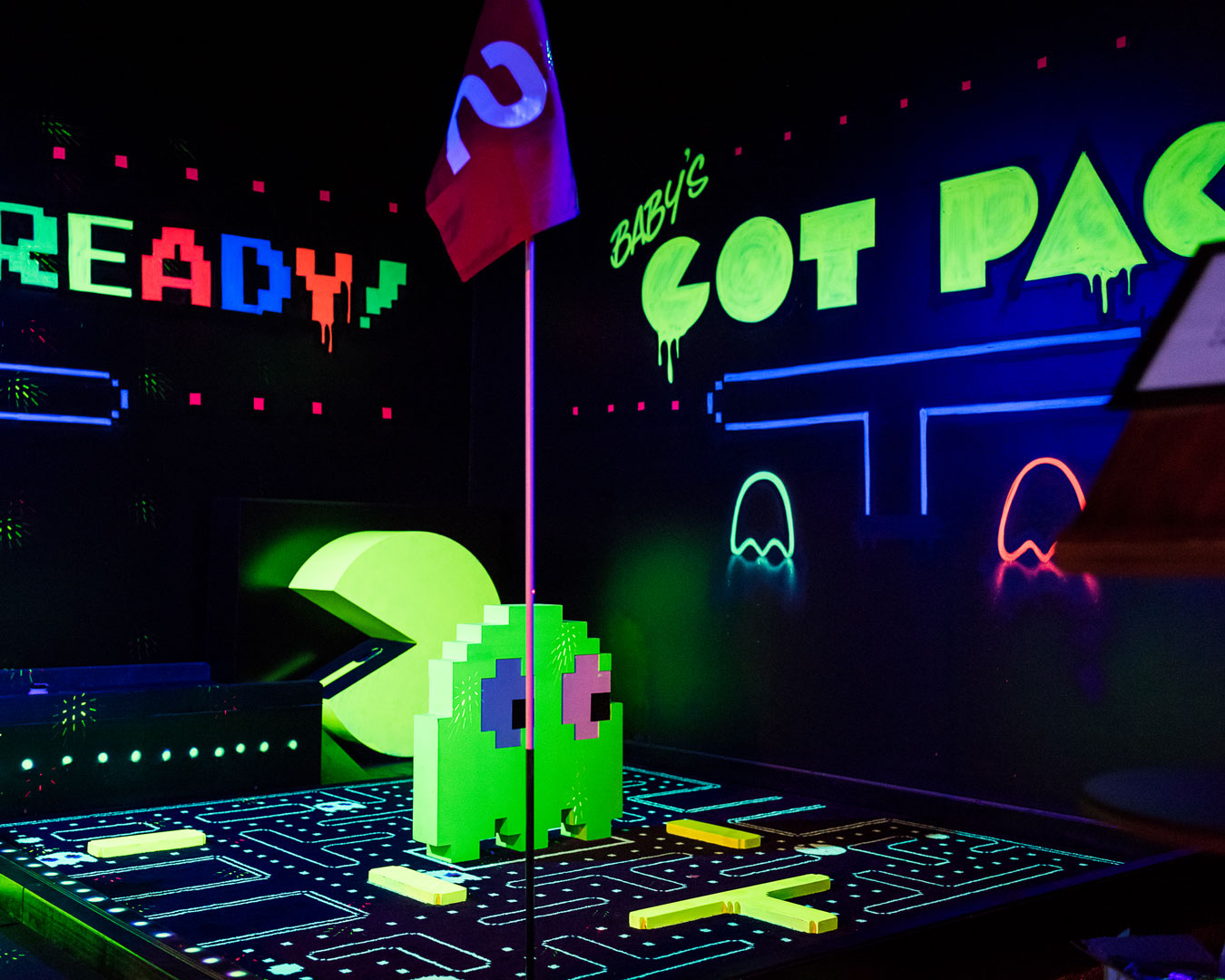 We know that the one-on-one sit-down style of a traditional date can be a little daunting at times. Sometimes we need a little distraction or conversation starter to loosen things up before the first few drinks inevitably do so. So, why not incorporate a boozy date night with a bit of friendly competition and sport at Holey Moley? With locations in Newtown, Darlinghurst, Chatswood, North Strathfield, and Castle Hill, Holey Moley offers the perfect ice-breaker date. From holes like "Vincent Van Golf" to a life-sized Monopoly board, you can decide the date length with 9, 18, or 27 holes to play. Take regular golf, remove all the walking and the collared shirts, add funky, highly 'grammable courses, and plenty of drinking—date night sorted.
Choose this date: for fun vibes and a bit of casual competition.
Big Poppa's
Darlinghurst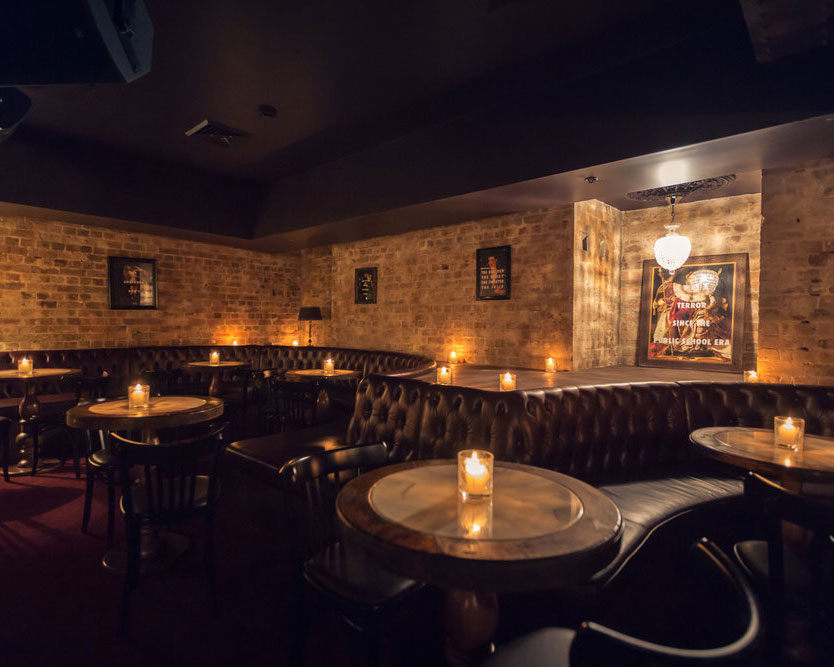 Sydney's nightlife has been in crisis for the past few years. But through it all, Big Poppa's has remained a vibing hot spot and an escape for a cocktail, a bite to eat, and lots of late-night fun. Like any good Italian joint, the Oxford Street eatery and underground bar wins hearts by serving up simplicity done brilliantly. Think about an endless offering of cheeses, an impressively extensive list of wines to match, freshly hand-cut pasta, a selection of cocktails, and, as the name suggests, hip-hop beats to bring it all together.
Sit upstairs in the hustling and bustling rhythm of the restaurant in dim candlelight, hidden away from the Oxford Street foot traffic. Or plunge into the depths of an underground cocktail bar where the music is a little louder, and the seats are a little more lounge-like. Best of all, Big Poppa's is open every day until 3am. Yep, this is the late-night date spot you need in your life—whether you're catching a late dinner after a movie, settling in for the night, or looking for a Sunday night drink after the city has closed up for the weekend.
Choose this date: for some late-night fun.
The Sunshine Inn And DD's
Redfern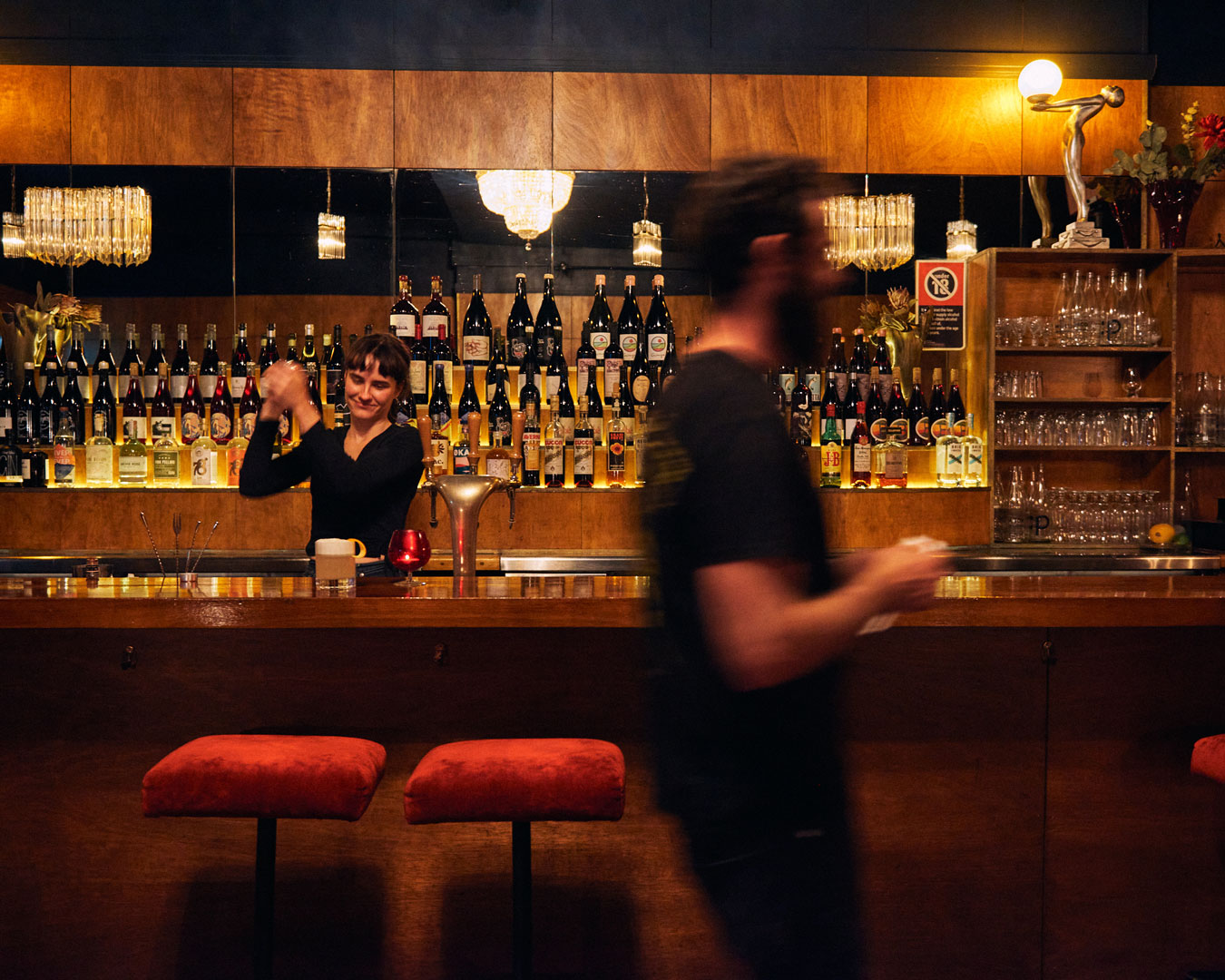 Here's some great date-spot advice: head to Redfern's intersecting Regent and Redfern Streets for options aplenty. However, if we're zeroing in on the ideal intimate-meets-great-vibes combo spot amongst an overwhelming selection, it has to be The Sunshine Inn and its secret restaurant, DD's. Arriving late in 2020 from the genius hospo minds who gave us Glebe's The Little Guy and Leichhardt's Golden Gully, The Sunshine Inn is one of the best one-two-punch date spots in Sydney. Make sure you book a seat in the restaurant to kick things off, which is hidden through the back of the bar, behind a beautiful leather-bound door marked DD's (Dynn & Dan, the two owners).
The 20s-era prohibition-inspired, dark, intimate, and cool-as-hell restaurant serves up an all-vegetarian tasting menu that rotates seasonally and might revolutionise the way you think about eating meat-free (or, at very least, spark some conversation on the topic). After dinner, re-enter the modern world and grab a seat overlooking the Redfern main strip from the bar's grand street-front window. Whether you're after local craft brews, natural and minimal intervention wines, twists on classic cocktails, or an all-Aussie selection of spirits from within the "Australiana" cocktail list—this spot has you covered.
Choose this date: if you want dinner, drinks, and hidden restaurant kudos.
Fabbrica
CBD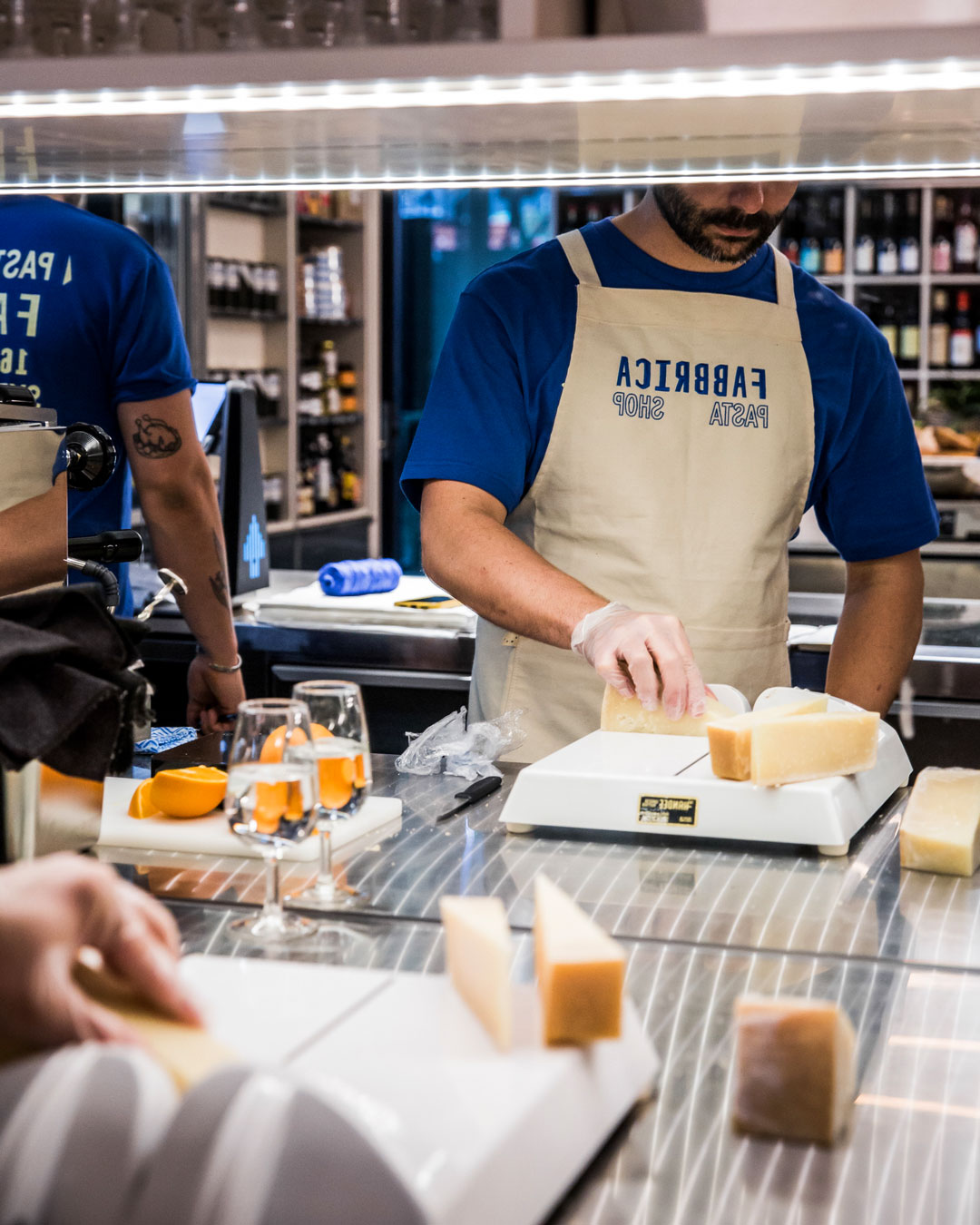 We're the first to say that going out in Sydney for a date is as good as it gets. But there's also a certain intimacy and comfort to staying home and cooking something special for your partner. If you're planning a home-cooked meal, a good bottle of wine, and a serving of Netflix, we recommend not messing around and putting your faith in the hands of the experts at Fabbrica (who also gave us Dear Sainte Éloise and Ragazzi). Whether you visit the subterranean pasta haven or order ingredients by delivery, you choose exactly how much work to put in as a chef. Make pasta from scratch with recipe cards and instructional videos, or buy fresh pasta ready for boiling with beautiful homemade sauces to heat up. Whatever pasta, oils, fresh ingredients, cheeses, tinned seafood, or charcuterie you might need, Fabbrica can offer it along with some friendly advice. Check out what's on offer at the website.
Choose this date: if you need inspiration for a romantic night in.
Entertainment Park
Bankstown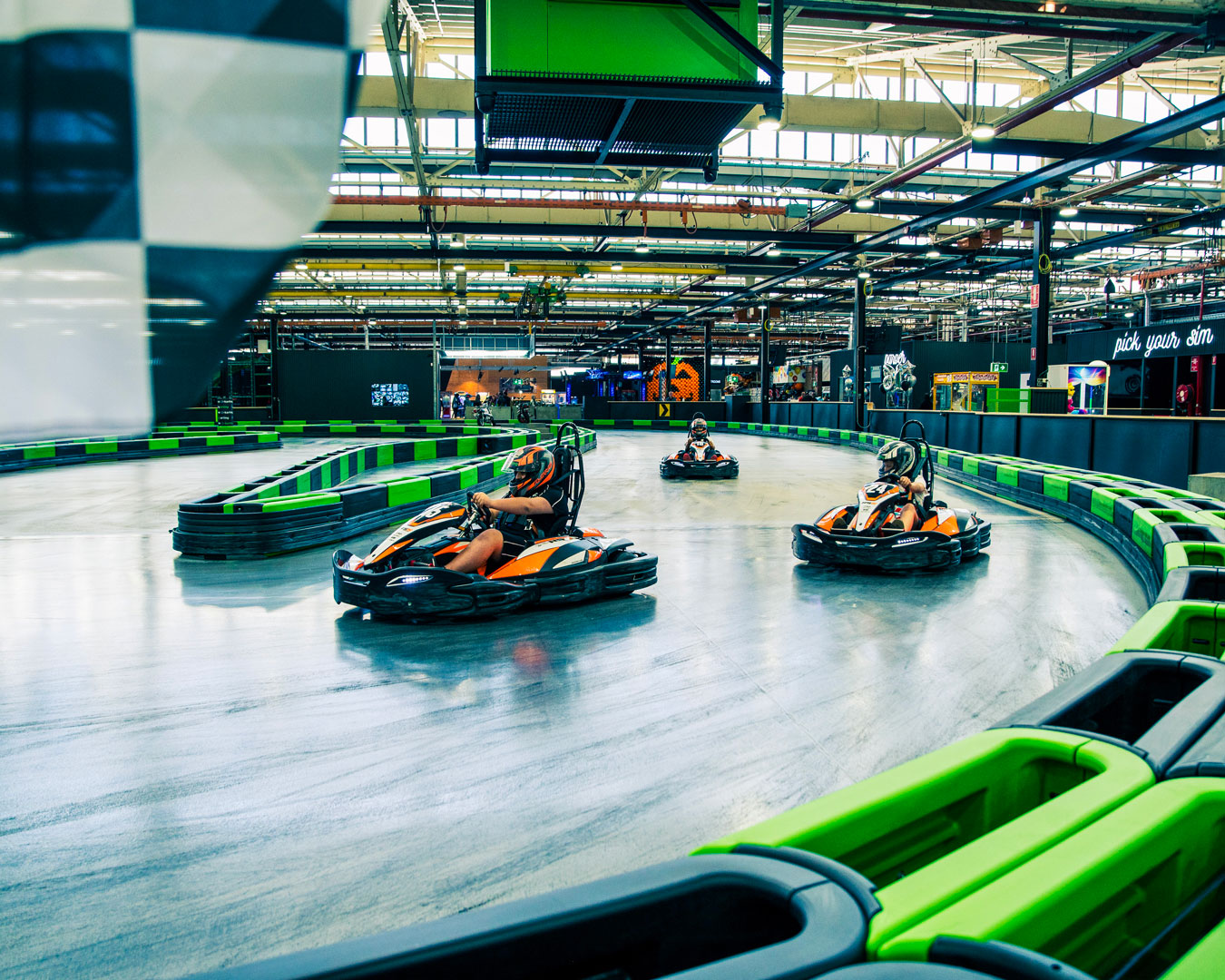 Yes, adults are absolutely allowed to play on a date, thanks to Western Sydney's late-night Entertainment Park. Getting to know someone might become a whole lot easier by letting your guard down, having some fun, and even getting competitive. Entertainment Park is home to Sydney's largest indoor electric go-kart track, a giant bowling alley, a mind-blowing virtual reality arena, and a pretty full-on racing car simulator facility. You can even get a trim at the in-house barber—if that's your cup of tea for a date night activity (each to their own). We reckon it's on the E-karting track where the most fun is to be had, especially since the electric cars can reach 85km/h. Be careful; the outcome of the race could make or break the date.
Choose this date: to embrace your inner child.
The Glenmore
The Rocks
Some date spots provide intimacy, some provide entertainment, some offer exquisite culinary experiences, and some, like The Glenmore Hotel and its iconic rooftop, deliver one of the best views in Sydney. Looking over the pretty sights of Sydney Harbour, the Glenmore rooftop needs to be on your trying-to-impress-someone date shortlist. With cocktails and craft beers flowing, a cool harbourside breeze, live music on weekends, and the Opera House and steel arches of the bridge in sight—it's a guaranteed good time. If you're looking for a daytime Sunday date, definitely book yourself in for the rooftop's bottomless long lunch on the first Sunday of every month.
Choose this date: for one of the best views in town.
Lazy Bones Lounge
Marrickville
Lazy Bones Lounge knows what it's about: catering to the Marrickville faithful, retro furniture, barrel-aged cocktails, pizzas, and most of all, live music. With shows every night of the week playing across two levels, Lazy Bones is a one-stop-shop of entertainment with a few cocktails on the side. From the weekly Lazy Bones Jazz Jam on Monday nights, to reggae funk, moody blues, and folk music—expect something different and exciting any night you show up for a date. Check out the full list of upcoming gigs here.
Choose this date: if you're looking to jazz things up.
Ezra
Potts Point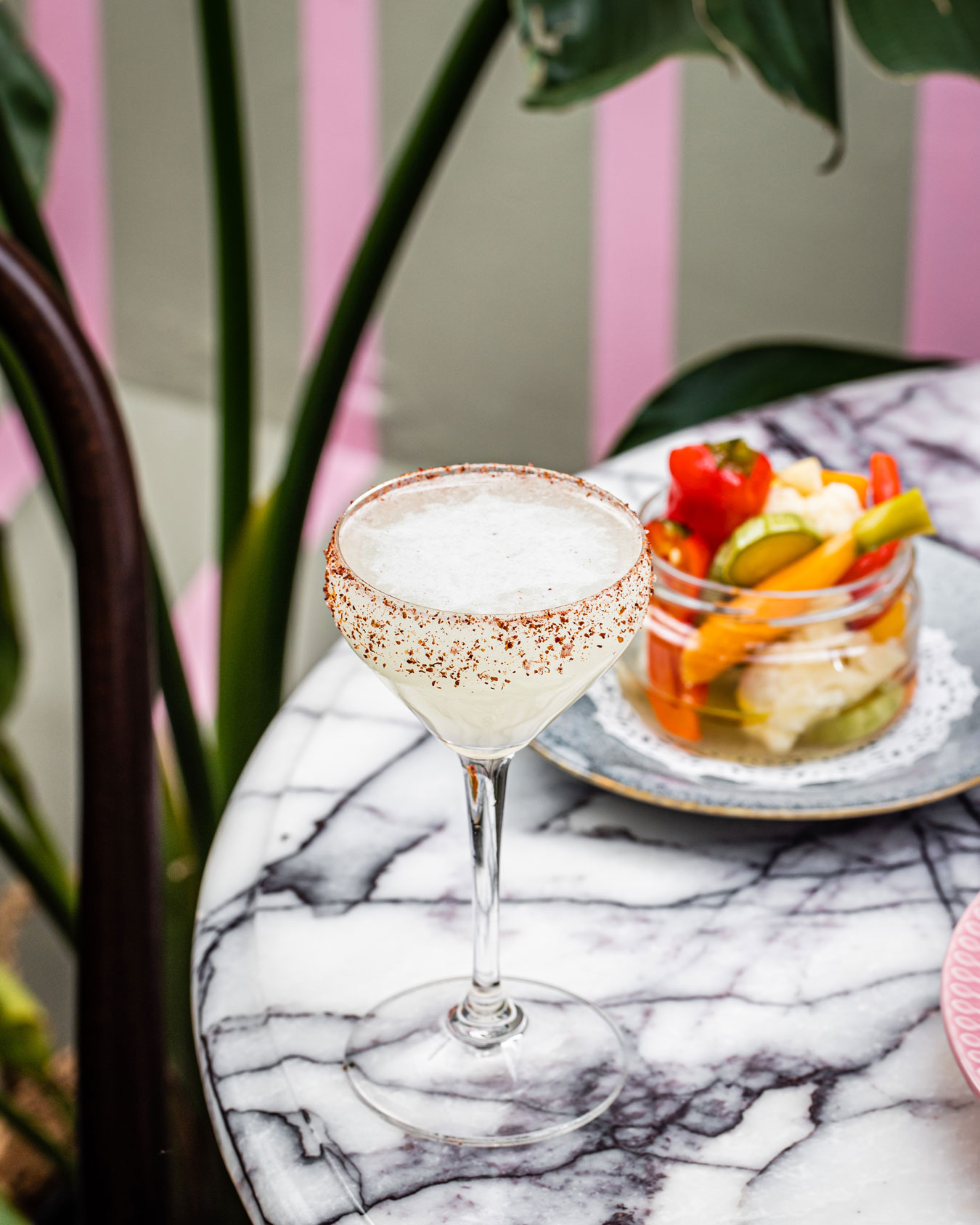 Operating out of a converted townhouse on Potts Point's Kellett Street, Ezra brings the vibrant food and nightlife of Tel Aviv into the heart of Sydney. With 90s R&B bangers playing and a pink neon glow across the leafy front courtyard, Ezra's fun, fresh and unfussy menu blends Ashkenazi, Mediterranean, and Mid East flavours. Try the hummus served with radishes and an oozing smoked egg, the potato latke with silverbeet, sour cream, and salmon roe, or the spanner crab falafel with sweet corn and tahini, before finishing with a baklava ice cream sandwich (yes, please). Oh, and make sure you also order up some Jerusalem bagels on the side. With cocktails, spirits, beers, wines, and anything else your heart desires, there's simply no way this date is anything but absurdly enjoyable.
Choose this date: for a fuss-free, fun, and vibing foodie night out.
Vini Divini
CBD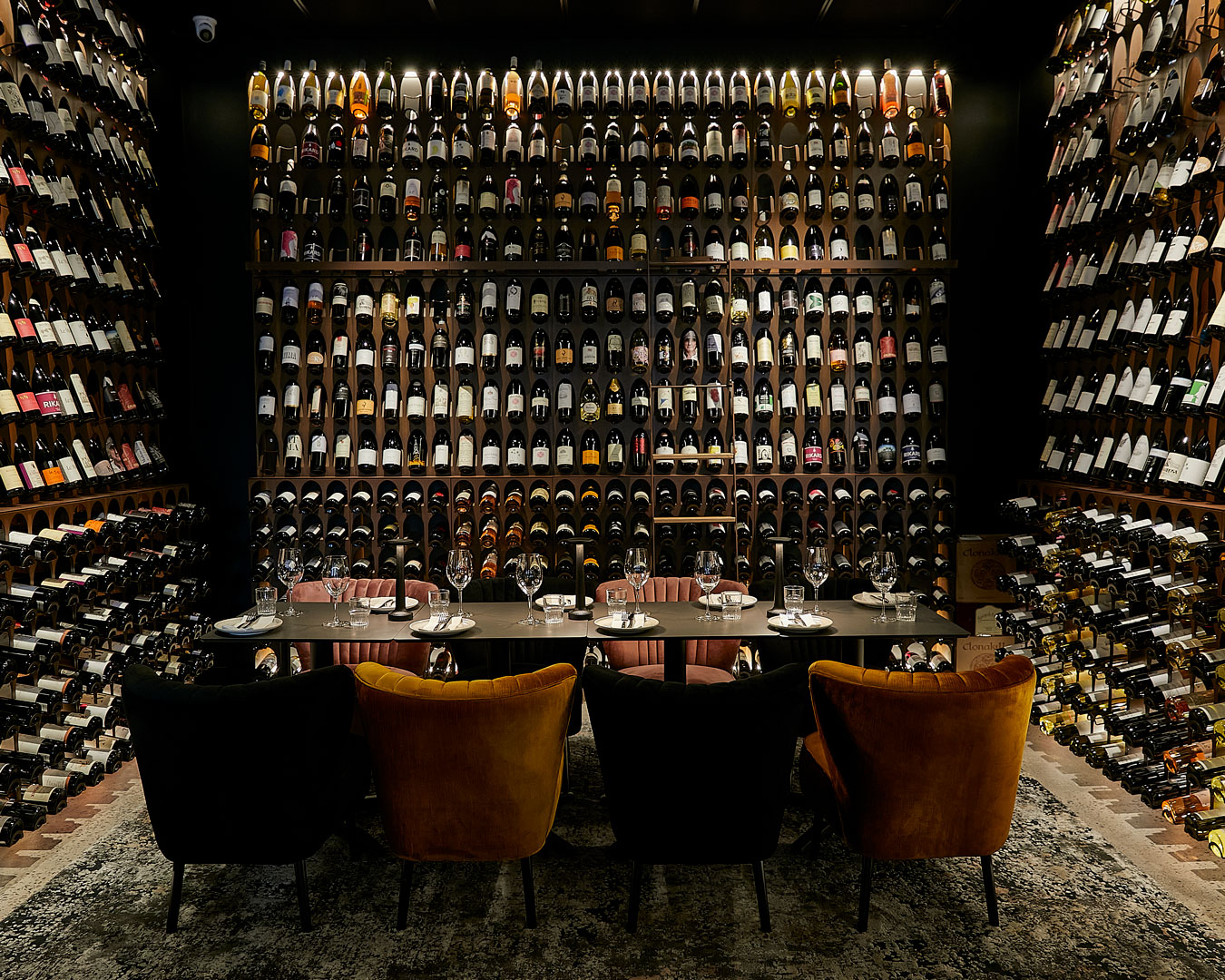 You might not be able to jet off to the Mediterranean together any time soon—but Vini Divini is the next best thing, at least when it comes to wine. Inspired by the inimitable essence of la dolce vita the bar's walls are splashed with the faces of Italy's romantic icons—like Sophia Loren and Marcello Mastroianni. Let sommelier Raphael Mulligan whisk you through France, Italy, and Spain, and then over to the lesser-known vineyards of Greece, Armenia, Georgia, and Turkey, before tucking into a menu of mezzé-style plates created by chef Seda Güç (a protege of Efendy and Anason's Somer Sivrioglu). The vibrant heirloom tomato salad with parmesan, basil, and lumps of buffalo mozzarella is a welcome break from Sydney's current burrata obsession, and the slow-cooked lamb shoulder with fregola salad is perfectly hearty for hungrier drinkers. There's also a neat selection of cheese and salumi too.
Choose this date if: your significant other is keen on a wine adventure.
Need More Sydney Date Ideas? We Got You:
Image credit: Jiwon Kim, Golden Age Cinema, David Li, Caitlin Hicks, Big Poppa's, Maclay Heriot, Nikki To, Entertainment Park, Nikki To, Vini Divini