Ah, America. The land of red white and blue, powerful eagles, and most importantly, unbelievable barbecue. Brisbane's culinary scene has been flirting with the flavours of all-American eats for a while now and we have to say, we're getting pretty good at it. We've taken on the painstaking task of trying every Texan barbecue, New Orlean's flavour, USA crab roll and sauce-smothered rib platter in town so that we can bring you the definitive list of Brisbane's best American restaurants.
Without further ado, here are all the smokiest, buffalo-sauce-drenched, mac-and-cheese-topped restaurants that will make you feel like you're in the states.
Proof BBQ
Woolloongabba
For beef by the pound and whiskey by the drink, make your way to Proof BBQ & Booze. They'll load up a platter overflowing with saucy wings, tender shredded meat, onion rings, fries, mac 'n' cheese, slaw, and more barbecue favourites. This place even sells their signature drum smokers online so that you can get that smoky flavour at home.
Buffalo Bar
CBD
Fiending for some decent buffalo wings? Buffalo Bar is the place to be. Serving up mouth-watering burgers and some of the best darn wings this side of the Pacific, it's one of Brisbane's most authentic modern American bars to date. If you rock up on Wednesday nights you can even order bottomless wings smothered in their classic sauce for $25pp. Run, don't walk.
Big Roddy's
South Brisbane And Fortitude Valley
If you're on the hunt for Brisbane's finest ribbery, Big Roddy's Rippin' Rib Shack is a strong contender. Tucked away down Fish Lane with a second location in the Valley, this place has nailed the USA rib joint vibe, right down to the paper-lined baskets. Our top picks are the ribwich where you'll get two of their epic rib recipes on one sandwich, and the Jala-Macca-Peno Poppers, because adding mac and cheese to deep-fried jalapenos is always a good idea.
California Native
Coorparoo
California Native is serving up hectic Cali vibes and we're here for it. The family-owned restaurant is decked out with mementos from their homeland and the menu is packed with 50 years of family secrets they picked up during their days in America's west. Balance the Cali-Mex cuisine with one of their infamous margaritas or sangrias for a truly authentic Cali experience.
Bourbon Street
South Brisbane
Paying homage to the New Orleans Southern hospitality, Bourbon Street is worth a stop on your Bris-Americana road trip. Here is where you'll find an impressive line-up of Louisiana Creole-style eats that boast a heavy french influence and strong flavours in every bite. We're talking classics like gumbo, jambalaya, New Orlean wings, and cajun chicken po boys served up with cocktails and jazz vibes.
Red Hook
CBD
Tucked away down Gresham Lane is Red Hook, the diner, bar, and take out joint that's your gateway to NYC-style street eats. Think tacos, NYC dogs, spicy buffalo wings and some of the best-tasting burgers you'll ever bite into. Wash it down with their seasonal selection of USA beers on tap and top it off with deep-fried Oreos for dessert.
The Smoke BBQ
New Farm
If everything you want in life is authentic southern barbecue, The Smoke won't disappoint. This place is a Brisbane institution, serving up the smokiest, juiciest, tenderest meat around. All their recipes have been honed over four generations, resulting in slow-cooked brisket, ribs, pulled pork and more, all with perfectly balanced flavours. Still peckish? Order a side of housemade slaw and another of mac 'n' cheese to complete your southern meal.
Louisiana Red Claw
Fortitude Valley
Another Louisiana inspired joint well worth the visit is Louisiana Red Claw. This place is all about fresh seafood, serving up a range of tasty morsels all coated in mouth-watering cajun spices. With signature specials like baked mac 'n' cheese crab, soft shell crab tacos, and southern fried gator bites, you'll be hard-pressed to find room for their authentic New Orleans beignets for dessert.
South Austin
Upper Mount Gravatt
Bringing together their love of Mexican flavours and Texas barbecue is South Austin. This place isn't about insta pics or complex, 50 ingredient recipes. They serve up simple, messy, mouth-watering plates that may not look pretty but taste pretty darn good. Order any of their next-level birria tacos and you won't be disappointed.
Mac From Way Back
Woolloongabba
Mac From Way Back has invented the concept of build-your-own mac and cheese and we can't believe this never existed before. Here's how it works. Order their mac and cheese skillet for your base, then select as many add ons as your arteries can handle. Our favourite toppings include crumbed mushroom, Nashville hot fried chicken tenders, bolognese sauce, and hashbrowns just to name a few. Oh and if it's deep-dish Chicago pizza you're after, this is about the only place in Brisbane you'll find it.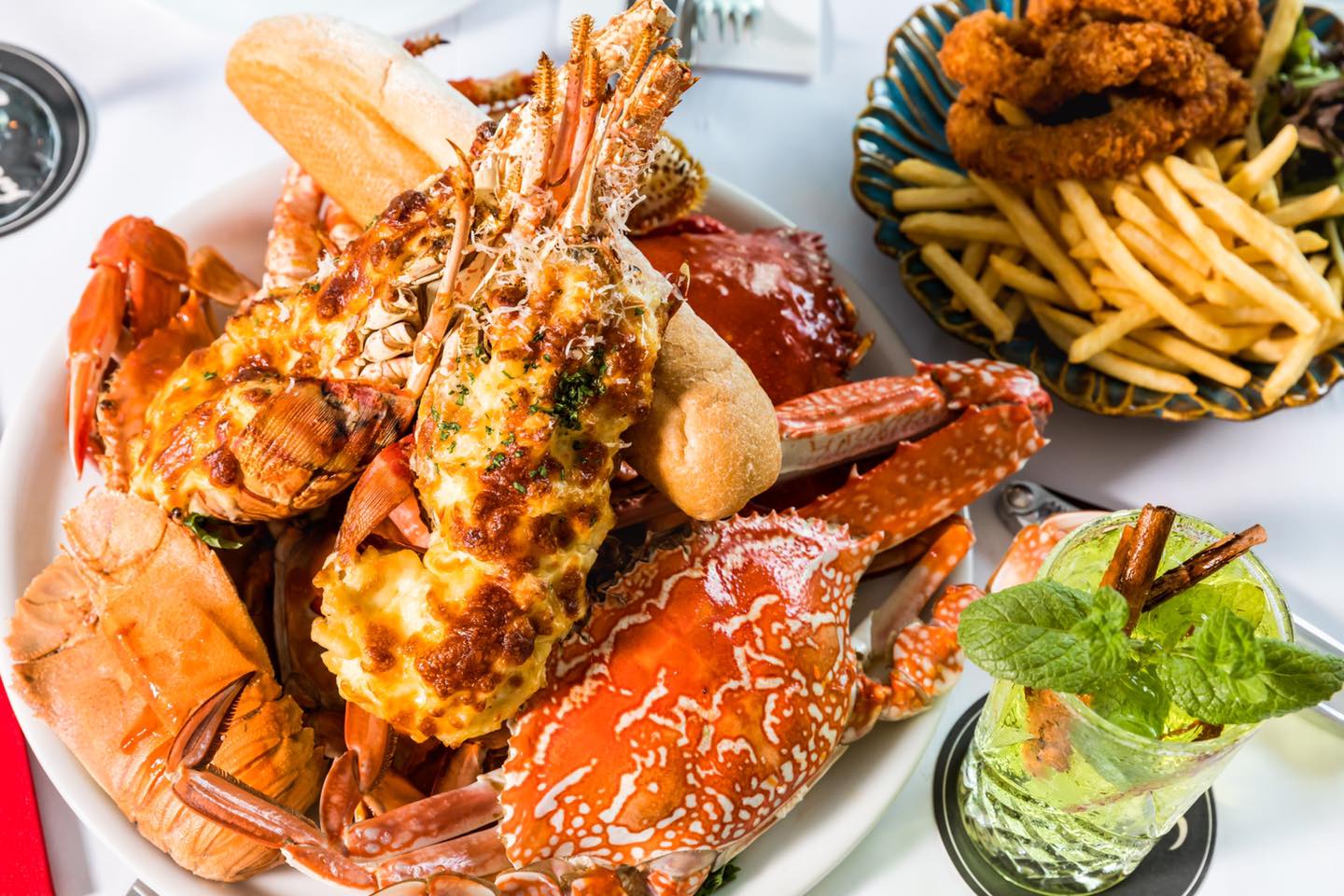 St James Crabhouse
HAMILTON
If your overwhelming love for American-style crab is still not satisfied, make your way to St James Crabhouse in Hamilton. They pride themselves on serving up all the crab lover's favourites, from soft shell crab to Alaskan mini crab cakes plus all the fresh cooked varieties you can think of. Complete the meal with a warm American brownie served with fresh vanilla bean ice cream.
Frankie's Smokehouse
Woolloongabba
The newest American barbecue joint to hit the Brisbane scene is Frankie's Smokehouse, and they're already approaching legend-status. Stop in for their 12-hour brisket, beef short ribs, pork ribs, or pulled pork plate, all cooked in their custom smoker over aged ironbark.
Smokey Moo
Newstead
Tucked away in the foodie hotspot that is Newstead's Gasworks, Smokey Moo has been serving up all-American eats for the last two years. Family-owned, this place prepares their meats with passion, whether they're smoking brisket or curing their own pastrami. If you're a cocktail lover you have to check out their custom list. We recommend the Smokey Pinkerton for tequila lovers and the Save a Horse, Chase a Cowboy to satisfy your sweet tooth.
King Crab Co
Bulimba
It comes as no surprise that King Crab Co specialises in American-style crab, and boy do they do it well. This is the place to go if you're hankering for anything from Alaskan snow crab to our very own Queensland mud crabs. Order their tasting platter for a little bit of everything or opt for their iconic lobster and crab roll topped with their house-made potato crisps and served up with a side of truffle fries.
5 Boroughs
Various
Last but certainly not least we have the restaurant and bar bringing New York flavours to every corner of Brisbane. 5 Boroughs has been in the game for more than half a decade, serving up NY style sandwiches, wings, tacos, waffle fries, steaks, ribs, and burgers. If you ever have a craving for a USA favourite, you'll find it here alongside a killer cocktail menu.
If it's just a stacked burger you want, you'll find Brisbane's best here.
Image credit: Proof BBQ at Easytimes Brewing Co, Red Hook, St James Crabhouse