Easter is upon us and a long weekend of resting and feasting awaits. Take this holiday as a chance to go out to get your wine and dine on because that's what we'll be doing. Let's just give a round of applause for the places that are sacrificing their own downtime so they can give the rest of us the best possible Easter after last year's non event.
So without further ado, here's a list of some of the places you can eat and drink in Auckland this Easter weekend.
Cafes
Takapuna Beach Café & Store, Takapuna
What better way to start the long weekend than spending it on the beachside while munching on some top quality food? Takapuna Beach Café & Store has one of the best spots on the North Shore and they take the classic Kiwi fish and chips culture to a premium quality level. Doors open from 6am to 8pm from Friday to Sunday and 6am to 6pm on Monday.
Dear Jervois, Herne Bay
Matcha waffles are still possible this Easter weekend as our friends at Dear Jervois are absolute champs and will be open this Easter. They'll be open and ready to serve their delish dishes from 8am till 3pm.
Restaurants
Amano, Britomart
One of the top eateries in town will be keeping to their usual hours this Easter weekend. They'll be serving up their breakfast menu from 8am till 11am and their lunch and dinner menu will go till the late hours of the night. When we say late, we mean it. Amano's kitchen doesn't close till around 10:30pm. However, they are closing early at 4pm on Easter Monday.
Odettes Eatery, CBD
City favourite Odettes Eatery has tweaked their hours a little bit this Easter but don't worry, you can still get your hands on that whipped feta. Instead of 7am, they'll be getting some extra rest and opening their doors from 8am till 3pm for brunch.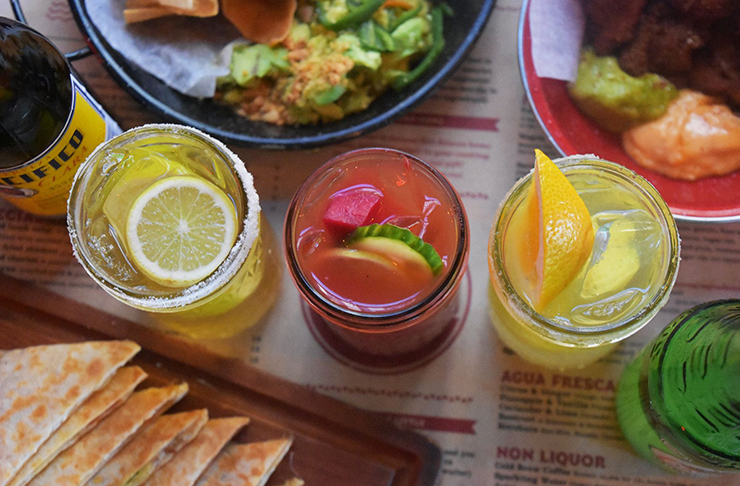 Mexico, Britomart, Ponsonby, Takapuna
Celebrate Easter with a Mexican fiesta at Mexico. If you haven't tried their new menu, you need to get in there now as it's awesome. They'll be opening from noon till late all throughout Easter which means we can get still get a taste of those churros with caramel praline dipping sauce.
Deco Eatery, Titirangi
Titirangi all-star, Deco Eatery is not only complete brekkie kings but they also happen to serve up a delectable dinner menu for lucky diners too. The best part is, you can get your fix throughout the long weekend, as they are open all four days as normal.
La Fourchette, St. Heliers
If you're looking for a place that takes their desserts just as seriously as their mains, La Fourchette is the place for you. Please do us a favour and get their hummus to start and save room for dessert as their pastries are delish. These guys will be open from 8am – 11pm all Easter apart from Monday as they'll close at 4pm as per usual.
Frasers, Mt. Eden
After renovating a couple of years back, Frasers has become a place of classy dining with a curated menu for breakfast, lunch and dinner. The star of Frasers is their New York-style Cheesecake so be sure to save room for that. They'll be open from 7am to 11pm on Friday and Saturday and 7am to 5pm on Sunday and Monday.
The Federal Delicatessen, CBD
From 7am till late, The Fed will be keeping their hours, as usual, all Easter holiday which is very good news for us. Easter would not be the same without a late night (or day) bite at this American diner. Whether it's their infamous poutine or indulgent banoffee pie, The Fed is a favourite amongst all Aucklanders.
Wu & You, Mt. Eden
A Mt. Eden gem, use Easter as your chance to check it out. Wu & You , which serves up delicious Asian fusion dishes and get really creative with their menu. Check out their sushi fries, golden potato fries with ramen seasoning. They will be open from 11:00am till late throughout the weekend and will be closed on Monday.
Bars & Pubs
The Lula Inn
The Lula Inn is treating us Aucklanders with their amazing cocktails this Easter. Hit the inn for their wide range of G & Ts. They'll be open from 10:30am till late on Monday and Friday and 9am till late on the weekend. Opening hours - Good Friday: 12pm - 11pm, Saturday: 10am - 11pm, Easter Sunday: 11am - 10pm, Easter Monday: 12pm -10pm.
Bedford Soda & Liquor, Ponsonby
Probably the best cocktails in town with insane creations, Bedford Soda & Liquor will be continuing to work their magic throughout Easter. They'll be operating from 12pm – 10pm this Easter, woohoo.
Malt Public House, Grey Lynn
Open from 11 am all weekend, Grey Lynn's very own Malt Public House will be serving up your favourite bevvies alongside cracking grub and good vibes. All main meals on Good Friday and Easter Sunday are $15. Psst, liquor laws will be enforced for this festive period.
As you're kicking around town, check out all the events happening around Auckland this Easter.
Image credit: Jaiden Bhaga, Dear Jervois, Kellie Blizard, Bedford Soda and Liqour