Hot chips, frites, fries, fried potato sticks; whatever you call them they always deliver. Whether they're served simple style with some tomato sauce or loaded up with lashings of something special, hot chips are one of life's most wonderful pleasures.
You can get a bowl of chips almost anywhere, though, so it's hard to know where does 'em best. The spots that nail the perfect crunch, the tastiest seasoning or the most epic condiment to dunk 'em in.
To help us find Perth's god-tier chippies, we threw it out to you and asked for your best recommendations. We tried to keep it to your top 10, but it was near impossible to cut these down.
So without further adieu, here's where to find Perth's best hot chips, according to you.
Corner Dairy
Doubleview
"Their chips are like crack" was the feedback that best summed up your sentiment towards the hot chips at Corner Dairy. The coastal-style cafe slash bar serves them up golden, crispy and perfectly seasoned with a good dusting of chicken salt and a side of aioli to smother all over them.
North Street Store
Cottesloe
Cinny scrolls, pies, vanilla slices, bread, gnocchi…is there a 'best of' list North Street Store can't make its way onto? We're yet to see it. So we're not too surprised to see you fancy a serve of their thick cut hot chippies with housemade aioli after a day at the beach.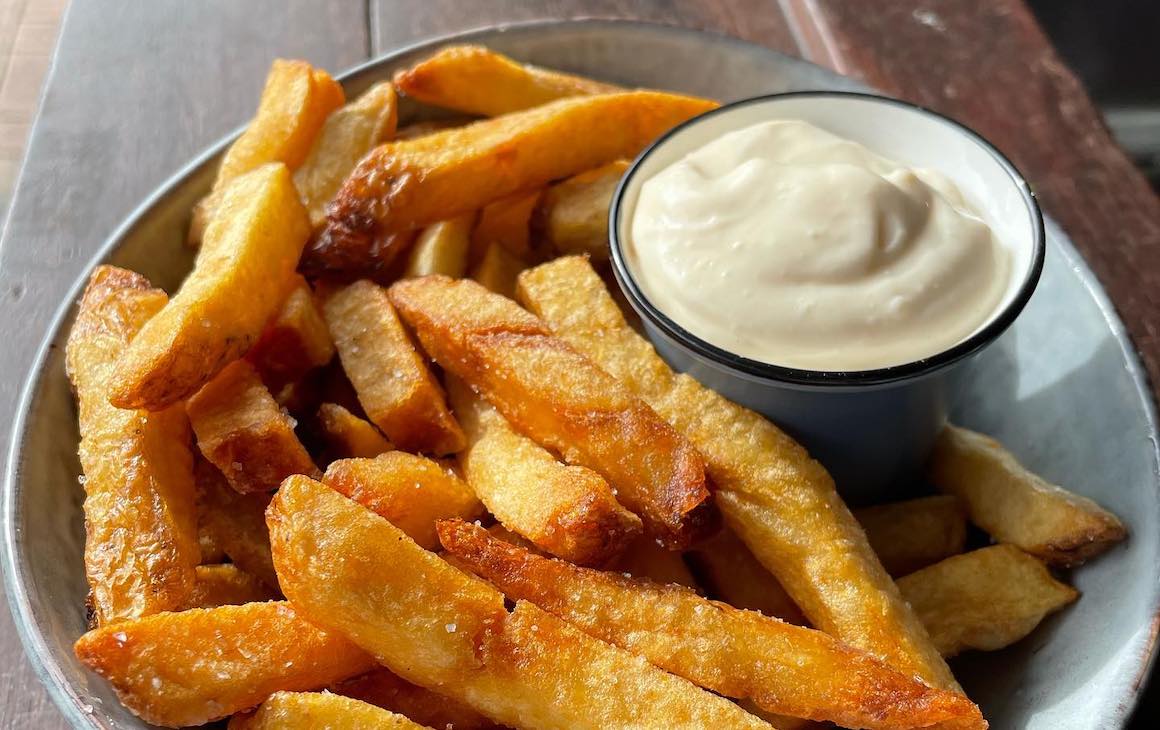 Local Bird
Tuart Hill
Don't let the drool-worthy burgers and epic slabs of fried chicken distract you, the hot chips at Local Bird in Tuart Hill are stars in their own right. You told us it really all comes down to their special umami seasoning.
Nieuw Ruin
Fremantle
Picture this: you're sitting out on a shady verandah in the heart of Freo as the doctor breezes through on a sunny afternoon, a natty wine in hand and a bowl of hot chippies on your table. Pretty good as is, but Nieuw Ruin isn't just doing your normal chips, these are dusted with an insanely moreish curried seasoning that sends this whole experience to another level. Bless you, Chef Blaze Young.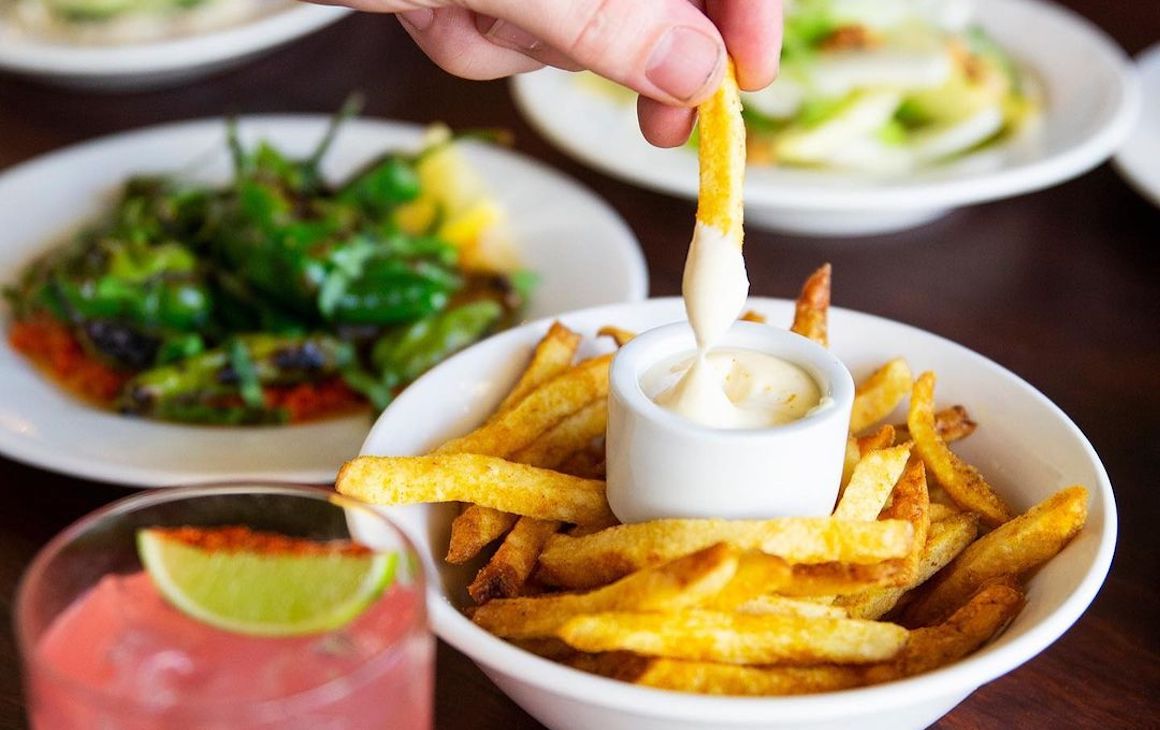 Juanita's
Subiaco
Where are all our salt and vinegar fans? We have you to thank for voting Juanita's into Perth's top hot chips. The charming Subiaco bar is known for dishing up hot chips topped with a damn good salt and vinegar seasoning that makes it impossible to stop at one serve.
Flipside
North Fremantle and Wembley
One of you said Flipside's hot chips "are honestly the best chips on earth" and it's not hard to see why. Fat and fluffy thick cut beauties with a good crunch and the right amount of salt, these classic Aussie chips deliver the perfect bite every time. Especially when you go hard on a few of their side sauces.
Meet & Bun
Mount Lawley and Perth
What is a good burg without a hefty pile of top notch fries alongside it? Meet & Bun has clearly nailed the heavenly combo with their American-style shoestring fries finished with smokey house seasoning and preferably a side of cheese sauce.
Samson's Paddock
Mosman Park
Samson's Paddock has got their hot chips down to a fried art. Beer battered and sprinkled with parmesan and truffle oil, they're so moreish you'll probably need to come back for seconds.
The Royal
Perth CBD
There's nothing quite like the high of dipping into a bowl of The Royal's famous firedust fries while perched up on their beautiful heritage balcony in the CBD. These tasty little morsels are seasoned with a firedust seasoning and served with a garlic yoghurt dip topped with chilli oil.
Brooklyn Lounge
Claremont
Brooklyn Lounge's loaded fries are yum, but if you're just after the tradish chip, these are crispy, served with paprika salt and aioli and definitely up there with the best in town.
Percy Flint
South Fremantle
You can't really beat the vibes at Percy Flint in South Fremantle. The courtyard at this lush little neighbourhood bar is always a buzz. Amongst the hustle and bustle, of course, you'll find a bowl or two of fries dotted on every table—most likely empty because they really don't last long.
Little Creatures
Fremantle
There are few experiences that are more iconicly Perth than a pint and fried potato goodness at Little Creatures. The waterside brewery in Fremantle has been whipping up those hot little frites with aioli for yonks, and you clearly still hold them dear to your heart.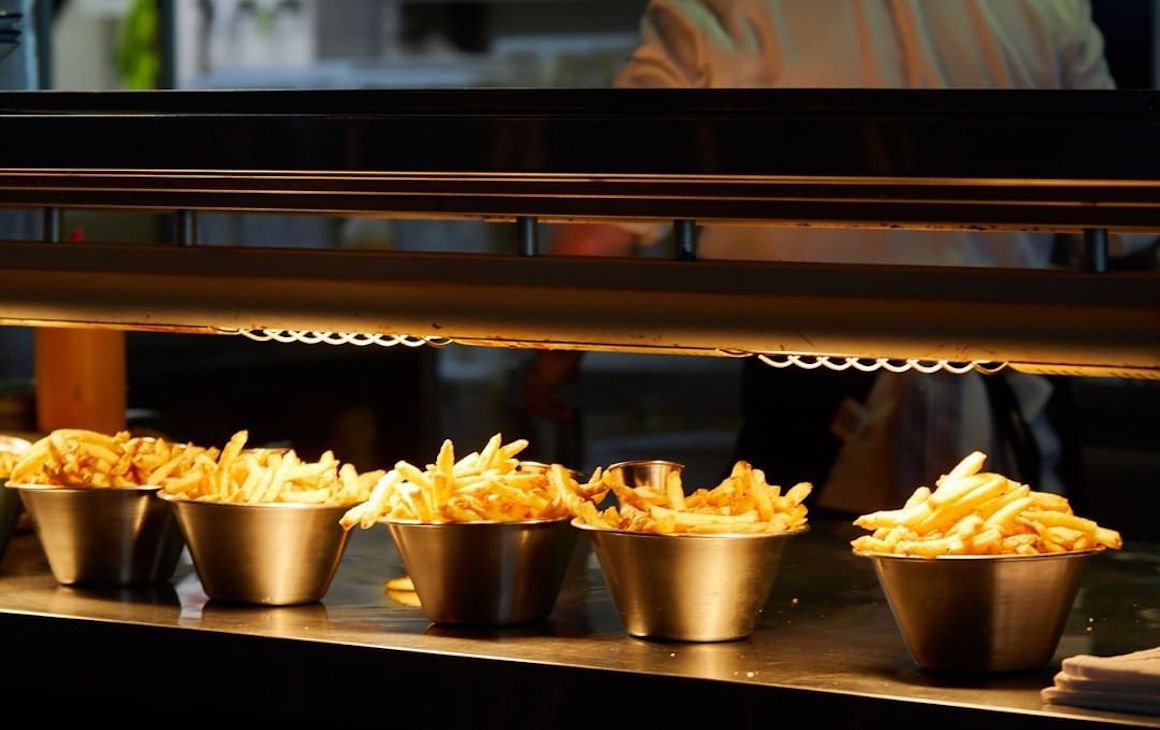 Drasko's
Mount Hawthorn
How anyone actually has room for chips alongside the ginormous hot fried chicken sangas that come off the pass at Drasko's is beyond me. Rest assured if you do have eyes bigger than your stomach, you won't regret finding room for these hot chips which come dusted with a special umami seasoning.
General Public
Inglewood and Scarborough
Perfectly cooked, crispy (read: not soggy) with a straight up epic coating that has you reaching for the next mouthful before you've even sunk the one you're working on, General Public knows how to do a good hot chip.
The Moon
Northbridge
Looks like we're not the only ones to have stumbled into The Moon at the tail end of a boozy night out and "accidentally" fallen headfirst into a big bowl of fries. Open 'til 1am on weekends, this retro-style bar and eatery has been slinging fried potato deliciousness for 30-odd years. The hardest part is choosing whether to load your fries with extra goodies or not.
Gage Roads
Fremantle
When Gage Roads finally found its home in Fremantle with the opening of their massive port-side brewery, restaurant and bar we knew it would be an instant classic. Turns out the hot chips dusted with a yummo herb salt and chipotle mayo have been just as much of a crowd fave as those waterfront pints.
Brika
Northbridge
Hot chips come in many different disguises and at Brika (and their takeaway window Filos & Yiros) they're called patates. Crispy, golden hand cut chippies sprinkled with sea salt and oregano, did you know every yiros comes with patates inside?
Besk
West Leederville
A good crunch, heavenly aioli and a very slick setting to enjoy them in, Besk's hot chips are another winner. Grab a bowl alongside a serve of bang bang fried chicken and a craft beer and tell me you're not impressed.
Other Mentions
We wanted to dedicate this list to the awesome local venues serving Perth's best hot chips, but let's not deny that sometimes takeout chips are just what you crave. If you are looking for a quick, cheap, no-fuss option, there were a few clear faves we felt obligated to mention.
A lot of you came to the table with big love for Jester's special air-fried delights, which are known for delivering consistent crunch—don't mock them 'til you try them, people. Grill'd came in highly recommended as well, thanks to its herby seasoning and equally satisfying dip selection. And lastly, of all the global fast food options, KFC's hot chips seemed to be your go-to—we'll leave you to fight over that one though.
Image credit: Nieuwruin, North Street Store, Little Creatures