To people who say they could give up bread, we say toasties. We say pulled pork toasties, mac 'n' cheese toasties and even plain old (but equally as delicious) cheese toasties.
And while we can all grill cheese between bread at home, why would you when Perth has this divine roster of creative, delicious, loaded and morish toasties.
We have deep-fried, mac 'n' cheese stuffed and even vegan toasties—making the toastie scene in Perth right now, quite frankly, next level. Here's where to nab a top-notch toastie for your next lunch. Or breakfast, we won't judge.
Here are Perth's best toasties.
Toastface Grillah
Northbridge, Scarborough and Margaret River
If you want a loaded, greasy toastie, look no further than Toastface Grillah's Return of the Mac—that's right, macaroni with melted cheese and truffle oil in crispy garlic bread. If you're more of a sweet tooth, try The King—peanut butter, banana and creamy double cream brie (sounds crazy, but we swear it will change your life). If you're not into the fancy stuff you can get a good old 3-cheese toastie or ham 'n' cheese on sourdough.
Melts
Fremantle
Located next to Short Order in Fremantle, this gourmet toastie bar knows how to bring on the drools. They offer savoury melts on sourdough bread and sweet treats on brioche dough. Think Nonna Peppa's meatball toastie with napolitana sauce and a 3-cheese blend, followed by the S'mores toastie (yes, you read that correctly—Nutella, bickie crumbs and marshmallowy goodness).
Peggy's
Fremantle
If the cool vibes and epic sandwich lineup at this Freo sandwich bar haven't already turned your head, let us draw your attention to their cracking four-cheese sanga. It's overflowing with cheese (as all good toasties should be) and gives off major umami flavours thanks to the special dusting of dehydrated kimchi.
Foxtrot Unicorn
Perth
When you see a jaffle with jaffle crack seasoning, you order it; and that's exactly what you'll find at Foxtrot Unicorn. These jaffles also come with garlic butter and crusted parmesan, and they pair perfectly with the many delicious cocktails on offer. Don't forget they have a vegan version of this toastie too—complete with miso and garlic kimchi.
Miller And Baker
Perth
I mean it makes sense, good bread is the cornerstone of a good toastie so of course the gooey sangas pumped out of this popular innercity bakery are up there with the best. We're deadset obsessed with the kimchi number but rest assured the classic ham and cheese will receive no complaints.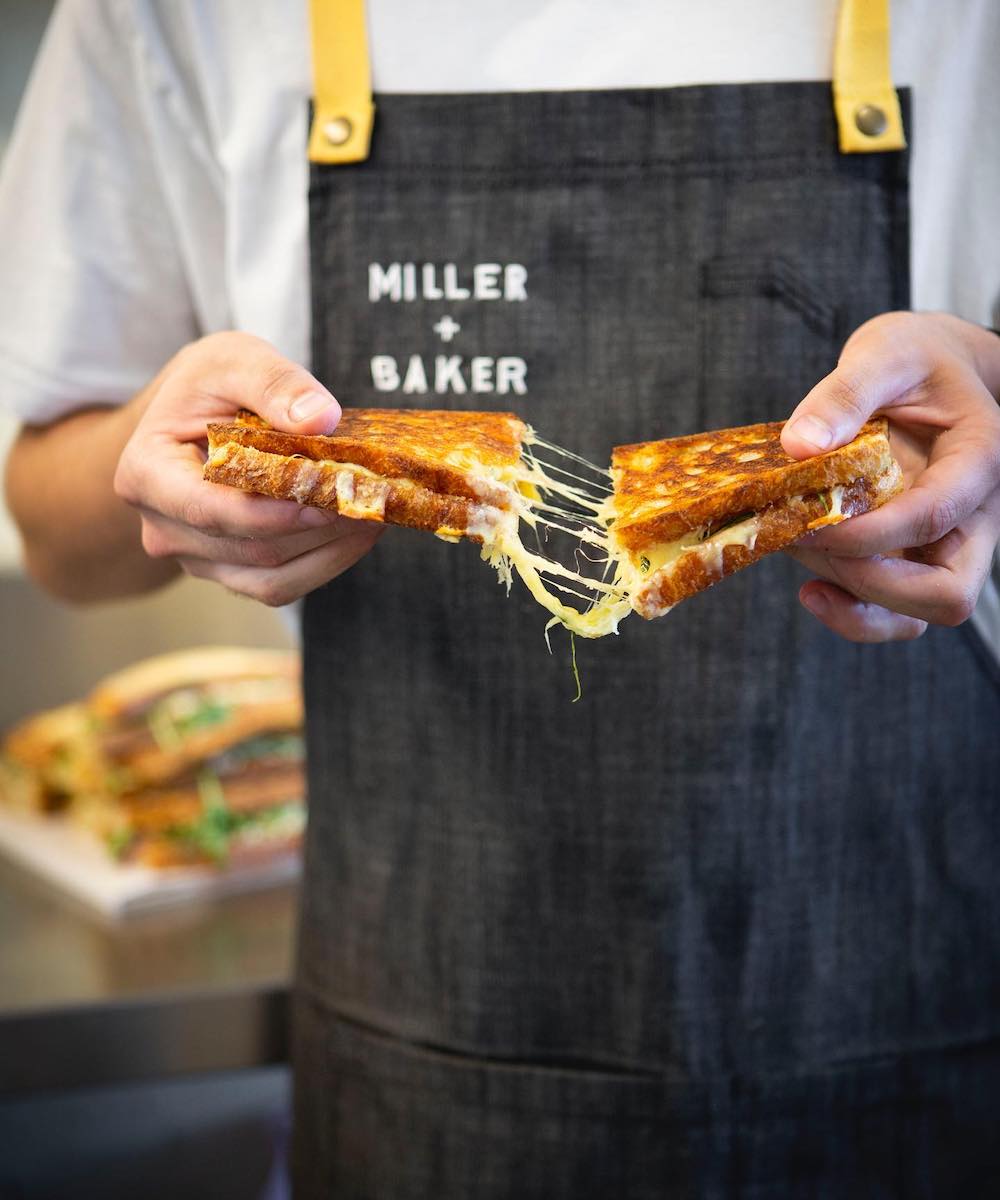 Eillo
Northbridge
This place offers a beautiful spot to grab a coffee and chill, as well as some baller toasties. Think Daddy Mac: cream mac and cheese in a toastie, as well as pumpkin and feta toasties plus chicken and sriracha too. Don't forget they offer other toasties on a rotational menu—they've had chicken parmi toasties and a cheesy lasagne toastie before.
Toast My Curry
Victoria Park
Did you know Perth is home to the world's first (and only) curry toasties? You can go for the traditional curry toastie, or up the ante with a naastie—a naan bread toastie. It's just as good as it sounds. Plus, for every toastie you buy, Toast My Curry donates a meal through their curry4curry program to help motivate kids in Mumbai to continue their education.
City Farm Cafe
East Perth
It would be remiss of us not to include City Farm Cafe's delectable croque monsieur. This baby is stuffed with loads of ham and cheese and topped with an egg. Not to mention, the crushed avocado with lemon on organic toast is one of the best avo/toast combos we've had. What more could you want?
Flo Espresso
Northbridge
Using Mary Street Bakery bread, Flo has been ahead of the toastie curve for years now. Inspired by Korean street food, they've got an amazing cheese and kimchi toastie for us to devour. Full of the goodies like cheese and pulled pork, the toasties maaaaybe aren't that healthy but it doesn't matter, because they are THAT good.
Handy Coffee Co
Swanbourne
Along with deliciously pink coated croissants and butterfly pea lattes, Handy Coffee Co does toasties. And they're pretty remarkable. The Monster Club is BBQ chicken, bacon, egg, greens, BBQ sauce and kewpie mayonnaise served between two slices of perfectly toasted Texas sliced bread and it's incredible. Pair yours with a cold-pressed juice for a perfectly balanced meal.
Old Boy Cafe
Applecross
There's something about a good jaffle that you just can't beat. Old Boy Cafe is dishing up lasagne toasties, vegemite toasties, brekky toasties and more, and they are all dang delicious.
Lady Latte
Scarborough
Lady Latte is whipping up gourmet jaffles on white or rye bread and if you dine in they'll be pimped up with extra toppings. Go The Matador with chorizo, roasted peppers, chipotle aioli, onion jam and cheese, or the El Diablo filled with cola baked ham, avocado, tomato, red onion, salsa, jalapenos and cheese. Vegans will not want to miss the vegan mac n' cheese.
Pooles Temple
Perth CBD
Any toastie that'll set you back $24 better be bloody brilliant. And thankfully Pooles Temple's boujee beauty is all that and more. So we say head downstairs, settle into one of the velvet-clad lounges and go ahead and treat yourself to a martini and the croque monsieur with truffled bechamel and potatoes crisps. You can worry about the bank balance later.
The Jaffle Shack
West Perth, Subiaco And Geraldton
You no longer have to head to Geraldton to taste The Jaffle Shack's delicious, cheesy creations, thanks to their Perth cafes. Their Eggs Benedict Jaffle is perfection for breakfast, and for lunch, we're all about the Nutty Chicken loaded with chicken, chorizo, almonds, spinach, aioli and plenty of stretchy mozzarella.
Grilled To The Mac
No Fixed Address
With a name like Grilled To The Mac you should already know that this food truck has mastered the mac 'n' cheese toasties. But these clever kids also do delish Reubens and cubanos that will make you feel like you're in North America, the land of comfort food.
Want more carby goodness? Here's where to find Perth's best bakeries.
Image credit: Elle Borgward, Miller & Baker