To people who say they could give up bread, we say toasties. We say pulled pork toasties, mac 'n' cheese toasties and even plain old (but equally as delicious) cheese toasties.
And while we can all grill cheese between bread at home, why would you when Perth has this divine roster of creative, delicious, loaded and morish toasties.
We have deep-fried, mac 'n' cheese stuffed and even vegan toasties—making the toastie scene in Perth right now, quite frankly, next level. Here's where to nab a top-notch toastie for your next lunch. Or breakfast, we won't judge.
Here are Perth's best toasties.
Toastface Grillah
Scarborough
If you want a breakfast toastie, look no further than Toastface Grillah's Benny from the Block—eggs benny with bacon and wilted spinach—or if you're more of a sweet tooth, try the peanut butter, wild berry coulis and creamy double cream brie which is fried in pancake batter and sprinkled with cinnamon sugar. If you're not into the fancy stuff you can get a good old ham and cheese toastie or, for the true blue Aussies, a vegemite and cheese one.
The Wine Merchant
Perth
Toasties might not be the first thing that comes to mind at The Wine Merchant, but one bite of the Hall's Suzette and Coomer truffle toastie and you won't be thinking of much else. Made using brioche loaves, they layer on cheddar, parmesan, Swizz and Halls Suzette cheese, along with a truffle béchamel and grated truffle. You can also add a fried egg if you feel so inclined.
Sammy's
Mount Hawthorn
Speaking of truffle toasties, Sammy's is also whipping up a damn good one for the month of July. Made with fresh shaved truffle and Gruyere, this toastie is winter perfection. If truffles aren't your thing, their simple cheese toastie is a decadent combination of provolone, aged cheddar and tasty while the spicy sammy—nduja, tomato and basil, toasted—will get your tastebuds tingling.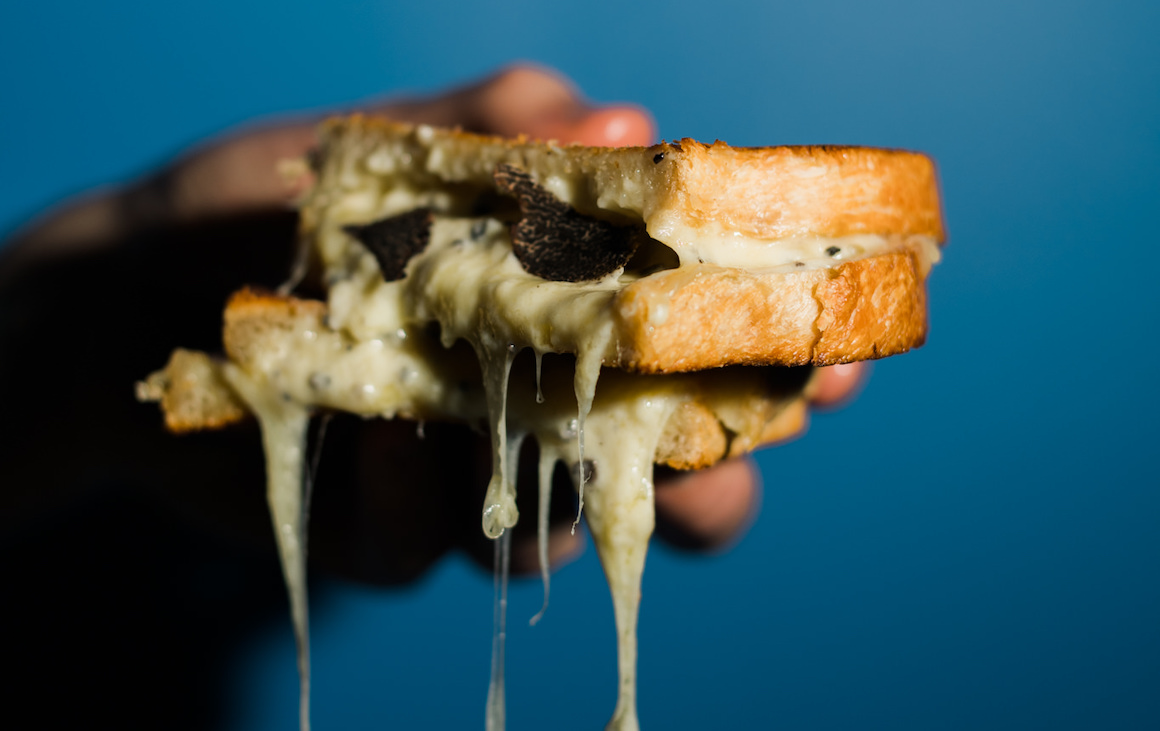 Eillo
Northbridge
Lasagne. Inside a toastie. Yeah they did. The Cheesy Lasagne toastie never lasts long so get in early. If that doesn't tickle your fancy then you couldn't possibly say no to the crispy bacon and egg toasties. These guys shake things up with new flavours all the time, stay tuned on their social feeds.
Foxtrot Unicorn
Perth
When you see a jaffle with jaffle crack seasoning, you order it; and that's exactly what you'll find at Foxtrot Unicorn. These jaffles also come with garlic butter and crusted parmesan, and they pair perfectly with the many delicious cocktails on offer.
City Farm Cafe
East Perth
It would be remiss of us not to include City Farm Cafe's delectable croque monsieur. This baby is stuffed with loads of ham and cheese and topped with an egg. What more could you want?
Flo Espresso
Northbridge
Using Mary Street Bakery bread, Flo has been ahead of the toastie curve for years now. They are also full of delicious cheese and all the other best things like pulled pork so maybe they aren't that healthy. But it doesn't matter because they are THAT good.
Handy Coffee Co
Swanbourne
Along with deliciously pink coated croissants and butterfly pea lattes, Handy Coffee Co does toasties. And they're pretty remarkable. The Monster Club is BBQ chicken, bacon, egg, greens, BBQ sauce and kewpie mayonnaise served between two slices of perfectly toasted Texas sliced bread and it's incredible. Pair yours with a cold-pressed juice for a perfectly balanced meal.
Toast My Curry
Yagan Square
Did you know Perth is home to the world's first (and only) curry toasties? You can go for the traditional curry toastie, or up the ante with a naastie—a naan bread toastie. It's just as good as it sounds. Plus, for every toastie you buy, Toast My Curry donates a meal through their curry4curry program to help motivate kids in Mumbai to continue their education.
BOOtoo
North Perth
BOOespresso does toasties to perfection and you'd do well to get down there and check out their latest breakfast creation, the Harley Quinn's Egg Sandwich. With eggs, bacon, American cheese and just the right amount of hot sauce, some might call this breakfast heaven.
Old Boy Cafe
Applecross
There's something about a good jaffle that you just can't beat. Old Boy Cafe is dishing up lasagne toasties, vegemite toasties, brekky toasties and more, and they are all dang delicious.
Bread In Common
Fremantle
You all know how good the bread is at Bread In Common, so it's only fitting that these guys whip up some of Perth's best toasties—so good they'll make you feel genuinely sad for people who can't eat bread. Or cheese. Life just isn't fair. More for us I guess?
Lady Latte
Scarborough
Lady Latte is whipping up gourmet jaffles on white or rye bread and if you dine in they'll be pimped up with extra toppings. Go The Matador with chorizo, roasted peppers, chipotle aioli, onion jam and cheese, or the El Diablo filled with cola baked ham, avocado, tomato, red onion, salsa, jalapenos and cheese. Vegans will not want to miss the vegan mac n' cheese.
The Jaffle Shack
West Perth And Subiaco (And Geraldton)
You no longer have to head to Geraldton to taste The Jaffle Shack's delicious, cheesy creations, thanks to their Perth cafes. Their Eggs Benedict Jaffle is perfection for breakfast, and for lunch, we're all about the Nutty Chicken loaded with chicken, chorizo, almonds, spinach, aioli and plenty of stretchy mozzarella.
Grilled To The Mac
Food Truck
With a name like Grilled To The Mac you already know they have mastered the mac 'n' cheese toasties. But these clever kids also do delish ruebens and cubanos that will make you feel like you're in North America, the land of comfort food.
Want more carby goodness? Here's what to order at Perth's best bakeries.
Image credit: Shot by Thom, Jillian McHugh, Nancy Hanna