Whether you're after a tangy sourdough or a dense loaf of rye, Perth's best bakeries have got it going on. And let's not forget about the masses of pastries and baked goods like croissants, eclairs, sausage rolls and quiches. So carby and so tasty.
We've had a bit of a bakery uprising over the past few years and with so many new places opening up shop, we thought it was time to take stock of what's on offer. Here are Perth's best bakeries.
General Public Food Co
Inglewood
The team behind Scarborough's sourdough pizza hotspot General Public Food Co have brought their doughy magic and transferred it into a whole new variety of baked treats at this new opening in Inglewood. From soft and chewy sourdough loaves to the most incredible cinnamon scrolls, as well as a fab take on the famous Vegemite scroll, their new Inglewood digs will satisfy all your carby cravings.
Chu Bakery
Highgate
Healthy morning walks at Hyde Park have now been made unhealthy but a whole lot tastier thanks to Chu Bakery in Highgate. Aside from cooking up some of the best doughnuts in Perth, Chu's organic sourdough bread is incred. While you can opt for the healthier thick cut toast with avo, feta whip and Siracha, you'd be bonkers not to grab a twice-baked croissant, eclair or doughnut on the way out.
Fable
Coolbellup
A fave amongst in-the-know bread-loving Southies, Fable is a fantastic micro-bakery famous for their organic sourdough loaves. Whatt we really love about this gem, though, is that you can actually pre-order and they'll deliver their fresh-baked bread free to your door if you order two or more loaves and live locally.
Wild Bakery
South Fremantle
If you're one of the poor souls whose stomach does not agree with bread (you poor, poor thing), you might want to head to Wild Bakery in South Fremantle to give their sourdoughs a try. Baked using traditional fermenting methods, these babies are easier to digest than regular bread, but just as tasty, unlike the cardboard-esque gluten free junk you're probably used to. There are plenty of different loaves to try, as well as savoury and sweet pastries, as well as sweet treats.
Mary Street Bakery
Highgate, West Leederville, Perth, Claremont and City Beach
Carbs, glorious, buttery carbs. This is what Mary Street Bakery does best. Actually…everything they do is the best, but my job right now is to talk about the carbs so I won't get distracted. Here's the run-down. Bread = amazing. Danishes = amazing. Escargots = amazing. Doughnuts = amazing. Chocolate croissants = amazing. Mary Street Bakery = one of Perth's best bakeries.
Miller And Baker
Perth
If you're after freshly baked bread with freshly milled flour, Miller & Baker on Lake Street in Perth is the place to go. The only bakery in Perth (that we know of) that mills their own flour, you can expect some of the best bread this side of the Nullabor when you enter this bakery.
Small Print
Perth
Everything The Print Hall touches turns to gold, so it's no surprise that Small Print Baker & Coffee Maker serve up some of the best baked goods in Perth. Sourdough, multigrain and rye breads are all baked in house, along with pastries, baguettes, muffins, pies, pasties and sausage rolls. It's everything you would hope for in a bakery and more, because they also serve up some of the best coffee in Perth.
Sorganic
Subiaco
If you haven't ventured to Rokeby Road for a taste of Sorganic's sourdough, then you fail at Saturday adulthood. We reckon these guys nurse their starter to sleep at night it's so special. This is where it's at for true, artisanal dough. Boasting a 72-hour baking process, bread connoisseurs: take note.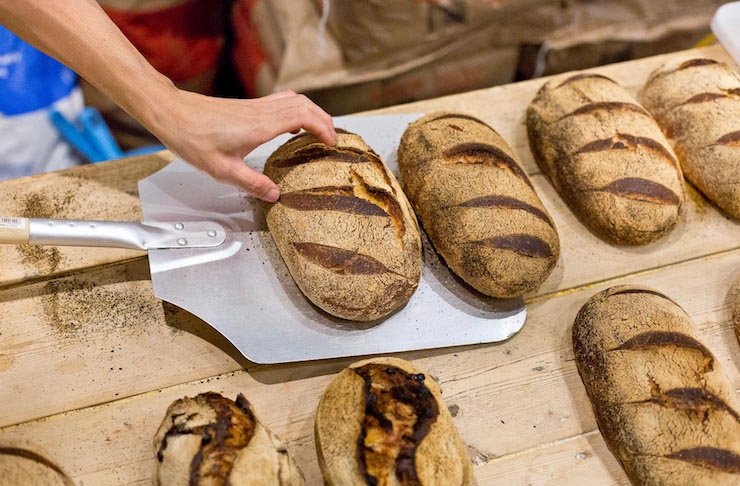 Strange Grains
Shenton Park
Yep, this is the bakery behind the cute old Nanna that appeared on Shark Tank. Blowing the judges (and us) away with the best tasting wheat free, gluten free, egg free, dairy free bread we ever did taste. Never before has carb loading seemed so sensible.
Bread In Common
Fremantle and Nedlands
A visit to Fremantle is no longer complete without a stop over at Bread In Common on Packenham Street to pick up some of their woodfired, organic bread. These lovely loaves are cooked in ovens named Hansel and Gretel, built from volcanic rock and designed to gently disperse heat. The best way to enjoy carbs from Bread In Common is with their house churned butter. They've also got a little bakery, Common Bakery, on Carrington Street in Nedlands.
North Street Store
Cottesloe
This neighbourhood corner store in Cottesloe is driving the locals crazy with their insanely delicious sourdough and their famous cinnamon scrolls. Made fresh each day by owner Lachlan Bisset, you'll want to get in early for a warm loaf of the good stuff.
Lawley's Bakery Cafe
Various Locations
No matter how many new combinations of a doughnut are cooked up, there is nothing better than a simple loaf of freshly baked bread, and that's what is done best at Lawley's Bakeries, easily one of Perth's best bakeries. Baked fresh on premises each day, Lawley's bread can also be found in supermarkets around Perth, so you don't have to go far for a carby fix. Lawley's rye sourdough is best enjoyed lightly toasted with lashings of butter (the good quality kind).
Sugar & Nice
Inglewood
If your next celebration cake isn't made by Sugar & Nice then you might as well give up on life. These decadent, incredibly decorated creations took Instagram by storm and we're convinced no future birthday will be complete without one. If there are no celebrations on the horizon you can always pop into Sugar & Nice for one (or two, or three) of their delish cronuts, cinnamon scrolls or brownies.
Harvest Boulangerie Patisserie
Scarborough
Just in case you're not quite up to speed with your French, a boulangerie is 'a place where baked goods are sold' aka; a bakery—and that's just what the Harvest Boulangerie is—funny that. The smell of freshly baked baguettes is reason enough to visit this one and you won't miss it because there'll likely be a queue out the door—the bread is seriously that good.
The Woodfired Baker
Maylands
After doing the rounds at farmers markets and health food stores in Perth, The Woodfired Baker opened in Maylands and the locals couldn't be happier. The guys here are on a mish to be the most tradish! Handcrafting artisan breads, pastries and organic, additive-free sourdough, you'll want to get your hands on their freshly baked loaves from their 100-year-old woodfired oven immediately.
Want more? Search Bakery in The Directory.
Image Credit: Ricky Gestro, Louise Coghill, Emma Bryant and Nancy Hanna