60 cafes might sound like a lot when we're talking about Perth's best coffee, but if you start to have a good hard think about the Perth cafe scene, it's pretty difficult to narrow it down.
Nonetheless, we've given it a shot. Here are all the Perth cafes that we think are brewing Perth's best coffee.
1. Eillo, Northbridge. Perfect coffee, every single time (and often my main reason for getting out of bed in the morning)
2. Someday Coffee Co, Floreat. The coffee is even better than the interiors—and that's saying something.
3. Lowdown, Perth. Always has been and probably always will be one of the best coffees in Perth. Even if you don't work in the city, make it your business to try this.
4. Il Lido, Cottesloe. Good coffee + good view = good morning. It's basic maths guys.
5. Mary Street Bakery, everywhere. There's a reason these guys are taking over the whole damn city and it's not just because of their doughnuts.
6. Daphne, Northbridge. This light and airy cafe is an all time fave, and you might just get to pat a pooch while you're there.
7. Flo Espresso, Northbridge. Go for the kimchi toasties, stay for the Five Senses coffee.
8. Little Willy, Northbridge. Standing strong since 2010 (yep, we're old), Little Willy is always a solid choice for a coffee in Northbridge.
9. Daisies, Cottesloe. One muffin, not enuffin might be the old saying at Daisies, but we reckon it should be one coffee not enuffee.
10. Gesha Coffee Co, Fremantle. Possibly THE best coffee in Fremantle, these guys have got the whole coffee roasting things down pat.
11. Boo Espresso, North Perth. A cappuccino for you and a puppycino for your dog—total perfection.
12. Cleaver St Coffee, West Perth. Just. The. Best. If you happen to take up a desk in their co-working space you can get this sweet nectar for free all day long.
13. Standby Espresso, Mount Lawley. It's mighty small but it's also brewing mighty fine coffee in Mount Lawley.
14. Humblebees, Mount Hawthorn. These guys do coffee and nothing but coffee, so it's not surprising it's delicious. Just don't try ordering a skinny, soy or decaf here. They do regular coffee with full cream milk and they do it well.
15. Typika, Claremont. An oldie but a goodie, this place still brews some of the best coffee in Perth.
16. Pixel Coffee Co, West Leederville. Go for coffee and just try to say no to breakfast. Spoiler: You won't be able to.
17. Leake St Cafeteria, Fremantle. Get your hands on world famous crumpets and even better coffee in Fremantle at this hidden gem.
18. Little Sisto, Doubleview. The Doubleview locals might hunt us down for sharing this one with you, but we couldn't leave their epic brew of this list if you paid us.
19. Little Banksia, Kensington. Not only do they do a mean breakfast fritter, they also do some of Perth's best coffee. You're welcome.
20. La Veen, Perth. A heritage building with dreamy interiors and epic coffee, what more could you want?
21. Dunn & Walton, Doubleview. Whether you want a regular, soy, almond milk or coconut milk coffee, this health food paradise has got you sorted.
22. Tiisch, Perth. One of the prettiest cafes in Perth is also serving some of the best coffee in Perth. Fitting, don't you think?
23. Canteen, Trigg. The perfect pit stop after a morning at Trigg beach, these guys will give you a caffeine boost like it ain't no thang.
24. Hylin, West Leederville. Hylin can do no wrong, and their coffee is no exception. If you're hungry, get a cronut or a bagel or a green bowl or a breakfast burger… heck, just get everything.
25. Doric St Kitchen. A brekky and lunch menu with a Korean twist and stellar coffee. Need we say more?
26. Harvest Espresso, Victoria Park. If you haven't been to Harvest, are you even from Perth? Go and try the coffee (and the brekky menu) immediately.
27. Engine Room Espresso, North Perth. If you don't mind a bagel to go with your cup of delicious coffee, Engine Room is the place for you.
28. Brother of Mine, Baldivis. This cafe is where it's at for you southern Perthlings, killer coffee and one heck of a breakfast menu await!
29. Regular Coffee Co, Carine. If you're hanging out in the northern 'burbs, Regular Coffee Co should be your go-to for coffee.
30. Yelo, North Beach. This little cafe gets packed, partly thanks to the view and partly thanks to the epic coffee. Just remember to take your KeepCup!
31. The Tenth State, Nedlands. Want a side of shopping with your coffee? Pop into The Tenth State for coffee, snacks, jewels, gifts and more.
32. Jac and the Bean, Fremantle. This little gem on High Street is brewing seriously good coffee which isn't too harsh on the ol' wallet. Double win.
33. Port City Roasters, South Fremantle. Roasting is the name of the game here so you can expect a perfect cup of joe every single time.
34. Mr Herbert's, Doubleview. After a bit of sweating and burning at the Pilates studio upstairs, the coffee at Mr Herbert's is exactly what you'll need.
35. Otis Espresso, Fremantle Markets. Only open three days of the week, it's worth getting yourself to Freo on the weekend for these guys.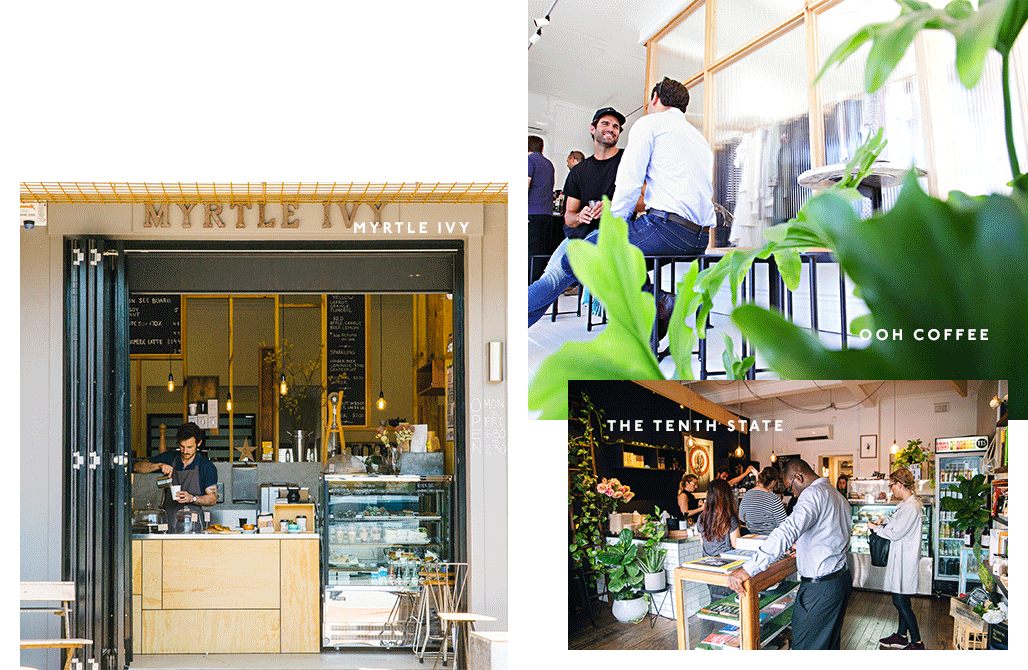 36. Madlilys Espresso, Perth. This hidden gem of a coffee shop is pouring some of the best coffee in Perth and the service is top notch (not to mention the bacon and egg muffins).
37. Timber, Harrisdale. South-east siders let me hear you say wayo. Harrisdale might not be home to a heap of cafes, but it's got Timber and that's all it needs. The nitro cold brew on tap is delish.
38. Tribute, Shelley. These guys are buds with the Timber crew and their coffee is just as good. Do yourself a favour and get breakfast too.
39. Ooh Coffee, North Fremantle. Ooh Coffee is where all the cool kids hang out in North Freo. Grab a coffee and some freshly baked sourdough to go.
40. Myrtle & Ivy, West Leederville. Just across the road from Mary St Bakery and giving them a run for their money, this hole in the wall is pouring excellent coffee.
41. The Local, Northbridge. This neighbourhood cafe is serving a simple breakfast menu and a darn good coffee to the people of Northbridge.
42. Telegram Coffee, Perth. There's really nothing in the State Buildings that's not good, so it shouldn't come as a surprise that Telegram does a mean cup of joe.
43. Felix and Co, Nedlands. A golden oldie, Felix and Co is still standing strong as some of the best coffee in Perth.
44. Cantina, Mount Lawley. Whether you get a standard brew or an espresso martini to go with your brunch, you won't be disappointed at Cantina.
45. Sayers, Leederville. The fact that there is STILL a line outside Sayers every weekend tells you everything you need to know about this place. Go early.
46. Dimattina, Osborne Park. Who knew there was good coffee in Osborne Park?! Well now you do (they also do a killer brekky and lunch).
47. Bottega, Fremantle. This Italian cafe in Fremantle makes coffee even better than you could get in Rome itself.
48. Sparrow's Nest, Victoria Park and Mr Fox On William, Northbridge. Yeah we're cheating and giving you a two for one because these spots are owned by the same guys and the coffee is just as gosh darn good at both!
49. Harvest Boulangerie, Scarborough. You get a free friand when you order a coffee here. Need we say more?
50. Mrs S, Maylands. Sit down in this cutesy cafe, order a coffee and a piece of cake and thank us later.
51. Boucla, Subiaco. Probably the best coffee in Subiaco, these guys will make sure you're caffeinated all day long.
52. Cambridge Corner Store, Floreat. Giving Someday Coffee Co a bit of friendly competition, this corner store is pouring some ridiculously good coffee.
53. Sprolo, South Perth. Brewing Blacklist Coffee Roasters' beans, these guys make a super smooth coffee and some drool-worthy breakfasts.
54. Antz Inya Pantz, Victoria Park. Everyone knows Antz Inya Pantz does some of Perth's best coffee, but did you know it's also dog friendly and doesn't serve takeaway cups because they give a damn about the environment? Take your KeepCup or sit down and relax.
55. Bossman Coffee, Mount Lawley. Originally opened by the guys who started Lowdown, Bossman was always going to be brewing good coffee, but they also do some tasty Greek treats.
56. Small Print, Perth. With their in-house roaster, bakery and cafe, Small Print has been making CBD workers better since 2012.
57. Sixteen Ounces, Victoria Park. Go for the all day brunch and stay for the super smooth coffee.
58. Mo Espresso, Perth. Sourcing beans from all the best roasters, these guys take their coffee seriously so you don't have to worry about a thing.
59. Standing Room Only, Perth. These guys do one thing only—coffee—so it's not surprising they do it damn well.
Want more? Here are all the Perth cafes you should have had breakfast at.
Pixel Coffee Co | Image credit: Louise Coghill, Elle Borgward, Nancy Hanna