If you're an Inglewood local, we're jealous. Tree-lined streets, uber-cool boutiques and a buzzing foodie scene—there's nothing not to love about this 'burb. And with a new sourdough hot spot staking its claim on Beaufort Street, you've got another great excuse to swing on by.
General Public Food Co opened their first location in Scarborough early last year and we couldn't be more excited to see the crew bring their epic eats and community vibes to Inglewood. Evan and Sarah Hewitt are the geniuses behind General Public and, as the clever foodies they are, they took advantage of the COVID-19 downtime to figure out how to transfer their sourdough skills from pizza to other baked goods. And thank god they did, because they've created some pretty incredible sourdough loaves, cinny scrolls, Vegemite scrolls and even doughnuts. Yep, sourdough really was an iso thing, and for this husband-wife duo, along with new business partner Nic Strachan, it's paid off.
General Public is all about creating community hubs and the team have nailed it with this one. Just like the original in Scarborough, the Inglewood joint is open seven days a week so you can satisfy your coffee, baked goods and pizza cravings whenever they call. Sprawling onto the iconic Beaufort Street, it's the perfect place to sit back, relax and watch the world (and very cool people of Inglewood) go by over a coffee, family dinner or even just a catch up with a mate and a cold bevvy.
Walk in, and you'll realise why everyone is hanging out to get here. The interiors of General Public are nothing short of amazing and if you're a fiend for plants, you're in for a treat. Meticulously arranged pots over rows of freshly baked bread, all the hanging greenery your inner horticulturist could desire, and the kind of interior design Instagram dreams are made of. You'll be forgiven for drooling over this place while you sip away on your perfectly brewed cup of coffee thanks to local coffee roaster, Leftfield, who makes a signature blend just for General Public.
If you're familiar with General Public you'll know all about their famous sourdough. It's the perfect base for one of the world's finest foods—we're talking about pizza of course, and these guys do it a serious justice.
But while the pizza is the star attraction at GP, we just can't seem to get past the doughnuts and cinny scrolls. Let us reiterate—the baked goods are made with sourdough and once you try them, there's no going back. Soft and fluffy with an awe-inspiring chew—the baker's here have seriously got it going on. Swing by on your way to work for a coffee and pick up a bag of scrolls or doughnuts and we guarantee you'll be the most loved co-worker out.
When you're ready to delve into their pizza menu, prepare yourself because choosing what to order won't be an easy feat. We suggest you head there with a group, grab a drink and figure out how many pizzas you can possibly fit in so you can try a slice of each. There's everything from carbonara (yep, like the spaghetti) to meatballs and pulled pork. Our top pick? You can't go past the garlic prawn loaded with some of the freshest and juiciest prawns out and a healthy dose of garlic and chilli. If you're feeling a little more adventurous, get on board Ewan's creation of the Sunday Roast complete with slow-cooked lamb, house-made gravy and roast potatoes.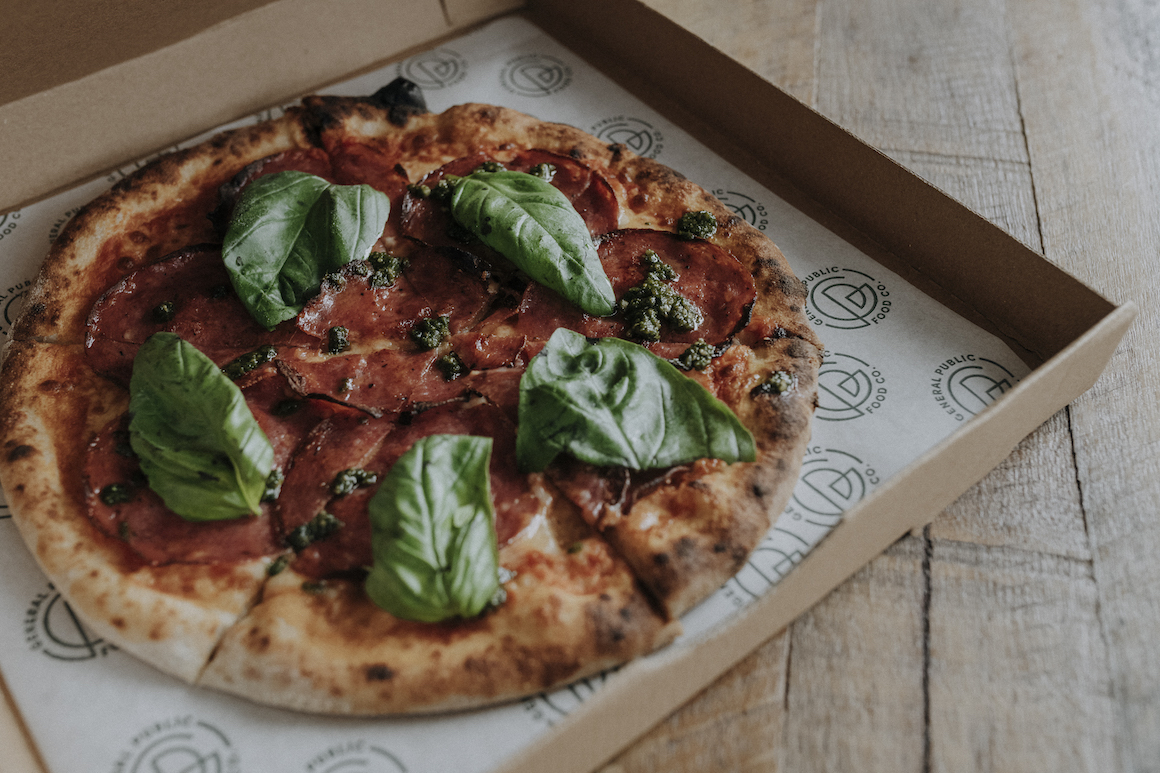 If you're not feeling up for sweet treats or pizzas, don't worry. They have plenty more on their menu. Sourdough tacos? Yes please. The buttermilk fried chicken with chipotle is also a fine choice. And loaded fries, halloumi bites and hearty salads (hello beef brisket) are all worthy contenders too.
Thirsty? Well, the drinks menu is also pretty impressive, with a selection of carefully curated craft beers on offer and a rotating wine list for the vino lovers. If you're chasing something a little more sensible, there's some great artisan style non-alcoholic sodas, cold pressed juices and booch to get around.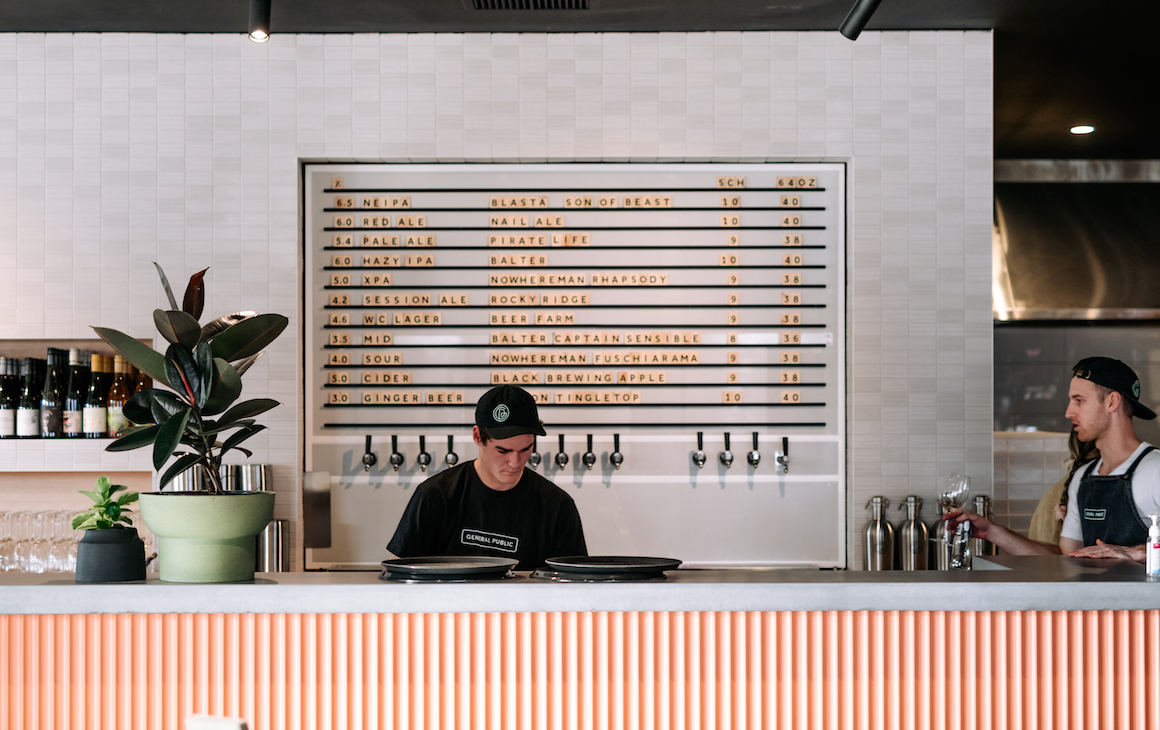 If somehow you have room for dessert, we promise you won't be disappointed. Why not complete your pizza journey with an apple crumble concoction and vanilla ice cream. Either way, we know you'll be heading back to General Public pretty soon.
Before you roll out to head home, do not leave without grabbing a loaf of bread and whatever baked goods are left on the shelf. You'll sleep much better knowing there's a little slice of General Public waiting for you in the morning.
Looking for something else to do? Check the rest of the best to hit up in Inglewood this weekend.
Image credit: Ricky Gestro