A smattering of crumbs down a work shirt, a greasy corner-of-the-lips smile, a delicate flake of pastry hanging from a loose strand of hair…
If you know what to look for, you can spot bona fide croissant lovers everywhere.
And to induct you into this happy-go-lucky tribe, we've tracked down the best croissants in Perth and the neighbourhoods that love them.
Harvest Boulangerie Patisserie
Scarborough
Patisserie is French for dang-that's-a-good-croissant. Ham and cheese, pain au chocolat or just good ol' fashioned plain—the options at Harvest Boulangerie Patisserie are endless. The delicious Humblebee Coffee doesn't hurt either.
Chu Bakery
Highgate
It is more difficult than ever to complete a run at Hyde Park with the baked delights of Chu Bakery enticing you at every turn. Sweet-tooths will go gaga for their almond, raspberry, hazelnut and kaya coconut varieties. These are definitely some of the best croissants in Perth.
La Galette De France
Nedlands
From Subi markets to their little cafe in Nedlands, La Galette de France has become synonymous with good croissants in Perth. Word on the street is they make the holy grail of the almond variety.
Le Papillon
Joondalup
Traditional, almond, raisin, chocolate, apple custard, ham and cheese, ham, cheese and avocado, bacon cheese and tomato, salmon, avocado and cream cheese, bacon, egg and cheese and… Yeah, we guess you could say Le Papillon does a few of the best croissants in Perth.
Choux Cafe And Patisserie
Swanbourne
Head to Choux Cafe and Patisserie for a coffee the size of your head and a croissant that's the real deal.
Small Print Baker And Coffee Maker
Perth
The only thing that rains down on St George's Terrace more than money is croissant crumbs. No wonder, when Small Print Baker and Coffee Maker offers so many flakey delights.
Maison Saint-Honoré
Caversham
Turns out Maison Saint-Honoré does more than just amazing macarons, their croissant game is next level as well. Be it flaky almond croissants, Instagram-worthy lemon meringue croissants, or gooey chocolate croissants, this place serves up drool-worthy French croissants which we did nothing to deserve, but will happily take.
Abhi's Bread
South Fremantle
If you've been a long time fan of Abhi's delicious bread, it's time to get yourself there for what might be the best almond croissant in Perth. Warm it up and definitely do not share this bad boy.
La Belle Sweets
Lathlain
Three words that will change your life—Raspberry. Chocolate. Croissant. There hasn't been a trio that's worked so well together since the sweet pop harmonies of Hanson. Visit La Belle Sweets for croissant creations like this beautiful bastard.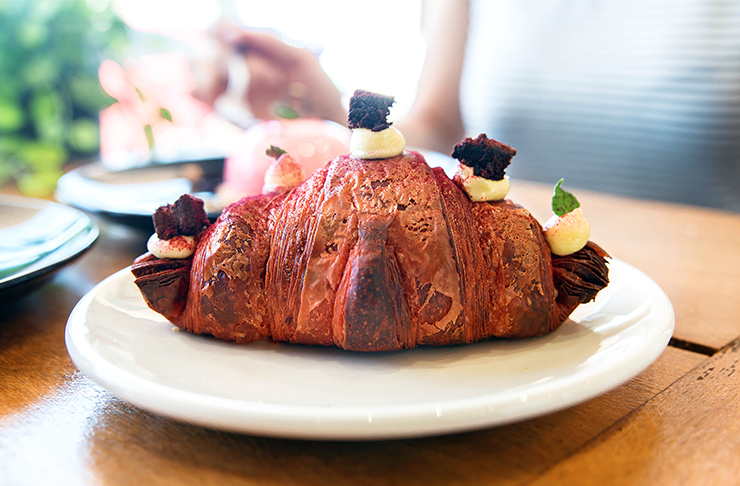 Jean Pierre Sancho
Multiple Locations
Boulangerie. Patisserie. Yes, they say all the right things at award-winning bakery Jean Pierre Sancho. Grab an almond croissant or pain au chocolat at one of their many locations and see what all the fuss is about.
Mary Street Bakery
Highgate, Perth CBD, West Leederville And City Beach
Layers upon buttery layers of happiness await you at Mary Street Bakery. Why wouldn't you buy your croissants from the evil geniuses that came up with that salted caramel doughnut?
Wild Bakery
South Fremantle
Crescent-shaped happiness awaits you at Wild Bakery on South Terrace. Traditional is the name of the game here, so stock up on all the old favourites like pain au chocolat, almond and pain au raisin.
Want more pastry? Check out Perth's Best Bakeries.
Image credit: Elle Borgward, Nancy Hanna and Louise Coghill