There's no denying it. Us Perth peeps are a little too obsessed with heading out for a lazy brekky, brunch or lunch.
Great coffee and food set to make your mouth water paired with some oh-so relaxed vibes are something we're constantly on the lookout for.
Deciding where to go can be a real chore, so we've done the hard yards and narrowed it down to 60 of the best cafes in Perth.
It's your 2023 sorted. You can thank us later.
Little French Nest
Fremantle
If you're in the mood to spoil yourself with some French fare, you'll need to take a visit to Little French Nest. Want something sweet? How about French toast with pear compote, almond tuille and chantilly cream. If savoury is your style, the mouth-watering sweet potato and feta galette with caramelised onions and a fried egg will be sure to hit the spot. When all else fails, the incredibly cheesy croque monsieur will sort you out—it's gotta be one of the best in Perth.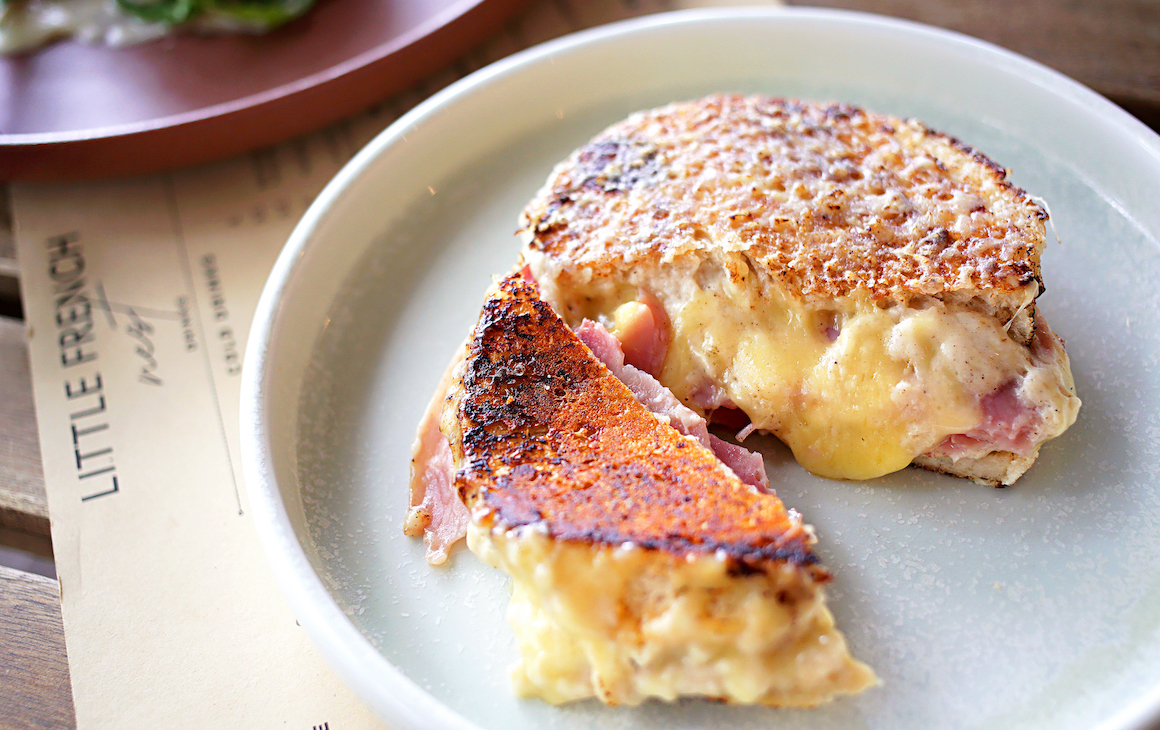 Bagel-Os
Mount Lawley
Perfected bagels, Micrology Coffee and New-York style sandwiches have found their home at Mount Lawley's Bagel O's. The produce is fresh and local and everything is made from scratch. House smoked pastrami with soft egg and American cheese, Nonna's meatballs and a Cubano with juicy roast pork are some of the most popular fillings.
Soho Lane
Mount Lawley
After spending more than a decade living in New York, Soho Lane owners Matt Miller and Trindy Adler wanted to build a community space where everyone feels at home. The menu is inspired by New York with dishes like fried chicken and waffles, a reuben and diner style pancakes. The classics are all here too.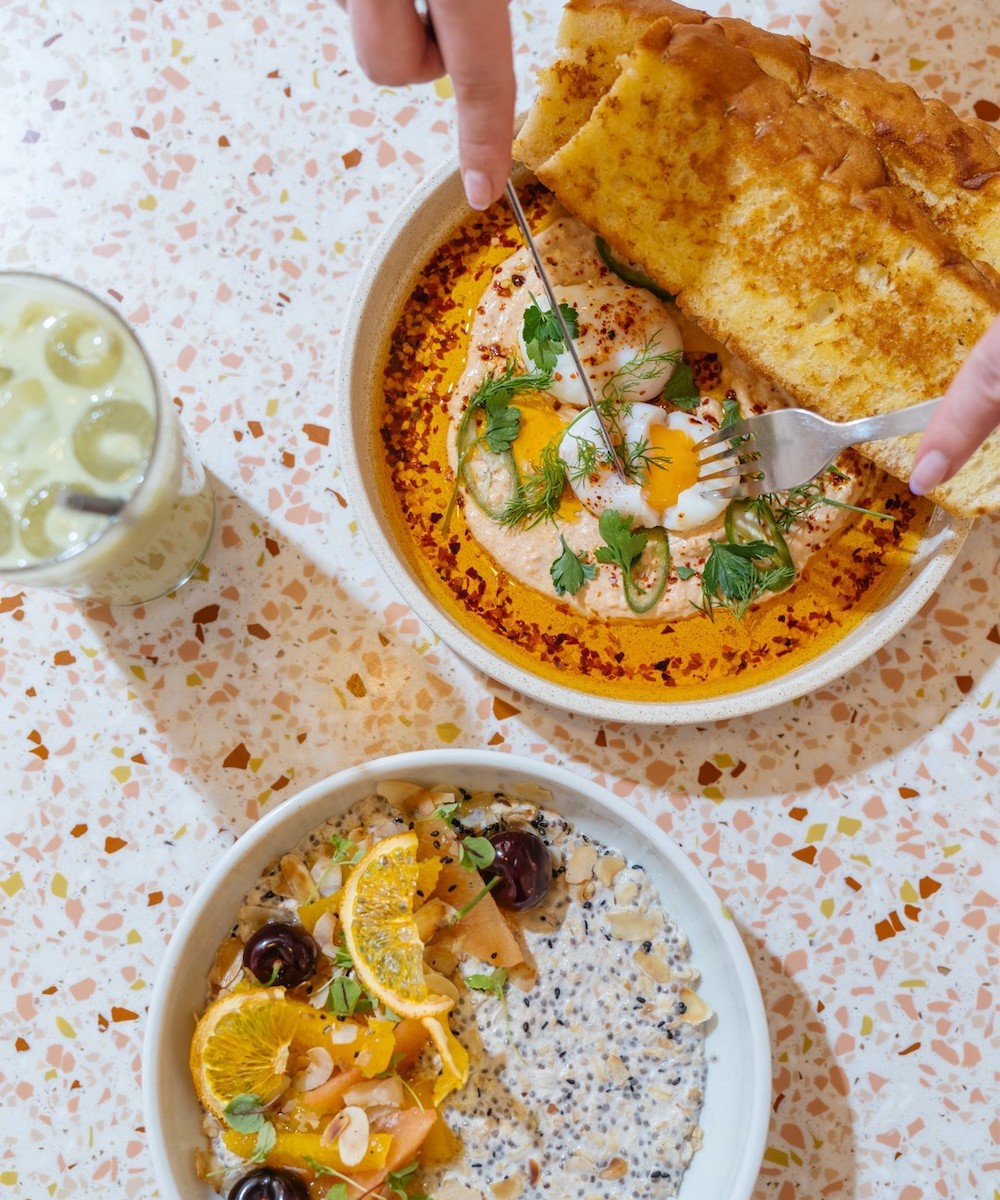 Palette
North Fremantle
With a rotating gallery for emerging local artists and brunch plates to swoon, Palette is one of our favourite new kids on the block. After a morning dip at Leighton Beach, head on over for a coffee as you soak in the pink-hued interiors and decide on what takes you fancy for your morning feast.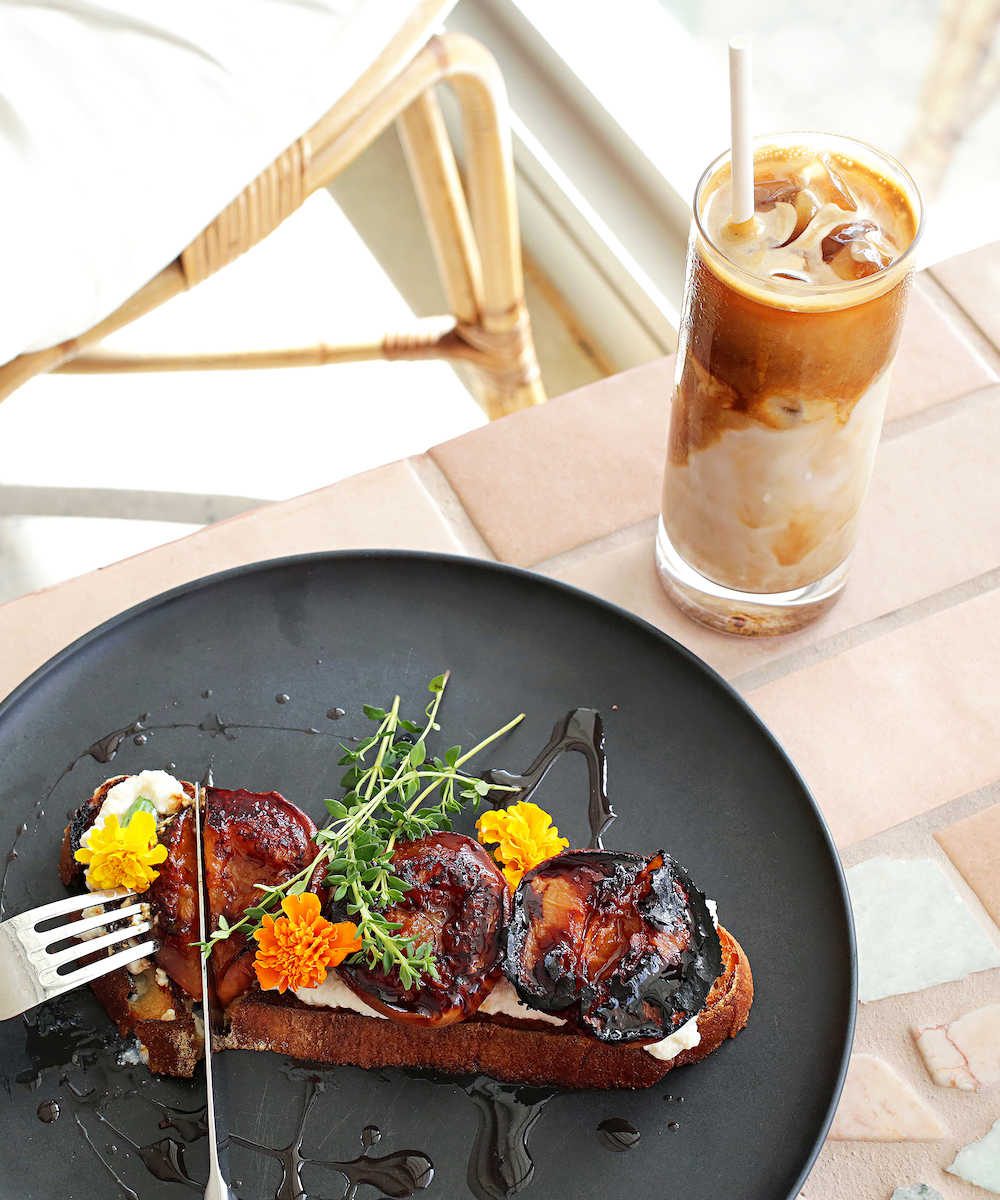 Tom's Providore
Perth
This cosy neighbourhood cafe tucked between Beaufort and Brisbane Street will become your new Saturday morning ritual. Bring along your furry friend, get seated and sip away on a hot bevvy as you decide what to do for the rest of your glorious day.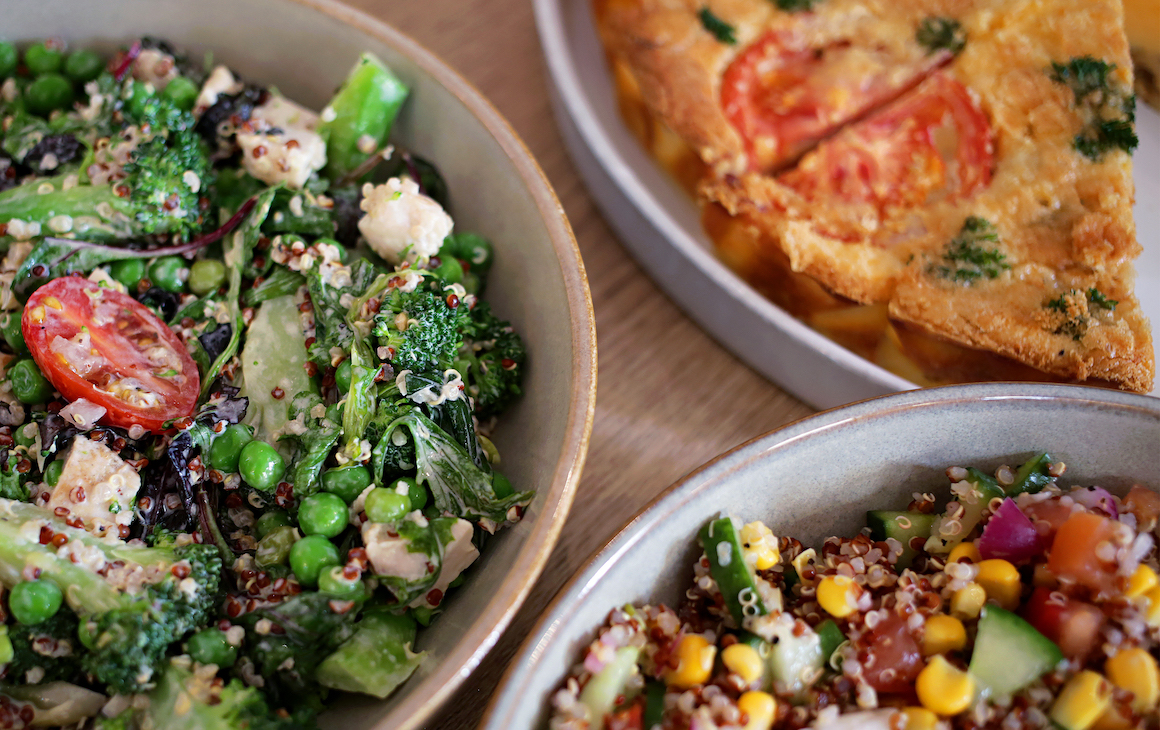 Cheerio Coffee
West Perth
This little coffee shop and bakehouse on Cleaver St in West Perth is brought to you by none other than a former Mary Street Bakery head baker. It's obvious the baked goods are going to be superb and the coffee is just as good.
Hinata Cafe
Fremantle
We love this gorgeous Japanese cafe serving up all sorts of delectable eats. There's sweet matcha pancakes topped with seasonal fruits and brown sugar syrups as well as the Hinata brunch set. The set is changed monthly and features miso soup, brown rice, protein and veg dishes.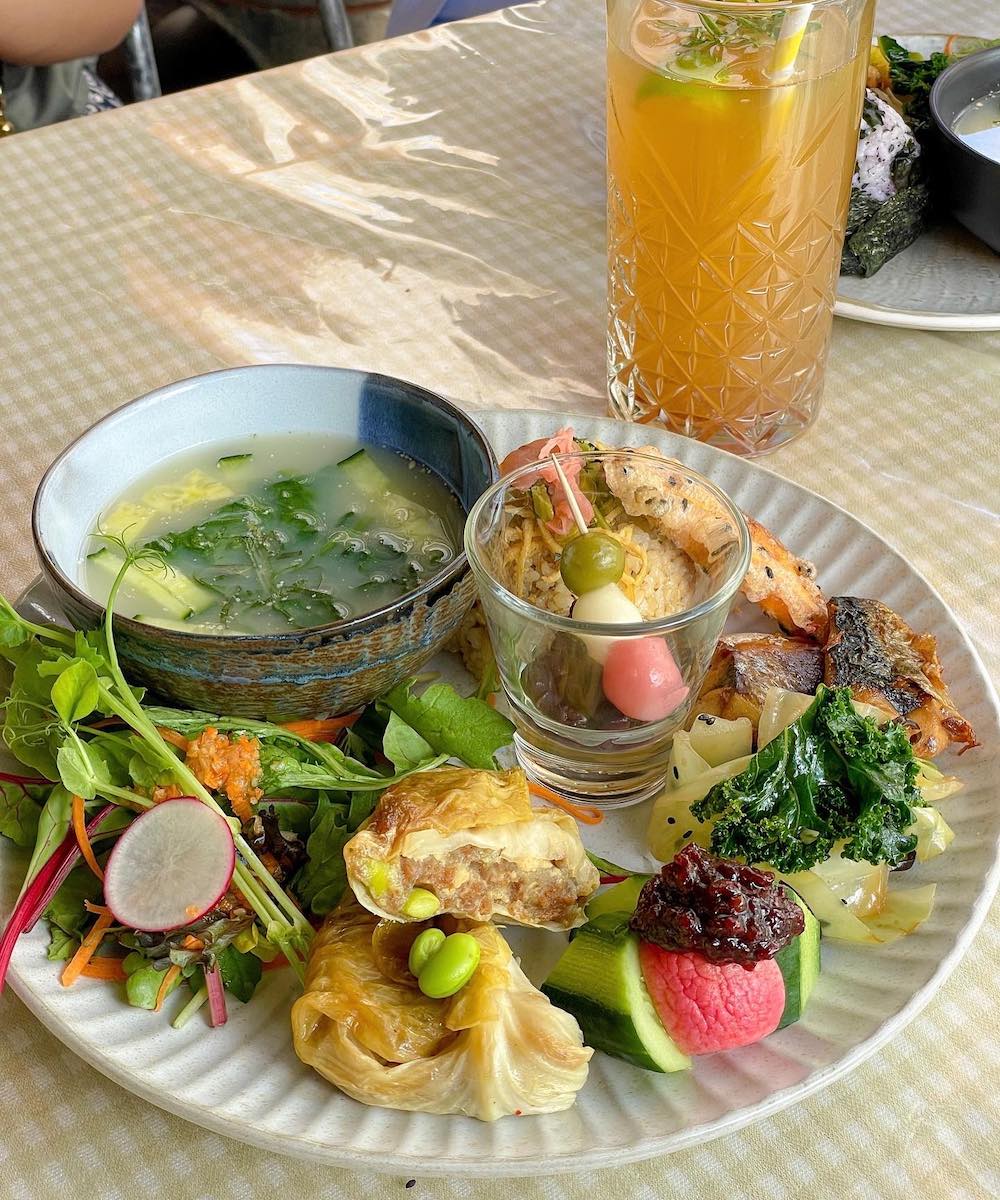 Satchmo
North Perth
This retro-inspired cafe showcases traditional Jewish cuisine with a New Orleans flair. Think of it as soul food. They're known for their bagels, but we're also down with Mamma's matzo ball chicken soup and the knish—a New York pie filled with potato, kale, caramelised onion, cream cheese and more cheese. Yes please!
Peninsula Farm Cafe
Maylands
This beautifully renovated cafe sitting on the Swan River is where you'll want to while away your weekends. Expect fresh dishes like granola and panacotta or lemon myrtle chicken salad alongside excellent pastries and coffee.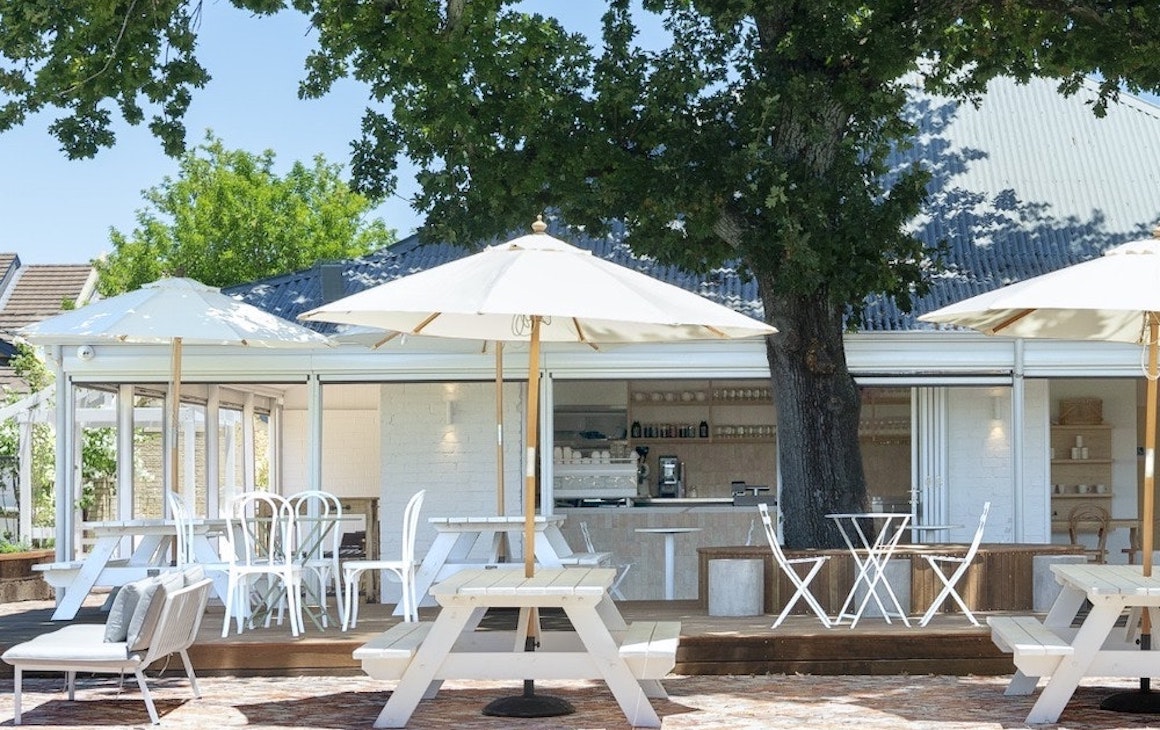 Modus Coffee
Mount Lawley, Victoria Park and Wembley
Turns out Perth peeps loved Modus so much they added Victoria Park and Wembley to their site list. Of course the coffee is great, and the pastries are divine. If you love a bit of toast, you're going to be stoked - there's heaps of loaded toast options for all your carb-loading cravings.
Local & Aesthetic
Mount Lawley
Local & Aesthetic remains top of the list. The chilled out vibes and West Aussie style menu paired with being home to Rhubarb Records vinyl and an Indigenous art gallery and retail outlet make this a destination worth visiting. There's a lot to try including the stracciatella (think delicious soft cheese) and house made hot honey on sourdough or the sunny crumble with poached fruit and custard.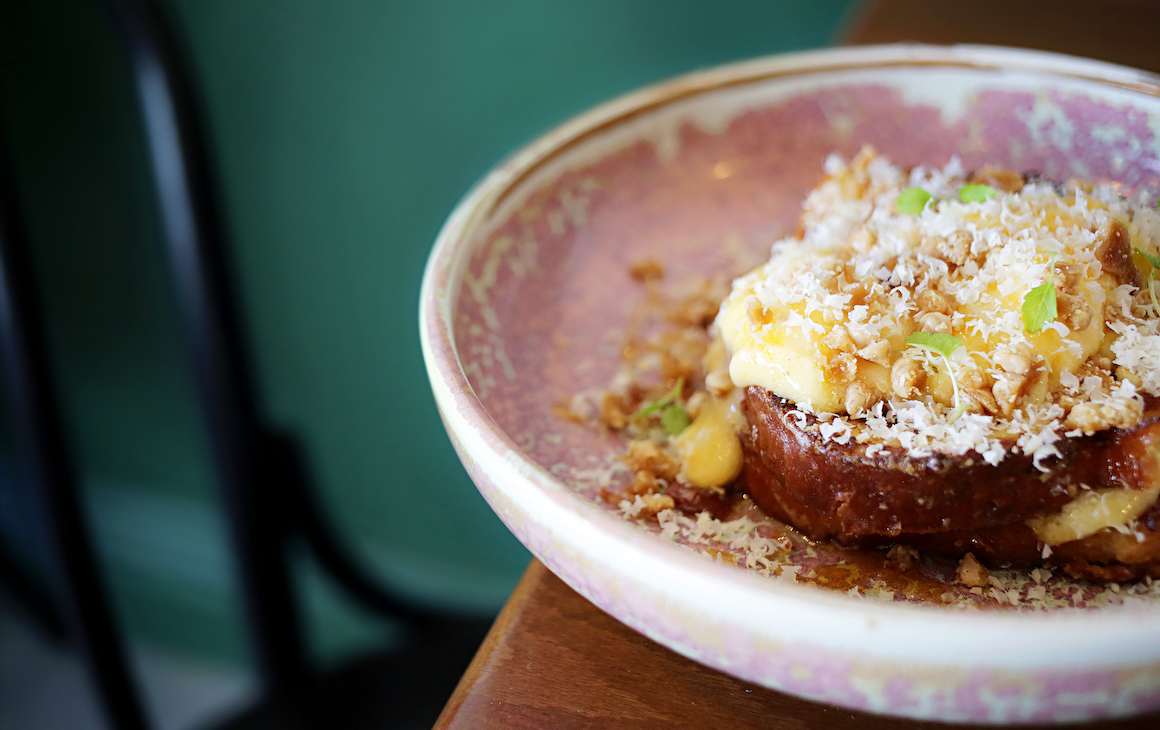 The Little Banksia
Kensington
If you live just south of the river, chances are you'll know all about The Little Banksia. The pastries and cakes will make your morning coffee just that bit better and the brekky dishes like buttermilk pancakes or kale and corn hotcakes will put a pep in your step.
Forklore
West Perth
Brought to you by the crew behind tbsp., Forklore is attracting the crowds and for good reason. The coffee is excellent and the Asian inspired menu means this brunch spot needs to be added to your list. Think chicken katsu sandwiches, kimchi fried rice and udon noodles. The baked treats are something you're gonna have to bring home.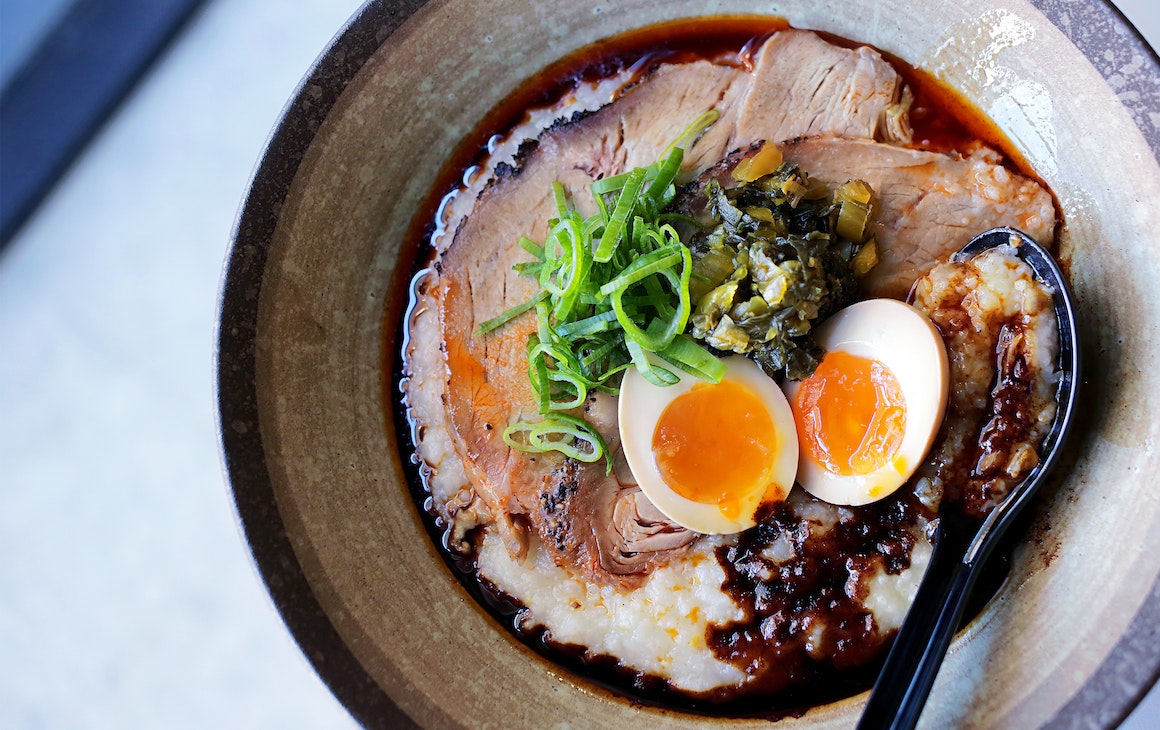 Finlay & Sons
Inglewood
Finlay & Sons has earnt some serious street cred for their eggs benny and we can guarantee its worth the visit. Hash browns loaded with poached eggs, hollandaise sauce, spinach and thick cut bacon. The smashed avo and goodness bowl also look damn fine. Our favourite part? When you're done you can walk down Beaufort Street and pop into some of Perth's best stores like Favourite Daughter, La Luna and Mandi at Home.
Micrology Coffee Roasters
Osborne Park
If coffee is your jam, Micrology Coffee Roasters is where it's at. This is the first cafe brought to you by the wholesale coffee roasters behind some of Perth's best coffee spots. The interiors are stunning and the little food menu is on point. There's gourmet baked goodies, sandos and conti rolls.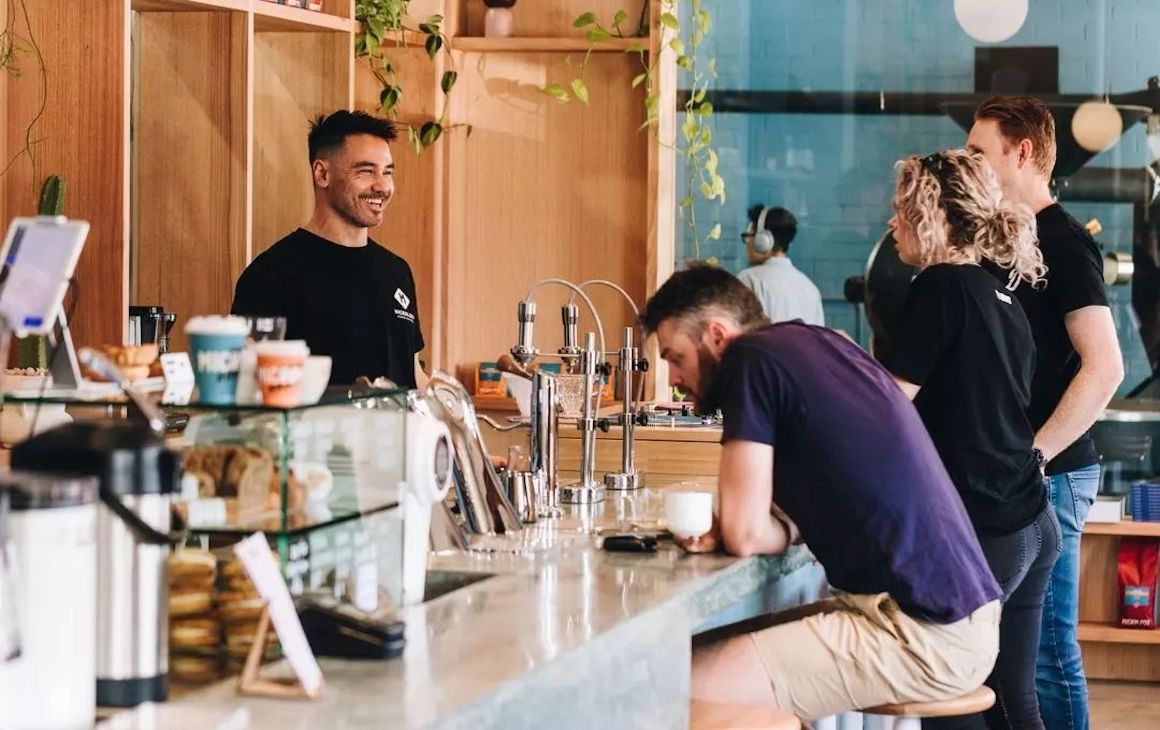 Sonder Coffee
Victoria Park
Sonder Coffee is a worthy contender with wraps, rolls, bagels and paninis ready to put you in a carb coma for the rest of the day. This cute little cafe brews up a mean coffee and the food is nothing short of tasty.
Viaje Coffee
Mount Lawley
This pretty pink-hued addition to Mount Lawley's cafe scene serves up old faves like eggs and soldiers as well as some serious specials like chilli crab scrambled eggs, epic steak sangas and delish baked treats.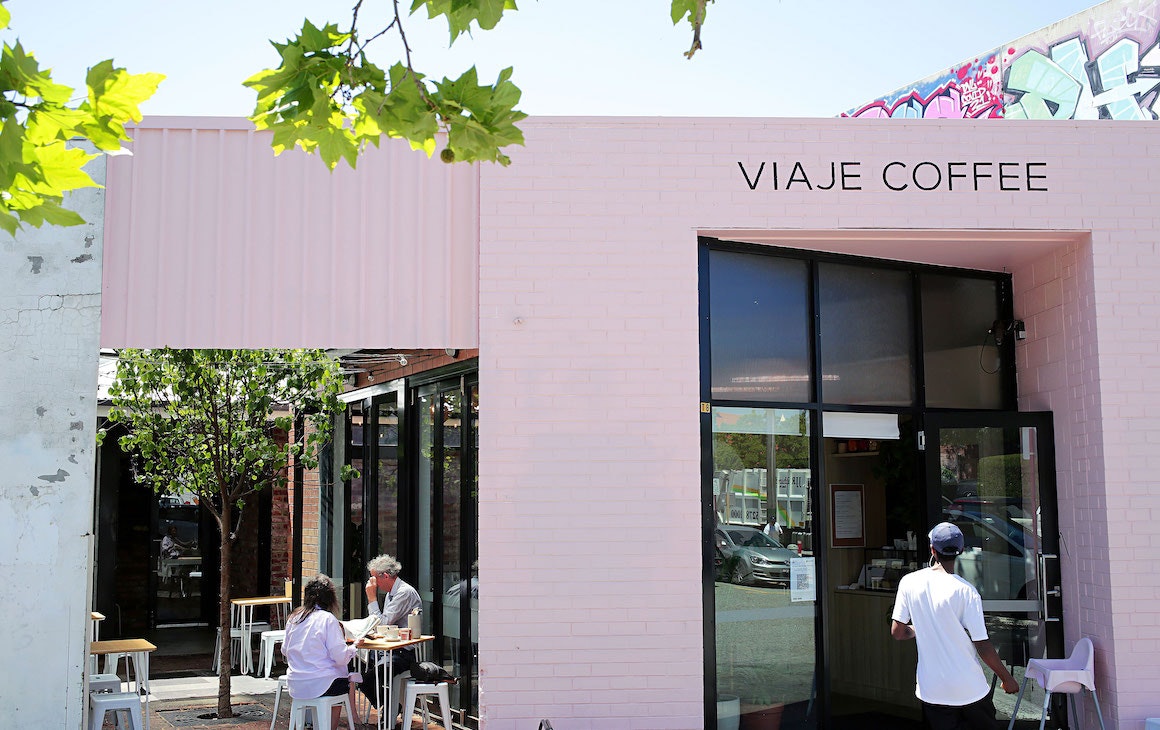 Harvest Espresso
Victoria Park
Harvest Espresso's food remains top-notch and a beloved cafe by many locals and Perth peeps. The seasonal menus use the freshest and local ingredients and the meals are plated up so beautifully you won't want to eat them. Head's up—the pastries are amazing too.
Folk & Merchant
Doubleview
This busy little community cafe and retail space will have you feeling like you've stepped foot in Byron Bay. Head here for a wholesome day of smoothie bowls and stick around for a yoga class and browse through the boho style store.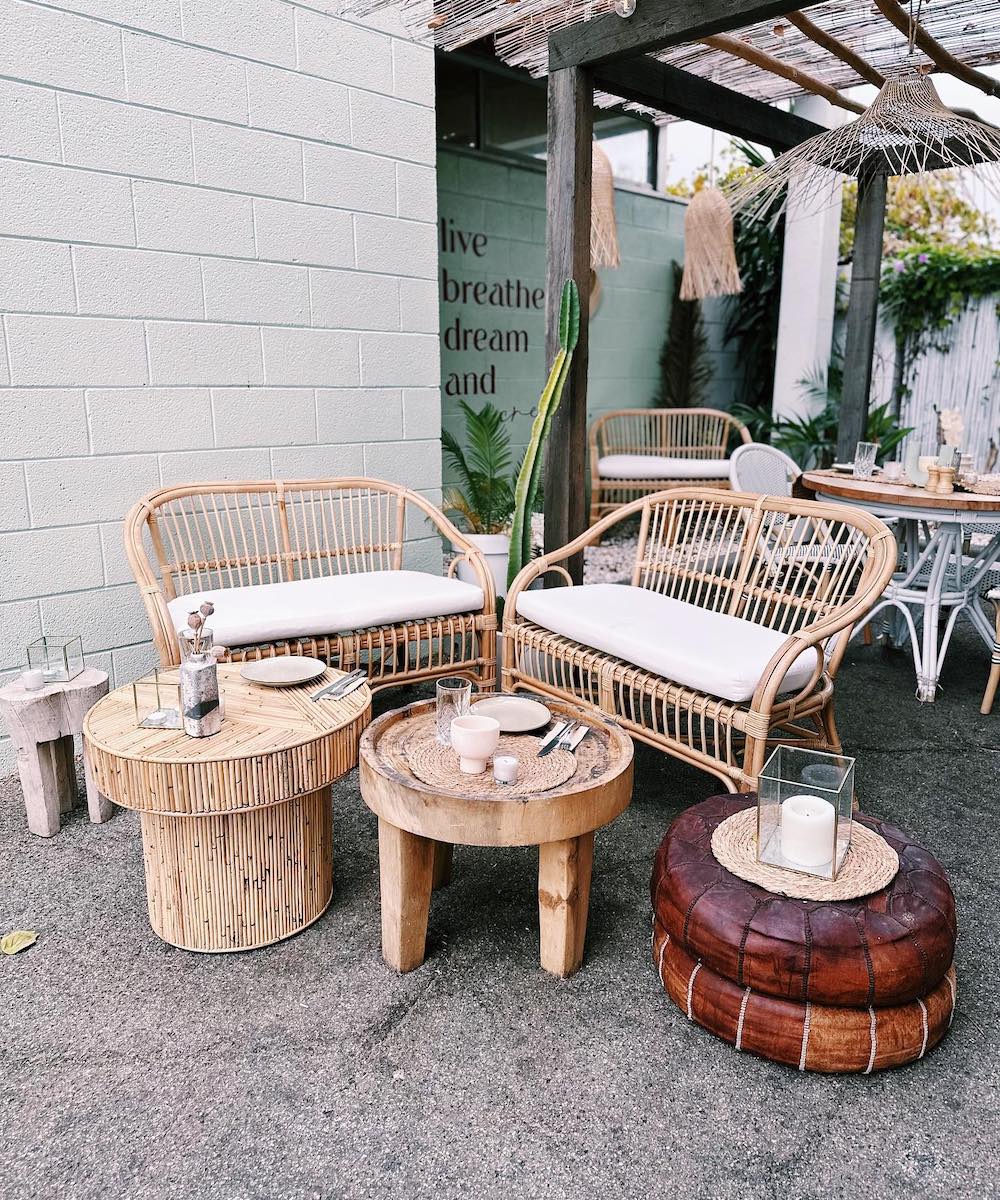 Bossman Coffee
Mount Lawley
Ah-may-zing coffee and some of the best sweet Greek treats make this one of our fave cafes. Sit back and relax on one of the long communal tables and chill out with the relaxed music and community vibes.
Chubby Boy
Inglewood
Chubby Boy is your Insta feed's new best friend, serving up fluffy shokupan, aka slabs of 'brick toast' smothered in toppings like peanut butter and banana, strawberry and ricotta and salted caramel and honey. If sweet starts to the day aren't your thing, you don't deserve to go here. But rest assured, there's savoury options on the menu too.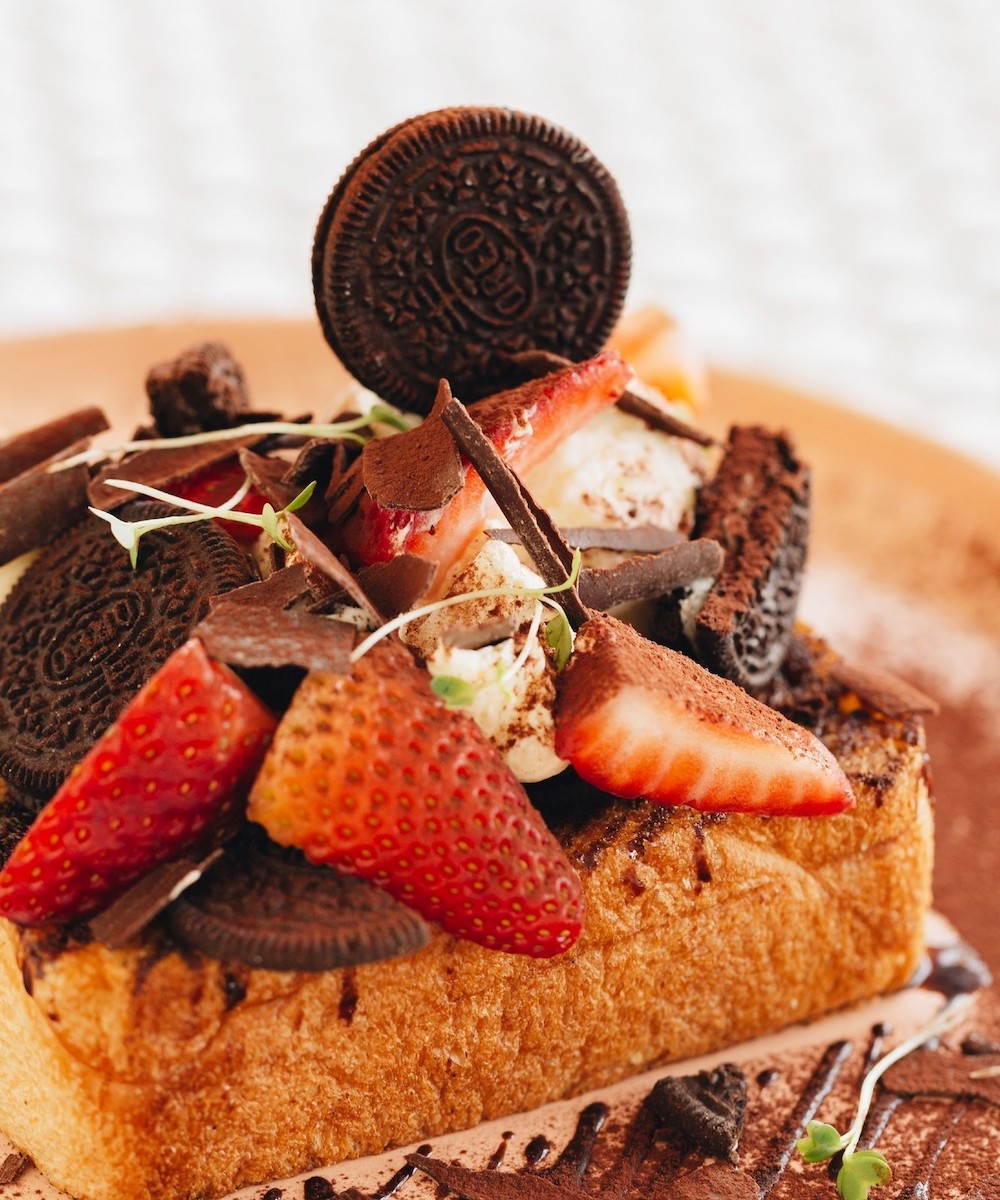 Panda & Co
Highgate
Not your average breakfast haunt, the menu at this 'inauthentic Asian' cafe is going to make your choice next to impossible. We suggest doing your homework and having a clear idea before you walk in. There's bao, buns, rice dishes and something called reuben rolly pollies—a reuben sandwich wrapped in pastry and deep fried. Order it. You won't regret it.
People's Cafeteria
Northbridge
It's a no-brainer that anything by the North Street Store team is going to be a winner. In the midst of Northbridge, People's Cafeteria serves up great coffee alongside home-style hot dishes and salads you can mix and match. There's takeaway too so you can swing by and grab your dinner.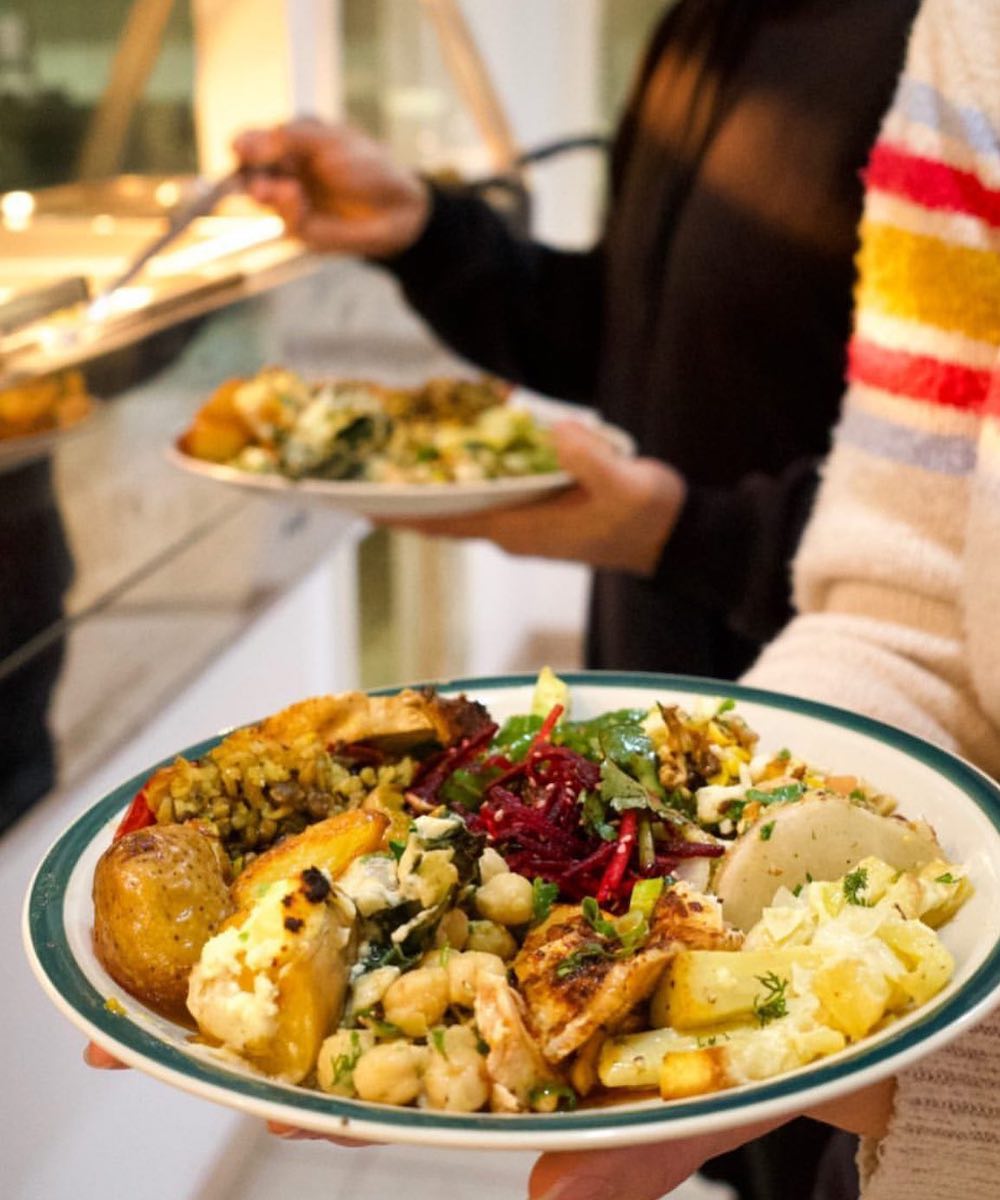 Willing Coffee
Guildford
This beautiful Italian-inspired coffee bar serves up fabulous coffee and fresh croissants, pastries, homemade cakes and brekkies. If you're into cycling, you'll be pleased to know there's bicycle repair kits and pumps. Your furry friends are welcome too.
Peggy's
Fremantle
Is there anything better in life than a good sando? Pairing it with the coolest lo-fi vibes and fine-dining skills. Thank you Peggy's. The world's best sausage and egg muffin is something like no other and while there's options like gourmet parms and cubanos, we're a little obsessed with the egg salad. They have just got rid of the espresso machine to make room for more kitchen gear (priorities), but you can still pick up some killer batch and filter coffee here,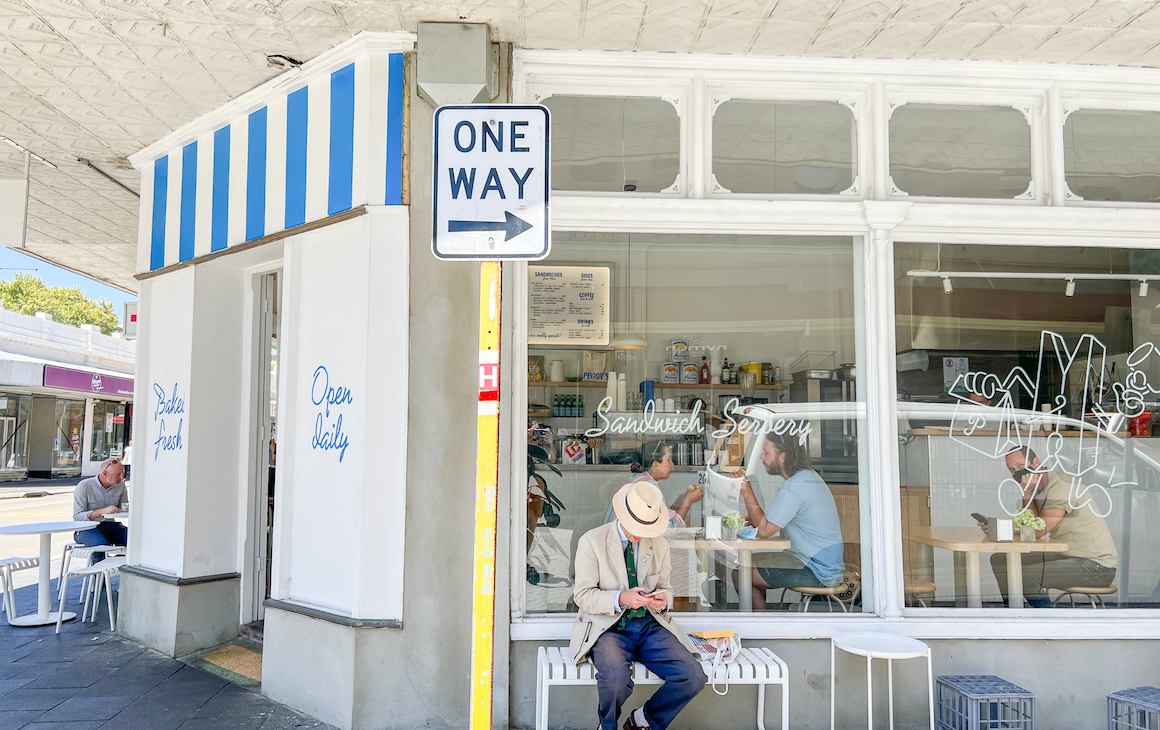 Little Sisto
Doubleview
Forever coming up with the goods, a weekend visit to Little Sisto sets you up for a day full of great things. The smoothie bowls are next level (ahem, choc peanut butter) and the topped toasts are a winner—almond and peanut butter, chia and strawberry homemade jam, fresh fruit and pistachio powder is just one example.
Nogi Lane
Dianella
Dianella locals opened this neighbourhood cafe last year and it soon became a favourite for people near and far. Opt for a classic or indulge with loaded waffles and pancakes for a sugar hit. Feeling healthy? The salads and nutrient loaded brunch choices will satisfy your wish list.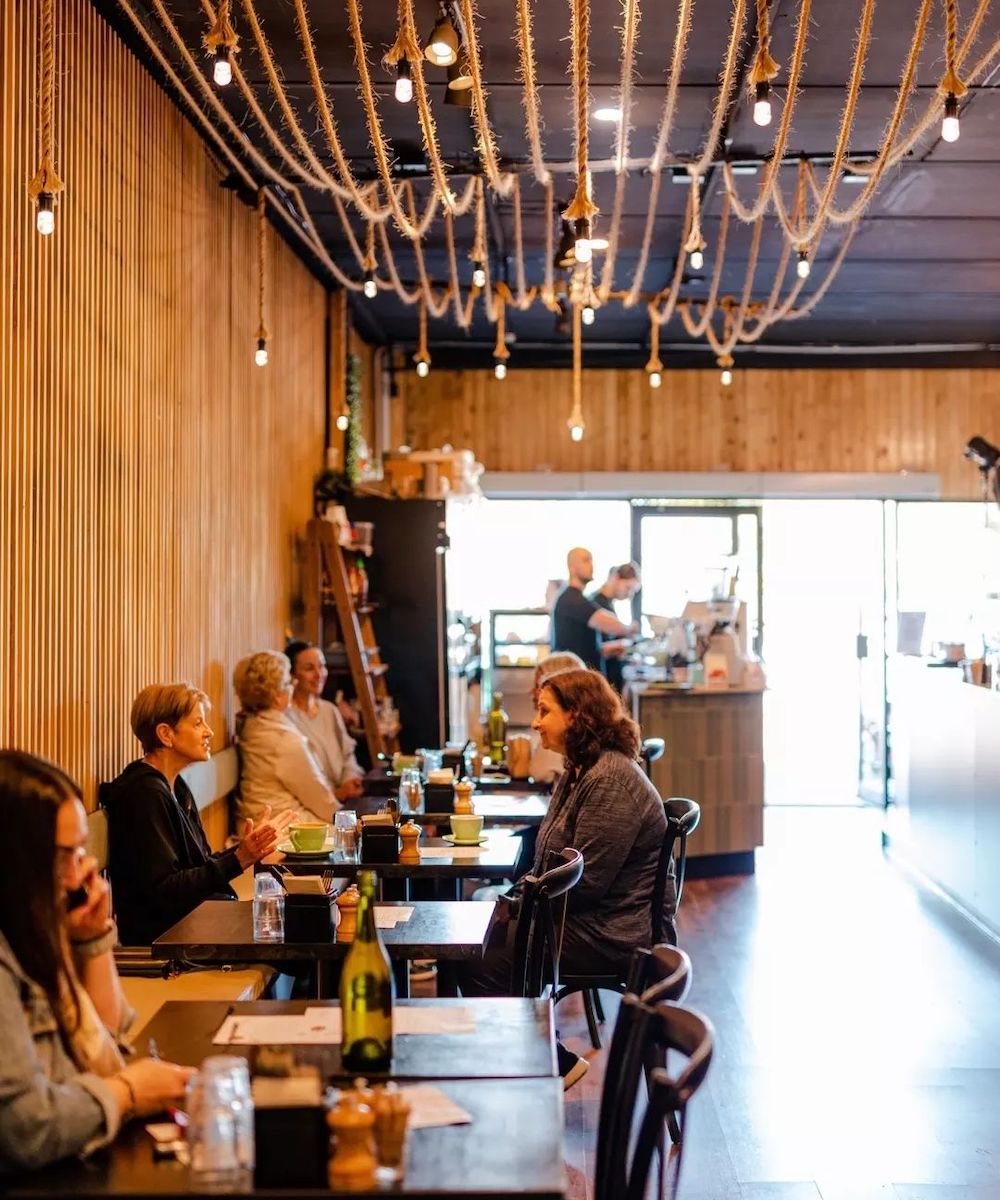 Cafe Elixir
Wanneroo
Cafe Elixir is buzzing all day as loyalists head there for a big, hearty feed. The pancakes are out of control (picture ferrero rocher with cream cheese) and the burgers are a pretty mean feat. There's also a nutella cappuccino you can get your hands on.
Arrival Hall
Northbridge
We love the cafe—the coffee is great and the little foodie options are superb. Now that's out of the way, let us tell you something—if you need a bit of retail therapy or a gift for anyone in your life, Arrival Hall is the place to go. Homewares, workwares, leather goods, body care. A coffee whilst shopping? Our idea of heaven.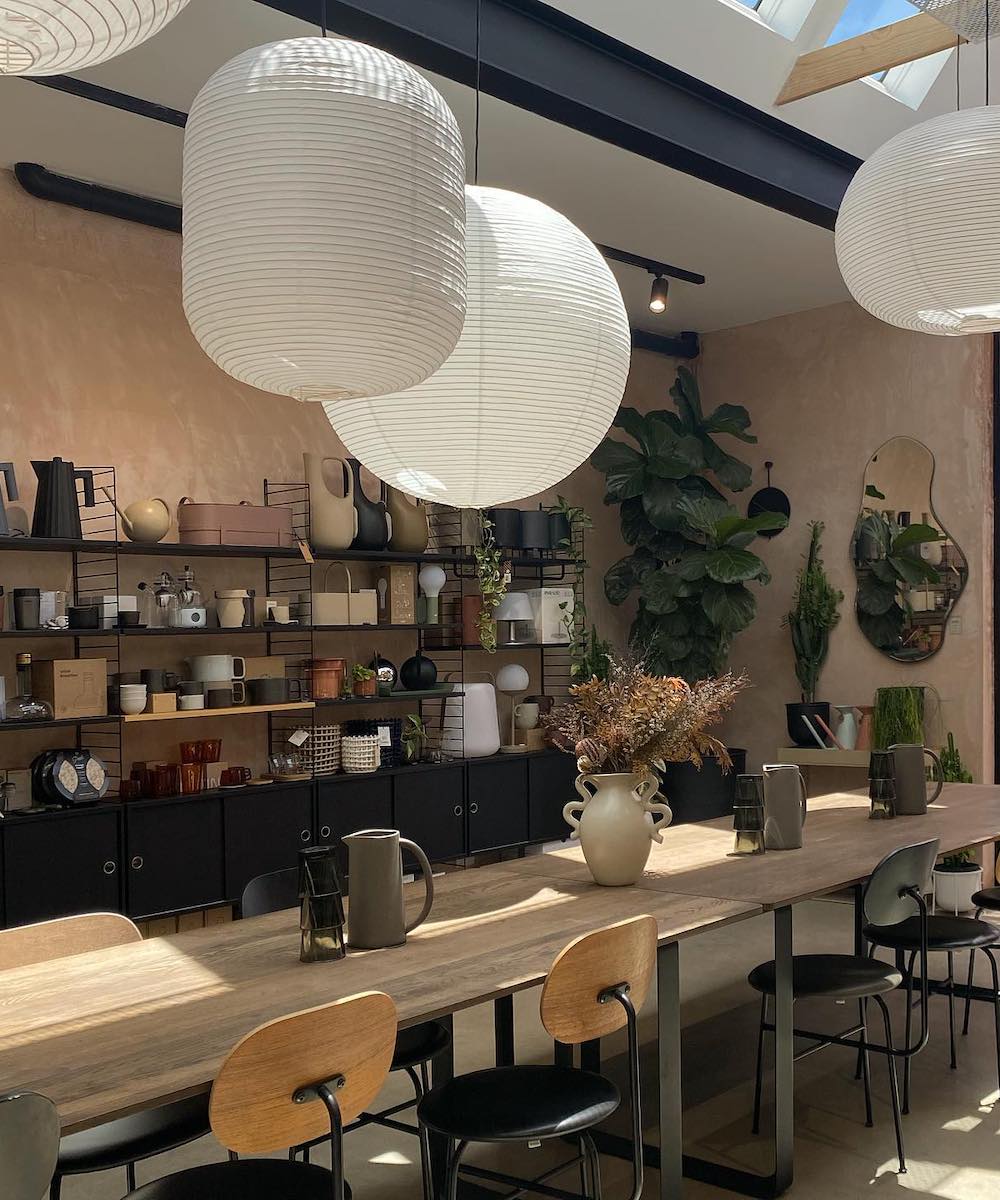 North Street Store
Cottesloe
Living under a rock is the only excuse you could have for missing the news about North Street Store. Everything is ridiculously good - the coffee, bread, baked goods (oh the sausage roll), rolls and salads. But the real hero is the cinny scroll. There are no words.
Mary Street Bakery
Highgate, West Leederville, City Beach, Claremont, Perth
Is there anything better than sitting at the OG Mary Street in Highgate with a coffee and delicious donut in hand? The choice of flavour struggle is real. If you can do past the pastries and baked goods, the brunch options are sure to knock your socks off.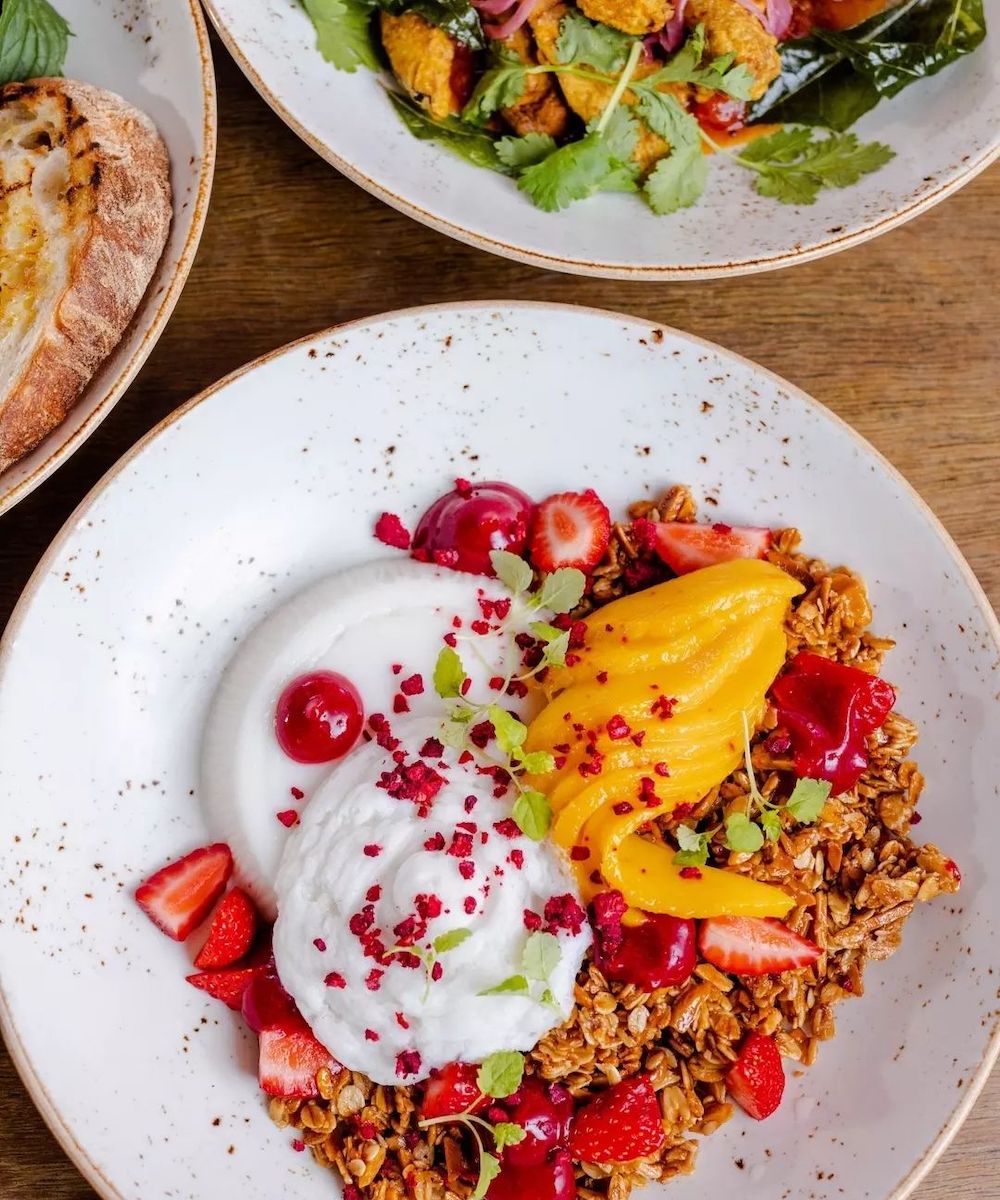 Daisies
Cottesloe
This cult fave is the ideal spot to park yourself on a sunny morning in Perth. Treat yourself to a morning coffee and sweet treat or grab something to go and park yourself up at the beach. A visit to Daisies means you're likely to snag a pooch cuddle or two. We couldn't be happier about that.
The Little Bay
Watermans Bay
If you love spending days by the beach, you'll no doubt have heard of The Little Bay. The beachfront space has some serious coastal vibes and decor to match and the food is just as good. We love the breakfast gnocchi. Italian for breakfast? Don't mind if we do.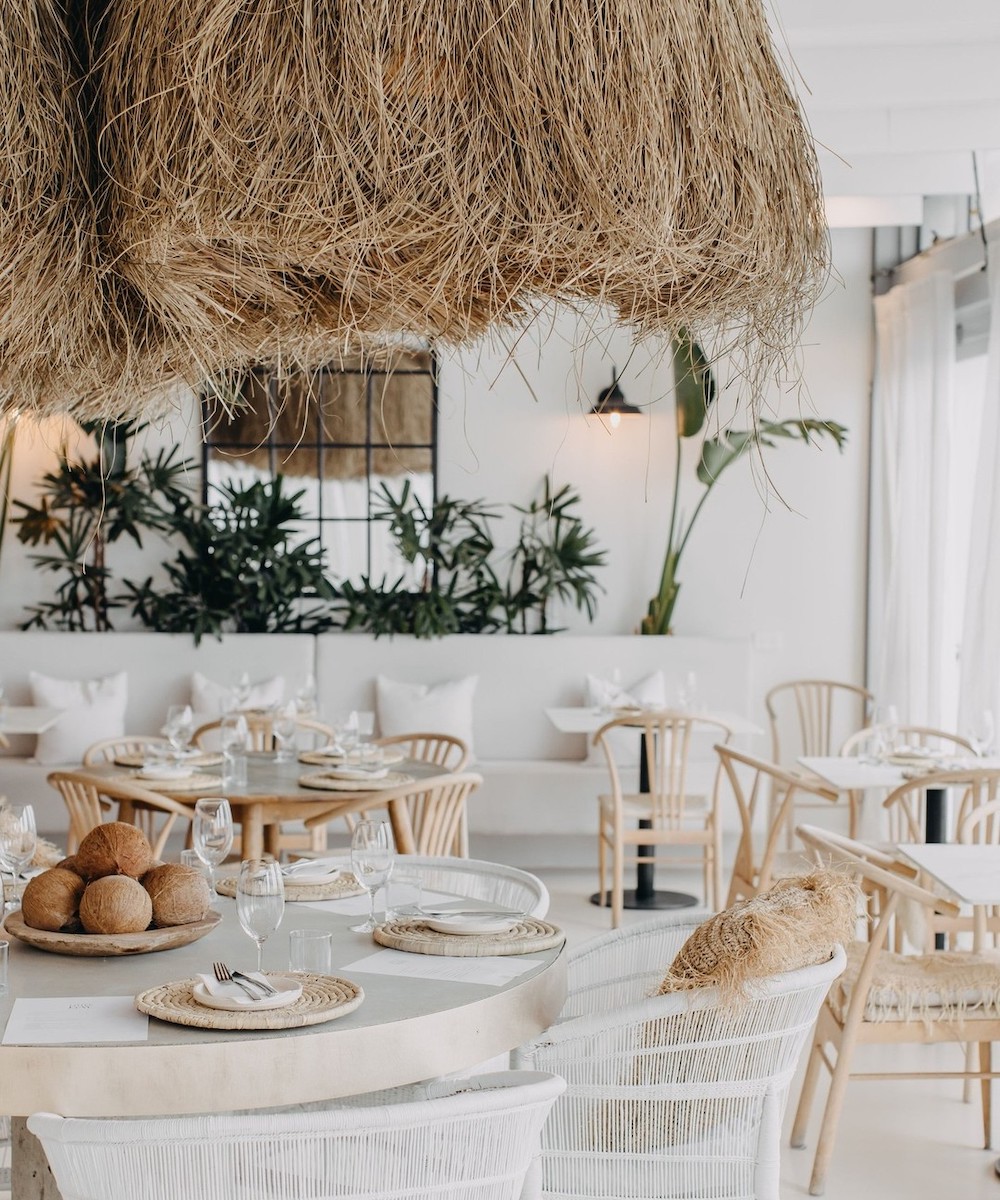 Artem
Mount Pleasant
There's a lot going on at Artem that you need to know about. House smoked meats, their own fermented chilli sauce and some of Perth's best doughnuts make this a destination in its own right. It kind of goes without saying—a smoked meat sandwich followed by a fresh ball of dough is a must.
Chu Bakery
Highgate
Coffee in hand, a sweet treat or three from Chu and a stroll around Hyde Park is what weekends are all about. We're warning you—the lines can be long but it's well worth the wait.
Chinta Cafe
North Perth
Chinta's been on the list for a while and we can assure you, it's not going anywhere. When you feel like stepping into a tropical paradise, get settled among the bamboo plants, colourful furniture and mini buddha statues before ordering the famous Shark Bay blue swimmer crab omelette or the Beef Rendang Benedict. Don't forget a fresh juice to wash it down with.
Hylin
West Leederville
You'll have to be quick to grab a table at this bustling cafe smack bang on Railway Parade. The architecturally designed cafe is all sorts of cool and dishes out a great brunch. The streetx chicken croissant or cinnamon doughnut french toast are spot on for a bit of weekend indulgence and the classics like mushrooms on toast and smashed avo are just as good too.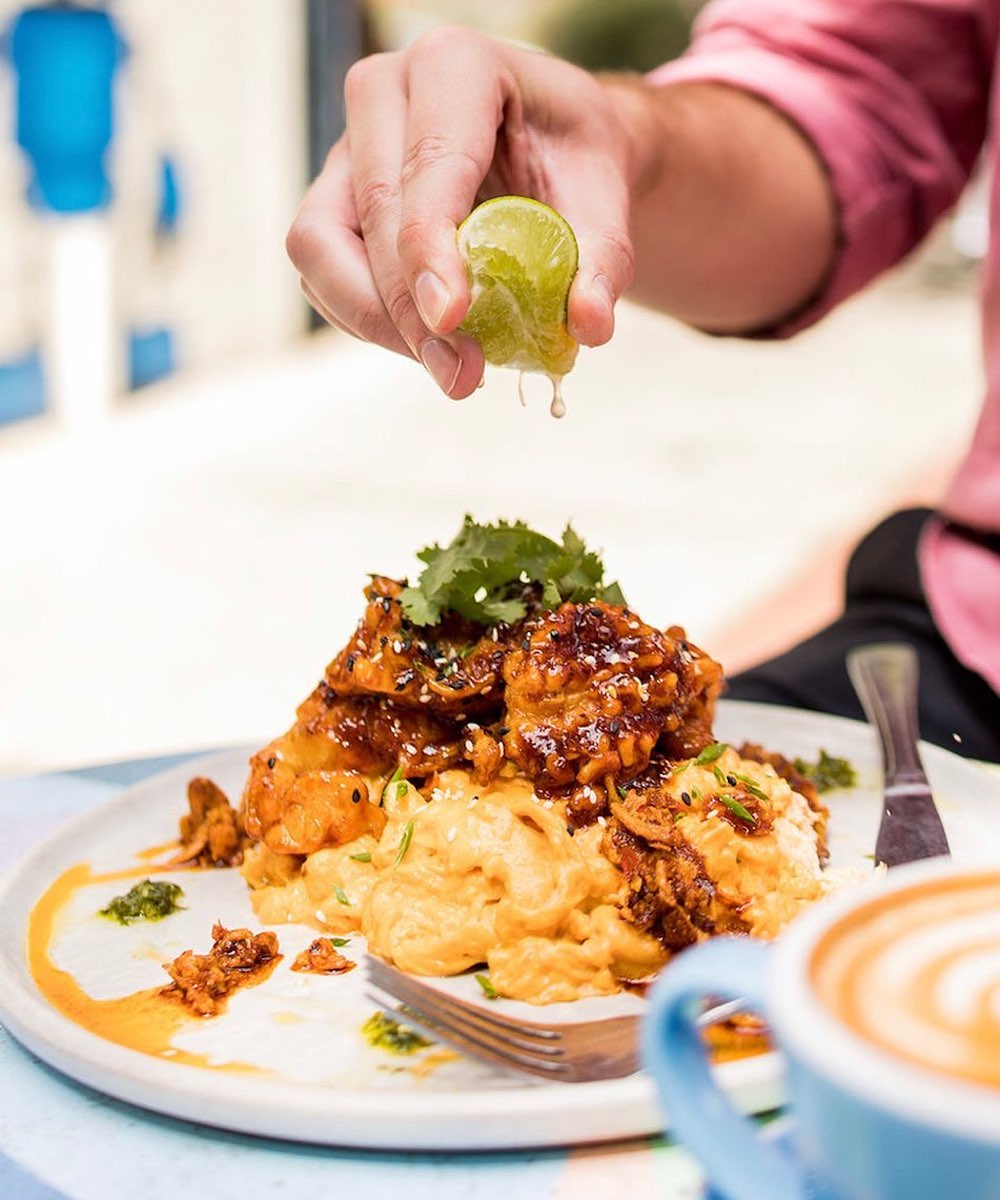 Bib & Tucker
North Fremantle
With its million dollar view over the Indian Ocean and a phenomenal brekky offering, Bib & Tucker continues to be somewhere we want to spend our Sundays at. Everything on the menu is perfect with some honourable mentions to the fried chicken roti, buttermilk banana pancakes and Japanese sweetcorn fritters.
Someday Coffee Co
Floreat and West Perth
A fave to Floreat locals and now the lucky folk of West Perth, Someday continues to dish out seriously smooth coffee and epic brekkies you can't go past. The crunchy corn fritters or Insta-worthy pancakes all deserve a spot at the table. Not to mention the ambience of this place—natural light, pink accents, bright whites and pale wood. It's the definition of pretty.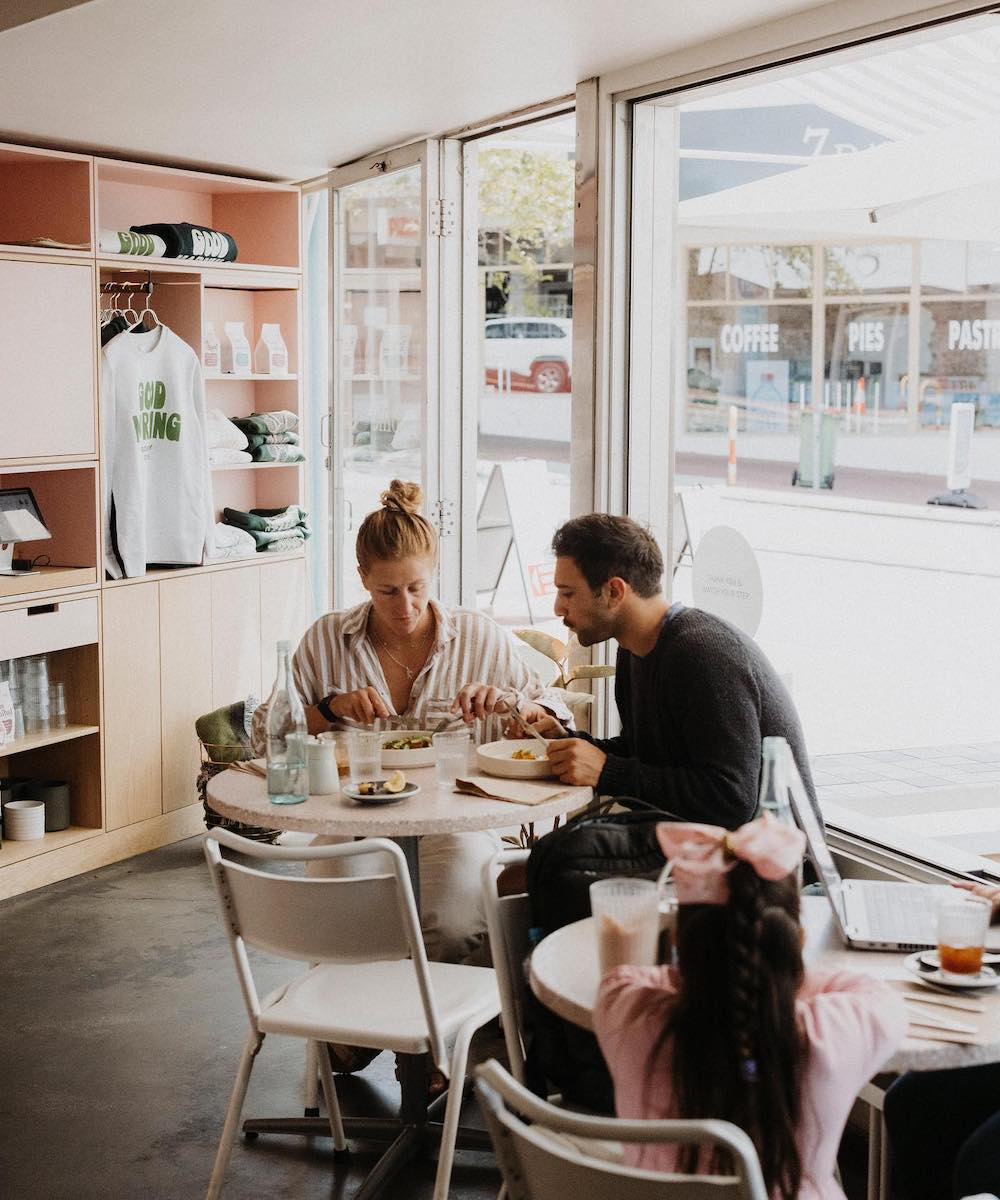 Our Ruby Girl Cafe & Providore
Como
Our Ruby Girl is an Aussie-style cafe in Como with incredible sustainable and ethical practices worth getting behind. The cafe has partnered with Bentley's community garden project and swaps coffee waste and cardboard for excess local produce. They grow all their own herbs in the kitchen garden and have a providore stocked with homewares and art from local suppliers. An equal opportunity cafe hiring people with disabilities and a fab brunch menu make this one of our fave new cafes in Perth.
Laika Coffee
Lathlain
From the peeps behind Hylin comes another Perth fave - Laika Coffee. So good in fact that they've opened up a sister cafe, Little Laika in the new Karrinyup West Deck precinct. House roasted coffee and damn good brekkies is all you need to know.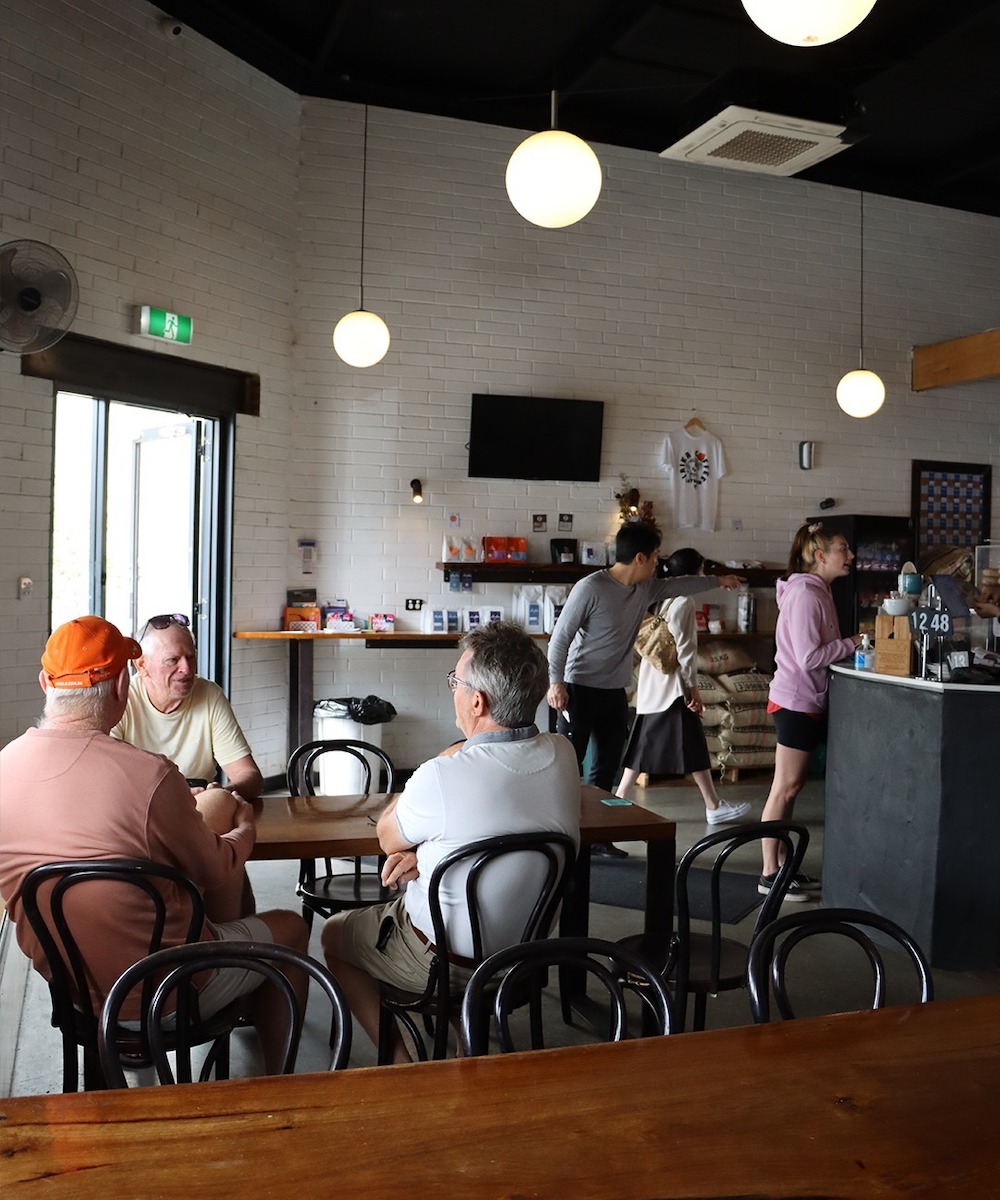 Lot One
Hillarys
After a dip at Whitfords Beach, there's not much else you should do than settle in for a hearty breakfast at Lot One with a brekky cocktail in hand. We'd really like to start a petition to bring their pancakes back, but for now we'd recommend the brisket benny with chipotle hollandaise and a potato rosti or for something sweet the house made crumpets topped with all sorts of goodness.
Duck Duck Bruce
Fremantle
Duck Duck Bruce has people falling in love with them just from a perusal of the menu. The Rhubarbra Streisand breakfast (stewed rhubarb, strawberries, maple and almond granola with pomegranate and cardamom coconut whip) is first up on the menu and we're not sure we should go much further. If you need further evidence, how about the Tower of Power with Keralan fried chicken on a pretzel bun?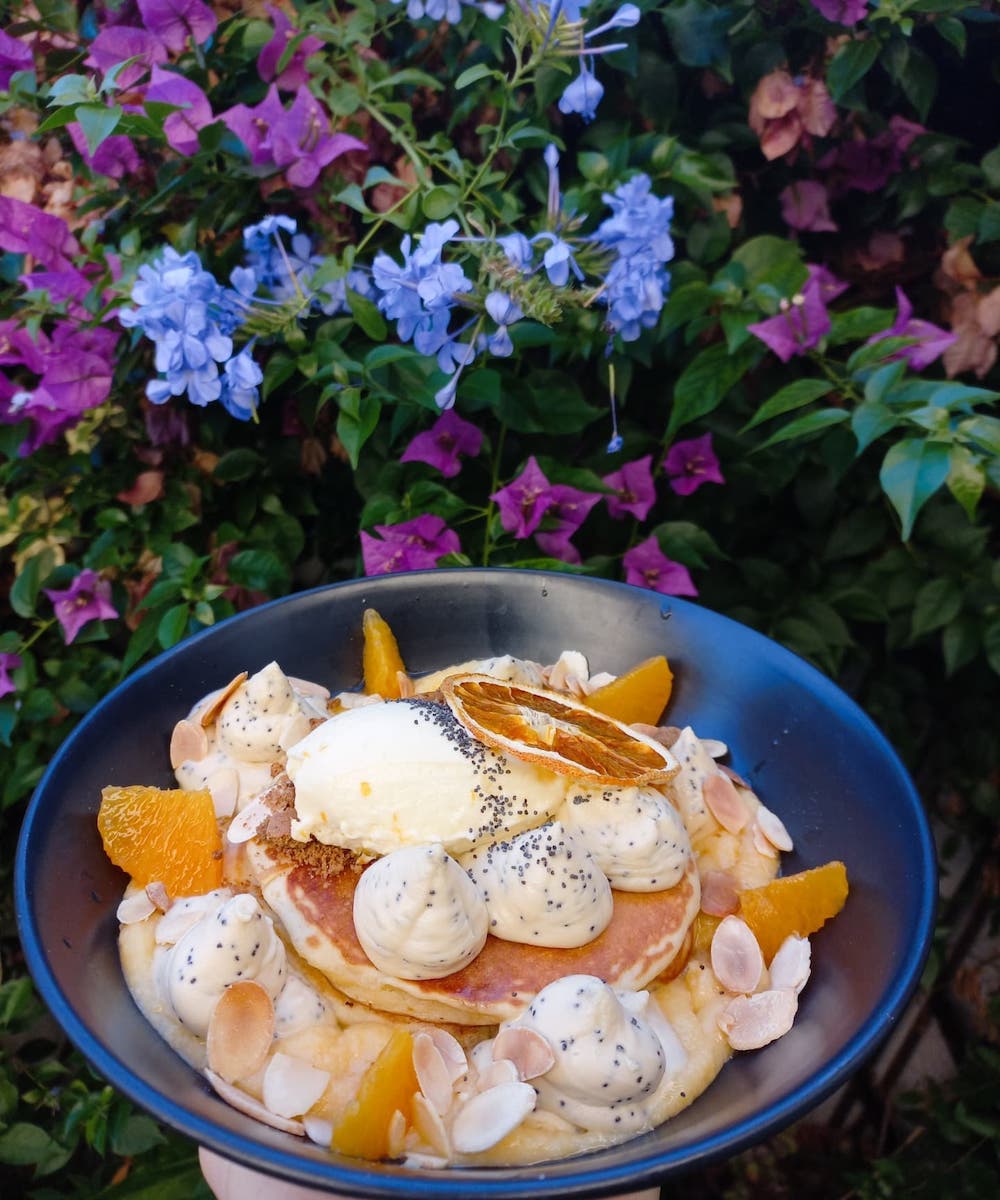 Humblebee Coffee Roasters
Mount Hawthorn
Humblebee take their coffee very seriously, and in our humble opinion, so should you. Roasted in house and only offering a couple of sizes and milk varieties, the coffee here is legit perfect. You can take your own bag home and we recommend not leaving without one of their melt in the mouth mini bombolini—a fancy Italian doughnut for those not in the know.
Good Things
Mosman Park
Brekky is served until 2.30pm at this Mosman Park hero so there's no rushing around to get your polenta soldiers or fluffy buttermilk hotcakes with lemon curd and vanilla bean mascarpone. Nope, we're not joking. The fit out is stunning and the coffee is by Micrology. We're in love.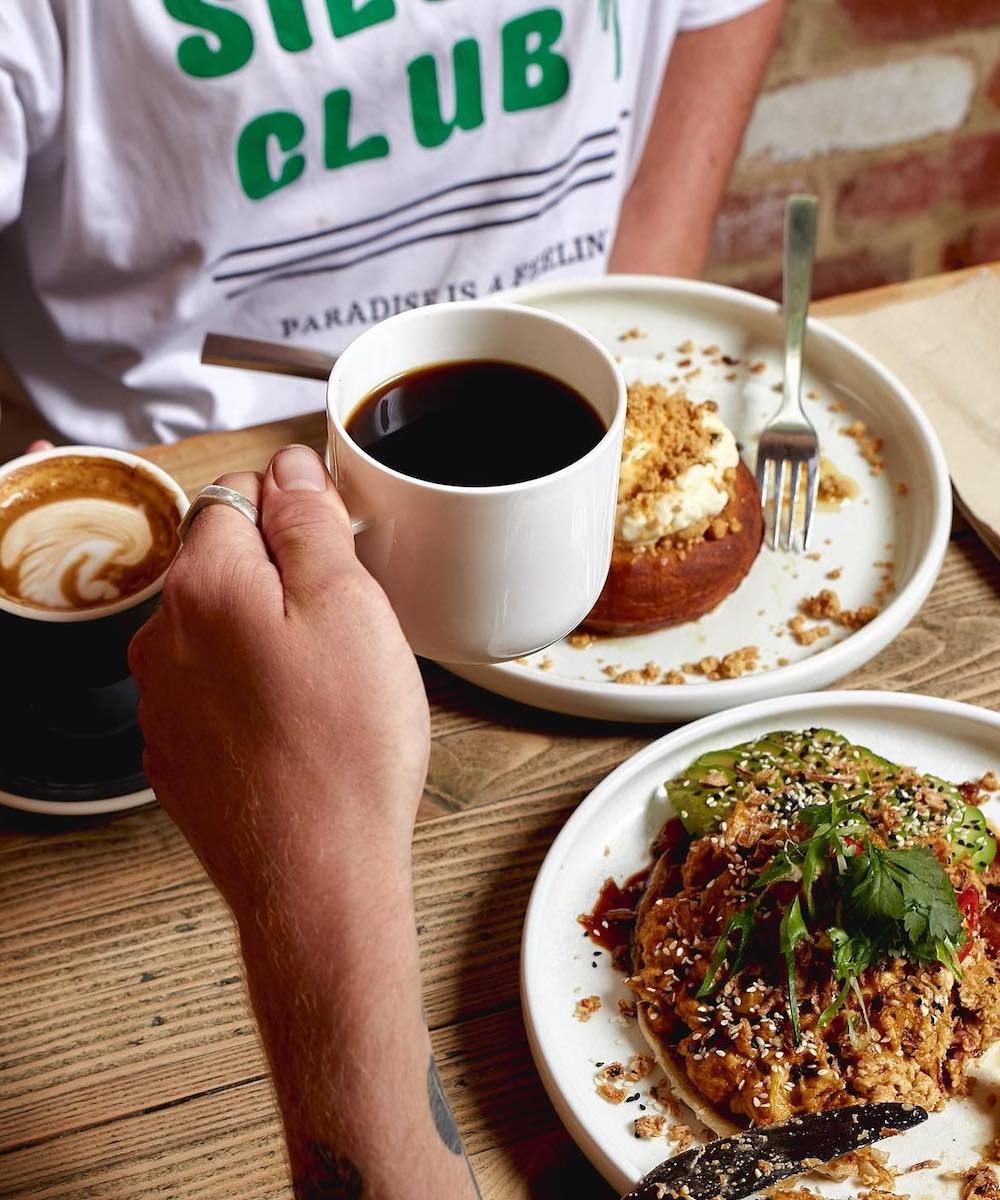 Mr Chapple
Fremantle
Dumplings for breakfast? This may be the best news we've ever heard. Mr Chapple at The Old Synagogue in Fremantle offers everything you could ever want for a brekky, brunch or lunch. There's a rooftop bar with views of the cafe strip and menu items that will blow your mind. The famous dumplings with egg, spinach, mushroom and chilli hollandaise and a soft shell crab croissant are some of the best.
Roasting Warehouse
South Fremantle
On one of the coolest streets in South Freo, Roasting Warehouse is obviously a major player in the coffee game, but what the name might not suggest is they dish up amazingly good breakfasts all day. Acai bowls, creme brulee french toast, schnitty rolls and their own take on an eggs benny are just some of what you can expect.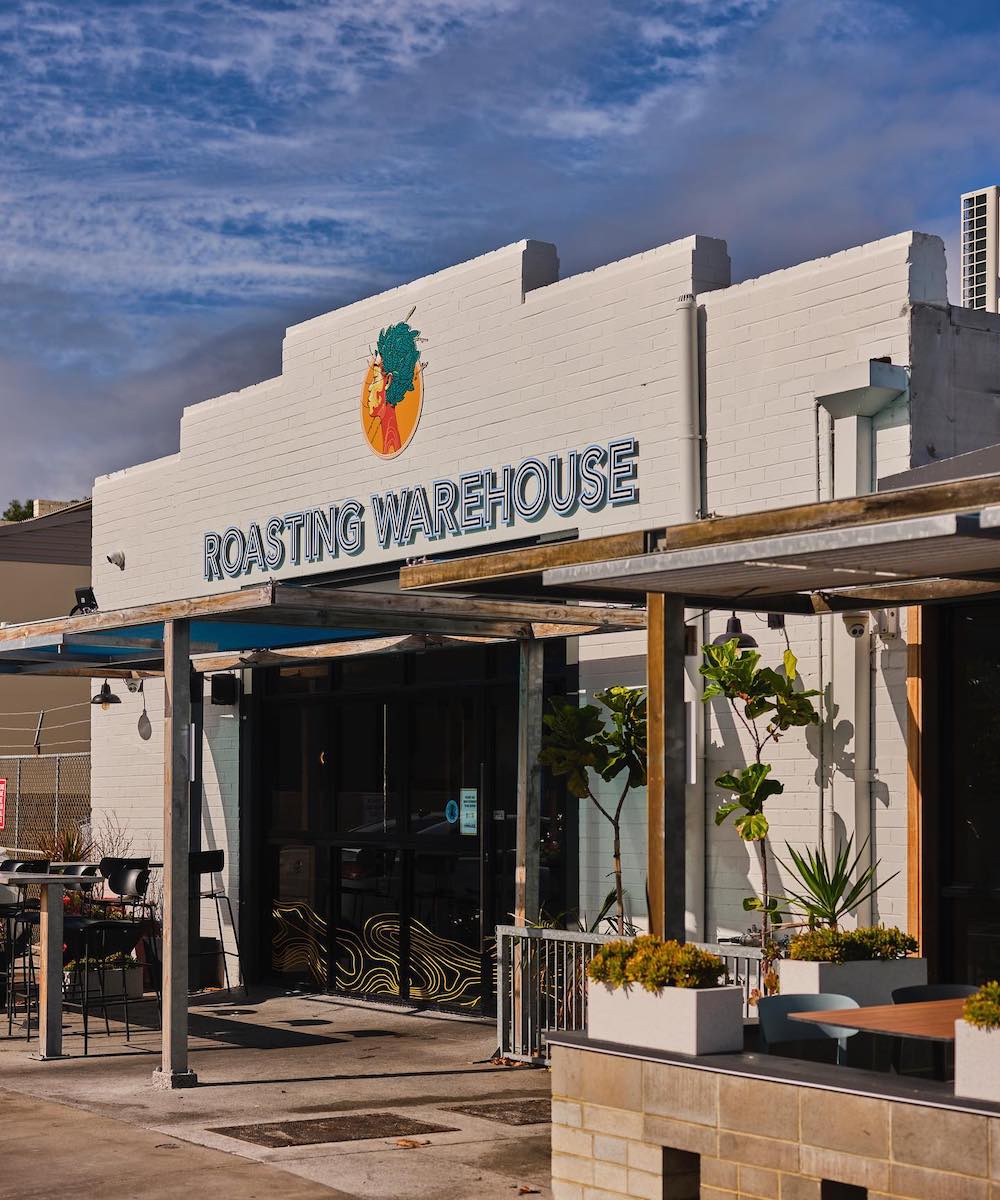 The Neighbourhood
Attadale
Good food, great coffee and a friendly atmosphere is what The Neighbourhood promises for your next brekky date. There's big breakfasts if you're in need of a little hangover cure, or fresh options like salads and smoothie bowls. The cafe also houses a boutique wine store so you can pick up a boujee bottle before you head home.
Grouch and Co
Myaree
If you want to up your coffee game, there's no better place to visit than Grouch and Co. The peeps here are micro-roasters of the finest coffee beans from around the world and are keen to share their passion. There's a take-away window to grab a snack from or you can sit down and enjoy some of the meals on offer.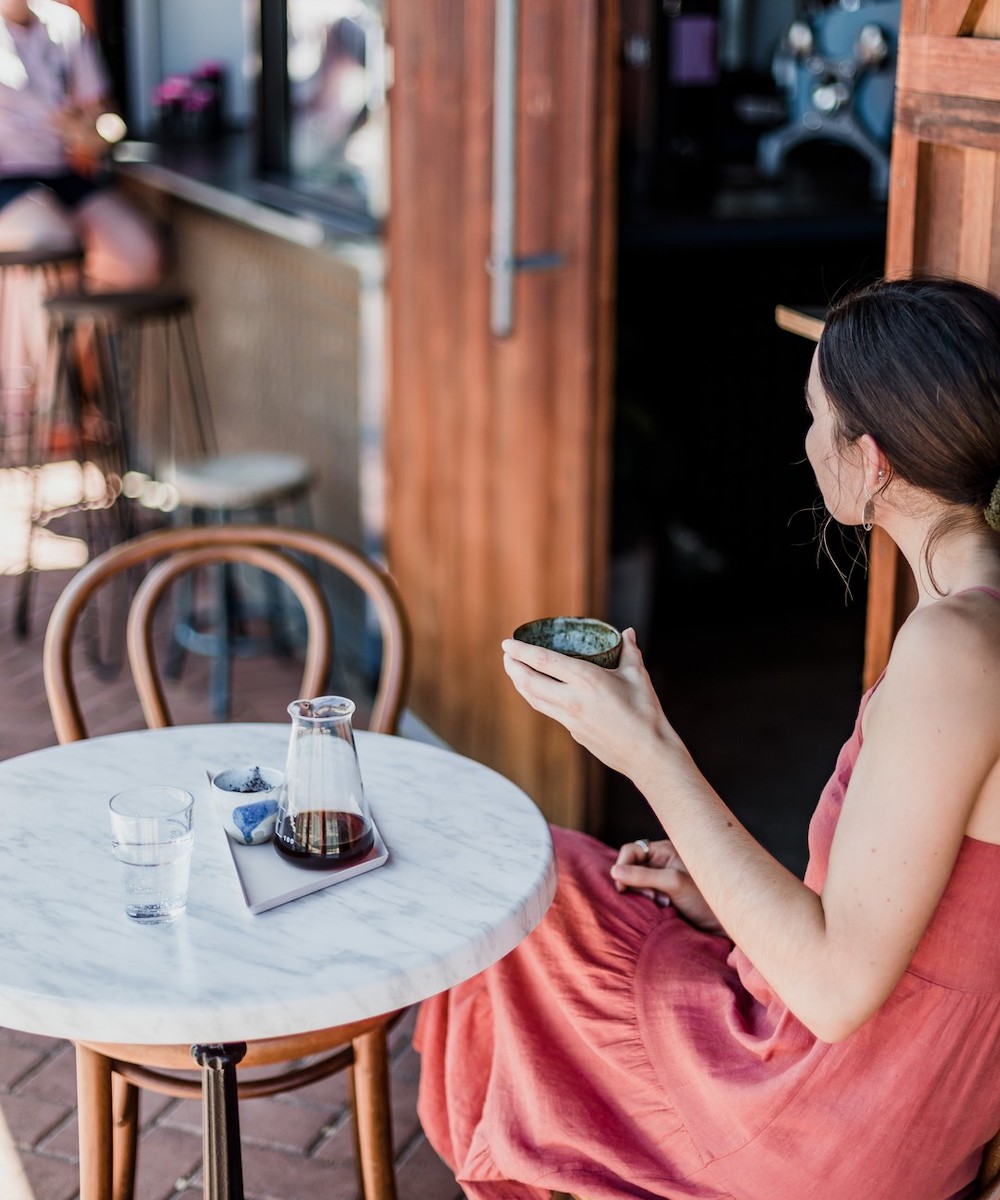 The Orange Box
North Fremantle
This kiosk at Leighton Beach is exactly what you need on a Summer's day in Perth. Sit back on the bean bags or grab a take away and head down to the beach. Bircher muesli, acai bowls and an avo smash all scream summer. If you need something heartier, there's fish tacos, loaded beef fries and burgers.
Alex Junior
Padbury
Straight outta Padbury, Alex Junior has some of the best caffeine North of the river and a cabinet full of sweet and savoury treats. Order a latte, choose something to munch on and browse the little gift store while you wait.
Moore & Moore
Fremantle
There's an endless amount of eateries in Freo but Moore & Moore makes the cut each time. Housed in the heritage Moores building on Henry Street, this cafe is all things Freo. The feel good food like organic crumpets and buddha bowls will have you feeling fine and the vibes here make for the perfect spot of relaxation.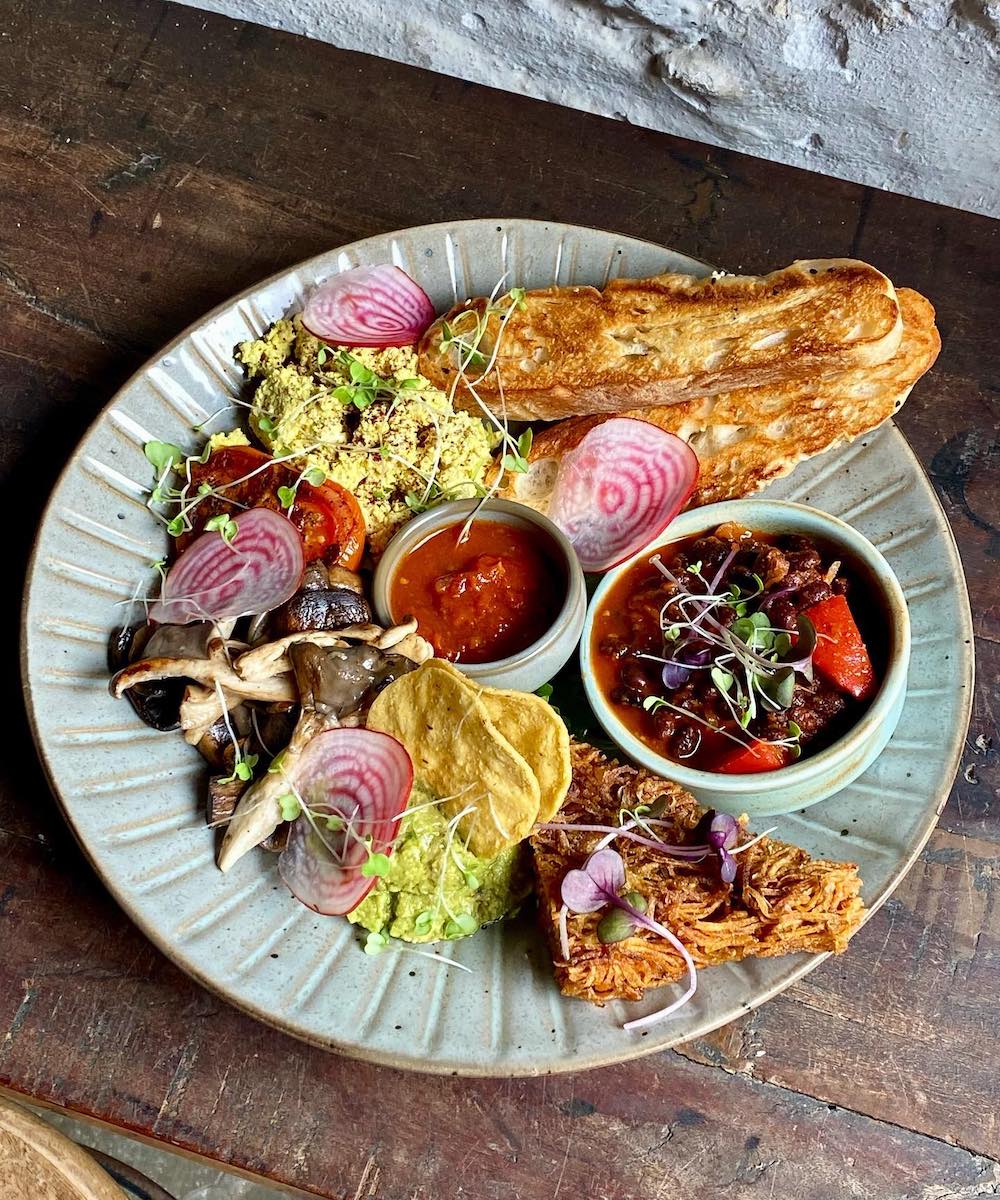 Drift Kitchen
Scarborough
Drift serves up fresh and tasty food alongside coffee by Leftfield Roasters. It's hard to choose our favourite dish here, so we're gonna go with a few-mushrooms on toast, zucchini and apple fritters and of course, house made waffles.
Gill St Cafe
Mosman Park
Gill St Cafe is a little neighbourhood secret within the manicured streets of Mosman Park. The cafe has all sorts of breakfast goodies like the good ol' avo smash, a halloumi burger and house made bircher muesli. It's a classic brekky we can all get around.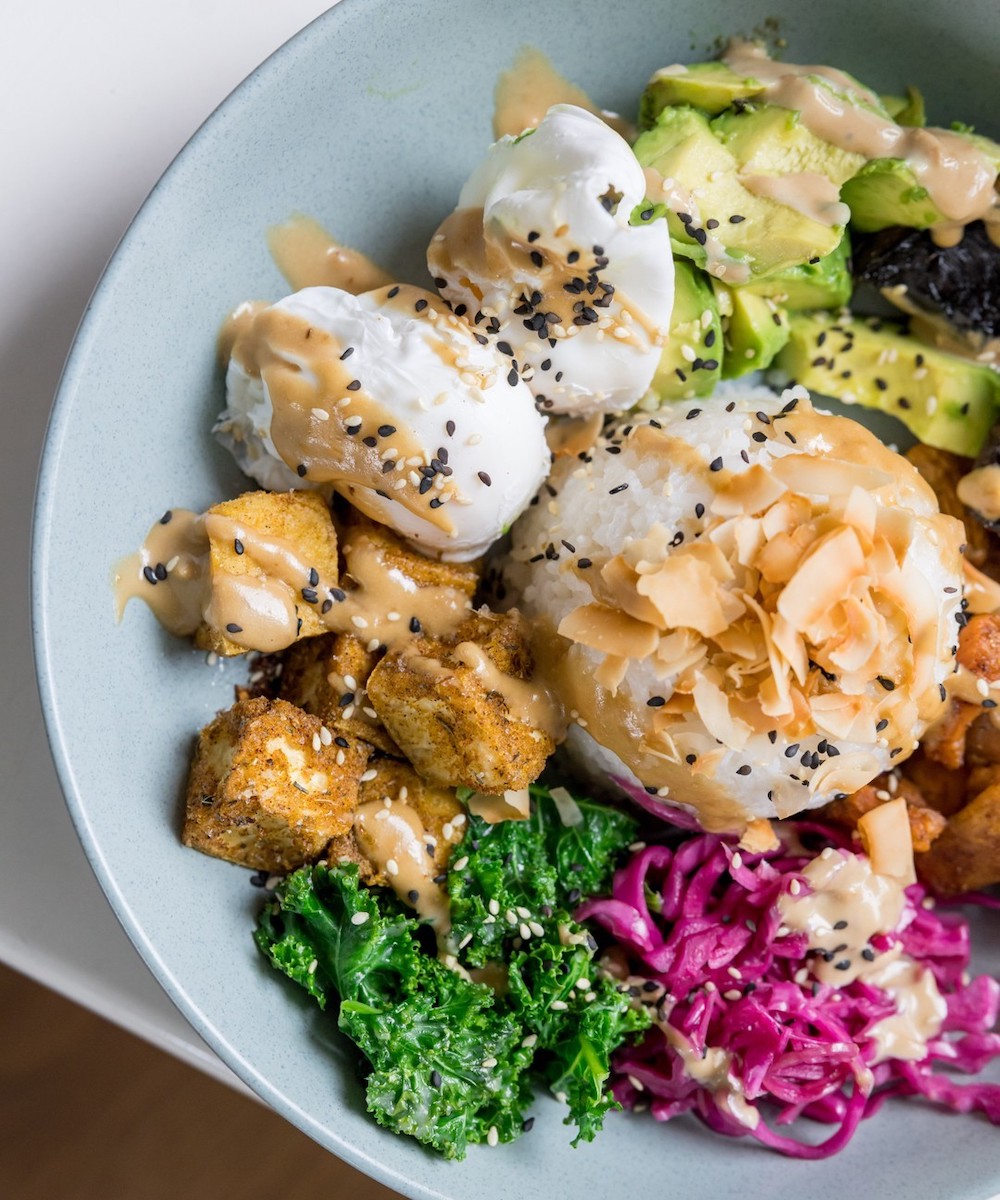 The Shorehouse
Swanbourne
Perched on top of Swanbourne's beach, the beachside eatery does every meal of the day. Whilst we love a good sunset drink and dinner, sipping on a Bloody Mary on a weekend morning also does the trick. The heirloom tomatoes with avo and stracciatella are a fresh way to start the day and the bacon and egg roll with a potato rosti will satisfy the traditional breakfast lovers in your life.
Charlie Boy Coffee
Northbridge
This charming cafe has popped up in Northbridge filled with lush greenery and a fully stocked cabinet to get you ready for a great day. The lemon poppyseed cake alongside a cuppa is a daily habit we're ready to get around.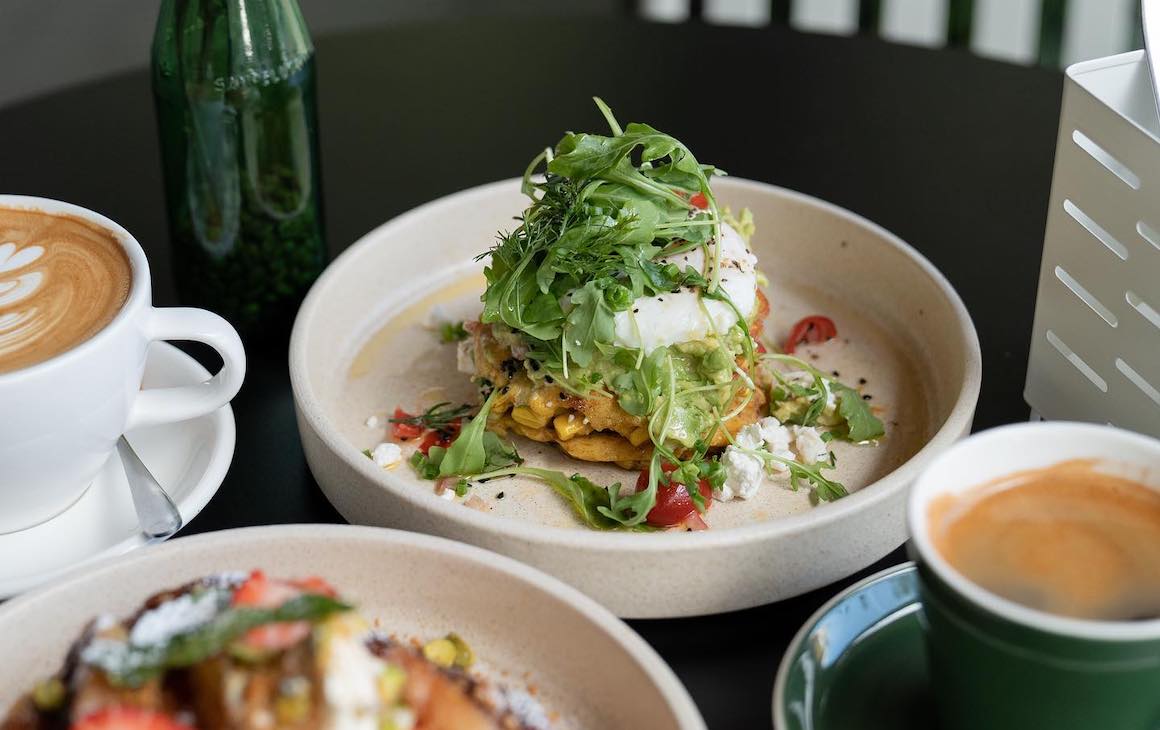 Canteen
Trigg
It would be remiss of us not to include Canteen. With its sweeping views over Trigg Beach, this ultra casual, sandy feet hang out serves up some seriously great food. The burgers and fish and chips make for the best post-swim meal. We're also here for the smoothie bowls when you're craving something fresh and healthy.
Continental Co
Osborne Park
This hole in the wall coffee shop serves up some of the best coffee going round alongside some mega conti rolls set to rival Nonna's. Whilst the classic is available, we find it hard to pass up anything featuring a chicken schnitty.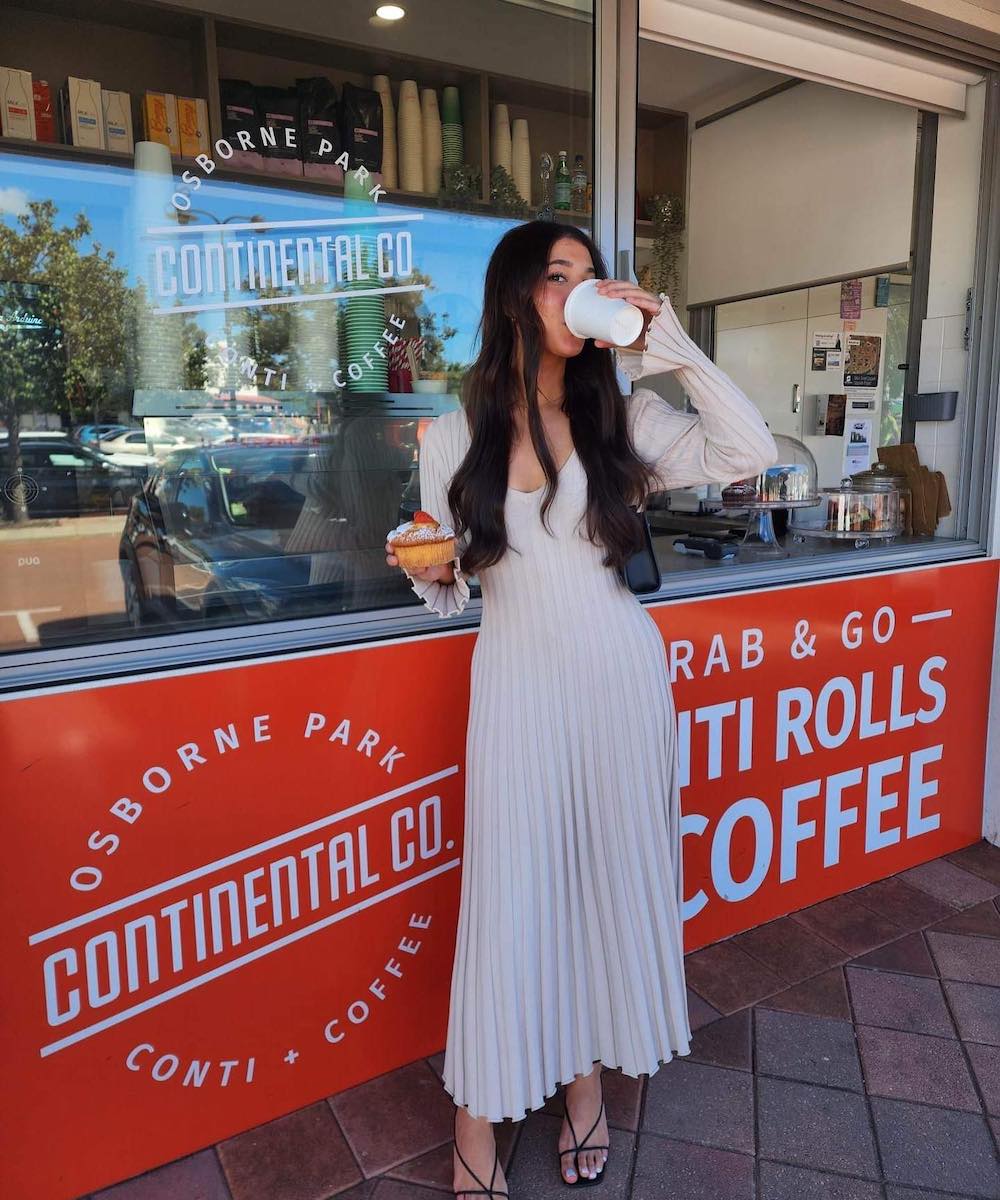 Oh So Deli
Woodlands
Hot sandwiches, coffee and thickshakes… what more could you want? It is quite literally impossible to choose the best—chicken katsu, eggplant parmy, a meatball sub… these guys are geniuses.
Last Crumb Cake Co
Bassendean
Be prepared for a new addiction. Every single thing to come out of Lake Crumb is pure deliciousness. The cinny scrolls could be in for the title of Perth's best, and their cakes, salads, sandos and slices are beyond good. Folks of Basso—we're jealous.
Looking for somewhere in particular? We've rounded up the best Leederville cafes, Mount Lawley cafes and Fremantle cafes. If you're just after coffee, hit up Perth's best coffee shops.
Image credit: Elle Borgward (Little French Nest, Palette, Tom's Providore, Local & Aesthetic, Forklore, Viaje) Soho Lane, Hinata Cafe, Peninsular Farm Cafe, Micrology Coffee Roasters, Folk & Merchant, Chubby Boy, People's Cafeteria, Emma Bryant(Peggy's), Nogi Lane, Arrival Hall, Mary Street Bakery, The Little Bay, Chu Bakery, Hylin, Someday, Laika Coffee, Duck Duck Bruce, Good Things, The Roasting Warehouse, Grouch & Co, Moore & Moore, Gill St Cafe, Charlie Boy Coffee, Continental Co