Don't you just love, love? Being the big old softies that we are, we've gone and done you a serious solid by rounding up a bunch of super cute and endlessly entertaining date ideas on the Sunshine Coast to keep your romance blossoming. As time goes by, we know offering to do the dishes just won't cut it anymore. If you really want to win over your beau, it's time to step up your date game.
Luckily, we're here with the best unique date ideas on the Sunshine Coast that will blow your 'dinner and drinks' plans straight out of the water. It's not original and it never was. Here are 16 of the best date ideas on the Sunny Coast that are guaranteed to up the romance levels with your special someone.
Get Your Hands Dirty At A Pottery Session
Nambour
You've all seen that movie, now let's not bounce around the fact that you've all wanted to recreate that scene. We're talking about 'Ghost' and The Pottery Studio in Nambour offers one of the closest chances you'll ever get with their Clay & Wine classes for just $66, where you can BYO wine. If you want our advice, throw yourselves two pasta bowls for a post-glaze feast; we bet the spaghetti will taste all the better from a personally crafted piece.
Find Your Balance At SUP'ing
Maroochydore
A little less challenging than surfing, but still resulting in equally as many laughs and use of coordination or, lack thereof. Grab your date, slip into your swimmers and hit the calm waters of Cotton Tree for some fitness fun in the sun with a SUP session. Ocean Addicts in Maroochydore will set you up with all the stand-up paddle boarding gear, lessons and a gorgeous location at Pincushion Island. We think you'll agree, nothing beats an island fling.
Embrace Your Inner Picasso At A Boozy Sip And Paint Class
Caloundra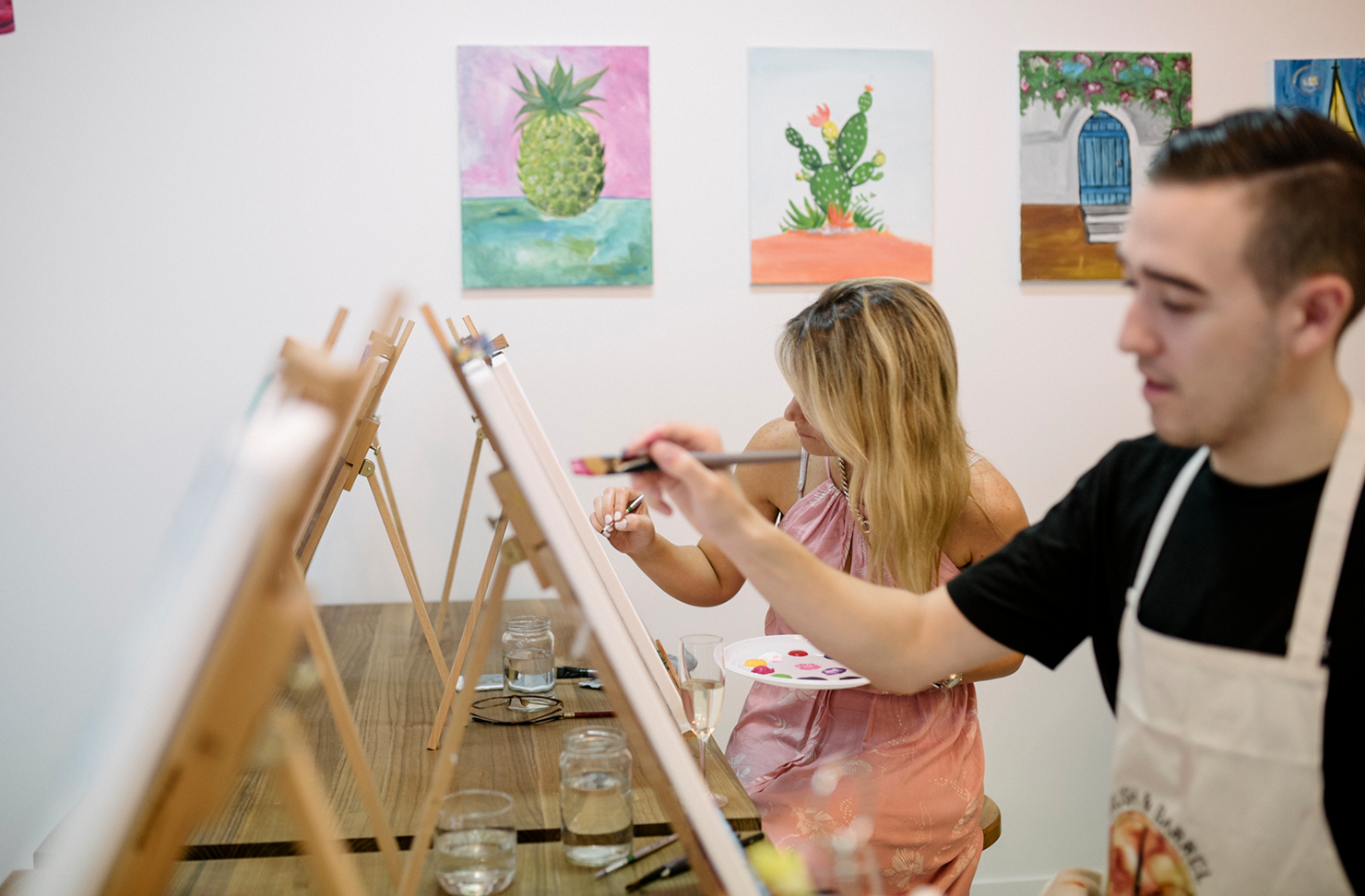 Take a walk on the creative side as Caloundra's Art Hub encourages you to release your inner Picasso at a paint and sip session. With an artist on standby for guidance and confidence from your BYO wine, you'll drink, brush and laugh your way towards a completed masterpiece. And remember, this cute date is more about the experience rather than the finished product, so don't fret if your artwork doesn't feature on your lover's wall.
Soak Up The Views On A Wholesome Road Trip
Various Locations
With good company, a great playlist, a killer picnic, and spectacular scenery, a road trip is bound to be a good time. Cruise along the coast or head for the hills—the choice is yours. The Sunshine Coast is no stranger to natural splendours and picturesque country villages waiting at the end of spectacular scenic drives, but not all road trip destinations are made equal. After all, a road trip can just as easily be a disaster (and a waste of your precious weekend) if you don't put the planning in beforehand. Don't worry, we've got you covered with the best road trips around the Sunshine Coast. All you have to do is pack the car snacks.
Putt Your Way Into Their Heart At Mini Golf
Maroochydore
If you love big putts and you cannot lie, book a slot at Holey Moley Golf Club on Maroochydore's Ocean Street. Destroying the retirement game stereotype, Holey Moley takes mini golf on the Sunshine Coast to new heights with its pop culture-inspired amusement course and onsite bar, The Caddyshack. There won't be a dull moment as you challenge your partner through nine or 18-holes of Australia's craziest course, including shark-infested waters and The Simpsons couch.
Pick Up Some Farm-Fresh Goodies At The Farmers Markets
Various Locations
If your date is the wholesome type, then suggesting a visit to your local Sunshine Coast market will have them weak at the knees in no time. Grab a coffee and some homemade snacks and then find a grassy spot to sit down and bask in the sun for a while, as you relax to the tunes of live music. You can even fill your bag with some farm-fresh produce and take the date back to yours, where you can whip up a romantic dinner using your market goodies.
Book A Romantic Stay Among The Clouds In A Treehouse
Various Locations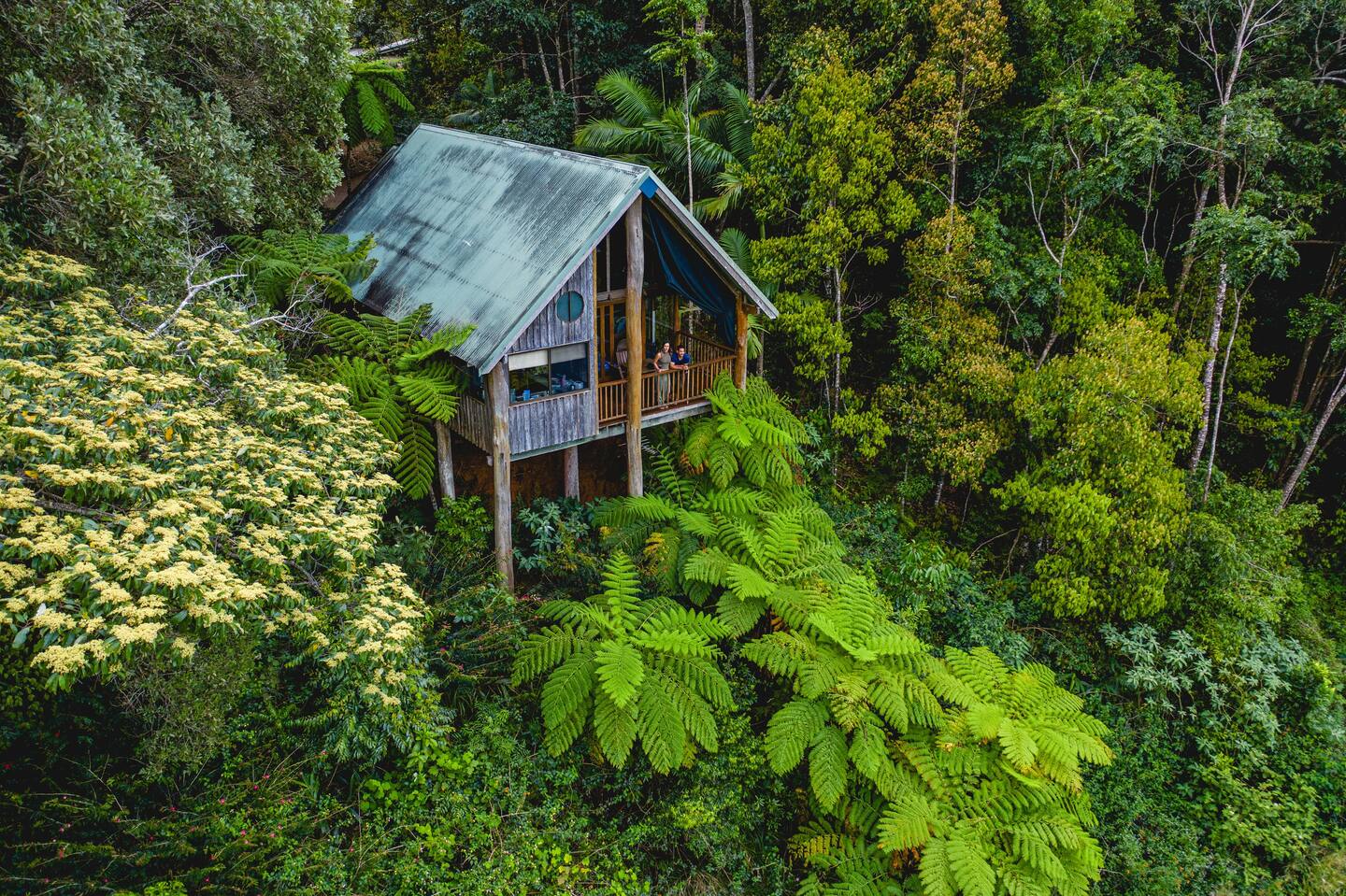 If you've got an extra-special date coming up or you seriously want to impress your beau, why not whisk them away to sleep among the clouds at one of these stunning treehouses that you can actually sleep in. The Sunshine Coast is packed with vacay destinations up in the trees, so you can get up close and personal with the koalas and kookaburras without having to do any hard work on your part. Trust us, there's nothing quite as romantic as waking up with your lover in a luxury treehouse getaway.
Find Your Way Out Of An Escape Room
Various Locations
Dinner and drinks is so not original for a date night out—thanks to the three main escape rooms on the Sunshine Coast, there's plenty of quirky puzzle rooms to keep your brain ticking and heart pumping. It's time to take your crime-solving skills to the next level with your date. We recommend Escape Room Oz, Red Lock Escape Room and Strike Bowling's epic escape rooms, for maximum thrills.
Test Your Knowledge At A Trivia Night
Birtinya
Knowledge is power, so show your date what you've got by hitting up one of the many trivia nights around the Coast. Wednesday night Taphouse Trivia at Malt Shovel Taphouse will have you scratching your head with their weird and whacky questions, but don't stress if you're not winning 'cause a cheeky Wednesday night craft beer will ease your pain. You can also try this one at home—if you don't have some version of Trivial Pursuit stored in your games cupboard, you clearly didn't have a childhood.
Visit A Local Farm
Various Locations
This is one out-of-the-box date idea that is certain to make your new date swoon while you show your softer side. Take them on a farm hopping expedition for sunflower selfies, pick-your-own fruit and veggies, stunning rural views and soul-warming country air. We've done the hard work for you, with our wrap up of six local farms you can visit which are all within easy driving distance of the Sunshine Coast.
Get Your Heart Pumping And Hike Mount Coolum
Mount Coolum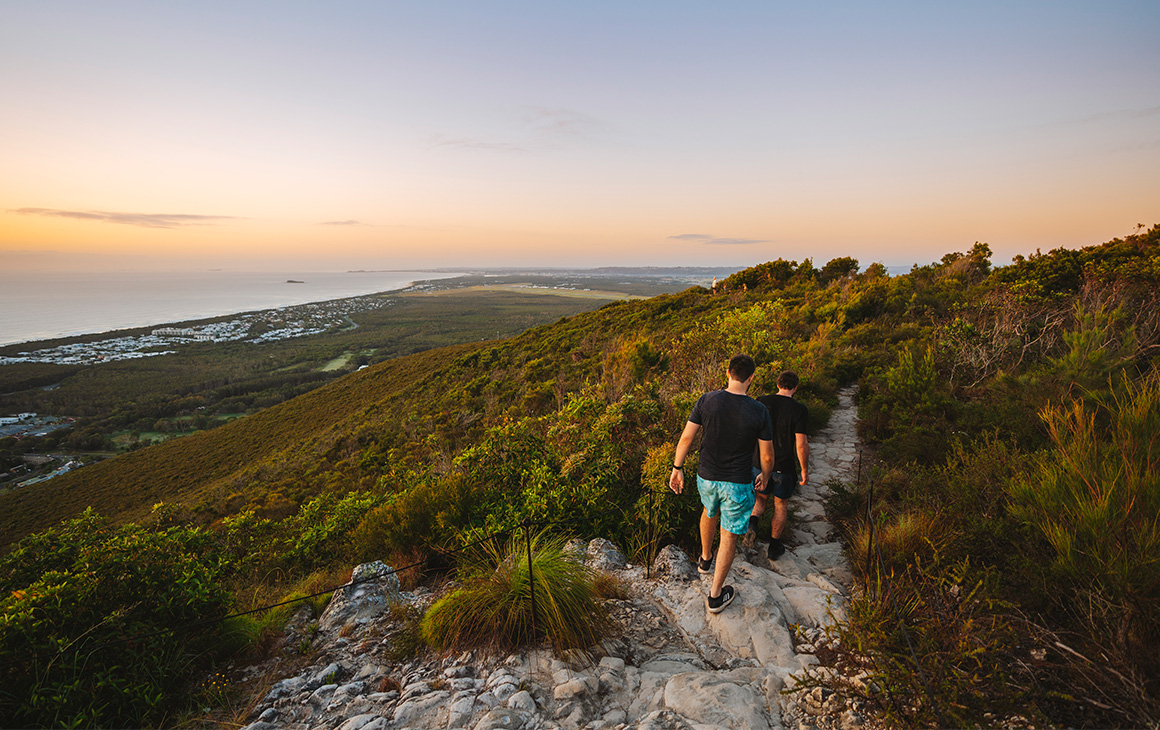 Chuck on that lycra activewear and show off your inner Bear Grylls, 'cause the Sunshine Coast offers the kinda stunning scenery one could only dream about when being wooed. Don't let a 5am wake-up scare you because once you and your partner in crime reach the peak of Mount Coolum at sunrise, the views will be so amazing that you'll forget what tired even means. So, get your bodies moving and earn a few extra brownie points with a pre-packed breakfast; we're guessing your date's going to be one hungry human following that Sunshine Coast hike.
Sip Your Way Around A Romantic Vineyard
Montville
There's something about wine country that gives us all the romantic feels. Luckily for us, we've got a little slice of it right in our backyard. Sitting pretty on top of Montville, Flame Hill Vineyard is a one-stop shop for your next date. Incredible views, romantic vineyards, an award-winning restaurant and wine straight from the source—this is ticking all the boxes as one of the Sunshine Coast's best date spots. And if your date is going reallyyy well, you can even spend the night at one of their luxury cottage accommodations.
Tune Into Some Live Music
Music works like a charm in taking your relationship next level. Local artists gig it up all around the Sunshine Coast, but we know a few spots guaranteed to impress your lover. Up in Noosa, Café Le Monde hosts a diverse rotating mix of live artists every week. Impress your date next hump day with your own skills at Sol Bar's open mic night every Wednesday (with $10 pizzas). Don't stress if singing isn't your forte—this funky open mic night is all about letting your hair down and having a blast, no matter how tone deaf you are.
Cook Your Way To Their Heart
Yandina
Foodies, rejoice. Whether you're hopeless, hopeful or darn-right awesome on the pots and pans, it's time to switch up your usual dinner date plans with a cooking class at Spirit House. This sweet cooking school allows you and your boo to explore the many techniques and flavours of Asian cuisine before meals are served at the end of class with a wine carefully matched by a Spirit House sommelier. It puts a sure-fire spin on the usual sit-down meal at your favourite restaurant.
Take It Slow With A Romantic Beachfront Walk
Various Locations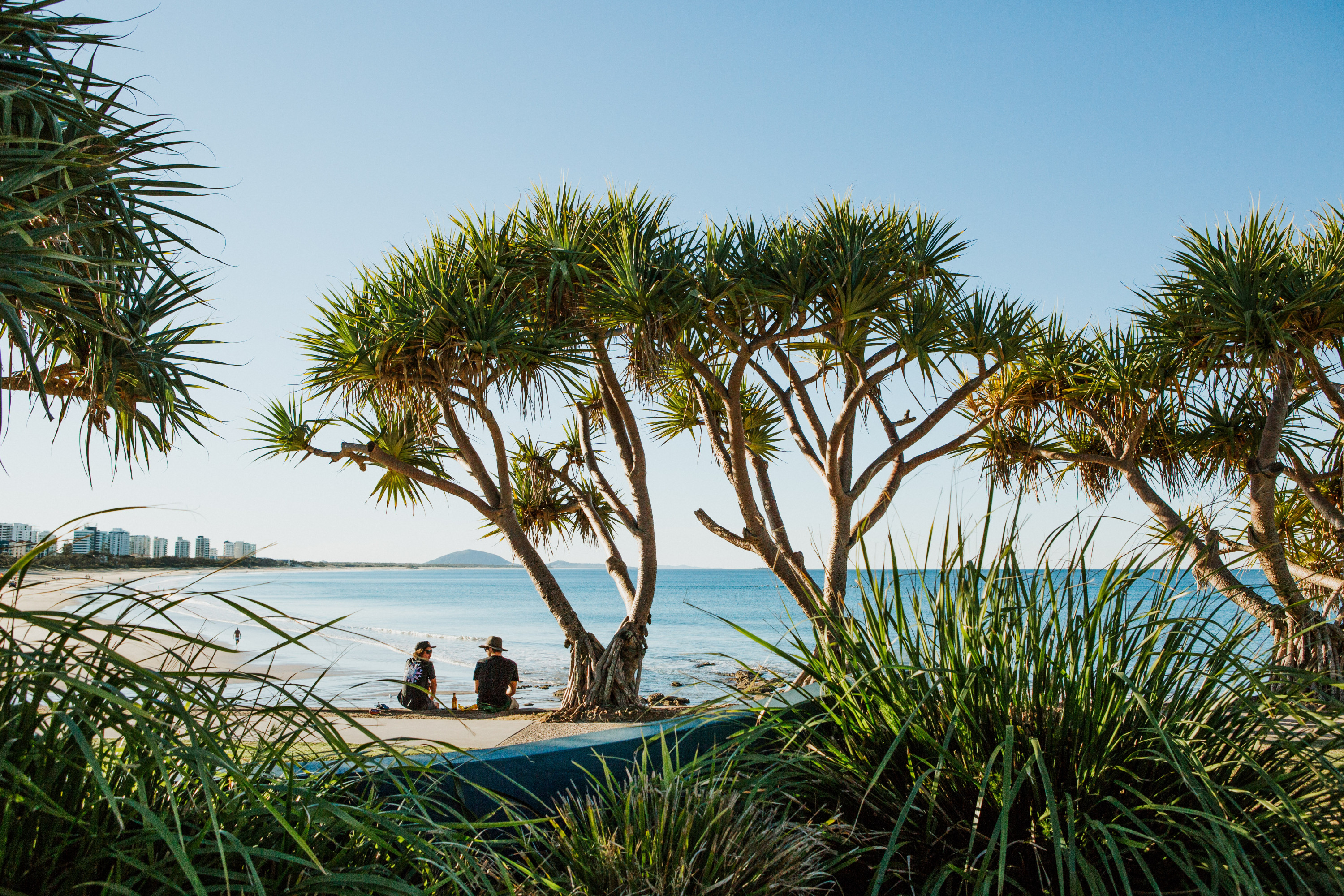 Who doesn't love a slow, romantic beachfront stroll? If your date has a pooch, this should be at the top of your list and there are plenty of dog-friendly walking trails around the Sunshine Coast so take your pick and score some major brownie points. A beachfront walk is a cheap and incredibly rewarding way to spend the day, especially when we're blessed with loads of stunning (and easy) walks on the Sunshine Coast. If you're lucky you might even score a little hand holding while you're walking.
Set Up A Picnic With A View
Various Locations
Ah romance, you're not dead after all. Pick your date up and head straight to the beach. Once your date is suitably impressed with your driving skills you can park the car, order some of the Sunshine Coast's best fish and chips and then pop a picnic blanket down and soak up the stunning sunset views. Bonus points if you have a blanket on hand for when it gets chilly (cuddles are almost guaranteed).
You must be getting hungry from all these action-packed dates, so fill that hole in your stomach by digging into the best breakfasts on the Sunshine Coast in 2022.
Image Credit: Airbnb, Brush & Barrel and Amy Higg Photography