At long last, Your Mates Brewing Company has opened their very own brewhouse, and we are crazy excited.
After closing their original taproom in Moffat Beach and their venue The Basement in Nambour, they've taken their liquid gold to Warana to open Your Mates Brewhouse, a combined brewery, restaurant and bar
If you paid them a visit in Moffat Beach, or ever ventured to their Nambour venue, then you'd already know that Your Mates are the epitome of that relaxed vibe the Sunshine Coast is renowned for. And their newest venue is no different.
Positioned conveniently inside a massive venue on Technology Drive in Warana's industrial precinct, Your Mates Brewhouse fits right in with an urban industrial fit-out and exterior. Think: cement floors, high bar tables and stools, ambient downlighting and exposed timber panelling, mixed with just the right amount of corrugated iron detailing and a dash of greenery (as all good beer gardens should have). There's also an epic poolroom and a playground for the kids, so both the young and young-at-heart will be entertained. The relaxed fit-out, understated décor and abundance of seating room makes it the ultimate destination for everything from parties to post-work drinks and family dinners.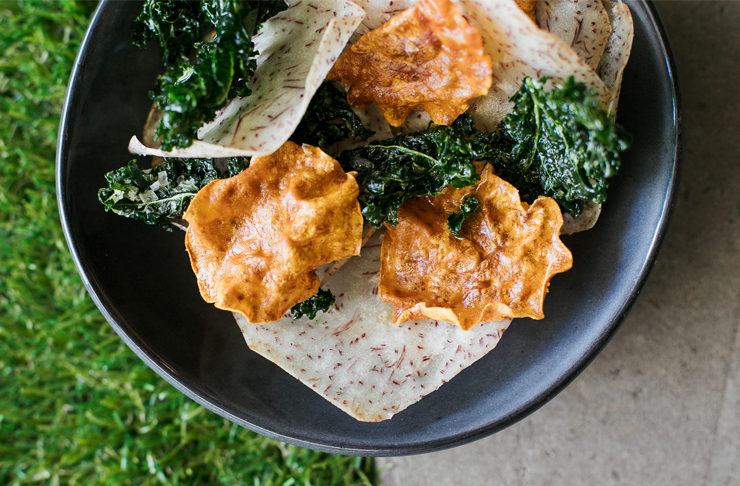 Speaking of dinners, the menu at Your Mates Brewhouse is worth a mention. There's beer bites, which are available all day, every day, and includes favourites such as beer sticks, pork puff crackling and onion rings—the perfect companion to any pint. Then there's small and large plates, which contain everything from buffalo wings and cauliflower bites to beer battered fish and Aussie smokehouse sausage and mash. There's also a range of delicious burgers up for grabs, including the Buttermilk Crispy Chicken burger and the Your Mates Vege burger.
If you're not already drooling, then talking about the beers will probably do the trick. With over 10 taps, including new unreleased beers, you're sure to find something that tickles your fancy. Whether it's a pale ale, lager, Saison or stout, you'll most likely find yourself sipping on the best beer you've ever had. But, if beer isn't your thing, there's also a wine list that features some delicious local and not-so-local drops, as well as all the most-loved non-alcoholic drinks for the kids and designated drivers.
Easily one of the best breweries on the Sunshine Coast, whether you're a beer connoisseur, on the hunt for a new Friday knock-off destination or simply love a good parmigiana, you're going to love Your Mates Brewhouse. Live music and entertainment kicks off from 6pm on Fridays and Saturdays, so ditch your third cousin's birthday dinner and consider your weekend sorted.
Where: 41 Technology Drive, Warana
Open Wednesday to Sunday from 11am
Stay on the local brewery train and check out Noosa's newest beer spot, Heads of Noosa Brewing Co.
Image credit: Amy Higg for Urban List