It's here guys. It's bloody here. Christmas has finally arrived on our doorstep and if you thought that was all you had to look forward to this week, you're in for a verrryyy pleasant surprise. If (like most of us) you've left your Christmas shopping to the very last minute, well, you've got all the Chrissy markets to hit this week, plus free gift wrapping in the CBD. Enjoy a festive feast (not cooked by your mum) or a fancy seafood buffet.
Either way you cut it, you're going to be well fed, well prepared and well relaxed before Christmas. And you're damn welcome. Here are 10 awesome things to do this weekend in Sydney.
All Weekend
THE GROUNDS CHRISTMAS MARKET
Since The Grounds throw a great market at the best of times, we're expecting them to bring out the big guns for their Christmas market this year. It's happening the entire week leading up to Christmas and yep, that means it's the ideal spot to pick up those last minute Christmas Day goodies. Picture their usual off the chain markets but Christmasy AF.
Where: The Grounds of Alexandria
When: 18 – 20 December, 10am – 7pm & 21 – 24 December, 9am – 3.30pm
Free Christmas Gift Wrapping and Calligraphy
Head to the city this weekend to have your Christmas presents wrapped by the legit professionals—for free. The Queen Victoria Building is providing free gift wrapping designed by local Sydney artists. Put your entire family to shame (there's that Christmas spirit!) with these beauties courtesy of The Strand Arcade who'll be offering complimentary cards and calligraphy for anyone who purchases a gift from the centre.
Where: Strand Arcade & Queen Victoria Building, CBD
When: Strand calligraphy until 23 December, QVB wrapping until Christmas Eve
Cost: Free
Olio Kensington Street Christmas Degustation
It's about time you just accepted that December is the month of overeating, alright? For any and all foodies out there, check out the Sicilian-inspired Christmas degustation at Olio Kensington Street this week. If stuffed calamari in tomato sauce with chickpea polenta and scarlet prawns with fava bean puree and Langoustine caviar sounds like your jam then you'll want to book a spot ASAP.
Where: Olio Kensington Street, Chippendale
When: Until Sunday 24 December
Cost: $118 per person
Royal Botanic Gardens Free Daily Tour
It's not every day you get a free guided tour around one of Sydney's most scenic parks.. well actually it kind of is. The Royal Botanic Gardens offer free daily tours in their parks so you can explore and learn at the same time—all for free. What bloody legends.
Where: Royal Botanic Gardens, Mrs Macquaries Rd
When: Daily10:30am to 12pm, ends 31 December
Cost: Free
Rediscover George St
This Thursday night is your chance you feast your eyes on the new and improved George Street in Sydney city. Much like a nose job, George Street has had its metaphorical bandages ripped off and has fiiiiiinally been revealed as a beautifully lit Christmassy walkway. Oh and it'll have you grammin' the crap out of it. Head on to the QVB this Thursday night for a free, guided tour down new and improved George Street and walk away feeling festive AF. More deets over here.
Where: Queen Victoria Building
When: Thursday 21 December, 7:30pm-9pm
Cost: Free
Last Minute Christmas Shopping
If you've left it to the last possible minute (we're right there with you, team) then you need to know that this Thursday night, Macquarie Centre is trading until midnight which means firstly, you won't be rushing here straight from work because secondly, you'll have all the time in the world to hit up errrry store.
Where: Macquarie Centre
When: Thursday 21 December
Friday 22 December
The Rocks Very Merry Markets
This Friday, you can stroll through The Rocks for Christmas vibes and a cheeky spot of shopping. Yep, The Rocks Very Merry Market is back. Why would you even consider heading into a shopping centre when you could be on Sydney harbours shore, eating fresh food and listening to live music? Sounds pretty damn good to us.
Where: The Rocks
When: Friday 22 December,9am – 8pm
Cost: Free entry
Saturday 23 December
SYDNEY FISH MARKET 36-HOUR SEAFOOD MARATHON
Christmas in Sydney generally involves a whoooooole lot of fresh seafood. That's why you've got 36 hours to get down to the Sydney Fish Markets to pick up premium fish, oysters and prawns, deli foods, fresh fruit and vege. Take it from people who've braved this one on Christmas Eve one to many times (seriously, once if too many times), get in as early as possible. From 5am on Saturday the seafood retailers stay open for 36 god damn hours just so you can get your mitts on quality seafood.
Where: Sydney Fish Market
When: Saturday 23 December, 5am to Sunday 24 December, 5pm
Cost: Free Entry
Sunday 24 December
Deluxe Christmas Seafood Buffet
The day before Christmas requires only one thing—you, filling your belly with as much food as humanly possible so that it's a damn breeze on Christmas day (think of it like a practice run). This Sunday you can get all the seafood you ever wanted in one magical place—Café Opera in the InterContinental Sydney. Join them for a deluxe seafood buffet which will be so damn tasty that you'll probably be disappointed at your home cooked Christmas lunch on Monday. Book your place here.
Where: InterContinental Sydney, CBD
When: Sunday 24 December, 6pm-8pm
Cost: $135 per adult (includes drinks package)

Don't Miss...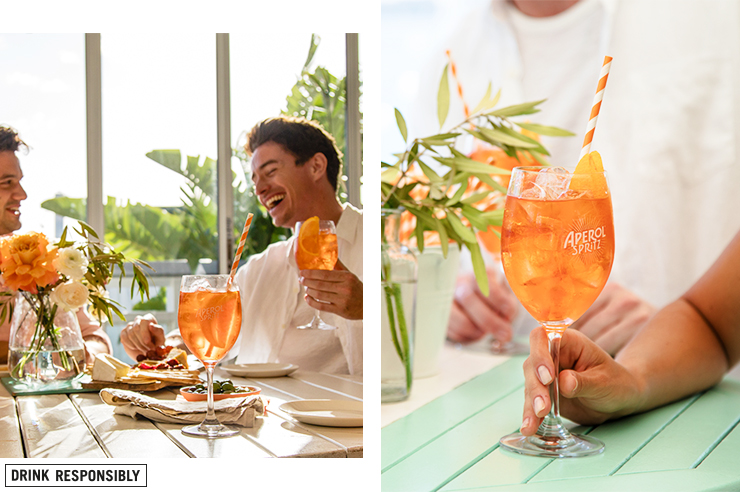 Aperol Sunset Session @ Icebergs
Everyone knows Icebergs is one of the best spots in Sydney for early evening drinks, Aperol Spritz in hand. Each week from Wednesday through Sunday, sit back with an Aperol Spritz and enjoy DJ Stefano Pierozzi spinning chilled beats til the sun goes down. Get all the deets here. Drink Responsibly.
Where: Icebergs Dining Room & Bar, 1 Notts Avenue, Sydney
When: Now – 24 February 2018

Here is a bunch of free things happening this month.
Editor's Note: Aperol's event is proudly sponsored by Campari and endorsed by The Urban List. Thank you for supporting the sponsors who make The Urban List possible. Click here for more information on our editorial policy.
Image credit: Jennifer Pallian