Long before tapas were in vogue, families all over Sydney would flock to their favourite yum cha joint for Sunday brunch. Nowadays, families are joined by hungover diners who wish to forget their debaucherous Saturday nights with a smorgasbord of dumplings. Adding to our first round up of best yum cha restaurants in Sydney, here are some more delicious picks to fulfill your bamboo-basket dreams.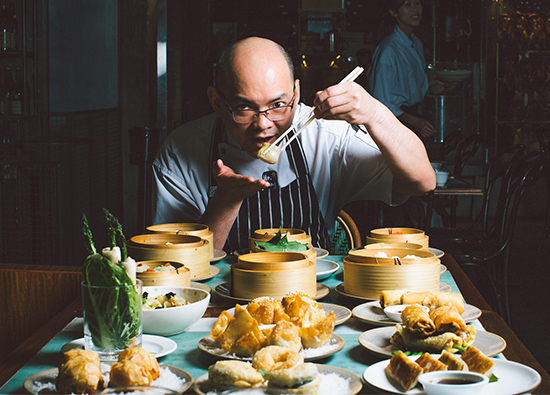 Mr Wong | CBD
It was only a matter of time before Mr Wong started doing yum cha. Well, Listers, that time has come. Every Saturday and Sunday between 10.30am and midday, you can get your dumpling on with dim sum chef Eric Koh's delicious delicacies. Order a la carte and wait for your dishes to be prepared for you fresh from the kitchen. This is yum cha at its fanciest. Dig in!
Palace Chinese Restaurant | CBD
This joint is tucked away on the top floor of the Piccadilly Tower on the bustling end of Pitt St, and perhaps some stragglers get lost on their way here, because there's none of that agonising, ticket-clutching wait of other yum cha queues. Get seated, and get stuck into the dumplings. Make sure you try their variety of Cantonese deep-fried bread sticks. These are a heavenly combination of crunchy and fluffy, sweet and savoury, and so good for mopping up sauces at the bottom of your bowl. Points for their discount parking too!
East Ocean | Haymarket
No trolley-waitresses here! The point-at-the-plate method of other yum cha joints is replaced with an order-card-and-pencil system, much like a bingo-card. And for this bingo game, everyone's a winner! Dim sum are steamed fresh to order, and are delivered quick smart to your table, ready for eager chopstick-grabbing. Their renowned spring rolls are not just for the gweilo among us!
Sea Treasure | Crows Nest
This is a well-decent place for your north-shore yum cha fix. Sea Treasure's kitchen serves up a good array of steamed and fried Cantonese small dishes, like salt and pepper calamari, pork buns, and greens with oyster sauce. Dumpling fiends need no prompting to order the pork siu mai and prawn har gow. No suprises here, just a good ol'-fashioned yum cha feast.
LL Wine And Dine | Potts Point
Not only is the yum cha here at LL Wine And Dine pretty special, it's also only $30 for all you can eat on Sundays! Chef Jin Kung creates contemporary Asian cuisine with quality Australian produce, so you know it's going to be good. Vegetarians and those on gluten-free and soy free diets, you're in luck - LL Wine and Dine cater to you too, so you won't miss out on any of the yum cha feasting!
Vinh Phat | Cabramatta
The favoured Vietnamese/Lao/Cambodian food haunts of food-haven Cabramatta are of the no-frills canteeny variety. So when a heady Cantonese brunch beckons, you want to do it in style. The revamped Vinh Phat space is flecked with green and bronze, gold wall hangings and moody lighting. The dumpling choices are plump yet delicate, and chicken-feet aficionados will cluck happily here. The final bill is smaller than inner-city counterparts, helped in part by its free tea service. I repeat. Free. Tea.
Spice Temple | CBD
With the success of Spice Temple Melbourne's yum cha, Chef Neil Perry decided Sydney should be privy to this wonderful Chinese dining tradition too. With over 50 dishes in total and a wide range of teas to complement your dim sum overload, if you can get down to Spice Temple during the week between 12pm and 3pm, you'll be doing yourself and your belly a favour by getting stuck into some potstickers!
Hung Cheung | Marrickville
Marrickville has a thing for pink restaurants. Huong Huong has been serving up South-East Asian cuisine for years amongst its rosy walls, and further down Marrickville Rd, Hung Cheung draws customers with its blushing interior... And of course, its dim sum. The usual suspects feature, but take a punt on the less-familiar yum cha dish of jin cheung fun - long rice noodles fried to a soft crunchy texture, sprinkled with shallots, and dipped in a peanut sauce. Like Vinh Phat, the prices here will leave you tickled... Pink.
Phoenix | Rhodes
The Rhodes Shopping Centre features two monoliths, which fulfill two separate needs. Monolith #1: IKEA, to fill my house with thrifty Swedish wares. Monolith #2: Phoenix, to fill my belly with delicious wrapped things. The har gow are plump and tasty, the har cheong are dangerously silky, and the gow gee are so fresh and so clean. And don't tell anyone, but afterwards, I troop downstairs to Monolith #1, nick a free measuring tape, and see how much my midriff has expanded.
Image credit: Mr Wong, LL Wine & Dine