Yep, it definitely feels like spring in Sydney right now, and that means only one thing—celebrating with good food and good vibes in the sunshine. That last one is mandatory. With pop-up drive-in cinemas, food festivals and a bedroom dance party thrown in for good measure, there are plenty of fab activities to do in Sydney this weekend.
Diaries at the ready—let's do this.
All Weekend
St Ives Medieval Faire
Hear ye hear ye! Ye olde showground at St Ives is turning into a medieval fair full of brave knights, watermelon catapults and (of course) jousting this weekend. Embrace your inner badass with sword fighting, birds of prey and archery, and don't bother going unless you're fully kitted out. The Best Dressed Competition is your chance to dress up like a medieval maiden from King's Landing or a knight in shining armour. There's even a full-on medieval feast in the King's hall and tavern serving up local brews and meads.
When: Saturday 23 - Sunday 24 September
Where: St Ives Showground
Cost: $32
Noodle Mania Spectacular @ Fat Noodle
If you're a lover of all kinds of noodles, you need to seat yourself at Fat Noodle, STAT. From South Taiwan Dan Zai mee noodle soup and mee goreng to prawn pad Thai and angus beef with vermicelli noodles (droooool), you're going to want one of everything. The best part? Until 12 November you can get your noodle fix and a lychee soda for only $20. See you there. Get all the deets here.
Where: Fat Noodle, The Star
When: 7 September to 12 November
Catalina's New Spring Menu
The sun is shining and this weekend is going to be hot AF (or so the weatherman says). So #treatyoself with a new dish from one of the most luxe spots in Sydney. Catalina has just dropped a new menu, embracing this glorious spring weather and their delicious waterside location with seafood faves like poached Marron Tail. For some seeeeriously insta-worthy food, we've got our eyes on the lush white chocolate semifreddo with blood orange torte and blood orange pomegranate sorbet. Move over frosé, because this season is all about cocktails like the Catalina dreams with grapefruit vodka, passionfruit puree and pineapple foam. Oh and all with edible flowers as garnish, because spring.
When: Lunch daily from 12pm
Where: Catalina, Rose Bay
Dot's Drive In Pop-Up Cinema Castle Hill
It's all the comfiness of a Netflix night at home with a throwback to the good old days of hitting the drive-ins. Oh yes, a drive-in cinema is popping up in Castle Hill. BYO popcorn or embrace the full retro vibes with a hot dog from Airstream American Diner and a De Wafel for dessert. Sing along to old faithfuls like Singing in the Rain and Wizard of Oz as well as modern Disney classics like Finding Dory and Beauty and the Beast. And since you won't even need to leave your car, you can wear your daggiest trackies and/or pyjamas judgement-free and talk as loudly as you'd like.
When: Saturday 23 - Sunday 24 September
Where: Castle Hill Showground
Cost: $40 per car
Live On The Golden Stage
Surry Hills' Golden Age Cinema are delivering your weekly dose of live music this week with a screening of the music doco, The Go-Betweens: Right Here. Once the doco wraps up, it'll be all systems go with the Go-Betweens Golden Cover Band playing 70s Aussie Indie music classics. It's a yes from us.
When: Thursday 21 September & Saturday 23 September, 9pm
Where: Golden Age Cinema, Surry Hills
Cost: FREE
Minimal Designer Store @ The Old Clare Hotel
Our daily routine can get pretty damn full on, which is why we find anything minimalist a little bit too satisfying. The Old Clare Hotel is playing host to a pop-up store bringing together three Sydney designers who specialise in simple, minimal wares. Stop by The Bottle Shop to check out A-Studio leather bags and pouches, Black Blaze raw scented candles and Botanical Signature artisanal skincare and organic remedies.
When: Thursday 21 September, 10am-8pm; Friday 22 September, 10am-7pm; Saturday 23 September, 11am-7pm; Sunday 24 September, 11am-5pm
Where: The Old Clare Hotel, Chippendale
Birdfoxmonster
Birdfoxmonster is an intimate, multi-sensory performance combining food, theatre and visual art in one place—so it's time to get your culture on, guys. Masked performers will interact with seated guests throughout the night, transforming the space into one big stage as the long tables also double as a catwalk. There'll also be bespoke dishes to match. Book your spot here.
When: from Thursday 21 September, 6:30pm
Where: Carriageworks
Cost: $70
Thursday 21 September
Winefulness Workshop
We heard through the grapevine that drinking wine counts as meditating now and TBH, that's good enough for us. Well, call us zen masters, because we will be ridiculously blissed out after this 'wellbeing' session at Hand Picked Wines. Far from your average wine tasting, their Winefulness workshop teaches you how to mindfully taste all the teeny tiny nuances of different wines. We'll meet you there—we'll be the keen beans standing front and centre, likely double (ahem, triple) parked. Get all the info here.
When: Thursday 21 September, 6 - 7.30pm
Where: Handpicked Cellar Door, Chippendale
Bedroom Groves
We've all been sprung at least once dancing around our bedroom in our PJs to T-Swizzle, and now there's an event dedicated to just that. Head for Bedroom Grooves this weekend, where you can show off your moves at a legit pyjama party hosted by Groove Therapy. Get yo' groove on in this one hour beginners dance class to raise funds for upcoming charity dance performances and bask in all of that good juju that'll be coming your way.
When: Thursday 21 September, 6-7pm
Where: 107 Projects, Redfern
Friday 22 September
Spice World Screening
Gather Sporty, Scary, Posh and Ginger (bc obvs you're Baby) for the movie throwback you've been waiting for. It's been 20 years since Spice World: The Movie graced our VHS players (yes, we're all that old) and the world's biggest/greatest girl band is back to spice up your life. Get dressed up and practice your zigazig-ahh's because this one's a sing-a-long. Fun fact: both Meatloaf and Elton John make cameo appearances in the film. How did it not win a Golden Globe?!
When: Friday 22 September, 7pm
Where: SkylineDrive In, Blacktown
Cost: $30 per car
Sydney Grails Sneaker Party
PSA: Sydney is getting a sneaker-themed club night this weekend. Get hyped with old-school hip-hop and RnB—just make sure no one steps on your all-white Ultra Boosts. Flex it like Yeezy in a pair of, well, Yeezys or channel some Bad Girl RiRi vibes in head-to-toe Fenty. Because sneakers = life and you know it.
When: Friday 22 September, 9pm
Where: Civic Underground
Cost: $21
Saturday 23 September
Potterfest—A Harry Potter Marathon
Let's be real, you've definitely attempted your own Potter-athon before. But this time, we're Sirius (geddit?) about making it all the way through the magical series that had us wishing for a Hogwarts letter in the mail. Chauvel Cinemas be screening all O.G. films, as well as the newbie 'Fantastic Beasts and Where To Find Them', because there is no such thing as too much wizardry. Details here.
When: Saturday 23 September, 11am
Where: Chauvel Cinema, Paddington
Cost: $45
Signed, Sealed, Delivered Festival
Surry Hills will be throwing one giant glittery rainbow celebration this weekend in support of marriage equality (yaaaaaas). It's a nine-stage music festival organised by Reclaim The Streets and you can expect some big names like Deeper Than House, Syd Def Jam, and Swerve Saturdays to keep the good vibes going alllllll day long. There will also be a mass-vote, so thousands of supporters can cast their votes early in unison. This is one time you'll want to adult and actually read your mail.
When: Saturday 23 September, 1pm
Where: Prince Alfred Park, Surry Hills
Cost: FREE
Social Serve
Time to get active in your activewear! We know it's a crazy concept, but Social Serve is acing your weekend plans with this social sport combo that's all about tennis and tunes. Mixed doubles pairings will have you rallying and chitchatting with a bunch of fellow tennis pros. Don't worry, you don't actually have to be a Wimbledon-ready pro like Federer or Serena, because the main event will be off the court at the afterparty. Add in some rooftop DJs and Aperol cocktails and you've found your match.
When: Saturday 23 September, 2:45pm-9pm
Where: Lyne Park Tennis Centre, Rose Bay
Cost: $15-$49
Dinosaur Festival
You can become a t-rexpert (we know, we're so clever) like our mate Ross (duh, that's a Friends reference) with a little help from The Australian Museum. Kicking off this weekend, you can get up close and personal with a super lifelike, and just plain massive, T-Rex and learn about all the ways Jurassic Park may or may not have exaggerated the lives of dinos. Go on, get yo' paleontologist nerd on.
When: from Saturday 23 September, 9.30am - 5.00pm
Where: Australian Museum, Sydney
Ramen + Art In The Junction
We don't know about you guys, but food and art are basically a match made in heaven. Throw some ramen into the mix and oh boy, we will be there. As part of the After Dark in The Junction program, Bondi-local and artist Chocolate Einstein will be painting one of his iconic colourful outdoor installations (hint: we're talking about street art) so you can watch the artwork unfold as you slurp through a giant bowl of ramen from Ichi-Ban-Boshi. Get there.
When: Saturday 23 September, 6.30-8.30pm
Where: Bondi Junction Village Markets
Cost: FREE
Surry Hills Festival
For yet another year, Surry Hills will once again host their very own (and very free) festival street party. The Surry Hills Festival is an annual affair and per usual, there will be food stalls with goodies from local eateries, a themed picnic, fresh produce market stalls and live music happening throughout the day. Up your culture factor with guided tours, running throughout the afternoon and (if last year is anything to go by) it'll include things like cheese tastings (yes) and craft beer samples (yes and yes).
When: Saturday 23 September, 10am
Where: Shannon Reserve, Surry Hills
Sunday 24 September
Cabramatta Moon Festival
As one of Sydney's biggest Asian cultural celebrations, this year's Cabramatta Moon Festival is set to be a one jam-packed day of vibrant food, street parades and fireworks. Absolute queen Dami Im will be headlining the day's entertainment, with a little help from Knafeh's bearded bakers as back up dancers no doubt. And attention all foodies (aka all of us), there will be mooncake and noodle eating competitions, so now's your time to shine.
When: Sunday 24 September, 9am - 8pm
Where: Cabramatta CBD
Vegan Lunch Feast @ Gigi
Everyone knows that Gigi's is the BEST place to head for all things vegan (but especially pizza) in Sydney. They famously open from 6pm daily, but For this weekend only, these legends are opening up shop early for a canape-style lunch so you can try a little bit of everything. And the best part? It's all totally vegan. Yep, pizza, antipasto, dessert, even the drinks are vegan and this is totally the kind of place you can take your meat-eating mates—we can personally confirm that they won't even notice. Nab your spot here.
When: Sunday 24 September, 12pm
Where: Gigi Pizzeria, Newtown
Cost: $25
Blak Markets at Barangaroo
The iconic Blak Markets are back at Barangaroo this weekend and its marketplace is livelier than ever. Expect bush tucker stalls, weaving workshops, a live performance from 16-year-old Indigenous singer-songwriter Rebecca Hatch, and many the traditional dance workshops. FYI we'll be hightailing it straight for The Black Olive and Tribal Warrior bushfood van, for obvious reasons.
When: Sunday 24 September, 10am-4pm
Where: Barangaroo Reserve

Don't Miss
Bulldog Gin G&T At The Dock
Head south this month (that's to Canberra, FYI) because The Dock is all about Bulldog Gin. There'll be ice-cold gin and tonic mixers available at the bar and there will be a special little something happening on Friday September 22nd so don't forget to bring your whole crew down to enjoy. Drink responsibly.
When: Fridays until 29 September, 7pm – 10pm
Where: The Dock, Canberra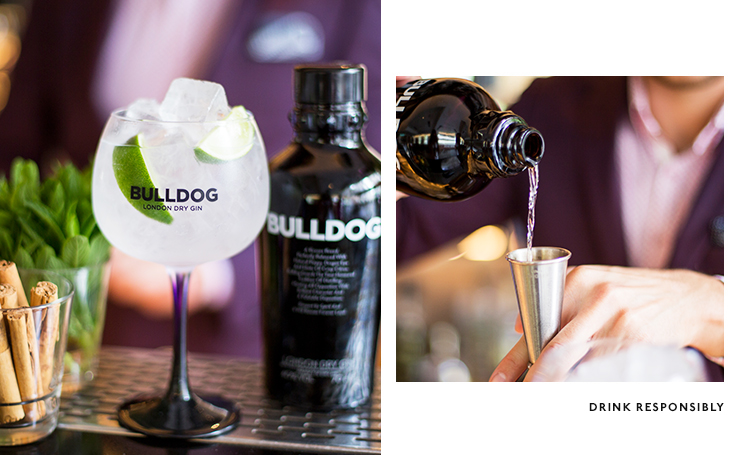 Editor's Note: Fat Noodle's event is proudly sponsored by The Star Sydney & Bulldog Gin's event is proudly sponsored by Campari, both endorsed by The Urban List. Thank you for supporting the sponsors who make The Urban List possible. Click here for more information on our editorial policy.
Image credit: Catalina