With the highest concentration of cafes and restaurants per capita in the world, it's fair to say Australians love their caffeine. Since lockdown, we've all been forced to become homeschooled baristas of sorts, spending our daily coffee budgets on pods and home coffee machines instead. But let's be real, did you think much about your purchase or did you panic-buy the first one you could? No judgement here, but let's take a step back and re-evaluate our choices. These are the best home coffee machines Australia has to offer for a variety of coffee drinkers (and even tea drinkers).
Breville | The Duo Temp Pro Coffee Machine
The Duo Temp Pro Coffee Machine from Breville is so easy to use, which is why it's our pick for the best home coffee machine 2022 has to offer. Before you know it, you'll have your morning coffee served to you in bed on the daily. Create latte art with the microfoam steamer and ensure a tasty cuppa with the low pressure pre-infusion. The machine is also clever enough to tell you when it needs a little upkeep with cleaning and drip tray alerts. Plus, the minimal design will look great on your kitchen bench—need we say more?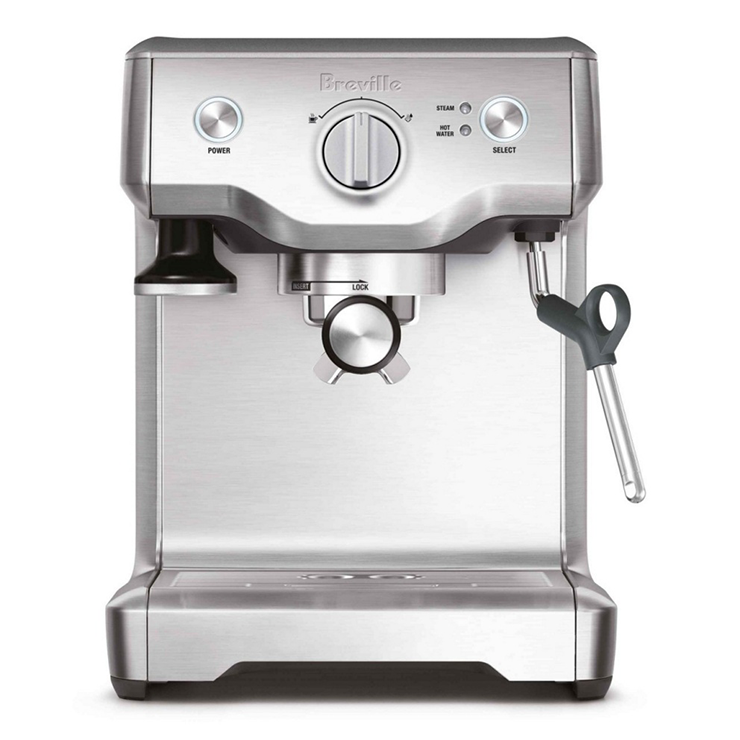 Lavazza | Jolie Espresso Machine
If you're the early bird in the house, then the Lavazza Jolie Espresso might be the best home coffee machine for you. It's super quiet at 43db, so you won't wake the housemates, and the parts are dishwasher safe. It's compatible with all your favourite Lavazza capsules too, which you can find at most supermarkets. For an affordable home coffee machine, it's definitely up there as the best value for money.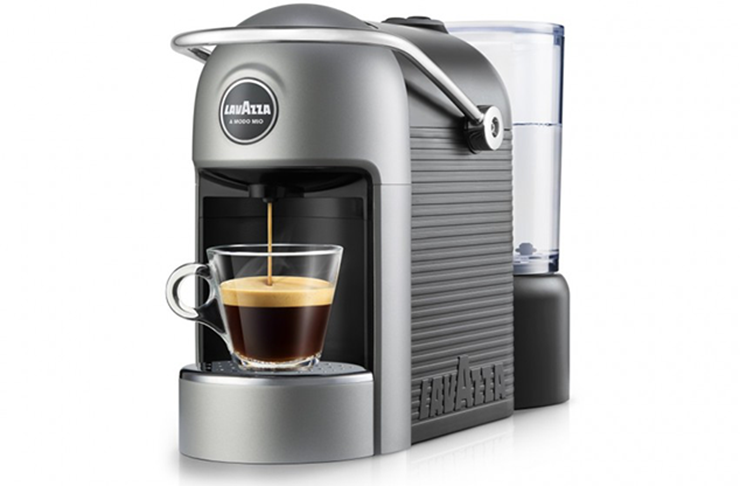 Sunbeam | Café Barista Espresso Machine
Whether you're looking for the best home coffee machine for cappuccino or espresso, the Sunbeam Café Barista Espresso Machine does it all. It's super easy to use and clean, so it's a great option for those of us who want the coffee without the fuss. It features an automatic milk frother, plus a portable milk reservoir which you can keep in the fridge—ain't nobody got time to wrestle with a milk carton every morning. Just preset your favourite brew, hit the button, and within seconds your daily caffeine hit will be in your cup. Simple.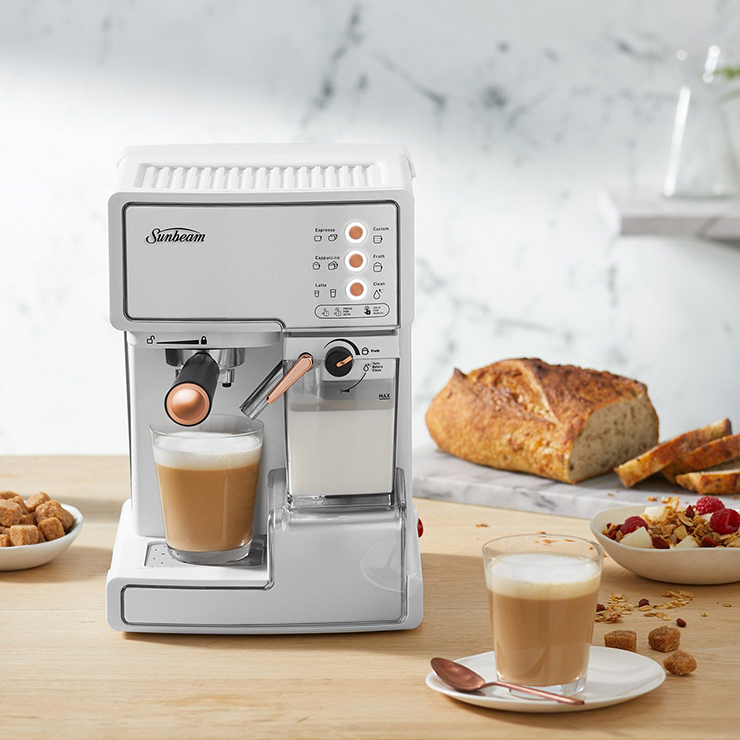 HomeMaid 3-in-1 Coffee Pod Machine
Now we know Australians are very proud coffee drinkers, but the HomeMaid 3-in-1 Coffee Pod Machine will have you advocating for pod coffee in no time. It's compact so won't take up much room on the bench, and is compatible with both Nespresso and Caffitaly pods. There are also two pre-programmed cup sizes, so short and long espresso fans are covered.
Delonghi Lattissima One Nespresso
Not spending $5 on coffee every day is great, but cleaning your home coffee machine is not so good. Which is why Nespresso have come up with dishwasher safe components making it simpler than ever—thanks George. You can choose from an espresso, lungo, cappuccino or latte macchiato, and then sit back and watch your beautiful, aesthetically pleasing Delonghi Lattissima One Nespresso do all the work.
Leaf and Bean | Electric Espresso Maker
This one is for the espresso lovers out there who like old fashioned coffee, but with the convenience of modern technology. At face value, the Leaf and Bean Electric Espresso Maker may look like your average espresso maker, but it's so much more than that. As anyone who grew up watching H2O would know, all you need to do after adding your beans is 'just add water'. The machine has a 360 degrees wireless base, a durable aluminium body and a clear top so you can watch the magic happen. This may just be the best automatic home coffee machine.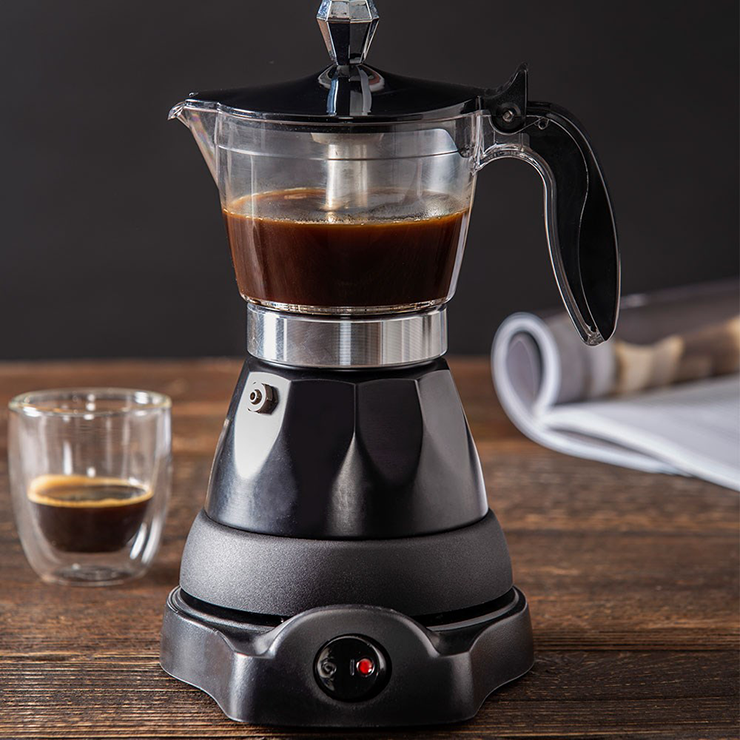 Vintage Coffee Machine Manual
Nothing transports you to the Amalfi coast quite like getting your morning cappuccino from the Italian Vintage Coffee Machine Manual. It's available in multiple colours, serves up cappuccinos, lattes and espressos, and even has a cup warmer. By the time it's done you'll be clutching onto your warm mug of fresh coffee feeling like you're miles away.
Jura Z10 Automatic Coffee Machine
You know those mornings when you wake up and just don't want to get out of bed? Well the Jura Z10 Automatic Coffee Machine has you covered. It connects to your home wifi and offers intelligent preheating, so you can start prepping your morning brew from bed. Want to mix up your coffee order? The machine offers a full spectrum of options from your classic espresso to a cappuccino that will make you never order coffee out again. It even has a product recognising grinder that will automatically adjust no matter what beans you put in. We think it's fair to say this is the best home coffee machine of 2022.
DéLonghi | Dedica Pump Espresso Machine
You wouldn't have a best home coffee machine list without including a Délonghi. If you're the kind of coffee drinker who likes to mix things up a bit, then the Délonghi Dedica Pump Espresso Machine is our pick for you. The adjustable cappuccino system and double drip tray make this home coffee machine capable of all sorts, from macchiatos and flat whites, to espressos, cappuccinos and even tea. The machine is complete with a cup warmer, super quick 40-second heating speed, controllable temperature and coffee length, and a slimline design at just 15cm wide. It's on the pricier side but DéLonghi is one of the best when it comes to automatic home coffee machines 2022 has to offer.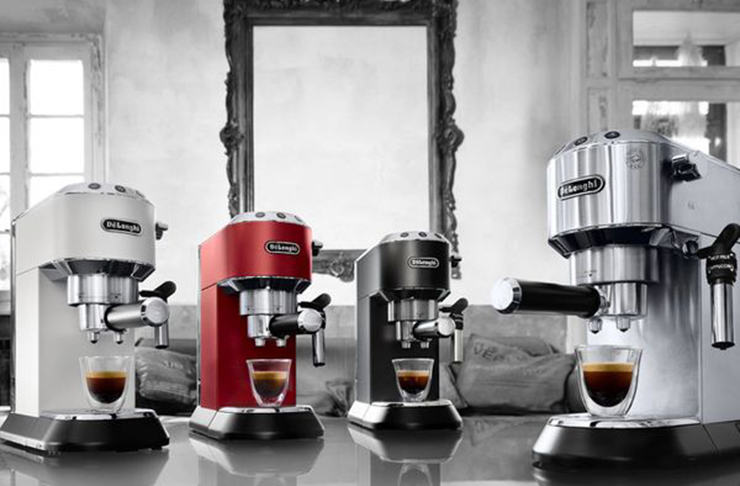 Sunbeam | Cafe Series Duo Espresso Machine
Love a frothy? We're not talking about beer, we're talking about a delightful, velvety smooth microfoam on your coffee first thing in the morning—the kind of foam you get with the Sunbeam | Cafe Series Duo Espresso Machine. It's a bit on the bougie side, but if you've got the money, why wouldn't you get a coffee machine that serves you live temperature and pressure feedback when you're frothing your milk? It helps you get it just right every time and is our pick for the best coffee machine for cappuccino drinkers. The machine is also compatible with pods or ground coffee, and comes with adaptors for your favourite capsule brands.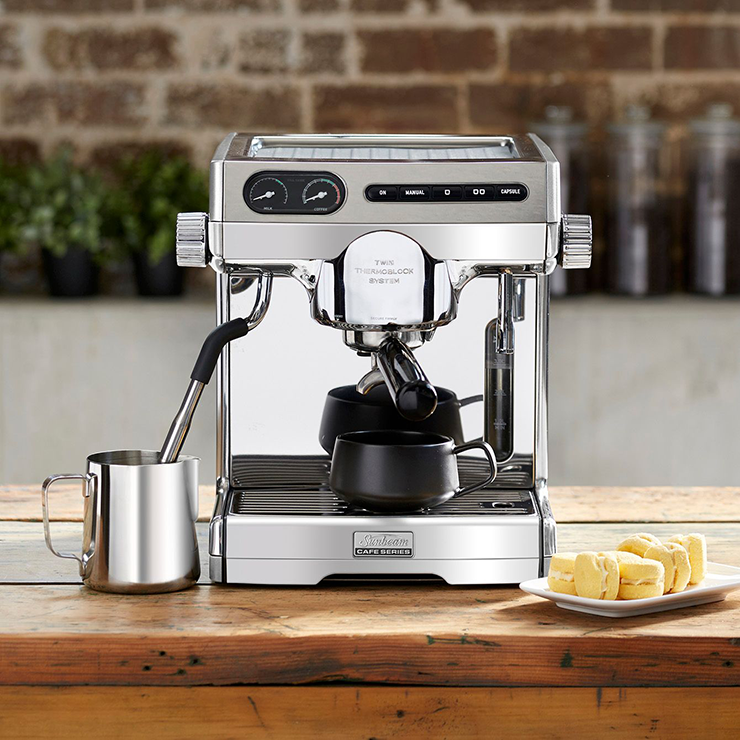 Gaggia Classic Pro Manual Coffee Machine
If we had one word for this coffee machine, it would be, bellissimo. Italians are famous for their coffee and the Gaggia Classic Pro Manual Coffee Machine is the best home coffee machine Australia (and Italy) has to offer…in our humble opinion. You can simultaneously brew two cups of coffee and it comes with three filters for ground coffee and pods. It also has a wand with 15 bars of pressure for the perfect milk. Unfortunately, it doesn't come with an Italian to enjoy your morning coffee with.
Nespresso | Vertuo Next Premium Bundle
Nespresso is another major contender for any best home coffee machine list. We don't know about you, but when we think of Nespresso, we think of George Clooney—and who doesn't want to start their day thinking of the Cloons? But seriously, this Nespresso Vertuo Next by DéLonghi is complete with WiFi and bluetooth, so you'll never miss a Nespresso software update, and the cup support is adjustable for five different cup sizes. This premium bundle also includes a milk frother and some Nespresso capsules to start you off. Definitely one of the most aesthetically pleasing and best home coffee machines automatic home-baristas will appreciate.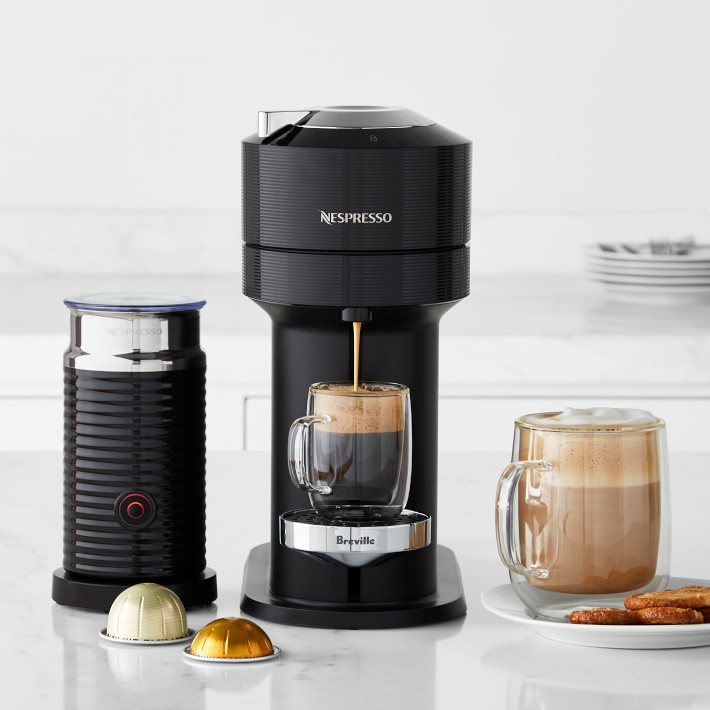 Spector Espresso Coffee Machine
The Spector Espresso Coffee Machine is not only great value for money, it's also very aesthetically pleasing. This is probably the best home coffee machine for anyone new to brewing their own cup. It's super easy to use with touch screen controls, and it even has a mug warmer for those cold winter mornings. Once you get the hang of making coffee you can adjust the steam wand frother to find the pressure that you prefer. It comes in mint or black, so it's the perfect appliance to match any kitchen.
WACACO Nanopresso Portable Espresso Machine
For everyone juggling working from home as well as in the office, this one's for you. The WACACO Nanopresso Portable Espresso Machine allows you to transform ground coffee into that life-saving espresso no matter where you are. It's compact and easy to bring into the office, so you can say goodbye to the old instant coffee. The machine provides a 261 psi pressure, so in other words, the crema is perfect. With its own cup, as well as a scoop for the perfect measurements, and a brush to keep everything nice and clean, this may be the best home coffee machine for the 2022 new work life.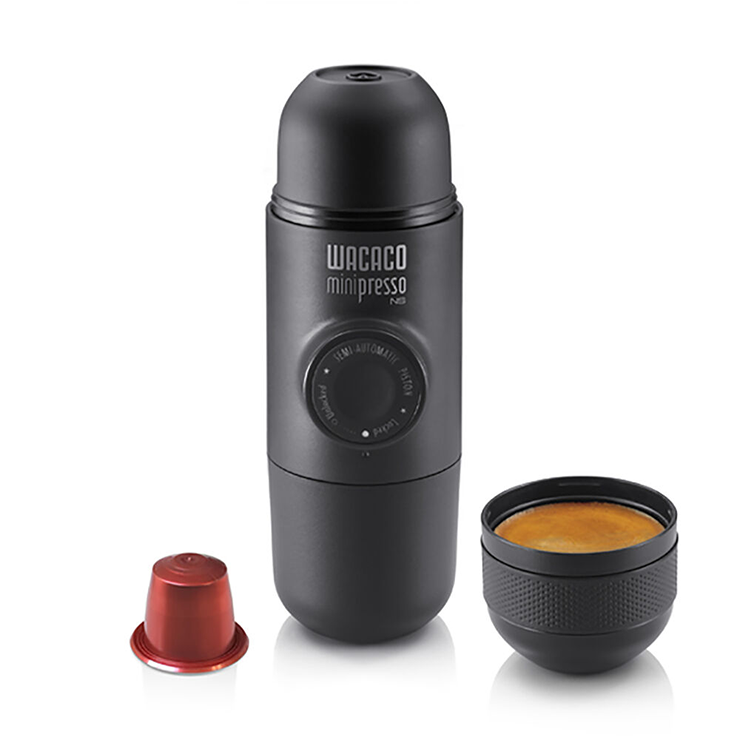 Kogan Espresso Manual Coffee Machine
Before you go judging this espresso machine for being less than $90, you should know that it can make espressos, drip coffees, lattes and cappuccinos. Yes that's right, you can basically open your own cafe at home with the Kogan Espresso Manual Coffee Machine. You won't be compromising on taste either, the machine uses 15 Bar pressure to produce foam and prevent bitter coffee. It only has a milk steamer with a wand attachment so you can have a crack at your favourite coffee art.

Now that your coffee is taken care of, take care of yourself with these wellness products.
Image credit: Mohamed Shaffaf
Editor's note: Urban List editors independently select and write about stuff we love and think you'll like too. Urban List has affiliate partnerships, so we might get revenue from your purchase.