There's a reason why Thai is basically the most popular takeaway choice of all time, and that's because there is quite literally a Thai dish for every occasion. You've had a crap day at work and want some comfort food? Pad Thai. You want something interesting and delicious but can't actually cook yourself? Massaman curry. You're on a pre-summer carb-free diet? Thai beef salad. You're sick and need a pick me up? Tom yum soup.
Whether you're hitting up date night, ordering in for a night of Netflix, or just simply addicted, we've hand-picked Brisbane's best Thai restaurants. It's the only list you'll ever need.
Same Same
Fortitude Valley
Longtime may have dished up their last curry, but Same Same is here to become your new destination for drool-worthy Thai feeds. Landing in Ada Lane next to The Calile, Same Same is essentially Longtime supplanted into a sleek new venue. Combining atmosphere by the bucket load with your favourite modern Thai dishes, Same Same captures the flavours we know and love, but with serious attitude. Our picks? The soft shell crab baos, roasted pork belly pad see ew and THAT twice cooked lamb shank massaman curry.
Mons Ban Sabai
Camp Hill
Mons Ban Sabai in Camp Hill doubles as both a beautiful garden restaurant and an excellent Thai cooking school. Like any really good Thai restaurant, Mons is BYO, and also a great takeaway option for lazy date nights and greedy dinners alone. The master Thai chefs are particularly known for their incredible stir fry dishes including holy basil with chicken or island duck curry. Yum.
Phat Boy
Brisbane CBD
Giving authentic Thai food a Brisbane twist, Phat Boy is dishing up all the snacks, curries and wok-tossed eats you know and love, but not like you've ever seen them. The mixed entree comes high tea style on bamboo tea towers, while a papaya salad will have you grinding your own spice mix right at the table, DIY style. Wash it all down on the likes of the Say One "Mo", with spiced rum, ginger syrup, lime, mint and ginger ale, or get adventurous with a Tuk Tuk, with gin, chilli infused vodka, tequila, Blue Curacao, lychee, pineapple and orange juice.
Thai On High
Highgate Hill
Highgate Hill favourite Thai On High has been serving up some of Brisbane's best Thai for years. We love the green curry, the traditional pad thai and the low-key, friendly service. They also get bonus points for having a name that rhymes—it's the small things.
Red Galanga
Norman Park
The traditional Thai interiors at Red Galanga in Norman Park make it one of Brisbane's nicest Thai restaurants to dine in at. And when the menu includes winners like red duck curry and papaya salad we'll be there on the double. Don't skip out without trying the Nutella banana roll—a spring roll pastry filled with banana and Nutella with classic vanilla ice cream on the side.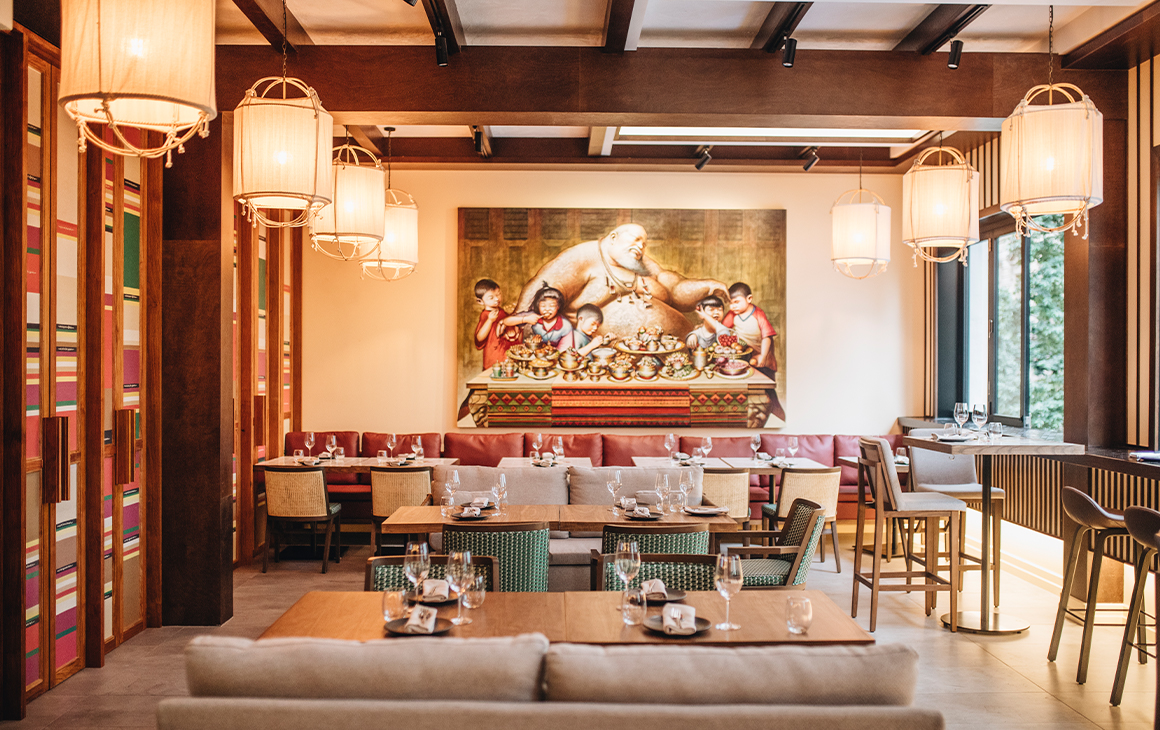 Jumbo Thai
Brisbane CBD
Taking over the floor above the long-standing Embassy Hotel, Jumbo Thai is completely unlike any Thai restaurant you've ever been to. On the menu, you'll find all your favourite Thai feeds elevated to new heights, along with some potential new faves. Of course there's crunchy spring rolls, creamy yellow curry and spicy tom yum soup, but they're given a modern twist. Truly a spice lovers dream.
Aroy Thai Kitchen
Fortitude Valley
Thai fish cakes, curry puffs, coconut prawns and prawn dumplings are all on the extensive menu at Aroy Thai Kitchen in the Valley. With lots of space, it's great for a casual night with the squad, and it won't break the bank—perfect for kickstarting a long night of cocktail drinking.
My Thai Kitchen
Milton
Some of the freshest and authentic Thai dishes this side of Bangkok, My Thai Kitchen in Milton delivers vibrant green curries, smoky BBQ skewers and sukiyaki noodles on the daily. This Thai favourite operates in three parts. Part one is their rockin' kitchen itself, churning out fresh, delicious Thai every night of the week. Part two is their cooking school, where dedicated patrons can learn how to cook like the pros. And finally, part three is My Thai Kitchen's Asian supermarket, selling all the specialist ingredients and tools you need to recreate your favourite dishes.
My Thai
Auchenflower
Holy dooley and a spritz of patchouli, My Thai is a destination and a half. Fully licensed with an expansive function space, banquet menu, and cooking school, My Thai in Auchenflower is a Thai dining apocalypse. Be sure to get your hands on the big pineapple, filled with mouth-watering fried rice of tropical pineapple pieces, tiger prawns, sliced chicken breast, sultanas, peas and roasted cashew nuts.
Thai Wi-Rat
Fortitude Valley
If you're looking for bang for buck and spicy, authentic Thai dishes, Thai Wi-Rat in the Valley is where it's at. With big smiles, fun staff and quick service, it's always a friendly atmosphere, but don't leave without trying their sticky rice with banana and coconut cream dessert. Found down Brisbane's Chinatown Mall, Thai Wi-Rat is where tuck into some the cheapest, tastiest, most authentic Thai in Brisbane.
Thai Kitchen
Wilston
An unassuming interior, friendly staff, and a cracking menu of all your Thai favourites has earned this inner-north Brisbane restaurant a spot on our best Thai list. The family-run Thai Kitchen in Wilston is a favourite among locals for noodles, curries and stir fry, though you can't go past the slow-cooked beef Massaman curry with potatoes. The best part? It's totally BYO.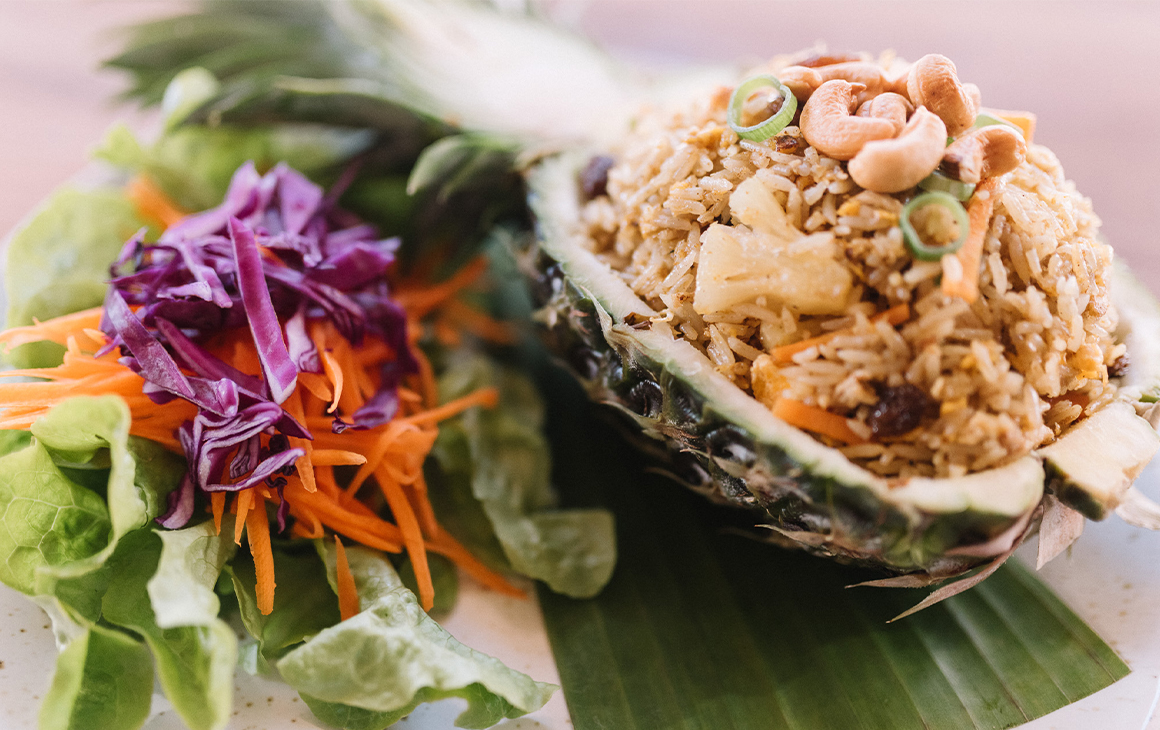 Phat Elephant
Brisbane CBD
Tucked away in Post Office Square, Phat Elephant brings modern, casual Thai dining to the CBD. Serving up all of the classics, plus soon-to-be faves—the soft shell crab is to die for—Phat Elephant is perfect for a post-work satay stick and a cold Singha.
Thai Ways
Albion
Hidden Albion gem, Thai Ways, is one Brisbane Thai restaurant you can confidently do for date night. The charming interiors and authentic menu are top notch. We really rate the drunken noodles and the grilled satay chicken with rich, homemade peanut sauce. Drool.
Golden Buddha
Seven Hills
As the only entry without the name of the cuisine in the title, Golden Buddha won't be Thai-d down by conventions. The food is bang on and Golden Buddha are committed to spreading their zesty love as far and wide as possible, offering a catering service for your next big 'do' and cooking classes so you can recreate the magic of Golden Buddha like a pro. Open 7 nights for dinner, fully licensed, and they totally grow their own herbs.
Tarragindi Thai Restaurant
Tarragindi
Southside kids go bananas for the Thai dishes coming out of Tarragindi Thai, and rightly so. A menu peppered with delights like spicy duck curry, Moreton Bay bug salt and pepper, and mango with sticky rice, and a liberal BYO policy, means you should add it to your eat-list.
Still fancy something spicy? We've found Brisbane's best Indian restaurants—save you the leg work!
Image credits: Yaseera Moosa, Grace Elizabeth Images