Ours is a well-documented appreciation for Brisbane's Thai scene, and in the past we've made no secret of our dedication to their piquant delights. We love the spicy kicks, the generous servings, and the fact that Thai restaurants are cosmically gifted pun factories.
Amid the dense throng of Thai pleasures, a few spectacular dishes rise above the others. Short of being laced with actual stardust and served on a bed of partridge feathers, these plates are the delectable MVPs of the dinner table with the power to ruin you for future feeds.
Dive in to Brisbane's best Thai everything. You have been warned.
Whether you're heading out or staying in for a Thai spree, these are the dishes you can bank on:
1. Longtime's charred pad see ew with crispy pork belly, coy sum, pickled chilli and crispy garlic.
2. Wagyu green curry from Pawpaw with green apple, kaffir lime, lychee, green peppercorns and basil.
3. Wok wizards at Mons Ban Sabai stir up a killer pad prik khing with crispy soft-shell crab.
4. The zesty chicken larb at Thai on High.
5. The pineapple fried rice at Phat Elephant manages to stand out even amongst their expansive menu
6. Jai Thai's veggie-loaded jungle curry with a side of fresh roti.
7. For an authentic red curry you can't go past Ruean Phae in Newstead.
8. Siam Pagoda's super fresh yum nua beef salad is the perfect fresh and spicy accompaniment for warmer weather.
9. West End Coffee House gives us our Thai fix first thing in the morning with their That-style mushroom omelette teamed rice and traditional prik nam pla.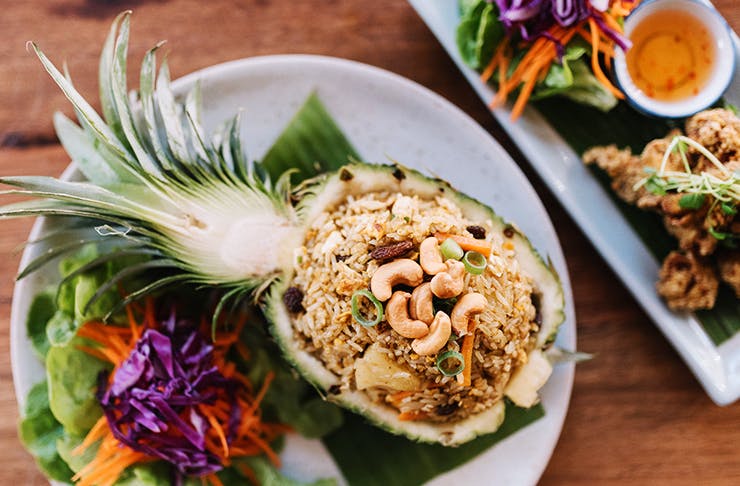 10. Sticky rice with banana and coconut cream to round off a button-popping feast at Thai Wi-Rat.
11. Classic pad thai from St Lucia's Thai at Home deserves it's own segment of the uni student's food pyramid.
12. Brisbane has some pretty great fried chicken, but for a real game-changer head out to Spirit House and try their Thai fried chicken with green mango salad and sweet chilli citrus sauce.
13. Hefty appetites should take note of Thai Kitchen's slow-cooked beef massaman curry with potatoes and peanuts.
14. For a penang with bite, hit up Morningside's Golden Buddha and get yours with tiger prawns.
15. Thai Ways' stir-fried roasted duck with Chinese broccoli and oyster sauce.
16. The red curry with duck, pineapple and basil at Tara Thai has the perfect balance of sweetness.
17. Thai Naramit is a reliable spot for delicious Thai across the board. Make sure you start your evening with a plate of their curry puffs.
18. If you're in the mood for hot and sour soup, hit up Siam Samrarn for their seafood tom yum.
19. Tarragindi Thai's whole deep-fried barramundi with choo chee, green beans and lime.
Image credit: Yaseera Moosa for The Urban List