New Year's Day in Auckland presents plenty of opportunities to carry on the holiday festivities, enjoy the sunshine (touch wood!), or kick start 2018 on the right foot—forget all of the party season sins! Regardless of how dusty you're feeling, resist the urge to revel in that hangover for the first 24 hours of 2018 and get amongst it. You've still got at least a whole weekend in front of you before work holds you hostage again, so enjoy those last days of freedom!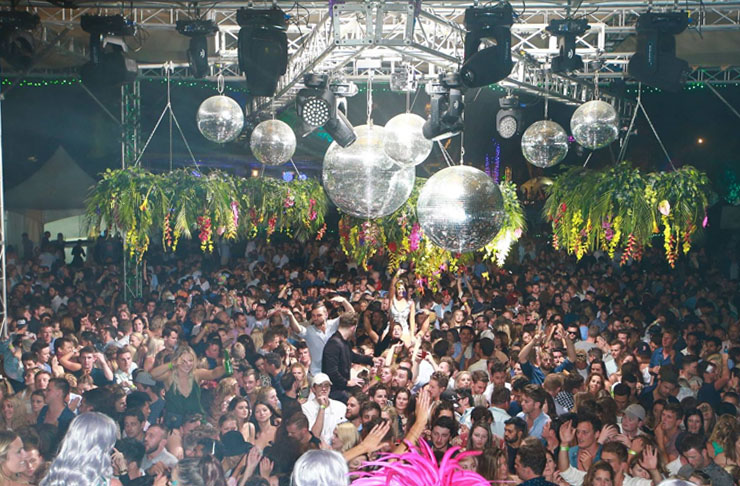 Highlife New Years Day Festival: Bring on 2018 in style, Highlife is a premium open air party set to kick your new year off with a bang! Held at Smales Farm, there's international and local DJ's, live musicians, food, performers and private party suites—yeehoo.
Pack up a picnic: For a more low-key affair, pick up a feast at le supermarché (yes, they'll be open) and grab yourself a feast to soak up all of last night's excess. See here for our top picnic spots in Auckland.

The ASB Classic: Sunshine, wine in a sippy cup and a lot of balls... that's the beloved ASB Classic for ya. We can't think of a better way to embrace 2018 then watching the likes of Caroline Wozniacki and David Ferrer work hard while we sit back, relax and play hard.
The New Years Day Races: Try your new years luck at the races... if you didn't spend all your mulah on drinks the night before. A soon-to-be tradition among many Aucklanders, grab a stand, alfresco BBQ spot or a cuvee and get ready to get messsssy. Oh, and watch the races.
Visit Auckland Art Gallery: Like it or not, there's a chance the weather could shit itself come January 1. If that's the case get your culture on and hit the AK Art Gallery. A great way to regain those brain cells that took a hammering last night…
Start the fitness resolution: For most of us, fitness features heavily in our resolutions each and every year. Well do something about it! Don't use the excuse that the gym or studio isn't open, or that you don't have a date with your lusty PT and hit the pavement.
Climb Mt Eden: Get some fresh air and get the hell over that hangover! It will also help with the fitness resolution, but you'll also get the best view of Auckland City and remind yourself just why it is that we love this place so much.
Tawharanui: An adventure seriously worthy for New Year's Day. Head north and hit the Tawharanui peninsula's beautiful white sand beaches. Pack your portable speakers and a box of beers to enjoy while you debrief on last night with your squad.

Wine and dine: Let's not forget it's holiday season, meaning the ample food and bevvys we've been consuming must continue! Head down to Auckland's bustling viaduct and try your skills at bar hopping. Start at Soul Bar for a few glasses of bubbly and finish by polishing off a few cocktails at The Lula Inn. Views and brews—success.
Zirka Circus: One for the whole family to join in on, it's probable that the New Year has you feeling a little less than normal—so why not hit the Zirka Circus. You'll prob feel more at home here than anywhere else. It's also an animal-free circus and we rate that.
East Day Spa: Book a luxurious treatment to rejuvenate the bod after all that hard dancing last night. East Day Spa is one of Auckland's best spas and luckily for you it's open 9am-8pm so you can get those late night lax feels. Beaut.

Eat errything at Better Burger: Better Burger is the ultimate hangover (and drunk) food. Burgers—tick, fries—tick, shakes—tick. This may be the only thing that'll bring life back to your lethargic lil body.
Yum cha: Speaking of chowing down… ain't no better way to feast with your squad than a serious yum cha sesh. Our pick of the bunch is Grand Harbour at the Viaduct, perfectly positioned for a post-lunch walk/waddle to let those dumplings settle.
Day trip to the West Coast: Load up the car with snacks, a few brews and a picnic rug and head to one of our beloved West Coast beaches. It's likely that every Tom, Dick and Harry will have the same idea but hey, there's a reason we all love our homeland.
Get wet: Speaking of beaches, there's nothing like the fresh water of the ocean to cure it all. Take a New Year dip at any of Auckland's top swimming spots—Piha, Castor Bay, Sentinel, or Kaitarakihi Bay and swim off the headaches. Otherwise Pt Erin Pool is also open on New Year's Day and a good option if you're more of a lap swimming nutter.
Climb Rangitoto: Jump on a ferry and in less than an hour you're a world away on our very own volcanic island. Set aside a few hours to do the climb to the summit (avoid the weird train things reserved for international tourists and lazy sods). From up here you seriously get some of the best views of Auckland city and out into the Gulf. Make sure you bring everything with you that you'll need and don't miss the last ferry home!
Oysters and champagne: Time to celebrate! Last night's hookup still around and worthy of a pursuit? Or just looking to celebrate with your better half or good friends? Hit Oyster and Chop for some of Auckland's best oysters and champagne to toast the New Year.
Walk and Feast: For some good-lookin' coastline, make the scrabble over the rocks and the seawall with the walk from Takapuna to Milford. Reward yourself after the walk with some seriously good gelato from Takapuna Beach Café or have a sit-down brunch—whatever floats your boat.
Cornwall Park: Stroll amongst some of Auckland's oldest trees and take in the hundreds of pohutakawa which are flowering at this time of year—so festive! The park itself has miles of walking tracks to explore and even cows and sheep roaming the fields.

Binge watch a TV series: This list has mostly been all "get out of the house you lazy thing. But sometimes all we want to do is curl up and watch some quality (or not!) TV shows. Get your Netflix and chill on for a great start to the year…
The Amazing Maze n Maize: It's 2018 and you're feeling a bit lost… well make that a reality and get lost in a huge field of maize at The Amazine Maze 'n Maize. Disclaimer: this place attracts a serious number of young-uns so if the head's a bit tender you might want to give this one a miss.
Want more?
Image credit: High Life, ASB Classic, Lydia Arnold, Better Burger, Stranger Things