It is no longer a painful task for vegetarians to find something to eat on a menu, in fact, the options are growing more and more by the day. Auckland has an array of amazing eateries that not only cater to plant-based diners but actually specialise in them. There's now more choice than ever for any meal of the day, so whether you're brunching or heading out for dinner, we have you covered.
Here's a list of Auckland's best vegetarian eateries.
Khu Khu Eatery
PONSONBY
Who said that vegan food has to be bland and boring? We think not. Challenging this stereotype is Khu Khu, a light-hearted vegan Thai eatery nestled into the heart of Ponsonby. Now we know what you're thinking, salads and raw veggies—hell no! Get that idea right out of your head as Khu Khu is home to exotic Asian flavours in the form of big, bold and boisterous dishes that will leave your palate screaming for more. So, whether you want to give meat-free Mondays a go, become completely vegan or simply just want to try something new—Khu Khu has got your back.
The Butcher's Son
HERNE BAY
Nestled on Herne Bay's Jervois Road is plant-based eatery, The Butcher's Son. The talented team are determined to do their part to make the world a better place with their mission being to serve food that is "delicious on your tastebuds, easy on your conscience, and better for the environment". Their entire menu is made without any animal products, their takeaway packaging is biodegradable, and they proudly support local produce suppliers. The warm interior has a green theme to suit the menu, which allows you to feel relaxed knowing you're doing no harm at The Butcher's Son. Start off your visit with a refreshing beverage—try a cold-pressed homegrown apple or orange juice, or switch it up and grab a raw energy or coco-chia smoothie. They also have a classic coffee menu, wine and cocktail list, and beers on tap. As for food, take your pick. Mozzarella sticks, shitake mushroom and crispy pork bao buns, tacos and nachos, beet burgers, and sunfed chicken miso slaw burgers too. For dessert, try the cruelty-free chocolate fondant, or waffles and nice cream to end the sitting.
Wise Boys
Grey Lynn
Sometimes all you want is a big, juicy burger full of all of the good stuff. However, they are usually laden with cheese and meat patties and it can be a challenge to find a vege burger that measures up to the classic carnivorous version. Well, fear not because we have found the answer—Wise Boys. The menu has two options, classic boys and fancy boys. On the classic boy's list, you'll find the traditional style burgers like The Classic Cheese and The Spicy Mex. If you're feeling fancy look no further than The Dirty Boy—a kidney and black bean patty, onion rings, smokey bacon, cheese, BBQ sauce and Wise Boys garlic aioli. All plant-based and all delicious. You're welcome.
Gorilla Kitchen
Eden Terrace
What started as a food truck, Gorilla Kitchen soon put down roots and opened their very own eatery in Eden Terrace. Serving up delicious plant-based food, the kitchen creates nourishing and wholesome meals that don't compromise on taste. On the menu you'll find three—cheese, mushroom and pumpkin pasta bake, vegan 'seafood' chowder and coconut curry 'chicken' pies, all completely plant-based and out-of-this-world delicious. Head down on a Friday night to get amongst their weekly quiz nights for a bit of competitive fun while enjoying some tasty meals and an espresso martini to match.
Tart Bakery
Grey Lynn, K'Road, Commercial bay
There's not a lot that can top the smell of freshly baked bread as you step through the doors of a good bakery in the morning. The bread, sweet pastries and piping hot pies are enough to completely overwhelm the senses. For the vegetarians out there though, it's hard to find bakeries that accommodate their meat-free needs. Tart Bakery is the saving grace as it is entirely free of all animal products and produces some of the most incredible baked goods in town. The fully stocked pie cabinet has all of the classic flavours—only made from plants. We're talking 'mince and cheese', creamy 'chicken' and the classic 'sausage' rolls. Along with 'meatball' subs, loaded pizza slices and pastries galore you'll be walking out one very happy herbivore.
Kaiaroha
Parnell
Tucked away in Parnell is Kaiaroha Organic Vegan Cafe & Deli—a unique and innovative eatery with some seriously tasty food on offer. With artisan nut cheeses, an incredible cabinet range and cafe menu there's so much choice it will make deciding what to order a difficult task. Expect to find dishes such as tomato and pesto tarts, grilled sandwiches and an array of muffins and cakes to finish off on a sweet note. Top tip, go with someone who doesn't mind sharing because we guarantee you will want to try more than one thing.
Lord of the Fries
CBD and K'Road
If you're after classic fast-food that tastes a 'lil naughty then look no further than Lord of the Fries. This vegetarian joint has you covered for the hang-over feed or ultimate cheat meal. Featuring all the classics—cheese-burgers, chicken burgers, fish burgers—all plant based of course. Our pick is the Poutine, combining their award-winning gravy and cheese-laden fries with fakin' bacon, a vege beef patty, onion and garlic mayo. Top off your meal with a side of nuggets, onion rings and a shake to really get the full experience.
Café Mimosa
Takapuna
Cafe Mimosa is the cosiest spot perfect for all plant-based foodies not only because of their delicious spread of menu and cabinet food but for being as organic, fair trade and eco-friendly as possible. The turmeric and ginger waffles with vegan orange custard, spiced mandarin, whipped coconut cream and chocolate sauce are a must try. You'll also find wholesome dishes like the tan tan ramen with creamy sesame broth and other constantly changing special menu items. If you're on the run, then the cabinet has you covered, there are vegetarian subs, daily muffins, decadent cakes and tarts among the array of treats to grab and go. Lunchtime has never looked so good.
Chu Thai Eatery
Ponsonby
Good Thai food is hard to beat, the punchy flavours, fresh ingredients and slurpy noodles really do hit the spot. Chu Thai is an authentic and humble Thai restaurant that serves delicious, traditional style meals, offers friendly service, affordable prices and happens to have a completely separate vegetarian and vegan menu. You'll find dishes such as the bang bang cauliflower with creamy mayo, battered tofu with crushed peanuts, steamed dumplings as well as endless curries and stir-fries that will absolutely blow you away.
Dear Jervois
Herne Bay
Nestled in the heart of Herne Bay is the local favourite spot for brunching and caffeine catch ups, Dear Jervois. While not specifically vegetarian, there's such a delicious range of options for plant-based diners that even carnivores find themselves opting for the vege offerings. If you're feeling like something sweet then the matcha waffles with nice cream, quinoa crunch, raspberry mascarpone and maple syrup will really hit the spot. For more of a classic big breaky option then you can't go past the mushroom and potato rosti stack—with slow cooked eggs, lentils, soft herbs, parmesan and basil pesto. Unreal.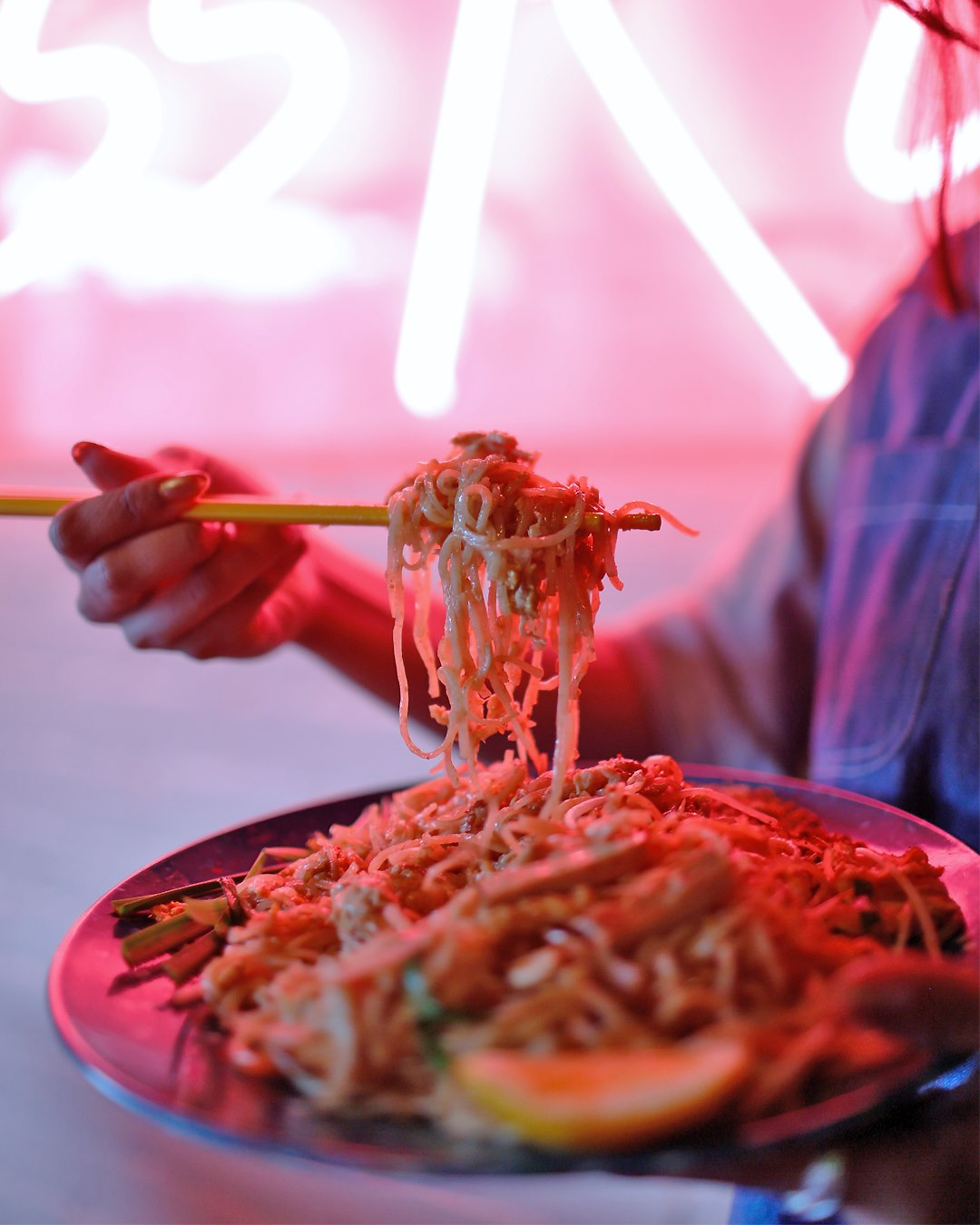 Kiss Kiss Eatery
Balmoral
If the neon lights and vibrant greenery at Kiss Kiss Eatery aren't enough to entice you in, the killer dishes served up from the kitchen definitely will. Even more exciting is the vegetarian creations on the small but tasty menu. Located in Balmoral, the restaurant is Thai inspired and features traditional flavours with a fun and unique twist. The fried tofu steamed buns with mayo, crispy white cabbage, coriander and a Bangkok style sauce is a real stand-out. There are also more classic dishes all able to be made vegetarian, including the perfectly saucy Pad Thai.
Little Bird Unbakery
Ponsonby and Britomart
As one of the first spots to introduce Auckland to the raw food trend, Little Bird Unbakery is the epitome of absolute health and wellness. Home to incredible bird bowls, superfood smoothies and raw cheesecakes and slices, it's hard to believe that all of their creations are free of not only animal products but refined sugar too. Open for breakfast, lunch and dinner, you can enjoy the raw goodness for every meal. If you're in for dinner be sure to try the Spicy BBQ Cauliflower—a head of cauliflower roasted in barbeque sauce with a roasted almond garlic creme. Yes. Please.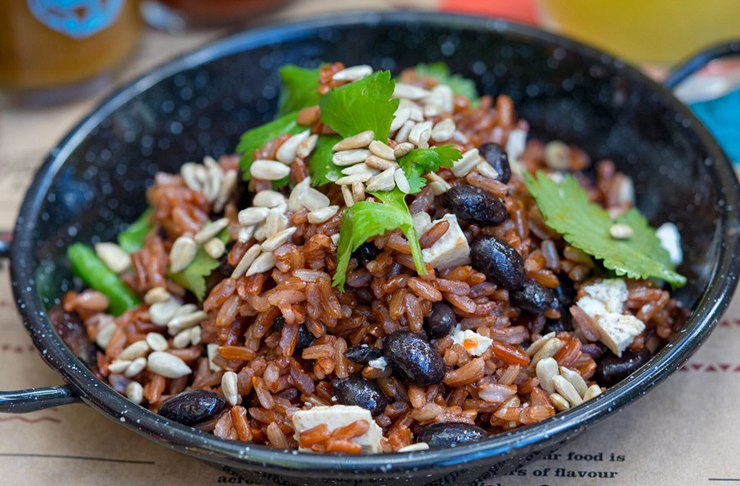 Mexico
Multiple locations across Auckland
Mexican food is the ultimate combination of punchy flavours, fresh ingredients and cheesy, crunchy deliciousness. And we are here to tell you that you don't need meat to enjoy it. Mexico has absolutely nailed the vegetarian options for any plant-based peeps craving a Mexican feast. There are options throughout the menu including the crispy green bean taco with yellow salsa frita, almond creme, tofu and pepitas. If you're a cheese lover then you can't pass up the jackfruit quesadilla with queso, sunflower seeds, coriander, green onions and salsa tomatillo. Finish off with one of the special margaritas to complete the sensational experience.
The Store Britomart
Britomart
The Store Britomart is a real favourite among all kinds of diners, especially because their delicious menu is full of vegetarian options among the classic bacon and eggs. You need to try the ricotta hotcakes with charred apple, butterscotch, macadamia and mascarpone—yes it really is as good as it sounds. The smashed kumara with leeks, chilli, goats cheese and poached eggs is also a winning choice, and there's definitely no sharing allowed. Pair your meal with a cold-press juice for a serious health kick and you will be walking out the door happy as larry.
Baduzzi
Wynyard Quarter
Known for the incredibly delicious and authentic food served up, Baduzzi really know what they are doing when it comes to all things Italian. Vegetarians you do not have to miss out on this culinary magic because the eatery caters to plant-based foodies and have adaptable meals that can be made vege friendly—how good. The saffron and potato tortelinni with goats curd, brown butter, almonds and fig confit is a star on the menu and will not disappoint. The meatball section even features a vegetarian option, the polpette vegeteriane with summer vegetables and cow ricotta. For a special dining experience, make Baduzzi your next visit.
Odettes Eatery
City Works Depot
Odettes is one of those go-to spots that never disappoint. It's the perfect spot to take a friend visiting the city, brunch with the girls or a romantic dinner for two. While it's not specifically targeted to the vegetarian public, there's such a range of plant-based options which makes Odettes the perfect spot for eating out when you have both vegetarians and non-vegetarians in tow. The wild mushroom rice crepe with soy butter and basil is a winning lunch choice, or for dinner the roast cauliflower with paprika, maple and mint will definitely hit the spot.
Image credit: Ella Olsson, Wise Boys, Tart Bakery, Lord Of The Fries, Chu Thai, Kiss Kiss, Mexico, Baduzzi