It may still be blowing a gale but we're about done with this whole winter hibernation thing, so we say it's time to emerge out of the trackie-dusted depths of your home and get the group together.
Reach for your phone and start planning a squad reunion (or, rebirth), because we've compiled a list of some of the best places to catch up with your mates in Perth.
Market Grounds
Perth CBD
Divided up into five different areas, including an intimate sunken lounge, Market Grounds has come through with the group goods. From an extensive drinks menu (wine connoisseurs, brace yourselves) to woodfired pizzas, both vegan and vegetarian options and a 12-hour roast lamb shoulder, Market Grounds has truly covered all bases, leaving the only thing you need to worry about being lapping it all up. If you're game, try the salted caramel old fashioned—yes, you read that correctly.
Sweetwater Rooftop Bar
East Fremantle
Known for its lush interiors, next-level cocktails, and Asian-inspired eats that might make you cry a little, Sweetwater Rooftop Bar is just screaming to host your next catch up. Their regular menu features your faves, like karaage chicken wings and water chestnut wontons, but the real MVP is the eight-course yum cha brunch with optional three-course tea-infused cocktail service available on Sundays. Need we say any more, apart from 'hustle', perhaps?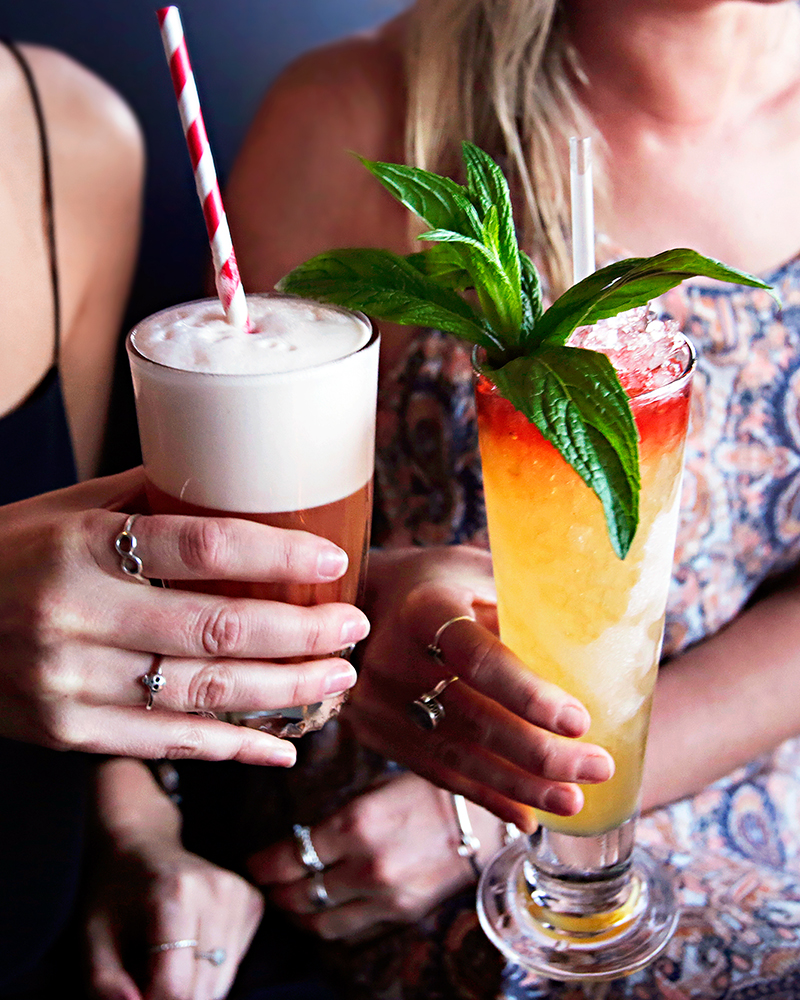 The Moon
Northbridge
Keen for some deluxe fries and board games? The Moon late-night cafe is absolutely where it's at. File into a booth in the cosy 50s diner or sink into one of the unique lounges in the alfresco area for some live music accompaniment as you work your way through the Smurf alcoholic-shake, pastas, pizzas, burgers and chocolate syrup dessert pizza. OMG is right. Oh yeah, and did we mention the fries?
Core Cider House
Pickering Brook
Overlooking the stunning orchards in Pickering Brook, CORE Cider House is the perfect spot to kick back and enjoy refreshing ciders and finger-licking-good food with your mates. The cider tasting paddle is a no brainer, and the extensive food menu for both the bistro and the garden is loaded with killer dishes that will put your decision-making ability to the test. Want a bit of everything? No worries—customise a share menu for your group and fill it with all the cheeses, meats and sweet treats that you like.
Sneaky Tony's
Northbridge
Hidden incognito out the back of Pleased to Meet You, Sneaky Tony's is an inconspicuous, speakeasy-style bar that brings late-night mystique to the alleyways of Perth. Overflowing with 300 different types of rum and peanuts galore, Sneaky Tony's pays homage to a different time, when bootlegger and rum-runner Tony 'The Hat' Cornero of the 1920s was in his prime. If the weekend is looking like the best time for you and your pals, you may be inclined to source their password on one of their social media pages—keep it on the DL, though, because this cheeky little bar can fill up when people start realising its facade.
Sauma
Northbridge
Sitting pretty opposite The Alex Hotel, Sauma is a modern-Indian street food experience that offers a calming and benign atmosphere among the eccentric vibrancy of Northbridge. The light and airy space boasts character and charm, with its distressed wood and rustic fittings (the décor was shipped in from India), and with an impressive selection of street eats, small dishes, curries and dessert—with dairy-free, gluten-free and vegetarian options, Sauma is a sophisticated gem for a get-together with friends.
The Guildford Hotel
Guildford
Forget the beach, The Guildford Hotel is your boy for a Sunday sesh to remember. Think garden pot cocktails, boozy icy poles, parmis and, the pièce de résistance, mega steak sangas. Regular events like quiz nights, BBQ masterclasses and crafternoons will create good vibes all 'round, especially with the menu being designed to prioritise the hand that's preoccupied with your beverage of choice.
The Aviary
Perth CBD
Perched high above the rooftops of William Street, The Aviary is probably one of the most iconic bars Perth has to offer. Hurtling into the new age of high-altitude hospitality, the stunning sunset views overlooking Perth's skyline are a given, but when that's paired with an oasis-like outdoor space, a well-rounded beverage list and plenty of treat yo'self eats, that are conveniently divided into one-handed snacks—we might add, you've got a real winner up your sleeves.
The Peach Pit
Scarborough
If you're keen on soaking up the views of our crystal blue ocean and Aussie sun, The Peach Pit on the Scarborough Esplanade will be your new obsession. Not only are there ivy green walls and uber-cute booths, you can also unleash your inner child on the arcade games before taking care of your adult problems by the bar. Their signature cocktails go for $10 every Monday to Friday between 5pm and 6pm—The Miami Splice had us at hello, or if you're more of a wine, bubbly, schooner or tap beer kind of drinker, you can snatch up any of the above for a mere $6. Time to get your butt down there immediately—or sooner.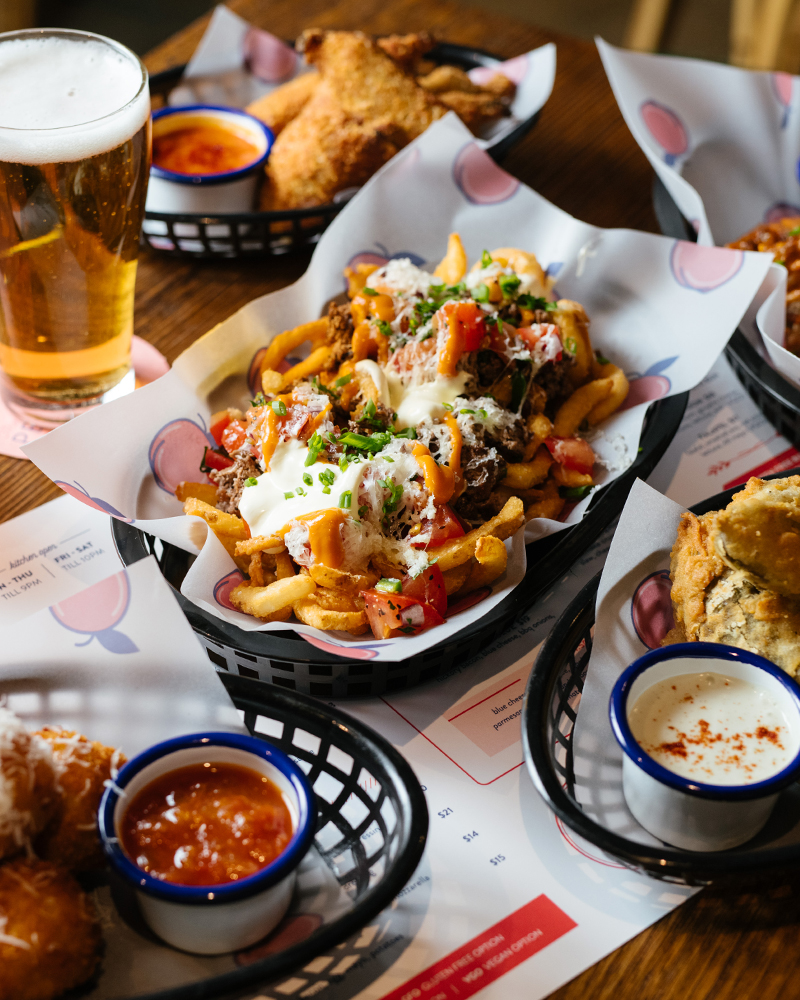 The Stables Bar
Perth CBD
With a speccy refurbishment on the way, complete with a two-level expansion, street-front bistro and basement bar, you have every reason to round up your herd and head down to The Stables Bar, pronto. Post up with your mates and drool over the menu curated by head chef Ben Keal, who is serving up honest, seasonal and decadent food designed to be shared among friends and enjoyed with carefully crafted cocktails or sophisticated wines. Oh, and we should mention, there'll be a three-course meal waiting in all its glory for you at the Chef's Table for your next birthday or event.
Alabama Song
Northbridge
From The Stables Bar, gallop on down to the alleyway next to The Alex Hotel where you'll find Alabama Song—your answer to country AND western. Slide into a booth with your pals and order the southern fried chicken wings immediately—don't ask questions, just do it. Then, after navigating the 120 types of bourbons, whiskies and ryes, send a noble volunteer to order so that, should your wings arrive, no outlaws can steal them (their worth is unparalleled). After a swig and a bite, it is in this moment that you'll discover that heaven is, in fact, a place on earth.
Joe's Juice Joint
Northbridge
If you thought that the night was finished at this point, boy, were you wrong. As you head down the stairs from Alabama Song, take a detour and just keep on walking—you'll reach Joe's Juice Joint soon enough. This dark and moody bar is the hub of everything rock and roll (it's like Motley Crue projectile vomited everywhere—there's bras hanging from the ceiling, posters upon posters and pinball machines, to give you an idea). Keep it rollin' with tequila, rum or whisky, and shove your face in their dirty fries for an out of body experience.
Caballitos
Perth CBD
From lageritas—frozen margaritas topped with a mini Corona—to drool-worthy Mexican food and giant cocktails served in treasure chests, Caballitos in Perth's CBD has got it all (including what is essentially a stripper pole). If you're after something that will give you a little boost, try the Black Rose—Caballitos own take on an espresso martini. It's frozen and topped with a dollop of vanilla foam, and you'd better believe it will have you dancing all night long. Oh, and by the way, $5 Taco Tuesday is a thing.
The Flour Factory
Perth CBD
Occupying the space in the historic 100-year-old flour mill, The Flour Factory is undoubtedly one of Perth's favourite restaurants and cocktail bars. Spread across three floors, including rooftop bar The Sherry, The Flour Factory boasts one of the CBD's largest gin and fortified wine collections. Whatever you do, don't leave without ordering the duck fat potatoes; potentially the best potatoes in Perth. You'll also want to try the Arkady lamb ribs and pumpkin and ricotta gnocchi. Why, you ask? Because to not would be a disservice to lamb and gnocchi everywhere.
The Standard
Northbridge
We haven't yet found a box that The Standard in Northbridge doesn't tick. It's a bar, with a rooftop, incredible food and drinks, a gorgeous wine garden out the back and it's the perfect venue for a full-blown affair with all of your pals. The banquet menus are your go-to to accommodate all of the needs of your foodie friends—we recommend the Hungry or the Feast where you can enjoy a selection of the chef's favourite dishes, including the all-important dessert. The drinks list is longer than the already burgeoning food menu, and to that we say, cheers.
On the hunt for a smorgasbord? Click here to check out six of Perth's best buffets.
Image credit: Nancy Hanna, Elle Borgward and Shot By Thom