There's nothing better than getting together with your mates at one of Sydney's best bars during happy hour; it's good for your soul and for your wallet. So before the tan-inducing summer weather fades and the slight nip starts to settle in on every rooftop bar in the city, we've rounded up Sydney's best happy hour deals. From dimly lit dive bars to gleaming French brasseries, it's all yours for the booking.
To ensure you make your way seamlessly to the bar (and save some serious coin), we've teamed up with DiDi, Sydney's newest ridesharing service. Not only can you get your hands on epic deals like 50 per cent off your first five rides, if you enter the code URBANLIST you'll get an additional $20 in ride vouchers.
Ready to tackle your cocktail hit list? Let DiDi get you to your destination for less, so you can spend your hard-earned coin elsewhere.
Mary's
Circular Quay and Pitt Street
Besides their mouthwatering burgers, Mary's list of bottled craft beers and inventive cocktails definitely earns the top spot when it comes to Sydney happy hours. With $5 margaritas and $5 snacks and just a whole lotta good vibes, you really can't do wrong with this tried-and-true classic. Plus, if you're not into beer, you'll be glad to know the wine list is a heavy-hitter at the Pitt Street location: curated by Mary's wine director Caitlyn Rees, the list features over 30 varieties to get excited about. On the cocktail front, all things rum-based lead the line-up, but you can still find staples like a spicy margarita and espresso martini. With a dripping cheeseburger in one hand and a $5 cocktail in another, it's impossible to have a bad time at this Sydney institution.
The Rook
Sydney CBD
If you're on the hunt for rooftop vibes paired with burgers and drinks, then it's time to play hooky at The Rook. With trendy, graffiti-covered walls and a retractable roof for those breezy winter nights, the chances you'll never want to leave are high. Rooky Hour goes from 4 to 7pm on weekdays and includes $5 house wines and tap beers and $10 selected spritzes. Tuck into the deep south surf and turf with southern fried chicken, lobster mayo, fresh tomato and lettuce and you've just turned that weekday frown upside down.
Maybe Sammy
The Rocks
Where do you go when you're on the hunt for a top-notch cocktail deal? At one of the world's best bars, of course. Maybe Sammy nabbed a spot on last year's coveted 'Best Bars' list for a reason: delicious food and even more delicious cocktails. Cuddle up on the pink velvet banquets or get comfy on the leather-clad stools, and soak the Palm-Springs-meets-Hollywood vibes in all their glory: huge, gleaming marble bar? Check. Gold lamps? Check. Happy hour deals that'll leave your stomach and your wallet happy? Check. From $2 oysters after 6 pm to Mini Martini Hour (AKA grab mini cocktails for $5.50 each from 4:30 to 5:30pm daily), you'll want to head over there ASAP.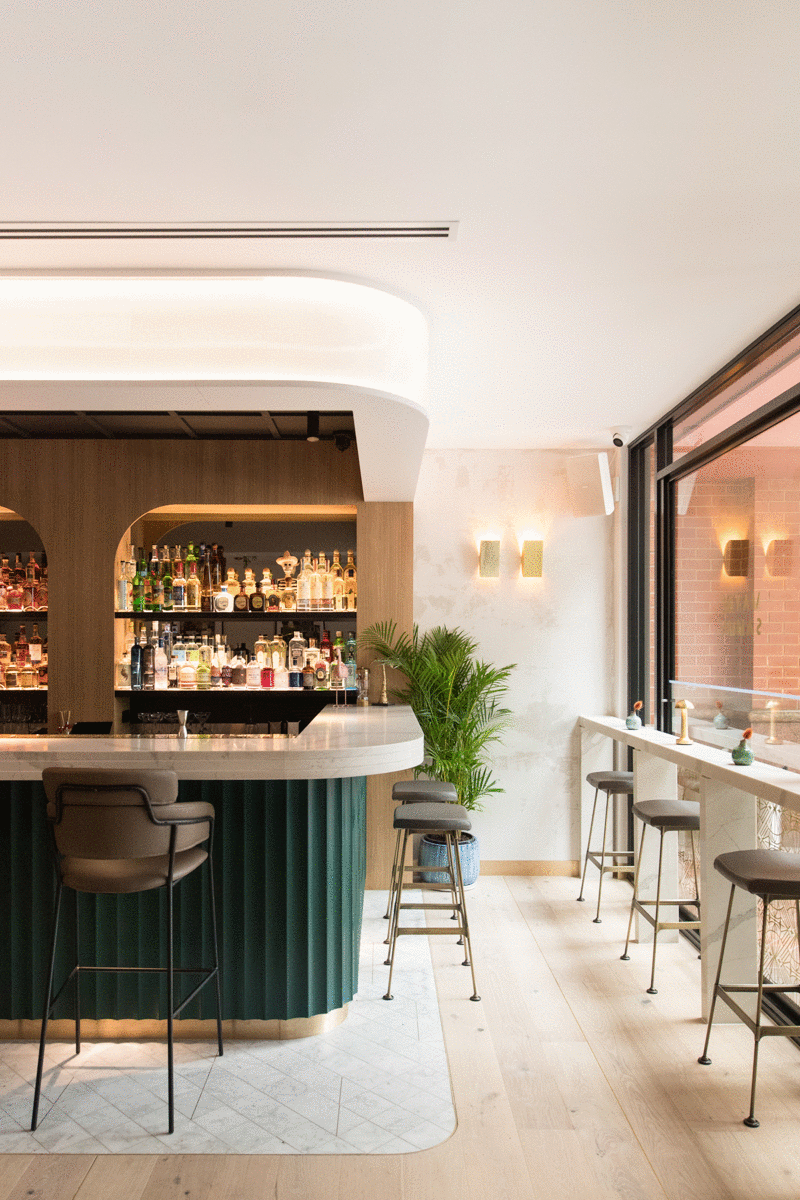 Palings Kitchen and Bar
Sydney CBD
If you're looking for some post-meeting refreshments, then grab some workmates and go soak up those fading rays at Palings' light-filled, open-air atrium. Located in the food and drink hub The Ivy, Palings' wooden benches and lush greenery make the space feel very casual and relaxing, which is what you want after you've been stuck in dreary meeting rooms all day. On the menu? $7 drinks, deli-style snacks or hearty main meals, all from 5 to 7pm every Monday to Friday. What's not to love?
El Loco at Slip Inn
Sydney CBD
Taking over a massive outdoor space with multiple bars, plenty of tables and great music, El Loco is the perfect place to go with a group for tacos and margaritas and great happy hour specials. Step into the most colourful, palm-laden garden and cantina you've ever seen, plop down on the brightly coloured stools and feast your eyes on a seriously mouthwatering menu: we're talking DIY tacos, loaded quesadillas, tasty tostadas you won't want to share and much more (they even have burgers to really cover all the bases). Happy hour goes from Monday to Friday from 5pm until 7pm, where you can cool down with $6 pints, house wines and house spirits and then proceed to order everything off the menu.
The Royal George
Sydney CBD
Hankering for that midweek pub meal deal? Well, The Royal George is here to serve it up to you in all its classic English pub glory. Stepping inside the dimly lit dining room feels like you've travelled back to a more charming time where people wore fancier hats and thongs didn't exist. From staples like chicken schnitzel, burgers and pasta specials to lighter fare like crispy salads and pan-roasted salmon, it's clear the team at The Royal George know how to craft a menu. Plus you can bite down into $1 crispy chicken wings from 5-7pm every day and cool your mouth from all the hot sauce with their $6 drinks, like tap beers, house spirits, red, white and sparkling...you know the drill.
The Morrison
Sydney CBD
Located in the heart of the city, right between the CBD and The Rocks, The Morrison is the perfect New York-style brasserie for an after-work drink with a bite to eat, a plate of fresh oysters or a sit-down menu to enjoy with friends. For flavour combinations that'll keep your tastebuds humming, we recommend the signature chicken lollipops (southern fried chicken served bite-sized with chilli and molasses dip) or the mushroom gnocchi (ricotta gnocchi served with steamy mushroom). Whatever you end up picking from the classy menu, you can pair it with $6 house wine, beer and spirits every day from 5 to 7 pm. But why stop there? The Morrison also does Oyster Hour every Wednesday from 6 to 7 pm. Does it get better than $1.50 freshly shucked Australian oysters every week? No, it really doesn't.
Small Bar
Sydney CBD, Crows Nest and Kirribilli
If you're looking for a great wine bar that happens to have three locations scattered across the city, then you'll definitely want to hit up Small Bar. With delicious cocktails, moreish tapas plates and enough wine and beer to get you through the week, Small Bar is one of our favourite spots to hit up during the week. The Crows Nest location boasts exposed brick walls and an extended seating area that leads to an open terrace at the back, which is ideal for balmy summer evenings or cuddling up in winter. Nibble on the buffalo wings and halloumi, go nuts over the American cheeseburger or keep it clean with a low-key grilled chicken salad while sipping on $5 house drinks, Monday to Friday from 4 to 7 pm. They also have daily food specials that'll really fill you up, like $5 hot wings on Wednesdays and $9 taco boards on Tuesdays.
Shady Pines Saloon
Darlinghurst
Arguably one of Sydney's best bars and happy hours, Shady Pines will not let you down when it comes to weekday drink deals. Whether you're after a $4 house pour or a $10 negroni or margarita, there's a high chance you'll end up having more drinks than you intended. Hidden in a small lane behind Oxford Street, the bustling venue is usually concealed when there's not a massive queue out front. The taxidermied wall hangings give it a Wild West, Texan feel. So grab a stool, stock up on complimentary peanuts and make your way through the menu, one mind-blowingly delicious cocktail at a time.
Untied
Barangaroo
Boasting laid back North Queensland vibes with a serious dose of chic, Untied hits the spot if you're on the hunt for a tropical happy hour. Every day from 4 to 6 pm, you can grab refreshing $7 house tap beer, sip on $7 house wine or sample the $7 house spirits. The contemporary Australian menu is designed to share, featuring light bar food like snapper with finger lime, ginger, chilli or contemporary larger plates like lamb with honey, native mint, asparagus, sorrel and goats curd. The cocktail menu keeps it fairly tropical, with the likes of Captain Harlock's Lost Treasure (Bulleit bourbon, Bundaberg Small Batch rum, Falernum, pineapple, lime juice, hibiscus syrup and Angostura bitters) or the Peg Leg, which is a classic twist on a Pina Colada. It's a lot to get through but we're sure you'll manage.
Spritz Bar
Chippendale
Where do you head when you're looking to have a good time? Gin Lane, of course. More precisely Spritz Bar, where you can drop by during happy hour from 4-7pm, Tuesday to Saturday. Get comfortable on one of the nostalgic blue and white chairs and take in the olive detailing and vine plants taking over the al fresco dining atop what used to be known as Olio. The Spritz Bar drinks menu is made-up of 22 handcrafted cocktails which obviously include all the classics plus fresh concoctions like The Flower Power Sour—which is served in an actual pot—or the Toasted Coconut Pina Colada slushie, which is well worth the throwback. Whether you're looking to grab a spritz on the terrace before your dinner reservations or looking for a more long-term sitting situation, you'll be well-tended to.
Restaurant Hubert
Sydney CBD
For a trip to Paris without the exorbitant airfare, we suggest basking in Hubert's luxurious, European vibe. Think dim lighting, scrumptious French cuisine and live jazz that will check all the boxes for that hot new date. To drink, expect exquisite classics like Manhattans, martinis and margaritas as well as a French-influenced wine. Apéritif hour happens between 4 and 6 pm daily, which means you can nab a cheeky G&T for $5, a Negroni for $10 and a glass of Riesling for $5. Once you're done sipping, make room for some generous food specials, including $5 parfaits, $10 Normandy burgers, $3 olives and much more. If you're looking for something more filling, dive into the chicken fricassee, steak with pepper sauce and creme caramels with a modern twist. See you there.
Babylon Rooftop & Garden Bar
Sydney CBD
Babylon is a sprawling 800-seat Levantine-inspired rooftop bar and restaurant inspired by the once-thriving ancient city. The huge 1200sqm space features a live hanging garden terrace and a luxurious nine-metre bar crafted from Emperador dark gold Spanish marble, lots of greenery and multiple private and semi-private dining rooms. The drinks list can only be described as colossal (think 250 whiskies, 400 bottles of local Australian and international spirits and about 300 bottles of Old and New World wine), so you'll definitely be spoiled for choice here. Tuck into bar snacks like hummus with wattleseed dukkah while you enjoy $5 aperitivo hour on weeknights from 4 to 6 pm.
Ready to tackle your cocktail hit list? Let DiDi get you to your destination for less, so you can spend your hard-earned coin elsewhere. Not only can you get your hands on epic deals like 50 per cent off your first five rides, if you enter the code URBANLIST you'll get an additional $20 in ride vouchers.
Image credit: Maybe Sammy, Untied
Editor's note: This article is sponsored by DiDi and proudly endorsed by Urban List. Thank you for supporting the sponsors who make Urban List possible. Click here for more information on our editorial policy.