Easter is officially here and that means hot cross bun season is upon us. From the doughy to the sticky, the spicy and the sweet, venues around Sydney are fronting up with the chewy stuff for your long weekend.
While Coles might have had their hot cross buns on shelves back in January—good things come to those who wait and, in this case, that includes buttery, fruity goodness with everything from the staple classic to new creations like hot cross bun cinnamon scrolls and rosemary-infused morsels. Drooling yet? We thought so.
Here all the best hot cross buns in Sydney to get around this Easter.
Lotus Dining Group
VARIOUS LOCATIONS
If you're on the scout for a hot cross bun twist with all the brownie points well—enter the BBQ pork hot cross bun. Available at a bunch of Lotus Dining Group venues including Chi By Lotus, Lotus Double Bay, The Gardens By Lotus, Madame Shanghai, and Lotus The Galeries—the dim sum inspired twist comes loaded with rich BBQ pork and flaky pastry (the kind that melts in your mouth like butter) all packed inside a hot cross bun shell. These juicy creations will be available all long weekend with all venues open every day during Easter (which is a double win).
Toastie Smith Pop-Up
DARLING SQUARE
For the kids out there keen to get out and about this Easter long weekend, jet on down to Makers Dozen in Darling Square. Here you'll find an epic Toastie Smith pop-up cart from 9am - 7.30pm with goods like ramen egg sandos and the real stickler—shokupan hot cross buns. These Easter treats are made with Japanese milky dough and they're your one-way ticket to upping your Easter antics this year.
Bourke Street Bakery
VARIOUS LOCATIONS
Bourke Street Bakery's hot cross bun loaves are back and so is your imminent annual Easter carb-induced food coma. It's a go-hard-or-go-home mentality here and the deal is to order online to make sure you're not disappointed this long weekend. The Bourke Street Bakery team is also whipping up dense hot cross buns which you can grab in six-packs.
Textbook Boulangerie Patisserie
Alexandria
Four words, Sydney—truffle hot cross buns. Alexandria's rabbit hole of all things baked, sweet and delicious, Textbook Boulangerie Patisserie, is going out with a big sugar bang this Easter long weekend with a hot cross bun line-up like no other.
First up, you'll find the glorious hot cross bun croissant with Textbook's signature spice and stuffed with speculoos and soaked fruit filling. Along with this, you'll be able to scoop up a pack of Textbook's new sourdough brioche hot cross buns covered with a fruity floral spice glaze, and, to really put the dribble on your mouth—black truffle hot cross buns. These boys have sold out on previous weekends so, if you're keen, ordering ahead of time is the only way to secure your mighty Easter morsel.
Banksia Bakehouse
CBD
There's really not much else for us to do than to introduce you to Sydney's latest hybrid pastry—the hot cross croissant. Banksia Bakehouse has crafted this Easter feast from croissant dough which has been moulded into a cube shape, using a special cake mould. With its crisp outer pastry shell featuring an icing cross on top, inside is a filling so good and so creamy—it should be a sin to taste. Think a decadent centre of cinnamon crème patisserie with uniquely Australian Sunmuscat sultanas.
The inspiration came from the Banksia Bakehouse's former iconic hybrid pastry, the holy "Cramington", a cube-shaped Lamington croissant.
"We wanted to create a special Easter treat using our expertise in croissants and patisserie," says Banskia Bakehouse's Chris Sheldrick. "With hot cross buns appearing in supermarkets right after Christmas, we didn't want to create a traditional-style bun, as we felt customers would be tired of them by the time Easter actually came around." Amen to that.
Hot cross buns are available in-store.
Brickfields Bakery
Marrickville, Chippendale
Home of all the epic baked goods and epic sourdough, Brickfields Bakery is doing your souls a damn good favour this Easter—its spiced buns are lighter than air and smell incredible.
They're packed with cranberries, sultanas, currants, and candied peel, and topped off with a sticky, sweet cinnamon glaze. You can order a regular batch of these little guys or go for gold and hit the toasted and buttered beauties (you know you want to). These babies contain wheat and dairy but they are nut-free.
Hot cross buns are available in-store and for pre-order on pick-up deliveries.
Flour Drum
Newtown
Famed for its locally roasted artisan coffee, Aussie wines, neighbourhood beers, and pet-friendly outdoor courtyard, Flour Drum is any weekend aficionado's favourite haunt and this Easter, it'll be yours too.
This year, Flour Drum is creating hot cross cinnamon scrolls, a cross between the mighty cinnamon scroll and hot cross bun. On the top, you'll find the swirl pattern of a cinnamon scroll but after you take that first sweet bite, you'll find out the inside is more like a traditional hot cross bun. The entire creation is a trifecta of three winning ingredients including chef John Ageleto's own mum's Greek Easter Tsoureki (Greek brioche) and Flour Drum's iconic cinnamon scrolls and hot cross buns (which in case you missed it, have been huge hits in Sydney in previous years).
"Essentially, it is a brioche that's been layered with sheets of butter folded into the pastry over and over again," says co-owner Victor Li. "The amount of extra folding, layering and rolling is to make it more flakey and moist. This process takes up to three hours, not including chilling time in between each rolling session, and before we add the spices."
After these get rolled in, it's all about the fruit, says Li. "A generous amount of sultanas and housemade candied orange and lemon peel are sprinkled over the dough before finally rolling them into scrolls and letting them rest for a few hours before baking."
Hot cross buns are available in-store only (every day from Friday 19 March until Easter Monday).
Flour And Stone
WOOLLOOMOOLOO
Flour and Stone creates all their food delights with a careful touch to ensure perfection and their hot cross buns are no exception. This year, while international travel is unfortunately not on the cards, Flour And Stone is taking you to Florence this Easter, by giving their hot cross buns a pan di ramerino (which means "rosemary bread") twist.
In Florence, pan di ramerino is traditionally served on Holy Thursday (before Easter Sunday) and is made from a heap of dried fruit that gets slathered in a thick, sugary glaze. The team at Flour And Stone is making these Easter buns with fluffy brioche bread, infused with rosemary and cardamom and finally studded with currants.
Hot cross buns are available in-store, for pick-up (Monday to Saturday) and delivery.
Sonoma
Various Locations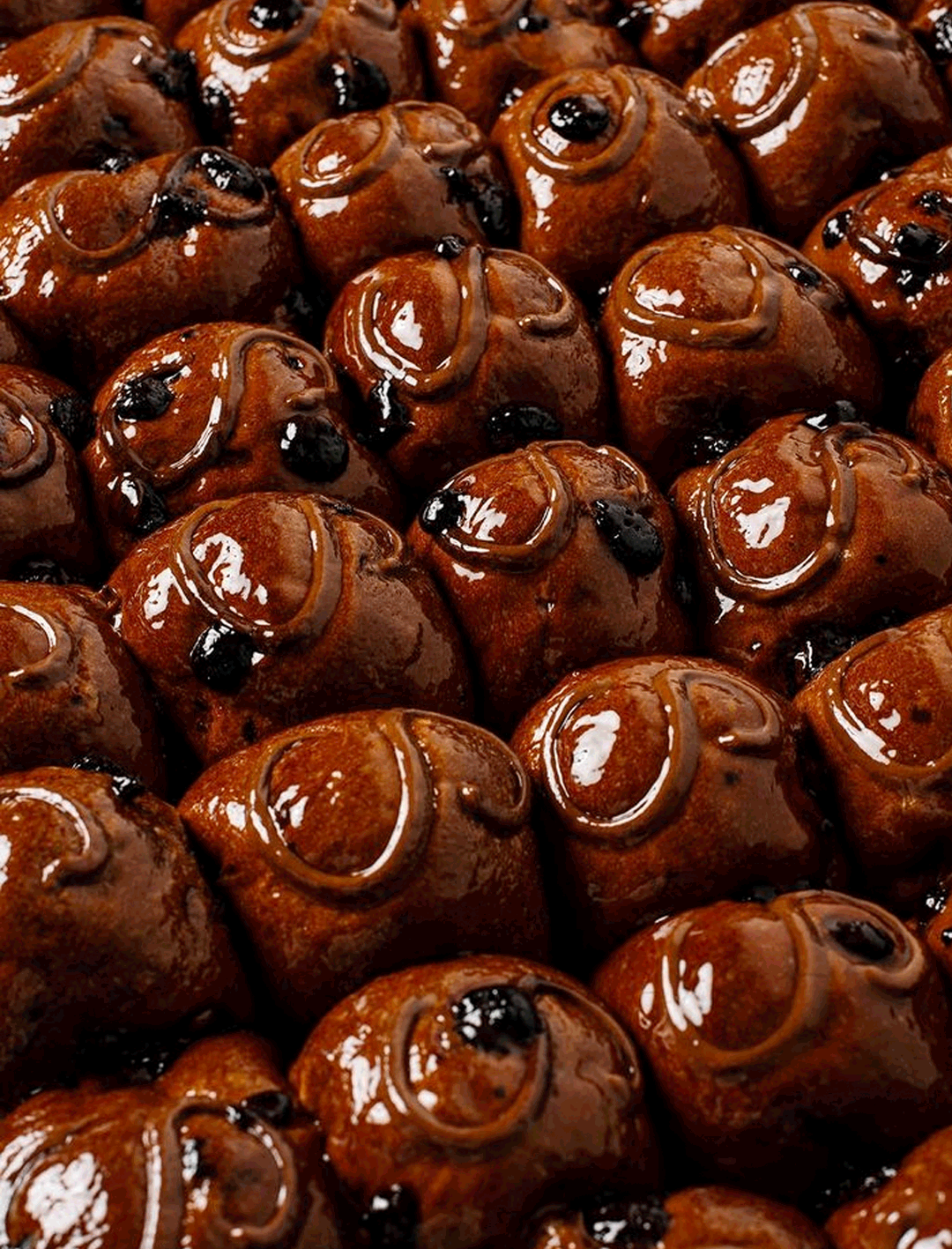 Sonoma marks its "Not Cross Buns'' with an "S" and strives to keep the magic alive by giving them a super limited release. Made with the sweetness of sultanas and dried cranberries, these bad boys also bear a sweetly spiced dough (with cultured butter) and are glazed in an orange-scented syrup. You'll also find a super decadent and chocolate take on the original hot cross bun and even a holy "pull apart" (for $36) made up of 12 chewy morsels.
Hot cross buns are available in-store and for pick-up at some stores.
Black Star Pastry
Various locations
Home to Sydney's best vegan hot cross buns? We'd back that. Dense yet cushiony, sticky, spicy, and sweet—Black Star's buns are entirely vegan and are available across all four of its Sydney stores so brace yourself for a wealth of deliciousness this Easter.
"The flavour profile of these buns is intense—fruitiness, citrusy and with the inclusion of frankincense syrup, the combination is certainly unique, and it is not one that is easy to come by," says head pastry chef Arnaud Vodounou. "We stick to only one kind of hot cross bun and spend our time continuously perfecting the recipe. The Black Star hot cross bun is a traditional hot cross bun with a twist."
With perfecting Black Star's hot cross bun recipe comes a pretty hefty preparation process says Vodounou, and attention to detail is absolutely essential. "To kick off the process, we soak the dry fruits in water to extract the bitterness, this includes raisins, currants, and sultanas; all the traditional ingredients associated with a hot cross bun."
"Simultaneously, the preparation of the dough begins with the first fermentation—the combination of yeast and water and will take around 25 minutes at this first stage," adds Vodounou. "Once this stage is complete, we combine the dry ingredients of whole spice and cinnamon with the fermented yeast and water. This is where those delicious nostalgic Easter flavours start to permeate into the dough to give it a subtle kick. "
After the second fermentation and the dough has been baked, it's all about soaking the bread in a delicious frankincense glaze when the dough is hot. Swoon.
Hot cross buns are available in-store and for pick-up.
Madame & Yves
Clovelly
In previous years, Madame & Yves has gifted Sydney with giant hot cross bun-inspired "Eclairzillas"—not joking. This year though, the epic crew here are going hard on the staple hot cross bun, made to pick up from the Clovelly outpost or be delivered straight to your front door in an Easter bun softer than silk. Madame & Yves spiced buns feature sultanas, raisins, black currants, orange peel as well as nutmeg and French pain d'épice spices (cinnamon, star anise, clove and anise seed). You'll be able to order up a chocolate take on the bun loaded with Valrhona 60% dark chocolate chips.
Hot cross buns are available in-store and for pick-up.
Nonie's
Botany
If you haven't heard of Nonie's—what have you been doing? This gluten-free and dairy-free bakery is all about making delicious goods using thoughtfully chosen ingredients, which means it's a one-stop-shop (read: heaven) for all the coeliacs and lactose intolerant folk out there.
This Easter, Nonie's has a certain kind of magic going into her gluten-free hot cross buns, with her classic batch made using whole grain gluten-free flours, warm spices, organic dried fruit and of course, that iconic sticky glaze. You'll also be privy to some decadent choco beauties made with Callebaut 70% dark chocolate and marked with a telling cacao cross.
Hot cross buns are available to pick-up from Nonie's Food warehouse and Carriageworks Markets.
The Grumpy Baker
Various Locations
The Grumpy Baker's much-loved hot cross buns pay homage to Founder, Michael Cthurmer's Israeli heritage, using Jewish challah dough—a braided bread traditionally served on the Jewish Shabbat, which has a rich and spongy flavour. Baked fresh on-site at the Grumpy Baker cafes every morning, their secret to the perfect hot cross bun is an abundance of raisins, choc chips and butter swirled with spice for an extremely moist, fluffy and sticky bun. According to Cthurmer, the final ingredient to the bun is the simple fact that it's made with "a lot of love" and hey, we reckon you'll be chowing down on these delicious bits of fruity goodness with a lot of love too.
Hot cross buns are available in-store.
Tuga Pastries
Clovelly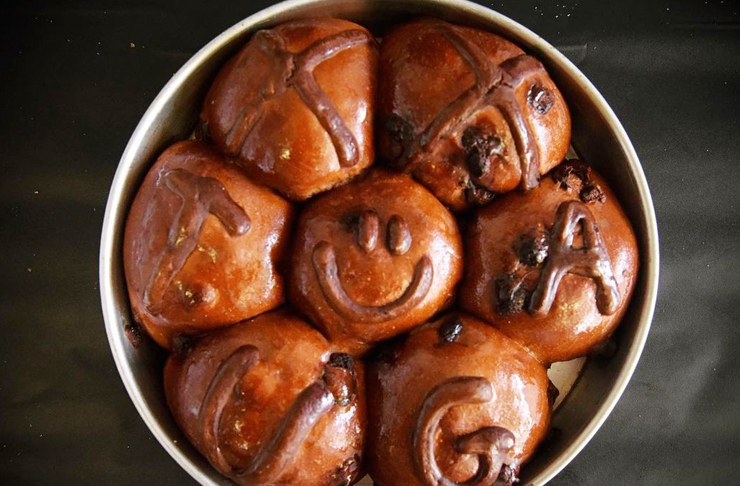 Tuga Pastries sits right at the chaotic and famous intersection where Clovelly Road, Mount Street and Fern Street all come together. There's a lot happening here with bustling cafes, a post office, a bank and the neighbourhood bottlo but secretly, it is the pint-sized, weekend-only Tuga Pastries that reigns supreme. What's more is that Tuga is Sydney's home of the tastiest Portuguese tarts, as well as some of Sydney's best hot cross buns, come Easter time. Spoiler alert—the team here do hot cross bun cakes too, which you can absolutely pre-order for your long weekend celebrations.
Hot cross buns are available in-store.
Now, check out the best cheesecake in Sydney.
Image credit: Textbook Patisserie, Lotus Dining, Bourke Street Bakery, Textbook Patisserie, Banksia Bakehouse, Brickfield's Bakery, Flour Drum, Flour And Stone, Sonoma, Black Star Pastry, Madame & Yves, Nonie's Food, The Grumpy Baker, Tuga Pastries