Easter is coming—and that means hot cross bun season is upon us. From the doughy to the sticky, the spicy and the sweet, bakeries around Sydney are fronting up with the chewy stuff for your long weekend.
While Coles and Woollies might have had their hot cross buns on shelves back in January—good things come to those who wait. And, in this case, that means buttery, fruity goodness with everything from the staple classic to new creations like hot cross bun cinnamon scrolls and chocolatey morsels. Drooling yet? We thought so.
Here are all the best hot cross buns in Sydney to get around this Easter.
Sweet Belem
Petersham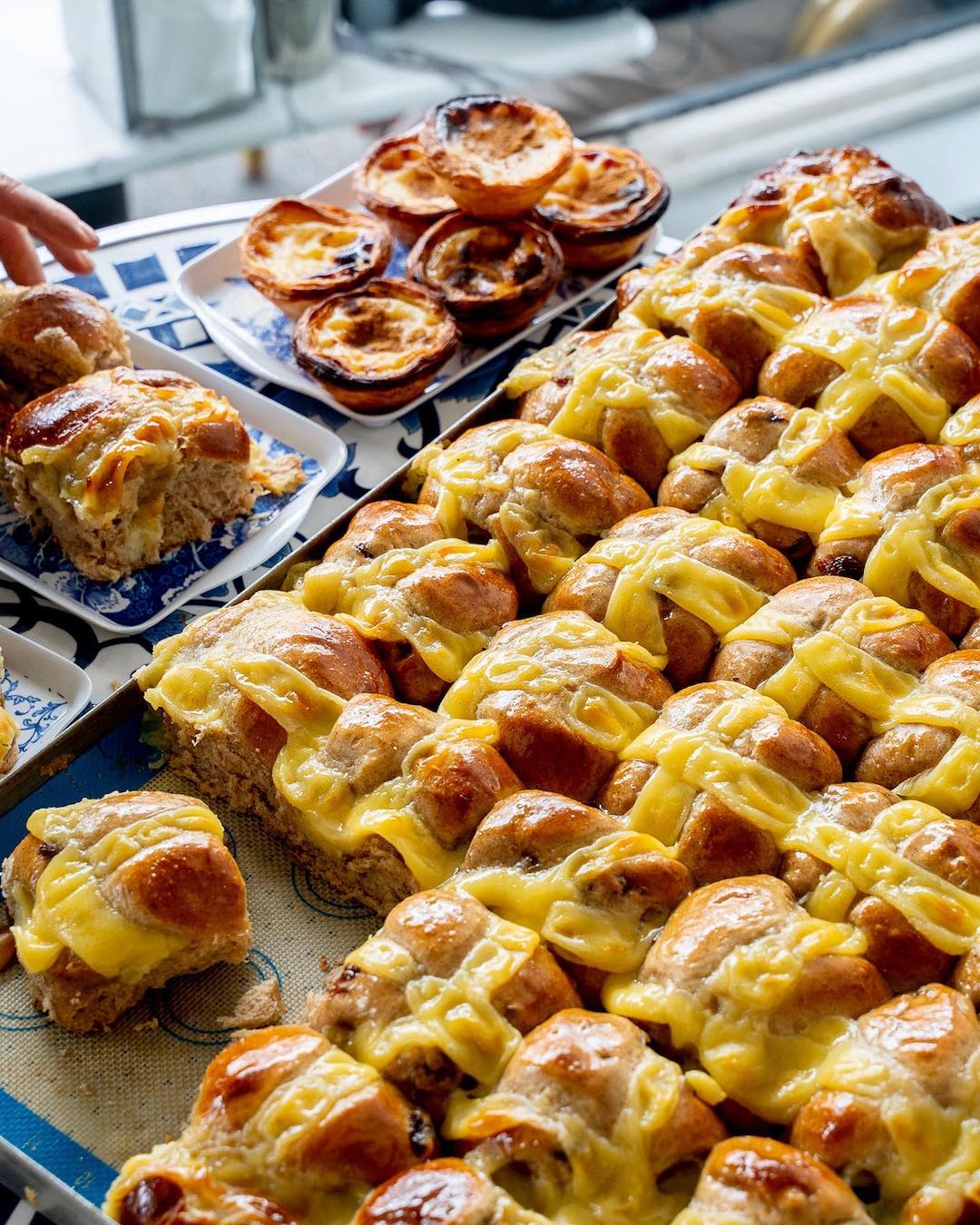 You know them for their best-in-town pastel de nata (Portuguese tarts), so wait till you hear about what Sweet Belem does with the hot cross buns: expect the classic format, with fluffy dough dotted with port-soaked raisins, but topped with a custard cross. These bad boys are available now, through till Easter.
Black Star Pastry x Koko Black
Newtown, CBD, Rosebery and Moore Park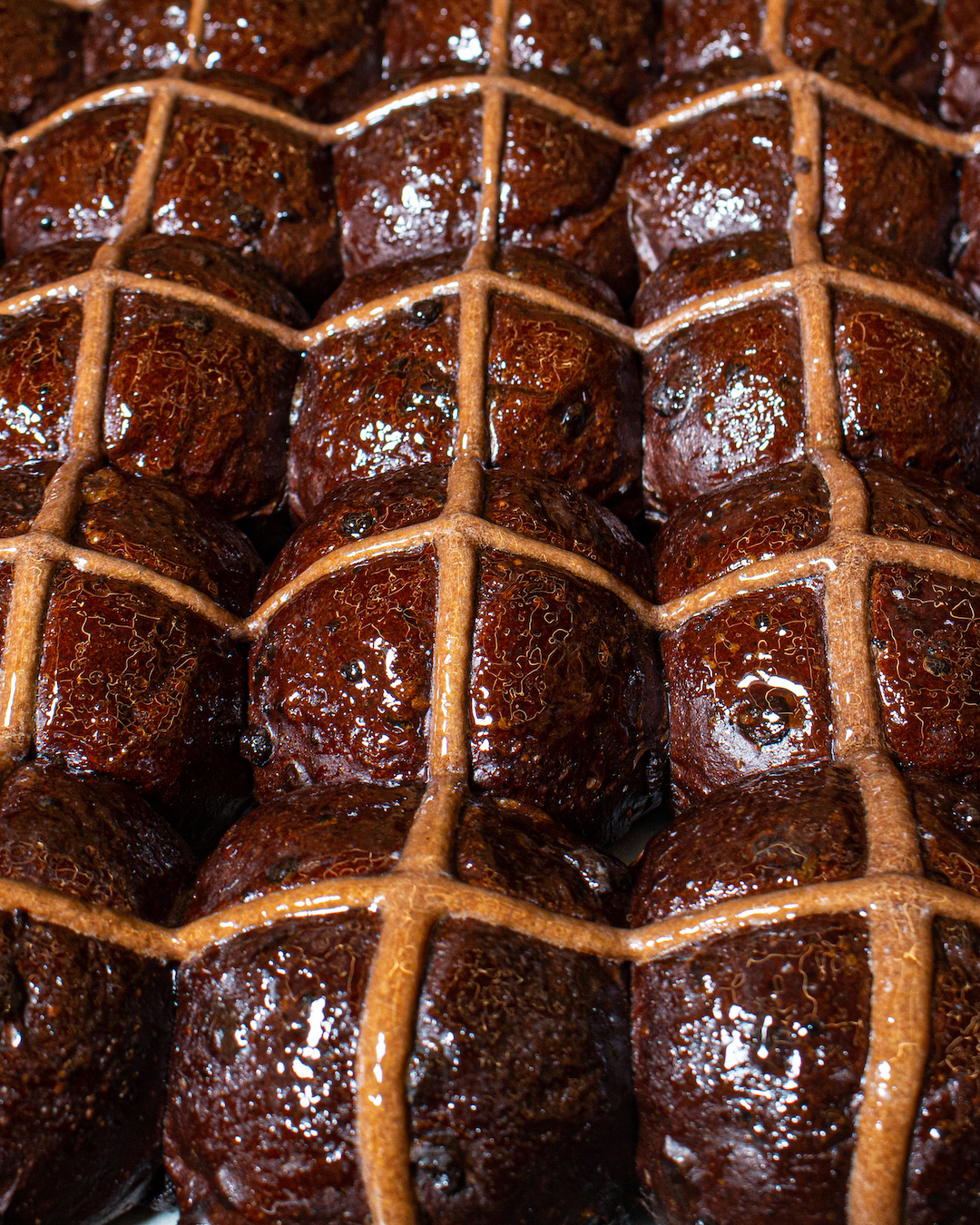 Everyone knows Easter is all about the chocolate, so Black Star Pastry has collaborated with chocolatiers Koko Black to create a decadent chocolate version this year. The indulgent creations are loaded with 60% dark chocolate (made from sustainably sourced cocoa) in a dense, cushiony dough before being brushed with a lightly spiced glaze and marked with a cocoa cross—and they just so happen to be vegan, too.
If you're a purist, Black Star Pastry's famed frankincense-glazed buns will also be on offer. You can pick up Black Star's hot cross buns in every store from Monday 13 March for $4.50 per bun (or $25 for six, or $45 for 12)—boxes can also be pre-ordered here.
A.P. Bakery
Surry Hills, Newtown and Eveleigh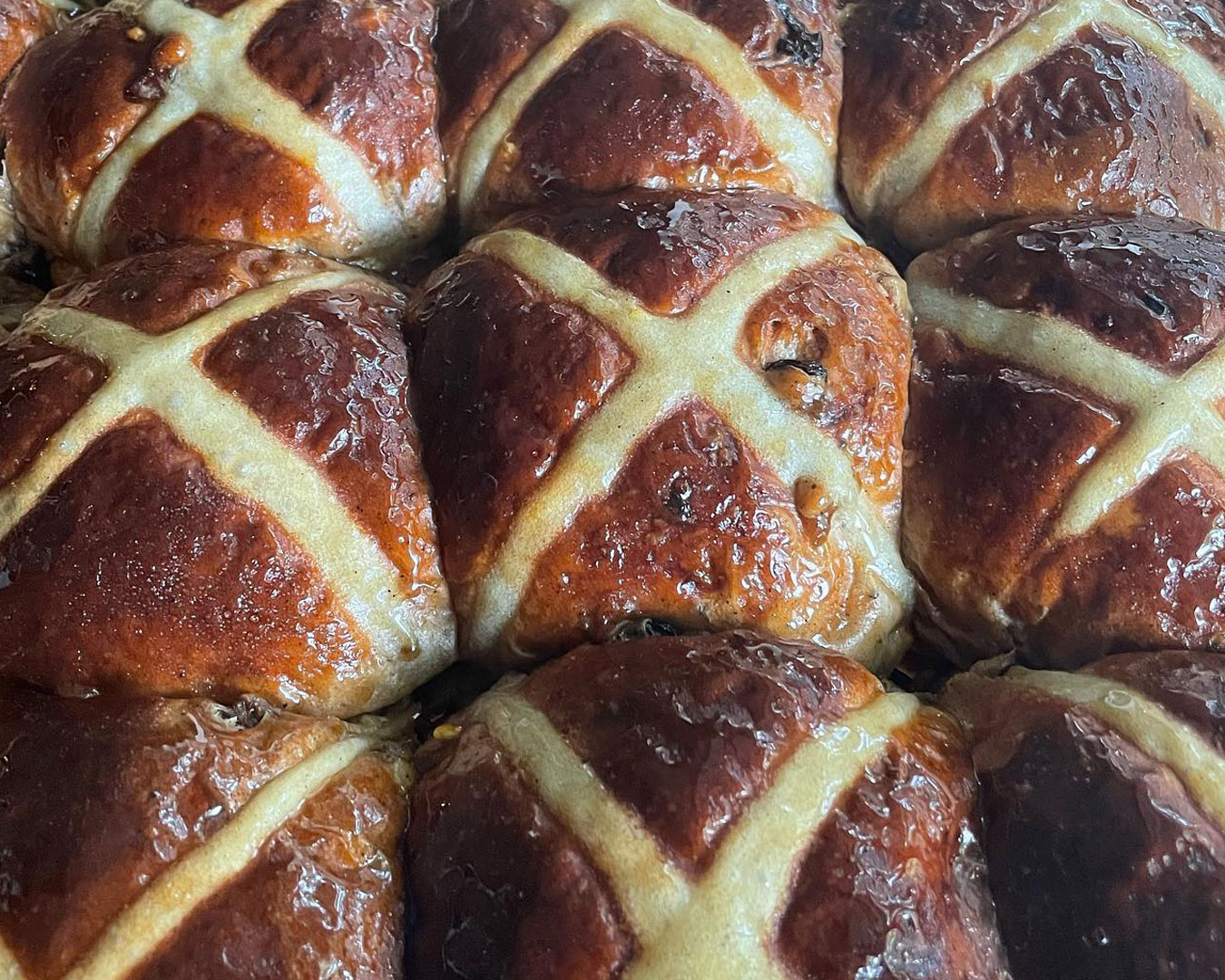 A.P. Bakery is once again whipping up delightfully fluffy traditional hot cross buns for Easter. For their HXB, the team toasts and mills spices in-house, and mixes them with orange peel, apricot, currants, and sultanas. Then, they pop them in the oven and brush them with a brown sugar and cardamom glaze. You'll find them now at A.P. House atop Paramount's rooftop, at their tiny shopfront in Newtown, and on Saturdays at the Carriageworks Farmers Market.
Tokyo Lamington
Newtown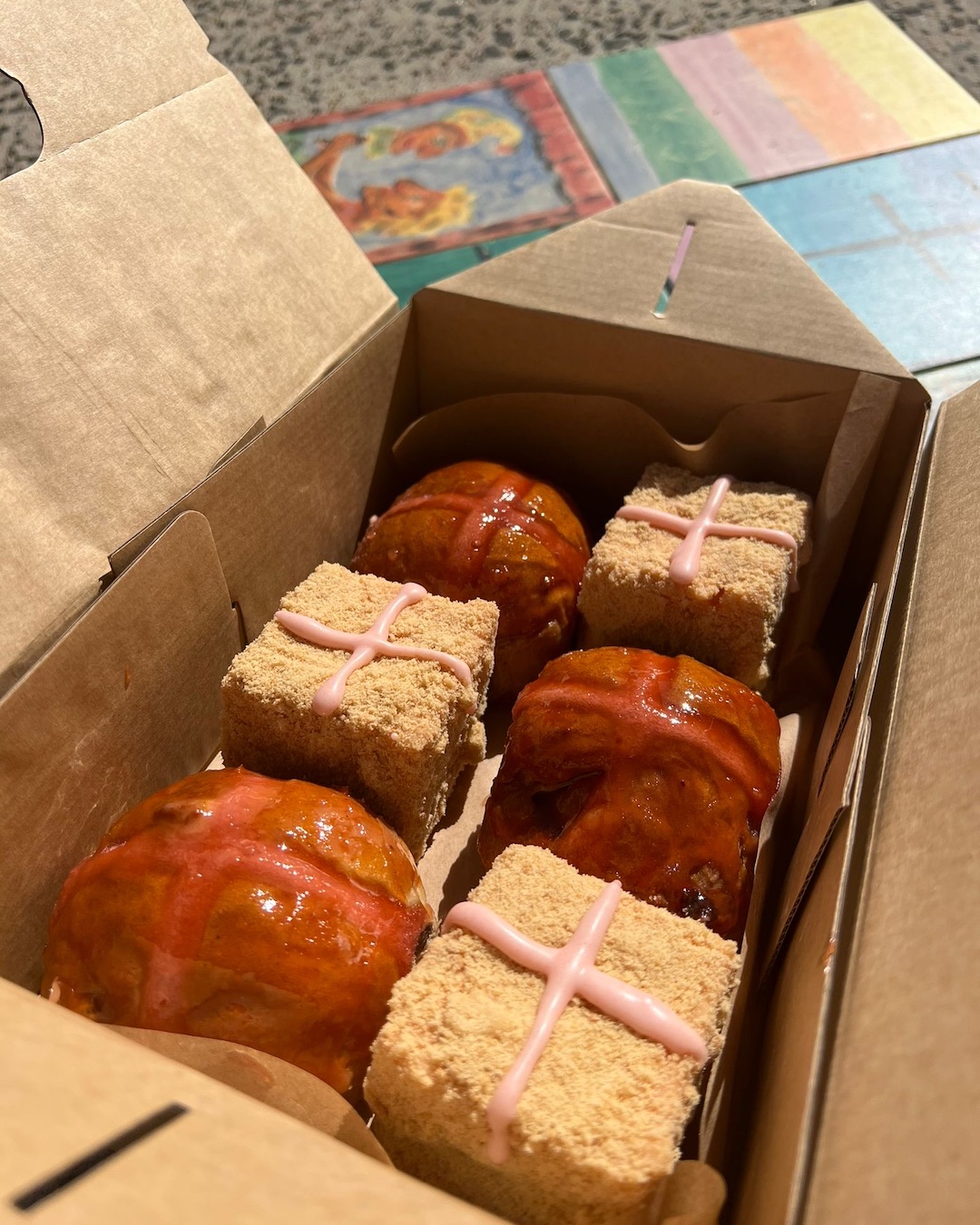 A favourite of Sydney's dessert scene, Tokyo Lamington is jumping on the Easter bandwagon again—and we're here for it. The Inner West store may be known for its lamingtons, but these sakura-spiked yuzu and sultana hot cross buns with a jammy sakura glaze ($5) are sure to satisfy. Tokyo Lamington is also offering more traditional hot cross-inspired lamingtons ($7.50 each), with a cinnamon sponge filled with spiced cream, mixed fruits, spiced white chocolate and crushed hot cross buns for the coating. Tokyo Lamington's Easter specials will be available in store and online from Friday 24 March, with six-packs of buns on offer for $27, or six-packs of three buns and three lamingtons for $35.
Din Tai Fung
Various Locations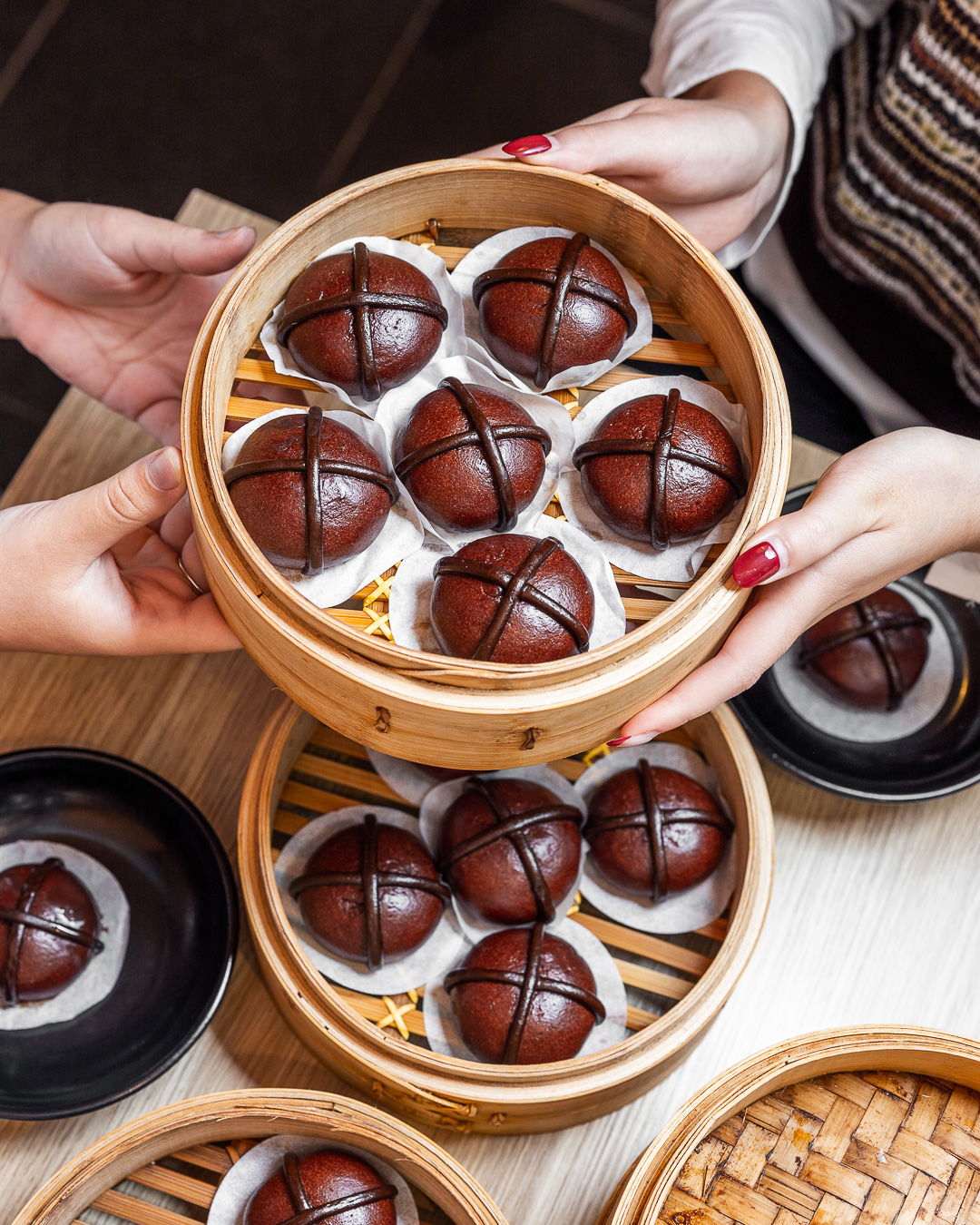 They're not technically buns, but you're going to want to try these HCB... Din Tai Fung's hot cross baos are back, this time made with a cocoa dough filled with molten chocolate. They're available from every location from 1 April for $8.90 for two, or you can grab frozen packs ($12 for three) to steam at home over the long weekend.
Infinity Bakery
Darlinghurst, Homebush and Manly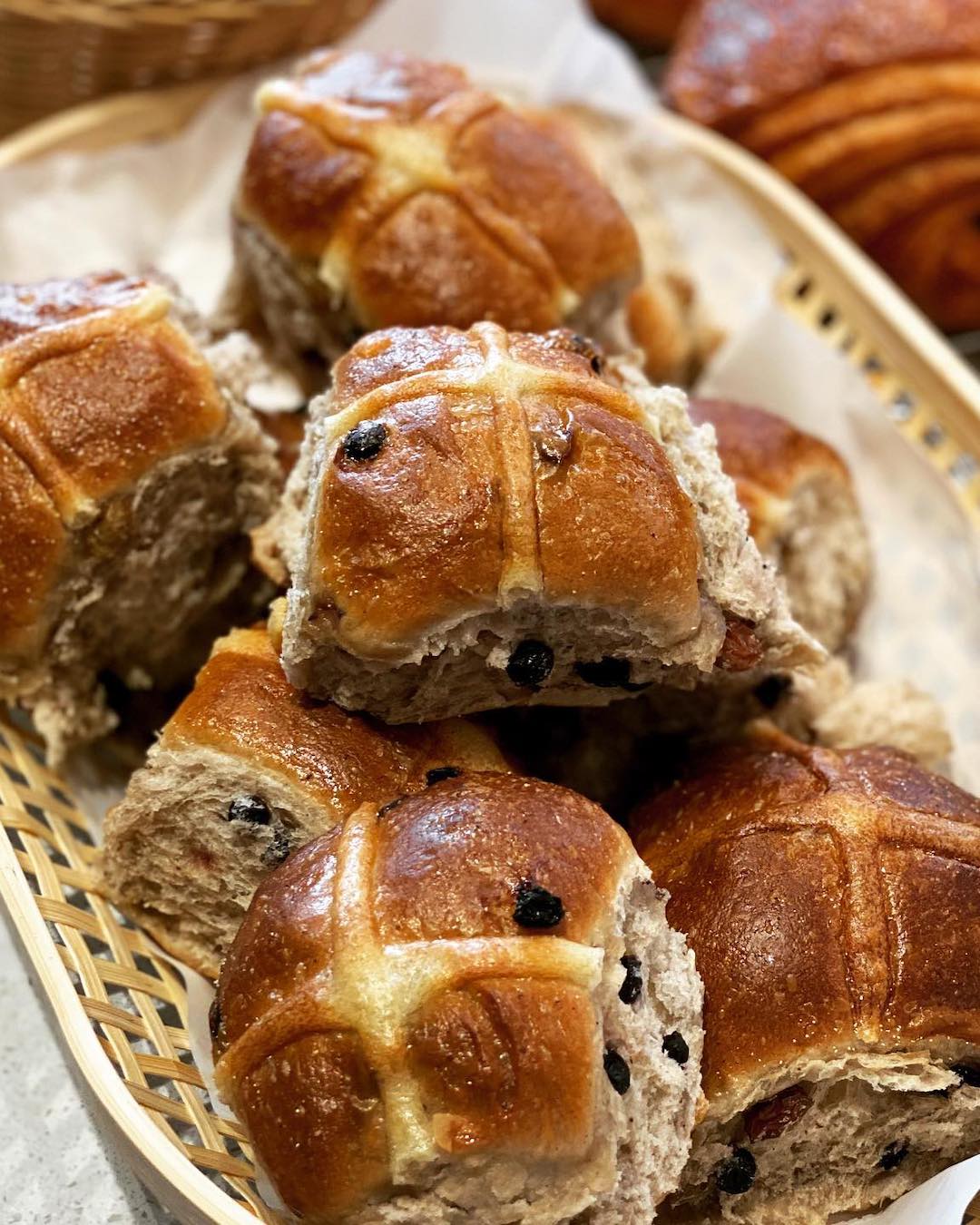 Fave local makers Infinity Bakery have added hot cross buns to their lineup for the season—and there's a twist, of course. In addition to their super traditional treats with all the usual dried fruits and spices, they're also doing chocolate and salted caramel hot cross buns for those who love a little extra sweetness. Pick them up in store, or from Harris Farm Markets in Broadway, Cammeray, Lindfield, Manly or Randwick.
One More Chocolates
Petersham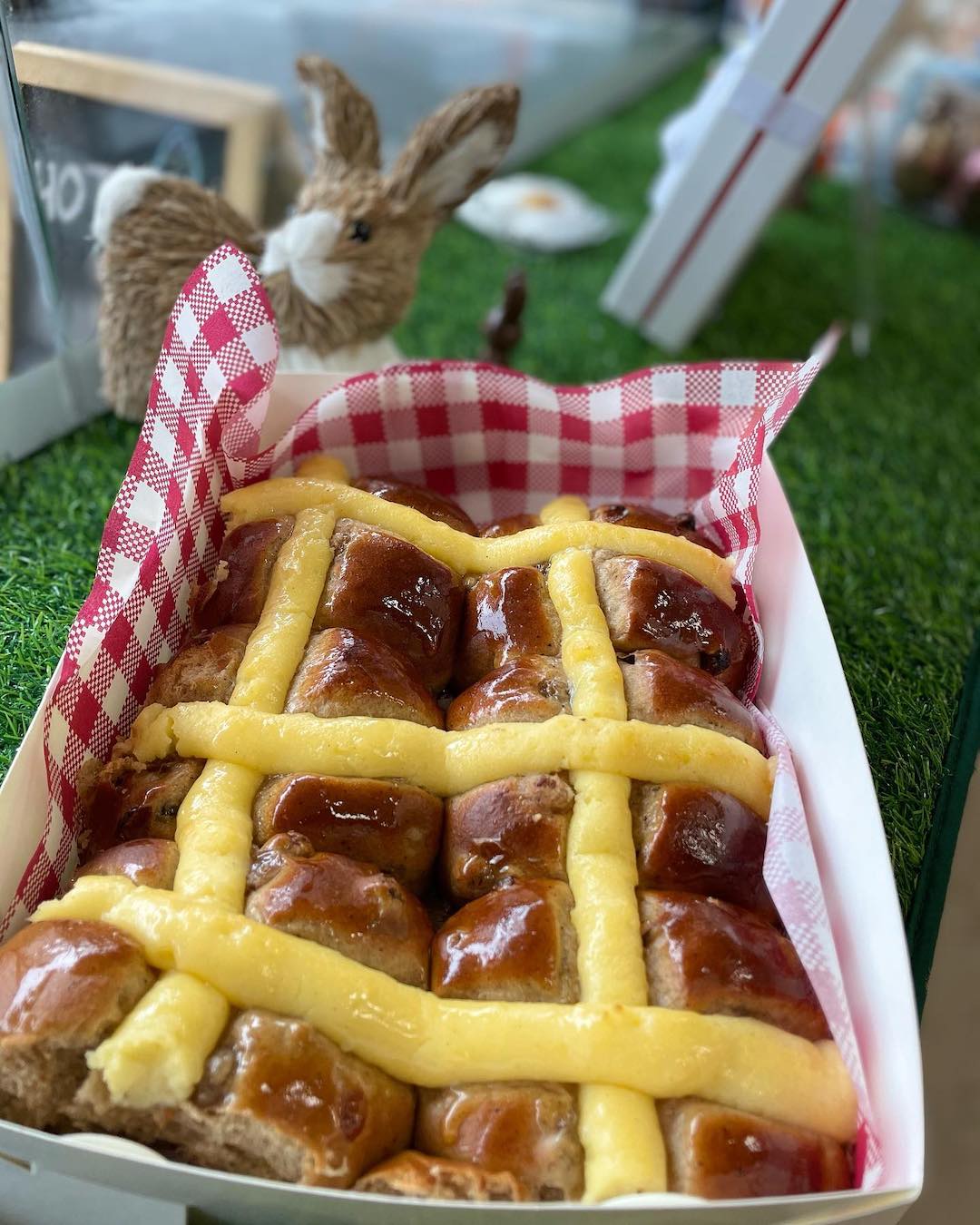 The master Portuguese chocolatiers are One More Chocolates aren't confining themselves to chocolate eggs and bunnies this Easter—they also do incredible hot cross buns. Available as traditional (with port wine-soaked fruit and a Tahitian vanilla creme patissiere cross) or triple chocolate (with chunks of couverture chocolate), their buns go for $22 for six—you can order online for pick-up over the Easter period, or try your luck in store.
Lode Pies And Pastries
Surry Hills
You might know Lode for its intricate pithiviers and stunning sculptural croissants, but the pastry legends are trying their hand and hot cross buns for Easter this year. You can pick up four-packs in store.
Saga
Enmore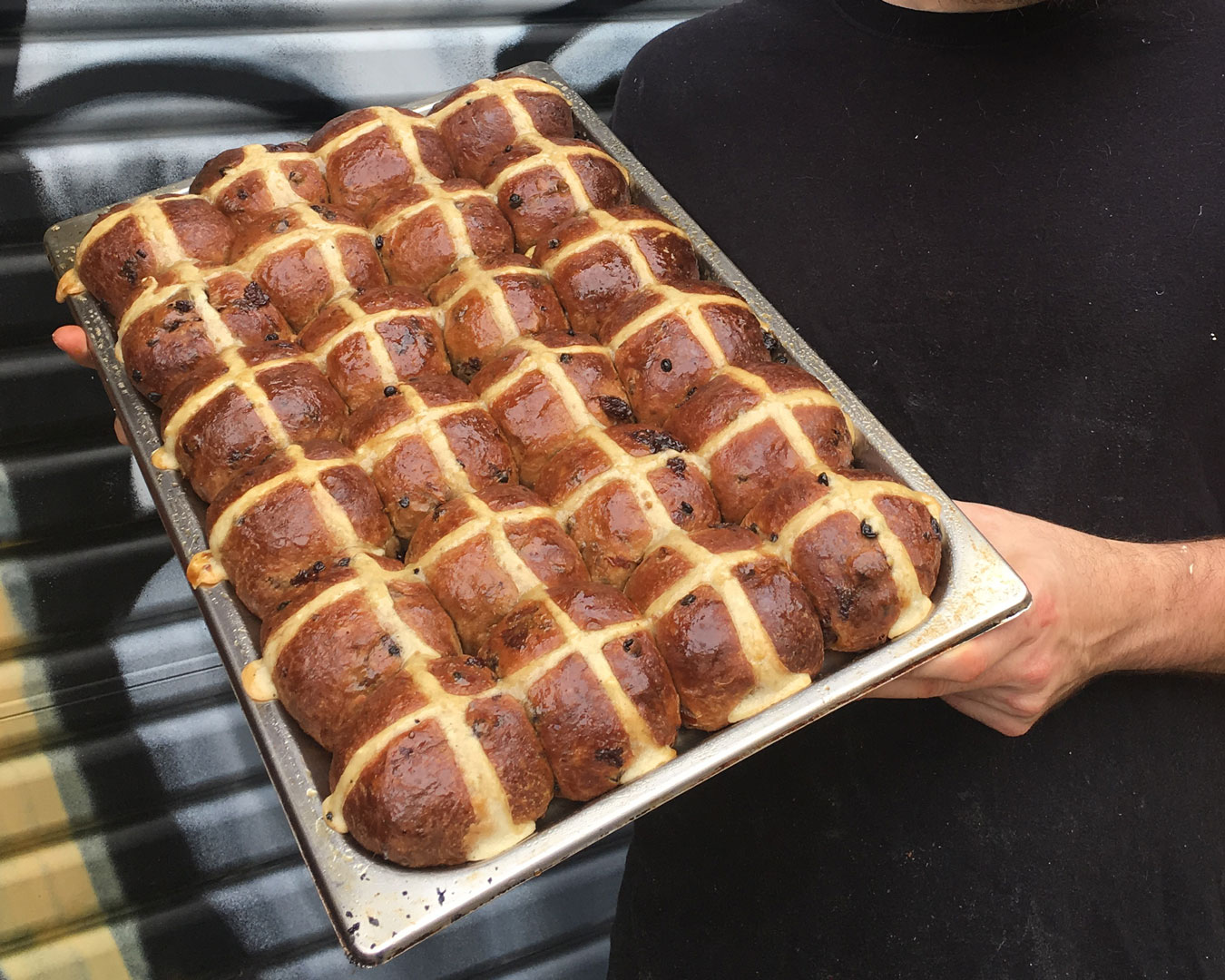 Andy Bowdy may be known for his insane cake creations and super-popular Christmas trifles, but his hot cross buns also deliver. Bowdy's Saga creates traditional-style hot cross buns, so you won't find any choccy buns—but you will find hot crossies made from a spiced brioche base with a mix of dried fruit and citrus peel that's been soaked with a mixture of brandy, whisky, and amaro. The buns are steamed before they're baked, ensuring they're soft and buttery to perfection, then brushed with a Falernum glaze. Saga's buns are sold by the single in-store, or you can pre-order a half-dozen ($30) for the Easter weekend.
Banksia Bakehouse
CBD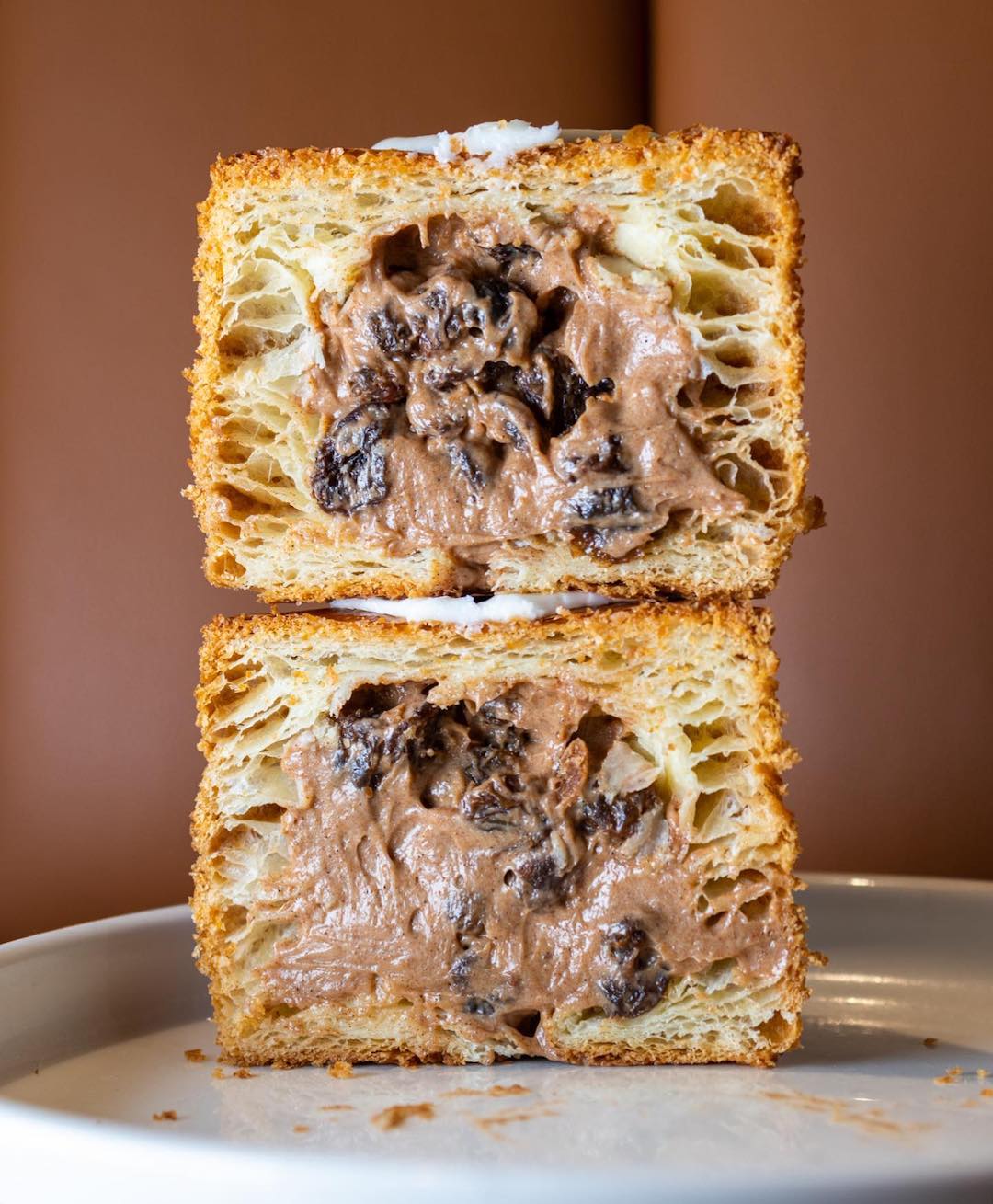 Banksia Bakehouse is making Good Friday good indeed—they're bringing back the Hot Cross Cube for one day only; a cube-shaped croissant with a creamy centre of cinnamon crème patissiere and Aussie sultanas. Pre-orders are highly recommended (let's face it, essential) and a cube will set you back $12.
Tuga Pastries
Clovelly and Alexandria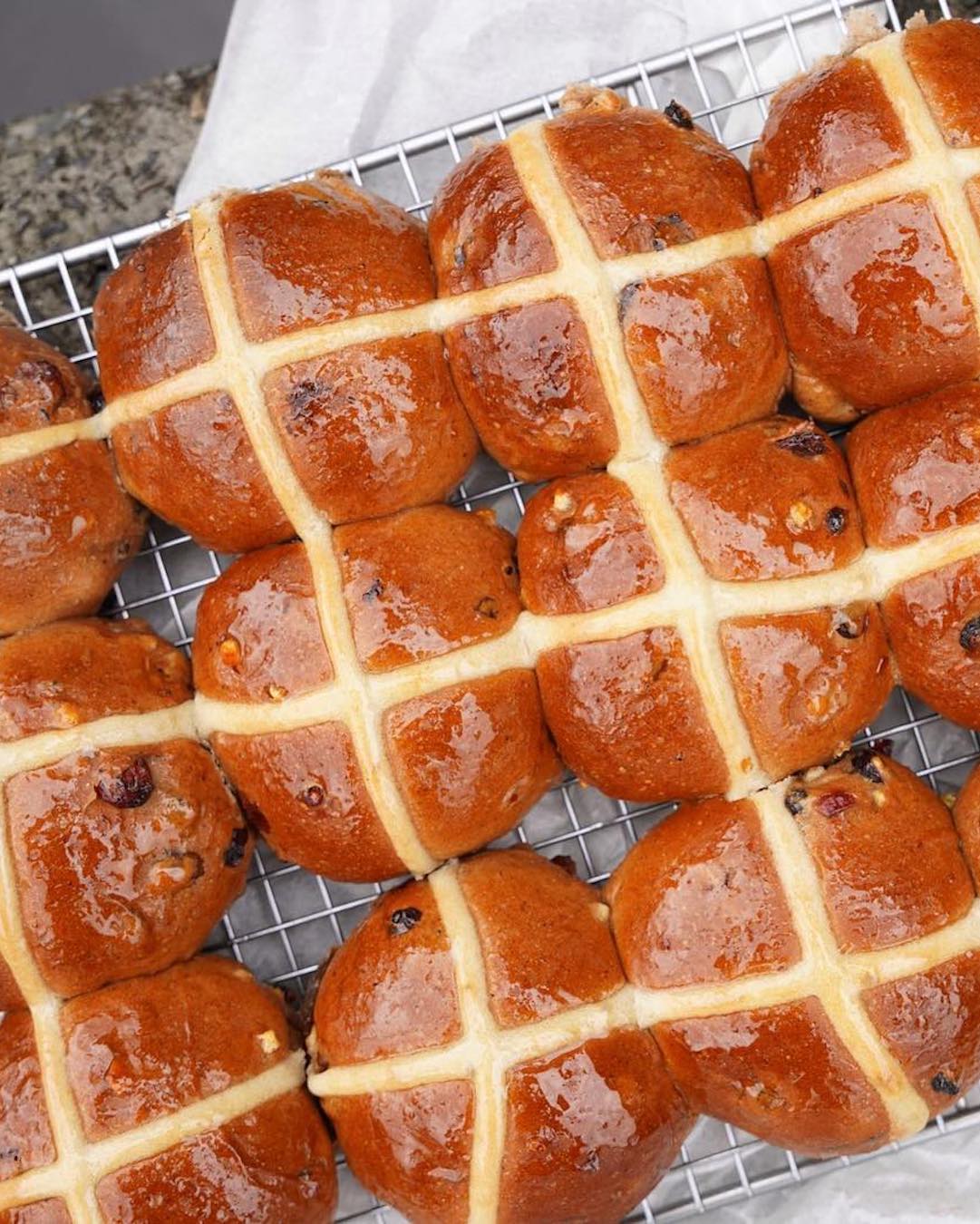 Tuga Pastries may be home to some of the best pastel de natas in Sydney, but it also does seasonal treats that are up to crust, trust us. They're serving up two flavours: traditional (with dried fruits, mixed spice and cinnamon, lemon and orange peel, finished with a rich spiced glaze) and hot choc buns packed with mixed spice, cinnamon, and Callebaut dark chocolate. For both flavours, a pack of six will set you back $27 (you can pre-order here), or you can pick up singles in store now. Mixing up your Easter treats? Check out Tuga's Nutella babka, rich Portuguese Pão de Ló de Ovar, or traditional folar de Pascoa.
The Grumpy Baker
Various Locations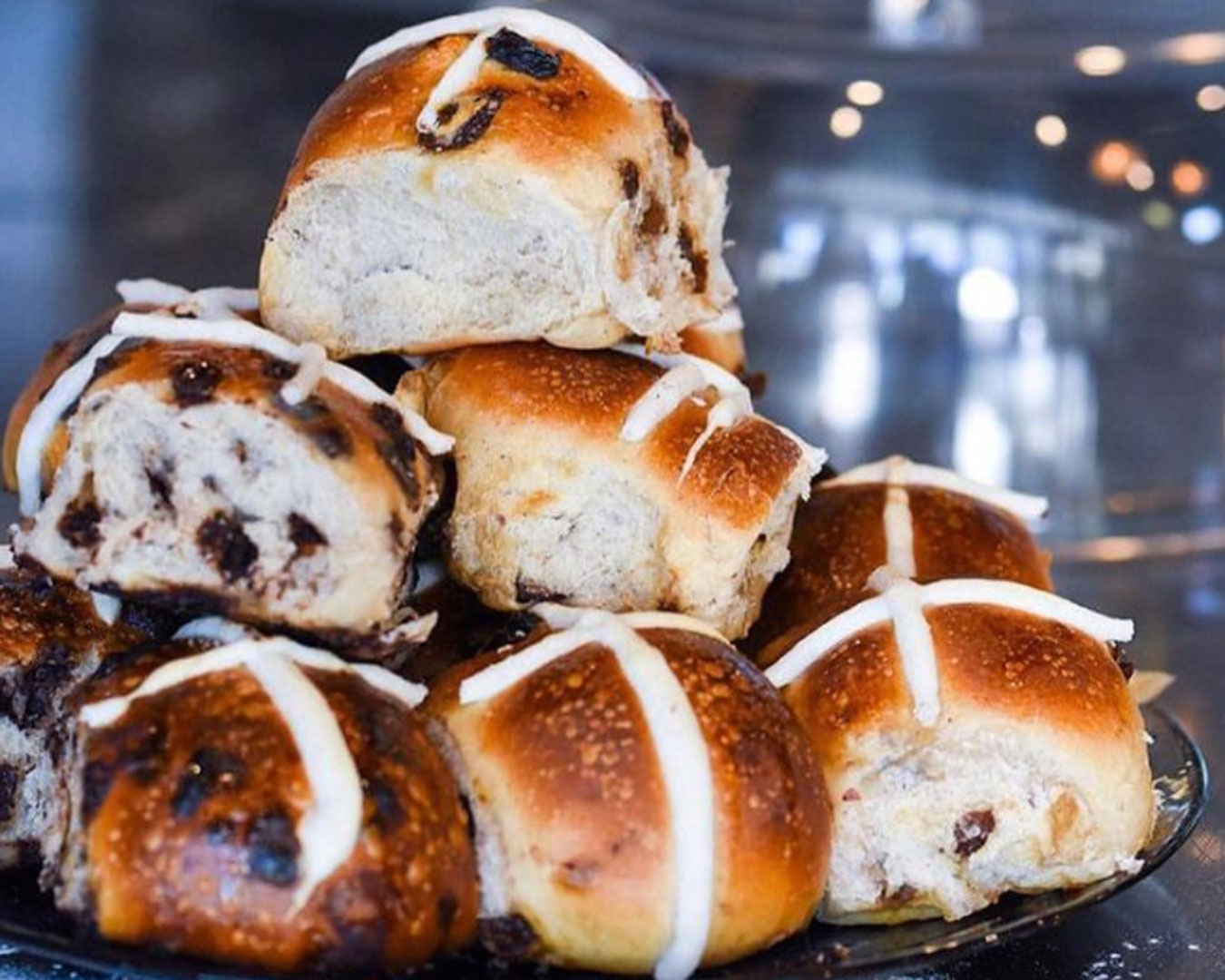 The Grumpy Baker's much-loved hot cross buns pay homage to founder Michael Cthurmer's Israeli heritage, using Jewish challah dough—a braided bread traditionally served on the Jewish Shabbat, which has a rich and spongy flavour. Baked fresh on-site every morning, the secret to this perfect hot cross bun is an abundance of raisins, choc chips and butter swirled with spice for an extremely moist, fluffy and sticky bun. There's also a choc-chip version, for all you cocoa fiends.
Sonoma
Various Locations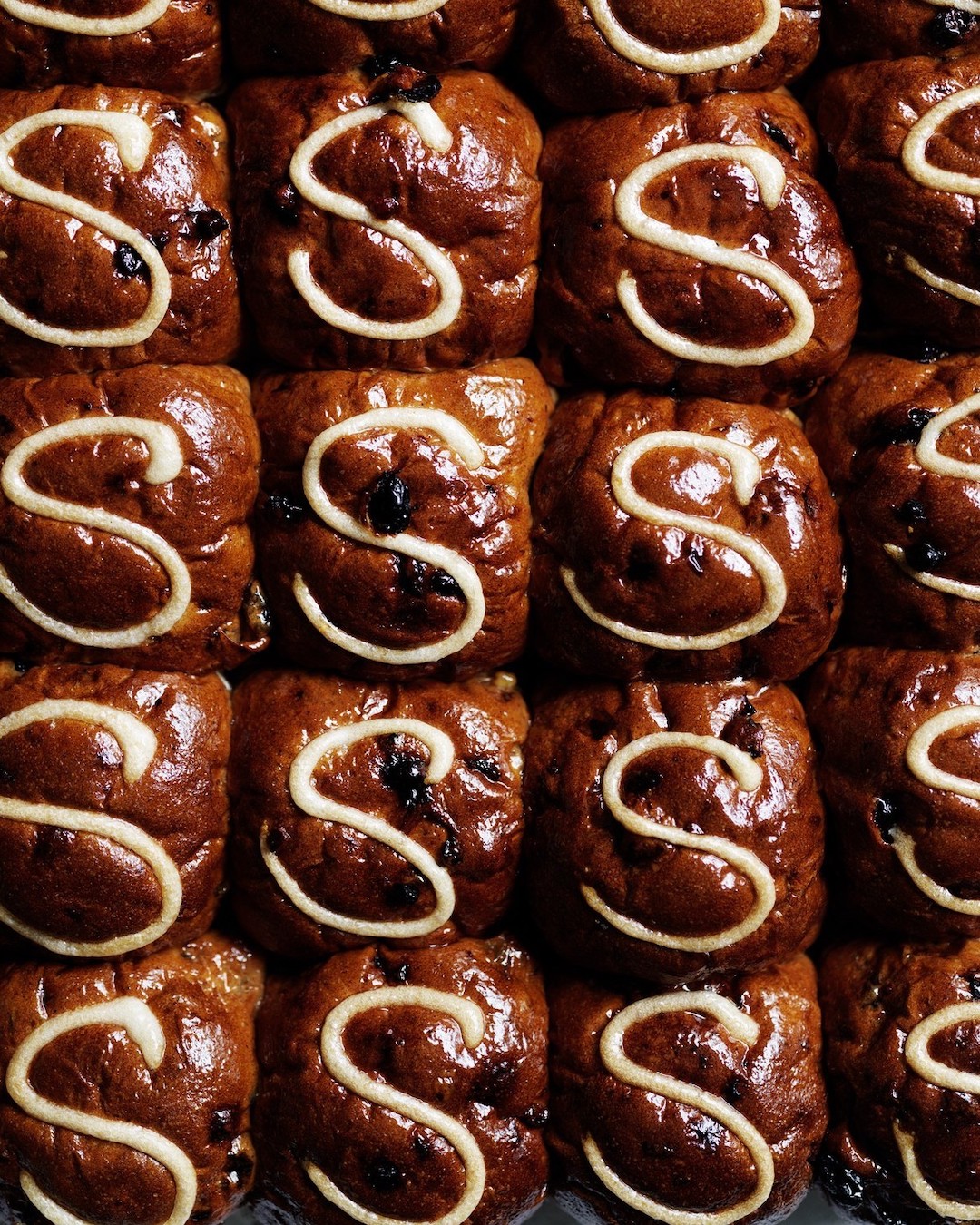 Sonoma marks its Not Cross Buns with an "S" and strives to keep the magic alive by giving them a super-limited release. Made with raisins, cranberries and candied orange, glazed in a sticky sugar syrup steeped in spices and Sonoma coffee, these bad boys also have a sweetly spiced dough (with cultured butter. You can either be conservative and buy just one of these tasty Not Cross Buns for $3.50 or get six for $20 either in store or online, through to 10 April.
Crumpets By Merna
Online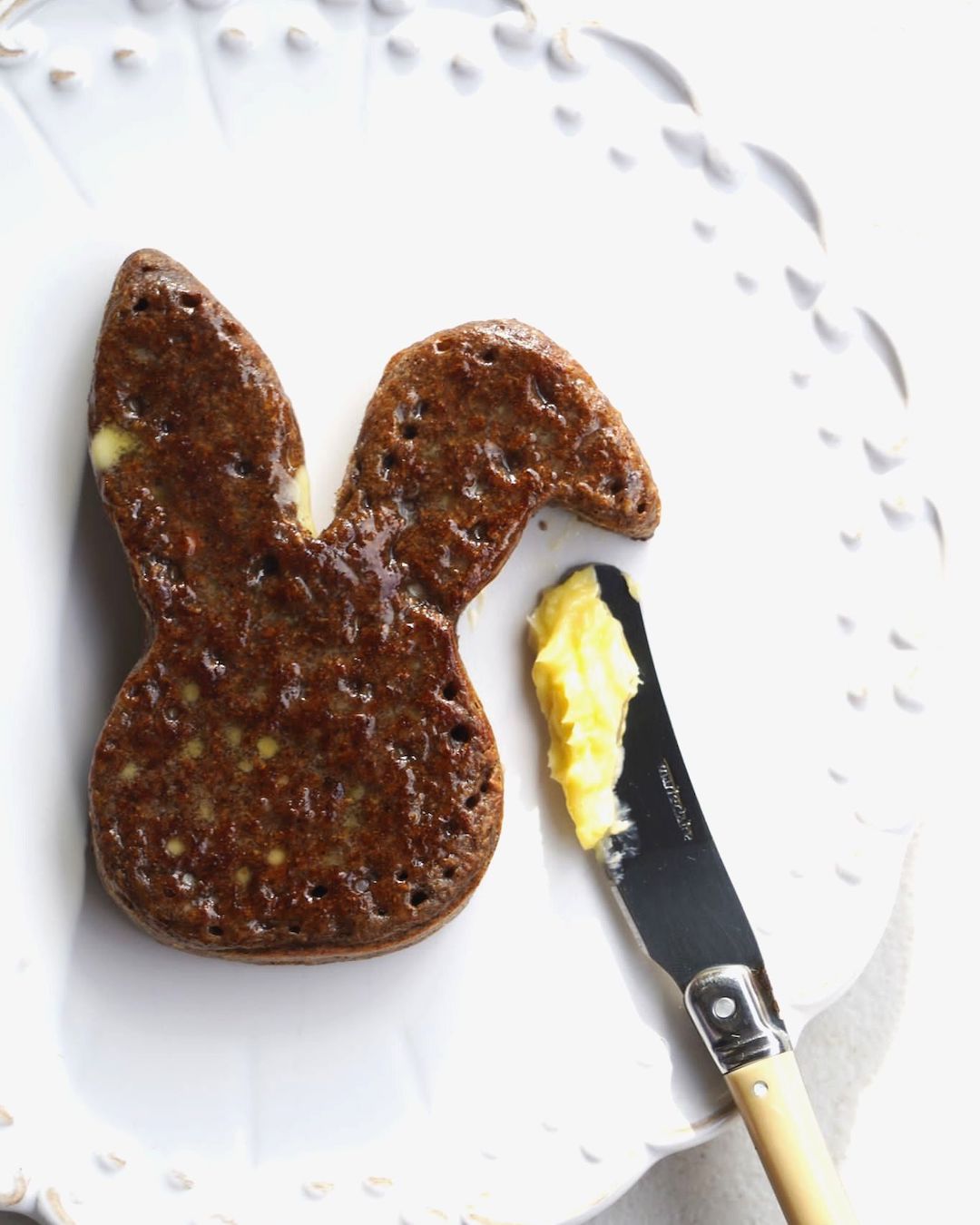 Double down on your Easter weekend breakfast with Crumpets by Merna's cute hot cross bunny crumpets. The bunny-shaped bites are a traditional fermented buttermilk crumpet with added orange peel, raisins, cinnamon, nutmeg, mixed spice and a touch of brown sugar. Toast them up and cover them in butter as the perfect foundation to load up on chocolate. Place your order (four-packs are $15) here.
Berkelo
Brookvale, Manly, Mona Vale and Mosman
Berkelo's take on hot cross buns are full of fruit, anise myrtle tea and their "secret" blend of spices—and are perfect for toasting and slathering in butter. You can order them for pick-up ($22 for six) or grab some in store.
Wholegreen Bakery
CBD, Waverley, and Alexandria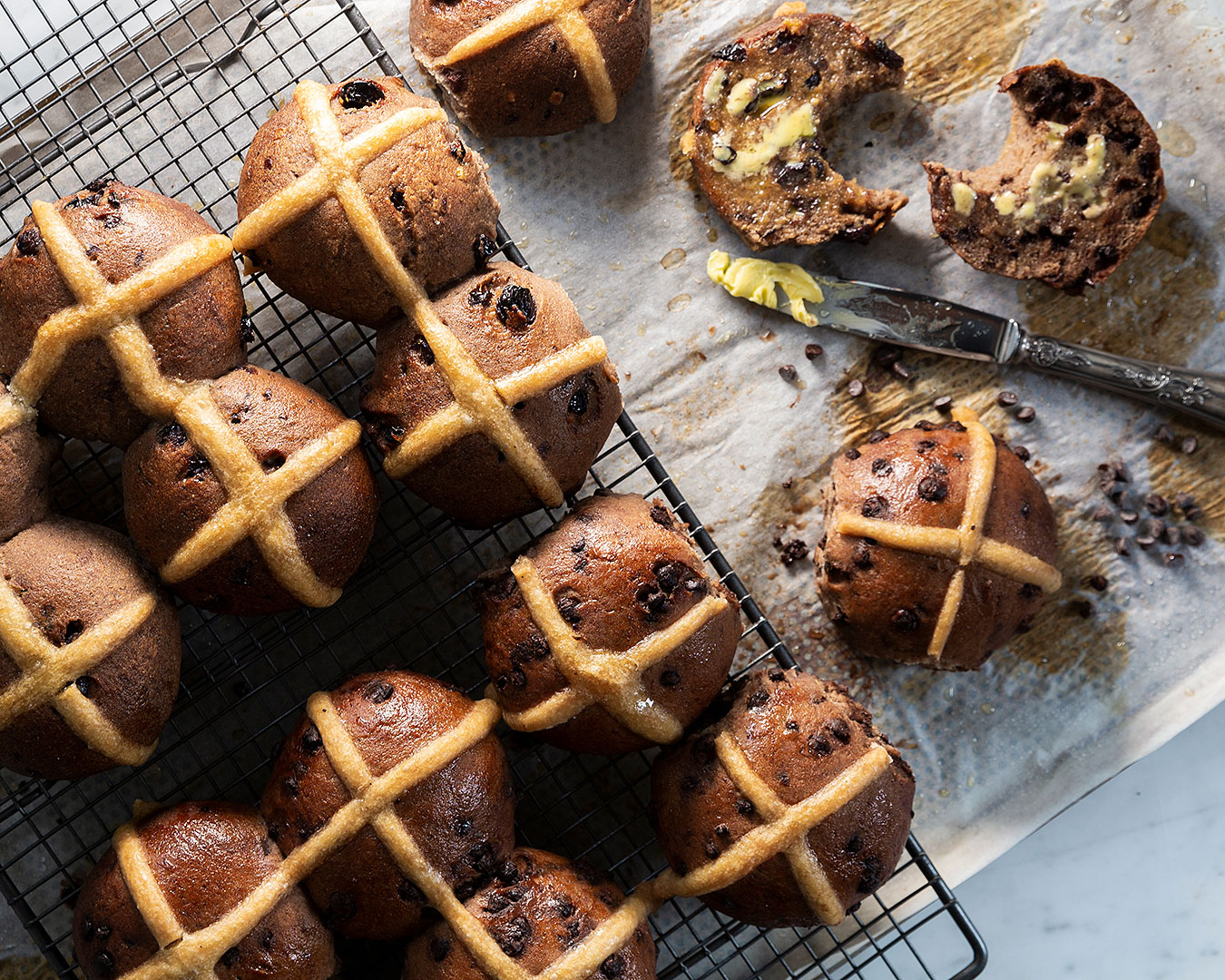 Coeliacs and gluten-intolerant humans, rejoice! Wholegreen Bakery is here to save the day with its super tasty 100% gluten-free and dairy-free hot cross buns. This year, Wholegreen has created two flavours: a traditional dried fruit number and a vegan dark chocolate one that will absolutely hit the Easter chocolate spot. You can head to any of its locations and grab a single hot cross bun ($3.50) or pick up a four-pack for $11, or order online for delivery if you live anywhere between Canberra and Newcastle.
Brickfields
Chippendale and Marrickville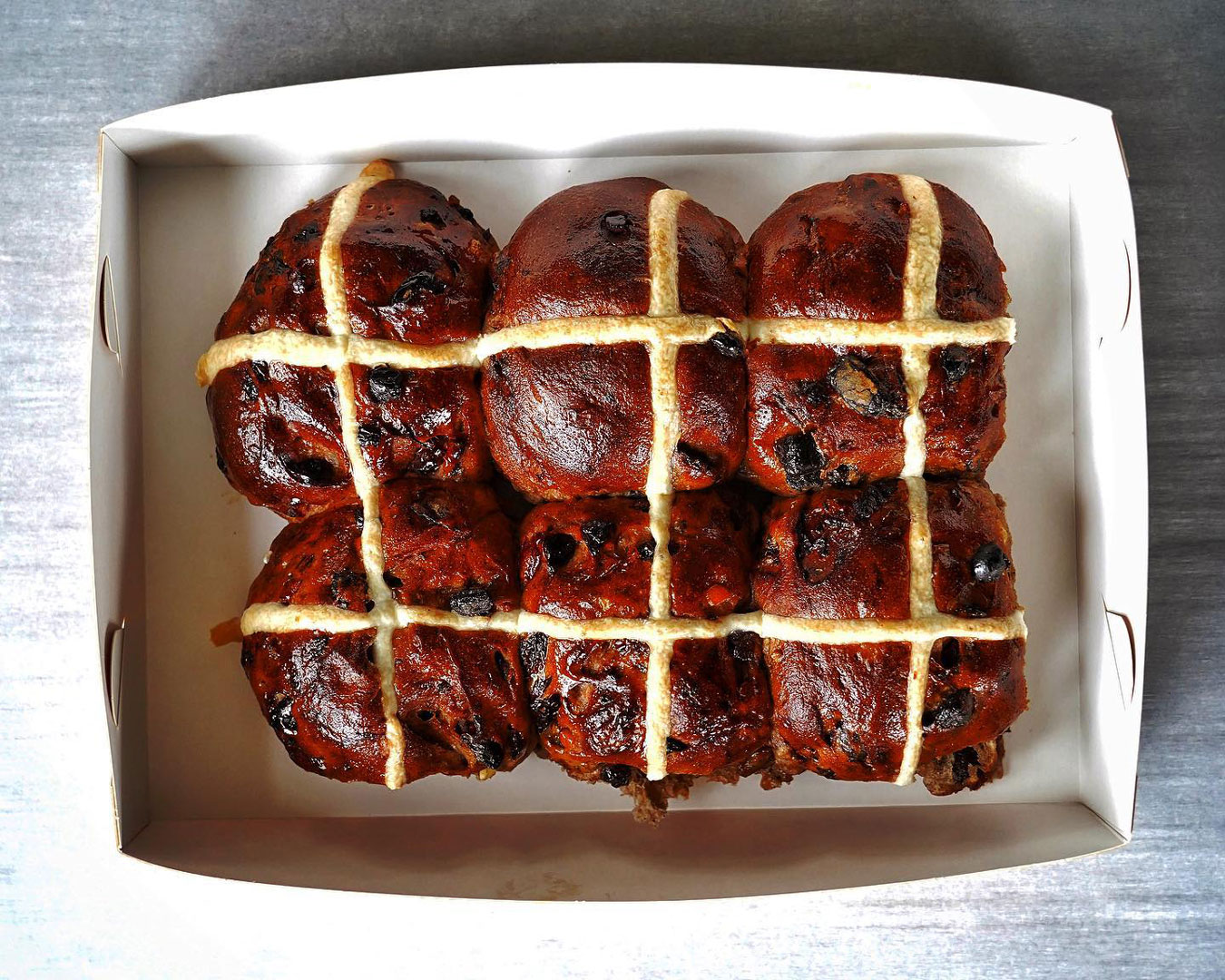 Go-to bakery for many Sydneysiders, Brickfields is once again offering up its top-notch hot cross buns for Easter. These bready delights come packed with currants, candied orange, apricots and cranberries, plus a whole heap of aromatics like cinnamon, ginger, and cardamom. You can drop by the bakery's Chippendale and Marrickville locations to pick one up, or pre-order for pick-up via the website until 12 April for $20 for six.
Organic Bread Bar
Darlinghurst, Paddington, and various markets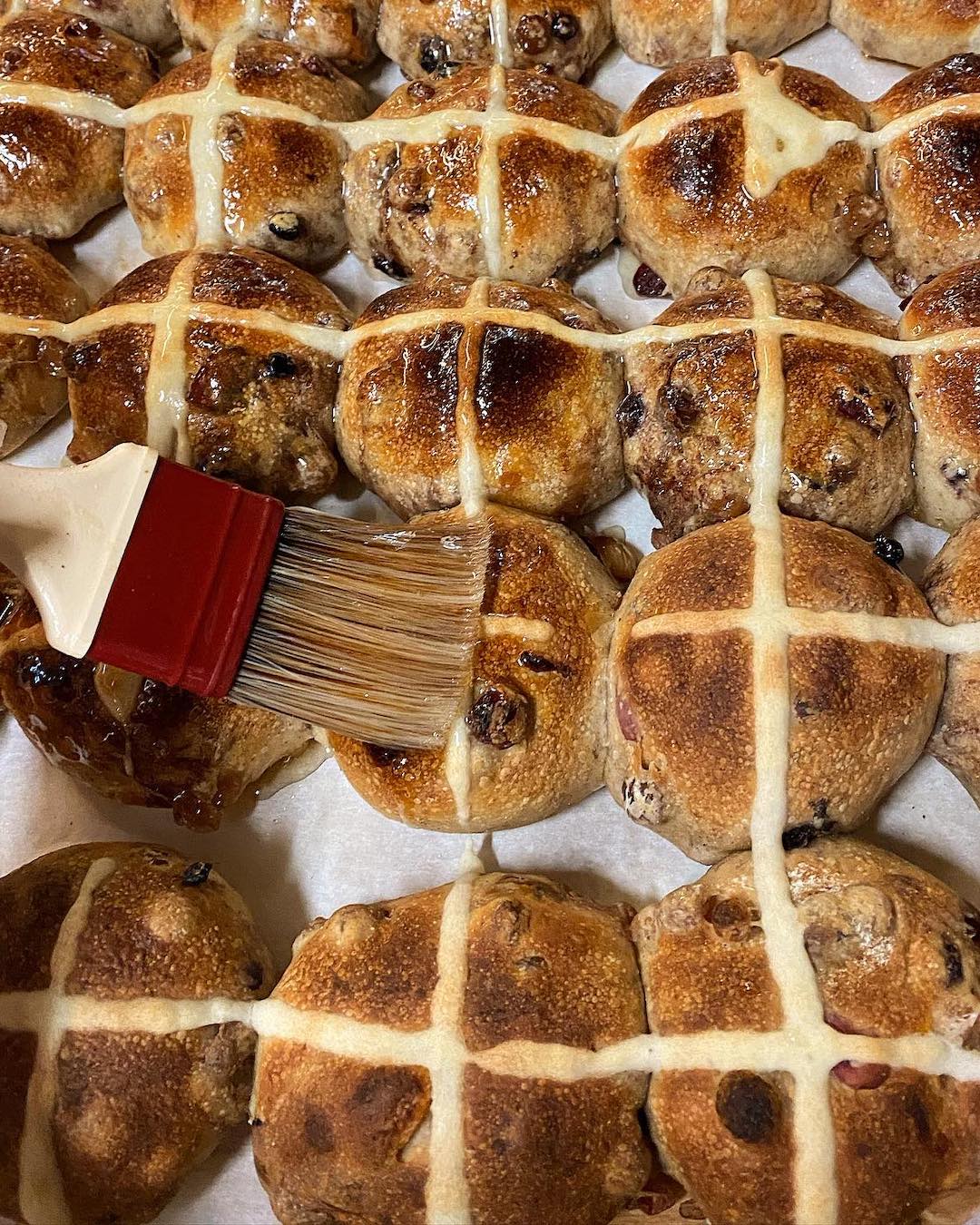 If slow-fermented, organic sourdough is your speed, then the hot cross buns from Organic Bread Bar are for you. You can stay traditional with apricot and sultana-laden buns, or opt for indulgent double chocolate hot cross buns.
Flour And Stone
Woolloomooloo
Everything Nadine Ingram makes is downright delicious—and her hot cross buns are no exception. This Easter, Flour and Stone is peddling Florentine Easter Buns, made with brioche infused with rosemary and cardamom and studded with sherry-soaked currants and rosemary sprigs. They're then glazed with an egg wash and dusted with a sugar mix of orange zest, rosemary, and cinnamon before baked in the oven.
Mrs Jones The Baker
Freshwater, Frenchs Forest, Warringah Mall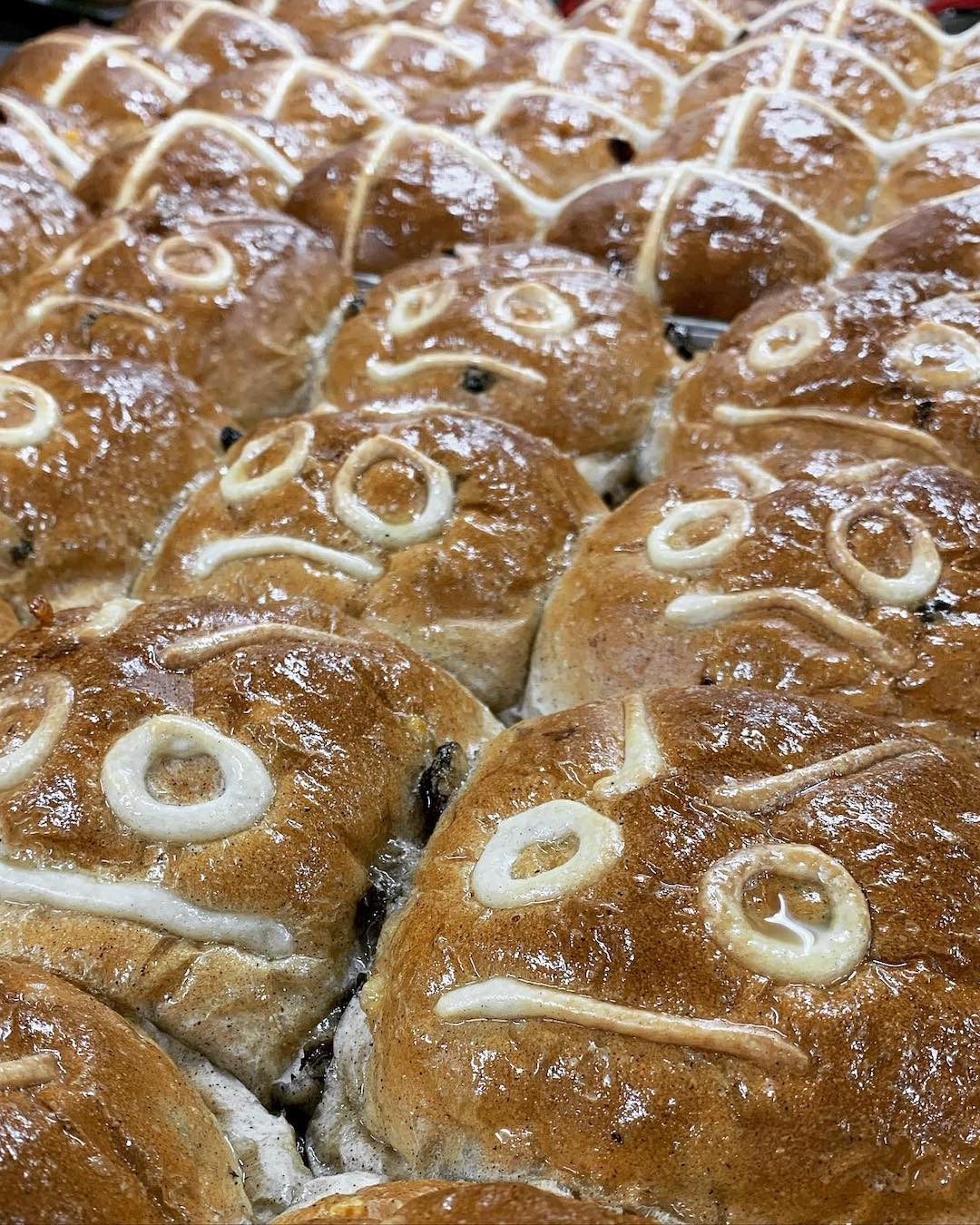 A Northern Sydney favourite, Mrs Jones The Baker is once again slinging its traditional Easter buns. The hot cross buns in question come with all the good stuff—chewy spiced dough, dried fruit, and sticky glaze. While it does have your standard buns marked with an 'X', its more popular ones have grumpy faces, taking on a more imaginative spin on 'cross'.
Now, check out the best cheesecake in Sydney.
Image credit: Sonoma, Black Star Pastry, AP Bakery, Tokyo Lamington, Infinity Bakery, Tuga Pastries, Sonoma, Wholegreen Bakery, Brickfields, Mrs Jones The Baker, Bar Mammoni, Banksia Bakehouse, Din Tai Fung, Saga, The Grumpy Baker