Easter is here—and that means hot cross bun season is upon us. From the doughy to the sticky, the spicy and the sweet, bakeries around Sydney are fronting up with the chewy stuff for your long weekend.
While Coles and Woolies might have had their hot cross buns on shelves back in January—good things come to those who wait. And, in this case, that means buttery, fruity goodness with everything from the staple classic to new creations like hot cross bun cinnamon scrolls and chocolatey morsels. Drooling yet? We thought so.
Here are all the best hot cross buns in Sydney to get around this Easter.
Tuga Pastries
Clovelly and Alexandria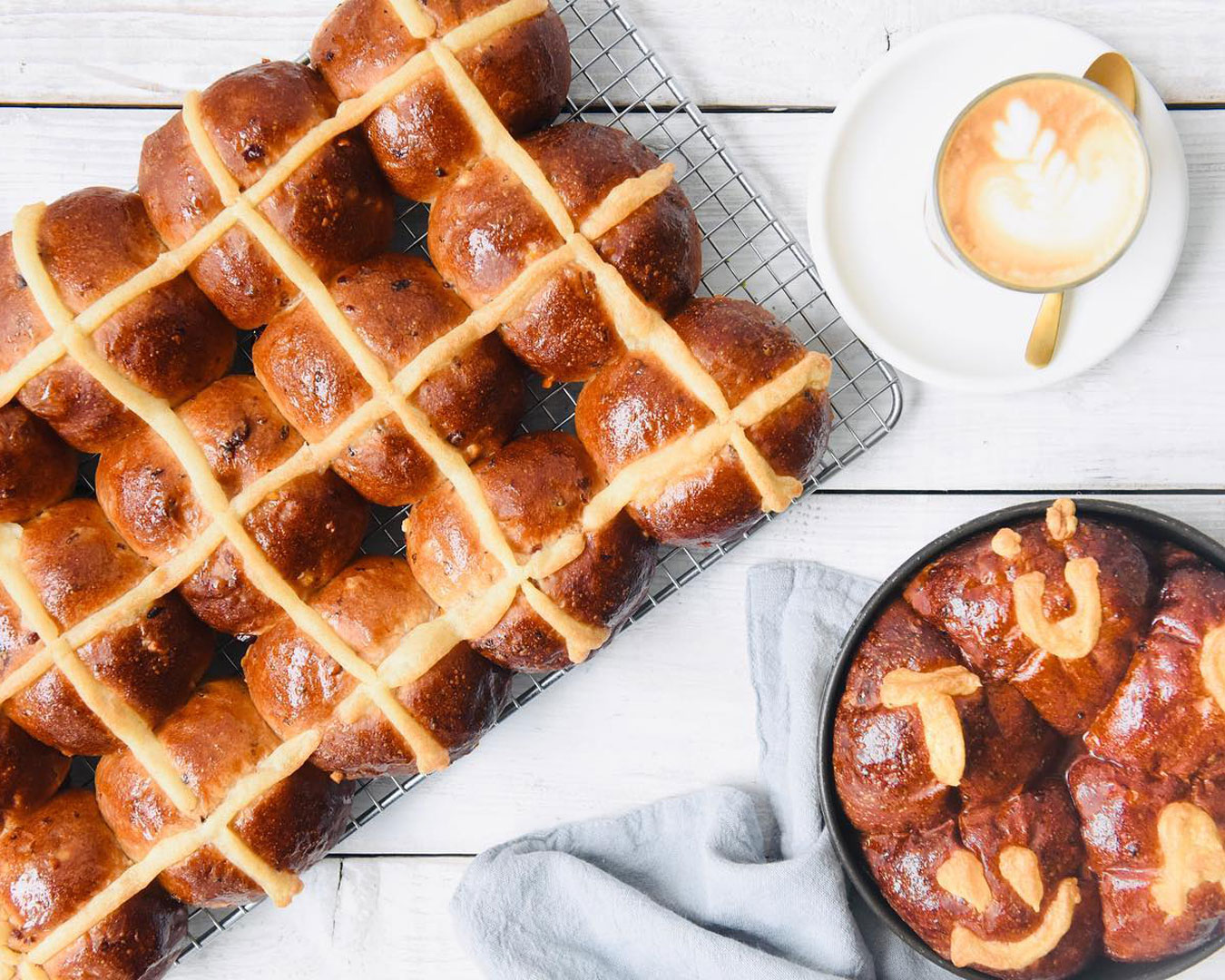 Tuga Pastries may be home to some of the best pastel de nata in Sydney, but this Easter it's got some seasonal treats that are up to crust, trust us. They're serving up two flavours: traditional and choc-laden creations. For the former, expect dried fruits, mixed spice and cinnamon, lemon and orange peel, and finished with a spiced aniseed glaze. For the chocolate lovers, the hot choc buns are packed with mixed spice, cinnamon, and Callebaut dark chocolate. For both flavours, a pack of six will set you back $27, or you can opt for the Tuga Wheel ($22.50)—a seven-inch wheel made up of five hot cross buns.
Tuga Pastries' hot cross buns are available till 18 April in-store, as well as for pre-order via the website along with the Tuga wheels and other Easter treats.
AP Bakery
Surry Hills and Eveleigh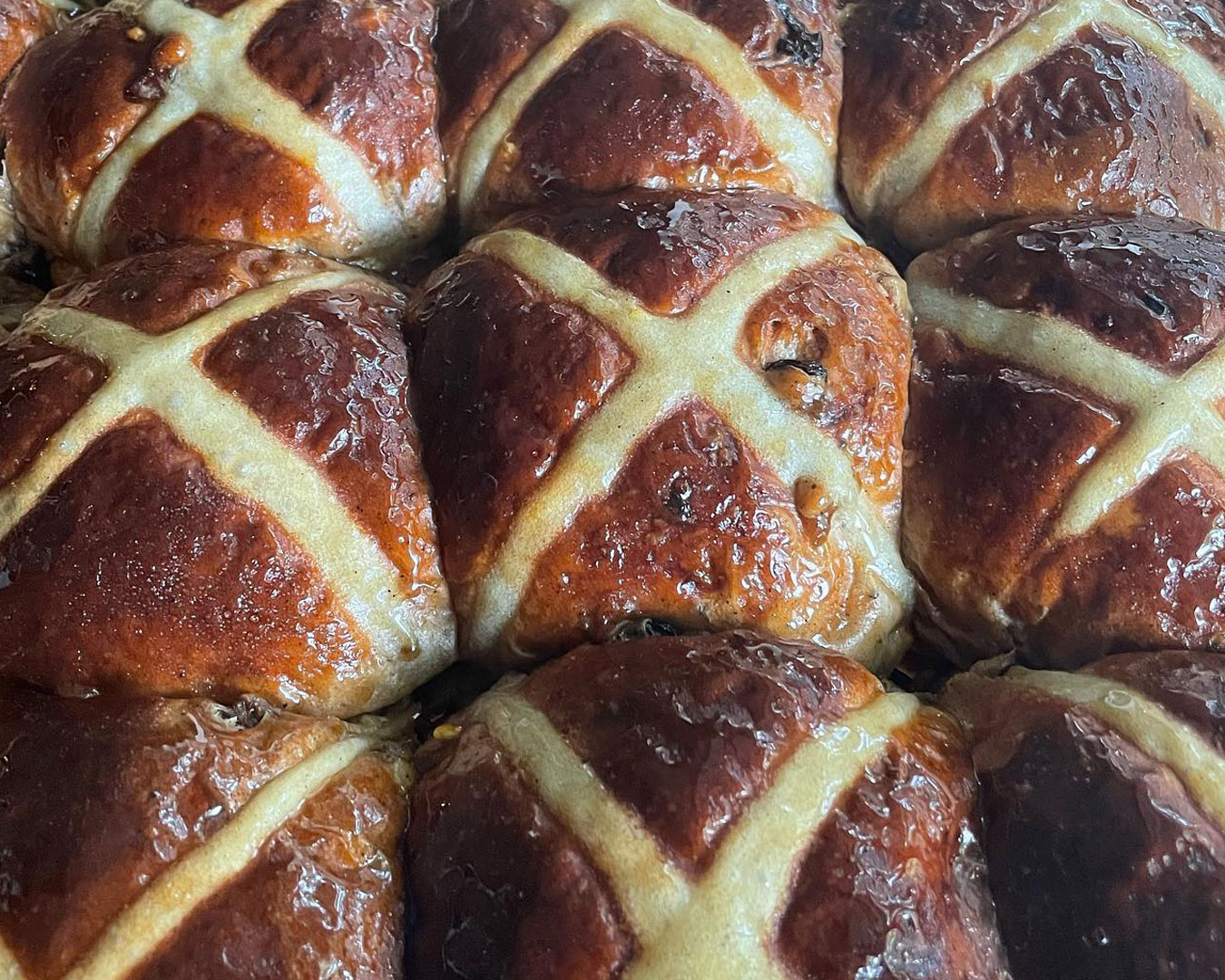 New kid on the block AP Bakery is whipping up delightfully fluffy traditional hot cross buns for Easter. For their HXB, the team toast and mill the spices in-house (yep, that's commitment) and mix orange peel, apricot, currants, and sultanas in the dough. Then, they pop them in the oven and, once baked through, brush them with a brown sugar and cardamom glaze. You'll find them at AP's temporary home atop Paramount's rooftop and this weekend's Carriageworks Farmers Market, and you can pre-order a half-dozen for $24, too.
AP's HXBs are available at AP House, located on the Paramount House rooftop, and at the Carriageworks Farmers Market on 16 April. You can pre-order half-dozen packs till 16 April over here.
Flour And Stone
Woolloomooloo
Everything Nadine Ingram makes is downright delicious—and her hot cross buns are no exception. This Easter, Flour and Stone are peddling Florentine Easter Buns, made with brioche infused with rosemary and cardamom and studded with sherry-soaked currants and rosemary sprigs. They're then glazed with an egg wash and dusted with a sugar mix of orange zest, rosemary, and cinnamon before baked in the oven. Sadly, pre-orders are sold out, but you can still get them in-store.
Flour and Stone's hot cross buns are now available in-store at The Annexe, which is open till Thursday 14 April and on Saturday 16 April. It's closed Good Friday, Easter Sunday, and Easter Monday.
Tokyo Lamington
Newtown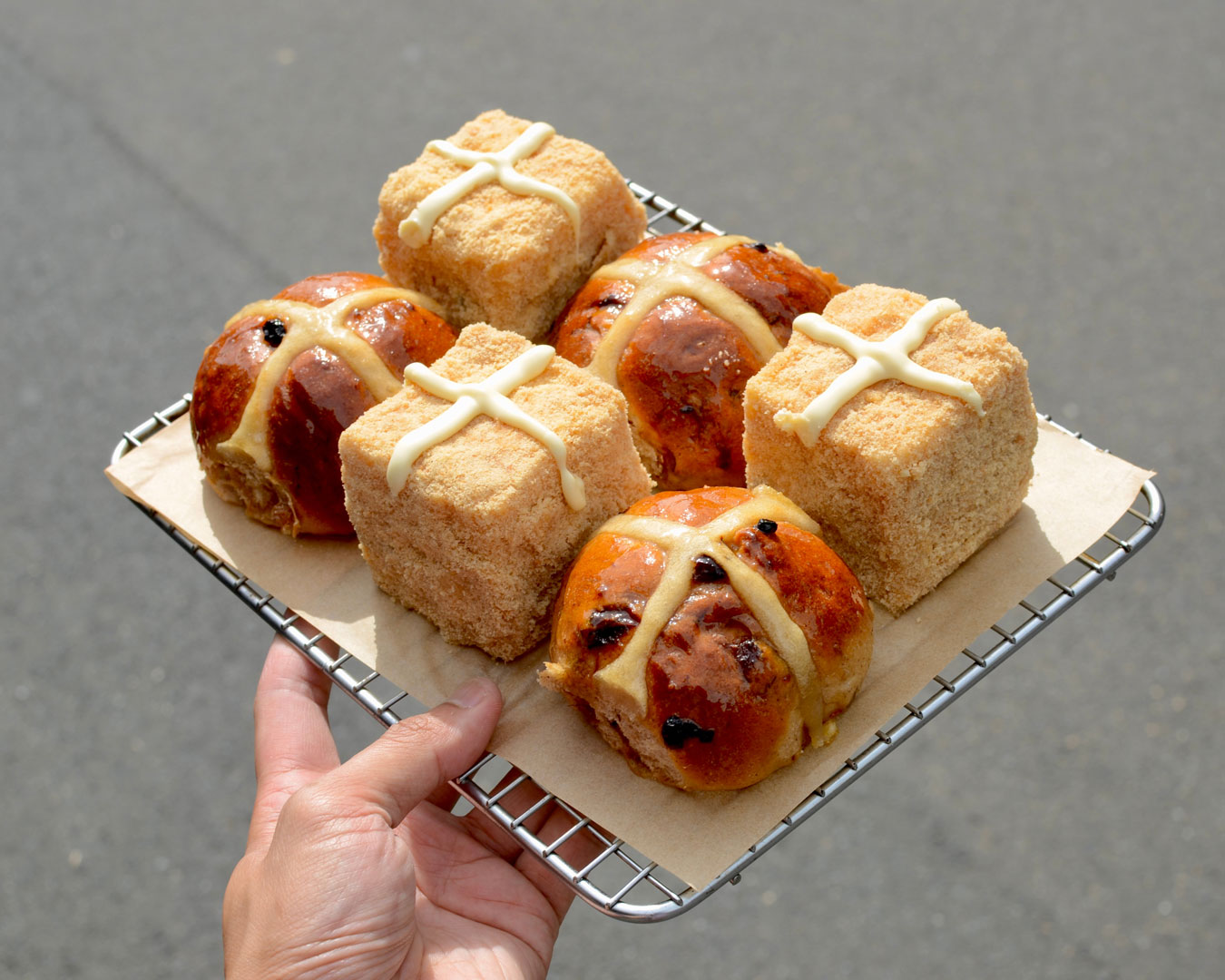 A favourite of Sydney's dessert scene, Tokyo Lamington is jumping on the Easter bandwagon this year—and we're here for it. The Inner West store may be known for its lamingtons, but these yuzu-spiked hot cross buns are sure to satisfy. But, luckily, you don't have to choose, thanks to Tokyo Lamington offering both more traditional-style hot cross buns as well as hot cross lamingtons. You can get both in an Easter Pack for $32, which will see you get three of each.
Tokyo Lamington's hot cross buns and hot cross lamingtons are available in its Easter Pack which you can order for pick-up or delivery via the website. Get in quick—they're selling fast.
Bar Mammoni
CBD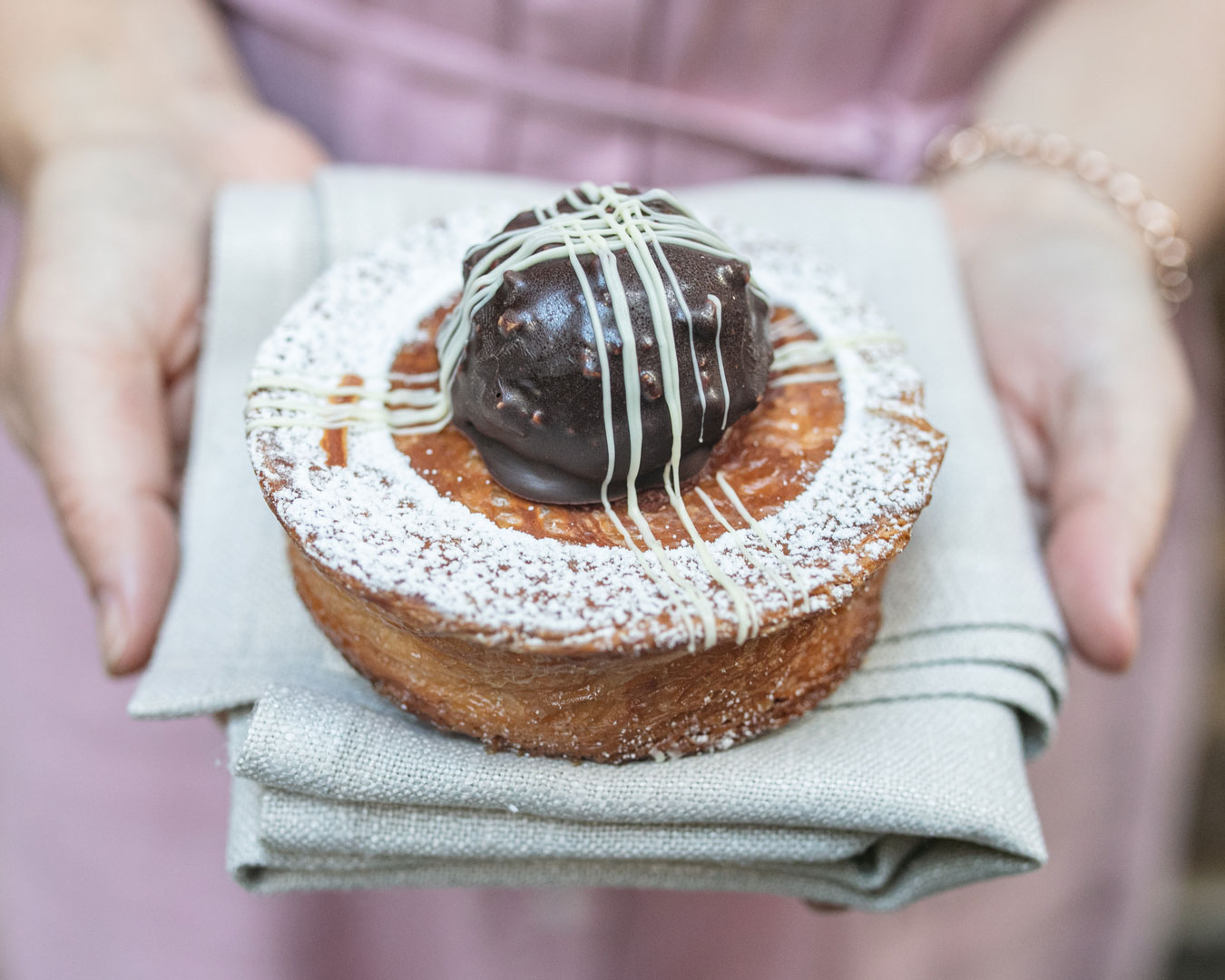 The CBD's new all-day Italian joint, Bar Mammoni, is doing things a little differently this Easter. Instead of the spiced, fruit-laden doughy buns you're used to, it's dishing up something called a Hot X Bussant. The limited-edition pastry is, as you may have guessed, a hybrid bun and croissant. Created by pastry king Jonny Pisanelli, the Hot X Bussant features a round croissant pastry topped with a dollop of almond cream, custard, and a choc-covered nugget of boozy, brandy-soaked dried fruits—think fig, apricot, sultanas, and currants. Then, it's finished with white chocolate drizzle. You can pick up this decadent Easter treat from Bar Mammoni for $7.50.
Bar Mammoni's Hot X Bussants are available in-store till 16 April.
Black Star Pastry
Various locations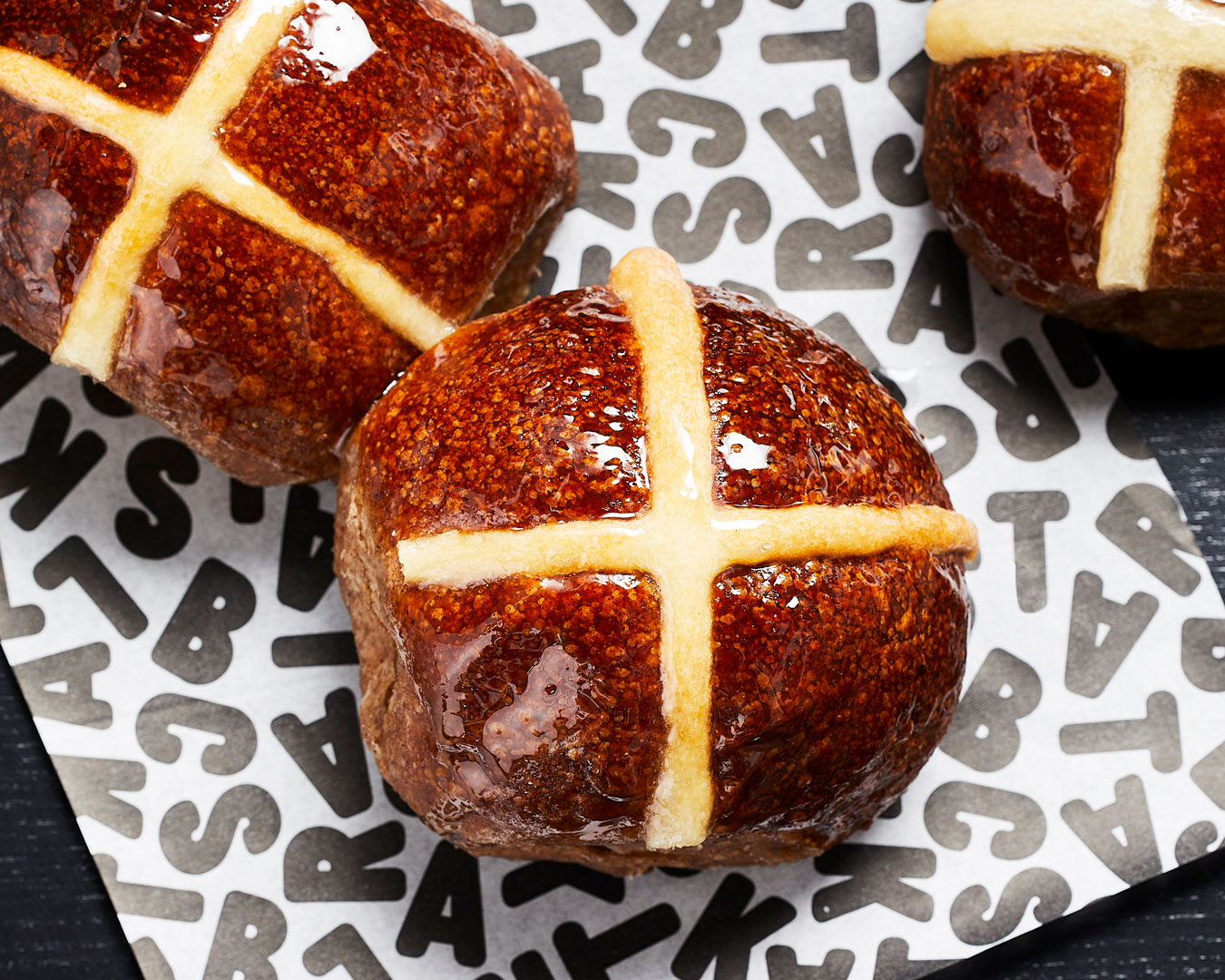 Home to Sydney's best vegan hot cross buns? We'd back that. Dense yet cushiony, sticky, spicy, and sweet—Black Star Pastry's buns are entirely vegan and are available across all of its Sydney stores, so brace yourself for a wealth of deliciousness this Easter.
"The flavour profile of these buns is intense—fruitiness, citrusy and with the inclusion of frankincense syrup, the combination is certainly unique, and it is not one that is easy to come by," says head pastry chef Arnaud Vodounou. "We stick to only one kind of hot cross bun and spend our time continuously perfecting the recipe. The Black Star hot cross bun is a traditional hot cross bun with a twist."
You could say that Black Star's hot cross buns have hit perfection level. The dough undergoes two fermentation stages. After baking, it's all about soaking the bread in a delicious frankincense glaze when the dough is hot. Swoon.
This year, Black Star is planning on hand-rolling 25,000 buns—and we bet they'll sell out. You can pick up in-store or pre-order for pick up, with individual serves ($4.50), half-dozen ($25), and the baker's dozen ($45) all available.
Black Star Pastry's hot cross buns are available in-store and pre-order from 28 March – 18 April. Find your closest Black Star Pastry here.
Banksia Bakehouse
CBD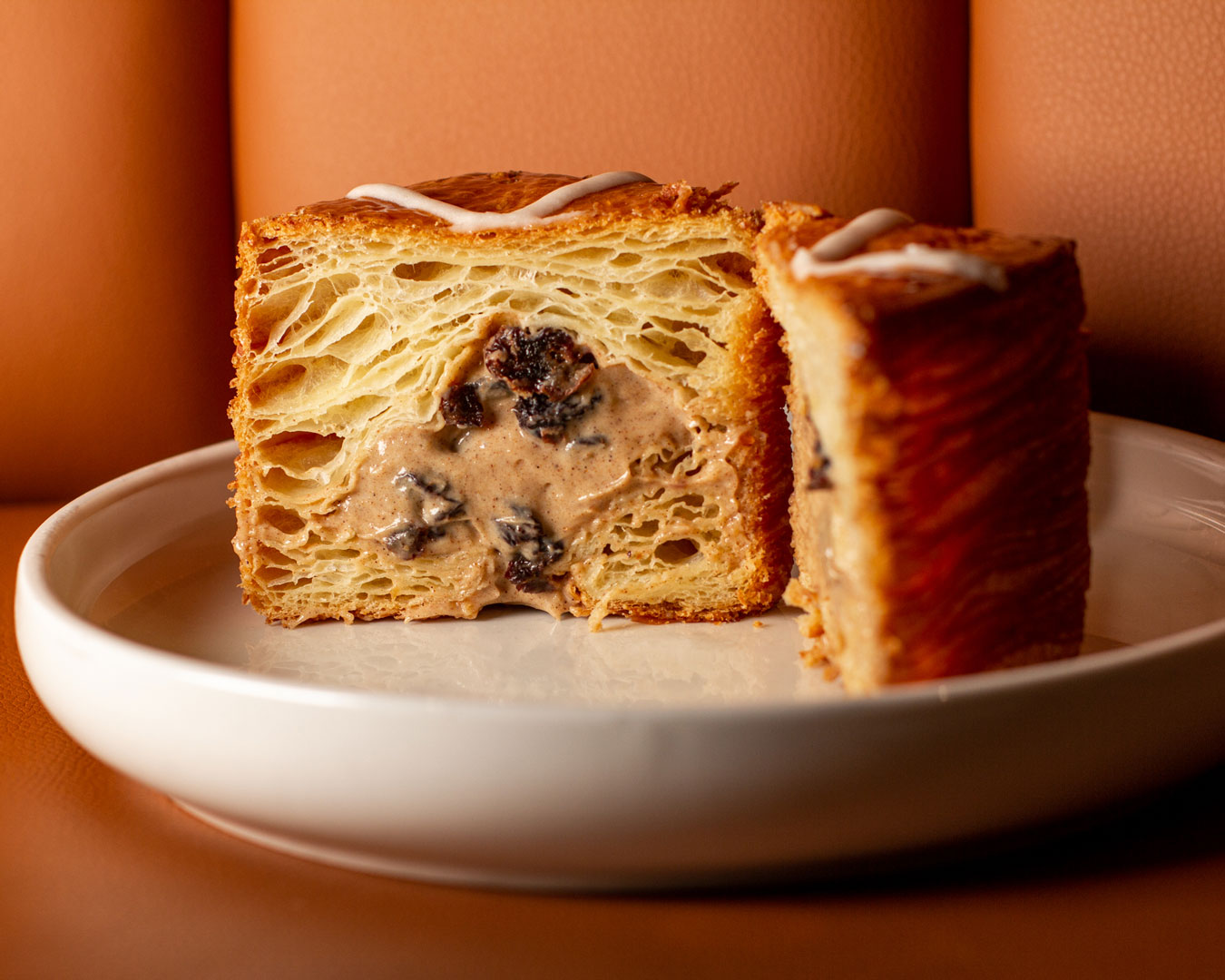 Banksia Bakehouse knows that variety is the spice of life, so it's whipping up not one but three epic creations this Easter. First up, you've got your traditional, fruit-laden hot cross buns. But this ain't no Baker's Delight, so you can expect these to come with grapes from a family-owned vineyard in Mildura.
"With hot cross buns appearing in supermarkets right after Christmas, we didn't want to create [just] a traditional-style bun, as we felt customers would be tired of them by the time Easter actually came around," says Banskia Bakehouse's Chris Sheldrick. Amen to that.
So, they've also created an oh-so-decadent Hokey Pokey choc cross bun in collaboration with top chocolatier, Whittaker's. If you haven't already tried a block of Whittaker's Hokey Pokey Crunch chocolate, we suggest you do so, stat. Then get yourself a stupid amount of Banksia's choc cross buns.
To top things off, Banksia is also bringing back its Easter Cube: a cube-shaped croissant with a creamy cinnamon crème patisserie centre. Yes, a croissant and hot cross bun hybrid—and it's as good as it sounds.
All three variations can be bought in-store or pre-ordered online. For the hot cross buns, you can either pick up just one for $4.50 or do the sensible thing and get a half-dozen pack for $22. The Easter Cube is $12 for one.
Banksia's hot cross buns and Easter Cube are available from 6 – 14 April. If you want to pick them up on Good Friday, pre-orders are necessary, which can be placed from 1 April.
Sonoma
Various Locations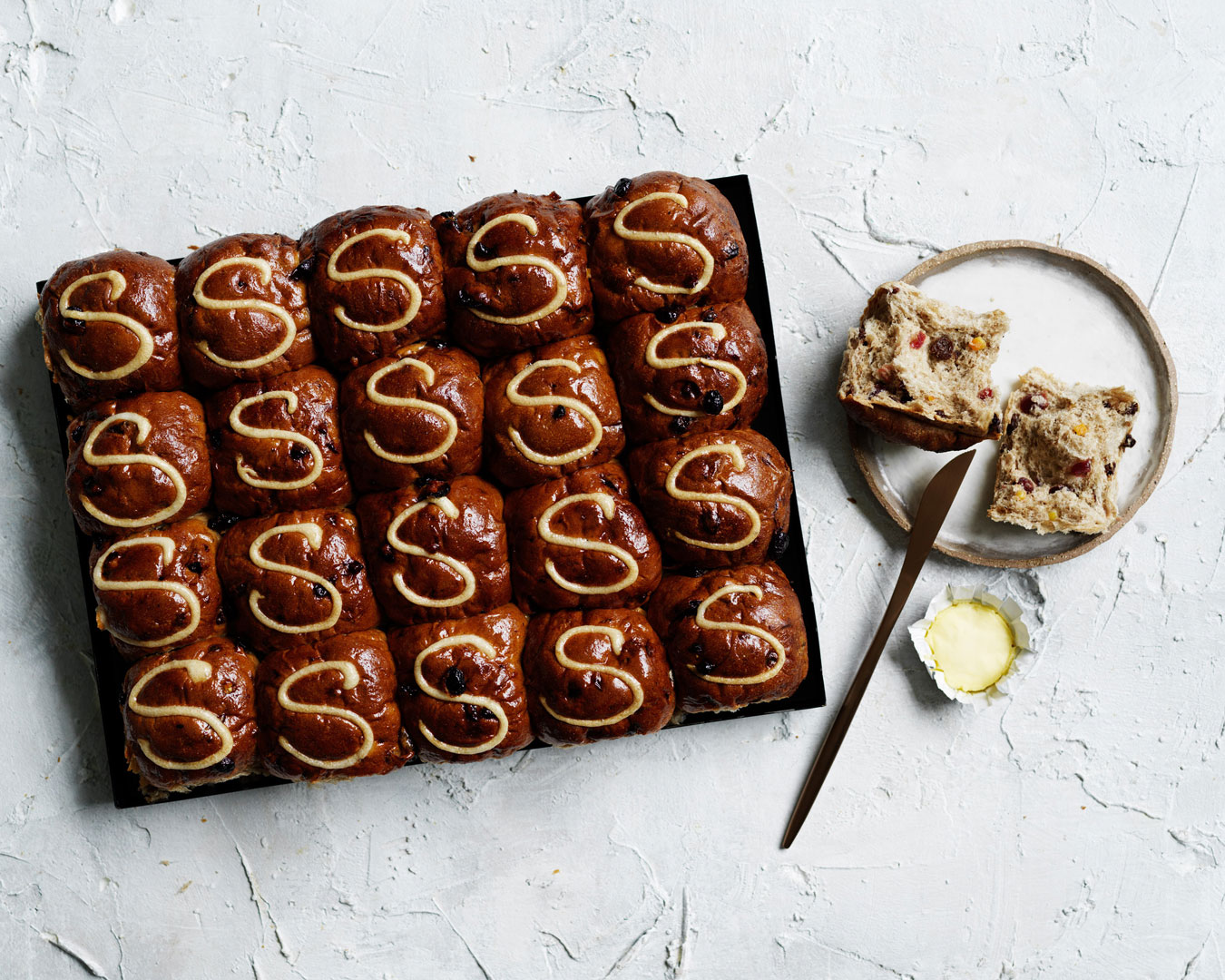 Sonoma marks its Not Cross Buns with an "S" and strives to keep the magic alive by giving them a super-limited release. Made with the sweetness of sultanas, dried cranberries, apricots, and candied orange, these bad boys also have a sweetly spiced dough (with cultured butter) and are glazed with spices and Sonoma coffee. You can either be conservative and buy just one of these tasty Not Cross Buns for $3.50 or get six for a reasonable $20.
Sonoma's Not Cross Buns are available in-store and for pick-up from 9 March. Find your closest Sonoma store here.
Wholegreen Bakery
CBD, Waverley, and Alexandria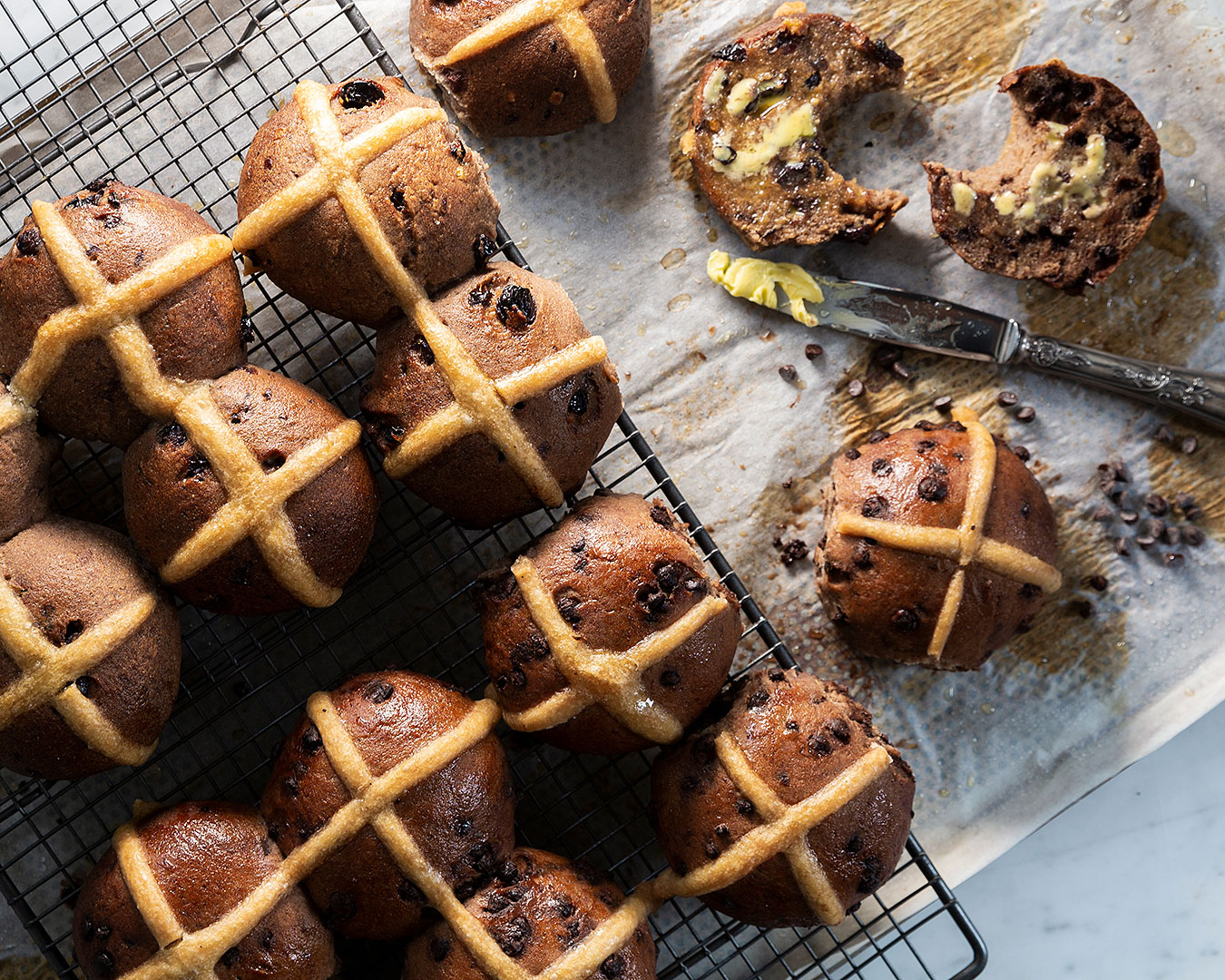 Coeliacs and gluten-intolerant humans, rejoice! Wholegreen Bakery is here to save the day with its super-tasty gluten-free hot cross buns. Better yet, they're 100% vegan, too. So, you can serve this up to every family member this Easter.
This year, Wholegreen has created two flavours: a traditional dried fruit number and a vegan dark chocolate one that we swear will impress your set-in-his-ways uncle. You can head to any of its locations and grab a single hot cross bun ($3) or pick up a four-pack for $11.90. Don't live nearby? You can order them for delivery if you live anywhere between Canberra and Newcastle. Result!
Wholegreen Bakery's hot cross buns are available in-store or online for delivery from 7 March.
Nonie's
Botany
Gluten-free eaters, rejoice! Because we have another artisanal GF bakery baking up the Easter goods for you. Nonie's is a gluten- and dairy-free bakery based in Botany, but you'll often find their goods at the much-loved Carriageworks Farmers Market, too. As for the hot cross buns, Nonie's is whipping up two creations: traditional and chocolate. Both are made with wholegrain gluten-free flours and warm spices, and come in packs of four ($17) and six ($25). The bakery is also whipping up miso caramel tarts, choc caramel tarts, and carrot cake especially for Easter, which you can pre-order for pick-up via the website.
Nonnie's hot cross buns and hot choc buns are available for pre-order via the website for collection at Carriageworks Farmers Markets on 9 April, Nonie's Botany bakery on 15 April, and Northside Produce Market on 16 April. You can also pick up frozen ones from many of Nonie's stockists.
Din Tai Fung
Various Locations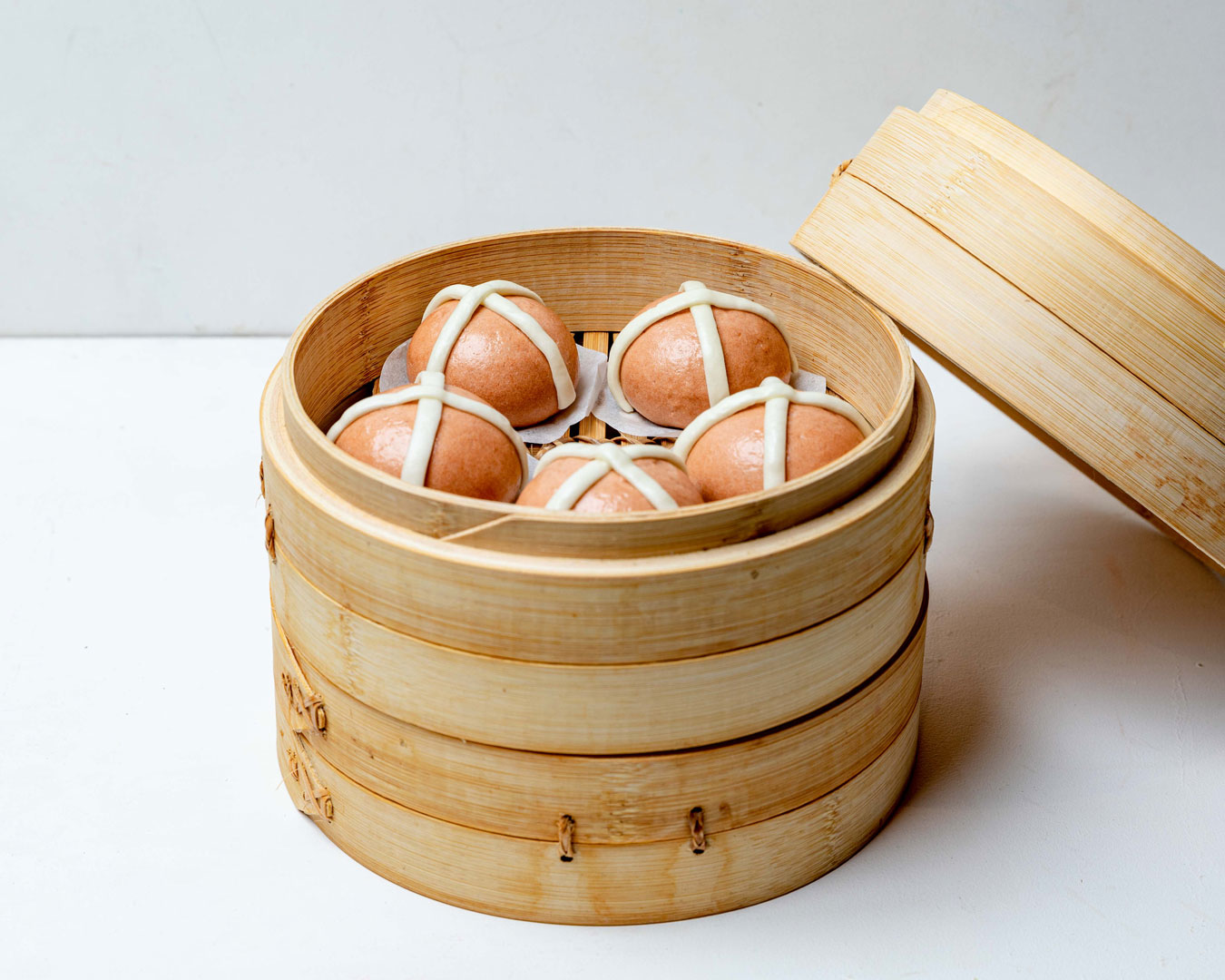 We know the following statement might sound outrageous, but: forget hot cross buns people, we've just got wind of something better.
Din Tai Fung is hopping into the Easter spirit with the release of a Hot Cross Bao—yep, you read that right. A pillowy soft steamed bread bun filled with Nutella (drool), the Hot Cross Bao is everything you've wanted from a hot cross bun and more. It's a thing of pure beauty and deliciousness.
So where can you get your hands on them? The Hot Cross Baos will be available at all Din Tai Fung locations—they'll also be available in frozen form on the Din Tai Fung's site. Um, we'll take a dozen, thanks.
Din Tai Fung's Hot Cross Baos are available at all locations from 4 April. Find your closest Din Tai Fung here.
Crumpets By Merna
Online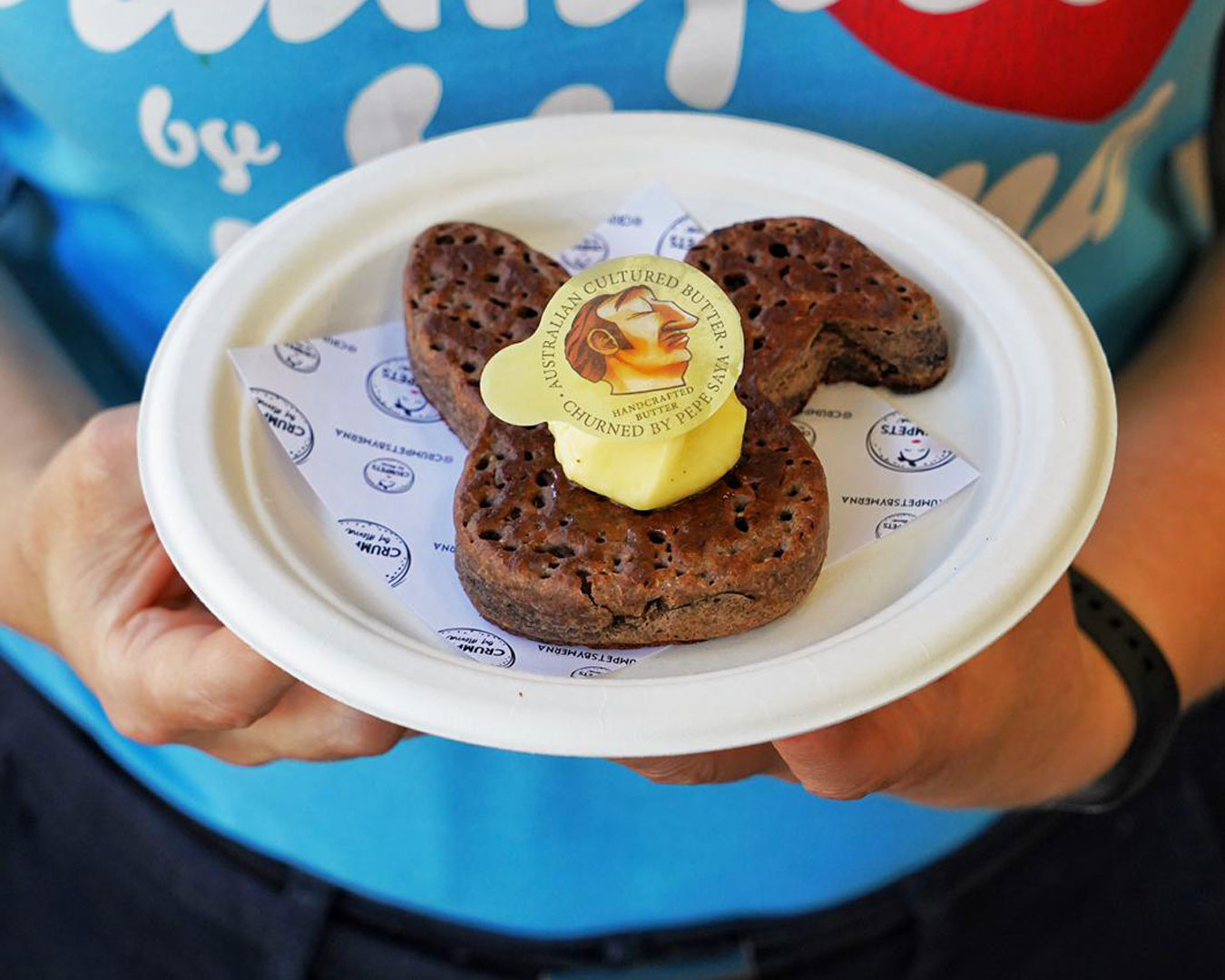 Another business reinventing the traditional hot cross bun is local favourite Crumpets By Merna. Merna's crumpets are made in small batches Caringbah with high quality, local ingredients like Pepe Saya buttermilk and Aussie wholemeal flour. These Hot Cross Bunny Crumpets also have orange peel, raisins, cinnamon, nutmeg, brown sugar, and mixed spice to bring a bit of the traditional bun into play. Slather them with butter and maybe even some honey, and they're the perfect festive brekkie—even weeks before Easter. A four-pack costs $15 or you can opt for the Bunnies and Butter Easter Pack for $23, which also includes a round of Pepe Saya butter.
Crumpets By Merna's Hot Cross Bunny Crumpets are now available for delivery via the website.
Saga
Enmore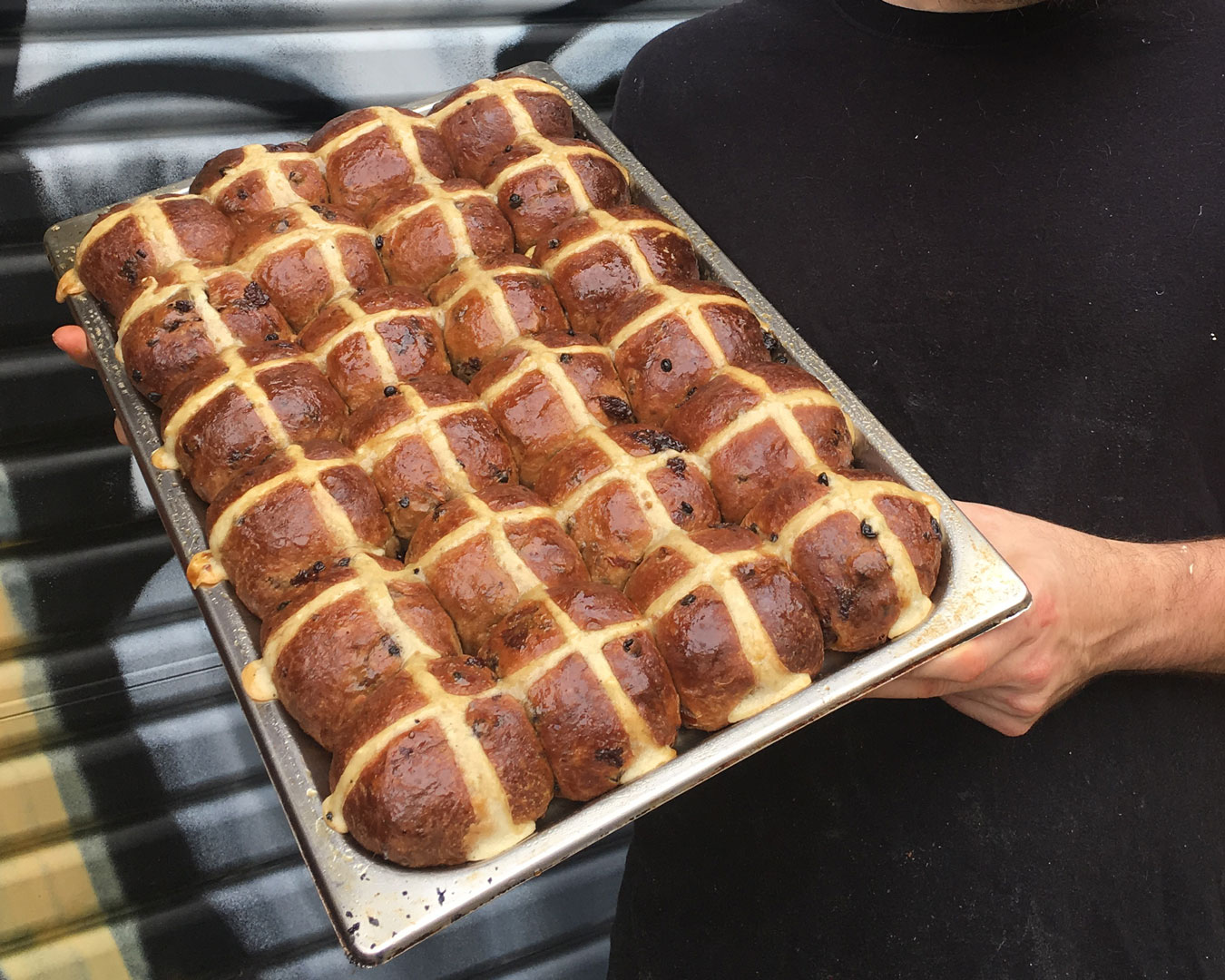 Andy Bowdy may be known for his insane cake creations and super-popular Christmas trifles, but his hot cross buns also deliver. Bowdy's Saga creates traditional-style hot cross buns, so you won't find any choccy buns here. What you will find are hot crossies made from a spiced brioche base with a mix of dried fruit and citrus peel that's been soaked with a mixture of brandy, whisky, and amaro. The buns are steamed before they're baked, ensuring they're soft and buttery to perfection, then glazed while warm. Saga's buns are sold by the single for $4.50 each in-store, or you can pre-order a half-dozen ($27) for the Easter weekend.
Saga's hot cross buns are available in-store and for pre-order for the long weekend only.
Brickfields
Chippendale and Marrickville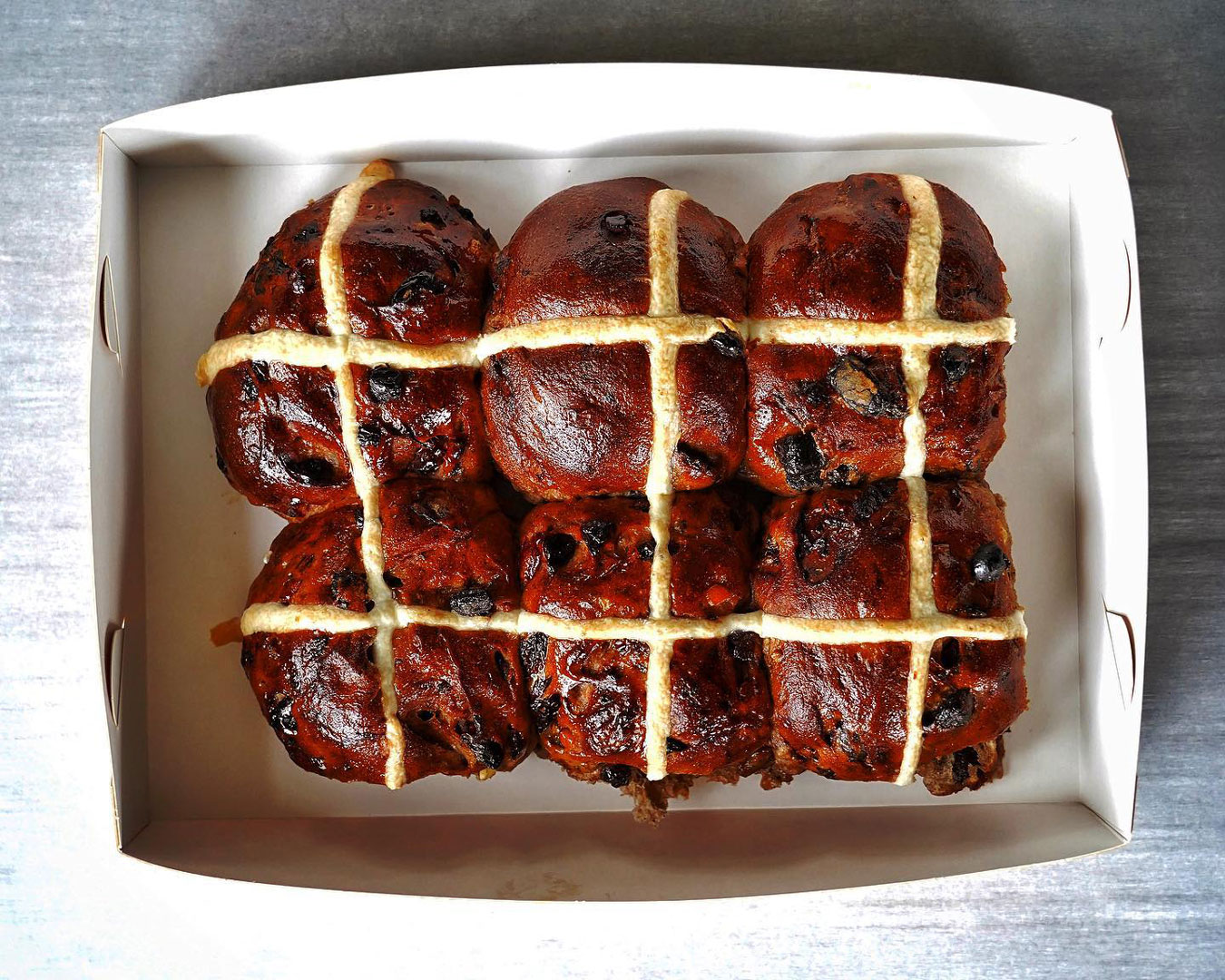 Go-to bakery for many Sydneysiders, Brickfields is once again offering up its top-notch hot cross buns for Easter. These bready delights come packed with currants, candied orange, apricots and cranberries, plus a whole heap of aromatics like cinnamon, ginger, and cardamom. These are traditional hot cross buns so if you're looking for something OTT, please see above. But if you like things simple—and incredibly delicious—these are always a good bet. You can drop by the bakery's Chippendale and Marrickville locations and buy them by the half-dozen for $20, or pre-order for pick-up via the website.
Brickfield's hot cross buns are available in-store, as well as for pre-order for pick-up via the website. The hot cross buns will also be available over the Easter weekend at Brickfield's usual market locations.
Mrs Jones The Baker
Freshwater, Frenchs Forest, Warringah Mall
A Northern Sydney favourite, Mrs Jones The Baker is slinging its traditional Easter buns from 12 March. The hot cross buns in question come with all the good stuff—chewy spiced dough, dried fruit, and sticky glaze.
While it does have your standard buns marked with an 'X', it's more popular ones are the ones with piped cross faces on them, taking on a more imaginative spin on 'cross'. Be sure to pick them up for your big family or friend affair—we're sure they'll get you some brownie points.
Mrs Jones The Baker's hot cross buns are available from 12 March.
The Grumpy Baker
Various Locations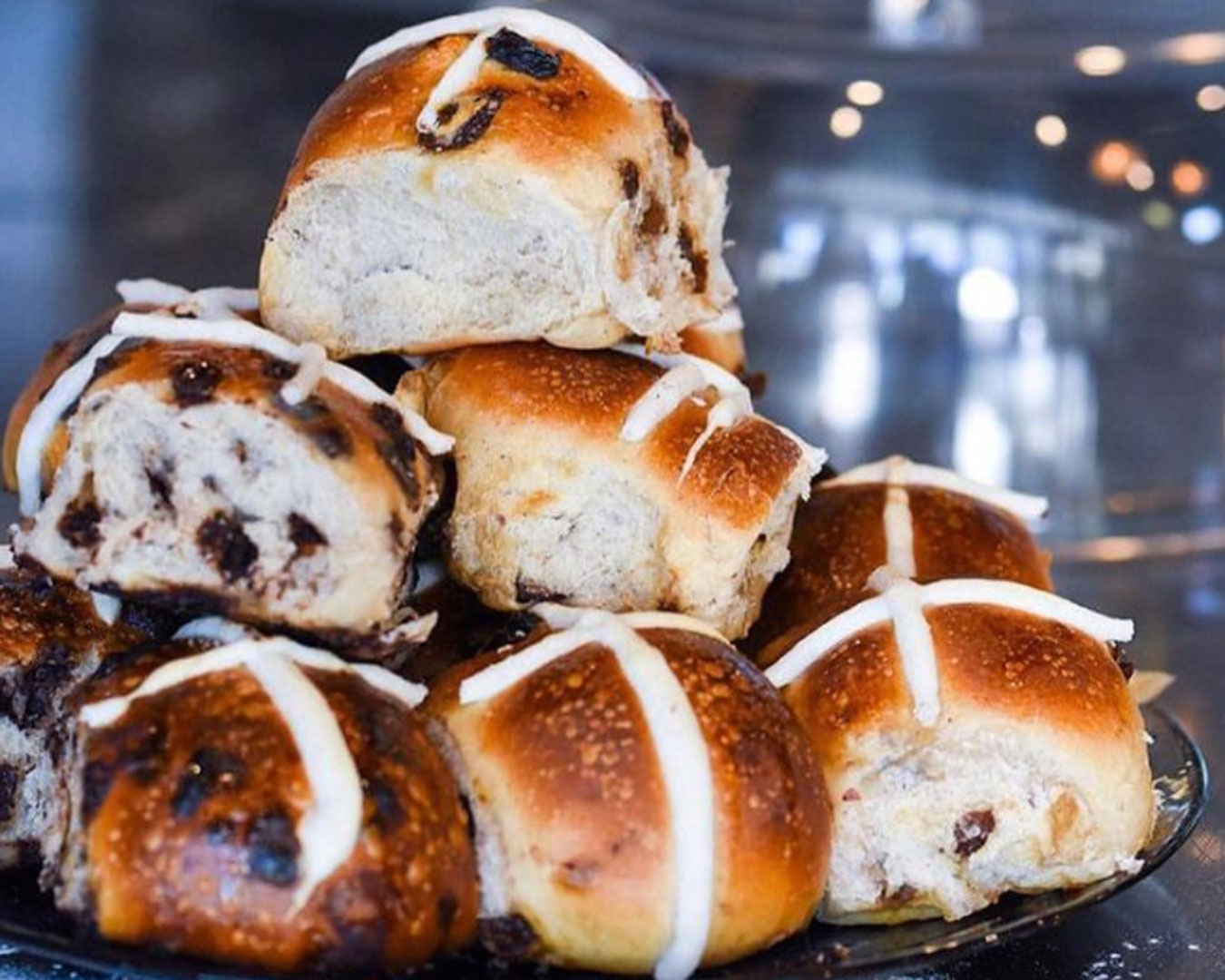 The Grumpy Baker's much-loved hot cross buns pay homage to Founder, Michael Cthurmer's Israeli heritage, using Jewish challah dough—a braided bread traditionally served on the Jewish Shabbat, which has a rich and spongy flavour. Baked fresh on-site every morning, the secret to this perfect hot cross bun is an abundance of raisins, choc chips and butter swirled with spice for an extremely moist, fluffy and sticky bun. According to Cthurmer, the final ingredient to the bun is the simple fact that it's made with "a lot of love" and hey, we reckon you'll be chowing down on these delicious bits of fruity goodness with a lot of love too.
This year, they're also whipping up a choc-chip version, for all you cocoa fiends. You can get them from any of The Grumpy Baker's eight locations—including its recently opened, pint-sized cafe in a former bus stop on Elizabeth Street in the CBD.
The Grumpy Baker's hot cross buns are available in-store from 5 March. Find your closest location here.
Honourable Mention: Flowstate's Hot X Bun Gin Liqueur
Torquay
Yes, we know—Torquay is nowhere near Sydney. But you'll forgive us once you learn that the Victorian-based Flowstate distillery has made a hot cross bun gin liqueur! Yep, hot cross buns just got a boozy twist—and it's dropping on 1 April. So, get ready to get drunk with Nan this Easter. Created by brothers Shaun and Leigh Bridges, this new limited-run booze is bringing the Easter fun to adults this year. You can expect the same sweetness and spice (with notes of citrus and vanilla) you'd find in the traditional baked treat—but in liquid form, of course. Drink it with soda, tonic water, ginger beer, or throw it in a festive cocktail. You can pre-order either 200ml ($35) or 700ml ($95) via the Flowstate website.
Flowstate's Hot X Bun Gin Liqueur is available for pre-order via the website, with the release happening on 1 April.
Now, check out the best cheesecake in Sydney.
Image credit: Din Tai Fung, Tuga Pastries, AP Bakery, Tokyo Lamington, Bar Mammoni, Black Star Pastry, Banksia Bakehouse, Sonoma, Din Tai Fung, Crumpets By Merna, Saga, Brickfields, The Grumpy Baker, Flowstate Brewers And Distillers