When you first think of Sydney, you don't exactly think of a calming, quiet oasis. No, by stark comparison, Sydney is a buzzing metropolis daggered with towering skyrises, crowded beaches and busy cafes, which to be fair, is exactly what we love about it.
But sometimes, in fact—often—a self care day is necessary. One filled with quiet moments so you can appreciate your surroundings, prepare for the day ahead, and take some time to feel good and reflect. So what do you do when you're craving a self care day in Sydney? Your options aren't at all bad. Choose from an early alarm for a sunrise walk, a dip in an ocean pool, or indulging yourself in a crystal massage and salt therapy room.
Take a deep breath. Here are all the things to do when you're taking a self care day in Sydney.
Seize The Day With A Sunrise Walk
There's no better way to kick off a self care day in Sydney, than by setting your alarm bright and early (sans snooze button) to catch the very start of the day. If you're keen to power your morning with a moment to take in the sunrise or just energise it with an easy stroll to get your mind into a positive headspace, then this collection of walks is made for you. The big standouts have to be Bondi's Federation Cliff Walk or the Fairfax Walk to North Head.
Refresh Your Soul With A Morning Swim
As the world's best harbour city, Sydney is a place filled with swimming spots. Throwing down a towel and taking a morning dip is a self care no-brainer and there's a myriad of waterways you can slip into and maybe even dabble in a spot of morning meditation before you go about your day. From stunning swimming pools and ocean pools, to harbour beaches and even some lesser-known swimming spots, there's nothing fresher than a cruisy dip to get you feeling like an entirely new person.
Fuel Up At One Of Sydney's Healthiest Cafes
With great self care comes great responsibility and that means fuelling your body with food that makes you feel good. Cronulla's Blackwood Pantry is an absolute health-fest staple from three Shire locals, Rob Lechowicz, Daniel Sorridimi, and Paul Pisan. To give you peace of mind on the food front, you can nourish your body with the likes of fresh basil yoghurt, the famed miso avocado with lime, chilli and black sesame, a quinoa falafel bowl, or even a glorious prawn poke bowl loaded with wild black rice, avocado, ginger pickled beetroot, edamame beans, and fresh cucumber.
Over in the Inner West, Marrickville's Two Chaps is another game-changer that will feed your belly and good conscience. The chaps behind Two Chaps have converted a suburban Chapel Street-facing shed into a cafe, bakery, and pasta-house. Starting everything from scratch in-shed, the entire assortment of breakfast, lunch, and dinner offerings use traceable local ingredients, to ensure you know exactly where their flour is kneaded, and where the Microlot Coffee is roasted. As for what to order, the raspberry, banana and strawberry smoothie is the sweetest elixir known to humankind and does a great job washing down the sunrise lime granola mixed with vanilla coconut yoghurt, peach compote, and wild thyme honey.
For more of our favourite healthy cafes in Sydney, head over here.
Hit The Studio To Stretch Your Body Out
From humming walls to serene minimalist aesthetics, and bathrooms you'll want for your own home, Sydney has some of the most beautiful pilates and yoga studios on the planet. To really get your zen on and lengthen those limbs, you can check out our full list of Sydney's prettiest Pilates and yoga studios here. Redfern's Humming Puppy is a well-known favourite that will see you swapping margaritas for complimentary coconut water, and club night bangers for a soft mellow "hum" set to the frequency of the earth.
The classes themselves don't adhere to any specific style of yoga but more so towards the principles of breath-pranayama, movement asana, and awareness meditation (stuff that will literally change your body for the entire week ahead). Rooms get heated to around 24 degrees and there's a custom sound system engineered by the team at ARUP, which drip-feeds tranquil bass tones, or hums, crafted by composer Mitch Allen from OneTwoStudios.
Head To A Bookshop For Some Mindful Reading
It's a known fact that time away from your phone and social media will keep you in a better headspace, so get yourself to any of these bookshops to lap up some serious page-turners. Better Read Than Dead in Newtown is known as one of Sydney's best bookstores, having opened its doors all the way back in 1996, and Willoughby's Love Vintage Books packs some serious literary punch with a ridiculous collection of rare and out-of-print books covering transport, military, history, travel, art and architecture, Australiana, and modern and nostalgic literature.
However, Hordern's House will be your serious self care saviour. This light-filled space is a quiet and internationally renowned bookshop specialising in rare reads, manuscripts and paintings. On an entire level of a converted warehouse, this gem has an extensive stock of rare and select material that specialises in voyages and travels (with a special interest in the Pacific and Australia), natural history and colour-plate material, paintings and voyage art, historical maps, and manuscripts.
Hit New Heights Of Relaxation At SELF
Brought to you by the team behind The Parlour Room (a luxe one-stop-shop dedicated to nails, brows, tans and waxing), SELF is a stunning new wellness space where you can continue to indulge yourself entirely.
SELF offers a deeper level of beauty and wellness self-care with an extensive menu of luxury facials, decadent full-body treatments, and restorative infrared sauna sessions. You'll find results-driven cult skincare lines like essential oil-rich, vegan-friendly O Cosmedics and age-defying Aussie botanical brand Sodashi. Full-body treatments include the "Marine Body Wrap" for a full exfoliation and ocean-themed body mask; the "Soul To Sole" for a full body massage and the "Crystalus Massage", which combines physical massaging with the sensory energy of ancient Australian crystals. If you're keen on the benefits of an infrared sweat session, SELF is home to one of the most luxurious infrared saunas available for private bookings of up to three people (in line with COVID-19 social distancing measures).
Treat Yourself To The Best Massage You've Ever Had At Venustus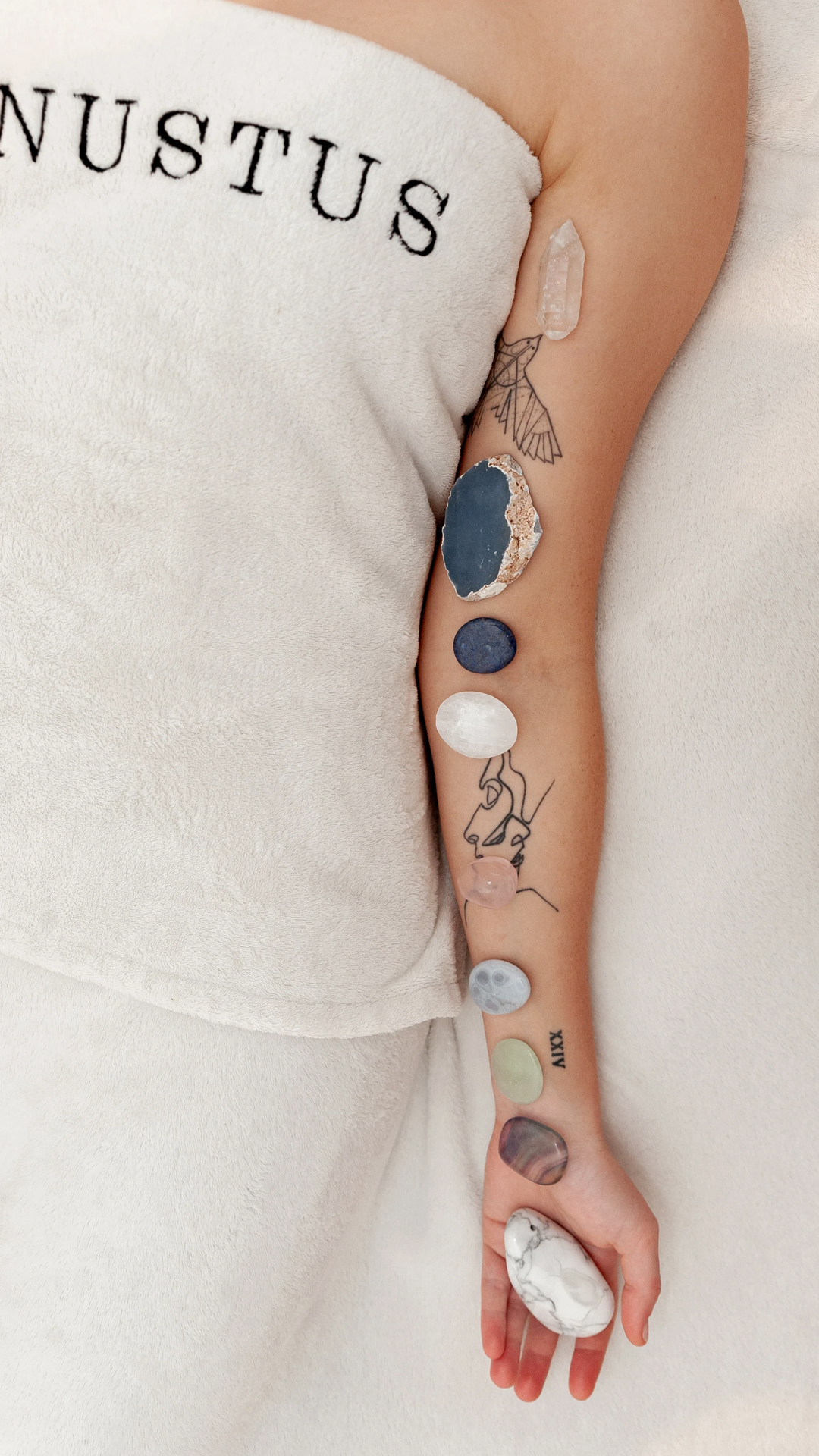 Imagine the best massage you've ever had, and then multiply that by three. That's the best way to describe Venustus' personalised six hand massage treatment, delivered by three massage therapists simultaneously. If a classic two-handed kneading is more your speed, this spiritual sanctuary on Oxford St in Paddington offers those too. Before treatments begin, white sage is burned to clear the space, with crystals and singing bowls incorporated too. Inspired by healing practices native to everywhere from India to Japan, this spa and wellness haven also offers tailored facials using their own brand of high-quality natural skincare. You can also check here for more epic places to get a massage in Sydney.
Explore Ancient Wellness Practices At One Of Orchard Street's Clinics
If you've ever found yourself wandering their Paddington outpost, you'd be forgiven for surmising that Orchard St is an organic juice bar boasting healing tinctures and natural elixirs as well as Kombucha on tap. And whilst all of those things are true, Orchard St also offers wellness clinics in both Bronte and North Bondi, specialising in acupuncture, astrology, Ayurveda, clairvoyance, energy alchemy, integrative medicine, massage, naturopathy, kinesiology, positive psychology, reiki, and embodiment, and yoni mapping therapy. If you're not familiar with the latter, best read up on it first before making an appointment.
Recharge With A Session In A Salt Therapy Room
Maybe you've indulged a little too hard on the pinots and penne last weekend, or you're just really into feeling revitalised and all that jazz. Either way, we're about to make all your well-being dreams come true. Cryospa Clinic is a one-stop-shop for all the body pampering, but what you're really going to want to try here is the dedicated salt room. It basically mimics the natural environment of a real Himalayan salt cave, which involves a wet salt treatment with saline solution that gets nebulised (we know, fancy) by an ultrasound nebuliser to create very fine salt mists.
The fine particles then travel into your respiratory tract and get absorbed in the skin to benefit the whole body. Overall, it's meant to reduce inflammation (so it can ease symptoms of asthma, allergies, and sinus congestion), decrease stress, increase energy, improve sleep quality, and help improve your skin (especially for eczema, psoriasis, acne, dermatitis, and rosacea).
Disappear For A While With Float Tank Therapy
Fast track your recovery and reach a state of functional zen (definitely a thing) at Botany's certified heaven on earth, KOA Recovery. The go-to services here are KOA's cryotherapy and float tank therapy, so if you're feeling wired and it's only Monday (we feel you), then float tanks are a ridiculously relaxing way to reduce stress and guarantee a good night's sleep. Pop yourself in one of their high-tech pods that block out all light, sounds and gravity as you float in warm water and Epsom salts—it's basically all the tranquillity of yoga with minimal effort.
On top of this, spending some time inside a float tank gives you the perfect excuse to slow down, switch off, and actually relax for once. It can also help relieve chronic pain from fibromyalgia, arthritis, back pain (hand up if you've been personally victimised by your lumbar spine), and knee pain by actually decreasing inflammation.
Treat Your Hair To Some Self Care At One Of Sydney's Best Hairdressers
Sydney is a mecca for hair salons and when it comes to choosing "the one" for a cut, trim, a number one, balayage, wispy blow-dry, or of-the-moment soft perm, it is a big deal and a sure-fire way to make you feel damn good. In this list, we have hairdressers that serve you cheese boards and Espresso Martinis, salons designed by the legendary George Livissianis, and even salons that double as art galleries.
Rethink Mental Health At The Indigo Project
The Indigo Project is a long-standing hub that takes a more creative approach to mental health. It's the type of place that's set on breaking stigmas around mental health, and one that gives you complete access to down-to-earth-practitioners. When you google "The Indigo Project", you might be fooled into just thinking it's just a progressive psychology practice, but it's so much more than that. There's a number of courses, workshops, and immersive experiences to get involved with. The "Listen Up" session is a monthly sound bath to bring you back down to your foundations, there's various tool kits to help you deal with anxiety, relationships, stress and depression, and online courses that help you thrive in self-development, insight, and personal growth.
Close Out The Day With A Magical Sunset
Round out your self care day in Sydney by hitting up any of these stunning spots to take in the sunset. La Perouse (and Yarra Bay) is a top spot with no skyrises to interrupt your view and keep relatively uncrowded most times of the year and Green Point in Oyster Bay will sneak you some epic views of the Como Marina crossed with the calm waters of the Georges River. The real banger though? Vaucluse's Queens Avenue is the OG of all places to watch a sunset in Sydney. Think a little lane tucked off the main street in Vaucluse that somehow spills into a west-facing 280-degree view of the city and Harbour Bridge. Yeah, at the end of the day, it's one helluva spot to be at.
Look for more spots for a life-changing massage? Head over here.
Image credit: Destination NSW, Destination NSW, Destination NSW, Destination NSW, Destination NSW, SELF, Venustus, KOA Recovery, Mr Burrows Hair