We've all been that person. You know, the one who looks up the menu days before you're even due to go to the restaurant. And sure, sometimes knowing what you want is a good thing. But we'd counter that, more often than not, it's best to leave it to the chefs.
Welcome to the wonderful world of degustations, where you can forget all about food envy and choice paralysis. Relax, relish in a long, leisurely meal, and let the chef take you, your date, and fellow diners on a little culinary trip. From cosy Surry Hills spots championing Australian ingredients to the finest of fine diners in Sydney, there is no shortage of top restaurants dishing up sensational set menus.
Keen to leave decision making at the door? Here are the best degustations in Sydney right now.
Arthur
Surry Hills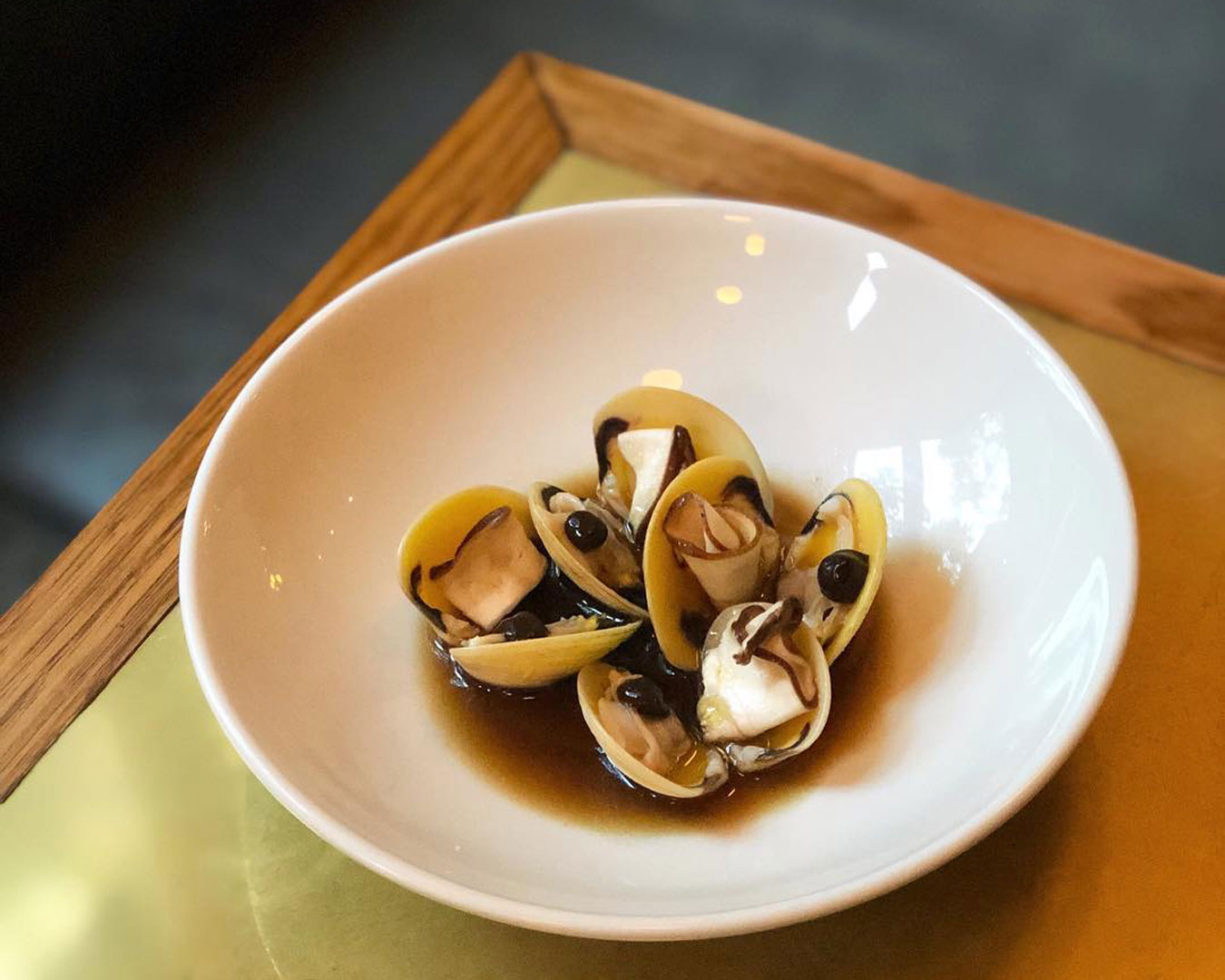 Arthur is a polished, warmly lit restaurant tucked away on the quiet, leafy end of Bourke Street. Chef Tristan Rosier has spent time in the kitchen at Est., Biota, and Dead Ringer, and his degustation-only restaurant is garnering quite the name for itself. It's smart, considered, and charming—and perfect for an upscale date night.
Rosier's ever-changing nine-course menu costs $130, with the option to add small plates such as oysters and cheese. To give you an idea, you could be feasting on dishes like kangaroo with bush tomato and bone marrow; Arthur's superstar sourdough and cultured butter; mud crab with macadamia and finger lime; and chocolate and wattleseed cake for dessert.
Meanwhile, wines here are all from Australian minimal intervention, organic, or organic-practicing winemakers. Wine pairings are encouraged; however, they do cost an additional $95.
Quay
Circular Quay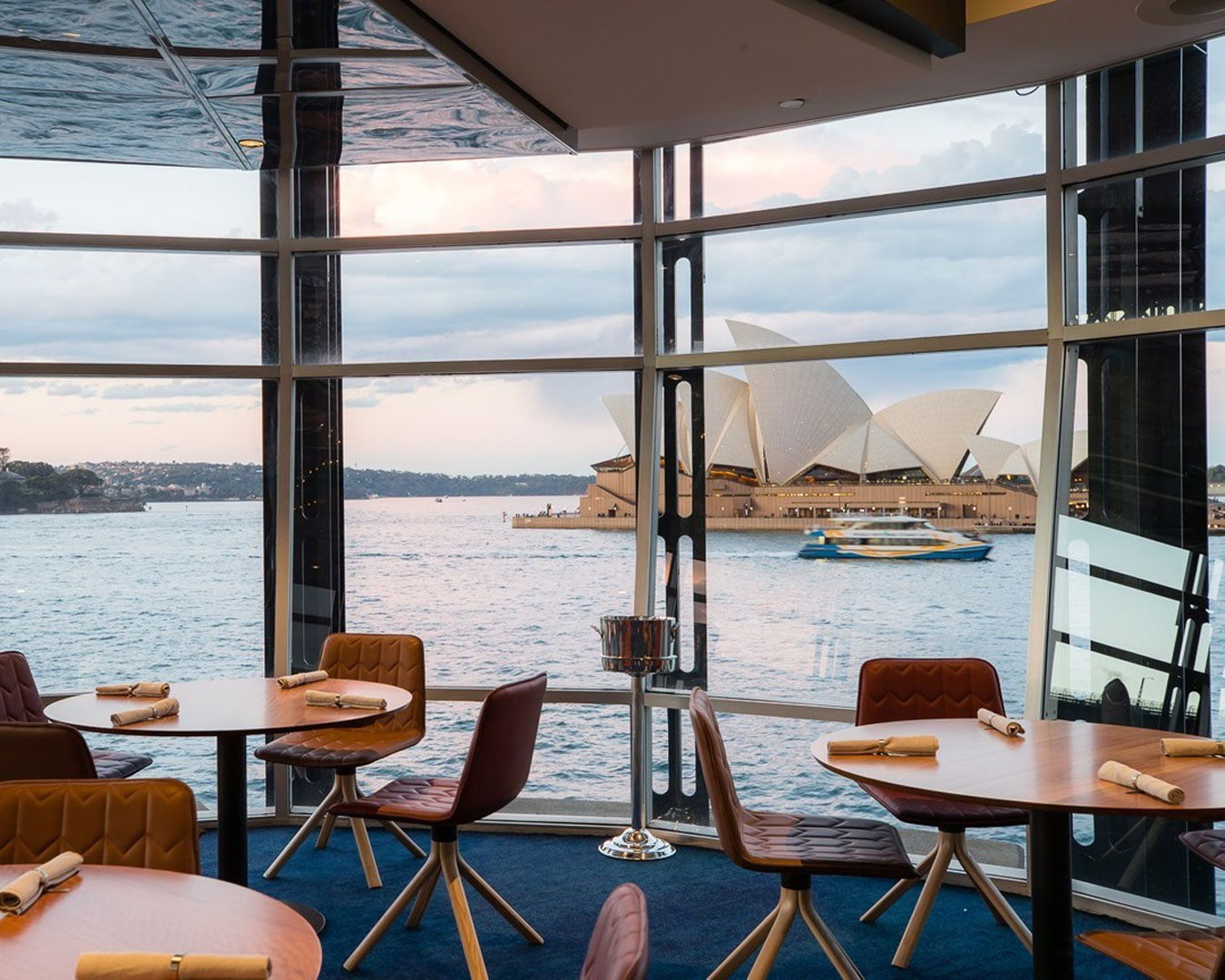 One of Sydney's finest fine diners, Quay is for when you're celebrating big. World-famous chef Peter Gilmore (also behind Bennelong) works closely with local producers, farmers, and artisans to ensure the highest of quality—from the oysters right down the tableware. The six-course set menu comes in at $260 (and that's before you tack on the $140 wine pairing) and champions "rare and beautiful ingredients"—think caviar with sea cucumber crackling, bone marrow noodles with squid and koji butter, and Maremma pasture-raised duck served with preserved Morello cherries and black garlic. But, of course, the crown jewel of Quay is the theatrical, incredibly intricate desserts that any MasterChef Australia lover will know. At the moment, that's the White Coral, which has white chocolate mousse, mango ice cream, and coconut cream.
Quay has some of the best views in all of Sydney, too. Thanks to the restaurant's prime location in Circular Quay, your mind-blowing feast will be backdropped by sweeping views of Sydney Harbour Bridge, the Opera House, and surrounding harbour. Does it get any better?
Besuto
Circular Quay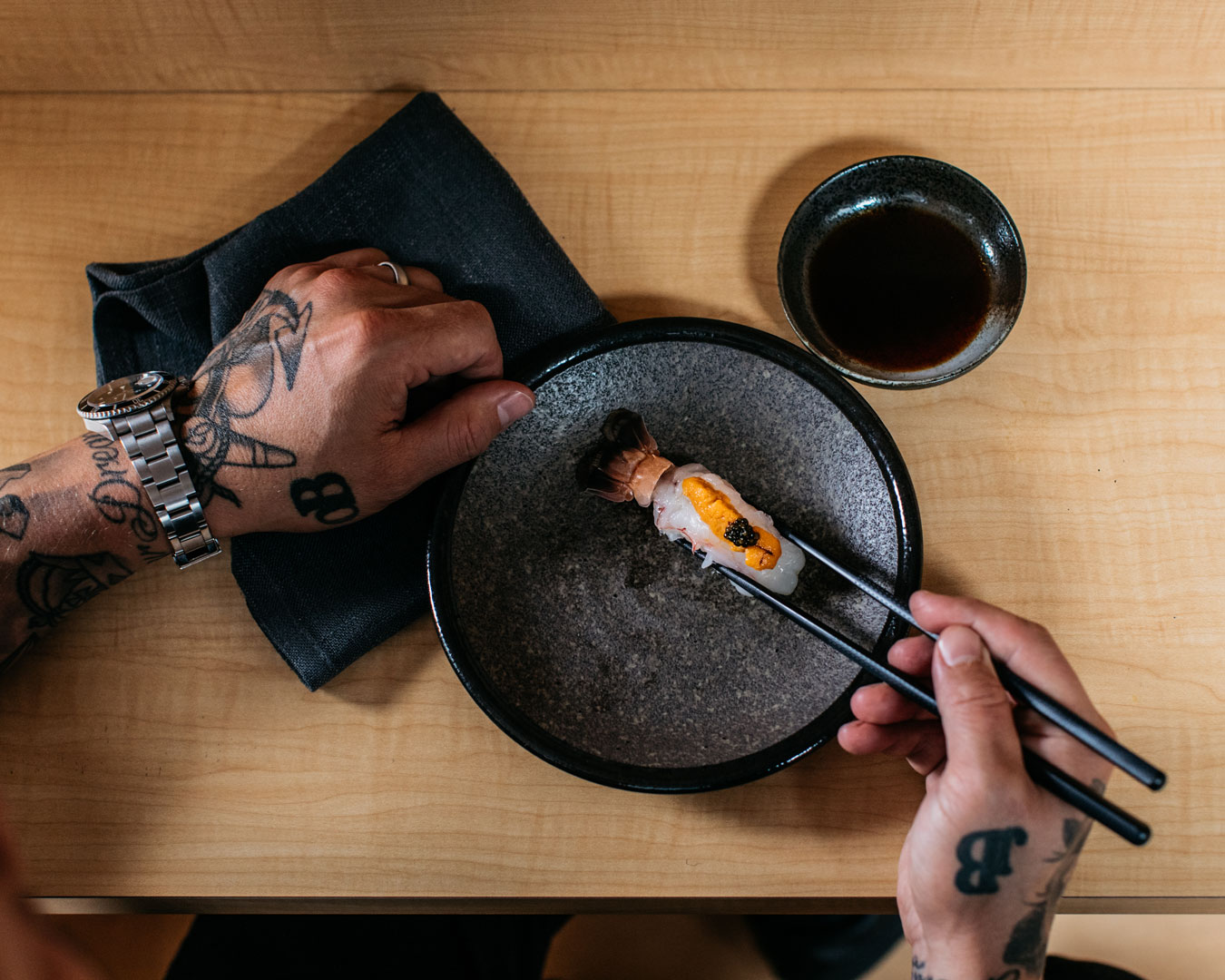 Besuto is Sydney's enchanting hidden omakase restaurant. While our fair city is seeing quite the rise in this style of Japanese chef's table dining recently, Besuto cuts through. Owned by Joel Best (Bondi's Best Seafood) and Finnish celebrity chef Tomi Björck, the 12-seat omakase looks as though it belongs in the backstreets of Tokyo, with design details such as a small Japanese zen garden, printed Shoji curtains, a glowing whisky cabinet, and bespoke centre dining table.
You'll be dining with just a handful of others, overlooking the kitchen led by Hirofumi Fujita (Hiro). The 18-course menu clocks in at $180 and is a celebration of the sea. As with any omakase, the menu changes based on the best produce available—but regular highlights include miso-marinated Glacier 51 toothfish, toro with N25 Caviar, and a particularly impressive steamed egg custard served with uni (sea urchin), alongside courses of sushi and sashimi. In short, if you're not a seafood lover, maybe give this one a miss. But for those who do love it, you're in for one memorable feast.
Sixpenny
Stanmore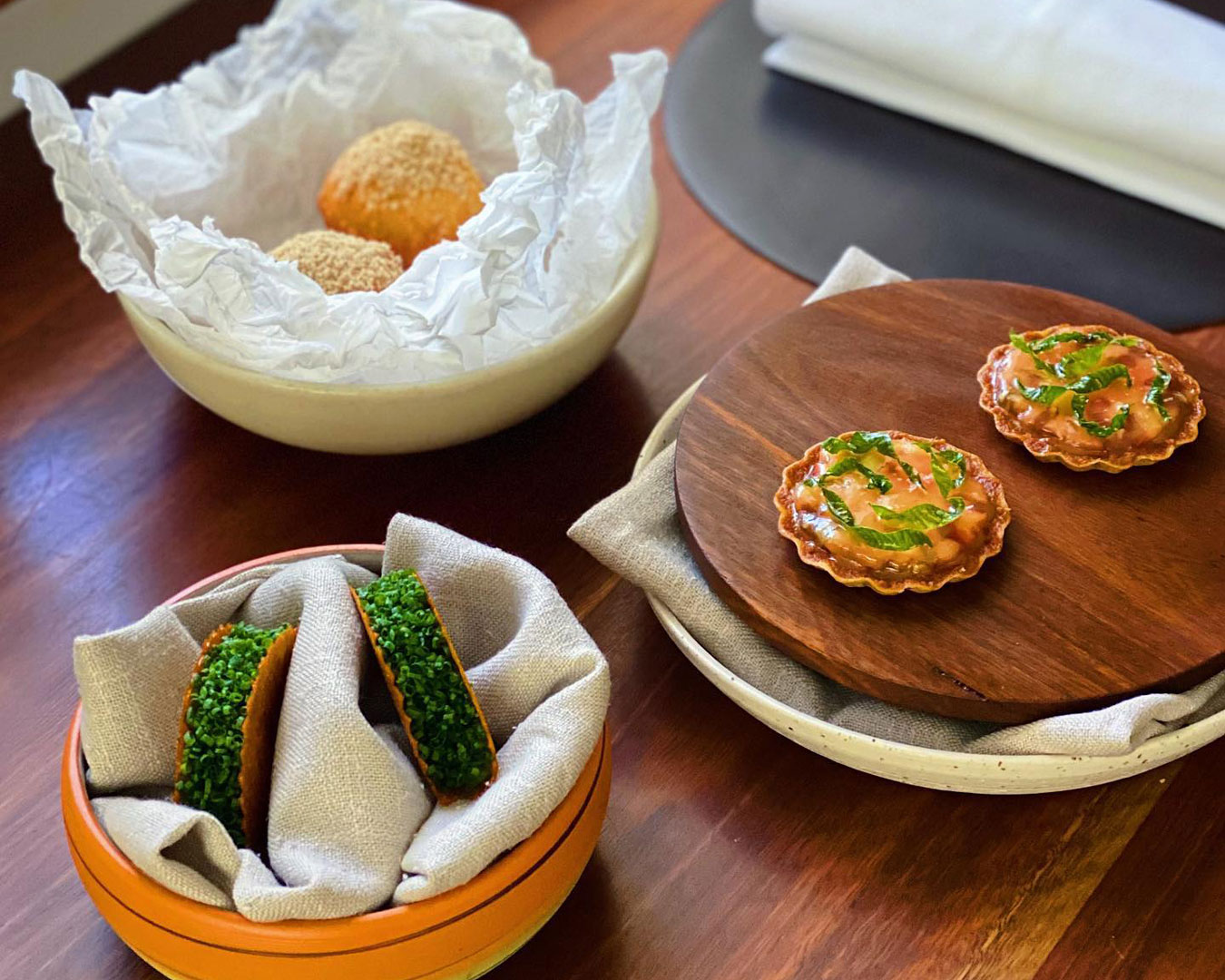 Sixpenny is housed in a historic Stanmore building giving the restaurant an unassuming vibe. But don't underestimate this little Inner West spot—it's lauded as one of the best restaurants in Sydney. The fine diner is led by chefs Daniel Puskas and Anthony Schifilliti and you can bet you won't find any on-trend dishes here. Instead, Sixpenny celebrates Australia—from its fresh-as produce and unique ingredients down to the people who grow them.
The always-evolving degustation echoes this sentiment, using top seasonal produce to create a contemporary Australian menu. Sure it'll cost you $215 per person, but we reckon it's one of the most exciting meals around. If you're up for it, the matching wines are an excellent way to elevate the experience, with Sixpenny championing small-scale, artisanal, and eclectic wine producers from Australia and around the globe.
Firedoor
Surry Hills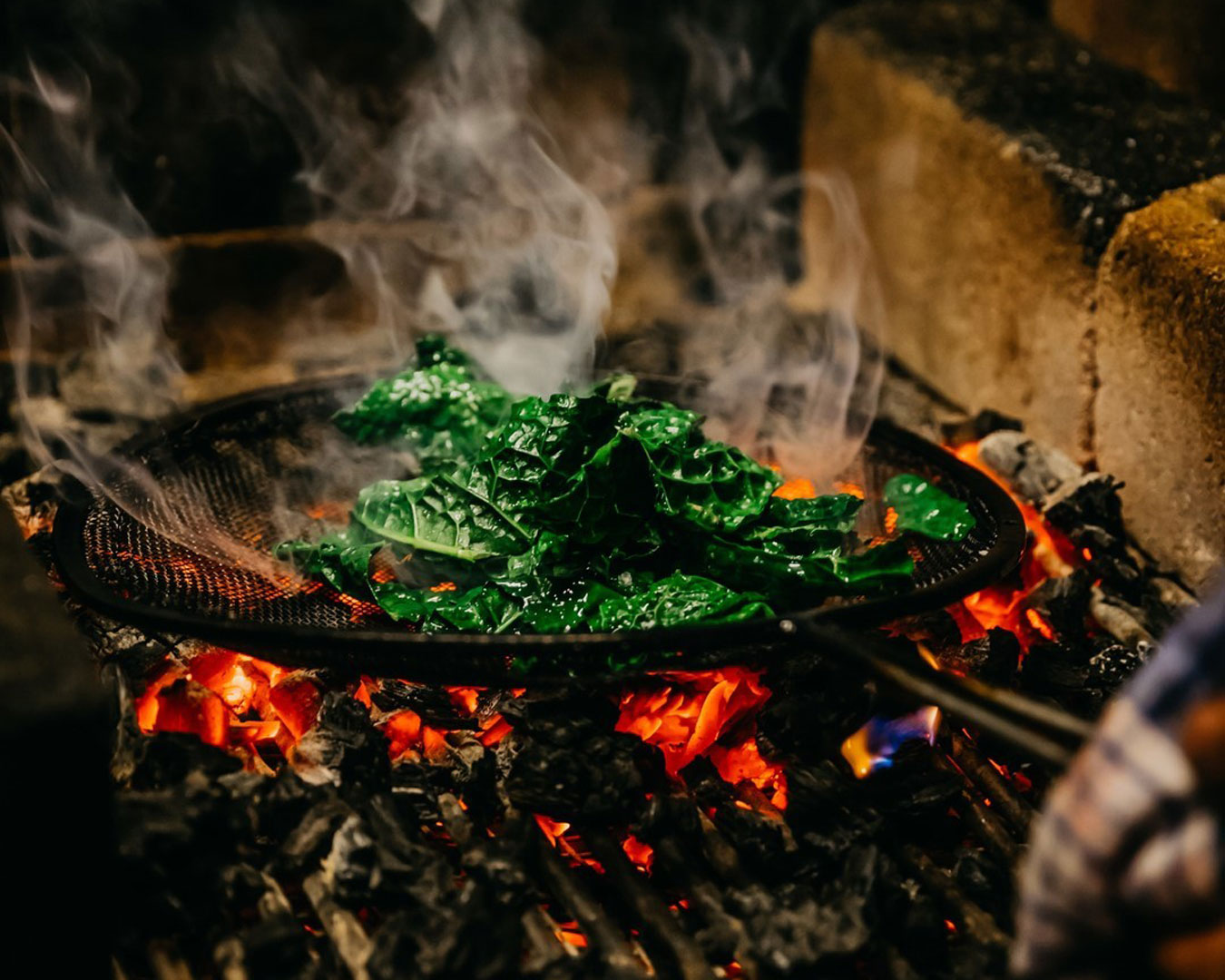 Perhaps one of the hottest restaurants in Sydney right now, Firedoor is undoubtedly worth a visit—if you can get a booking. It's super popular thanks to renowned chef Lennox Hastie's appearance on Netflix's Chef's Table, but we say "hottest" because, well, it gets pretty toasty in there. As the name suggests, it's all about fire here—with every single ingredient cooked over open flame or coals. Seriously, the kitchen uses no gas or electricity—just primitive and genius cooking.
It's neither a fine diner nor a casual midweek spot, but walks the line between both—something Sydney's hospo scene is becoming increasingly known for. Firedoor is currently offering a five-course menu for $155 that changes every single day to ensure you're eating the best produce available. And sure, you could leave very satisfied with the set menu alone, but you will definitely want to add on the steak, which has been dry-aged for 200 days and is probably the best steak you'll ever have. Hot tip: try to book a spot at the bar to watch the kitchen in all its theatrical action.
Yellow
Potts Point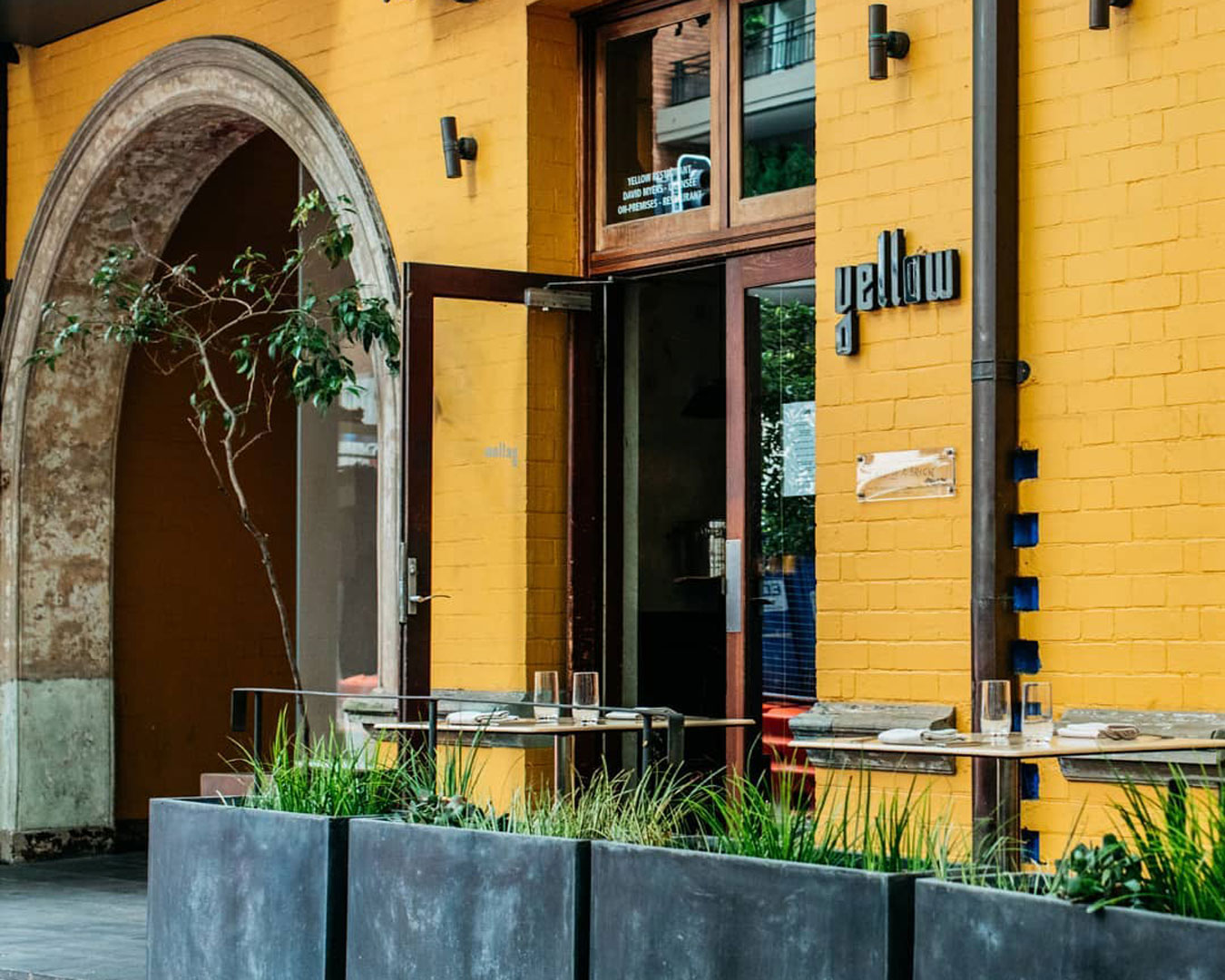 On the other end of the spectrum is Yellow: an upscale, 100% plant-based fine diner situated on Potts Point's buzzy Macleay Street. Owned by celebrated chef Brett Savage (Bentley, Cirrus, Monopole, and Ria), Yellow is a celebration of veggies. You won't find any alternative meats here—just interesting and heirloom vegetables from top local suppliers.
Housed in a yellow-painted brick building (hence the name), the diner's interior is laidback and informal, making it a go-to for midweek dinners as well as special occasions. It's currently serving up a six-course vegan tasting menu for $105 per person. Sommelier Nick Hildebrandt ensures that the wine is equally as impressive, balancing classic drops with biodynamic, natural, and organic vinos, and seamlessly complementing Savage's menu.
The Blue Door
Surry Hills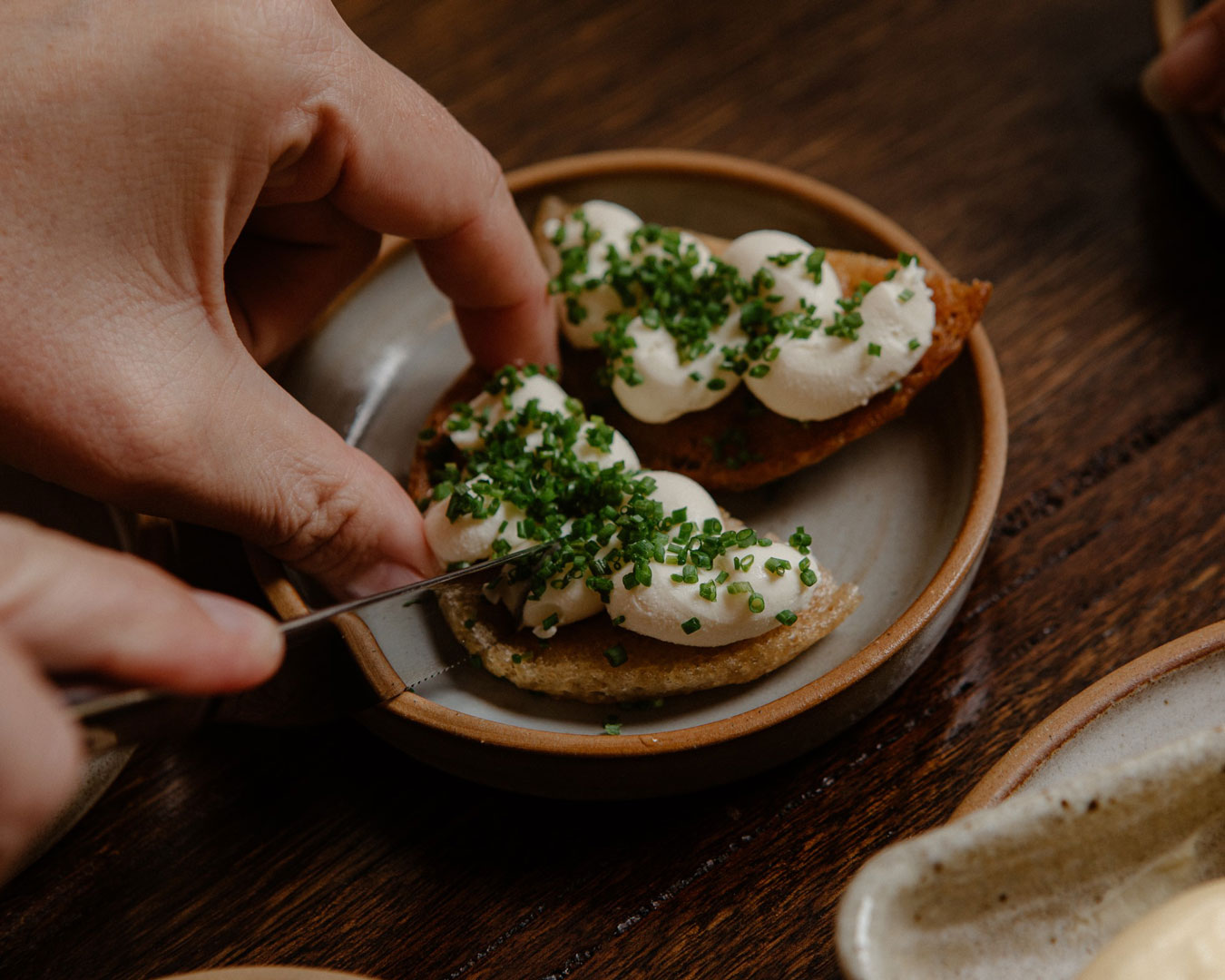 On the other end of the colour spectrum is this charming 20-seat restaurant in Surry Hills. Headed up by Dylan Cashman (Sean's Panorama, Paper Daisy and Cottage Point Inn), The Blue Door is founded on a strong ethos of provenance and sustainability. So, naturally, almost all produce comes from NSW producers, growers, and farmers, and the menu changes every single week. Recently, The Blue Door introduced a dinner-only, seven-course set menu for $145 per person. You won't find a menu on the website, but rather you'll be sent a list of the farmers from which the produce is sourced on the week of your booking. Sommelier Angelica Nohra ensures that the wine list is also very local, showcasing the diversity of NSW vineyards. You can also opt for wine pairings for an additional $85 per person, or $100 if you're willing to share. Alternatively, book in for a Thursday and you can BYO (just don't bring anything cheaper than the $20 corkage fee).
LuMi Dining
Pyrmont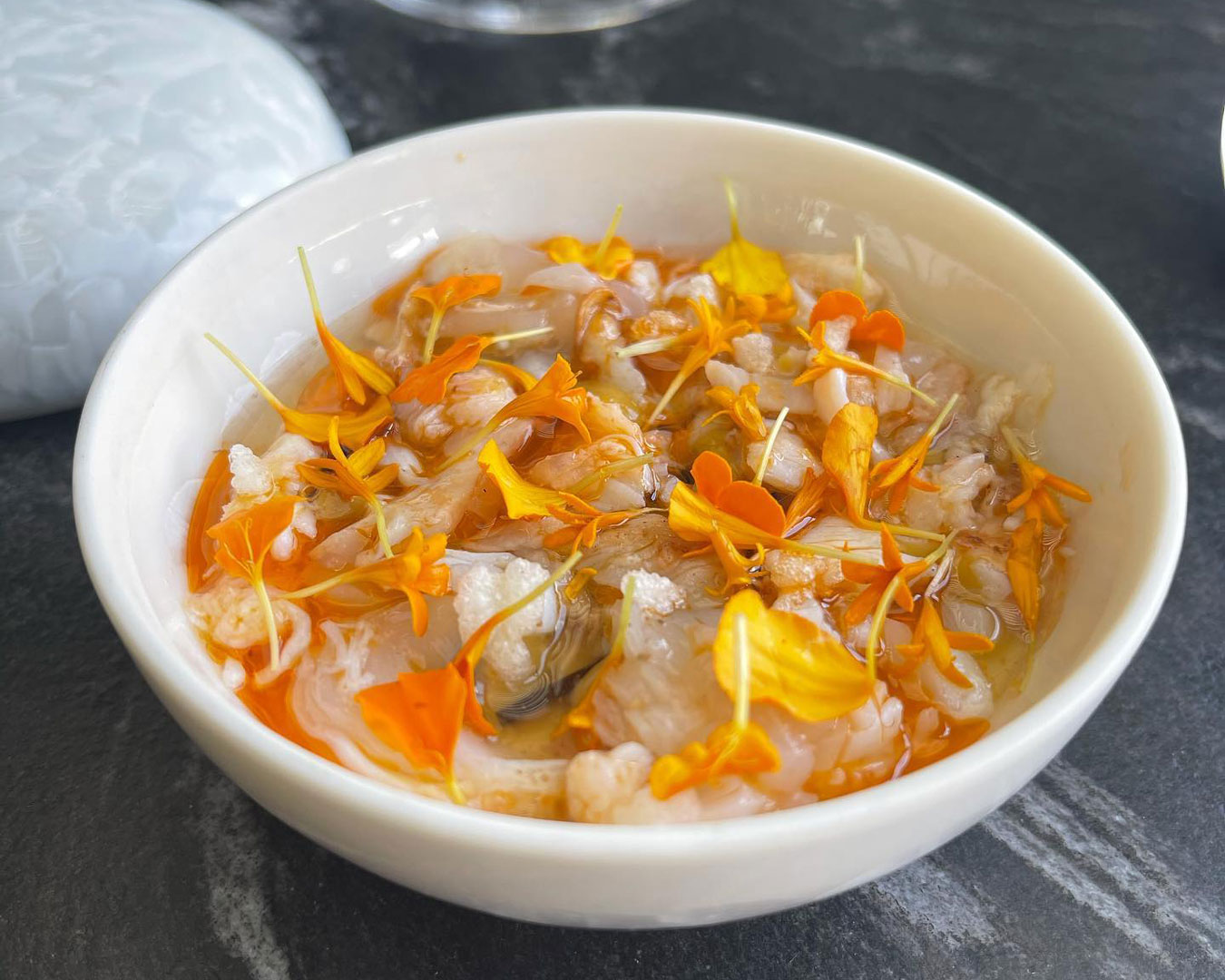 If you're looking for an impressive setting to go with your high-flying feed, look no further than LuMi Dining. Located at Wharf 10 in Pyrmont, this fine diner shines under a ceiling of hanging pendant lights. The stunning interior design decision makes all the more sense when you're told that LuMi translates to 'small lights'. Here, you're in for a unique and luxurious dining experience—the view of the harbour is incredible, the service is flawless, and the calibre of the food is next level.
LuMi only offers a set menu, featuring Italian fare with a Japanese twist—think tina tartare with smoked oysters and potatoes, trout roe gunkan (war-boat shaped sushi), and tagliatelle with quail and umeboshi. Like many degustations on this list, the dishes change regularly to work with the seasons and freshest produce available. As for the price? It's up there, costing $255 per person, plus an extra $115–215 for paired wines.
Automata
Chippendale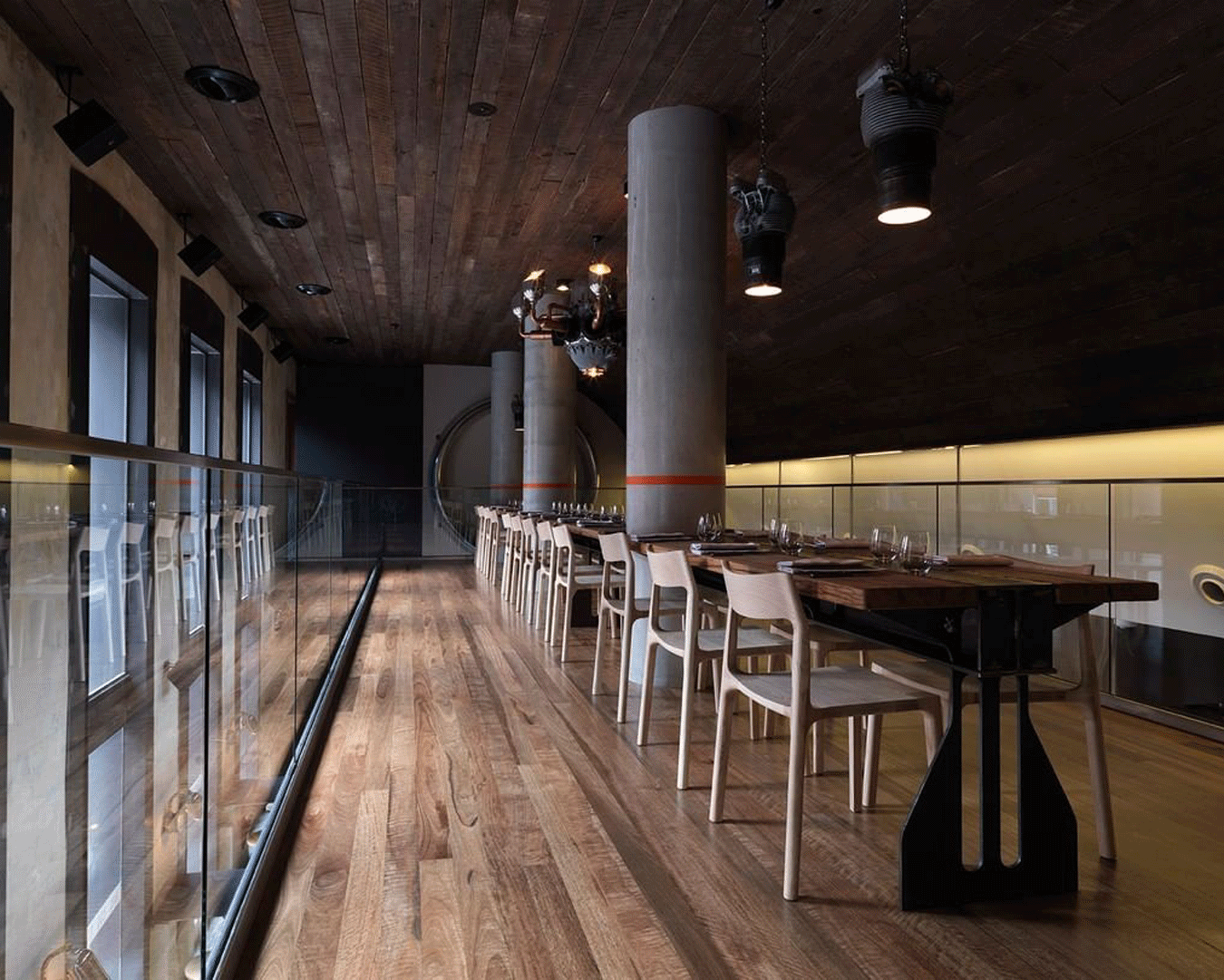 Chippendale's award-winning Automata is a 60-seat restaurant housed inside a former warehouse on Kensington Street. So, naturally, it sports an industrial-minimalist fit-out—and we reckon it's the perfect canvas for chef Clayton Well's innovative dishes.
The degustation-only diner has a frequently changing menu that draws upon Wells' varied experience in Aussie and European kitchens. At the moment, you can either opt for Automata's standard $165 tasting menu or an extended menu for $195. The latter is only available on Wednesdays and Thursday evenings, Saturday lunch, and the later seatings (8.30pm or 9pm) on weekends. You also must pre-select this when you book. As for the drinks, expect an exciting selection of wine, beer, cider, and sake.
nel. Restaurant
Surry Hills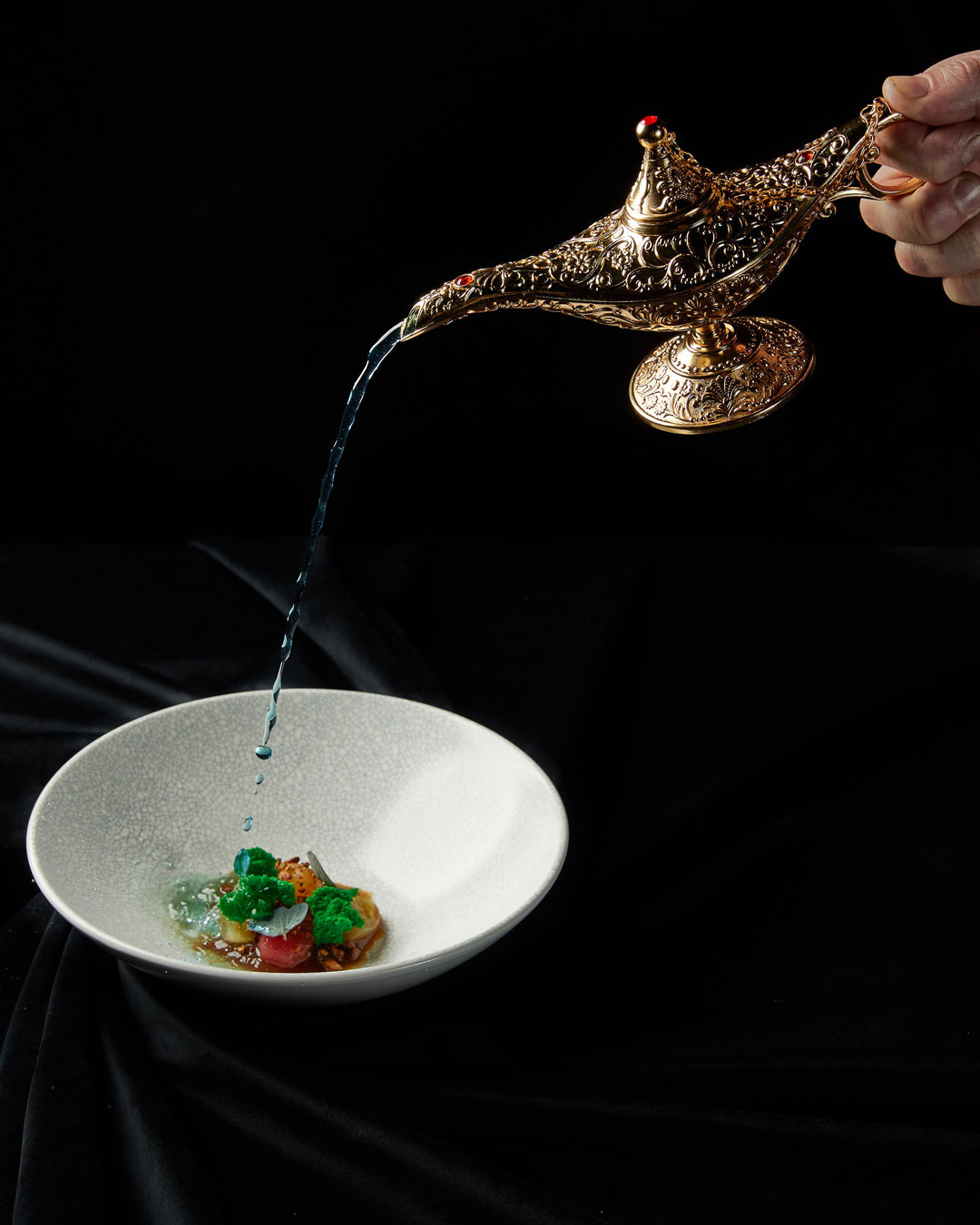 If you're unfamiliar with nel., it is a pretty extra experience and definitely one for your degustation bucket list. The brainchild of creative chef Nelly Robinson, it plates up a different degustation every ten weeks. Yep, they like to keep things fresh and interesting here.
Right now, the innovative fine diner is serving up a Disney-inspired, 11-course set menu that's sure to give you a big dose of nostalgia. Dubbed Once Upon A Time, the menu is available till 9 April and promises a piece of art on every plate. You'll begin with a Coco-inspired dish called Day of the Dead featuring a medley of corn, chimichurri, sundried tomato, and cocoa butter. There's also a Pirates of the Caribbean-themed dish called Dead Man's Chest, which is squid topped with a black garlic emulsion; black-and-white steamed buns inspired by 101 Dalmations; and a rum, honeycomb, kaffir lime, and coconut creation called I've Got a Lovely Bunch of Coconuts. As we said, there are 11 courses, so we won't name them all. But we strongly suggest you book in, stat.
And if a Disney dinner wasn't enough, the fine diner has teamed up with KFC for a lavish 11-course tasting menu—for three nights only. Happening from Friday 1 April till Sunday 3 April, the finger-lickin' good feasts will take place in a secret venue in Alexandria with nel. reinventing some of the Colonel's iconic menu items. For $75, you'll be tucking into the likes of charcoal-cooked wings; popcorn chicken paired with celeriac soup and mushroom gnocchi; Original Recipe drumstick sprinkled with gold (yes, really); potato and a 'gravy candle'; and a take on a Twister, dubbed the Tongue Twister, that'll see you pick up your plate and lick off the Colonel's face to taste the flavours of fried chicken, tomato, lettuce, and peppery mayo. Plus, 100% of profits will be donated to charity. Reservations are open now via the website—but you'll go into a draw to get a spot and find out on Wednesday 23 March, so tell all your mates to throw their hat in the ring, too.
Keen to visit nel. Restaurant soon? Purchase a gift voucher here.
Metisse
Potts Point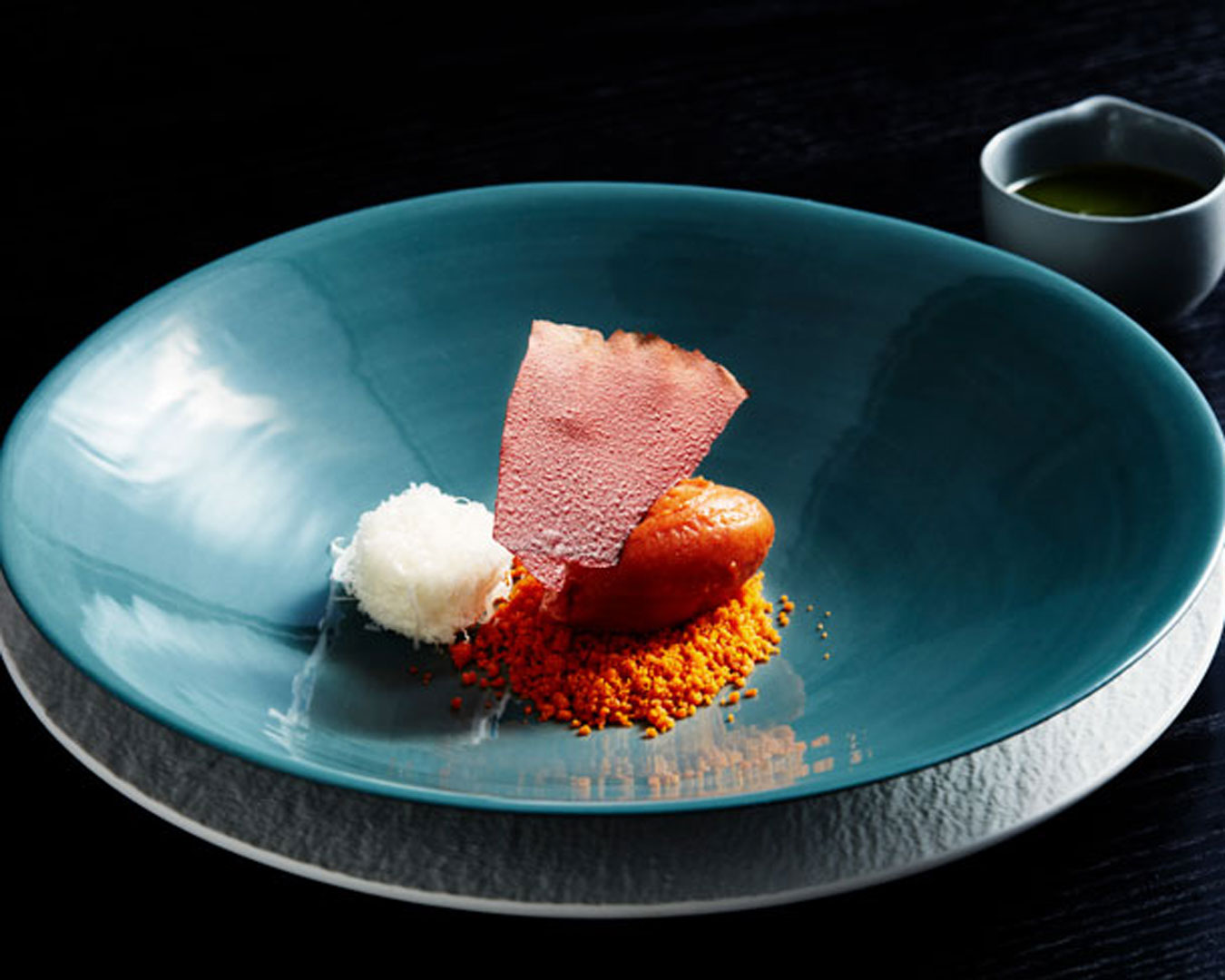 Metisse, tucked away down Potts Point's Roslyn Street, is an underrated gem. The French fine diner may not be on your radar yet, but here's why it should be. Built into a beautiful oval-shaped dining room in the quirky Durbach Block Jaggers Barcelona building, Metisse is the sort of romantic, fishbowl-like place you might wander past and wonder what's happening inside. French linen curtains line the windows and the glowing bubbles of a Muriel cloud chandelier hover above the centre dining table. And over the past couple of years, the Métisse team has been plating up what's arguably one of the city's most spellbinding and intriguing degustations.
The menu changes seasonally, but typically there will be a meat and vegetarian tasting menu to choose from, with vegan and gluten-free substitutes readily available. Bangladeshi-born chef Opel Khan and his daughter and Metisse's Head Chef Lucinda, share a passion for sustainable cooking and a zero-waste kitchen; precisely the sort of cooking and culinary creativity we should be celebrating right now. If it's a truly special dining experience you're after—the sort you'll dream about for months to come—Métisse needs to be top of your list.
Anason
Barangaroo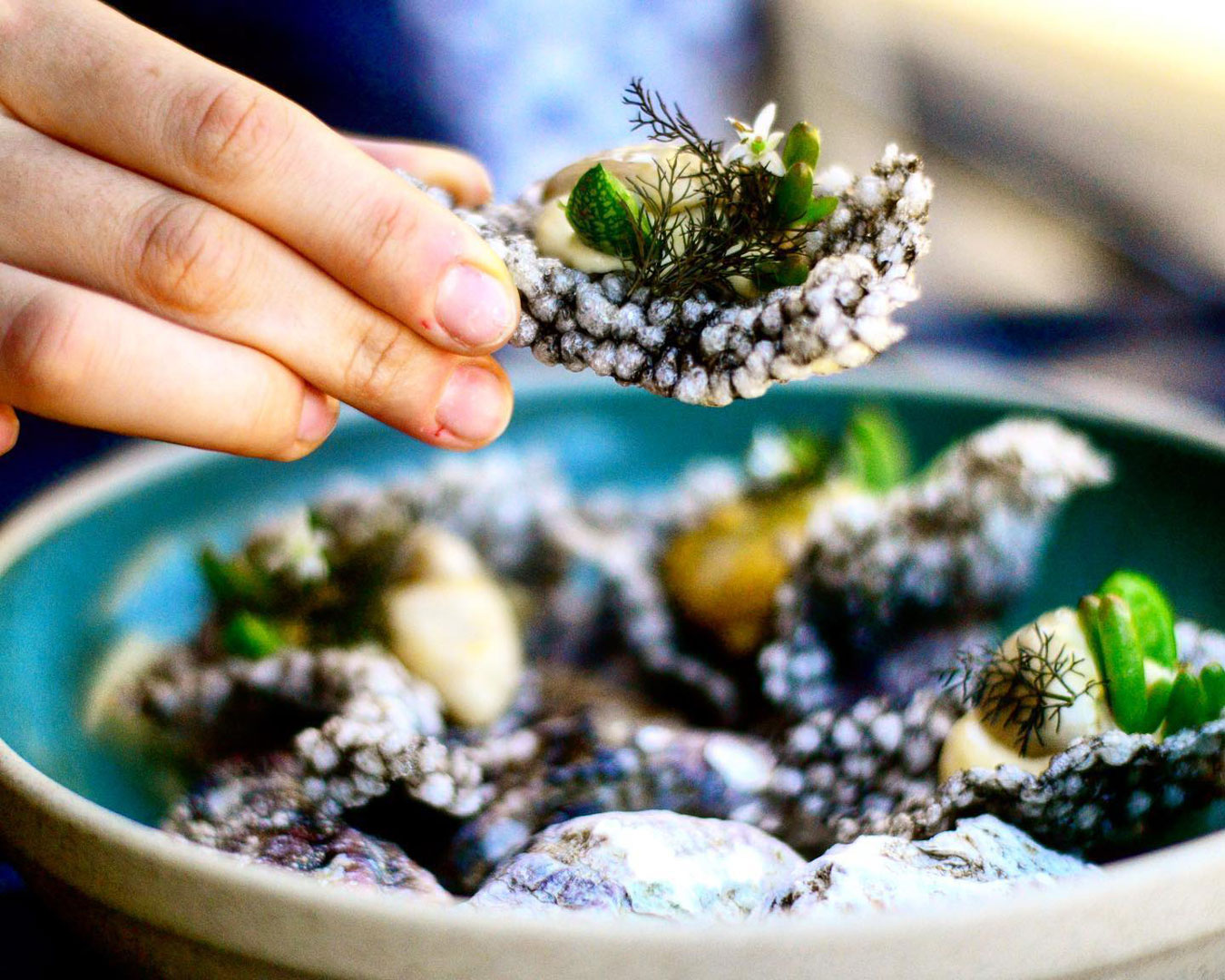 Situated right by the water in Barangaroo, Anason is the ideal spot for a long, leisurely lunch. The Turkish restaurant is inspired by traditional meyhanes of Istanbul where, according to Anason, the idea is to order so much food that you can't see the table.
You can opt for the a la carte menu and order dishes such as smoked beetroot tartare with labna, rhubarb and blood plums; oysters with tarama on squid ink cracker; and Anason's signature Hunkar Begendi of lamb loin, smoked eggplant puree, burnt butter. But to really lean into the concept of meyhanes, you'll want to go for the set menu. For $118 per person, you'll feast on a total of ten dishes and you can elect to pair them with four Turkish wines for an additional $42.
Jung Sung
Chippendale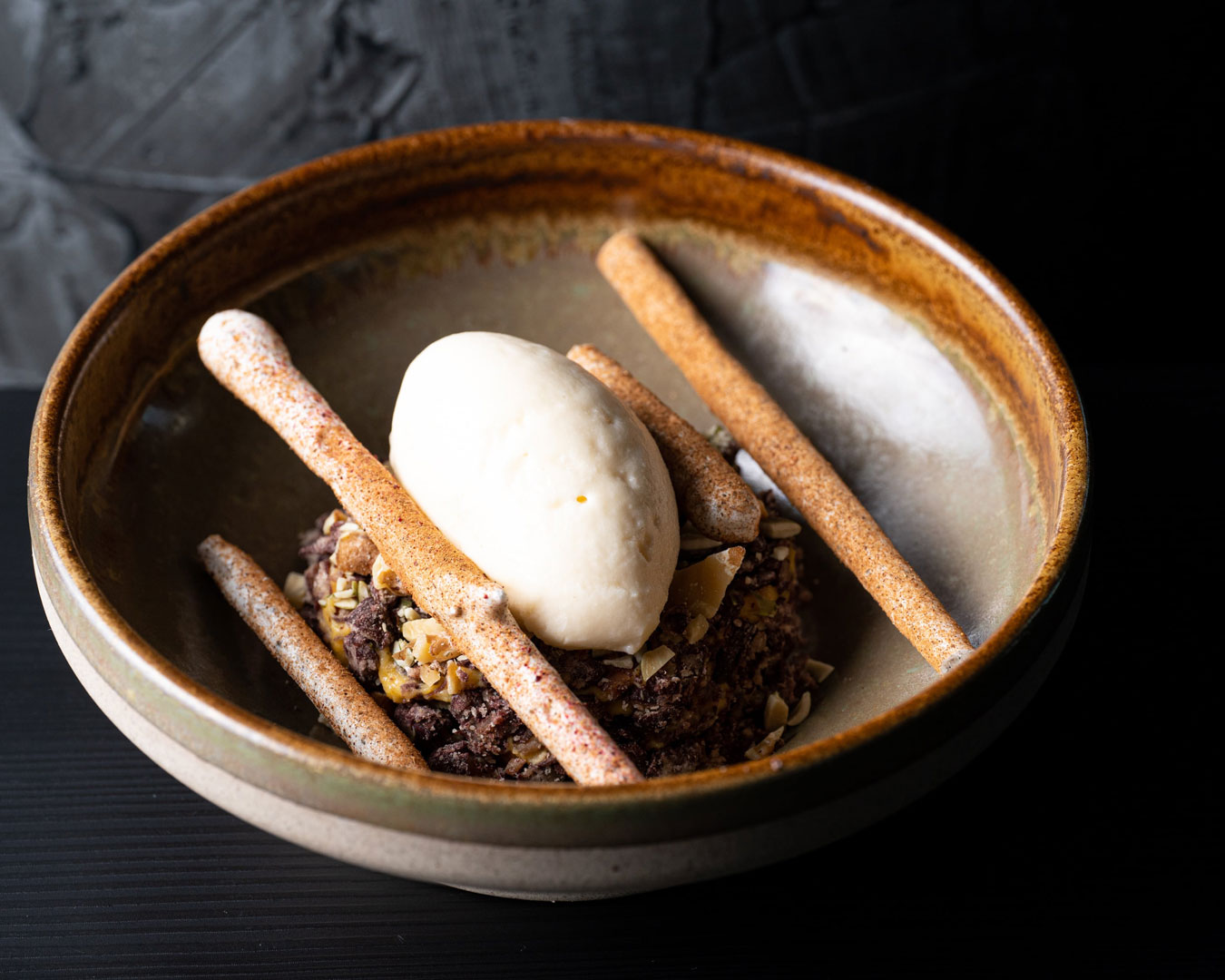 This contemporary Korean diner may fly under the radar in Sydney's ever-expanding hospitality scene, but it does one helluva degustation. And, it's just upgraded to include matched soju.
Jung Sung's new six-course degustation costs $135 and includes dishes such as a deconstructed bibimbap with Moreton Bay bug, wagyu steak served with nuruk-aged ddeokgalbi (sort of like a meatball), and dry-aged duck with gochujang, perilla, butternut, and tangerine honey. Just note that while Jung Sung can cater to vegetarians, it cannot do so for vegans at this stage. As for the soju, you'll sip six different drops as part of the tasting paddle.
Keen to visit Jung Sung soon? Purchase a gift voucher here.
Now, check out Sydney's most beautiful restaurants.
Image credit: Arthur, Quay, Kitti Gould, Sixpenny, Firedoor, Yellow, Luisa Brimble, LuMi Dining, Automata, nel., Anason, Leigh Griffiths