If the muggy heat wasn't enough of an indicator, news flash Brisbanites—summer is right around the corner. And what better way to beat the heat than with a trip down to your local? Whether you're after a cold brew or just a blast from the air con, there's nothing quite like getting the gang together for a round down at your fave venue.
To help get behind Bundaberg Rum's Raising The Bar initiative, which is all about supporting bars, pubs and clubs around Australia, we're rounding up some of the best spots in Brisbane for you to visit this summer. We're talking cocktails, schnittys, beer gardens, and big-screen TVs—everything you need to slay this summer around the city. Just remember to save some spare change for an Uber, or bring along a deso to make sure you get home safe.
Here are 20 of Brisbane's top summer venues so you can get back to supporting and enjoying your local.
Chu the Phat
South Brisbane
If you're as obsessed with steamed duck buns as we are, you'll want to pay a visit Chu the Phat in Brisbane's inner city. The vibrant Asian-fusion eatery is a mainstay of Fish Lane, making it the perfect venue for post-work catchups. Serving up dynamic textures alongside only the best street-style cuisine, Chu the Phat is an absolute must on your summer venue bucket list.
Death and Taxes
Brisbane City
Tucked away down Burnett Lane, Death and Taxes may seem like the entryway to Brisbane's seedy underbelly, but step inside and you'll be blown away by the venue's moody interiors and chic leather booths. Known as our go-to cocktail bar, it's the perfect place to escape the hustle and bustle of the Brisbane CBD in favour of something a little more low-key. Nab a photo in front of the venue's outdoor mural before heading inside to score some matching merch.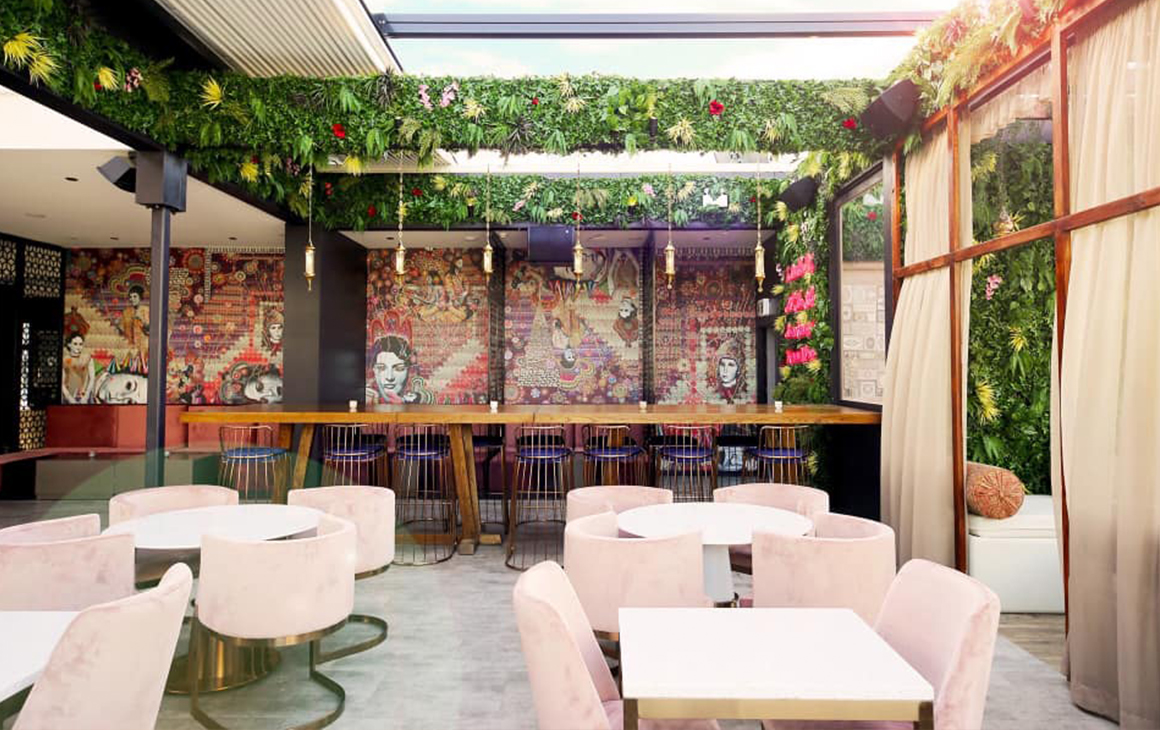 Dirty Sultan
Brisbane City
Formerly the home of Up on Constance, Dirty Sultan has quickly earned a reputation as one of the best rooftop bars in Brisbane. It all starts with the Insta-worthy fit out, featuring a glorious wall of greenery, comfy day beds, and plenty of Turkish-inspired copper lights dangling overhead. From there, feast your eyes on incredible views out over the city skyline, while munching on delicious Turkish meze guaranteed to get you drooling. Just be sure to leave room for dessert—we hear there's Nutella baklava on the menu...
Little Big House
South Bank
Heritage Queenslander-turned-party-house, Little Big House is nothing short of a guaranteed good time. Complete with a dedicated karaoke room, $10 ramen nights, and a drool-worthy menu, the eatery has all the ingredients for an epic night out on the town. From the mind of Matt Moran, Little Big House has truly changed the game for pub food, with plenty of menu standouts to tickle your tastebuds. They even do trivia on Tuesdays, so swing by if you're feeling up to a bit of a challenge.
Cindy Chows
Fortitude Valley
Wish you could take a trip to Shanghai back in its prime? Trust us—Cindy Chows is the next best thing. The inner city speakeasy is an ode to Shanghai's underground bar scene, circa 1920. Think red leather lounges, antique-style glassware, and mood lighting in droves. Of course, the menu is the main attraction, so be sure to sample Cindy's karaage sliders and wasabi calamari while enjoying a late-night cabaret.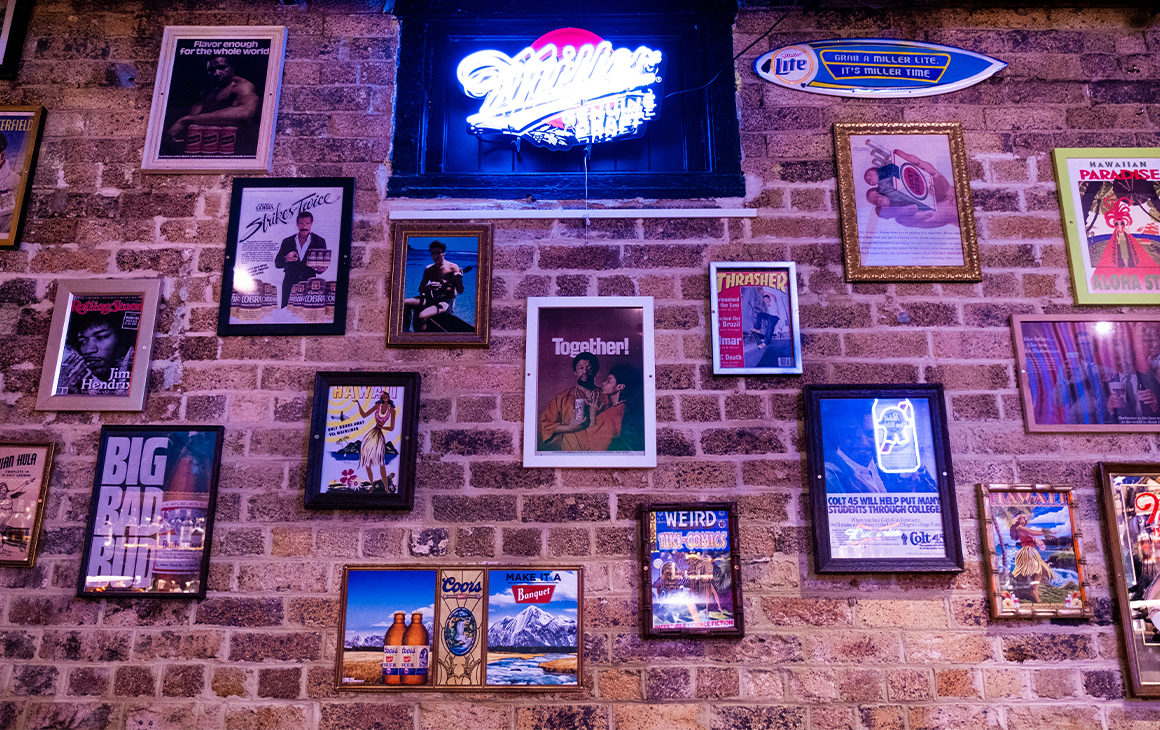 Suzie Wong's Good Time Bar
Brisbane City
Strap yourself in for a trip back in time with a visit to Suzie Wong's Good Time Bar. After entering the venue through an old refrigerator door, you'll be greeted by a suite of old-school posters, giant swordfish, and a retro rockabilly stage. Be sure to bring those dancing shoes so you can rock out to the blues bands making a name for themselves on weeknights, or maybe stick to the weekends for tunes that are a little more mainstream. Whenever you swing by, be sure to order the Suzie's Colada from the bar—it's their best seller, and once you've tasted it, you'll know why.
Ping Pong
Newstead
On Wednesdays, we wear pink—and head straight on down to Ping Pong at Newstead. Complete with pink walls, a pink floor, and plenty of pink seating, the venue certainly matches the Mean Girls vibe, but switches out those petty catfights for drool-worthy feeds sure to satisfy your inner foodie. Our top pick? Start with the caramelised pork betel leaves before moving on to the slow-cooked lamb neck rendang curry. Don't forget the sides of roti bread and turmeric coconut rice—they'll have you savouring every bite.
Ling Lings
Fortitude Valley
Sweep yourself away to the streets of South Asia with a trip to Ling Lings in the Valley. The subterranean bar is a foodie fave, boasting plenty of plant-based and meaty eats cooked in both traditional and contemporary styles. Can't decide what to eat? Opt in for a nine-course banquet where you'll be treated to a sampling of Ling Lings most popular menu items for just $45 a head. Drink it down with a glass of Wang Da Wong Number and you'll finally know what all the hype is about.
Brooklyn Standard
Brisbane City
Earning the title of Best Live Music Venue in Australia in 2015, 2019 and 2021, Brooklyn Standard is the perfect place for anyone looking to get their groove on in the Brisbane CBD. The music genres showcased at the venue vary night to night, so be prepared to open your eyes (and your ears) up to something new. Open from 6.00 pm 'till late six nights a week, come for the dancing, but stay for the philly cheesesteak roll—with a side of jalapeno poppers, of course.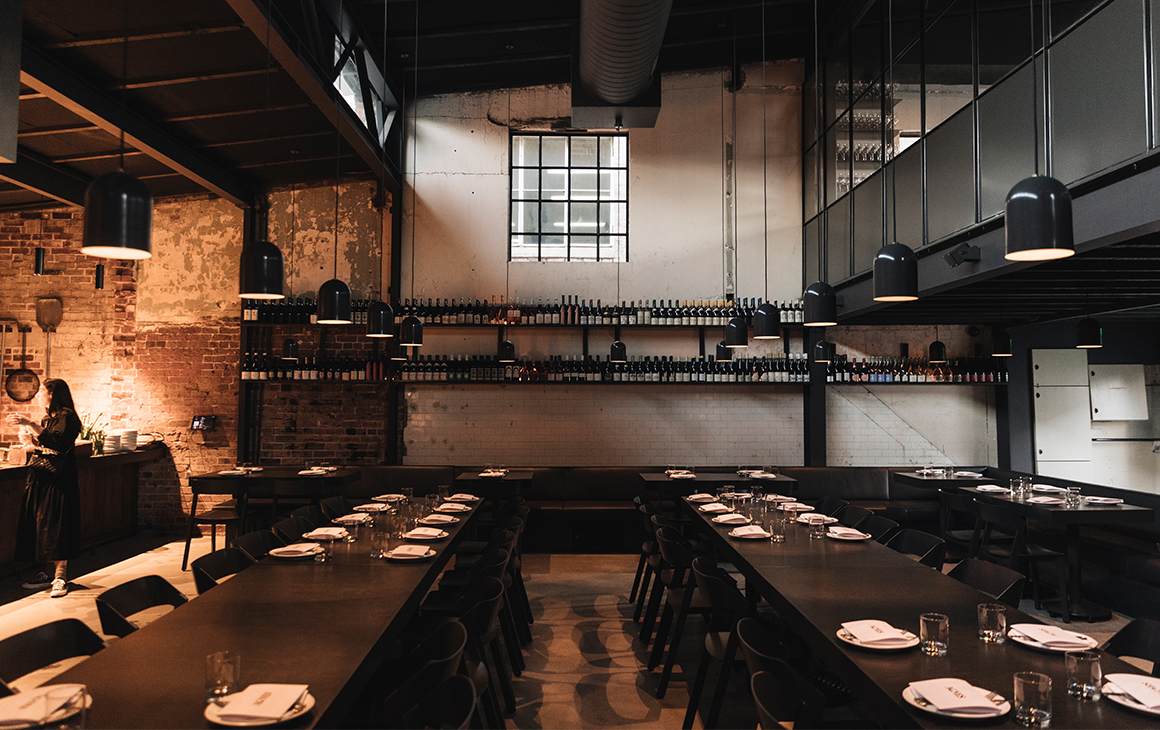 Agnes Restaurant
Fortitude Valley
Otherwise known as the head of the Valley's restaurant empire, Agnes Restaurant is a moody, sophisticated venue that showcases only the best in local, seasonal cuisine. Drawing inspiration from the Middle East, Asia, and beyond, the restaurant combines unique textures and flavours for a truly unmatched dining experience you won't soon forget. Other than the food, the absolute highlight of the venue has to be its open kitchen, where you can see your food being cooked over coal and glowing fires. Definitely worthy of a feature on your Insta feed.
Super Whatnot
Brisbane City
Hidden down Burnett Lane with only subtle signage, Super Whatnot can be hard to find—but once you're in, you'll be rewarded for all the hard work that went into finding it. The tone of the venue is set by the edgy interiors—think exposed brick walls, iron-railed balconies, and a line of skulls behind the bar. The food, however, is grounded in a Latin American influence, with a rotating craft beer collection to wash it all down. De-lish.
Newstead Brewing Company
Newstead
After officially revolutionising the Brisbane beer scene, Newstead Brewing Company has certainly earned its place on this list. Whilst the brewery has two venues in the River City, we're partial to its Newstead digs, aka its original home. With an all-new range of summer brews ('tis the season, after all), you'll want to stop by to sample what's on tap, or even scope the joint for your next function. Because what could be better than cracking open a cold one at your work Christmas party?
Chop Chop Chang's
West End
If you're craving classic street-style Asian, Chop Chop Chang's pretty much tops our list of recommendations. Specialising in fresh, locally sourced produce, the venue's Pan-Asian menu tastes even better when shared, so be sure to bring your mates along to bolster your eating experience. With a drinks list specially designed to complement the menu, be sure to get some input from staff as to what goes well together. Better yet, book in for a banquet and let the chef do the hard work for you.
Miss Moneypenny's
Broadbeach
After its raving success on the Sunshine Coast, 2021 saw Miss Moneypenny's score an all-new location just an hour's drive from Queensland's capital. The architecturally-designed, award-winning restaurant chain is a homage to modern Mediterranean cuisine, meaning everything on the menu is worth a try. Whatever you order, be sure to snag a side of truffle fries, plus a slice (or ten) of roast garlic pizza bread—totally worth the calories.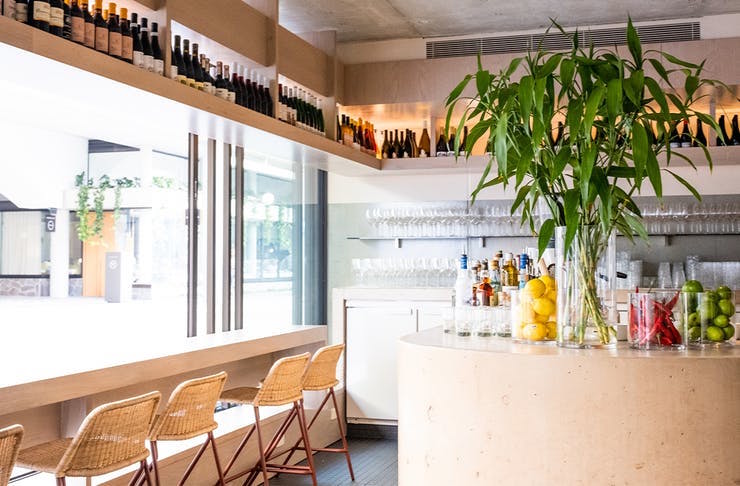 Same Same
Fortitude Valley
Brought to us by the same minds behind Agnes Restaurant, Same Same is an airy, minimalist space perfect for your next date night. Nestled next to The Calile on Ada Lane, the restaurant is perfectly positioned for you to indulge in a bite after shopping up a storm on James Street. Serving up a modern take on a traditional Thai menu, the restaurant has its fair share of cult classics—the betel leaf snacks, soft shell crab bao, and roasted pork belly pad see ew come to mind. Partner your meal with a Thai-inspired cocktail and before long your mind will be miles away, lounging on the shores of Ko Samui.
Mrs Brown's Bar & Kitchen
Newstead
A longtime fave of Brisbane foodies, Mrs Brown's Bar & Kitchen offers an ever-changing menu filled with surprising, yet delicious takes on traditional dishes. Not only are we addicted to their chips, but the slow-roasted lamb shoulder has a melt-in-your-mouth texture that gets us every time. The kitchen's ideal location on Commercial Road makes it popular for after-work drinks, so swing by on Friday night and enjoy the vibes as you celebrate the end of another work week.
Hellenika
Fortitude Valley
Strategically positioned on the pool deck of The Calile, Hellenika is the perfect venue for your next summer soiree. Catch a breeze as you dine beside the potted olive trees and whisk yourself away to the Greek islands, indulging in only the freshest seafood money can buy. Slurp down fresh oysters from the comfort of your very own cabana, and keep the good times going with a stay at The Calile for some much needed R&R.
Hello Gorgeous
Newstead
Taking over the much-beloved Chester St Bakery, Hello Gorgeous lives up to its name, with stunning interiors worthy of their very own Pinterest page. Think classy teal furnishings, a Spanish pink marble bar top, and plenty of tropical plants to make the most of the venue's sprawling front deck. The menu was made with Brisbane's climate in mind, so think light, refreshing feeds perfect for cooling down during balmy weather. Pair your meal with one of 40 boutique drops and you've got the perfect end to your next Sunday afternoon.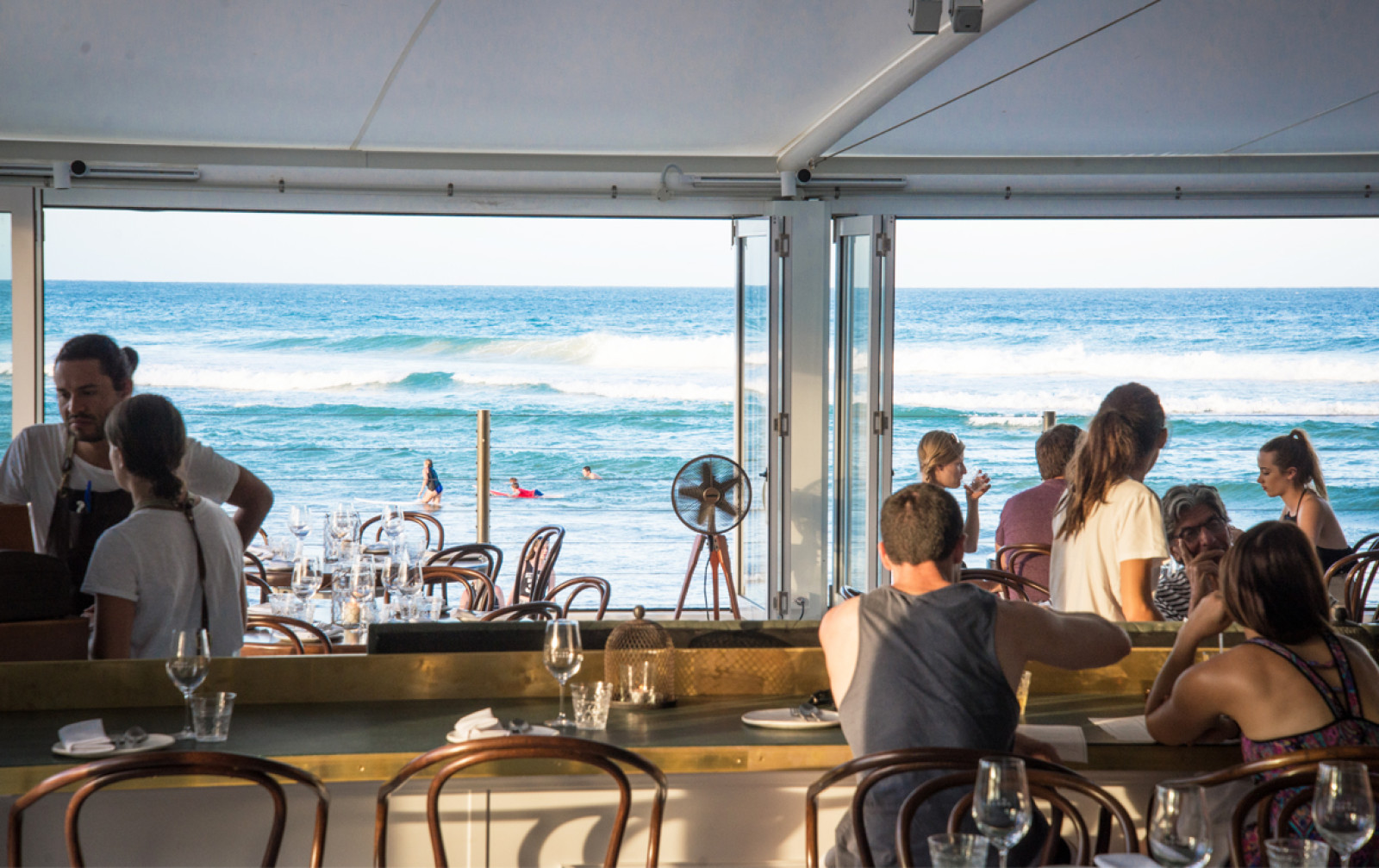 Rick Shores
Burleigh Heads
They say location is everything, so trust us when we say that when it comes to dining, Rick Shores has it all. The restaurant's carefully curated Pan-Asian menu combines flavours from Thailand, Vietnam, and more, leaving patrons to indulge in some of the best dishes to ever grace their knives and forks. Highlights include Rick's famous Moreton Bay bug rolls, Kingfish sashimi and king prawn yellow curry—but if you ask us, anything eaten at golden hour takes on the taste of magic.
Shady Palms
Stones Corner
Looking for some of those island vibes to get you through the summer heat? Head for the palm trees at this funky Pan-American eatery in Stones Corner. Shady Palms breathes new life into Brisbane's gastropub scene, with a focus on casual dining and friendly catch ups. We recommend checking out their Wednesday night trivia—it's free to play but pretty competitive, so make sure you come prepared.
In support of Bundaberg Rum's Raising The Bar initiative, #dontforgetyourlocal this silly season. If ever there were an excuse to make new memories this summer, it's by organising a well-deserved get-together and throwing your support behind new and old favourite venues. We'll cheers to that.
This article is sponsored by Bundaberg Rum and proudly endorsed by Urban List. Thank you for supporting the sponsors who make Urban List possible. Click here for more information on our editorial policy.

Please do not share this content with anyone under the age of 18.