Brunch. That amazing meal where you get the best of both the breakfast and lunch worlds and it's totally acceptable sleep in until 11am and wake up for a leisurely meal that's definitely more than the sum of both.
But with so many delish brunch options out there we've put together Brisbane's best brunch hit list so you can get the best chow quality all day (praise be for all-day breakfast menus) and not have to think too much the next time you're tired/hungover/lazy/some combination of all three. Are we missing your fave? They might be on our best breakfast list instead, or even this epic list of 50 Brisbane cafes to hit.
The New Black
FORTITUDE VALLEY
This tiny blink-and-you'll-miss-it cafe is dishing up some epic Brisbane brunches that definitely can't be missed. The New Black's regular brunch menu regular menu features bangers like the chorizo burger with scrambled eggs and sauerkraut, Southern fried chicken benny and gingerbread and wattle seed waffle, but they also dish up some pretty drool-worthy specials too.
Lady Marmalade
Stones Corner
If Lady Marmalade's chilli corn bread waffle ever came off the menu we'd probably start a petition, because this savoury number is definitely our hangover cure of choice. Toppings change from time to time, but this season's rendition is comes with confit duck Maryland with pecan butter, fried egg, candied pecans and maple and chilli sauce.
Todd & Pup
Moorooka
Southsiders like keeping Todd & Pup under wraps, but we're about to blunder in and blow the lid on this cheeky secret right off and send every one rushing in for their buttermilk fried chicken eggs benedict. Think neighbourhood gem, this joint jumps with a community vibe powered by primo coffee and is, as the name suggests, dog friendly.

Nodo
Newstead
When one of our favourite Brisbane brunch spots goes and puts cocktails on their brunch menu, we get excited. Leave the bellinis for your next Sunday brunch at home, and instead sip on Nodo's doughnut martinis and gin cocktails, with plenty of tasty dishes on the menu to pair them with—we'll take a sambal crab omelette thanks.
Suburban
West End
Ok, so not only do Suburban dish up an absolutely masterful version of breakfast gnocchi, but they do it all. Damn. Day. Yep, that's right, 7am to 3pm you'll find a bowl of baked potato gnocchi, slow cooked tomato sugo, cashew ricotta, pangrattata and sourdough on the menu, along with everything from croque madame to hotcakes. Dig in.
Yolk
Newstead
A big brunch is great, but sometimes all you really want on a Sunday morning is a perfect bacon and egg roll, with greasy bacon, oozing egg yolk and a perfectly golden hash brown on the side—and that is pretty much the entire basis of Yolk. Yes, they also have a crispy chicken burger, and now they also wrap up breakfast muffins (the same ones from sister venue Morning After) on weekends, but honestly, there is nothing better on a Sunday morning (or afternoon, no judgement) than that yolky roll.

Little Black Pug
Mt Gravatt
So dog-friendly they've even named their menu items using puppy puns, Little Black Pug looks cosy from the front, but they're hiding an air adjoining dining space out back, with plenty of room to tuck into a Lotus Woofle (oh the cuteness!), sweet cornmeal waffles with Biscoff butter, vegan vanilla ice cream, Biscoff crumble, spiced apple rhubarb compote and berries. But the real draw card? The menu for your doggo, complete with a warm puppycino or doggy biscuit.
Café O Mai
Annerley
It's 11 in the morning. You're hungry and hung. What's the first thing that pops into your head? Café O Mai's pork meatballs in rich tomato sauce with quail eggs and a fluffy white baguette of course. They also have an impressive register of bahn mi in every combination your brunching heart could imagine but we could never go past the meatballs.
Smug Fig
East Brisbane
Apart from having a killer French toast special every weekend, which frankly reason enough to spend every Sunday amongst their greenery, Smug Fig also dish up a brunch-worthy halloumi stack sandwiched with avocado, bacon, relish, galic butter and poached eggs on sourdough. Halloumi anything is a good time in our books.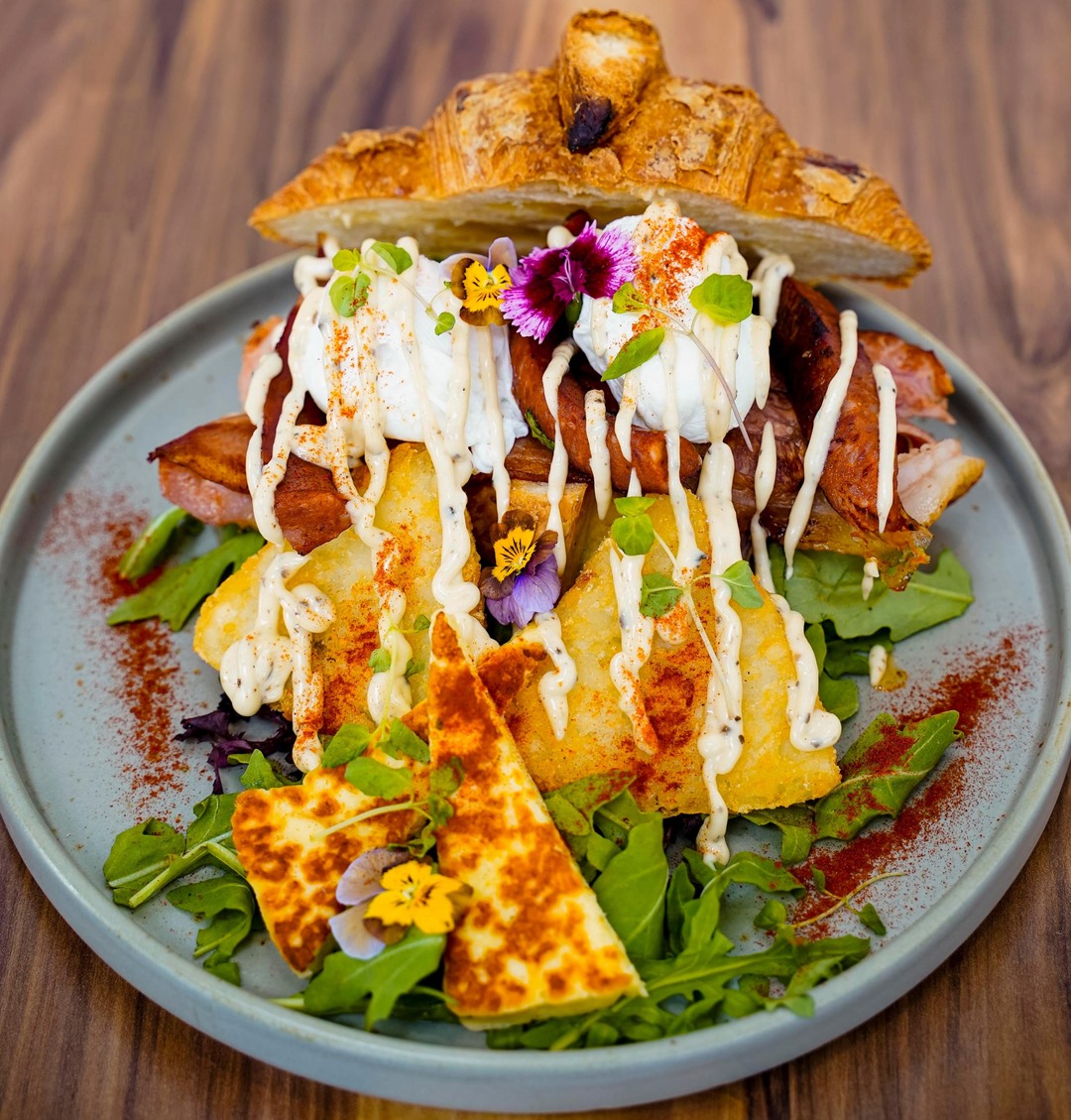 Adonis
Yeerongpilly
There are so many reasons we love Adonis—chief among them the sheer number of choices on their all-day breakfast menu. Seriously, you will need half an hour just to settle on what to order—we speak from experience. Will it be the bacon, chorizo, poached eggs and halloumi loaded croissant? The crispy chicken and waffles? Or maybe you're in need of the Hangover Cure, a brekky burger stacked with a beef patty, halloumi, hash brown, bacon and aioli.
Sister Cafe
Hawthorne
When you can't decide whether you want breakfast or lunch, Sister Cafe has the answer with their iconic breakfast gnocchi topped with crumbed bacon and a poached egg. Does it count as pasta for breakfast or poached eggs for lunch? Either way, we also recommend adding halloumi on top—you can thank us later.
Picnic
Camp Hill
With an all-day breakfast menu available until 1.30pm, you won't have any trouble ordering smashed avo for lunch at Picnic. The servings here are large, the dishes are 'grammable and the hash benny is the must-order—although we're also partial to a waffle sandwich with chocolate brownie, strawberry sorbet, cookie crumbs, strawberries and choc fudge.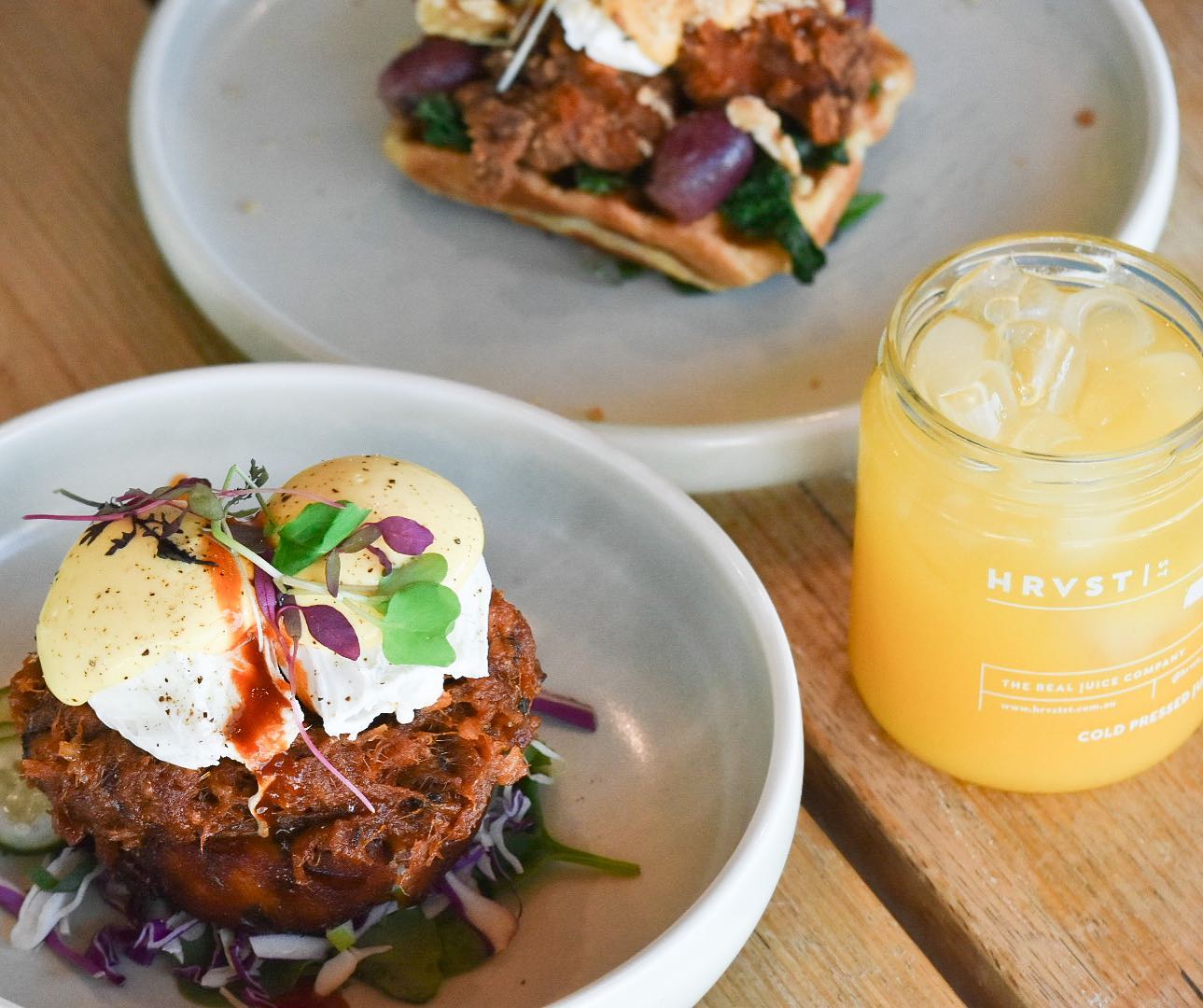 Plentiful
Graceville
You want pancakes at midday? Plentiful has you covered with their fluffy matcha and ricotta pancakes with redbean mascarpone, fresh berries and a citrus curd. Though this chilled suburban cafe does have a morning-only breakfast menu, their most decadent brunch dishes are available all day, meaning you can get their popcorn chicken and runny egg croissant waffle with chipotle hollandaise whenever you need it. Thank goodness.
Blue Bear Coffee House
New Farm
The breakfasts coming out of this cottage turned cafe on a breezy corner in New Farm are nothing short of drool-worthy. Another spot with almost too many options, Blue Bear Coffeehouse has every brunch in Brisbane craving covered. You want eggs benny? You got it, on a Belgian waffle with halloumi and paprika hollandaise to boot. A croissant? Try their version loaded with brisket, fried eggs, herbed aioli and grilled halloumi. Plus there's a brekky burger, French toast, avo on toast, savoury mince, a bacon bagel...you get the picture.
Naim
Paddington
Never underestimate the power of a shakshuka when it comes to curing a hangover. Eggs baked into a rich tomato and capsicum sauce, with kalamata olives, white beans, labneh and crusty Turkish bread? We'll take this Naim specialty over a bloody Mary any day of the week. If that's not your style, the cosy Paddington cafe has plenty of other options, from a brekkie pita board to Turkish delight waffles—and they've got a whole plant-based menu for our vegan friends.
Meanwhile, if you're looking for the best nurseries in Brisbane to complete your Sunday Brisbane brunching experience, you'll find them here.
Image credit: The New Black, Nelson Zambrano, Shaelah Ariotti, Adonis Cafe, Plentiful