For those with dietary restrictions, it truly is a golden age of dining as the prevalence of menu options and designated venues that can accommodate everything from allergies to intolerances.

Gluten-Free as much as a trend is a serious issue for a lot of people and finding quality dining options can be a tricky feat; lucky for those affected, Melbourne's culinary scene has a range of top-notch options. Next time you're at a loss at where to score something delicious and gluten-free just give the following spots a go.
Here are the best gluten-free restaurants in Melbourne for 2023:
Repeat Offender
ELWOOD
Resting on the corner of Ormond Road and St Kilda Street you'll find the Latin-centric Repeat Offender. With a 100% gluten-free menu comprised of central and south American flavours, margaritas and a breezy open-air venue there's a lot to love here. Playing on the delicacies of the region you can expect creative takes on staple dishes like the Smoked pulled beef brisket with Pico De Gallo and chipotle, or the Ponzu-cured yellowfin tuna with native lime, avocado mousse, nori and a tapioca cracker.
A25
VARIOUS LOCATIONS
Pizza & Pasta natives A25 take their gluten-free pizza options incredibly seriously, not only are they incredibly delicious they're also endorsed by Coeliac Australia so you can rest easy knowing you're getting the best. All pizzas on the menu can be re-made with gluten-free bases including their famous 'Bunga Bunga' an Italian pork sausage and mushroom homage to the former Italian president.
Stalactites
CBD
Greek isn't one of the first cuisines you'd think to be a gluten-free restaurant but Stalactites beg to differ. Their menu is stacked with a range of GF options from Mezze plates like their homemade Dolmadakiavs to their full platters of chicken giro and chargrilled lamb skewers with gluten-free pita. Stalactites are also endorsed by Coeliac Australia.
Chocolate Buddha
CBD
The Japanese haunt that's called Federation Square home for over two decades is a haven for gluten-free dining. They have a stacked GF menu that includes plenty of tasty traditional Japanese dishes such as Wagyu Yakinku and Kingfish Jalapeño Sashimi, as well a spanking GF sticky-date pudding which cements its status as one of the best gluten-free restaurants Melbourne has. (Not a dedicated gluten-free venue)
Shop225
PASCOE VALE SOUTH
One of the first gluten-free restaurants in Melbourne to lend their hand to traditional Italian cuisine, Shop 225 are accredited by Coeliac Australia and have blown the doors open to some seriously impressive GF pizzas that they churn out of their wood-fired oven. The classically Neapolitan style of the menu leads to gems like the Gnocchi Sorrentina, a Napoli Sugo soaked gnocchi topped with melted buffalo mozzarella and basil.
Rufio
ST KILDA
The team behind Elwood's Repeat Offender has just added another feather to the cap, this time on St Kilda's Carlisle Street. Like Repeat Offender, their newly minted venue, Rufio, will offer up an entirely gluten-free menu with a Latin spin. Up top you'll find standouts like red snapper ceviche, slow-cooked charred octopus and a Glazed Pork Belly with pineapple, crackling and spicy peanut sauce that'll have you raving for a second serve. On the booze front, there's a menu reserved solely for Margaritas, as well as a considered list of local and international wines.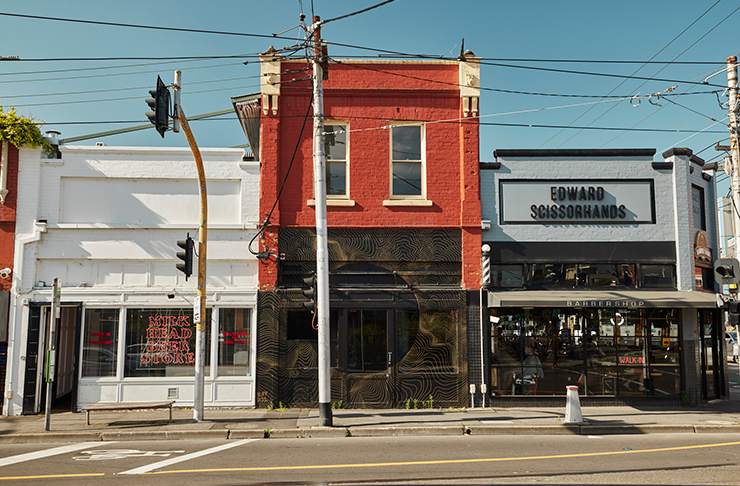 Mamasita
CBD
The famed Mexican fine-diner up on the top end of Collins Street is a sleeper for quality gluten-free dining. Mamasita has a menu that is almost entirely GF and has knowledgeable floor staff well-informed about coeliac and gluten allergies. Snack into entry plates like bbq octopus with hominy puree, radish, árbol, and serrano salsa, then tuck into corn-based tacos of pork hock with chicharrón, pickled onion, and pineapple. (Not a dedicated gluten-free venue)
Hella Good
CBD, FITZROY, CHADSTONE
It's all there in the name, Hella Good's Souvlakis are some of the best in the business. Committed to keeping things simple and dishing up some of the tastiest Souvlaki in Melbourne, Hella Good has a range of different souvas, but it's hard to pass up their marinated lamb which cut straight from the spit. They've got a stacked Souvlaki menu with a gluten-free version for every option.
Glazed
ELSTERNWICK
Although strictly speaking not a restaurant Glazed definitely deserves an honourable mention when discussing gluten-free food in Melbourne. With an ex Vue De Monde chef at the helm, the Elsternwick-based gluten-free bakery has most dietary preferences covered with a range of cakes, bread, and sweet treats all free from gluten, dairy and nuts. Shoutout to the Brazilian Romeo & Juliet cheesecake a new-york style cheesecake with a South-American-inspired guava glaze.
Agostino
CARLTON
The infamous Carlton wine haunt that just so happens to dish up some of the best Italian fare north of the river also provides plenty of GF options. Agostino's pasta-heavy menu can still be enjoyed with gluten-free pasta available to swap out for any dish on the menu, like the Pappardelle with Ossobuco and gremolata or the Corzetii with slow-cooked rabbit and marjoram.
Rice Paper Scissors
CBD & FITZROY
The South-East Asian outlet that has a home on both Brunswick Street and Hardware Lane is a clear favourite gluten-free restaurant in Melbourne. The Rice Paper Scissors menu has an extensive range of delicious GF options with signature dishes like the sticky pork belly with tamarind caramel or the crispy barramundi with Nam Jim dressing as well as a full vegan menu.
Ciao Mamma!
BRUNSWICK
Although not what you'd typically expect from a traditional Italian eatery Ciao Mamma in Brunswick has one of the most dietary-inclusive menus on offer. Almost all of the dishes have gluten-free options, including the hefty slew of traditional pasta shapes with Gnocchi, Fettuccine, and Caserecce which can be topped with sugos like lamb Ragù, Carbonara, and Amatriciana. Accredited by Coeliac Australia so you can safely enjoy previously lost sweat treats like Nutella doughnuts and cannoli.

Check out more of Melbourne's best here:
Melbourne's best restaurants
Melbourne's best cafes
Melbourne's best bars
Melbourne's best breakfast
Image credit: Agostino (supplied)